Local News - Auction & Poker Game Next Saturday!
Howdy!
Next Saturday we will be holding our huge Comics and Toys auction planned for November 10th at our Jason Street Mega Store location, starting at 11:30 AM. The benefit portion of this auction will be for the Rainbow Alley Holiday Party in December. Save the date, there is always some great deals to be found at any of our auctions.
On that Saturday (November 10th) we will also be holding a Texas Hold-em benefit Poker Tournament, starting at 11 AM. This tournament will also be a benefit for the Rainbow Alley Holiday Party, and will have $1,000 in Mile High Comics gift certificates as prizes. Preregistration is now open at all of our stores. Paying your $25 entry fee will result in your immediately receiving a $25 gift certificate, so you are essentially playing for free! Tournament is limited to 80 players, so please try to register early...
Right now we are running a Halloween Toy Sale! Lisa has been buying a remarkable number of toys and action figures recently, including two awesome figures signed by Kevin Smith! To restore Lisa's depleted buying budget, we are going to offer you your choice from our huge selection of toys and action figures at a full 40% off! Sale is in effect at our 4600 Jason St. location in Denver only, through Sunday.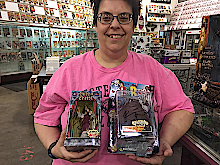 Lisa with the 2 Kevin Smith signed figures

We also still have all our back issue comics and magazines at 60% off. We have been getting in some really great collections, if you are looking to fill in some holes in your collection or just shopping early for the holidays now is the time to buy. As is always the case during our back issue sales, only new issues, a few variants, and our professionally-graded comics are excluded. This Sale will be ending this Sunday also.
Happy collecting!
Chuck Rozanski,
President - Mile High Comics, Inc.
November 2, 2018

P.S. We have a huge New Era wrestling tournament scheduled in Jason St. for this Saturday, November 3rd. Doors open at 6:30 pm and show starts at 7:00. Kids truly love the frenetic zaniness of pro wresting!