Local News - Huge Weekend Comics and Toys Sale + Poker & Auction on Saturday!
Howdy!
Huge Weekend sale begins today at the Mile High Comics Jason St. Comics and Toys Mega-Store.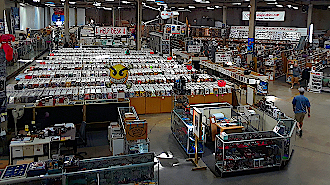 The front of our 65,000 square foot Jason Street Mega Store

*60% Off All Back Issue Comic Books!(over 10,000,000 available)(restrictions apply)
*40% Off All Funko Pop! Figures! (over 2,500 available)
*30% Off All Trade Paperbacks!(over 300,000 available)
*30% Off All Comics and Fantasy Statues!(over 1,000 available)
*and much, much more!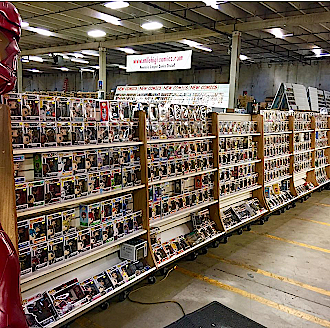 Some of 2,500+ Funko Pop figures we have instock now!

Sale runs through close of business on Sunday, (October 20th). Located at 4600 Jason St., Denver (2 blocks south of I-70/Pecos St. exit) our immense 65,000 square foot wonderland is the largest comics and toys Mecca in the world! Bring your entire family for an awesome day of fun...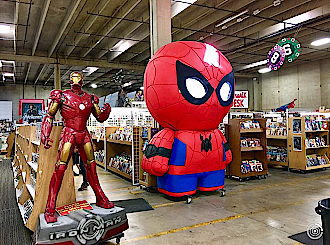 Our 300,000+ Trade Paperbacks and Hardcovers area

Also on Saturday we will be hosting two big events at our Jason Street Mega Store.
The first event will be on our monthly Texas Hold'em Poker Tournament. The event starts at 11:00 am. This is our annual benefit for the 200+ LGBTQ kids and young adults who utilize RAINBOW ALLEY youth center to escape harassment and bullying . If you register in advance, playing in our tournament essentially costs you nothing, as your $25 donation is immediately rewarded with a $25 gift certificate that you can utilize to purchase anything you might wish to own in our gigantic store. Please note, however, that we only provide these gift certificates to players who register in advance. You can certainly still register on the morning of the game, but only if we have seats still available.
The second event starts at 11:30 am and we will be hosting our huge no-minimum bid comics and toys auction, arrive early and take a look at all the incredible items! This auction has 42 core lots filled with 400+ Silver Age comics, rare comics variants, scarce toys, statues, original art, and much, much more. We will also have at least 200 last-minute throw-in items.
Hope to see you here!
William Moulton,
Operations Manager - Mile High Comics, Inc.
October 18, 2019
Past eMail NewsLetters:

October 18, 2019 - Local News - Huge Weekend Comics and Toys Sale + Poker & Auction on Saturday!
October 16, 2019 - 60% Off All Comics HALLOWEEN! Sale Begins
October 15, 2019 - Local News - This Saturday No Minimum bid Auction and Poker
October 14, 2019 - Huge Half Price Sale On Ten Million Comic Books
October 10, 2019 - Tour Chuck's Pueblo Pottery Gallery, Benefit Auction, Texas Hold'em Poker All On 19th
October 7, 2019 - New Video Link to Jason St.
October 4, 2019 - FBI visits Mile High Comics - 50% Off Sale On All Back Issues
October 1, 2019 - Chuck Visits Washington, D.C. + 50% Off Ten Million Comics
September 27, 2019 - 50% Off NANETTE codeword this weekend!
September 26, 2019 - Local News - Family-Friendly All-Ages Drag Show this Sunday!
September 25, 2019 - 50% off NANETTE codeword on back issue comics and magazine
September 23, 2019 - Ten Million Comic Books 50% Off
September 20, 2019 - Huge 26,000+ Comics Collection Arrives
September 20, 2019 - Local News - 26,000+ book single owner comic collection just in!
September 19, 2019 - Local News - 4 Big Events this Saturday at Mile High Comics Mega Store
September 18, 2019 - 50% off NANETTE codeword on Back Issue Comics & Magazines
September 16, 2019 - New Arrivals - Silver Age, Variant Editions, Books, much more...
September 13, 2019 - More Comics Trade Paperbacks and Hardbacks + Pueblo Pottery Photos
September 11, 2019 - 50% off over Ten Million comics
September 9, 2019 - 50% Off All Comics and Magazines
September 6, 2019 - 50% off NANETTE Codeword Sale
September 4, 2019 - New Collection - Comics Trade Paperbacks and Comics Hardbacks
September 2, 2019 - 60% Off LABORDAY! Comics Sale ends Tuesday
August 30, 2019 - 1,500 More Silver Age Comics Just Arrived - 60% Off
August 29, 2019 - Local News - Huge 5-Day Labor Day Sale Begins today!
August 26, 2019 - 60% Off LABORDAY! Comics Sale - 7 Days Only
August 23, 2019 - Local News - Family-Friendly All-Ages Drag Show this Sunday!
August 21, 2019 - Back Issue Comics Now Half Off!
August 19, 2019 - Ten Million Comic Books - Half Price
August 15, 2019 - Half Price Comics Sale - Codeword GERMANY!
August 13, 2019 - 50% Off GERMANY! codeword on Back Issue Comics & Magazines
August 10, 2019 - 60% Off SUMMER Sale Ends Soon!
August 8, 2019 - Great Collection Of Old Comics Arrives - 60% Off Through Tuesday, Only
August 5, 2019 - 60% Off Sale Ending - Chuck's Story Part Five
August 2, 2019 - Another Huge Comics List + Chuck's Near Death Part Four
July 31, 2019 - New CARNAGE Statue Arrives + Part Three of Chuck's Near Death Experience
July 29, 2019 - More Great Comics + Chuck's Near Death Experience, Part Two
July 26, 2019 - Another Incredible Comics Collection + Chuck's Farm History
July 24, 2019 - Great New Comics Collection 4,000 Issues 1976-2000
July 21, 2019 - 2019 San Diego Comic-Con Report #5 - Life, Death, and the Comic-Con
July 20, 2019 - San Diego Comic-Con Report #4 - Where are the Comics?
July 19, 2019 - San Diego Comic-Con Report #3 - Chuck Speaks Out!
July 18, 2019 - San Diego Comic-Con Report #2 - Bettie Breaks Out!
July 17, 2019 - 2019 San Diego Comic-Con Report #1
July 16, 2019 - Local News - Poker this Saturday!
July 15, 2019 - More Collections Arrive - BATMAN, WONDER WOMAN, ARCHIE, more!
July 12, 2019 - 60% Off Silver Age Fantastic Four + Batman and Harley Quinn
July 10, 2019 - Another Huge Silver Age Comics Collection Arrives
July 8, 2019 - Near Riot At Mile High Comics Drag Show
July 5, 2019 - 60% Off JULY4TH! Codeword all Weekend!
July 3, 2019 - Just Arrived! 800+ Silver Age and Bronze Age Comics
July 1, 2019 - High Grade Silver Age Comics 60% Off
June 28, 2019 - July 4th 60% Off Sale Begins!
June 27, 2019 - Local News - 4th of July Sale Starts this weekend!
June 25, 2019 - New Comics Collections 60% Off
June 21, 2019 - New Silver Age Collection 60% Off!
June 18, 2019 - Comic Book Burglary Suspect Arrested and Charged!
June 15, 2019 - Local News - All Ages Drag Show Sunday!
June 14, 2019 - 60% Off Codeword + Comics Auction, Poker, and All-Ages Show this weekend!
June 13, 2019 - Local News - Saturday No Minimum bid Auction, Poker, and Drag Show Sunday!
June 12, 2019 - 60% Off All Back Issue Comics and Magazines
June 11, 2019 - Local News - This Saturday No Minimum bid Auction, Poker, and Drag Show Sunday!
June 10, 2019 - 60% Off Codeword, Comics Auction, Poker, and All-Ages Show
June 7, 2019 - 60% Off COMIC-CON Codeword on All Comics and Magazines this Weekend!
June 6, 2019 - Local News - Wrestling this Saturday, Poker and Auction next Saturday!
June 5, 2019 - 60% Off COMIC-CON Codeword Sale All Comics and Magazines
June 3, 2019 - Huge 60% Off COMIC-CON Codeword - All Comics And Magazines