60% Off Ten Million Comics Ends Wednesday.
Howdy!
I want to begin today by thanking everyone who placed an online order with us week. The added volume that we received was not enough to make up for the sales that we lost between Monday-Wednesday when our website was shut down by a malicious "Denial of Service" hacker attack (involving over 1,000 computers sending in false information requests in order to overload our servers...), but the heartwarming messages of encouragement that we received with those orders most certainly helped to brighten our day. Thank you!
As regards why we were attacked, that's anyone's guess. But, it did occur right after I asked everyone to please vote in next Tuesday's election. Your voting is something that I will request again, but this time in my official role as one of the national co-chairs of the International Court System LGBTQ "Get Out the Vote!" effort. In that role, I participated in a small protest at the White House last week, on the same day that I attended Matthew Shepard's internment ceremony at our National Cathedral. I took this action specifically because Matthew's father, Dennis Shepard, asked all in attendance at his memorial to please work to get out the vote.
So you know, I also agreed to be a part of this nationwide effort because my acute awareness of the widespread prejudice and lack of legal protections for my many transgender friends. No other minority group in America suffers such a high rate of suicide, or is assaulted and/or murdered with such apparent institutional indifference. As the ICS Imperial Crown Prince of the Americas, I interact with members of the transgender community almost every day, and I can give testimonial that their personal histories of experiencing astoundingly vicious prejudice are absolutely heartbreaking. I stand with my transgender friends in fervently hoping that this election cycle brings together our nation in ways that will assure that it remains the land of the free and the brave for ALL of our American citizens, regardless of race, creed, religion, national origin, or sexual orientation. Love is love.
As regards our actual comics business, we are continuing our unceasing efforts to expand our selections of rare back issues for you every single day. Our massive website already offers you the largest and broadest selection of comics of all kinds available from a single source anywhere in the world, but we are not about to rest upon our laurels. That is precisely why Will and Pam are constantly purchasing 3-5 collections a day here at our Jason St. Mega-Store, and why I keep buying even more collections when I travel throughout the nation for the International Court System. To see a small sampling of what we have been adding this week, please visit our Premium New-In-Stock link, or just check out the condensed list at the end of this newsletter. I think that you will be genuinely amazed.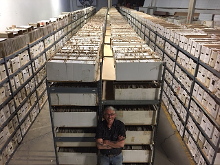 The start of our Back Issue Files

Also, just in case you were not already aware of this fact, our 60% off HALLOWEEN! codeword is still in effect for you this weekend on all ten million+ of our back issue comics and magazines, excluding only new issues, a few variants, and our professionally-graded comics. Also on sale for you this weekend are most of our 300,000+ trade paperbacks, graphic novels, and comics hardbacks. Books are not eligible for the codeword, however, as all of our books are already discounted for you right on our website. Winter is coming this weekend (when the clocks fall back an hour...), so right now is an excellent time for you to stockpile some great reading material. At 60% off, purchasing a nice pile of comics is much easier to do!

CHILLING ADVENTURES OF SABRINA #1 Mile High Exclusive

I will close today's newsletter by giving you a final opportunity to pick up a copy of our ultra-rare CHILLING ADVENTURES OF SABRINA #1 at only $39.95. We printed our exclusive variant of #1 five years ago, and most of our tiny 900-copy print run was sold long ago. The few copies that we have remaining are disappearing quickly due to the very positive reception to the new show, so we will be bumping up the price on Monday. 'Nuff said.
Happy collecting!
Chuck Rozanski,
President - Mile High Comics, Inc.
October 31, 2018

MARVEL
AVENGERS (1963) (#1-402) (MARVEL) #97 JEWELERS Very Good


CAPTAIN AMERICA (1968) (#100-454) (MARVEL) #225 WHITMAN

CAPTAIN AMERICA (1968) (#100-454) (MARVEL) #225 WHITMAN Fine

CONAN (1970) (#1-275) (CONAN THE BARBARIAN) (MARVEL) #86 Very Fine
CONAN (1970) (#1-275) (CONAN THE BARBARIAN) (MARVEL) #97 Very Fine
CONAN (1970) (#1-275) (CONAN THE BARBARIAN) (MARVEL) #98 Very Fine
CONAN (1970) (#1-275) (CONAN THE BARBARIAN) (MARVEL) #99 NEWSSTAND Very Fine
CONAN (1970) (#1-275) (CONAN THE BARBARIAN) (MARVEL) #100 NEWSSTAND Very Fine
CONAN (1970) (#1-275) (CONAN THE BARBARIAN) (MARVEL) #101 NEWSSTAND Fine
CONAN (1970) (#1-275) (CONAN THE BARBARIAN) (MARVEL) #102 NEWSSTAND Fine
CONAN (1970) (#1-275) (CONAN THE BARBARIAN) (MARVEL) #103 NEWSSTAND Fine
CONAN (1970) (#1-275) (CONAN THE BARBARIAN) (MARVEL) #104 NEWSSTAND Fine
CONAN (1970) (#1-275) (CONAN THE BARBARIAN) (MARVEL) #106 NEWSSTAND Very Fine
CONAN (1970) (#1-275) (CONAN THE BARBARIAN) (MARVEL) #119 NEWSSTAND Fine
CONAN (1970) (#1-275) (CONAN THE BARBARIAN) (MARVEL) #120 NEWSSTAND Fine
CONAN (1970) (#1-275) (CONAN THE BARBARIAN) (MARVEL) #121 NEWSSTAND Very Fine
CONAN (1970) (#1-275) (CONAN THE BARBARIAN) (MARVEL) #123 NEWSSTAND Fine
CONAN (1970) (#1-275) (CONAN THE BARBARIAN) (MARVEL) #124 NEWSSTAND Fine
CONAN (1970) (#1-275) (CONAN THE BARBARIAN) (MARVEL) #125 NEWSSTAND Fine

DAREDEVIL (1964) (#1-380) (MAN WITHOUT FEAR) (MARVEL) #130 JEWELERS Good

DARK TOWER: BATTLE OF JERICHO HILL (2009) #4 VARIANT Very Fine

DARK TOWER: FALL OF GILEAD (2009) #1 VARIANT Very Fine
DARK TOWER: FALL OF GILEAD (2009) #2 VARIANT Near Mint/Mint

DARK TOWER: GUNSLINGER BORN (2006) #2 Very Fine

DARK TOWER: LONG ROAD HOME (2008) #2 QUESADA Very Fine

DAZZLER (1981) #33 Very Fine

DEATH OF WOLVERINE (2014) #4 LAND Very Fine

DEATH OF X (2016) #1 BLANK CVR Very Fine
DEATH OF X (2016) #1 Very Fine

DEFENDERS (1972) (#1-152) (MARVEL) #100 Near Mint/Mint

DEFENDERS ANNUAL (1976) #1 Very Good

DEXTER (2013) #1 Very Fine

ETERNALS (1976) (#1-19) (MARVEL) (JACK KIRBY) #1 Very Fine

FALCON (1983) #1 Near Mint/Mint
FALCON (1983) #3 Very Fine
FALCON (1983) #4 Very Fine

FANTASTIC FOUR GIANT-SIZE (GIANT-SIZE SUPER-STARS) (1974) #3 Fine

GODZILLA (1977) #1 Very Good
GODZILLA (1977) #2 Fine

HARVEY (1970) #1 Very Good
HARVEY (1970) #2 Fine

HAWKEYE (1983) (#1-4) (MARVEL) #1 NEWSSTAND Good
HAWKEYE (1983) (#1-4) (MARVEL) #2 NEWSSTAND Very Good

HULK (1962) (#1-6, #102-474, #600-635)(INCREDIBLE)(MV) #257 NEWSSTAND Fine
HULK (1962) (#1-6, #102-474, #600-635)(INCREDIBLE)(MV) #258 NEWSSTAND Very Fine
HULK (1962) (#1-6, #102-474, #600-635)(INCREDIBLE)(MV) #259 NEWSSTAND Fine
HULK (1962) (#1-6, #102-474, #600-635)(INCREDIBLE)(MV) #260 Very Fine
HULK (1962) (#1-6, #102-474, #600-635)(INCREDIBLE)(MV) #261 Very Fine
HULK (1962) (#1-6, #102-474, #600-635)(INCREDIBLE)(MV) #270 Very Fine

MARVEL SUPER-HEROES (1967) #104 NEWSSTAND Very Fine

MINIMUM CARNAGE: OMEGA (2012) #1 Very Fine

MOON GIRL & DEVIL DINOSAUR (2015) #10 JONES Near Mint/Mint

ROM (1979) (#1-75) (MARVEL) #19 NEWSSTAND Very Fine

SHE-HULK (1980) (#1-25) (SAVAGE SHE-HULK) (MARVEL) #14 NEWSSTAND Fine
SHE-HULK (1980) (#1-25) (SAVAGE SHE-HULK) (MARVEL) #20 NEWSSTAND Very Fine
SHE-HULK (1980) (#1-25) (SAVAGE SHE-HULK) (MARVEL) #23 NEWSSTAND Fine

SILVER SURFER (1987) (#1-146) (MARVEL) #42 NEWSSTAND Near Mint/Mint
SILVER SURFER (1987) (#1-146) (MARVEL) #42 NEWSSTAND Very Fine

SPIDER-MAN (1963) (AMAZING SPIDER-MAN) (#1-441) #41 Good


SPIDER-MAN (1963) (AMAZING SPIDER-MAN) (#1-441) #50

SPIDER-MAN (1963) (AMAZING SPIDER-MAN) (#1-441) #50 Very Good
SPIDER-MAN (1963) (AMAZING SPIDER-MAN) (#1-441) #238 Very Fine
SPIDER-MAN (1963) (AMAZING SPIDER-MAN) (#1-441) #275 Very Good
SPIDER-MAN (1963) (AMAZING SPIDER-MAN) (#1-441) #298 NEWSSTAND Very Good
SPIDER-MAN (1963) (AMAZING SPIDER-MAN) (#1-441) #299 NEWSSTAND Fine
SPIDER-MAN (1963) (AMAZING SPIDER-MAN) (#1-441) #300 Fine
SPIDER-MAN (1963) (AMAZING SPIDER-MAN) (#1-441) #301 Fine
SPIDER-MAN (1963) (AMAZING SPIDER-MAN) (#1-441) #316 Very Fine
SPIDER-MAN (1963) (AMAZING SPIDER-MAN) (#1-441) #353 NEWSSTAND Near Mint/Mint
SPIDER-MAN (1963) (AMAZING SPIDER-MAN) (#1-441) #367 NEWSSTAND Near Mint/Mint

SPIDER-MAN (1990) (#1-74, PETER PARKER SPIDEY #75-98) #76 Near Mint/Mint

SPIDER-MAN ANNUAL (1964) #21 NEWS Very Good

SPIDER-MAN/DEADPOOL (2015) #15 WILLIAMS Near Mint/Mint
SPIDER-MAN/DEADPOOL (2015) #15 WILLIAMS Very Fine

SPIDER-MEN (PETER PARKER & MILES MORALES) (SPIDER-MAN) (2012) #3 Near Mint/Mint

STAR WARS (1977) (#1-107) (MARVEL) #23 Very Fine

STAR WARS: DARTH VADER (2017) #8 Near Mint/Mint

THANOS (2016) (#1-UP) (MARVEL NOW) #14 2ND PRINT Near Mint/Mint

THOR ANNUAL (1965) #10 Near Mint/Mint
THOR ANNUAL (1965) #10 Very Fine

THUNDERBOLTS (1997) (#0-174) (MARVEL) #110 Near Mint/Mint

UNCANNY AVENGERS (2012) (#1-25) #23 VARIANT Fine

VENOM (2017) (#1-6, #150-165) (MARVEL) #153 RANEY Very Fine

WEAPON X (2017) (#1-UP) (MARVEL) #5 Near Mint/Mint

X-MEN (1963) (#1-113, UNCANNY X-MEN #114-544) (MARVEL) #94 Very Good
X-MEN (1963) (#1-113, UNCANNY X-MEN #114-544) (MARVEL) #270 Near Mint/Mint
X-MEN (1963) (#1-113, UNCANNY X-MEN #114-544) (MARVEL) #274 Very Fine
X-MEN (1963) (#1-113, UNCANNY X-MEN #114-544) (MARVEL) #277 NEWSSTAND Fine
X-MEN (1963) (#1-113, UNCANNY X-MEN #114-544) (MARVEL) #282 NEWSSTAND Very Good
X-MEN (1963) (#1-113, UNCANNY X-MEN #114-544) (MARVEL) #307 GOLD Very Good


X-MEN (1963) (#1-113, UNCANNY X-MEN #114-544) (MARVEL) #312

X-MEN (1963) (#1-113, UNCANNY X-MEN #114-544) (MARVEL) #312 Near Mint/Mint
X-MEN (1963) (#1-113, UNCANNY X-MEN #114-544) (MARVEL) #322 Fine
X-MEN (1963) (#1-113, UNCANNY X-MEN #114-544) (MARVEL) #325 NEWSSTAND Very Good
X-MEN (1963) (#1-113, UNCANNY X-MEN #114-544) (MARVEL) #328 NEWSSTAND Very Fine
X-MEN (1963) (#1-113, UNCANNY X-MEN #114-544) (MARVEL) #329 Near Mint/Mint
X-MEN (1963) (#1-113, UNCANNY X-MEN #114-544) (MARVEL) #333 Fine
X-MEN (1963) (#1-113, UNCANNY X-MEN #114-544) (MARVEL) #337 Very Fine
X-MEN (1963) (#1-113, UNCANNY X-MEN #114-544) (MARVEL) #342 Very Fine
X-MEN (1963) (#1-113, UNCANNY X-MEN #114-544) (MARVEL) #344 Near Mint/Mint
X-MEN (1963) (#1-113, UNCANNY X-MEN #114-544) (MARVEL) #345 Near Mint/Mint
X-MEN (1963) (#1-113, UNCANNY X-MEN #114-544) (MARVEL) #346 Near Mint/Mint
X-MEN (1963) (#1-113, UNCANNY X-MEN #114-544) (MARVEL) #347 NEWSSTAND Fine
X-MEN (1963) (#1-113, UNCANNY X-MEN #114-544) (MARVEL) #348 NEWSSTAND Near Mint/Mint
X-MEN (1963) (#1-113, UNCANNY X-MEN #114-544) (MARVEL) #349 Fine
X-MEN (1963) (#1-113, UNCANNY X-MEN #114-544) (MARVEL) #350 Fine
X-MEN (1963) (#1-113, UNCANNY X-MEN #114-544) (MARVEL) #354 Fine
X-MEN (1963) (#1-113, UNCANNY X-MEN #114-544) (MARVEL) #355 Near Mint/Mint
X-MEN (1963) (#1-113, UNCANNY X-MEN #114-544) (MARVEL) #356 Near Mint/Mint
X-MEN (1963) (#1-113, UNCANNY X-MEN #114-544) (MARVEL) #358 Near Mint/Mint
X-MEN (1963) (#1-113, UNCANNY X-MEN #114-544) (MARVEL) #359 Near Mint/Mint
X-MEN (1963) (#1-113, UNCANNY X-MEN #114-544) (MARVEL) #360 DELUXE Near Mint/Mint
X-MEN (1963) (#1-113, UNCANNY X-MEN #114-544) (MARVEL) #361 NEWSSTAND Near Mint/Mint
X-MEN (1963) (#1-113, UNCANNY X-MEN #114-544) (MARVEL) #362 NEWSSTAND Near Mint/Mint
X-MEN (1963) (#1-113, UNCANNY X-MEN #114-544) (MARVEL) #363 Near Mint/Mint
X-MEN (1963) (#1-113, UNCANNY X-MEN #114-544) (MARVEL) #364 Fine
X-MEN (1963) (#1-113, UNCANNY X-MEN #114-544) (MARVEL) #365 Near Mint/Mint
X-MEN (1963) (#1-113, UNCANNY X-MEN #114-544) (MARVEL) #366 Fine
X-MEN (1963) (#1-113, UNCANNY X-MEN #114-544) (MARVEL) #367 Fine
X-MEN (1963) (#1-113, UNCANNY X-MEN #114-544) (MARVEL) #368 Fine
X-MEN (1963) (#1-113, UNCANNY X-MEN #114-544) (MARVEL) #369 NEWSSTAND Near Mint/Mint
X-MEN (1963) (#1-113, UNCANNY X-MEN #114-544) (MARVEL) #370 NEWSSTAND Fine
X-MEN (1963) (#1-113, UNCANNY X-MEN #114-544) (MARVEL) #373 Fine
X-MEN (1963) (#1-113, UNCANNY X-MEN #114-544) (MARVEL) #375 NEWSSTAND Very Fine
X-MEN (1963) (#1-113, UNCANNY X-MEN #114-544) (MARVEL) #376 Very Fine
X-MEN (1963) (#1-113, UNCANNY X-MEN #114-544) (MARVEL) #379 Very Fine
X-MEN (1963) (#1-113, UNCANNY X-MEN #114-544) (MARVEL) #381 Near Mint/Mint
X-MEN (1963) (#1-113, UNCANNY X-MEN #114-544) (MARVEL) #382 Near Mint/Mint
X-MEN (1963) (#1-113, UNCANNY X-MEN #114-544) (MARVEL) #384 Near Mint/Mint
X-MEN (1963) (#1-113, UNCANNY X-MEN #114-544) (MARVEL) #385 Near Mint/Mint
X-MEN (1963) (#1-113, UNCANNY X-MEN #114-544) (MARVEL) #388 NEWSSTAND Fine
X-MEN (1963) (#1-113, UNCANNY X-MEN #114-544) (MARVEL) #389 NEWSSTAND Fine
X-MEN (1963) (#1-113, UNCANNY X-MEN #114-544) (MARVEL) #391 Near Mint/Mint


X-MEN (1963) (#1-113, UNCANNY X-MEN #114-544) (MARVEL) #391

X-MEN (1963) (#1-113, UNCANNY X-MEN #114-544) (MARVEL) #391 Fine
X-MEN (1963) (#1-113, UNCANNY X-MEN #114-544) (MARVEL) #393 Fine

X-MEN (1991) (#1-275) (MARVEL) #1 COVER D Near Mint/Mint
X-MEN (1991) (#1-275) (MARVEL) #18 Near Mint/Mint
X-MEN (1991) (#1-275) (MARVEL) #30 Near Mint/Mint
X-MEN (1991) (#1-275) (MARVEL) #45 NEWSSTAND Very Fine
X-MEN (1991) (#1-275) (MARVEL) #112 Near Mint/Mint
X-MEN (1991) (#1-275) (MARVEL) #115 Fine
X-MEN (1991) (#1-275) (MARVEL) #116 NEWSSTAND Near Mint/Mint
X-MEN (1991) (#1-275) (MARVEL) #118 Near Mint/Mint
X-MEN (1991) (#1-275) (MARVEL) #125 NEWSSTAND Fine
X-MEN (1991) (#1-275) (MARVEL) #128 Near Mint/Mint
X-MEN (1991) (#1-275) (MARVEL) #133 Very Fine
X-MEN (1991) (#1-275) (MARVEL) #134 Near Mint/Mint
X-MEN (1991) (#1-275) (MARVEL) #135 Very Fine
X-MEN (1991) (#1-275) (MARVEL) #175 BOSTON CON Fine

X-MEN ANNUAL (1970) #6 Near Mint/Mint

X-MEN INDEX (1987) #7 Very Fine

X-MEN OMEGA (1995) #1 Very Good

YOUNG AVENGERS (2005) (#1-12) #1 DIRECT CUT Near Mint/Mint

ZORRO (1990) (#1-12) (MARVEL) #11 Near Mint/Mint
ZORRO (1990) (#1-12) (MARVEL) #11 Very Fine

DC
ACTION COMICS (1938) (#0-600, 643-904) (DC) #701 DCUNIVERSE Near Mint/Mint
ACTION COMICS (1938) (#0-600, 643-904) (DC) #707 DCUNIVERSE Near Mint/Mint
ACTION COMICS (1938) (#0-600, 643-904) (DC) #724 DCUNIVERSE Near Mint/Mint

ADVENTURES OF SUPERMAN (#0,#424-649) (1987) #529 DCUNIVERSE Near Mint/Mint
ADVENTURES OF SUPERMAN (#0,#424-649) (1987) #535 DCUNIVERSE Near Mint/Mint
ADVENTURES OF SUPERMAN (#0,#424-649) (1987) #537 DCUNIVERSE Near Mint/Mint
ADVENTURES OF SUPERMAN (#0,#424-649) (1987) #539 DCUNIVERSE Near Mint/Mint
ADVENTURES OF SUPERMAN (#0,#424-649) (1987) #540 DCUNIVERSE Very Fine

ALL-STAR SQUADRON (1981) #1 NEWSSTAND Very Fine


AMERICAN VAMPIRE (DC VERTIGO) (2010) #1

AMERICAN VAMPIRE (DC VERTIGO) (2010) #1 Fine
AMERICAN VAMPIRE (DC VERTIGO) (2010) #2 Fine
AMERICAN VAMPIRE (DC VERTIGO) (2010) #3 Near Mint/Mint
AMERICAN VAMPIRE (DC VERTIGO) (2010) #4 Fine
AMERICAN VAMPIRE (DC VERTIGO) (2010) #5 Fine
AMERICAN VAMPIRE (DC VERTIGO) (2010) #6 Very Fine
AMERICAN VAMPIRE (DC VERTIGO) (2010) #8 Near Mint/Mint
AMERICAN VAMPIRE (DC VERTIGO) (2010) #9 Near Mint/Mint
AMERICAN VAMPIRE (DC VERTIGO) (2010) #12 Near Mint/Mint
AMERICAN VAMPIRE (DC VERTIGO) (2010) #13 Near Mint/Mint
AMERICAN VAMPIRE (DC VERTIGO) (2010) #15 Near Mint/Mint
AMERICAN VAMPIRE (DC VERTIGO) (2010) #16 Near Mint/Mint
AMERICAN VAMPIRE (DC VERTIGO) (2010) #23 Near Mint/Mint
AMERICAN VAMPIRE (DC VERTIGO) (2010) #25 Near Mint/Mint
AMERICAN VAMPIRE (DC VERTIGO) (2010) #31 Near Mint/Mint
AMERICAN VAMPIRE (DC VERTIGO) (2010) #33 Near Mint/Mint
AMERICAN VAMPIRE (DC VERTIGO) (2010) #34 Near Mint/Mint

AMERICAN VAMPIRE: LONG ROAD TO HELL (DC VERTIGO) (2013) #1 Near Mint/Mint

AMERICAN VAMPIRE: LORD OF NIGHTMARES (DC VERTIGO) (2012) #4 Near Mint/Mint
AMERICAN VAMPIRE: LORD OF NIGHTMARES (DC VERTIGO) (2012) #5 Very Fine

AMERICAN VAMPIRE: SECOND CYCLE (DC VERTIGO) (2014) #1 Near Mint/Mint
AMERICAN VAMPIRE: SECOND CYCLE (DC VERTIGO) (2014) #3 Near Mint/Mint
AMERICAN VAMPIRE: SECOND CYCLE (DC VERTIGO) (2014) #5 Near Mint/Mint
AMERICAN VAMPIRE: SECOND CYCLE (DC VERTIGO) (2014) #7 Near Mint/Mint
AMERICAN VAMPIRE: SECOND CYCLE (DC VERTIGO) (2014) #8 Near Mint/Mint

AQUAMAN (1994) (#0-75) (DC) #22 DCUNIVERSE Near Mint/Mint

BATMAN (1940) (#0-713) (DC) #370 NEWS JEWEL Very Fine
BATMAN (1940) (#0-713) (DC) #371 NEWS JEWEL Very Fine
BATMAN (1940) (#0-713) (DC) #372 NEWS JEWEL Fine
BATMAN (1940) (#0-713) (DC) #526 DCUNIVERSE Near Mint/Mint
BATMAN (1940) (#0-713) (DC) #532 DCUNIVERSE Very Fine
BATMAN (1940) (#0-713) (DC) #533 DCUNIVERSE Near Mint/Mint

BATMAN AND THE OUTSIDERS (1983) #1 NEWS JEWEL Near Mint/Mint
BATMAN AND THE OUTSIDERS (1983) #2 NEWS JEWEL Very Fine
BATMAN AND THE OUTSIDERS (1983) #3 NEWS JEWEL Very Fine
BATMAN AND THE OUTSIDERS (1983) #4 NEWS JEWEL Very Fine
BATMAN AND THE OUTSIDERS (1983) #15 NEWS JEWEL Very Fine


BOYS (2006) (#1-6) (DC/WILDSTORM) #1

BOYS (2006) (#1-6) (DC/WILDSTORM) #1 (DC/Wildstorm) Very Fine
BOYS (2006) (#1-6) (DC/WILDSTORM) #2 (DC/Wildstorm) Near Mint/Mint
BOYS (2006) (#1-6) (DC/WILDSTORM) #4 (DC/Wildstorm) Very Fine
BOYS (2006) (#1-6) (DC/WILDSTORM) #5 (DC/Wildstorm) Very Fine
BOYS (2007) (#7-72) (DYNAMITE) #26 VARIANT (DYNAMITE Entertainment) Near Mint/Mint
BOYS (2007) (#7-72) (DYNAMITE) #27 VARIANT (DYNAMITE Entertainment) Near Mint/Mint

BRAVE AND THE BOLD (1955) #54 Very Good

DARK NIGHTS: METAL (2017) #1 Very Fine

DETECTIVE COMICS (1937) (#0-881) (DC) #527 NEWS JEWEL Fine

DETECTIVE COMICS (2011) (#0-52) (DC NEW52) #1 Very Good

DETECTIVE COMICS (2016) (#934-UP) (DC REBIRTH) #934 Near Mint/Mint
DETECTIVE COMICS (2016) (#934-UP) (DC REBIRTH) #935 Near Mint/Mint
DETECTIVE COMICS (2016) (#934-UP) (DC REBIRTH) #935 VARIANT Very Fine
DETECTIVE COMICS (2016) (#934-UP) (DC REBIRTH) #935 Very Fine

DMZ (2005) #1 (DC: Vertigo Press) Near Mint/Mint
DMZ (2005) #6 (DC: Vertigo Press) Near Mint/Mint
DMZ (2005) #14 (DC: Vertigo Press) Near Mint/Mint
DMZ (2005) #18 (DC: Vertigo Press) Near Mint/Mint
DMZ (2005) #19 (DC: Vertigo Press) Near Mint/Mint
DMZ (2005) #25 (DC: Vertigo Press) Near Mint/Mint
DMZ (2005) #26 (DC: Vertigo Press) Near Mint/Mint
DMZ (2005) #27 (DC: Vertigo Press) Near Mint/Mint
DMZ (2005) #29 (DC: Vertigo Press) Near Mint/Mint
DMZ (2005) #30 (DC: Vertigo Press) Near Mint/Mint
DMZ (2005) #32 (DC: Vertigo Press) Near Mint/Mint
DMZ (2005) #34 (DC: Vertigo Press) Very Fine
DMZ (2005) #36 (DC: Vertigo Press) Near Mint/Mint
DMZ (2005) #37 (DC: Vertigo Press) Near Mint/Mint
DMZ (2005) #38 (DC: Vertigo Press) Very Fine
DMZ (2005) #39 (DC: Vertigo Press) Near Mint/Mint
DMZ (2005) #40 (DC: Vertigo Press) Near Mint/Mint
DMZ (2005) #41 (DC: Vertigo Press) Near Mint/Mint
DMZ (2005) #42 (DC: Vertigo Press) Near Mint/Mint
DMZ (2005) #43 (DC: Vertigo Press) Near Mint/Mint
DMZ (2005) #44 (DC: Vertigo Press) Near Mint/Mint
DMZ (2005) #48 (DC: Vertigo Press) Near Mint/Mint
DMZ (2005) #49 (DC: Vertigo Press) Very Fine

DMZ (2005) #51 (DC: Vertigo Press) Near Mint/Mint
DMZ (2005) #52 (DC: Vertigo Press) Near Mint/Mint
DMZ (2005) #54 (DC: Vertigo Press) Near Mint/Mint
DMZ (2005) #55 (DC: Vertigo Press) Very Fine
DMZ (2005) #56 (DC: Vertigo Press) Near Mint/Mint
DMZ (2005) #57 (DC: Vertigo Press) Near Mint/Mint
DMZ (2005) #58 (DC: Vertigo Press) Near Mint/Mint
DMZ (2005) #60 (DC: Vertigo Press) Near Mint/Mint
DMZ (2005) #61 (DC: Vertigo Press) Near Mint/Mint
DMZ (2005) #63 (DC: Vertigo Press) Near Mint/Mint
DMZ (2005) #64 (DC: Vertigo Press) Near Mint/Mint
DMZ (2005) #65 (DC: Vertigo Press) Near Mint/Mint
DMZ (2005) #66 (DC: Vertigo Press) Near Mint/Mint
DMZ (2005) #67 (DC: Vertigo Press) Very Fine
DMZ (2005) #68 (DC: Vertigo Press) Near Mint/Mint
DMZ (2005) #69 (DC: Vertigo Press) Very Fine
DMZ (2005) #72 (DC: Vertigo Press) Very Fine

GOTHAM BY GASLIGHT (A TALE OF THE BATMAN) (1989) #1 Very Good

GREEN LANTERN (1960) (#1-224) (DC) #120 JEWELERS Fine
GREEN LANTERN (1960) (#1-224) (DC) #131 JEWELERS Fine

JUSTICE LEAGUE OF AMERICA (1960) (#1-261) (DC) #199 NEWSSTAND Very Fine
JUSTICE LEAGUE OF AMERICA (1960) (#1-261) (DC) #202 NEWSSTAND Very Good

LOBO (1990) (#1-4) (DC) #2 Near Mint/Mint
LOBO (1990) (#1-4) (DC) #3 Very Fine

PREACHER (1995) #3 (DC: Vertigo Press) Fine
PREACHER (1995) #4 (DC: Vertigo Press) Near Mint/Mint
PREACHER (1995) #5 (DC: Vertigo Press) Near Mint/Mint
PREACHER (1995) #6 (DC: Vertigo Press) Near Mint/Mint
PREACHER (1995) #7 (DC: Vertigo Press) Fine
PREACHER (1995) #8 (DC: Vertigo Press) Near Mint/Mint
PREACHER (1995) #9 (DC: Vertigo Press) Near Mint/Mint
PREACHER (1995) #10 (DC: Vertigo Press) Very Fine
PREACHER (1995) #11 (DC: Vertigo Press) Near Mint/Mint
PREACHER (1995) #12 (DC: Vertigo Press) Fine
PREACHER (1995) #12 UNBAGGED (DC: Vertigo Press) Fine
PREACHER (1995) #14 (DC: Vertigo Press) Near Mint/Mint
PREACHER (1995) #15 (DC: Vertigo Press) Near Mint/Mint
PREACHER (1995) #16 (DC: Vertigo Press) Fine

PREACHER (1995) #17 (DC: Vertigo Press) Fine
PREACHER (1995) #18 (DC: Vertigo Press) Fine
PREACHER (1995) #19 (DC: Vertigo Press) Fine
PREACHER (1995) #20 (DC: Vertigo Press) Near Mint/Mint
PREACHER (1995) #21 (DC: Vertigo Press) Near Mint/Mint
PREACHER (1995) #24 (DC: Vertigo Press) Fine
PREACHER (1995) #25 (DC: Vertigo Press) Near Mint/Mint
PREACHER (1995) #28 (DC: Vertigo Press) Near Mint/Mint
PREACHER (1995) #29 (DC: Vertigo Press) Near Mint/Mint
PREACHER (1995) #31 (DC: Vertigo Press) Near Mint/Mint
PREACHER (1995) #33 (DC: Vertigo Press) Very Fine
PREACHER (1995) #34 (DC: Vertigo Press) Near Mint/Mint
PREACHER (1995) #35 (DC: Vertigo Press) Near Mint/Mint
PREACHER (1995) #36 (DC: Vertigo Press) Near Mint/Mint
PREACHER (1995) #37 (DC: Vertigo Press) Near Mint/Mint
PREACHER (1995) #38 (DC: Vertigo Press) Near Mint/Mint
PREACHER (1995) #39 (DC: Vertigo Press) Near Mint/Mint
PREACHER (1995) #40 (DC: Vertigo Press) Very Fine
PREACHER (1995) #41 (DC: Vertigo Press) Very Fine
PREACHER (1995) #42 (DC: Vertigo Press) Near Mint/Mint
PREACHER (1995) #43 (DC: Vertigo Press) Near Mint/Mint
PREACHER (1995) #44 (DC: Vertigo Press) Fine
PREACHER (1995) #45 (DC: Vertigo Press) Fine
PREACHER (1995) #46 (DC: Vertigo Press) Fine
PREACHER (1995) #47 (DC: Vertigo Press) Near Mint/Mint
PREACHER (1995) #48 (DC: Vertigo Press) Near Mint/Mint
PREACHER (1995) #49 (DC: Vertigo Press) Near Mint/Mint
PREACHER (1995) #50 (DC: Vertigo Press) Near Mint/Mint
PREACHER (1995) #51 (DC: Vertigo Press) Near Mint/Mint
PREACHER (1995) #52 (DC: Vertigo Press) Near Mint/Mint
PREACHER (1995) #53 (DC: Vertigo Press) Near Mint/Mint
PREACHER (1995) #54 (DC: Vertigo Press) Very Fine
PREACHER (1995) #56 (DC: Vertigo Press) Near Mint/Mint
PREACHER (1995) #57 (DC: Vertigo Press) Near Mint/Mint
PREACHER (1995) #58 (DC: Vertigo Press) Fine
PREACHER (1995) #59 (DC: Vertigo Press) Fine
PREACHER (1995) #60 (DC: Vertigo Press) Near Mint/Mint
PREACHER (1995) #61 (DC: Vertigo Press) Near Mint/Mint
PREACHER (1995) #62 (DC: Vertigo Press) Near Mint/Mint
PREACHER (1995) #63 (DC: Vertigo Press) Near Mint/Mint
PREACHER (1995) #64 (DC: Vertigo Press) Fine
PREACHER (1995) #66 (DC: Vertigo Press) Fine


PRINCE: THREE CHAINS OF GOLD #1

PRINCE: THREE CHAINS OF GOLD #1 Very Fine

ROBIN (1993) (#1-183) (DC) #31 DCUNIVERSE Near Mint/Mint

SPECTRE (2001) (#1-27) (HAL JORDAN) (DC) #5 Near Mint/Mint
SPECTRE (2001) (#1-27) (HAL JORDAN) (DC) #5 Very Fine

STEEL (1993) (#0-52) (DC) #12 DCUNIVERSE Near Mint/Mint
STEEL (1993) (#0-52) (DC) #14 DCUNIVERSE Near Mint/Mint

SUPERBOY (1994) (#0-100) (DC) #5 DCUNIVERSE Near Mint/Mint
SUPERBOY (1994) (#0-100) (DC) #13 DCUNIVERSE Near Mint/Mint
SUPERBOY (1994) (#0-100) (DC) #15 DCUNIVERSE Near Mint/Mint
SUPERBOY (1994) (#0-100) (DC) #20 DCUNIVERSE Near Mint/Mint

SUPERGIRL (1993) (#1-4) (DC) #2 DCUNIVERSE Near Mint/Mint

SUPERMAN (1986) (#0-226, #650-714) (DC) #92 DCUNIVERSE Near Mint/Mint
SUPERMAN (1986) (#0-226, #650-714) (DC) #92 DCUNIVERSE Very Fine

SUPERMAN/TOYMAN (1996) #1 DCUNIVERSE Very Fine

SUPERMAN: MAN OF STEEL (1991) #35 DCUNIVERSE Near Mint/Mint
SUPERMAN: MAN OF STEEL (1991) #40 DCUNIVERSE Near Mint/Mint
SUPERMAN: MAN OF STEEL (1991) #44 DCUNIVERSE Near Mint/Mint
SUPERMAN: MAN OF STEEL (1991) #57 DCUNIVERSE Near Mint/Mint
SUPERMAN: MAN OF STEEL (1991) #60 DCUNIVERSE Near Mint/Mint

SUPERMAN: MAN OF TOMORROW (1995) #5 DCUNIVERSE Near Mint/Mint

SWAMP THING (2011) (#1-40) (NEW 52) #14 BLANK CVR Near Mint/Mint

WATCHMEN (1986) #11 Near Mint/Mint
WATCHMEN (1986) #11 Very Fine

YOUNG JUSTICE (1998) #30 Near Mint/Mint

YOUNG JUSTICE: OUR WORLDS AT WAR (2001) #1 Near Mint/Mint

DARK HORSE COMICS
DARK HORSE PRESENTS (1986) #24 Fine


FRANKENSTEIN UNDERGROUND (2015) #1

FRANKENSTEIN UNDERGROUND (2015) #1 Near Mint/Mint
FRANKENSTEIN UNDERGROUND (2015) #2 Near Mint/Mint
FRANKENSTEIN UNDERGROUND (2015) #5 Near Mint/Mint

STAR WARS BOBA FETT: ENEMY OF THE EMPIRE #2 Fine
STAR WARS BOBA FETT: ENEMY OF THE EMPIRE #3 Fine
STAR WARS BOBA FETT: ENEMY OF THE EMPIRE #4 Fine

IMAGE COMICS
BODY COUNT (1996) (#1-4) (TEENAGE MUTANT NINJA TURTLES) #1 Near Mint/Mint
BODY COUNT (1996) (#1-4) (TEENAGE MUTANT NINJA TURTLES) #2 Near Mint/Mint
BODY COUNT (1996) (#1-4) (TEENAGE MUTANT NINJA TURTLES) #3 Near Mint/Mint

I HATE FAIRYLAND (2015) #12 Near Mint/Mint
I HATE FAIRYLAND (2015) #12 VARIANT Near Mint/Mint

PLASTIC (2017) #2 B HILLYARD Very Fine

SPAWN (1992) #1 Very Good
SPAWN (1992) #16 Near Mint/Mint
SPAWN (1992) #16 Very Fine
SPAWN (1992) #249 Very Fine

SUPREME (1992) #1 GOLD Near Mint/Mint

WALKING DEAD WEEKLY (2011) #35 Near Mint/Mint
WALKING DEAD WEEKLY (2011) #49 Fine

YOUNGBLOOD (1992) (#0-10) (IMAGE) #2 Very Good

INDEPENDENTS
BONE (1991) (#1-55) (CARTOON BOOKS) #46 (Cartoon Books) Near Mint/Mint

FAUST (#14-UP) (REBEL PUBLISHING) (2012) #15 BLANK CVR (Rebel Studios) Near Mint/Mint

FRANKENSTEIN ALIVE, ALIVE (2012) #2 (IDW Publishing) Near Mint/Mint

HEROES: VENGEANCE (2015) #1 FRIED PIE (Titan Distributing) Fine
HEROES: VENGEANCE (2015) #1 FRIED PIE (Titan Distributing) Very Good

I FEEL SICK (2014) #1 (Slave Labor Graphics) Near Mint/Mint

LADY DEATH VS. PANDORA (2007) #1 FETISH (Avatar Comics) Very Fine

LADY MECHANIKA (2010) #5 A (Aspen) Near Mint/Mint
LADY MECHANIKA (2010) #5 B (Aspen) Near Mint/Mint

LADY MECHANIKA COLLECTED EDITION (#0-1) (2015) #1 (Benitez Productions) Near Mint/Mint

LADY MECHANIKA: TABLET OF DESTINIES (2015) #1 B (Benitez Productions) Near Mint/Mint
LADY MECHANIKA: TABLET OF DESTINIES (2015) #2 A (Benitez Productions) Near Mint/Mint
LADY MECHANIKA: TABLET OF DESTINIES (2015) #6 C (Benitez Productions) Very Fine

MADMAN #1 (Tundra Publishing) Very Fine
MADMAN #2 (Tundra Publishing) Near Mint/Mint

MILK AND CHEESE OTHER NUMBER ONE (1992) #1 (Slave Labor Graphics) Very Fine

NIGHTBREED (CLIVE BARKER'S) (2014) #5 (Boom Studios Publishing) Near Mint/Mint

PUPPET MASTER HALLOWEEN 1989 - THE CREATURE SPECIAL (2016) #1 B ATKINS (Action Lab Entertainment) Near Mint/Mint

STRANGE DAYS (1984) #3 (Eclipse Enterprises) Fine
STRANGE DAYS (1984) #3 (Eclipse Enterprises) Near Mint/Mint
STRANGE DAYS (1984) #3 (Eclipse Enterprises) Very Fine

WARRIOR NUN AREALA (1995) #1 (Antarctic Press) Near Mint/Mint

X-FILES: DEVIATIONS (2017) #1 INCENTIVE (IDW Publishing) Very Fine

X-MEN: LARGE LTD. HOLOGRAM (SILVER) #1 (Trade Items) Near Mint/Mint

X-O MANOWAR (1992) (#0-68) (VALIANT) #1 (Acclaim/Valiant) Very Fine

XENA WARRIOR PRINCESS: ORIGINAL OLYMPICS (1998) #3 (Topps Publishing) Near Mint/Mint

XXXENOPHILE #3 (Palliard Press) Very Fine
XXXENOPHILE #7 (Palliard Press) Very Fine

XXXENOPHILE PRESENTS #2 (Palliard Press) Fine
XXXENOPHILE PRESENTS #4 (Palliard Press) Fine

YUMMY FUR #23 (Vortex Comics, Inc.) Fine
YUMMY FUR #29 (Vortex Comics, Inc.) Fine
YUMMY FUR #31 (Vortex Comics, Inc.) Fine