Free Halloween ComicFest Variant Editions
Howdy!
Halloween ComicFest is an annual program very similar to Free Comic Book Day. The publishers print variant comics, sell them to us, and we then give them away starting on a specified date. Tomorrow is officially Halloween as far as the publishers are concerned, so we can finally start giving them away. If you would like any of the cool Halloween ComicFest variants listed on the special landing page, you can pick one for free for every $10 you spend with us this weekend, or you can qualify for an entire set for free by spending $200. Just list which ones that you would like to receive in the "notes" part of your online order form. Halloween ComicFest issues are printed in very small quantities, so they are actually much scarcer than FCBD editions.

SPOOKHOUSE HALLOWEEN COMICFEST MINI COMIC (2018) #1
Speaking of HALLOWEEN!, our annual 60% off codeword sale is about to end, so you should hurry up and place an order with us while you can still pick whatever issues that you might want from our huge website at only 40% of listed price. All ten million of our back issue comics and magazines are included, excluding only new issues, a few variants, and our professionally-graded comics.

BATTLE ANGEL ALITA HALLOWEEN COMICFEST (2018) #1
On a personal note, I want to sincerely thank everyone who sent me their best wishes for a speedy recovery from my basal cell cancer surgery on my upper lip and nose. The operation was a success, at least to the extent that they removed all of the cancer with just one removal of tissue, rather than some (or all) of my nose. I am very grateful to my beloved wife, Nanette, for nagging me into going to get checked...
My only other note for today is a photo of me (downloaded from CNN) at the ceremony this morning where Matthew Shepard ashes were interned in the National Cathedral in Washington, D.C. I attended with Matthew's parents, Queen Mother, and about 1,000 mourners. It was an incredibly moving ceremony that was well worth my discomfort brought on by journeying from Colorado immediately after my surgery.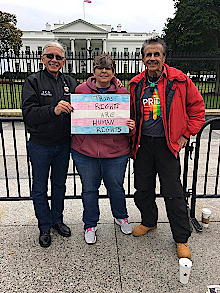 Honoring the memory of Matthew Shepard by sending a message with my new friends Stephanie and Ron!

Happy collecting!
Chuck Rozanski,
President - Mile High Comics, Inc.
October 26, 2018

MARVEL

AMAZING ADVENTURES (1979) (#1-14) (MARVEL) #1 NEWSSTAND

AMAZING ADVENTURES (1979) (#1-14) (MARVEL) #1 NEWSSTAND Very Good

AMAZING SPIDER-MAN: RENEW YOUR VOWS (2015)(SECRET WARS) #1 Near Mint/Mint

AVENGERS & X-MEN: AXIS (2014) #1 YOUNG BABY Near Mint/Mint

BLADE: UNDEAD AGAIN TPB (2007) #1 Very Fine

CONAN (1970) (#1-275) (CONAN THE BARBARIAN) (MARVEL) #83 Very Fine
CONAN (1970) (#1-275) (CONAN THE BARBARIAN) (MARVEL) #84 Very Fine
CONAN (1970) (#1-275) (CONAN THE BARBARIAN) (MARVEL) #107 NEWSSTAND Very Fine
CONAN (1970) (#1-275) (CONAN THE BARBARIAN) (MARVEL) #108 NEWSSTAND Very Fine
CONAN (1970) (#1-275) (CONAN THE BARBARIAN) (MARVEL) #109 NEWSSTAND Fine
CONAN (1970) (#1-275) (CONAN THE BARBARIAN) (MARVEL) #110 NEWSSTAND Very Fine
CONAN (1970) (#1-275) (CONAN THE BARBARIAN) (MARVEL) #113 Near Mint/Mint
CONAN (1970) (#1-275) (CONAN THE BARBARIAN) (MARVEL) #114 Near Mint/Mint
CONAN (1970) (#1-275) (CONAN THE BARBARIAN) (MARVEL) #115 Very Fine
CONAN (1970) (#1-275) (CONAN THE BARBARIAN) (MARVEL) #116 Near Mint/Mint
CONAN (1970) (#1-275) (CONAN THE BARBARIAN) (MARVEL) #117 Very Fine
CONAN (1970) (#1-275) (CONAN THE BARBARIAN) (MARVEL) #126 NEWSSTAND Fine
CONAN (1970) (#1-275) (CONAN THE BARBARIAN) (MARVEL) #127 NEWSSTAND Very Fine
CONAN (1970) (#1-275) (CONAN THE BARBARIAN) (MARVEL) #128 NEWSSTAND Fine

CONAN GIANT-SIZE (1974) #5 Fine

DAREDEVIL (1964) (#1-380) (MAN WITHOUT FEAR) (MARVEL) #132 Good
DAREDEVIL (1964) (#1-380) (MAN WITHOUT FEAR) (MARVEL) #135 Very Good
DAREDEVIL (1964) (#1-380) (MAN WITHOUT FEAR) (MARVEL) #157 Very Good
DAREDEVIL (1964) (#1-380) (MAN WITHOUT FEAR) (MARVEL) #159 Good
DAREDEVIL (1964) (#1-380) (MAN WITHOUT FEAR) (MARVEL) #160 NEWSSTAND Good
DAREDEVIL (1964) (#1-380) (MAN WITHOUT FEAR) (MARVEL) #161 NEWSSTAND Good
DAREDEVIL (1964) (#1-380) (MAN WITHOUT FEAR) (MARVEL) #162 NEWSSTAND Very Good
DAREDEVIL (1964) (#1-380) (MAN WITHOUT FEAR) (MARVEL) #163 NEWSSTAND Very Good
DAREDEVIL (1964) (#1-380) (MAN WITHOUT FEAR) (MARVEL) #164 NEWSSTAND Very Good
DAREDEVIL (1964) (#1-380) (MAN WITHOUT FEAR) (MARVEL) #165 NEWSSTAND Fine
DAREDEVIL (1964) (#1-380) (MAN WITHOUT FEAR) (MARVEL) #166 NEWSSTAND Good
DAREDEVIL (1964) (#1-380) (MAN WITHOUT FEAR) (MARVEL) #167 NEWSSTAND Very Good
DAREDEVIL (1964) (#1-380) (MAN WITHOUT FEAR) (MARVEL) #169 NEWSSTAND Very Good
DAREDEVIL (1964) (#1-380) (MAN WITHOUT FEAR) (MARVEL) #170 NEWSSTAND Very Good
DAREDEVIL (1964) (#1-380) (MAN WITHOUT FEAR) (MARVEL) #195 NEWSSTAND Near Mint/Mint
DAREDEVIL (1964) (#1-380) (MAN WITHOUT FEAR) (MARVEL) #198 NEWSSTAND Very Fine


DAREDEVIL (1964) (#1-380) (MAN WITHOUT FEAR) (MARVEL) #199 NEWSSTAND

DAREDEVIL (1964) (#1-380) (MAN WITHOUT FEAR) (MARVEL) #199 NEWSSTAND Near Mint/Mint
DAREDEVIL (1964) (#1-380) (MAN WITHOUT FEAR) (MARVEL) #200 NEWSSTAND Fine

DAUGHTERS OF THE DRAGON: SAMURAI BULLETS TPB (2006) #1 Near Mint/Mint

DEADPOOL & THE MERCS FOR MONEY (VOL. 2) (2016) #1 YOUNG BABY Fine

DEATH OF WOLVERINE: WEAPON X PROGRAM (2014) #1 YOUNG BABY Very Fine

DOCTOR STRANGE (1974) (#1-81) (MARVEL) (DR. STRANGE) #6 Fine
DOCTOR STRANGE (1974) (#1-81) (MARVEL) (DR. STRANGE) #7 Very Good
DOCTOR STRANGE (1974) (#1-81) (MARVEL) (DR. STRANGE) #8 Fine
DOCTOR STRANGE (1974) (#1-81) (MARVEL) (DR. STRANGE) #10 Very Good

GWENPOOL (UNBELIEVABLE GWENPOOL) (2016) #1 YOUNG BABY Near Mint/Mint

HOWARD THE DUCK (1976) (#1-33) #1 Fine
HOWARD THE DUCK (1976) (#1-33) #12 Fine
HOWARD THE DUCK (1976) (#1-33) #13 Fine
HOWARD THE DUCK (1976) (#1-33) #23 Very Fine

HULK (2017) (#1-11) (MARVEL NOW) (JENNIFER WALTERS) #1 YOUNG BABY Near Mint/Mint

KULL THE CONQUEROR (1971) (#1-29) (MARVEL) #27 Very Fine
KULL THE CONQUEROR (1971) (#1-29) (MARVEL) #29 Very Fine

MAN-THING GIANT-SIZE (1974) #4 Fine
MAN-THING GIANT-SIZE (1974) #5 Good

MARVEL FEATURE (1975) (#1-7) (RED SONJA) #1 Fine
MARVEL FEATURE (1975) (#1-7) (RED SONJA) #3 Very Fine
MARVEL FEATURE (1975) (#1-7) (RED SONJA) #7 Very Fine

MARVEL LEGACY (2017) #1 BROOKS Near Mint/Mint
MARVEL LEGACY (2017) #1 CHRISTOPHE Near Mint/Mint
MARVEL LEGACY (2017) #1 DODSON Near Mint/Mint

MARVEL PREMIERE (1972) #33 Very Fine

MARVEL TEAM-UP (1972) (#1-150) (MARVEL) #74 Fine
MARVEL TEAM-UP (1972) (#1-150) (MARVEL) #86 NEWSSTAND Fine
MARVEL TEAM-UP (1972) (#1-150) (MARVEL) #150 NEWSSTAND Near Mint/Mint


MARVEL UNIVERSE (1983) #4 NEWSSTAND

MARVEL UNIVERSE (1983) #4 NEWSSTAND Fine
MARVEL UNIVERSE (1983) #5 NEWSSTAND Very Fine

NIGHTHAWK (2016) #1 YOUNG BABY Very Fine

ORIGINAL SIN (2014) (#0-8) (MARVEL) #1 YOUNG BABY Near Mint/Mint

PETER PARKER (1976) (#1-263) (SPECTACULAR SPIDER-MAN) #35 NEWSSTAND Fine
PETER PARKER (1976) (#1-263) (SPECTACULAR SPIDER-MAN) #37 NEWSSTAND Fine

PUNISHER (2016) (#1-17) (MARVEL) #1 YOUNG BABY Near Mint/Mint

PUNISHER/PAINKILLER JANE (2001) #1 Very Fine

RED SONJA (1977) (#1-15) (MARVEL) #2 Very Fine

RUNAWAYS (2003) (#1-18) (MARVEL) #1 Fine

SPIDER-MAN (1963) (AMAZING SPIDER-MAN) (#1-441) #269 NEWSSTAND Very Good
SPIDER-MAN (1963) (AMAZING SPIDER-MAN) (#1-441) #270 Fine
SPIDER-MAN (1963) (AMAZING SPIDER-MAN) (#1-441) #274 NEWSSTAND Fine
SPIDER-MAN (1963) (AMAZING SPIDER-MAN) (#1-441) #276 Very Fine
SPIDER-MAN (1963) (AMAZING SPIDER-MAN) (#1-441) #280 Fine
SPIDER-MAN (1963) (AMAZING SPIDER-MAN) (#1-441) #281 Very Fine
SPIDER-MAN (1963) (AMAZING SPIDER-MAN) (#1-441) #282 NEWSSTAND Fine
SPIDER-MAN (1963) (AMAZING SPIDER-MAN) (#1-441) #284 Fine
SPIDER-MAN (1963) (AMAZING SPIDER-MAN) (#1-441) #285 Fine
SPIDER-MAN (1963) (AMAZING SPIDER-MAN) (#1-441) #289 Fine
SPIDER-MAN (1963) (AMAZING SPIDER-MAN) (#1-441) #290 Near Mint/Mint
SPIDER-MAN (1963) (AMAZING SPIDER-MAN) (#1-441) #291 Near Mint/Mint
SPIDER-MAN (1963) (AMAZING SPIDER-MAN) (#1-441) #293 NEWSSTAND Fine
SPIDER-MAN (1963) (AMAZING SPIDER-MAN) (#1-441) #294 Fine
SPIDER-MAN (1963) (AMAZING SPIDER-MAN) (#1-441) #295 Near Mint/Mint
SPIDER-MAN (1963) (AMAZING SPIDER-MAN) (#1-441) #295 Very Fine
SPIDER-MAN (1963) (AMAZING SPIDER-MAN) (#1-441) #296 Near Mint/Mint
SPIDER-MAN (1963) (AMAZING SPIDER-MAN) (#1-441) #296 NEWSSTAND Near Mint/Mint
SPIDER-MAN (1963) (AMAZING SPIDER-MAN) (#1-441) #297 Near Mint/Mint
SPIDER-MAN (1963) (AMAZING SPIDER-MAN) (#1-441) #297 Very Fine
SPIDER-MAN (1963) (AMAZING SPIDER-MAN) (#1-441) #298 Very Fine
SPIDER-MAN (1963) (AMAZING SPIDER-MAN) (#1-441) #299 NEWSSTAND Very Fine
SPIDER-MAN (1963) (AMAZING SPIDER-MAN) (#1-441) #301 2ND PRINT Fine
SPIDER-MAN (1963) (AMAZING SPIDER-MAN) (#1-441) #302 Very Fine
SPIDER-MAN (1963) (AMAZING SPIDER-MAN) (#1-441) #303 NEWSSTAND Fine


SPIDER-MAN (1963) (AMAZING SPIDER-MAN) (#1-441) #304

SPIDER-MAN (1963) (AMAZING SPIDER-MAN) (#1-441) #304 Very Fine
SPIDER-MAN (1963) (AMAZING SPIDER-MAN) (#1-441) #305 Near Mint/Mint
SPIDER-MAN (1963) (AMAZING SPIDER-MAN) (#1-441) #305 Very Good
SPIDER-MAN (1963) (AMAZING SPIDER-MAN) (#1-441) #306 Very Fine
SPIDER-MAN (1963) (AMAZING SPIDER-MAN) (#1-441) #307 Near Mint/Mint
SPIDER-MAN (1963) (AMAZING SPIDER-MAN) (#1-441) #308 Fine
SPIDER-MAN (1963) (AMAZING SPIDER-MAN) (#1-441) #308 Near Mint/Mint
SPIDER-MAN (1963) (AMAZING SPIDER-MAN) (#1-441) #309 Fine
SPIDER-MAN (1963) (AMAZING SPIDER-MAN) (#1-441) #309 Very Fine
SPIDER-MAN (1963) (AMAZING SPIDER-MAN) (#1-441) #310 NEWSSTAND Good
SPIDER-MAN (1963) (AMAZING SPIDER-MAN) (#1-441) #310 Very Good
SPIDER-MAN (1963) (AMAZING SPIDER-MAN) (#1-441) #311 Near Mint/Mint
SPIDER-MAN (1963) (AMAZING SPIDER-MAN) (#1-441) #311 Fine
SPIDER-MAN (1963) (AMAZING SPIDER-MAN) (#1-441) #312 Good
SPIDER-MAN (1963) (AMAZING SPIDER-MAN) (#1-441) #312 Very Fine
SPIDER-MAN (1963) (AMAZING SPIDER-MAN) (#1-441) #313 Near Mint/Mint
SPIDER-MAN (1963) (AMAZING SPIDER-MAN) (#1-441) #313 Very Fine
SPIDER-MAN (1963) (AMAZING SPIDER-MAN) (#1-441) #314 Very Fine
SPIDER-MAN (1963) (AMAZING SPIDER-MAN) (#1-441) #314 Very Good
SPIDER-MAN (1963) (AMAZING SPIDER-MAN) (#1-441) #315 Near Mint/Mint
SPIDER-MAN (1963) (AMAZING SPIDER-MAN) (#1-441) #315 Very Fine
SPIDER-MAN (1963) (AMAZING SPIDER-MAN) (#1-441) #316 Fine
SPIDER-MAN (1963) (AMAZING SPIDER-MAN) (#1-441) #317 Fine
SPIDER-MAN (1963) (AMAZING SPIDER-MAN) (#1-441) #317 Very Fine
SPIDER-MAN (1963) (AMAZING SPIDER-MAN) (#1-441) #318 Near Mint/Mint
SPIDER-MAN (1963) (AMAZING SPIDER-MAN) (#1-441) #318 Fine
SPIDER-MAN (1963) (AMAZING SPIDER-MAN) (#1-441) #319 Near Mint/Mint
SPIDER-MAN (1963) (AMAZING SPIDER-MAN) (#1-441) #319 Very Fine
SPIDER-MAN (1963) (AMAZING SPIDER-MAN) (#1-441) #320 Fine
SPIDER-MAN (1963) (AMAZING SPIDER-MAN) (#1-441) #321 NEWSSTAND Good
SPIDER-MAN (1963) (AMAZING SPIDER-MAN) (#1-441) #322 Near Mint/Mint
SPIDER-MAN (1963) (AMAZING SPIDER-MAN) (#1-441) #322 Very Good
SPIDER-MAN (1963) (AMAZING SPIDER-MAN) (#1-441) #323 Near Mint/Mint
SPIDER-MAN (1963) (AMAZING SPIDER-MAN) (#1-441) #323 Fine
SPIDER-MAN (1963) (AMAZING SPIDER-MAN) (#1-441) #324 Very Fine
SPIDER-MAN (1963) (AMAZING SPIDER-MAN) (#1-441) #324 Very Good
SPIDER-MAN (1963) (AMAZING SPIDER-MAN) (#1-441) #325 NEWSSTAND Very Good
SPIDER-MAN (1963) (AMAZING SPIDER-MAN) (#1-441) #325 Very Good
SPIDER-MAN (1963) (AMAZING SPIDER-MAN) (#1-441) #326 NEWSSTAND Fine
SPIDER-MAN (1963) (AMAZING SPIDER-MAN) (#1-441) #327 Near Mint/Mint
SPIDER-MAN (1963) (AMAZING SPIDER-MAN) (#1-441) #327 NEWSSTAND Fine
SPIDER-MAN (1963) (AMAZING SPIDER-MAN) (#1-441) #328 Near Mint/Mint
SPIDER-MAN (1963) (AMAZING SPIDER-MAN) (#1-441) #328 Fine


SPIDER-MAN (1963) (AMAZING SPIDER-MAN) (#1-441) #329 NEWSSTAND

SPIDER-MAN (1963) (AMAZING SPIDER-MAN) (#1-441) #329 NEWSSTAND Fine
SPIDER-MAN (1963) (AMAZING SPIDER-MAN) (#1-441) #332 NEWSSTAND Very Good
SPIDER-MAN (1963) (AMAZING SPIDER-MAN) (#1-441) #332 Very Fine
SPIDER-MAN (1963) (AMAZING SPIDER-MAN) (#1-441) #333 NEWSSTAND Very Good
SPIDER-MAN (1963) (AMAZING SPIDER-MAN) (#1-441) #337 NEWSSTAND Very Fine
SPIDER-MAN (1963) (AMAZING SPIDER-MAN) (#1-441) #338 Very Fine
SPIDER-MAN (1963) (AMAZING SPIDER-MAN) (#1-441) #342 Very Fine
SPIDER-MAN (1963) (AMAZING SPIDER-MAN) (#1-441) #343 INSERT Near Mint/Mint
SPIDER-MAN (1963) (AMAZING SPIDER-MAN) (#1-441) #344 Fine
SPIDER-MAN (1963) (AMAZING SPIDER-MAN) (#1-441) #344 NEWSSTAND Very Fine
SPIDER-MAN (1963) (AMAZING SPIDER-MAN) (#1-441) #345 Fine
SPIDER-MAN (1963) (AMAZING SPIDER-MAN) (#1-441) #346 Very Good
SPIDER-MAN (1963) (AMAZING SPIDER-MAN) (#1-441) #347 Very Good
SPIDER-MAN (1963) (AMAZING SPIDER-MAN) (#1-441) #348 INSERT Very Fine
SPIDER-MAN (1963) (AMAZING SPIDER-MAN) (#1-441) #360 Very Fine
SPIDER-MAN (1963) (AMAZING SPIDER-MAN) (#1-441) #361 NEWSSTAND Very Fine
SPIDER-MAN (1963) (AMAZING SPIDER-MAN) (#1-441) #362 Near Mint/Mint
SPIDER-MAN (1963) (AMAZING SPIDER-MAN) (#1-441) #362 NEWSSTAND Fine
SPIDER-MAN (1963) (AMAZING SPIDER-MAN) (#1-441) #363 Near Mint/Mint
SPIDER-MAN (1963) (AMAZING SPIDER-MAN) (#1-441) #363 Very Fine
SPIDER-MAN (1963) (AMAZING SPIDER-MAN) (#1-441) #365 Near Mint/Mint
SPIDER-MAN (1963) (AMAZING SPIDER-MAN) (#1-441) #373 Near Mint/Mint
SPIDER-MAN (1963) (AMAZING SPIDER-MAN) (#1-441) #375 Near Mint/Mint
SPIDER-MAN (1963) (AMAZING SPIDER-MAN) (#1-441) #375 Very Fine
SPIDER-MAN (1963) (AMAZING SPIDER-MAN) (#1-441) #378 NEWSSTAND Near Mint/Mint
SPIDER-MAN (1963) (AMAZING SPIDER-MAN) (#1-441) #379 Near Mint/Mint
SPIDER-MAN (1963) (AMAZING SPIDER-MAN) (#1-441) #380 NEWSSTAND Very Fine
SPIDER-MAN (1963) (AMAZING SPIDER-MAN) (#1-441) #390 BAGGED Near Mint/Mint
SPIDER-MAN (1963) (AMAZING SPIDER-MAN) (#1-441) #394 DELUXENEWS Near Mint/Mint
SPIDER-MAN (1963) (AMAZING SPIDER-MAN) (#1-441) #397 Fine
SPIDER-MAN (1963) (AMAZING SPIDER-MAN) (#1-441) #400 DELUXE Near Mint/Mint
SPIDER-MAN (1963) (AMAZING SPIDER-MAN) (#1-441) #400 DELUXENEWS Very Fine
SPIDER-MAN (1963) (AMAZING SPIDER-MAN) (#1-441) #408 NEWSSTAND Fine
SPIDER-MAN (1963) (AMAZING SPIDER-MAN) (#1-441) #410 NEWSSTAND Very Good
SPIDER-MAN (1963) (AMAZING SPIDER-MAN) (#1-441) #416 NEWSSTAND Very Fine
SPIDER-MAN (1963) (AMAZING SPIDER-MAN) (#1-441) #425 Very Fine
SPIDER-MAN (1963) (AMAZING SPIDER-MAN) (#1-441) #426 Near Mint/Mint
SPIDER-MAN (1963) (AMAZING SPIDER-MAN) (#1-441) #427 Near Mint/Mint
SPIDER-MAN (1963) (AMAZING SPIDER-MAN) (#1-441) #430 Very Fine
SPIDER-MAN (1963) (AMAZING SPIDER-MAN) (#1-441) #431 Near Mint/Mint
SPIDER-MAN (1963) (AMAZING SPIDER-MAN) (#1-441) #432 Near Mint/Mint
SPIDER-MAN (1963) (AMAZING SPIDER-MAN) (#1-441) #434 Near Mint/Mint
SPIDER-MAN (1963) (AMAZING SPIDER-MAN) (#1-441) #435 Near Mint/Mint


SPIDER-MAN (1963) (AMAZING SPIDER-MAN) (#1-441) #438

SPIDER-MAN (1963) (AMAZING SPIDER-MAN) (#1-441) #438 Near Mint/Mint
SPIDER-MAN (1963) (AMAZING SPIDER-MAN) (#1-441) #439 Very Fine
SPIDER-MAN (1963) (AMAZING SPIDER-MAN) (#1-441) #440 Near Mint/Mint
SPIDER-MAN (1963) (AMAZING SPIDER-MAN) (#1-441) #441 Fine

SPIDER-MAN (MILES MORALES) (#1-21) (MARVEL) (2016) #1 YOUNG BABY Near Mint/Mint

SPIDER-MAN ANNUAL (1964) #13 NEWSSTAND Fine
SPIDER-MAN ANNUAL (1964) #21 NEWS Very Good

SPIDER-MAN: MAXIMUM CLONAGE (1995) #1 ALPHA Very Fine

STRANGE TALES (1951) (#1-85 ATLAS, #86-188 MARVEL) #182 Fine

THANOS (2016) (#1-UP) (MARVEL NOW) #1 Near Mint/Mint
THANOS (2016) (#1-UP) (MARVEL NOW) #16 Near Mint/Mint
THANOS (2016) (#1-UP) (MARVEL NOW) #17 Near Mint/Mint
THANOS (2016) (#1-UP) (MARVEL NOW) #18 Near Mint/Mint
THANOS (2016) (#1-UP) (MARVEL NOW) #18 PERKINS Near Mint/Mint

THOR (1962) (#83-125 JOURNEY INTO MYSTERY, 126-502) #283 Very Fine
THOR (1962) (#83-125 JOURNEY INTO MYSTERY, 126-502) #300 Fine
THOR (1962) (#83-125 JOURNEY INTO MYSTERY, 126-502) #337 Fine
THOR (1962) (#83-125 JOURNEY INTO MYSTERY, 126-502) #338 NEWSSTAND Very Fine
THOR (1962) (#83-125 JOURNEY INTO MYSTERY, 126-502) #339 Near Mint/Mint
THOR (1962) (#83-125 JOURNEY INTO MYSTERY, 126-502) #346 Near Mint/Mint
THOR (1962) (#83-125 JOURNEY INTO MYSTERY, 126-502) #352 Very Fine
THOR (1962) (#83-125 JOURNEY INTO MYSTERY, 126-502) #353 Near Mint/Mint

VENOM: LETHAL PROTECTOR (1993) #1 Near Mint/Mint
VENOM: LETHAL PROTECTOR (1993) #2 Very Fine
VENOM: LETHAL PROTECTOR (1993) #3 Fine
VENOM: LETHAL PROTECTOR (1993) #4 Very Good
VENOM: LETHAL PROTECTOR (1993) #5 Near Mint/Mint
VENOM: LETHAL PROTECTOR (1993) #6 Near Mint/Mint

WHAT IF: SPIDER-MAN THE OTHER (2006) #1 Near Mint/Mint

WOLVERINES (2015) #1 YOUNG BABY Near Mint/Mint

X-FORCE (1991) (#1-129) (MARVEL) #2 Very Good

X-INFERNUS (2008) #2 Very Fine

X-MEN (1963) (#1-113, UNCANNY X-MEN #114-544) (MARVEL) #160 Near Mint/Mint
X-MEN (1963) (#1-113, UNCANNY X-MEN #114-544) (MARVEL) #480 Near Mint/Mint
X-MEN (1963) (#1-113, UNCANNY X-MEN #114-544) (MARVEL) #484 Very Fine

DC
ARION (LORD OF ATLANTIS) (DC) (1982) #5 Near Mint/Mint

DARK DAYS: THE FORGE (2017) #1 KUBERT Near Mint/Mint

DC VS. MARVEL (1996) #1 Very Fine

POWER OF SHAZAM 1,000,000 (1998) #1 Very Fine

SANDMAN PRESENTS LUCIFER (1999) #1 (DC: Vertigo Press) Near Mint/Mint

SMALLVILLE (2003) #1 Very Fine

SOLO (2004) (#1-12) (DC) #3 Near Mint/Mint

SWAMP THING, SAGA OF (1982) #3 (DC: Vertigo Press) Near Mint/Mint
SWAMP THING, SAGA OF (1982) #5 (DC: Vertigo Press) Near Mint/Mint
SWAMP THING, SAGA OF (1982) #6 (DC: Vertigo Press) Near Mint/Mint
SWAMP THING, SAGA OF (1982) #7 (DC: Vertigo Press) Near Mint/Mint
SWAMP THING, SAGA OF (1982) #9 (DC: Vertigo Press) Near Mint/Mint
SWAMP THING, SAGA OF (1982) #12 (DC: Vertigo Press) Near Mint/Mint
SWAMP THING, SAGA OF (1982) #27 (DC: Vertigo Press) Near Mint/Mint

WARLORD (1976) #58 NEWSSTAND Very Fine
WARLORD (1976) #60 NEWSSTAND Very Fine
WARLORD (1976) #62 NEWSSTAND Near Mint/Mint

Y-THE LAST MAN (2002) #1 (DC: Vertigo Press) Fine
Y-THE LAST MAN (2002) #2 (DC: Vertigo Press) Fine
Y-THE LAST MAN (2002) #3 (DC: Vertigo Press) Fine
Y-THE LAST MAN (2002) #4 (DC: Vertigo Press) Very Good
Y-THE LAST MAN (2002) #5 (DC: Vertigo Press) Fine
Y-THE LAST MAN (2002) #6 (DC: Vertigo Press) Near Mint/Mint
Y-THE LAST MAN (2002) #8 (DC: Vertigo Press) Fine
Y-THE LAST MAN (2002) #9 (DC: Vertigo Press) Very Fine
Y-THE LAST MAN (2002) #10 (DC: Vertigo Press) Very Fine

Y-THE LAST MAN (2002) #11 (DC: Vertigo Press) Very Fine
Y-THE LAST MAN (2002) #13 (DC: Vertigo Press) Fine
Y-THE LAST MAN (2002) #44 (DC: Vertigo Press) Near Mint/Mint
Y-THE LAST MAN (2002) #50 (DC: Vertigo Press) Near Mint/Mint
Y-THE LAST MAN (2002) #51 (DC: Vertigo Press) Near Mint/Mint
Y-THE LAST MAN (2002) #52 (DC: Vertigo Press) Very Fine
Y-THE LAST MAN (2002) #53 (DC: Vertigo Press) Near Mint/Mint
Y-THE LAST MAN (2002) #54 (DC: Vertigo Press) Very Fine
Y-THE LAST MAN (2002) #57 (DC: Vertigo Press) Very Fine
Y-THE LAST MAN (2002) #58 (DC: Vertigo Press) Near Mint/Mint
Y-THE LAST MAN (2002) #59 (DC: Vertigo Press) Fine
Y-THE LAST MAN (2002) #60 (DC: Vertigo Press) Very Fine

DARK HORSE COMICS
CHRONICLES OF SOLOMON KANE VOL. 1: BLADES OF THE TPB (2009) #1 Fine

MAGIC THE GATHERING: GERRARD'S QUEST TPB #1 Fine

SERGIO ARAGONES' ACTIONS SPEAK (2001) #1 Fine

SIN CITY: A DAME TO KILL FOR (1993) #2 Very Good

IMAGE COMICS
BIRTHRIGHT (2014) (#1-UP) (IMAGE) #2 Near Mint/Mint
BIRTHRIGHT (2014) (#1-UP) (IMAGE) #3 Near Mint/Mint
BIRTHRIGHT (2014) (#1-UP) (IMAGE) #5 Near Mint/Mint
BIRTHRIGHT (2014) (#1-UP) (IMAGE) #6 A Near Mint/Mint
BIRTHRIGHT (2014) (#1-UP) (IMAGE) #6 B Near Mint/Mint
BIRTHRIGHT (2014) (#1-UP) (IMAGE) #26 A BRESSAN Near Mint/Mint
BIRTHRIGHT (2014) (#1-UP) (IMAGE) #27 A BRESSAN Near Mint/Mint
BIRTHRIGHT (2014) (#1-UP) (IMAGE) #27 B TRIBUTE Near Mint/Mint

BLACK SCIENCE (2013) (#1-UP) (IMAGE) #1 B Near Mint/Mint
BLACK SCIENCE (2013) (#1-UP) (IMAGE) #1 A Very Fine
BLACK SCIENCE (2013) (#1-UP) (IMAGE) #1 B Fine
BLACK SCIENCE (2013) (#1-UP) (IMAGE) #1 HASTINGS Fine
BLACK SCIENCE (2013) (#1-UP) (IMAGE) #2 A Near Mint/Mint
BLACK SCIENCE (2013) (#1-UP) (IMAGE) #3 Near Mint/Mint
BLACK SCIENCE (2013) (#1-UP) (IMAGE) #12 A Near Mint/Mint
BLACK SCIENCE (2013) (#1-UP) (IMAGE) #27 Near Mint/Mint
BLACK SCIENCE (2013) (#1-UP) (IMAGE) #30 A SCALERA Near Mint/Mint


DRIFTER (IMAGE) (2014) #1 C CHIANG

DRIFTER (IMAGE) (2014) #1 C CHIANG Near Mint/Mint
DRIFTER (IMAGE) (2014) #2 A Near Mint/Mint
DRIFTER (IMAGE) (2014) #3 A Near Mint/Mint
DRIFTER (IMAGE) (2014) #4 B Near Mint/Mint
DRIFTER (IMAGE) (2014) #5 A Near Mint/Mint
DRIFTER (IMAGE) (2014) #6 A Near Mint/Mint

LAZARUS (2013) #2 2ND PRINT Near Mint/Mint
LAZARUS (2013) #5 Near Mint/Mint
LAZARUS (2013) #7 Near Mint/Mint
LAZARUS (2013) #8 Near Mint/Mint
LAZARUS (2013) #12 Near Mint/Mint
LAZARUS (2013) #13 Near Mint/Mint
LAZARUS (2013) #16 Near Mint/Mint
LAZARUS (2013) #17 Near Mint/Mint
LAZARUS (2013) #26 B LARK Near Mint/Mint

SAGA (2012) #3 2ND PRINT Fine
SAGA (2012) #4 2ND PRINT Near Mint/Mint
SAGA (2012) #9 Fine
SAGA (2012) #13 Near Mint/Mint
SAGA (2012) #14 Near Mint/Mint
SAGA (2012) #18 Fine
SAGA (2012) #20 Very Fine
SAGA (2012) #21 Fine
SAGA (2012) #25 Near Mint/Mint
SAGA (2012) #27 Very Fine
SAGA (2012) #28 Very Good
SAGA (2012) #29 Near Mint/Mint
SAGA (2012) #32 Very Fine
SAGA (2012) #33 Near Mint/Mint
SAGA (2012) #34 Near Mint/Mint
SAGA (2012) #35 Near Mint/Mint
SAGA (2012) #39 Near Mint/Mint

SAVAGE DRAGON-THE SERIES (1993) (#0-UP) #0 Very Fine
SAVAGE DRAGON-THE SERIES (1993) (#0-UP) #40 VARIANT Very Fine
SAVAGE DRAGON-THE SERIES (1993) (#0-UP) #50 Near Mint/Mint
SAVAGE DRAGON-THE SERIES (1993) (#0-UP) #74 Near Mint/Mint
SAVAGE DRAGON-THE SERIES (1993) (#0-UP) #99 Near Mint/Mint
SAVAGE DRAGON-THE SERIES (1993) (#0-UP) #100 Very Fine

SHE DRAGON (2005) #1 Very Fine

SPAWN (1992) #1 Very Fine
SPAWN (1992) #2 Near Mint/Mint
SPAWN (1992) #3 Near Mint/Mint
SPAWN (1992) #18 Near Mint/Mint
SPAWN (1992) #101 Very Good
SPAWN (1992) #102 Very Good
SPAWN (1992) #103 Very Good
SPAWN (1992) #104 Very Good
SPAWN (1992) #123 Very Fine
SPAWN (1992) #124 Very Fine
SPAWN (1992) #125 Near Mint/Mint
SPAWN (1992) #140 Fine
SPAWN (1992) #143 Very Fine
SPAWN (1992) #163 Near Mint/Mint

SPAWN/BATMAN (1994) #1 Near Mint/Mint

INDEPENDENTS
POKEMON: THE ELECTRIC TALE OF PIKACHU (VOL. 1) #1 (Viz Comics) Fine
POKEMON: THE ELECTRIC TALE OF PIKACHU (VOL. 1) #2 (Viz Comics) Fine
POKEMON: THE ELECTRIC TALE OF PIKACHU (VOL. 1) #3 (Viz Comics) Fine

SHI (1994) (#1-12) #1 (Crusade) Near Mint/Mint

SILENT HILL: PAINT IT BLACK (2005) #1 (IDW Publishing) Near Mint/Mint

SIMPSONS COMICS (BONGO) (1993) #52 (Bongo Comics) Very Fine

SOLAR, MAN OF THE ATOM (1991) #10 (Acclaim/Valiant) Near Mint/Mint

TALES FROM SHOCK CITY (2001) #1 (Fantagraphics) Near Mint/Mint

TO RIVERDALE & BACK AGAIN (1990) #1 NEWSSTAND (Archie Comics) Fine

UNCLE SCROOGE (1990) (DISNEY) (#243-280) #276 (Walt Disney Company) Very Fine
UNCLE SCROOGE (1990) (DISNEY) (#243-280) #279 (Walt Disney Company) Very Fine

WASTELAND (ONI PRESS) (2006) #7 (Oni Press Inc.) Near Mint/Mint


X-MEN: LARGE LTD. HOLOGRAM (SILVER) #1

X-MEN: LARGE LTD. HOLOGRAM (SILVER) #1 (Trade Items) Near Mint/Mint

ZOOM SUIT (2006) #1 SUSPENDED (SUPERVERSE PRODUCTIONS) Near Mint/Mint