Local News - Free Comic Books on October 28th plus Auction and Poker!
Howdy!
I want to sincerely thank everyone who turned out for our amazingly successful benefit auction on Saturday morning. Thanks to your kindness and generosity, we were able to raise $2,295 in donations for C.A.S.A. (Court Appointed Special Advocate) a nationwide group that provides advocates for kids who find themselves trapped in the foster care system. Your help was very much appreciated!
If you missed our amazing no-minimum-bid auction of last Saturday, you have a second chance coming up in just two weeks. On Saturday morning, October 28th, we are going to host yet another auction featuring thousands of dollars of old comics, toys, statues, prints, and other collectibles. We have a very specific goal in kind for this auction, as I am trying to raise funds to help pay for an amazing art installation for the outside of our Jason St. Mega-Store. Here is a photoshopped look at what I am planning to do: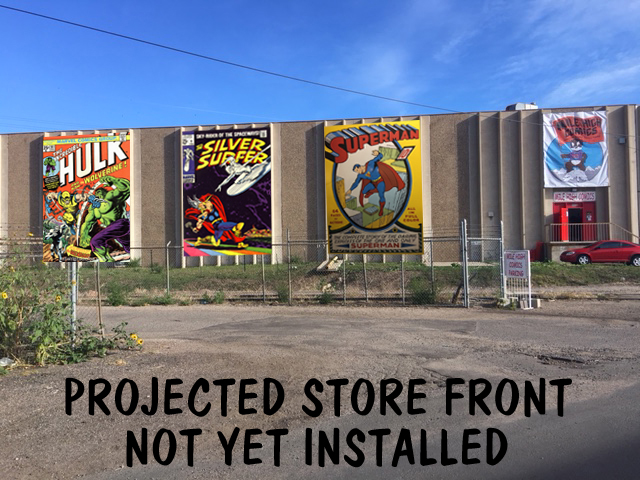 Projected Store Front NOT YET INSTALLED

Doesn't that projection look cool? I have measured, and we have room for a total of 15! of these huge comics covers reproductions on our exterior walls. My plan is to spread out the cost by hosting an event each month to fund the cost of one cover, with our auction on the 28th being the first. If you could please save the date and try to visit us on the 28th, we would all appreciate it very much. We'll have photos of auction items online for you very soon.
Another reason to stop by Jason St. Mega-Store. on the 28th is that will also be the day of our next Texas Hold'em Poker Tournament. This month's tournament will be a benefit for the White Rose Scholarship Foundation, which helps deserving local students to pay their tuition. White Rose gives out about $15,000 per year in grants, and the comics fans of Denver have provided a substantial portion of those funds through our auctions and poker games during of past three years. If you want to play in the game. , PLEASE sign up in advance at any one of our three stores. We had 82 players in our last tournament, and some of our dealers have told us that they can't make this game. 'Nuff said...
I will close today's newsletter by mentioning that October 28th will also be the date of this year's HALLOWEENFEST. That is the day that we give away specially-created comics variants to kids of all ages. In effect, HALLOWEENFEST is a second Free Comic Book Day, with those variants only available on that day. We will be giving away three free HALLOWEENFEST comics to anyone who shops with us that day, and another 3 free to anyone who visits us in costume. This offer will be honored at all three of our retail stores. Please do stop by on October 28th for a wonderful day of fun!
Happy collecting!
Chuck Rozanski,
President - Mile High Comics, Inc.
October 17, 2017

P.S. Aside from ordering our first huge comics cover reproduction, we also purchased a wonderful Captain Woodchuck sign for above the front entrance to Jason St. Fun!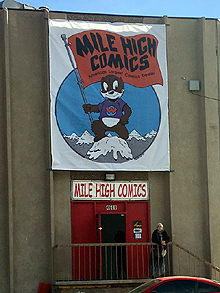 New Mile High Comics Sign at the Jason Street Mega Store