60% Off All Back Issue Comics Codeword Begins
Howdy!
As you probably already know, we host our biggest sales of the year around major holidays, of which Halloween is my personal favorite. With that thought in mind, I already had a special 60% off HALLOWEEN! sale planned to begin a week from Monday. My plans have had to be quickly altered, however, because my wonderful wife, Nanette, reminded me at breakfast this morning that we have a particularly large tax payment due on next Monday, the 15th. That being the case, she told me that there was just no way that I could delay the sale. Sigh...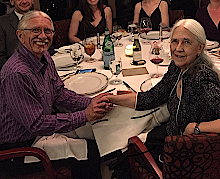 Chuck and Nanette at their 40th Anniversary Dinner

So, regardless of my desire to stick to my traditional seasonal planning, I am commencing our annual 60% off HALLOWEEN! codeword sale for you immediately. This sale applies to all ten million+ of our back issue comics and magazines listed on our website, excluding only our new issues, a few variants, and our professionally-graded comics. Please do note, however, that our 60% off sales typically spur a sales volume of up to 10X our usual rate. This vast increase means that we sometimes fall behind in shipping. We also tend to sell many of our most highly-desirable back issues (and most especially our high grade Silver Age) in the first couple of days after we announce a 60% off sale. With that thought in mind, I encourage you to place your HALLOWEEN! order with us right away for both fastest service, and best selection.
In case you are wondering, this huge comics sale is also in effect in all three of our retail stores, so if you live near Denver you are now free to loot our very best comics with mad abandon. Please do note, however, that our $1 comics are not discounted, and that the few blue-stickered comics in each store are also exempt. Otherwise, we are letting you choose pretty much anything you might want for your collection at 60% off. Please enjoy these great savings with Nanette's sincere thanks for your support of our company.
Happy collecting!
Chuck Rozanski,
President - Mile High Comics, Inc.
October 10, 2018