Local News - Huge Comics and Toy Sale, Auction, Poker Game, and Wrestling!
Howdy!
Before I left town for this weekend's Imperial Court Coronation in Cincinnati, I wanted to let you know that we are having a great sale at all three of our Mile High Comics retail locations. Here are the discounts that we are offering you through the close of business on Monday: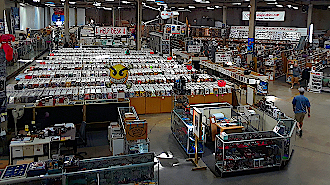 Mile High Comics - Jason Street Mega Store

50% OFF Back Issue Comics & Magazines (Excludes $1.00 comics and graded items)
30% OFF Trade Paperbacks
30% OFF Hardcovers
30% OFF Statues & Busts
30% OFF Toys & Apparel
30% OFF Posters

In addition to this weekend's great deals, we are hosting a huge comics and toys auction a week from Saturday (October 13th), as well as one of our awesome Texas Hold'em poker tournaments. Both of those events will be benefitting the annual warm sock drives of "Feeding Denver's Hungry" and "A Light In The Night." Speaking as someone who has slept under bridges and in public parks when I was young and poor, I can assure you that possessing a spare set of dry socks is critical to feeling at least minimally human, especially when it rains or snows.
In a nutshell, that is why I am offering 100% in trade credit to anyone who will pick up some warm socks at your local Dollar Tree store, and delivers them to us (at any of our three store locations ..) along with the receipt. If your Dollar Tree is out of socks, we will also gladly accept gloves, scarves, and knitted hats. We are striving to deliver at least 1,500 pairs of socks to each organization, which should be easily doable if we get a decent turnout for next Saturday's poker game, and benefit portion of the auction. Please help us to help those who are about to face the harshness of winter, if you can. Thank you!
Happy collecting!
Chuck Rozanski,
President - Mile High Comics, Inc.
October 4, 2018

P.S. We have a huge New Era wrestling tournament scheduled in Jason St. for Saturday, October 13th. Doors open at 6:30 pm and show starts at 7:00. Kids truly love the frenetic zaniness of pro wresting!