Local News - 60% Off Comics Sale ends Monday + Wrestling, Poker, & Auction
Hi!
This is William with Mile High Comics. Here is a quick local newsletter letting everyone know a few things going on at Mile High.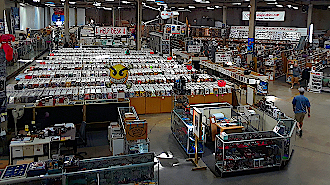 Front of the Jason Street Mega Store

First, our 60% off LABORDAY sale will be ending at the close of business Monday September 10th. This sale is good on all back issue comics and magazines. (Excluding only new issues, $1 books, slabbed books, and a few blue priced comics) The sale is available at all our Mile High Comics locations. We are getting in new collections everyday so come down and take a look at all the new and cool items we have been getting in!
Second, this Saturday September 8th we have a huge New Era wrestling tournament scheduled at Jason St. Kids truly love the frenetic zaniness of pro wrestling!
Third, our next Texas Hold-em benefit Poker Tournament will be held on Saturday morning, September 15th, starting at 11 AM. This tournament is a benefit for the Matthew Shepard Foundation, and will have $2,000 in Mile High Comics gift certificates as prizes. Preregistration is now open at all of our stores. Paying your $25 entry fee will result in your immediately receiving a $25 gift certificate, so you are essentially playing for free! Tournament is limited to 80 players, so please try to register early...
Finally, 30 minutes after the poker tournament begins on Saturday morning, September 15th, we will commence one of our world-famous no-minimum-bid auctions. The main auction will benefit Mile High Comics, with the charity portion of the auction dedicated to helping the family of our recently deceased staff member, Josh Brown, cover funeral expenses. We try to alternate between Mile High Comics lots and benefit lots, so we are seeking donations of collectibles that we can auction for Josh's family. Please bring all donation items to Lisa, or Greg, at our Jason St. Mega-Store.
Have a Great Weekend!
William Moulton,
Executive Buyer - Mile High Comics, Inc.
September 6, 2018