Huge Denver Comic Book
Convention and Party
Howdy!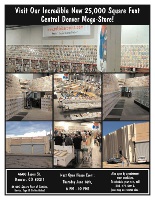 Jason St Mega-Store

Those of you who are planning to attend next weekend's (June 14th -June 16th) Denver Comic-Con need to pay special attention to today's newsletter. First off, after a little bit of lobbying on my part with Marilyn Adams at last weekend's Philadelphia WizardWorld convention, comics legend Neal Adams has agreed to attend the Denver Comic-Con! With that one amazing score, the Denver Comic-Con now has a guest list as prestigious as many conventions that have been in existence for a decade, or even longer.


Now for the bad news. First, the convention is already almost sold out. If you have any intension of going, you need to order your tickets from the convention website immediately. Second, it is highly likely that badge pick-up on Saturday morning at the convention is going to be a trying experience. Several thousand fans are going to be attempting to pick up their badges at the same time as the convention will (in all probability...) be turning away a great many folks who waited too long, and thus cannot get tickets. I leave it to your imagination as to how this might turn out...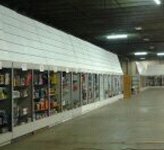 Display Expansion

Returning to good news, if you want to avoid the badge line on Saturday morning, just come to our Jason St. Mega-Store on Thursday, June 14th, from 5 PM - 11 PM. The convention will have badge pick-up available for you all that evening at our free Opening Night party. I anticipate that there will still be some measure of lines on Thursday evening, as we are planning for 1,000 - 2,000 people to attend our party, but since the party lasts for six hours, the congestion should be minimal. We will also have free refreshments, a great Silver Age comics auction, and a pro wresting demonstration (with a full-size wrestling ring!) during the party. I also just found out that noted local comics creator, Dan Conner, is having a special release party for his new title, Heaven Forbid 2 Awkward for Everyone, at our Jason St. location that evening. Stop by to be among the first to purchase signed copies of this brand new comics title!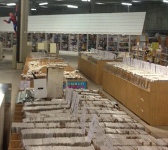 Golden and Silver Age

One point that I do want to especially emphasize is that while our party is officially designated as the Opening Night party for the Denver Comic-Con, it is also open to anyone who wishes to attend, with absolutely no admission charge. In point of fact, we are going to keep the Jason St. Mega-Store open the entire duration of the convention, specifically as an option for those who cannot obtain con badges. If you cannot for some reason attend our Thursday night party, please do still try to come by to visit the world's largest comics store. Our hours will be as follows:


Thursday June 14th 5 PM - 11 PM
Friday June 15th 10 AM - 6 PM
Saturday June 16th 10 AM - 5 PM
Sunday June 17th Noon - 5 PM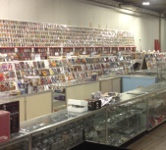 Book Expansion

As an aside, over the past week I shifted over 15 of our best workers to helping Bill, Lisa, and Randy completely rebuild our wall displays at Jason St. Even if you were at the store during our Memorial Day sale, I think that you will still be blown away at how good the store looks now. Heck, I own the place and I was stunned when I walked in this morning, after being on the East Coast for the past week. With double the number of high intensity lighting fixtures now installed, and over a running mile of Golden Age, Silver Age, and Bronze Age comics (!!!) on display on our wall boards, our Mega-Store is now light years beyond any other comics store in the world. Below are a couple of photos of our new displays under construction:


I will close today's newsletter with a couple of quick plugs. First, here is a link to our incredible 400 item No-Minimum-Bid auction that we will be holding on during the Opening Night party on Thursday evening. You can place pre-bids for the auction, through Wednesday evening, June 13th, at 6 PM, but please do bear in mind that each lot contains eight different items, and your prebid has to be for an individual item (your choice...), but not a total lot. Second, creators already signed up to attend our party from the convention are as follows: James O'Barr, Michael Uslan and Georges Jeanty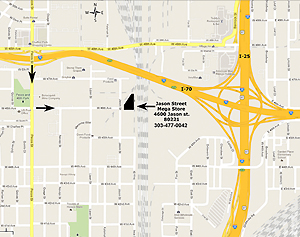 4600 Jason Street, Denver CO 80211 - 303-477-0042
My final plug is for a great new creature-feature film event hosted by my great friend, Alexus Vain, at THE BAR, on South Broadway. Alexus (who also performs as Cher West) is absolutely one of the funniest and most entertaining people I have ever met. If you liked Elvira's sassy comments during her shows on TV, you will love Alexus! I am planning to be at next Tuesday evening screening of Colosus and the Amazon Queen, and we will be holding a drawing for a free set of ELVIRA'S HOUSE OF MYSTERY #1-#4 during intermission. You get one free entry into the drawing just for showing up, and another for each drink that you buy. Please do join us at THE BAR next Tuesday evening! But, please, no kiddies, as the humor during Alexus's shows is delightfully risqu&eacute...

Happy Collecting!

Chuck Rozanski,
President - Mile High Comics, Inc.
June 7, 2012
Advance Previews
of next weeks comics from
Archie Comics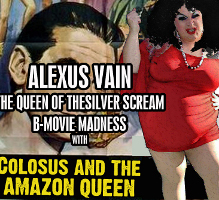 Colosus and the Amazon Queen
Click here to view all of the Premium New-In-Stock


Click here to view all of the New In Stock


Click here to view all of the recently added Trade Paperbacks and HardCovers