Denver Comic-Con Party Costume Contest
$2,000 in Prizes
Howdy!
One week from today, on Thursday, June 12th, we will be hosting the largest single comics event in the 46-year history of Mile High Comics! Between noon and midnight on that day, the 2014 Denver Comic-Con will begin with a huge autograph signing event in our Jason St. Mega-Store. Lou Ferrigno will begin our epic day by arriving for the party at about noon, being then gradually joined later in the day by comics artists Neal Adams, George P&eacuterez, Greg Horn, and many, many more comics celebrities. At 5 PM, the party then officially begins, with a huge Cosplay performance show, a Cosplay costume contest, and two thpes of live swordfighting. This is going to be an incredibly fun evening for the entire family!
While most of our preparations for the party are right on schedule, we do still need help in a couple of areas. First, we need a few sturdy volunteers willing to help us set up our event stages. This effort involves connecting together pallet racking, laying it down on the concrete floor, and then covering it with plywood. We will then be painting the plywood black, and adding stairs, skirting, and backdrops. Chris will begin this effort on Friday morning, and could easily use 3-4 helpers each day. Even if you can only contribute a few hours, we would appreciate your help. We pay $10 an hour in credit, valid for anything in the store...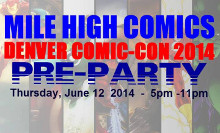 Pre-Party Denver Comic Con 2014

A second area where we still need help is with our benefit bake sale. We now have about 30 folks who are bringing baked goods of various kinds, but that still leaves us far short of our needs. We are expecting about 3,000 people to pass through the store during our party next Thursday, so our benefit sale has the potential to raise quite a bit of money for the Denver Children's Advocacy Center, a local safehouse for children who are victims of sexual abuse. But, that potential can only be achieved if we have enough baked goods donations.
If you can bake, and might are willing to contribute to our benefit sale, please contact Richard Brendlinger at Princeroyal40@gmail.com. Richard (and Gabby) from the Imperial Court of the Rocky Mountain Empire (a registered 501-C3 charity) are in charge of our bake sale, and will make it really easy for you to drop off your donations. Please help so that we can raise as much as possible for the Denver Children's Advocacy Center.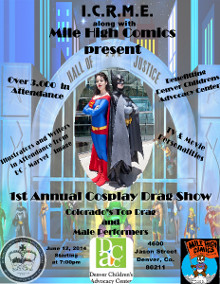 I.C.R.M.E. 1st Annual Cosplay Drag Show

In addition to Richard and Gabby, we will have at least 20 more of the wonderfully talented live performers from the ICRME putting on an incredible all-ages Cosplay performance event during the course of our party. The live performances begin at 7 PM, and should last well after 10 PM. I am one of the members of the ICRME, and since this is officially my event, ICRME tradition dictates that I give the first live performance. I will be dressed as Superman that evening, and will be performing the song Kryptonite as the opening number. You really should try to arrive by 7 as you do not want to miss even one performance of our ICRME Cosplay show...
My final news note for today is a quick mention that I have decided to contribute a total of $2,000 (!!!) in store credit to be given away as prizes for our Cosplay Costume Contest. Our head comics buyer, Pam Brandle, is coordinating this fun contest, which will begin at 7:30 PM on Thursday evening. She has set up categories for children, teens, adults, and groups. In each category, we will be giving out $500 in store credit prizes, with $200 for first place, $100 for second place, and $50 prizes each for #3-#6. If you are already creating a costume for Denver Comic-Con, why not wear it to our Opening Night Partyparty, and possibly win a prize? For more details, contact Pam at pamb@milehighcomics.com.
Happy Collecting!
Chuck Rozanski,
President - Mile High Comics, Inc.
June 4, 2014


Here is the updated creator list, with photos and credits!
George P&eacuterez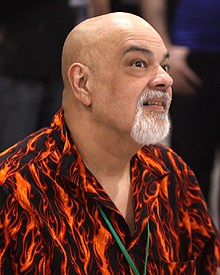 One of the creative forces behind some of the most epic titles in comics history, including Wonder Woman, The Avengers, Justice League of America, and The New Teen Titans, as well as such landmark storylines as Crisis on Infinite Earths, War of the Gods, and Infinity Gauntlet.
George P&eacuterez is also a board member of The Hero Initiative, which creates a financial safety net for comic creators who may need emergency medical aid, financial support for essentials of life, and an avenue back into paying work.
Lou Ferrigno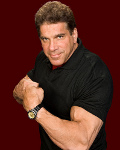 In January 2010, Lou Ferrigno signed on with Nestle USA, Inc., as a Spokesperson for what promises to be a funny and exciting Campaign that will be launching this year. He and his family are also currently in negotiations with TV Land for a new Reality TV project - The Incredible Ferrigno's which will focus on "coaching" viewers on how to improve the quality of their physical and mental health. Who better than Lou Ferrigno to take on this "Incredible" task. Be sure to stay tuned for the launch of both projects!
In recent news, Lou was a guest on The Tonight Show hosted by his long-time friend and colleague, Jay Leno. You can catch a clip of the Interview on YouTube. Lou has also recently been doing Voice Overs for cartoon characters on The Cartoon Network.
The Summer of 2009 presented a personal challenge for Lou when his long-time friend, Pop legend Michael Jackson, for whom he was a personal trainer over the past 15 years, suddenly passed away stunning both Lou and the entire World. In honor of Michael, Lou made over two-dozen television appearances, including Larry King Live, Good Morning America, The ABC Morning Show and Anderson Cooper. In recognition, Lou was credited on the recently released Michael Jackson movie "This Is It".
In 2009, Lou played a wonderful supporting role in the DreamWorks romantic comedy "I Love You, Man" which was directed by John Hamburg (Zoolander, Along Came Poly, Meet the Parents, Meet the Fockers), with a cast that includes Paul Rudd, Jason Segel and Rashida Jones. The DVD was released just a few months ago, in August, 2009.
Shortly before that Lou also appeared in, and did the voice of The Hulk, in Superhero blockbuster feature films, The Incredible Hulk, directed by Louis Leterrier, with a cast that included Edward Norton, Liv Tyler, Tim Roth, William Hurt, and Robert Downey Jr. That was, of course, the squeal to the blockbuster hit feature film Hulk, directed by Ang Lee where Lou, at the request of the filmmakers, made an honorary Cameo Appearance. He also provides the voice for the UPN animated series The Incredible Hulk, with a cast that includes Peter Strauss, Mark Hamill, Kathy Ireland, and Richard Moll.
Lou also enjoyed his Recurring Guest Star role on King of Queens, where he frequently appeared up through the shows successful 9th Season, on CBS Television Network.
Also just prior, Lou Guest Starred on the ABC Television sitcom My Wife and Kids, became the spokesman for the Sit Up-Sit Down Home Gym, and was the lead in the debut video for the band "Edgewater" for MTV.
Lou also headed first to Italy where he shot two commercials used in the International market where he has a huge fan base, and to the East coast to shoot two Longhorn Steakhouse commercials, one of which was rated as the No. 3 top commercial of the year by "Shoot Magazine."
Over the past several years Lou completed an extensive physical and academic training program and became a "Deputy" for the Los Angeles Sheriff's Department. At the induction ceremony, Los Angeles Sheriff Lee Baca introduced Lou, who spoke publicly before a packed house of other Deputy Sheriffs, their families, friends and press who were present to witness the formal "white glove" event.
In addition, Lou is regularly invited by universities, corporate executives, and numerous other major event holders to give motivational and inspiring speeches all over the world.
In addition to his film and television career, Lou recently released his autobiography, "My Incredible Life as the Hulk," which included forwards by both Stan Lee and Ang Lee.
Lou was only 21 when he won his first Mr. Universe title, a Guinness Book record that stands to this day. More incredible, at age 22 he won again - and to this day remains the only person to win consecutive titles! Lou carried the world of bodybuilding to new heights and himself to superstardom with the film documentary, Pumping Iron, which chronicled the fabled exploits of the youngest and only person to ever become Mr. Universe twice in a row! Exploding onto the film scene, with his place as a body building legend secured, Lou set out to do the same thing in film and television. In less than a year after Pumping Iron, Lou was again larger than life and created a new cult legend as the title character of the hit show The Incredible Hulk. The same hard work that crafted his six foot five inch, two hundred eighty five pound frame into a piece of human art, define him as an actor with the uncanny ability to assume characters of mythic proportions that carry a primal humanity.
Undoubtedly the discipline and resiliency that have made Lou into a bodybuilding icon lend themselves to his willingness to train as a serious theatrical actor. Lou immersed himself in the actor's theatrical experience with the help of his acting mentors, Milton Katselas, Howard Fine, and Hulk co-star Bill Bixby. The results were great theatrical notices in Texas, Canada, and Chicago (at Drury Lane Theater), for his starring role in "Arsenic and Old Lace," and starring roles in ambitious stage presentations of "Requiem for a Heavyweight" and "Of Mice and Men" - shows that toured throughout the U.S. and Canada. Lou's passionate pursuit of excellence has brought this Brooklyn-born actor more than fame and fortune; it has brought him the joy of fulfilling his life-long dreams.
Remaining true to his host of fans from the bodybuilding world, Lou starred in the sequel to Pumping Iron. And, Stand Tall is a film that documents Lou's 1994 comeback in the Masters Olympia title and his return to bodybuilding after a seventeen year retirement. Lou has starred in over twenty feature films including Cage and Cage II, All's Fair, Seven Magnificent Gladiators, and Godson. In two unforgettable performances in Hercules and The Adventures of Hercules, Lou lived a life-long dream by playing the legendary Greek hero.
All this led to an amazingly successful personal training business that includes such star clientele as Mickey Rourke, Michael Jackson, and Chuck Norris, and led him to author the book "Lou Ferrigno's Guide to Personal Power, Bodybuilding and Fitness for Everyone."
Lou continues his regular study of acting and he works out daily, all with the same passion and vigor that made him a household name and established him as one of the most sought-after entertainers in the business.
Neal Adams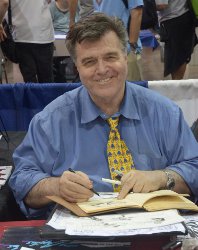 NEAL ADAMS had legendary 'runs' on Batman, X-Men, Green Lantern/Green Arrow and Deadman. Adams rescued Batman from the campy TV show, and transformed him into his present, "Avenger of the Night" persona. When people say 'modern Batman,' they mean Neal Adams' Batman. His run led directly to the realistic incarnation seen in "Batman Returns", and the "The Dark Knight" movies. His most recent projects include Batman Odyssey, The First X-Men, and his own character "Blood" for Dark Horse Comics.
Tone Rodriguez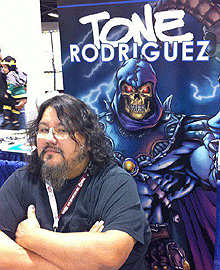 Tone Rodriguez is an American comic book artist and writer. Rodriguez is best known for his work as a primary artist at Bongo Comics, which was co-founded by The Simpsons and Futurama creator Matt Groening, and fellow artist Bill Morrison.
Dan Conner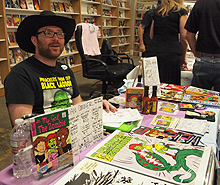 Writer/Artist of My Gal, the Zombie, Graphic Horror: Dracula (Abdo/Prumo/Hachette Books), Journey Into Her Story, Maiden Voyage, Heaven Forbid (Lamp Post), Graphic Shakespeare: A Midsummer Night's Dream (Abdo), Pirates Vs. Ninjas (Antarctic Press), and many more! You can read over 650 pages of Dan's comics at www.crazygoodcomics.com! Dan has been a guest artist at the Charles M. Schulz Museum, Cartoon Art Museum, World of Wonder Museum, and the Buffalo Bill Museum and Grave. His artwork has been on display at galleries including 11th Ave Gallery, Wazee Union, Three Kings, and others. He has done art for Mile High Comics, Five Iron Frenzy, Scum of the Earth Church, Our Corpse Destroyed, Comic Book Classroom, Famous Monsters of Filmland, Denver Westword, the Misfits, and more. He has recently become the featured artist for subscription horror movie channel, Screambox TV, too. He is working on live action and animated film projects, including My Gal, the Zombie and Hilly Willy Bing Bong. As an editor, Dan has worked on many other comic properties, including Parable, Pakkins' Land, and the Angels and Airwaves Love Graphic Novel. basic/flat coloring [finished by artists such as Guru FX] for comics published by Marvel and DC, including titles like Marvel Adventures Spider-Man. Dan Conner lives in Denver, well Lakewood, Colorado, with his wife and daughter.
Greg Horn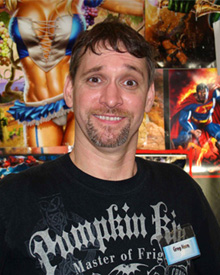 Award winning cover artist Greg Horn just finished working with Marvel Comics on Wolverine #1, and will be providing two of the variant covers for their block-buster release of Amazing Spider-man #1, the long-awaited "Return of Peter Parker!". As the lead artist on Marvel:War of Heroes, The Walt Disney Company brought Horn on to this high-profile project to create 30 unique Marvel Comics character illustrations, most of which are highly sought-after rare cards. The top ten game for iPhone/Android has been a world-wide sensation! Greg's other recent work includes variant covers for Marvel Comic's best selling titles like Avengers and The Guardians of the Galaxy! He has also worked on DC Comics' Blackest Night providing illustrations for Wonder Woman, Green LanterN, and Flash. He is best known for his work on Marvel Comics' titles Elektra, Emma Frost, Ms Marvel, and She-Hulk.
Horn has had a prolific art career outside of comics, having worked on 25 major advertising campaigns across the globe. His credits on various illustrative assignments include Nike, Allstate Insurance, Bacardi Rum, University of Alabama, Espn, Powerade, The Elvis Presley Estate, General Motors, Triple A Baseball, New Regency Films, Warner Bros.,Hasbro, Mattel, MTV/Spike, Random House, Abrams Books, Mad Magazine, Kildemoes Bikes,Penguin Books, Carlsberg Lager, Pontiac, Penthouse Magazine, Wal-Mart, DK Publishing, Jumbo Games, WWE Wrestling, Wizards of the Coast/Forgotten Realms, and the US Playing Card Company (Bicycle cards). Horn was also commissioned to paint the 132nd poster for the RINGLING BROS. AND BARNUM & BAILEY CIRCUS, and created the program guide illustrations for the Broadway hit Spider-Man:Turn Off the Dark.. He has also illustrated covers for nearly 70 magazines. His video game work for industry heavy-hitters like EA Sports, Capcom, Sony, Rockstar, Universal Studios, Blizzard, 2K Games, Digital Extremes, 3D Realms and Hip Games can all be viewed in his art galleries at www.greghornart.com , but he insists the place to be is on his Facebook page at https://www.facebook.com/pages/Greg-Horn-Art/257718640925362. His twitter is @GregHorn.
Kristina Bad Hand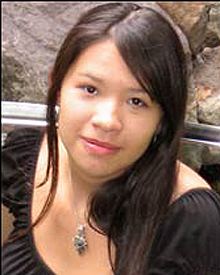 "My art is my escape from the trials of reality and life. Art is my addiction; with every stroke of a colored pencil I am able to release stress and confusion. I have been drawing, as an old art teacher would say, since I could hold a pencil. I experiment with various kinds of art media; however, the media I enjoy most is colored pencils. I have recently begun to experiment in scratch board, something that I am beginning to enjoy very much! Many of my pieces are heavily influenced by Anime, or Japanese style animation. I am inspired and infatuated with the Japanese culture and it tends to show through my pieces. I try to express my love of Japan along with my respect and love of my own culture through the drawings I create. The fact that my family and friends give me the support and in some cases, challenge that I need to succeed, pushes me forward and motivates me to never give up on anything, especially not my dream of becoming a well renowned artist."
Monte Moore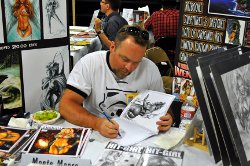 DCC Exclusive: Mischief: The Art of Monte M. Moore Vol. VII, limited edition, signed and numbered. Monte Moore is a well-established artist in the gaming and comics fields, having worked for top tier companies and many notable titles such as Lord of the Rings, Harry Potter, Magic CCG, Dungeons and Dragons, Star Wars, Playboy and more. Currently his work is in high demand for the comics industry, and is working away on cover art for Lady Death, Purgatori, Vampirella and Judge Dredd. This two-time winner of the World Fantasy Art show is known for his eye-catching pin-up work and is always busy with private commissions, comics and gaming work, and even movie posters and sculpture designs. See Moore than you ever imagined at www.mavarts.com, and contact him before the show if you wish to commission something special just for the DCC event!
Batton Lash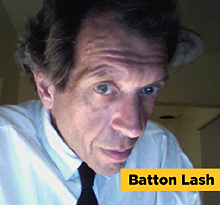 Cartoonist Batton Lash, the creator of the humor/horror series Supernatural Law (aka Wolff & Byrd, Counselors of the Macabre), studied cartooning and graphic arts at the School of Visual Arts in New York, where his instructors included Will Eisner and Harvey Kurtzman.
After graduating he took on various art-related jobs, including copywriting and art for an ad agency and drawings for a variety of magazines, books, and other clients. In 1979 one of those clients, Brooklyn Paper Publications, asked Lash to create a comic strip, and he came up with "Wolff & Byrd, Counselors of the Macabre," which ran weekly in The Brooklyn Paper until 1996 and in The National Law Journal from 1983 to 1997.
Beginning in May 1994, Wolff & Byrd held court in their own comic book series from Exhibit A Press, which Lash established with his wife, Jackie Estrada. Exhibit A has published several trade paperback collections of the comic book issues. The most recent Supernatural Law book is The Werewolf of New York, a full- color graphic novel, originally serialized on the Supernatural Law webcomic (supernaturallaw.com). There have also been five specials featuring Mavis, W&B's intrepid secretary. All the books are available at www.exhibitapress.com
Lash's non-W&B work has included writing Archie Meets The Punisher, the 1994 crossover between Archie Comics and Marvel Comics; the two "Archie: Freshman Year" miniseries; and the Radioactive Man series and stories for Bongo Comics.
Batton's latest projects are "Gory Lori," a new comic book which he penciled for creator/writer Nick Blodgett and "The First Gentleman of the Apocalypse," a brand-new series which Batton created , wrote, and illustrated. It is being serialized in David Lloyd's online comics anthology Aces Weekly.
Jessi Jordan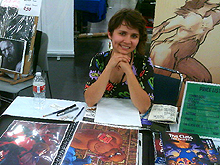 Artist for The Class, Musings, and Face the Music. Artist and writer for The Adventures of Marni & Edward. Jessi Jordan grew up in Houston, Texas. Her wandering led her to Colorado where she earned BFAs in Illustration and 2D Animation from the Rocky Mountain College of Art + Design. She currently works as a freelance illustrator, writer, and hibiscus hybridizer.
Allen Bellman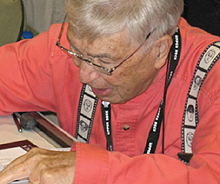 ALLEN BELLMAN was born in Manhattan and studied at the High School of Industrial Arts. He eventually became a staff artist at Timely during the Golden Age of comics. While still a teenager, he did the backgrounds for Syd Shores' Captain America in 1942, and eventually worked on titles such as: The Patriot, The Destroyer, The Human Torch, Jet Dixon of the Space Squadron, All Winners Comics, Marvel Mystery, Sub Mariner Comics, Young Allies and so much more.
Bellman had a self-created backup crime feature called Let's Play Detective and also contributed to the pre-Code horror, crime, war and western tales for Atlas Comics and worked in the comics field until the early 1950s.
After 18 years he moved to South Florida where and joined the art department of The South Florida Sun-Sentinel. He went into photography and won many nationwide photography contests, with more than 20,000 entries. Hundreds of his photos have appeared in hardcover books, have been on exhibit in museums in Florida and received great reviews in numerous newspapers. He currently attends many comic books shows as a special guest, continues to create artwork and is available for commissions.
Steve Oatney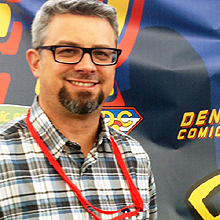 Steve Oatney is a working illustrator, designer, and sketch-artist for companies and licensed-properties such as: Star Wars and Indiana Jones - Disney/Lucasfilm, Lord of the Rings and The Hobbit - New Line Cinema, Spider-Man - Sony Entertainment, DC Comics and Looney Tunes - WB, Vampirella, Bettie Page, and Warlord of Mars.
Steve has been a professional artist for over 20 years. His illustrations have appeared on book covers, sketch-cards, superhero checks, advertisements, and sequential-art. His work also includes some pin-up, and portraiture. He uses a variety of digital and traditional media including conté, marker, charcoal, ink, graphite, acrylics, gouache, watercolor, and pastel.
Regularly donating his artistic talent, and time, is important to Steve. He supports such charities as The Leukemia & Lymphoma Society / Light the Night Walk, Susan G. Komen Race for the Cure, and the Make-A-Wish Foundation.
Steve and his wife are locals of colorful Colorado, living in the front range with their 95lb lapdog.
Andy Moore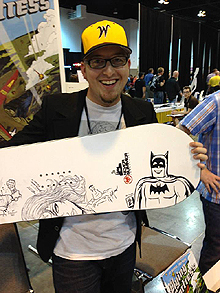 Don't Panic! by Andy Moore www.dontpaniccomic.com Flying Fortress by Andy Moore and Eric Weathers www.flyingfortresscomic.com
Andy's been drawing "Don't Panic! a college comic strip" (www.dontpaniccomic.com) since 1997. He launched "Flying Fortress" (flyingfortresscomic.com) with his friend and fellow comic artist Eric Weathers in 2011.
Originally from Wichita, Kansas, Andy obediently followed the siren call of the Rockies to live in Colorado after college. He plays ice hockey, runs cross country races, drinks way too much coffee, and tries to find time to draw comics whenever he can carve out a free moment.
Michael Golden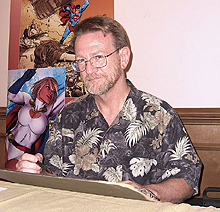 Artist/writer/creator Michael Golden, is a legend in the comic book industry, but one that has never stopped adding to his legacy as a storytelling professional. Co-creator of the X-men's Rogue character, Spartan X and Bucky O'Hare, Michael is known worldwide for his groundbreaking work on "The 'Nam," "Micronauts," "G.I. Joe Yearbook," and "Dr. Strange, " among MUCH more, and is counted as one of the best cover designers and illustrators in the business.
Golden's work can be seen on covers from "Spawn," "Nightwing", "Iron Man", "Heroes for Hire", "Exiles," "Demon's Regret," "Spiderman," "Vampirella," "Captain American," "The Punisher" to "The Hulk," as well as numerous other titles, for about every company out there.
It's no wonder that Golden has been one of the most influential creators around for the last several decades:
"….unless you can actually draw yourself, it is very difficult to understand the exact mind-blowing impossibility of what he does," said writer/artist Larry Hama, of Golden's work.
"Michael blithely puts down on paper exactly what he sees in his head. It's like he's got a cosmic opaque projector that shoots a laser beam from his brain through the kundalini eye in his forehead straight down onto the drawing surface where all he has to do is trace it," continues Hama. "The result is hard-edged and fully realized in every way. No fuzzy impressions here. No using the side of the pencil. No squiggly space-filling lines blocked in on automatic pilot. To paraphrase Neal Adams (who was referring to Golden), there is not a single millimeter of line on the page that is not directed by conscious thought."
Recent books covering the colorful life and amazing art of Michael Golden include a Manga version of the "Bucky O'Hare" series, as well as the top selling art retrospective "Excess: The Art of Michael Golden," written by Renee Witterstaetter, which sold out and has gone into a second printing, as well as his recent sketchbooks "Heroes and Villains," "MORE Heroes and Villains, " and "Michael Golden: Alchemy."
His upcoming book is entitled: "Michael Golden: Dangerous Curves."
Michael has served as an Editor at DC Comics as well as Senior Art Director at Marvel Comics, and has worked on scores of movie production projects, some currently in development. His art has been the focus of gallery shows in places as diverse as Gijon, Barcelona, New York, Antwerp and Brussels, while his class on storytelling has been conducted from Spain to Brussels to France to Canada to the United States... and most recently China.
He has recently been awarded with Lifetime Achievement Awards from The University of Maryland Eastern Shore and the Lille Arts Festival. with gallery shows of his work in Spain, New York, Maryland and Moscow.
James O'Barr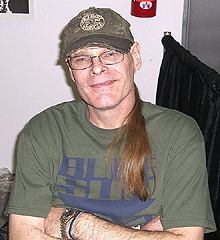 James O'Barr, is the award-winning creator of "The Crow," and writer of two hit series currently from IDW Publishing, entitled "Curare" and "Skinning The Wolves."
He likes to lament that he was born in a trailer in Detroit just in time to see Marilyn Monroe and John Kennedy die, but claims no responsibility for either. He spent his first seven years in an orphanage and foster care where he spent most of his time drawing.
When he was adopted he brought along his crayons and has been using them ever since.
While stationed in Berlin, in the late 70's he created The Crow as an attempt to deal with the death of his fiance at the hands of a drunk driver. It took nearly ten years to finish and no publisher was interested in it("too gloomy,too confusing..") until,on a whim, Caliber published the first issue in 1989.
It is currently the best selling independent graphic novel of all time at over 1 million copies sold. In 1993 his book was adapted into the cult film of the same name starring Brandon Lee. He would like you to know that nearly all of the money made from the film was donated to children's charities and he had nothing to do with the subsequent 3 sequels or TV show, but he will be a consultant on the new Crow movie that goes into production in 2014.
He has worked for every major publisher. In Italy,1995, he won the Academy Award of comics,the Yellow Kid award for best storyteller.
Recently returned from a record breaking signing tour for the Italian Edition of "The Crow," his most recent book is a the new sketchbook from Eva Ink Publishing "James O'Barr: Uncoffined."
Steve Lieber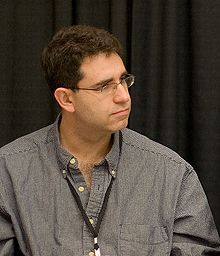 STEVE LIEBER has worked on many popular comic characters such as Batman, Superman, Hellboy and illustrated Max Allen Collins' On the Road to Perdition, which was adapted into the 2002 Academy Award-nominated film. But he's best known as the artist of the graphic novel Whiteout and its Eisner-winning sequel, Whiteout: Melt. Both were subsequently adapted by Warner Brothers as a movie starring Kate Beckinsale. He recently completed two Alabaster graphic novels at Dark Horse, and is currently illustrating Superior Foes of Spider-Man for Marvel Comics.
Steve lives in Portland, Oregon where he's a founding member of Periscope Studio, the largest collective of comics artists in North America. http://stevelieber.com
Joel Adams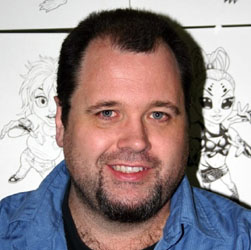 Joel Adams is the eldest son of famed comic book artist Neal Adams. After graduating the School of Visual Arts in New York, Joel moved to Los Angeles to work at Neal's west coast offices of Continuity Studios. While at Continuity, he dabbled in comic books helping out on Continuity titles such as "Ms Mystic," and "Bucky O'Hare."
Joel's career in Los Angeles took him in and out of Continuity and all over the industry. He did a few covers for Alpha Production's "Blood Thirst" line, and was then picked up by Penthouse Comix to do "Young Captain Adventure." From comics, Joel moved on to animation. Marvel Animation in 1996 picked up Joel To do all the character design for "The Hulk: Animated series." From there he went on to FOX's "Nascar Racers" and the Emmy Award winning "King of the Hill."
His background with Continuity and comic books gave Joel the additional skills, while working for the animation companies, to be also picked up for all of the licensing art for these shows and others by the licensing companies handling them. Joel's art has appeared on the products stemming from: The Hulk, Nascar Racers, King of the Hill, Captain Scarlet, The Mask(Animation), Power Rangers: Light Speed Rescue, Power Rangers: Wild Force, and Harry Potter: and the Goblet of Fire.
Today, Joel has been devoted to pushing his own license LILZ, a series of big head big eyed characters he began showing back in 2000, and can be seen literally all over online community message boards and websites in what are called "signature tags." It is his desire to get the Lilz off of the Internet and into stores everywhere. Joel is also a regular art contributor, web designer and consultant to Carrie Leigh's NUDE Magazine.
Tony Fleecs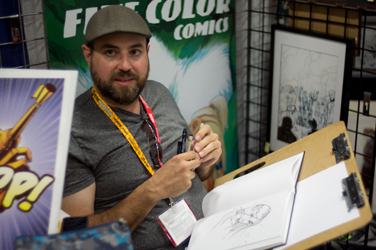 Tony Fleecs is the writer and artist of In My Lifetime, an autobiographical comic book. First published in 2006, 'Lifetime was an immediate critical success, featured twice in Wizard magazine, in the Comic Buyers guide and on the Aint-It-Cool-News.
Fleecs has since been a contributor to the anthologies Postcards: True Stories that Never Happened (nominated for the 2008 Eisner and Harvey awards for best anthology) and C.B. Cebulski's Wonderlost. He and writer Joshua Fialkov are providing the first run of backup stories for Phil Hester's FireBreather ongoing at Image comics. This year saw his first work for hire writing work as he scripted the comic book adaptation of the classic John Holmes film, Tell Them Johnny Wadd Is Here, soon to be heralded as one of the first comics based on a porno to not be completely awful.
Outside of comics Tony has done illustration and design for The Milwaukee Brewers, The Cincinnati Bengals, South Dakota Tourism, The Great Lakes Loons, The Weinstein company, Monster Garage, major hospitals, insurance providers and banks.
His comics have been published by Random House (Villard), Image Comics, Silent Devil Inc., Terminal Press, IDW and Boom! Studios.
Randy Salazar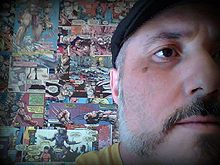 Randy Salazar was born and raised in Colorado. Growing up in a small town he took much joy from the comics he would buy off of the spinner racks at the local corner store. Being born with no real talent to speak of, he has taken his ability to use scissors and paste -which he learned to use at a very young age- to express his love of comic book art. Four Color Remix is his way of creating art by using the comics that he loved as a child to create one of a kind comic book collages. Randy lives and works in Denver.
Buzz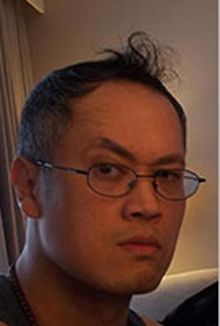 Well known for his depiction of the beautiful ladies of comic,Buzz's work has also graced many comic book titles such as JSA, Atomika, Vampirella, Luna, X-Factor, Impulse, and SHI to name a few.
A very popular and sought after commission artist among the art collectors and the comic-book convention circuit. Buzz is also a multi-Emmy award winning commercial artist who has worked with CBS, FOX, Los Angeles Lakers and The United States Marine Corp.
Buzz's rendition of Spider-Man was featured in a special artist portfolio that appeared in Spider-Man 2 deluxe DVD.
Among his influences are Neal Adams, Michael Golden, John Buscema, Kevin Nowlan, Brian Bolland, Frank Frazetta, Alex Toth and too many more to mention. "I don't ever see myself not wanting to be working in the comics industry, it's one of the greatest American art forms like jazz and baseball" says Buzz.



Mile High Comics - Jason Street Mega-Store


Mile High Comics Retail Store Locations