Local News - Poker Tournament, Huge Toy Auction, Free Comic Book Day, & We're Hiring
Howdy!
I just returned to the office from another Thursday spent on the streets helping to provide Denver's elderly, disabled, and homeless with free food. We distributed about 10,000 lbs of groceries today to approximately 700 clients, including a disproportionate number of young children, and wheelchair-bound people. It was a very good day.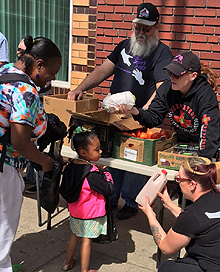 Feeding Denver's Hungry Volunteers doing a great Job!

On this same topic, the young man in the photo below totally shocked me today by contributing his last 52 cents to "Feeding Denver's Hungry." He made this contribution in spite of the fact that he and his parents are currently homeless because his dad came down with Crohn's disease, and the resulting medical bills bankrupted them. I'm telling you their story because I want you to know that many of the people that we serve on Thursdays are just like you and me, but life has dealt them an exceptionally bad hand. Helping them to make it through until they can get back on their feet again is what "Feeding Denver's Hungry" is all about. I am very proud to be able to help Jim Scharper, and his wonderful organization, in providing assistance to these good people of Denver.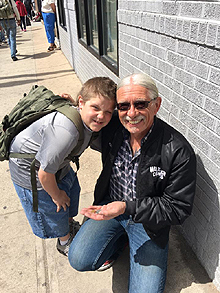 Young Man handing over his last 52 cents

Speaking of providing assistance, we have three major charity events coming up in rapid succession. First, starting at 11:30 AM on Saturday, April 29th we will be hosting a huge toys, statues, and action figures auction at our Jason St. Mega-Store. This auction was originally created to help us liquidate several hundred surplus action figures that we purchased last week from a gentleman who drove up to Jason St. in a giant U-Haul. Once we started putting the toy auction together, however, we located even more figures in the back of the store, so this auction will be quite big! We'll have photos for you next week. In the meantime, however, if you would like to clear out some space in your own home by contributing some toys or statues to our cause, we'll auction them for you alongside our stuff, and contribute 100% of the proceeds from your donations to "Feeding Denver's Hungry." Please be generous!
Our second huge event will be Free Comic Book Day on Saturday, May 6th. FCBD is already our busiest day of the year, but this year it will be especially so at Jason St., where VENOM artist, Sam De La Rosa, will be signing autographs for fans all day. FYI, Sam does charge for his signature, but he will also be contributing part of the money he receives to "Feeding Denver's Hungry." There is a VENOM movie in the works from Sony, so do not miss out on this opportunity to get Sam's autograph. All of our stores will open at 9 AM on FCBD.
If you are a local comics creator, we will have free table space available on FCBD for you to show off and sell your works. Contact Dan Conner at Jason St. to reserve free space.
Finally, on Saturday, May 13th we will be hosting one of our incredibly fun Texas Hold'em Poker events at our Jason St. Mega-Store. The game begins at 11 AM, and the buy-in remains at $25, with players registering in advance (before Saturday, May 13th) receiving an instant $25 gift certificate. I highly encourage anyone interested in playing to register in advance. One of our dealers will be on a family vacation that week, so we think that we will only have seats for 60 players. Our last tournament had 67 players, so we may have a waiting list for players who do not register in advance. You can register at any of our Mile High Comics locations There will be $1,000 in gift certificates as prizes, with $500 for first place.
So you know, proceeds from this poker tournament will be donated to the International Court Council, the umbrella organization of all the Imperial Courts in the United States, Canada, and Mexico. As a result of my many charitable contributions, I was elevated to the International Court Council by Nicole the Great, Queen Mother I of the Americas, in March. By being made an "Heir Apparent," I have been given the responsibility to help fund some of our International Court efforts, including advocating for the homeless in other cities. Please join us for a fun tournament, and help a very good cause at the same time.
I will close today's newsletter by mentioning that we are currently accepting applications for employment with Mile High Comics at our Jason St. Mega-Store, 4600 Jason St. You can apply Monday-Friday 9-5, and need only to ask for Will Moulton at the front counter. We have a couple of possible openings, one of which requires significant comics knowledge. You must be 18 or older, and either a citizen of the USA, or have a valid work permit.
That's it for today. Please do enjoy your weekend, and remember that the American Library Association recommends comic books and graphic novels as a wonderful means for children to learn to enjoy reading!
Happy collecting!
Chuck Rozanski,
President - Mile High Comics, Inc.
April 20, 2017

P.S. We just added several thousand more $1 comics into our already huge selections. Just saying...