40% Off Codeword Sale - Ten Million Comics and Magazines
Howdy!
I have to begin today's newsletter by apologizing to those of you who have run into "Internal Server Error" messages on our website over the past 36 hours. We had a flaw develop in one of our numerous hard drives late on Monday evening, and our techs have been searching for the origin ever since. They have been shifting data files around to locate the problem spot, which has caused our website functionalities to be erratic. Our website will work fine for hours, then go down again. This has been very frustrating, but when you run a small online company with limited server redundancy, it is one of those annoying problems that you occasionally have to resolve. Sigh...
The good news is that we received a deluge of orders before that server went weird on us, so our entire staff is keeping quite busy. In addition, Will and Pam have been adding great comics and books into New-In-Stock and Premium New-In-Stock on a daily basis. Pam did manage to get that awesome library of 70 different MARVEL MASTERWORKS hardbacks added into our website inventory yesterday, so Premium New-In-Stock should look rather amazing today. Please do bear in mind, however, that we received only one copy each on the MASTERWORKS editions, which means that some will sell out quickly. 'Nuff said.
In other news, SECRET EMPIRE #0 released from Marvel today, and is getting positive initial reviews. A problem cropped up, however, in that quite a few of the copies distributed by Diamond have a huge printing flaw on one page. But depending on the percentage of the print run SECRET EMPIRE #0 that turned out to be defective, this could become a significant collectible in days to come. All of our copies were OK, but budgetary restraints restricted us to ordering only a few. Just saying...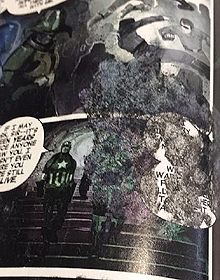 SECRET EMPIRE #0 error on page 2

I will close by urging anyone planning to place an order with us utilizing our current 40% off TAXTIME! codeword to go right ahead and give it a try. While error messages do still crop up, they are less frequent than before, and our techs think that they can have the problem completely resolved by later today (Wednesday). Your 40% discount applies to all ten million of our in-stock back issue comics and magazines, including all of the back issues listed in New-In-Stock and Premium New-In-Stock. Only new issues, a few variants, and our professionally graded comics are excluded from the 40% off sale.
Happy collecting!
Chuck Rozanski,
President - Mile High Comics, Inc.
April 19, 2017

P.S. Here are photo arrays of those 70 scarce MARVEL MASTERWORKS hardbacks that Pam just added for you: