WALKING DEAD Comics, Warren Magazines, New Codeword Sale
Howdy!
I want to begin today by mentioning that we held a very successful comics buying event here at Jason St. last weekend. We had over a dozen collections come in, with the two most noteworthy containing a near-complete WALKING DEAD collection #3-#88 , and an unbelievable grouping of 1,000+ Warren magazines, such as CREEPY, EERIE, ROOK, 1984/ 1994, SCREEN THRILLS ILLUSTRATED, and many more.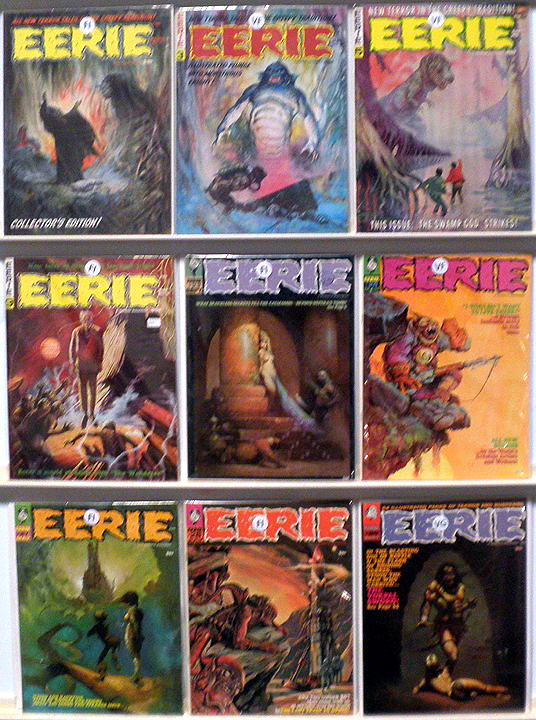 Some of the EERIE Magazines bought this weekend

The guy who sold us the Warren collection also had accumulated 2,000+ comics, including a large number of 1950's Dell, and 1960's Gold Key and Archie titles. A few of these older issues will appear for you in New-In-Stock every morning this week, as Will and Pam gradually get them graded. Will actually came in for some extra time on Saturday, so all of those WALKING DEAD issues are already listed for you in today's Premium New-In-Stock. FYI, the demand for all WALKING DEAD comics is still incredibly robust. Until we purchased this one nice collection on Saturday, we were out-of-stock on almost every issue below #50. Just saying...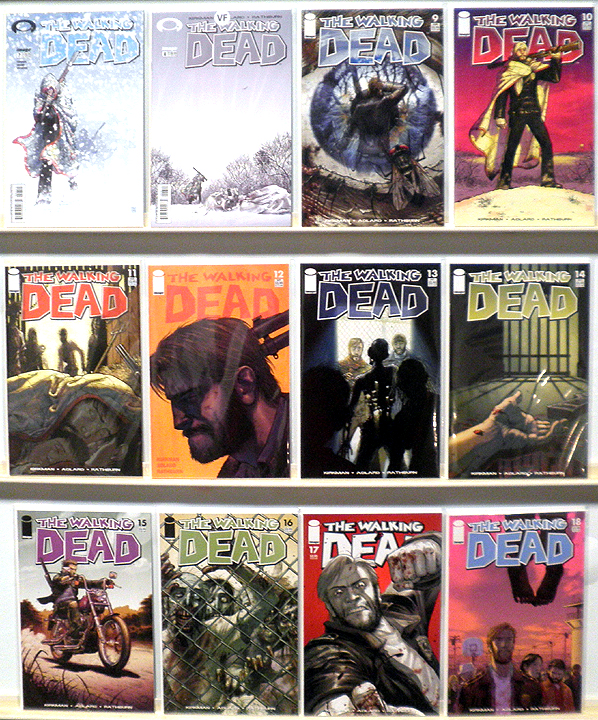 Some of the Walking Dead comics bought this weekend

If you are interested in purchasing any of these cool back issue comics or magazines, I am putting a 20% off LILACS codeword sale in effect for you today. I chose this fragrant codeword because our lilac bushes at our farm are blooming abnormally early this year, and they are the favorite flowers of my beloved wife, Nanette. All ten million of our back issues are included in the LILACS sale, excepting only new issues, a few variants, and our CGC's.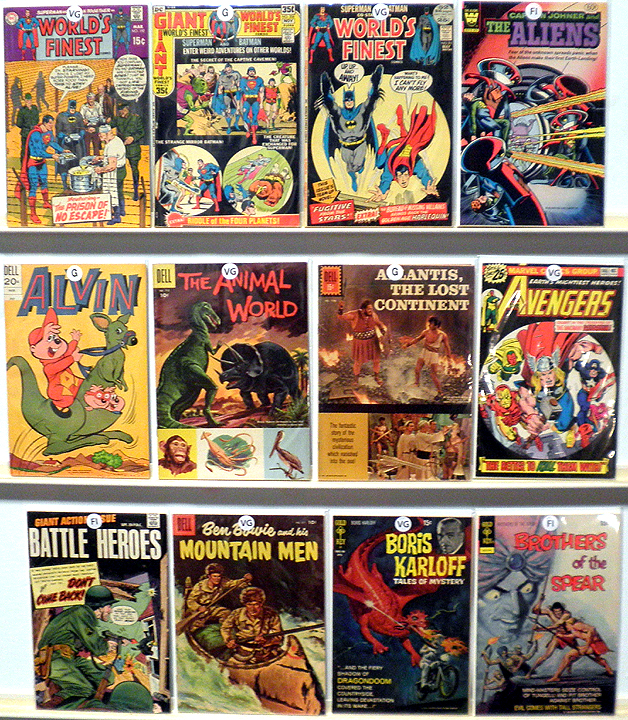 Some of the Older Comics bought this weekend

Moving on to the topic I began on Friday, I did want to provide you with a bit more information today about newsstand editions of comics. First, since they began in 1979, the publishers have been remarkably inconsistent in their publishing and noting of Newsstand editions. There are quite a few Marvel titles, for example, from the period around 1988 where comics with barcodes were the only issues available. In other instances, the editors were seemingly clueless about what to do with the barcode box.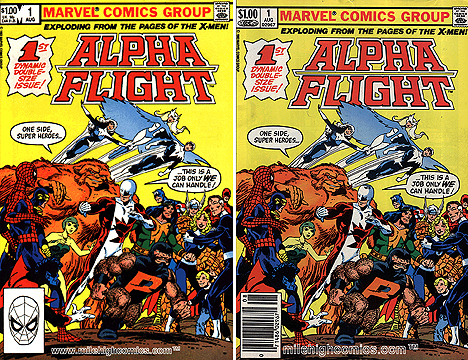 ALPHA FLIGHT #1 Direct and Newsstand editions

The most egregious example of inconsistency that springs to mind is ALPHA FLIGHT (1983), which has both Direct Market and newsstand editions of each issue through #51. From #52-#61, the barcode box was entirely omitted from the cover. Then #62-#64 have both a Direct Market and newsstand editions. Marvel printed newsstands only for #65-#74. Issues #75 and #76 have both Direct and newsstand editions, #77 was Direct only, #78 was newsstand only, #79 and #80 were Direct only, #81-#84, #86, #88 were newsstand only, while #85, #87, #89-109, #111, #112, #114, #117-#130 are Direct Market only. Finally, #113, #115, and #116 have both Direct Market and newsstand editions. Whew!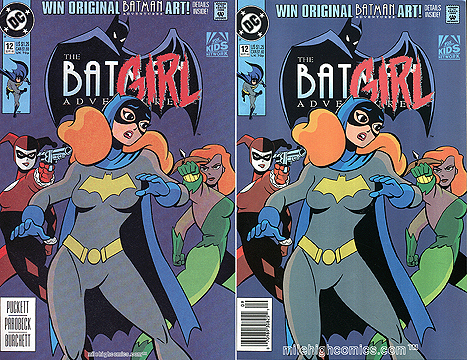 BATMAN ADVENTURES #12 Direct and Newsstand editions

What I find most interesting about all this is the fact that previously undiscovered newsstands do keep surfacing. How rare must those newsstand issues be if we have not located even a single copy in eight years of buying collections? That is not to say, however, that all newsstand editions are rare, or that they should command a significant premium over the Direct edition. It all depends on the title, publisher, and the year of publication. Newsstands were still 90%+ of the entire Marvel comics market in 1980, for example, so those earliest Direct Market editions (Marvels with a diagonal black line through the bar code) are really rather scarce. By 2010, however, we estimate that newsstands had dropped to less than 5% of most print runs. Those later (2007-2017) newsstands are almost impossible to find.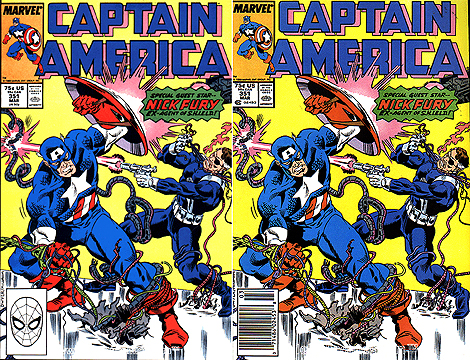 CAPTAIN AMERICA #351 Direct and Newsstand editions

Another consideration is condition. Newsstands tended to be purchased by non-collectors, so their damage and destruction rates were quite high. We do find huge numbers of Newsstands from the early 1980's in G/VG, but very few in Fine+. On the flip side, even though Direct Market editions were only 10% of the total print runs in 1980, almost all those copies ended up in plastic bags, and most have thus survived in higher grades. Balancing all these different factors is a real art, and is subject to many debates between myself and Will Moulton. Suffice it to say that we work hard to properly balance the differentials in our pricing on our website to reflect the true rarity of many newsstand editions. Even after eight years of concerted effort, we are still updating prices.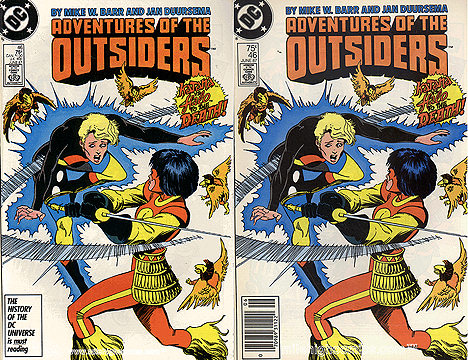 ADVENTURES OF THE OUTSIDERS #46 Direct and Newsstand editions

I will close today's newsletter by acknowledging, again, that not every collector cares about newsstand variants. Collecting newsstand variants is a subset of the overall comics market, and really only appeals to completists. That having been said, since the first day that we began work on our website in 1996, our goal has always been to document not only every comic book ever published, but also all of the variant editions. Once I made that initial decision, it was only natural that we would eventually also start documenting newsstands. I hope that you appreciate the incredible labor of love this has become for us.
Happy collecting!
Chuck Rozanski,
President - Mile High Comics, Inc.
April 10, 2017