New Collections - X-MEN, BATMAN, CRY FOR DAWN, Lindsner Variants!
Howdy!
More great comics collections keep arriving here at Mile High Comics each day. Just yesterday, a gentleman brought in a grouping of 2,000+ X-MEN and BATMAN titles, including quite a few scarce newer titles. Pam started grading these comics late yesterday afternoon, and immediately ran across copies of X-MEN (1963) #3, #52, #53, #54, and #137, just to name a few. I am not by any means saying that these are earth-shattering acquisitions, but rather that they illustrate our ongoing commitment to provide you with an even better selection of nice older comics each and every day.
Many of the comics that Pam just purchased will be listed for you in New-In-Stock and Premium New-In-Stock, either today, or by noon tomorrow. All are available to you at 30% off when you utilize the SPRINGBREAK! codeword. Only new issues, a few variants, and our CGC's are excluded. Books are also not a part of the codeword sale, but they have their own 30%-40% off discounts already listed for you right on our website.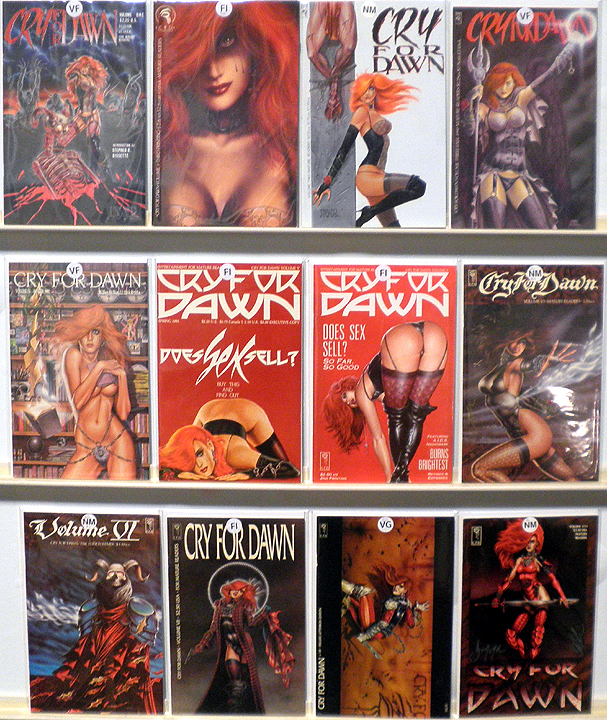 Some of the CRY FOR DAWN comics

That's pretty much it for today. The rest of today's newsletter is going to consist of scans of the awesome collection of Michael Linsner comics and books that Will Moulton purchased on Wednesday. A great many of these scarce pieces are also signed, as the previous owner (before he passed away...) tracked down Linsner at shows all around the country. All of the Linsner items are one-of-a-kind, so please do place your order right away for any item that catches your eye. The 30% off SPRINGBREAK! codeword sale does apply to all of the Linsner issue comics and magazines, except the CGC.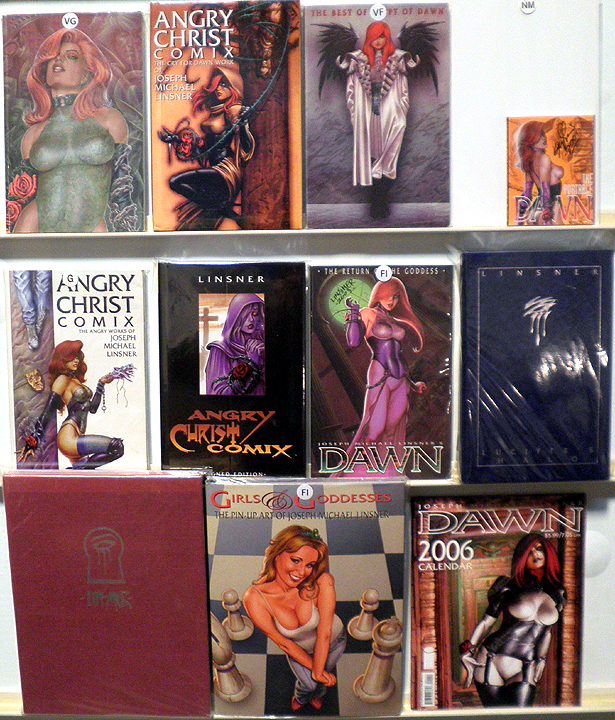 Some of the LINSNER Trades & Hardcovers

Happy collecting!
Chuck Rozanski,
President - Mile High Comics, Inc.
March 31, 2017

AMAZING HEROES SWIMSUIT SPECIAL (SPOOF COMICS) #5 1993SIGNED


ANGRY CHRIST COMIX REVISED HC (IMAGE) (CRY FOR DAWN) (2003) #1

ANGRY CHRIST COMIX REVISED HC (IMAGE) (CRY FOR DAWN) (2003) #1
ANGRY CHRIST COMIX REVISED HC (IMAGE) (CRY FOR DAWN) (2003) #1 S&N
ANGRY CHRIST COMIX TPB (SIRIUS) (1994) #1 2ND PRINT
ART OF JOSEPH MICHAEL LINSNER HC (IMAGE) (2002) #1 LIMITED
BEST OF CRYPT OF DAWN TPB (2006) #1
COMICDOM CON ATHENS PROGRAM MAGAZINE (2006) #1 LINSNERSGN
CONTINUM PRESENTS (1989) #1 2X SIGNED
COVEN OF ANGELS #1 SIGNED
COVEN OF ANGELS #2 SIGNED


CRIB DEATH & OTHER BEDTIME STORIES (1995) #1 S&N

CRIB DEATH & OTHER BEDTIME STORIES (1995) #1 S&N
CRY FOR DAWN (1989) #1
CRY FOR DAWN (1989) #1 3RD PRINT
CRY FOR DAWN (1989) #2
CRY FOR DAWN (1989) #3
CRY FOR DAWN (1989) #4
CRY FOR DAWN (1989) #5
CRY FOR DAWN (1989) #5 2ND
CRY FOR DAWN (1989) #6 2X SIGNED
CRY FOR DAWN (1989) #6 LTD S&N

CRY FOR DAWN (1989) #7
CRY FOR DAWN (1989) #7 DELUXE S&N
CRY FOR DAWN (1989) #8 2X SIGNED
CRY FOR DAWN (1989) #9
CRY FOR DAWN CALENDAR (1993) #1
CRY FOR DAWN COMPILATION PREVUE (1993) #1 S&N
CRYPT OF DAWN (1996) #1
CRYPT OF DAWN (1996) #1 LTD SIGN
CRYPT OF DAWN (1996) #2
CRYPT OF DAWN (1996) #3 LINSNERSGN


CRYPT OF DAWN (1996) #4 LINSNERSGN

CRYPT OF DAWN (1996) #4 LINSNERSGN
CRYPT OF DAWN (1996) #5 LINSNERSGN
CRYPT OF DAWN (1996) #6 LINSNERSGN
DARK FANTASIES (1994) #1
DARK IVORY (2001) #0 S&N
DARK IVORY (2008) #1 LTD S&N
DARK IVORY (2008) #2
DARK IVORY (2008) #4 LTD S&N
DARK IVORY STICKER (2006) #1
DAWN (1995) #1 1/2 KIDS

DAWN (1995) #1 1/2 SIGNED
DAWN (1995) #1 B ARMORSGN
DAWN (1995) #1 B LIGHTSGN
DAWN (1995) #1 LINSNERSGN
DAWN (1995) #1 W. TRASH
DAWN (1995) #2 LIMITEDSGN
DAWN (1995) #2 LINSNERSGN
DAWN (1995) #3 LIMITEDSGN
DAWN (1995) #3 LINSNERSGN
DAWN (1995) #4

DAWN (1995) #4 LIMITEDS&N
DAWN (1995) #5
DAWN (1995) #5 LIMITEDSGN
DAWN (1995) #6
DAWN (1995) #6 LIMIT/SIGN
DAWN 10TH ANNIVERSARY SPECIAL #1 SIGNED
DAWN CALENDAR #2006
DAWN CALENDAR #2011
DAWN CONVENTION SKETCHBOOK 2004 (2004) #1 LIMITEDS&N
DAWN CONVENTION SKETCHBOOK 2005 (2005) #1


DAWN CONVENTION SKETCHBOOK 2005 (2005) #1 LIMITEDS&N

DAWN CONVENTION SKETCHBOOK 2005 (2005) #1 LIMITEDS&N
DAWN GENESIS EDITION (1999) #1
DAWN GENESIS EDITION (1999) #1 DLX SIGNED
DAWN GENESIS EDITION (1999) #1 LINSNERSGN
DAWN SKETCHBOOK #2007 S&N
DAWN SKETCHBOOK #2008 LIMITEDS&N
DAWN: AS DEEP AS (2000) #1 1/2
DAWN: AS DEEP AS (2000) #1 1/2 SIGNED
DAWN: FIGURE STUDY (2003) #1
DAWN: LUCIFER'S HALO SLIPCASE COLLECTION (1997) #1 S&N


DAWN: LUCIFER'S HALO TPB (SIRIUS) (1997) #1

DAWN: LUCIFER'S HALO TPB (SIRIUS) (1997) #1
DAWN: NOT TO TOUCH EARTH ONE-SHOT (2009) #1 LINSNERSGN
DAWN: NOT TO TOUCH EARTH ONE-SHOT (2009) #1 VIRGIN SGN
DAWN: PIN-UP GODDESS (2001) #1 LIMITEDS&N
DAWN: PIN-UP GODDESS (2001) #1 SIGNED
DAWN: PORTFOLIO PETITE (2011) #1 LINSNERSGN
DAWN: RETURN OF THE GODDESS #1 LIMITEDSGN
DAWN: RETURN OF THE GODDESS #1 LINSNERSGN
DAWN: RETURN OF THE GODDESS #1 LTDCGC9.8Q
DAWN: RETURN OF THE GODDESS #2


DAWN: RETURN OF THE GODDESS #2 LIMITEDS&N

DAWN: RETURN OF THE GODDESS #2 LIMITEDS&N
DAWN: RETURN OF THE GODDESS #2 LINSNERSGN
DAWN: RETURN OF THE GODDESS #3
DAWN: RETURN OF THE GODDESS #3 LINSNERSGN
DAWN: RETURN OF THE GODDESS #3 LTD S&N
DAWN: RETURN OF THE GODDESS #4
DAWN: RETURN OF THE GODDESS #4 LINSNERSGN
DAWN: RETURN OF THE GODDESS #4 LTD S&N
DAWN: RETURN OF THE GODDESS TPB (2002) #1 SIGNED
DAWN: THREE TIERS (2003) #1


DAWN: THREE TIERS (2003) #1 LIMITEDS&N

DAWN: THREE TIERS (2003) #1 LIMITEDS&N
DAWN: THREE TIERS (2003) #2
DAWN: THREE TIERS (2003) #2 LIMITEDS&N
DAWN: THREE TIERS (2003) #3
DAWN: THREE TIERS (2003) #3 LIMITEDS&N
DAWN: THREE TIERS (2003) #4
DAWN: THREE TIERS (2003) #4 LIMITEDS&N
DAWN: THREE TIERS (2003) #5 LIMITEDS&N
DAWN: THREE TIERS (2003) #6 LIMITEDS&N
DRAMA #1 S&N

DRAMA #1 WIZARD ACE
DRAMA: PLEASE O PLEASE DANCE WITH ME (1993) #1
DREAMS OF DAWN (1999) #1 1/2 DLXSGN
DREAMS OF DAWN (1999) #1 1/2 SIGNED
ELEVEN OR ONE: AN ANGRY CHRIST COMIC #1 2ND PRINT
GATECRASHER (RING OF FIRE) (2000) #4
GIRLS & GODDESSES: PIN-UP ART OF JOSEPH LINSNER HC (2007) #1 SGN&SKET A
GIRLS & GODDESSES: PIN-UP ART OF JOSEPH LINSNER HC (2007) #1 SGN&SKET B
INDEPENDENT VOICES (1998) #2 SIGNED
KILLRAVEN (2000) #1

LADY RAWHIDE (1995) #1 1/2
LINSNER GIRLS PORTFOLIO (2004) #7 S&N
MUSINGS #3
MUSINGS #3 ASHCAN
PHILADELPHIA COMIC CON CONVENTION CARD (2000) #2 LINSNERSGN
PORTABLE DAWN #1
PORTABLE DAWN #1 LINSNERSGN
SIRIUS GALLERY (VOL.1) #1
SIRIUS GALLERY (VOL.2) #1 LINSNERSGN
SIRIUS GALLERY (VOL.3) #1 LINSNERSGN


TEARS OF DAWN (1994) #2 LIMITEDS&N

TEARS OF DAWN (1994) #2 LIMITEDS&N
TEARS OF DAWN (1994) #2 VIRGIN SGN
VILLAIN & HERO SAN DIEGO PREMIERE EDITION (1993) #1
ZORRO (1993) (#0-11) (TOPPS) #11