DC and Charlton War Comics On Sale - More!
Howdy!
Wow! The incredible growth in sales at our Jason St. Mega-Store that I mentioned in my Monday newsletter is continuing unabated. In great part, our growth this week has been fueled by people bringing in to the store an unprecedented number of awesome comics and toy collections. As a case in point, Will Moulton purchased an extensive DC and Charlton war comics collection on Monday, and a wonderful collection of rare Michael Linsner items just yesterday. The war comics already listed on our website, are mostly inexpensive lower grades, and include a broad spectrum of titles such as GI COMBAT, OUR ARMY AT WAR, ATTACK!, BATTLEFIELD ACTION, FIGHTIN' ARMY, FIGHTIN' MARINES, FIGHTIN' NAVY, and WAR.
Our new Linsner collection consists of a lot of signed pieces, so each one of those has to be created as a new item in our database. Will thinks he can get those new Linsner items all listed for you in Premium New-In-Stock by Friday. In the meantime, if you collect STAR TREK or SPIDER-MAN toys, Lisa has a great new selection that she just purchased for the Jason St. Mega-Store. You will have to stop by the store to view them, however, as we do not sell toys by mail.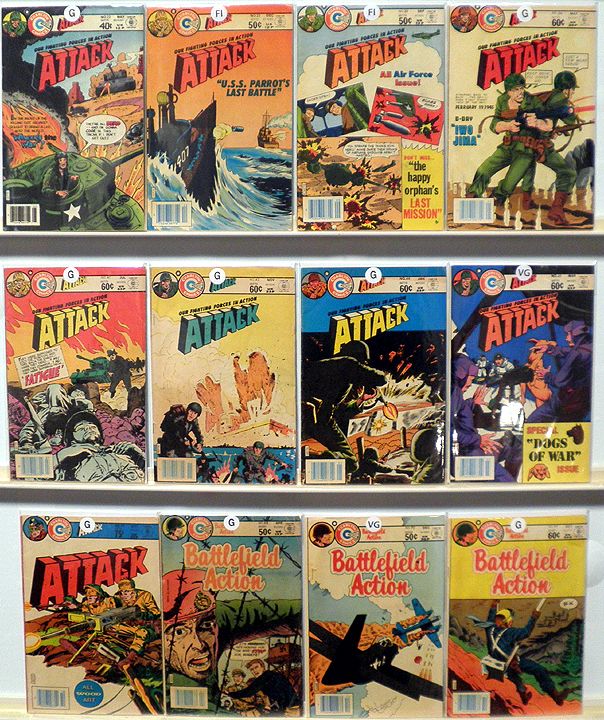 Some of the Attack and Battlefield Comics

In other news, I am getting ready to make a trip to the upper East Coast and New England to look at comics and book collections. If you live in the region from Washington, DC to Boston and have a collection that you wish to sell, please contact Will Moulton at moulton@milehighcomics.com with a description of what you would like to sell, and how much that you are seeking to be paid. My hope is that I can leave on this trip toward the end of April. I need to be back in Denver by May 6th, as that is Free Comic Book Day, which is typically our busiest day of the year.
Speaking of Free Comic Book Day, we do still have complete sets remaining of this year's FCBD editions. We are accepting advance orders in exchange for a $40 donation to "Feeding Denver's Hungry." A set consists of all 53 of the 2017 FCBD variants, plus one free Mile High Comics STAR WARS variant (our choice). We sell our STAR WARS variants for a minimum of $24.95 each, so your donating $40 to "Feeding Denver's Hungry" is an awesome opportunity for you. All sets will ship on the Monday following FCBD.
I will close with a quick reminder that all 250,000 of our trade paperbacks, graphic novels, and comics hardback collections are on sale for you right now at 30%-40% off, with those steeply discounted prices listed for you right on our website. In addition, we have a 30% off SPRINGBREAK! codeword sale in effect for you on all ten million of our back issue comics and magazines. Only new issues, a few variants, and our CGC's are excluded from the SPRINGBREAK! sale.
Happy collecting!
Chuck Rozanski,
President - Mile High Comics, Inc.
March 29, 2017