Local News - No-minimum-bid Comics, Toys, and Collectibles Auction this Saturday
Howdy!
On Saturday morning we will be hosting another of our world-renown no-minimum-bid Comics, Toys, and Collectibles auction at our Jason St. Mega-Store. Saturday morning's auction will begin at 11:30 AM, and will feature well over 500 different items including rare Golden Age, Silver Age, and Bronze Age comics, limited edition Modern Comics variants, comics trade paperbacks and comics hardbacks, comics graphic novels, statues and busts, carded action figures, and much, much more.
Included in a special benefit portion of our Saturday morning auction will be a selection of rare material from my own collection by three recently deceased comics artists: Bernie Wrightson, Skip Williamson, and Jay Lynch. The entire proceeds from the sale of these items will be donated to the White Rose Scholarship Fund, a special educational charity run by the Imperial Court of the Rocky Mountain Empire. Through White Rose the ICRME helped about a dozen deserving low income students stay in school last year through grants totaling $17,000.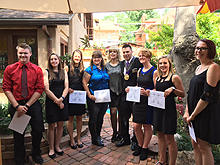 Some of the White Rose Scholarship recipients with Empress 43 Norrie Reynolds and Emperor 43 Manny Sexton

Here are some photos of some of the Mile High Comics auction lots.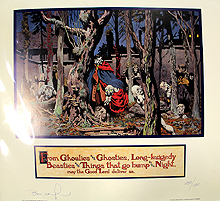 Bernie Wrightson Signed & Numbered Print

Happy collecting!
Chuck Rozanski,
President - Mile High Comics, Inc.
March 21, 2017