SPIDER-MAN, CAPT. AMERICA, FF, TMNT, SAVAGE SWORD, more...
Howdy!
Pam purchased a delightful collection yesterday that consisted of two full long boxes of Silver Age comics. Half of those older issues were posted for you into our Premium New-In-Stock link this morning, and the rest should appear by tomorrow morning. Bigger titles include CAPTAIN AMERICA, FANTASTIC FOUR, and AMAZING SPIDER-MAN (1963), but this collection actually was quite diverse, with dozens of older titles represented. Please bear in mind, however, that we (mostly) received only one copy of each issue in that grade, so many of the key issues will sell out quite quickly.
While Pam was buying older comics, I came up with a near-complete set of WOLVERINE (1988) #1-#150, a bunch of later IDW TEEN-AGE MUTANT NINJA TURTLES, and a huge stack of the very desirable 1970's SAVAGE SWORD OF CONAN Magazines. I also purchased an incredibly rare set of the 1970's British Warren Magazine EERIE #1-#4. Woo!
Not to be outdone, our head buyer, Will Moulton, today added the largest collection of scarce HELLBOY comics (and promo editions) that I have ever seen. All of those scarce issues will appear in tomorrow (Saturday's) New-In-Stock and Premium New-In-Stock links. So you know, the new update is generally posted at about noon on Saturdays. Also, all of our newly acquired Silver Age Comics, Magazines, and newer comics listed in New-In-Stock and Premium New-In-Stock are available to you at 30% off the listed price when you utilize our new GREATDEAL! codeword. Only new issues, a few variants, and our CGC's are exempt from this very generous discount.
In other news, I am heading for New York City on Tuesday. I will be stopping by The Encounter in Allentown, PA on Wednesday morning to have breakfast with my good friend, Oliver Hochran. I am also making a point to visit with comics dealers John Paul and Michael Williams in New Jersey. John Paul's awesome monthly Clifton show will be held on Sunday morning, at the Clifton Community Center. Sadly I have to miss Clifton (which is my favorite comics show in America!), as I am obligated to be in NYC with the Queen Mother of the Americas for the victory brunch of the new elected Monarchs of the imperial Court of New York that morning. Sigh...
So you know, I will also have to miss most of Michael Carbonaro's wonderful Big Apple comics show at the Hotel Pennsylvania, for the same reason. I will try to stop by for a few hours on Saturday morning, but by Saturday afternoon I will be needing to head back to the Marriott Marquis in order to get dressed in my tuxedo. The annual coronation of Monarchs for the New York Court is called "Night of a Thousand Gowns," and it is the most prestigious drag event in America. Imagine being in a room with over 500 of the most beautiful female impersonators on the planet, all vying with each other for who can be the most over-the-top gorgeous. You have never, ever, seen such beautiful hair, gowns, shoes, jewelry, and makeup.
If you have an interest in attending, tickets are $450 each for this gala charity ball at the Marriott Marquis Hotel, and they do sell out each year. A four course meal is included, as is an open bar, and unlimited free desserts and coffee at midnight. Sir Ian McKellen, CBE (Gandalf from LOTR and Magneto from X-MEN) is our honorary ball chair this year. Dustin Lance Black who wrote MILK and WHEN WE RISE will also be honored, as will many other LGBTQ performers and personalities. All proceeds will benefit the Transgender Legal Defense and Education Fund. After having been blessed to attend two previous NOTG balls, I am really looking forward to this year's incredible event!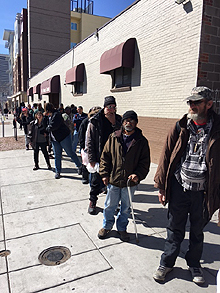 Line to get into the St. Francis Center

My final item for today is a quick mention that I helped deliver over 250 pairs of shoes and boots today to the St. Francis Center together with "Feeding Denver's Hungry" founder, Jim Sharper. We met with the director of the St. Francis Center on Monday, and he told us that obtaining shoes for his 600-700 homeless clients was his #1 priority. His timing could not have been more perfect, as we had just received a huge donation of shoes and boots from our comics fans at Jason St., and from the supporters of "Feeding Denver's Hungry." Knowing that our entire truckload of shoes and boots was going to help those in need, totally made our day.
Happy collecting!
Chuck Rozanski,
President - Mile High Comics, Inc.
March 3, 2017

P.S. Below are even more comics that we picked up this week. Our website inventory continues to expand for you each and every week!