Local News - Comics, Poker, Toilet Paper Drive!
Howdy!
Excellent progress continues to be made at all of our three retail stores on expanding our already-impressive selections of $1 comics. I personally worked late at Jason St. on Monday and Tuesday selecting even more $1 comics from that huge Dallas, Texas deal that I purchased in November, while Pam and Will continue to add $1 issues from the Las Vegas deal. Jason St. now has three full double tables of brand new $1 issues, which is the largest selection of new material that we've been able to offer you in over four years!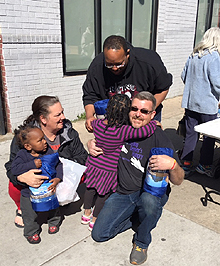 Jim Scharper feeling the love!

In other news, we have chosen the St. Francis Center for the Homeless as the beneficiary of the proceeds from our upcoming Saturday, March 18th Texas Hold'em Poker Tournament at Jason St. The St. Francis Center provides a daytime refuge for 600-700 of Denver's most at-risk homeless and disabled adults. Many of these people sleep with their heads resting on tables at the St. Francis Center during the day, as they are afraid to go to the large public shelters at night. Suffice it to say, life on the streets can be extremely rough.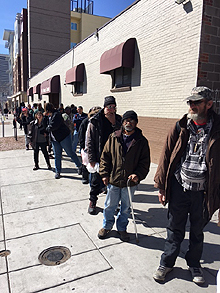 Line to get into the St. Francis Center

All of the above having been said, we met with the director of the St. Francis Center on Monday, and asked what were their greatest needs. He told us that they always need shoes and boots of any kind, and that they burn through entire truckloads of toilet paper each week. Simply put, there are not very many public toilets available to the homeless, so they have no choice but to use the facilities at the St. Francis Center. When 600-700 people a day utilize your restroom facilities, you are going to need constant restocking.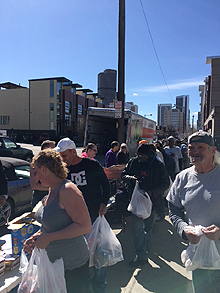 Crowd outside St. Francis Center

In a nutshell, that is why the 100% of the proceeds from our next poker tournament will go to buy massive quantities of toilet paper for the St. Francis Center. If you would like to play in our tournament, the advance registration entry fee is only $25. There is actually zero cost to you to play, however, as all advance registrants immediately receive a $25 gift certificate that can be immediately utilized at any of our stores, or online. First prize in the tournament is a $500 Mile High Comics shopping spree, with $200 for 2nd, and $100 each for 3rd-5th. No matter how you cut it, this is a great deal for you!
In addition to the poker tournament, we are also going to be offering a chance drawing for another $500 shopping spree. Cost per ticket is only $1, or one wrapped roll of toilet paper. The drawing will be held on Saturday, March 18th, at 2 PM. Tickets can be obtained at any of our three locations. You need not be present to win!
My final item for today is a quick mention that we will be hosting a no-minimum-bid comics, toys, and collectibles auction at Jason St. on Saturday, March 25th. Half of the items in the auction will benefit Mile High Comics, but 100% of the proceeds from the second half will be donated to the St. Francis Center. We do very much need donations of unwanted comics, books, and other collectibles for this benefit auction, so if you have some items that no longer fit in with your present collecting tastes, please donate them. You can drop your donations off at any of our three retail stores. All proceeds from the sale of your items will go directly toward helping the poor served by the St. Francis Center...
Happy collecting!
Chuck Rozanski,
President - Mile High Comics, Inc.
March 2, 2017

P.S. Below are some arrays of comics that just arrived at Jason St. All can be purchased through the "Help Desk" located toward the rear of the store.
Mile High Comics - Jason Street Mega-Store


Mile High Comics Retail Store Locations