New Collections Arrives including Spider-man, New Mutants, Deadpool, and more...
Howdy!
As I mentioned on Saturday, I was commanded by Nicole the Great, Queen Mother of the Americas, to attend this weekend's Coronation of the new Monarchs of the San Francisco Imperial Court. As it turns out, the Coronation ceremony (while quite nice...) was secondary to my participating in an annual Sunday morning pilgrimage to the grave of Jose' Sarria, the founder of the Imperial Court System. At Jose's grave site Nicole awarded me the honor of being an Heir Apparent, which elevates me to being a member of the 40-person International Court Council, and also puts me in her personal line of succession.
To give you a bit of perspective, the Imperial Court System has been active for 52 years. It currently has 70 active chapters in the United States, Canada, and Mexico, with approximately 30,000 followers. During that span of more than half a century, very few non-Monarchs have ever been elevated to Heir Apparent, and even fewer who identify as straight allies. I am humbled beyond words to have been chosen by our Queen Mother for this amazing honor.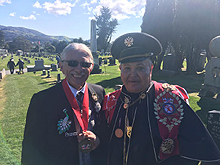 Chuck and Nicole the Great, Queen Mother of the Americas

I will have more information and photos about my elevation to Heir Apparent in my next newsletter, but before I leave this topic today I did want to quickly mention that there will be a 3-part ABC miniseries that begins this evening entitled: "When We Rise...," which will include segments about Jose' Sarria, and his efforts to organize resistance against the vicious oppression of the Drag Queen performers of the LGBTQ community in San Francisco during the 1960's. I am very much looking forward to watching this series.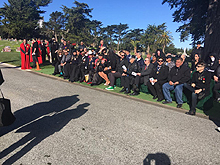 Some of the crowd at the cermony.

Moving on to comics news, Will Moulton and Pam both came in to work on Saturday, and they added even more hard-to-find issues for you into our online comics and magazine inventories. View New-In-Stock for last week to see the huge numbers of comics that we have been adding for you. So you know, one factor that we have seen as a consistent trend over the past few months is that many titles and issues from the last ten years (that some comics dealers treat with remarkable disdain) are actually quite scarce in the secondary market due to very low print runs. "Common" issues are oftentimes not. Just saying...
I will close today's newsletter with a quick mention that our 30% Off GREATDEAL! codeword sale is still in effect for you on all of our back issue comics and magazines, including those just listed in New-In-Stock. Only new issues, a few variants, and our CGC's are excluded.
Happy collecting!
Chuck Rozanski,
President - Mile High Comics, Inc.
February 27, 2017