New Listings Scarce Comics, Books, Magazines plus STAR WARS #29 Variant
Howdy!
I am on a visit to California today, staying in a very nice hotel near the Civic Center in San Francisco. This is the host hotel for the Imperial Council of San Francisco 52nd Annual Coronation, which will be held tonight. I was specifically requested late last week to attend this event by Nicole Ramirez, our Queen Mother of the Americas. When the head of an organization that has an estimated 30,000 followers asks you to join her at an event, you don't ask questions.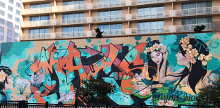 Mural from outer wall of our Hotel

While I am here in California, Will Moulton and Pam are working overtime adding great comics and magazines into our website inventory for you. As a direct result, our New-In-Stock and Premium New-In-Stock listings that we posted for you this morning are excellent in their diversity. Pam made a special point of adding some scarce magazines this week, while Will Moulton somehow found the time to add a select group of scarce trade paperbacks and hardbacks that we purchased on Thursday. That is in addition to a slew of rare variants and a nice grouping of Silver and Bronze Age titles. Included was one copy of the very scarce Dark Horse Comics reissue of the Berni Wrightson FRANKENSTEIN hardcover. Nice!

Berni Wrightson FRANKENSTEIN hardcover

Speaking of inventory additions, I did want to mention that most of the comics, books, and magazines that we add to our online store are limited to just a single copy, or a single copy in that specific grade. If you see an item in our New-In-Stock links that you would like to add to your collection, I encourage you to order it right away. Our online inventory currently contains well over 400,000 items, but we do not have depth of stock on most issues.
On the plus side, our new GREATDEAL! codeword provides you with an instant 30% discount from list price on most comics and magazines listed in New-In-Stock. Only new issues, a few variants, and our CGC's are excluded. The 30% codeword sale discount does also apply, however, to all 10,000,000 of our in-stock back issue comics and magazines. Our trade paperbacks, graphic novels, and comics hardbacks are also on sale for you right now at 20% off, but no codeword is needed as those discounted prices are listed for you right on our website. Enjoy!
In other news, our beautiful variant edition of STAR WARS (2015) #29 will release on Wednesday. Until Wednesday you can still preorder this limited edition (3,000 copies) for only $19.95, but the price will need to rise to $24.95 on Wednesday.

STAR WARS (2015) #29 Mile High Exclusive

That's all of my news for today, so I will defer to Will, so that he has room to include some photo arrays the nice items we have added for you this week. We really found some great comics, books, and magazines!
Happy collecting!
Chuck Rozanski,
President - Mile High Comics, Inc.
February 25, 2017