Local News - Free Comic Book Day + Poker and Auction News
Howdy!
I have four topics to cover for you today. First, I wanted to make you aware that we have been adding thousands of comics into our $1 selections at all three of our stores. We have created an impressive array of $1 issues that is approaching 30,000 comics in Jason St., while Lakewood and Glendale are in the neighborhood of 5,000 issues each. This is part of an ongoing effort on our part to make comics more accessible to everyone, but most especially younger readers. If the happy smiles on the kids I see perusing our $1 boxes in Jason St. are any indication, our new $1 program is working well!
Second, our next benefit Texas Hold'em Poker Tournament is scheduled for Saturday, March 17th, beginning at 11 AM. We had 57 players in our last tournament, and everyone had so much fun that we are expecting to reach capacity this time, and may have to institute a waiting list. To guarantee yourself a seat in the game, preregister at any of our three stores. You must pay our $25 entry fee at the time that you register, but you will be immediately reimbursed with a $25 gift certificate that you can use in the store, or online. Top prize will be a $500 Mile High Comics shopping spree!
The Saturday following our poker tournament (March 24th) will be the date for our next No-Minimum-Bid auction. Will Moulton has already begun setting aside cool collectibles and rare comics for this fun event. It will begin at 11:30 AM, and will include a benefit auction. The charity we will be supporting with this auction (and our poker tournament) is as of yet undetermined, pending a meeting I will be participating in on Monday.
Finally, I want to alert you to the fact we are already allowing preorders for complete sets of the 2017 FREE COMIC BOOK DAY variant editions. This set us made up of 54 2017 FCBD variants, and will also include a random copy of one of our exclusive STAR WARS (2015) variant editions, which we normally sell for a minimum of $24.95 each. The way that you can reserve a FCBD set for yourself right now is to go to www.milehighcomics.com, and enter "Feeding Denver's Hungry" into the search box. Once you agree to make a $40 donation to help the 600+ disabled, elderly, and homeless clients that we serve though "Feeding Denver's Hungry," we will set aside a complete FCBD set for you.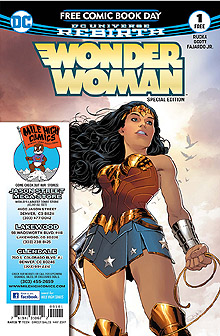 Exclusive Mile High 2017 Wonder Woman FCBD Cover

In case you're wondering, I'm letting you know well in advance about our FCBD sets offer because we had 30! "Feeding Denver's Hungry" donation commitments arrive from our online clients during just the past two days. We only have a total of 150 FCBD complete sets ordered, and the deadline has passed for any increase. If our online clients end up reserving all 150 sets, we will then only have 10,000 single issues to give away on FCBD, May 6th. Having 10,000 single issues available might sound like a considerable number, but we had over 2,000+ fans visit Jason St. (alone) on FCBD last year. Need I say more?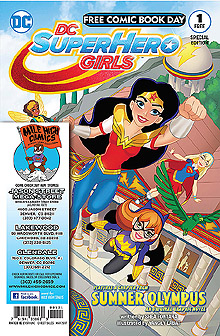 Exclusive Mile High 2017 DC SuperHero Girls FCBD Cover

Happy collecting!
Chuck Rozanski,
President - Mile High Comics, Inc.
February 24, 2017

Mile High Comics - Jason Street Mega-Store


Mile High Comics Retail Store Locations