Great Comics Arrive - WOLVERINE, DARK KNIGHT, SPIDER-MAN, Many More
Howdy!
I had all sorts of plans (and topics) that I wanted to cover in today's newsletter, but it has just been one of those overwhelming days where circumstances simply take on a life of their own. None of today's events were in any way bad, as the primary interference in the rhythm of my day consisted of my needing to chat with people here at Jason St. about collections that they brought in to sell us, or about collections that they plan to bring to us in the near future. This has not been limited to comics collections (although we did purchase a couple thousand great back issues ...), but also included toys, statues, and original comics art. In all honesty it has truly been a great day, even though it wasn't anything like I had originally planned.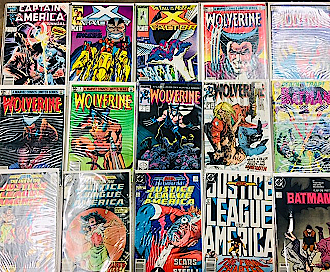 Some of the comics just bought today.

As regards the comics that we purchased today, most of the key issues will be available on our website tomorrow, with the longer runs being added later in the week. Most are in VF or NM, as this owner was very picky about flaws. Included are such highly popular titles as WOLVERINE (1984) #1-#4, WOLVERINE (1988) #1-#10, X-MEN (1963) #210-#213, HULK (1962) #340, DARK KNIGHT (1986) #1-#4, SPIDER-MAN (1963) #298, #299, #300, CAPTAIN AMERICA (1968) Annual #8, and over 2,000 more issues from the 1968-1999 period. Definitely one of those extremely wonderful and desirable collections that we are always hoping will walk into Jason St.!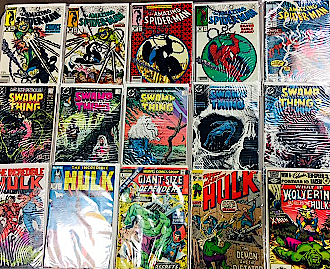 Some more of the comics just bought today.

A second collection that we purchased yesterday consisted of SPAWN (1991) #1-#167, plus several dozen very cool SPAWN toys. In case you were unaware, issues of SPAWN after #65 have become hard to find, with issues past #100 being almost impossible to locate in the secondary market due to extremely low print runs. Our list prices on the later issues are quite robust, but we are still offering a 60% off NANETTE codeword discount, so that does help to ease the cost burden significantly for those who read our newsletter. Truth be told, you would be shocked at how many later SPAWN issues that we sell at full list. Our prices may be high, but unlike most other comics websites, at least we do have many in stock...
Speaking of the 60% off NANETTE codeword, it will definitely stay in effect for you through this upcoming weekend. With eight! comics and toys collections having been purchased by us during just the last 24 hours, we have truly been investing wisely in the future of our business. The good news is that all the comics that we have purchased yesterday and today are definitely helping us to offset the diminishment in our website inventory caused by the 60% off sale. Thank goodness!
As long as we are still getting ahead, I guess that I am not going to complain about giving 60% off, even on our best back issues (well, that's not entirely true, as I gave Will Moulton some serious attitude today when he came to take away my VF copy of CAPTAIN AMERICA #100 from the front showcase, but it is generally true...). The 60% NANETTE codeword applies to all ten million+ of our back issue comics, excepting only new issues, a few variants, and our professionally-graded comics. Please enjoy this great 60% off savings with our sincere thanks for your continuing support of our family-owned small business.
I will close with a couple of brief news notes. First, we were blessed to be able yesterday to purchase a life size GAMBIT figure for display in Jason St., sculpted by Jason Cook. It looks really cool! Second, I dropped off our donation check for $2,785.00 to RAINBOW ALLEY this afternoon to help them to purchase small gifts for the approximately 300 kids and teens who will be at their annual potluck Christmas party for disadvantaged youth. This is our fourth year of donating to this great community effort, and we sincerely thank everyone in our local Mile High Comics family who donated, either by playing in our last poker tournament, or by bidding in our most recent comics and toys auction. You helped to make Christmas just a little bit brighter for hundreds of needy kids. Thank you.
Happy collecting!
Chuck Rozanski,
President - Mile High Comics, Inc.
December 5, 2018
MARVEL

AGE OF APOCALYPSE (2012) (#1-14) (FROM THE PAGES...) #1

AGE OF APOCALYPSE (2012) (#1-14) (FROM THE PAGES...) #1 Fine

ASTONISHING TALES (MARVEL) (1970) #25 Fine
ASTONISHING TALES (MARVEL) (1970) #29 Fine

AVENGERS (1963) (#1-402) (MARVEL) #138 Very Good
AVENGERS (1963) (#1-402) (MARVEL) #140 Fine
AVENGERS (1963) (#1-402) (MARVEL) #144 Fine

AVENGERS GIANT-SIZE (GIANT SIZE) (1974) #1 Very Good
AVENGERS GIANT-SIZE (GIANT SIZE) (1974) #4 Very Good

CABLE (2008) (#1-25) (MARVEL) #13 VARIANT Very Fine
CABLE (2008) (#1-25) (MARVEL) #14 VARIANT Near Mint/Mint

CAPTAIN AMERICA (1968) (#100-454) (MARVEL) #274 NEWS JEWEL Fine

CARNAGE (2010) (#1-5) (MARVEL) #1 Near Mint/Mint
CARNAGE (2010) (#1-5) (MARVEL) #2 Very Fine
CARNAGE (2010) (#1-5) (MARVEL) #3 Near Mint/Mint
CARNAGE (2010) (#1-5) (MARVEL) #4 Very Fine
CARNAGE (2010) (#1-5) (MARVEL) #5 Very Fine

CHAMBER OF CHILLS (1972) (#1-25) (MARVEL) #11 Very Good
CHAMBER OF CHILLS (1972) (#1-25) (MARVEL) #16 Fine
CHAMBER OF CHILLS (1972) (#1-25) (MARVEL) #17 Good
CHAMBER OF CHILLS (1972) (#1-25) (MARVEL) #18 Fine
CHAMBER OF CHILLS (1972) (#1-25) (MARVEL) #19 Fine

CHILLERS GIANT-SIZE (1974) #1 Fine
CHILLERS GIANT-SIZE (1975) #2 Very Good
CHILLERS GIANT-SIZE (1975) #3 Very Good

CONAN ANNUAL (1973) #1 Very Good

CONAN GIANT-SIZE (1974) #3 Very Good

CREATURES GIANT-SIZE (1974) #1 Very Good


CREATURES ON THE LOOSE (1971) #30

CREATURES ON THE LOOSE (1971) #30 Fine

CRYPT OF SHADOWS (1973) #11 Very Good
CRYPT OF SHADOWS (1973) #12 Fine
CRYPT OF SHADOWS (1973) #15 Very Good
CRYPT OF SHADOWS (1973) #17 Fine
CRYPT OF SHADOWS (1973) #18 Good
CRYPT OF SHADOWS (1973) #19 Fine

DEADLY HANDS OF KUNG FU (1974) #16 Very Good
DEADLY HANDS OF KUNG FU (1974) #29 Very Good

DEFENDERS (1972) (#1-152) (MARVEL) #26 Fine
DEFENDERS (1972) (#1-152) (MARVEL) #27 Very Good
DEFENDERS (1972) (#1-152) (MARVEL) #28 Fine

DRACULA LIVES! (MAGAZINE) (1973) #4 Good

DRACULA LIVES! ANNUAL MAGAZINE (1975) #1 Good

DRAX THE DESTROYER (2005) #4 Very Fine

EPIC ILLUSTRATED (1980) #6 Fine
EPIC ILLUSTRATED (1980) #15 Very Fine
EPIC ILLUSTRATED (1980) #16 Fine
EPIC ILLUSTRATED (1980) #17 Near Mint/Mint
EPIC ILLUSTRATED (1980) #22 Fine

FANTASTIC FOUR (1961) (#1-416) (MARVEL) #162 Fine

GUARDIANS OF THE GALAXY (2008) (#1-25) (MARVEL) #9 Very Fine
GUARDIANS OF THE GALAXY (2008) (#1-25) (MARVEL) #10 Very Fine
GUARDIANS OF THE GALAXY (2008) (#1-25) (MARVEL) #11 Fine
GUARDIANS OF THE GALAXY (2008) (#1-25) (MARVEL) #12 Very Fine
GUARDIANS OF THE GALAXY (2008) (#1-25) (MARVEL) #13 Very Fine
GUARDIANS OF THE GALAXY (2008) (#1-25) (MARVEL) #14 Near Mint/Mint
GUARDIANS OF THE GALAXY (2008) (#1-25) (MARVEL) #15 Near Mint/Mint
GUARDIANS OF THE GALAXY (2008) (#1-25) (MARVEL) #16 Fine
GUARDIANS OF THE GALAXY (2008) (#1-25) (MARVEL) #17 Very Fine
GUARDIANS OF THE GALAXY (2008) (#1-25) (MARVEL) #18 Very Fine
GUARDIANS OF THE GALAXY (2008) (#1-25) (MARVEL) #19 Very Fine


GUARDIANS OF THE GALAXY (2008) (#1-25) (MARVEL) #20

GUARDIANS OF THE GALAXY (2008) (#1-25) (MARVEL) #20 Very Fine
GUARDIANS OF THE GALAXY (2008) (#1-25) (MARVEL) #21 Near Mint/Mint
GUARDIANS OF THE GALAXY (2008) (#1-25) (MARVEL) #22 Near Mint/Mint

INHUMANS (1975) (#1-12) (MARVEL) #1 Fine

INVADERS (1975) (#1-41) (MARVEL) #1 Fine
INVADERS (1975) (#1-41) (MARVEL) #2 Fine
INVADERS (1975) (#1-41) (MARVEL) #4 Fine

INVADERS GIANT-SIZE (1975) #1 Very Good

JUNGLE ACTION (1972) (#1-24) (MARVEL) #17 Fine

KID COLT (1962) (#103-229) (MARVEL) #198 Fine
KID COLT (1962) (#103-229) (MARVEL) #202 Fine

KID COLT GIANT-SIZE (1975) #3 Fine

MAN-THING (1974) (#1-22) (MARVEL) #20 Very Good
MAN-THING (1974) (#1-22) (MARVEL) #21 Very Good

MARVEL CHILLERS (1975) #1 Fine

MARVEL PREMIERE (1972) #16 Very Good
MARVEL PREMIERE (1972) #24 Fine

MARVEL PRESENTS (1975) #1 Fine

MARVEL TWO-IN-ONE (1974) (#1-100) (MARVEL) #9 Fine

MASTER OF KUNG FU (1974) (#15-125) (MARVEL) (SHANG-CHI) #19 Fine
MASTER OF KUNG FU (1974) (#15-125) (MARVEL) (SHANG-CHI) #27 Fine
MASTER OF KUNG FU (1974) (#15-125) (MARVEL) (SHANG-CHI) #28 Fine
MASTER OF KUNG FU (1974) (#15-125) (MARVEL) (SHANG-CHI) #29 Fine

NIGHT RIDER #4 Fine

SUPER-VILLAIN TEAM-UP (1975) #3 Fine
SUPER-VILLAIN TEAM-UP (1975) #5 Fine

VAULT OF EVIL #11 Very Good
VAULT OF EVIL #12 Good
VAULT OF EVIL #18 Very Good
VAULT OF EVIL #19 Very Good

VENOM (2011) (#1-42) (MARVEL) #41 Near Mint/Mint
VENOM (2011) (#1-42) (MARVEL) #42 Near Mint/Mint

WAR IS HELL (1973) #9 Good
WAR IS HELL (1973) #10 Very Good
WAR IS HELL (1973) #13 Very Good

WARLOCK (1972) (#1-15) (MARVEL) #3 Very Good
WARLOCK (1972) (#1-15) (MARVEL) #9 Very Good
WARLOCK (1972) (#1-15) (MARVEL) #10 Fine
WARLOCK (1972) (#1-15) (MARVEL) #12 Very Good

WEIRD WONDER TALES (1973) #9 Fine
WEIRD WONDER TALES (1973) #13 Fine
WEIRD WONDER TALES (1973) #17 Fine
WEIRD WONDER TALES (1973) #18 Fine

DC
ACTION COMICS (1938) (#0-600, 643-904) (DC) #342 Very Good
ACTION COMICS (1938) (#0-600, 643-904) (DC) #343 Good
ACTION COMICS (1938) (#0-600, 643-904) (DC) #370 Good
ACTION COMICS (1938) (#0-600, 643-904) (DC) #395 Very Good
ACTION COMICS (1938) (#0-600, 643-904) (DC) #500 Fine
ACTION COMICS (1938) (#0-600, 643-904) (DC) #568 NEWSSTAND Very Fine
ACTION COMICS (1938) (#0-600, 643-904) (DC) #722 DCUNIVERSE Very Fine

ADVENTURE COMICS (1938) (#32-503) (DC) #299 Good
ADVENTURE COMICS (1938) (#32-503) (DC) #331 Good
ADVENTURE COMICS (1938) (#32-503) (DC) #336 Good
ADVENTURE COMICS (1938) (#32-503) (DC) #343 Good
ADVENTURE COMICS (1938) (#32-503) (DC) #344 Good
ADVENTURE COMICS (1938) (#32-503) (DC) #344 Very Good
ADVENTURE COMICS (1938) (#32-503) (DC) #345 Good
ADVENTURE COMICS (1938) (#32-503) (DC) #348 Good


ALL-STAR (1976) (#58-74) (ALL-STAR COMICS) (DC) #62

ALL-STAR (1976) (#58-74) (ALL-STAR COMICS) (DC) #62 Very Good
ALL-STAR (1976) (#58-74) (ALL-STAR COMICS) (DC) #63 Fine

AMERICAN VAMPIRE (DC VERTIGO) (2010) #1 Very Fine
AMERICAN VAMPIRE (DC VERTIGO) (2010) #2 Very Fine
AMERICAN VAMPIRE (DC VERTIGO) (2010) #3 Near Mint/Mint
AMERICAN VAMPIRE (DC VERTIGO) (2010) #4 Very Fine
AMERICAN VAMPIRE (DC VERTIGO) (2010) #5 Near Mint/Mint

AMERICAN VAMPIRE: SURVIVAL OF THE FITTEST (DC VERTIGO) (2011) #1 Very Fine

AZRAEL (2009) (#1-18) (DC) (BATTLE FOR THE COWL) #18 Near Mint/Mint

BATGIRL (2000) (#1-73) (DC) #55 Near Mint/Mint

BATMAN (1940) (#0-713) (DC) #248 Very Good
BATMAN (1940) (#0-713) (DC) #266 Very Good
BATMAN (1940) (#0-713) (DC) #658 Near Mint/Mint
BATMAN (1940) (#0-713) (DC) #663 Near Mint/Mint
BATMAN (1940) (#0-713) (DC) #663 Fine
BATMAN (1940) (#0-713) (DC) #667 Fine
BATMAN (1940) (#0-713) (DC) #668 Near Mint/Mint
BATMAN (1940) (#0-713) (DC) #668 Very Fine
BATMAN (1940) (#0-713) (DC) #670 Very Fine
BATMAN (1940) (#0-713) (DC) #673 Near Mint/Mint
BATMAN (1940) (#0-713) (DC) #686 ROSS Very Fine

CATWOMAN (2002) (#1-83) (DC) #67 Very Fine
CATWOMAN (2002) (#1-83) (DC) #69 Very Fine
CATWOMAN (2002) (#1-83) (DC) #71 Near Mint/Mint
CATWOMAN (2002) (#1-83) (DC) #72 Near Mint/Mint
CATWOMAN (2002) (#1-83) (DC) #73 Near Mint/Mint
CATWOMAN (2002) (#1-83) (DC) #74 Very Fine
CATWOMAN (2002) (#1-83) (DC) #75 Near Mint/Mint
CATWOMAN (2002) (#1-83) (DC) #76 Near Mint/Mint
CATWOMAN (2002) (#1-83) (DC) #77 Very Fine
CATWOMAN (2002) (#1-83) (DC) #78 Near Mint/Mint
CATWOMAN (2002) (#1-83) (DC) #79 Near Mint/Mint


CATWOMAN (2002) (#1-83) (DC) #80

CATWOMAN (2002) (#1-83) (DC) #80 Near Mint/Mint
CATWOMAN (2002) (#1-83) (DC) #81 Very Fine
CATWOMAN (2002) (#1-83) (DC) #82 Near Mint/Mint
CATWOMAN (2002) (#1-83) (DC) #83 Near Mint/Mint

GI COMBAT (1957) (#44-288) (DC) #185 Fine

INFINITE CRISIS (2005) #3 2ND PRINT Near Mint/Mint

JUSTICE LEAGUE OF AMERICA (1960) (#1-261) (DC) #121 Very Good
JUSTICE LEAGUE OF AMERICA (1960) (#1-261) (DC) #122 Fine

KAMANDI (1972) #29 Fine

OMAC (1974) (#1-8) (ONE MAN ARMY CORPS) (JACK KIRBY) #3 Fine
OMAC (1974) (#1-8) (ONE MAN ARMY CORPS) (JACK KIRBY) #5 Very Good
OMAC (1974) (#1-8) (ONE MAN ARMY CORPS) (JACK KIRBY) #6 Very Good
OMAC (1974) (#1-8) (ONE MAN ARMY CORPS) (JACK KIRBY) #7 Very Good

OUR FIGHTING FORCES (1954) #150 Very Good

STRANGE ADVENTURES (1950) (#1-244) (DC) #214 Very Good

SUPERBOY (1949) (#1-258) (DC) #174 Very Good
SUPERBOY (1949) (#1-258) (DC) #184 Very Good
SUPERBOY (1949) (#1-258) (DC) #185 Very Good
SUPERBOY (1949) (#1-258) (DC) #190 Fine

WARLORD (1976) #2 Fine

WEIRD MYSTERY TALES (1972) #13 Fine
WEIRD MYSTERY TALES (1972) #18 Fine
WEIRD MYSTERY TALES (1972) #19 Fine
WEIRD MYSTERY TALES (1972) #21 Very Good
WEIRD MYSTERY TALES (1972) #24 Fine

WEIRD WAR TALES (1971) (#1-124) (DC) #7 Good
WEIRD WAR TALES (1971) (#1-124) (DC) #20 Very Good


WEIRD WAR TALES (1971) (#1-124) (DC) #27

WEIRD WAR TALES (1971) (#1-124) (DC) #27 Very Good
WEIRD WAR TALES (1971) (#1-124) (DC) #30 Very Good
WEIRD WAR TALES (1971) (#1-124) (DC) #31 Very Good
WEIRD WAR TALES (1971) (#1-124) (DC) #32 Very Good
WEIRD WAR TALES (1971) (#1-124) (DC) #35 Very Good
WEIRD WAR TALES (1971) (#1-124) (DC) #36 Fine
WEIRD WAR TALES (1971) (#1-124) (DC) #43 Fine
WEIRD WAR TALES (1971) (#1-124) (DC) #44 Fine
WEIRD WAR TALES (1971) (#1-124) (DC) #45 Fine
WEIRD WAR TALES (1971) (#1-124) (DC) #48 Fine

WEIRD WESTERN TALES (1972) #14 Good
WEIRD WESTERN TALES (1972) #23 Very Good
WEIRD WESTERN TALES (1972) #29 Good
WEIRD WESTERN TALES (1972) #29 Very Good
WEIRD WESTERN TALES (1972) #32 Very Good
WEIRD WESTERN TALES (1972) #33 Very Good

WITCHING HOUR (1969) (#1-85) (DC) #2 Good
WITCHING HOUR (1969) (#1-85) (DC) #5 Good
WITCHING HOUR (1969) (#1-85) (DC) #10 Very Good
WITCHING HOUR (1969) (#1-85) (DC) #12 Very Good
WITCHING HOUR (1969) (#1-85) (DC) #46 Fine
WITCHING HOUR (1969) (#1-85) (DC) #47 Fine
WITCHING HOUR (1969) (#1-85) (DC) #50 Fine

WONDER WOMAN (1942) (#1-329) (DC) #220 Fine

WORLDS FINEST (1941) (#2-323) (DC) (WORLD'S FINEST) #204 Very Good
WORLDS FINEST (1941) (#2-323) (DC) (WORLD'S FINEST) #224 Very Good

DARK HORSE COMICS
FEAR AGENT (2007) (#17-32) (DARK HORSE) #23 Near Mint/Mint

FEAR AGENT: LAST GOODBYE (2007) #3 Near Mint/Mint

IMAGE COMICS
BODY BAGS (2005) (#1-2) (IMAGE) #1 Fine

BOMB QUEEN (VOL. 6) (2009) #1 Fine

COWBOY NINJA VIKING (2009) #1 Fine
COWBOY NINJA VIKING (2009) #2 Near Mint/Mint
COWBOY NINJA VIKING (2009) #3 Near Mint/Mint
COWBOY NINJA VIKING (2009) #4 Fine
COWBOY NINJA VIKING (2009) #5 Fine
COWBOY NINJA VIKING (2009) #6 Very Fine
COWBOY NINJA VIKING (2009) #7 Very Fine
COWBOY NINJA VIKING (2009) #8 Very Fine
COWBOY NINJA VIKING (2009) #9 Near Mint/Mint
COWBOY NINJA VIKING (2009) #10 Near Mint/Mint

CURSE OF THE SPAWN (1996) #1 NEWSSTAND Fine

FEAR AGENT (2005) (#1-11) (IMAGE) #1 Near Mint/Mint
FEAR AGENT (2005) (#1-11) (IMAGE) #4 Near Mint/Mint
FEAR AGENT (2005) (#1-11) (IMAGE) #11 Near Mint/Mint

SPAWN (1992) #1 Good
SPAWN (1992) #2 Near Mint/Mint
SPAWN (1992) #2 Very Fine
SPAWN (1992) #3 Near Mint/Mint
SPAWN (1992) #4 Near Mint/Mint
SPAWN (1992) #4 Very Fine
SPAWN (1992) #5 Near Mint/Mint
SPAWN (1992) #6 Near Mint/Mint
SPAWN (1992) #7 Very Fine
SPAWN (1992) #9 Near Mint/Mint
SPAWN (1992) #9 NEWSSTAND Very Good
SPAWN (1992) #10 Near Mint/Mint
SPAWN (1992) #12 Near Mint/Mint
SPAWN (1992) #13 Near Mint/Mint
SPAWN (1992) #14 Near Mint/Mint
SPAWN (1992) #15 Near Mint/Mint
SPAWN (1992) #16 Near Mint/Mint
SPAWN (1992) #17 Near Mint/Mint
SPAWN (1992) #18 Near Mint/Mint
SPAWN (1992) #19 Fine
SPAWN (1992) #20 Near Mint/Mint
SPAWN (1992) #21 Near Mint/Mint

SPAWN (1992) #23 Near Mint/Mint
SPAWN (1992) #24 NEWSSTAND Fine
SPAWN (1992) #24 Very Fine
SPAWN (1992) #25 NEWSSTAND Fine
SPAWN (1992) #27 NEWSSTAND Fine
SPAWN (1992) #28 Near Mint/Mint
SPAWN (1992) #29 Near Mint/Mint
SPAWN (1992) #30 Fine
SPAWN (1992) #31 NEWSSTAND Very Fine
SPAWN (1992) #32 Near Mint/Mint
SPAWN (1992) #33 Near Mint/Mint
SPAWN (1992) #33 Very Fine
SPAWN (1992) #34 Very Fine
SPAWN (1992) #38 NEWSSTAND Very Good
SPAWN (1992) #65 Near Mint/Mint
SPAWN (1992) #66 Very Fine
SPAWN (1992) #67 Near Mint/Mint
SPAWN (1992) #68 Near Mint/Mint
SPAWN (1992) #69 Very Fine
SPAWN (1992) #70 Near Mint/Mint
SPAWN (1992) #71 Very Fine
SPAWN (1992) #72 Near Mint/Mint
SPAWN (1992) #73 Near Mint/Mint
SPAWN (1992) #74 Near Mint/Mint
SPAWN (1992) #75 Near Mint/Mint
SPAWN (1992) #75 Very Fine
SPAWN (1992) #75 Very Good
SPAWN (1992) #76 Near Mint/Mint
SPAWN (1992) #77 Near Mint/Mint
SPAWN (1992) #78 Very Fine
SPAWN (1992) #79 Very Fine
SPAWN (1992) #80 Very Fine
SPAWN (1992) #81 Fine
SPAWN (1992) #82 Near Mint/Mint
SPAWN (1992) #83 Very Fine
SPAWN (1992) #84 Very Fine
SPAWN (1992) #86 Near Mint/Mint
SPAWN (1992) #87 Near Mint/Mint
SPAWN (1992) #88 Near Mint/Mint
SPAWN (1992) #89 Near Mint/Mint
SPAWN (1992) #90 Very Fine

SPAWN (1992) #91 Very Fine
SPAWN (1992) #92 Near Mint/Mint
SPAWN (1992) #93 Near Mint/Mint
SPAWN (1992) #94 Near Mint/Mint
SPAWN (1992) #95 Fine
SPAWN (1992) #96 Very Fine
SPAWN (1992) #97 Near Mint/Mint
SPAWN (1992) #98 Very Fine
SPAWN (1992) #99 Near Mint/Mint
SPAWN (1992) #100 MCFARLANE Fine
SPAWN (1992) #100 MIGNOLA Very Fine
SPAWN (1992) #100 MILLER Very Fine
SPAWN (1992) #100 WOOD Near Mint/Mint
SPAWN (1992) #101 Near Mint/Mint
SPAWN (1992) #102 Near Mint/Mint
SPAWN (1992) #103 Near Mint/Mint
SPAWN (1992) #104 Near Mint/Mint
SPAWN (1992) #105 Near Mint/Mint
SPAWN (1992) #105 Very Fine
SPAWN (1992) #106 Near Mint/Mint
SPAWN (1992) #107 Near Mint/Mint
SPAWN (1992) #108 Near Mint/Mint
SPAWN (1992) #109 Very Fine
SPAWN (1992) #110 Near Mint/Mint
SPAWN (1992) #111 Very Fine
SPAWN (1992) #112 Very Fine
SPAWN (1992) #113 Near Mint/Mint
SPAWN (1992) #114 Very Fine
SPAWN (1992) #115 Near Mint/Mint
SPAWN (1992) #116 Near Mint/Mint
SPAWN (1992) #117 Near Mint/Mint
SPAWN (1992) #118 Very Fine
SPAWN (1992) #119 Very Fine
SPAWN (1992) #120 Near Mint/Mint
SPAWN (1992) #121 Very Fine
SPAWN (1992) #122 Near Mint/Mint
SPAWN (1992) #123 Near Mint/Mint
SPAWN (1992) #124 Very Fine
SPAWN (1992) #125 Very Fine
SPAWN (1992) #126 Very Fine
SPAWN (1992) #127 Fine
SPAWN (1992) #128 Very Fine
SPAWN (1992) #129 Fine

SPAWN (1992) #129 Near Mint/Mint
SPAWN (1992) #130 Near Mint/Mint
SPAWN (1992) #131 Near Mint/Mint
SPAWN (1992) #132 Near Mint/Mint
SPAWN (1992) #133 Fine
SPAWN (1992) #135 Very Fine
SPAWN (1992) #136 Very Good
SPAWN (1992) #137 Near Mint/Mint
SPAWN (1992) #138 Very Fine
SPAWN (1992) #139 Near Mint/Mint
SPAWN (1992) #140 Near Mint/Mint
SPAWN (1992) #141 Near Mint/Mint
SPAWN (1992) #142 Near Mint/Mint
SPAWN (1992) #143 Very Fine
SPAWN (1992) #144 Very Fine
SPAWN (1992) #145 Very Fine
SPAWN (1992) #146 Very Fine
SPAWN (1992) #147 Near Mint/Mint
SPAWN (1992) #148 Very Good
SPAWN (1992) #149 Near Mint/Mint
SPAWN (1992) #150 MCFARLANE Very Fine
SPAWN (1992) #151 Very Fine
SPAWN (1992) #152 Fine
SPAWN (1992) #153 Fine
SPAWN (1992) #154 Very Fine
SPAWN (1992) #156 Very Fine
SPAWN (1992) #157 Very Fine
SPAWN (1992) #158 Very Good
SPAWN (1992) #159 Fine
SPAWN (1992) #160 Near Mint/Mint
SPAWN (1992) #161 Near Mint/Mint
SPAWN (1992) #162 Fine
SPAWN (1992) #163 Very Good
SPAWN (1992) #164 Very Fine

INDEPENDENTS
BARBARIANS (ATLAS SEABOARD) (1975) #1 (Atlas/Seaboard) Fine

BLAZING BATTLE TALES (1975) #1 (Atlas/Seaboard) Very Good

BRUTE (1975) #3 (Atlas/Seaboard) Fine

CLASSICS ILLUSTRATED (1942) #131 HRN169 ED8 (Gilberton Publications) Fine

COMICS SCENE VOL. 2 MAGAZINE #31 (Starlog) Very Fine
COMICS SCENE VOL. 2 MAGAZINE #32 (Starlog) Near Mint/Mint
COMICS SCENE VOL. 2 MAGAZINE #34 (Starlog) Fine
COMICS SCENE VOL. 2 MAGAZINE #41 (Starlog) Very Fine
COMICS SCENE VOL. 2 MAGAZINE #42 (Starlog) Fine
COMICS SCENE VOL. 2 MAGAZINE #49 (Starlog) Near Mint/Mint
COMICS SCENE VOL. 2 MAGAZINE #50 (Starlog) Near Mint/Mint
COMICS SCENE VOL. 2 MAGAZINE #51 (Starlog) Very Fine
COMICS SCENE VOL. 2 MAGAZINE #52 (Starlog) Very Fine
COMICS SCENE VOL. 2 MAGAZINE #53 (Starlog) Very Fine

CREEPY (MAGAZINE) (1964) #77 (Warren Publishing Company) Very Good

CREEPY THINGS (1975) #2 (Charlton) Fine

DESTRUCTOR (1975) #4 (Atlas/Seaboard) Fine

EERIE MAGAZINE (1965) #72 (Warren Publishing Company) Very Good

FAMOUS FILMS (MAG) #2 (Miscellaneous (Unlisted) Publishers) Fine

GHOSTLY HAUNTS #43 (Charlton) Fine
GHOSTLY HAUNTS #46 (Charlton) Fine

HEAVY METAL (MAG) #8903 (Heavy Metal) Fine
HEAVY METAL (MAG) #9503 (Heavy Metal) Fine
HEAVY METAL (MAG) #9505 (Heavy Metal) Very Fine
HEAVY METAL (MAG) #9507 (Heavy Metal) Very Fine
HEAVY METAL (MAG) #9509 (Heavy Metal) Fine

GHOSTLY TALES (1966) #117 (Charlton) Fine

IRON JAW (1975) #1 (Atlas/Seaboard) Fine

KORG: 70,000 B.C. (1975) #2 (Charlton) Fine

MANY GHOSTS OF DR. GRAVES (1967) #50 (Charlton) Fine


MANY GHOSTS OF DR. GRAVES (1967) #51

MANY GHOSTS OF DR. GRAVES (1967) #51 (Charlton) Fine
MANY GHOSTS OF DR. GRAVES (1967) #52 (Charlton) Fine
MANY GHOSTS OF DR. GRAVES (1967) #54 (Charlton) Fine

MIDNIGHT TALES (1972) #8 (Charlton) Fine

MIGHTY SAMSON (1964) #25 (Gold Key) Fine

OCCULT FILES OF DOCTOR SPEKTOR (1973) (#1-24) (Gold Key) #14 (Gold Key) Fine
OCCULT FILES OF DOCTOR SPEKTOR (1973) (#1-24) (Gold Key) #18 (Gold Key) Fine

PHANTOM (1969) (#30-74) (CHARLTON) #63 (Charlton) Fine
PHANTOM (1969) (#30-74) (CHARLTON) #64 (Charlton) Fine
PHANTOM (1969) (#30-74) (CHARLTON) #66 (Charlton) Fine
PHANTOM (1969) (#30-74) (CHARLTON) #68 (Charlton) Fine

POLICE ACTION #1 (Atlas/Seaboard) Fine
POLICE ACTION #2 (Atlas/Seaboard) Fine

RAWHIDE (1961) #1 FC #1261 (Dell Publishing) Fair

SPACE: 1999 (1975) (#1-7) (CHARLTON) #1 (Charlton) Fine

TALES FROM THE TOMB (VOL. 3) MAGAZINE (1971) #5 (Eerie Publishing) Very Good

TALES OF EVIL (1975) #3 (Atlas/Seaboard) Fine

TRANSFORMERS/GI JOE (2003) #6 (Dreamwave) Very Fine

WEIRDO MAGAZINE (ADULT) #1 2ND PRINT (Last Gasp) Fine
WEIRDO MAGAZINE (ADULT) #2 (Last Gasp) Fine
WEIRDO MAGAZINE (ADULT) #3 (Last Gasp) Good
WEIRDO MAGAZINE (ADULT) #12 (Last Gasp) Good
WEIRDO MAGAZINE (ADULT) #13 (Last Gasp) Fine

WEIRDO MAGAZINE (ADULT) #15 (Last Gasp) Very Good