More Silver Age Comics - SILVER SURFER #1 Signed By Stan Lee!
Howdy!
This has been a remarkable week here at Mile High Comics, with an unprecedented number of great back issues being offered to us. I'm far from certain of the total number, but I believe that Will and Pam have purchased somewhere in the neighborhood of 50-60 private comics and toy collections here at Jason St. during the past two weeks, and maybe more. Some of those collections were small, but a surprising number were of extremely high quality, as the list of New-In-Stock issues provided for you at the end of this newsletter clearly reflects. It has been a long, long time since so many nice key issues we're offered to us in a single week.

SILVER SURFER (1968) (#1-18) (MARVEL) #1 STAN LEE Signed

So you know, I have urged both Will and Pam to keep right on buying the best of the deals being offered to them, even though our allocated purchasing budget was long since exhausted. I could only afford to do this because we have been receiving such great support to our ongoing 60% off NANETTE codeword sale on all of our back issue comics from loyal fans living all over the world. This entire situation this week has actually been incredibly blessed, as we have been receiving large orders just in time to allow us to purchase yet another collection. The net result is that the breadth of comics that we can offer to you via our website has actually expanded this week, even though we have a 60% off sale in effect. That simple never happens...
In any event, I am going to keep the 60% off NANETTE codeword in effect for you this upcoming week on all ten million+ of our back issue comics and magazines listed on our website. Only new issues, a few variants, and our professionally-graded comics are excluded. You can, however, purchase almost all of the comics listed in New-In-Stock and Premium New-In-Stock at 60% off. Please do enjoy this great sale with our sincere thanks for your continuing support of our efforts.
Happy collecting!
Chuck Rozanski,
President - Mile High Comics, Inc.
November 30, 2018
P.S. Here are a few photos from our Thanksgiving event for "Feeding Denver's Hungry." Aside from food, we also distributed approximately 1,000 hats, scarves, socks, and gloves that were paid for via contributions from some incredibly kind patrons of Mile High Comics. Thank you to everyone who contributed for helping so many people make it through the cold. If you would also like to help, just order $25 gift certificate from us. I will send you the certificate, and then utilize 100% of your $25 to then purchase more hats, socks, and gloves to distribute to those in need. It is actually supposed to snow tonight here in Denver, and then turn much colder...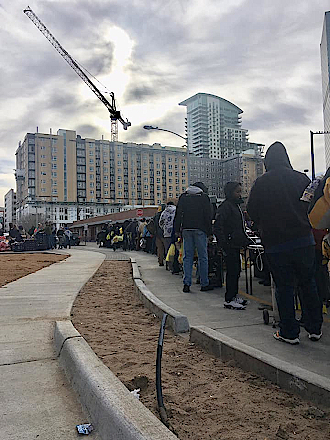 Line of people waiting for food

P.S.S. Here is a list of some of the Marvel comics from Premium New-In-Stock
MARVEL

AVENGERS (1963) (#1-402) (MARVEL) #42

AVENGERS (1963) (#1-402) (MARVEL) #42 Good
AVENGERS (1963) (#1-402) (MARVEL) #43 Good
AVENGERS (1963) (#1-402) (MARVEL) #44 Good
AVENGERS (1963) (#1-402) (MARVEL) #45 Very Good
AVENGERS (1963) (#1-402) (MARVEL) #46 Good
AVENGERS (1963) (#1-402) (MARVEL) #47 Very Fine
AVENGERS (1963) (#1-402) (MARVEL) #48 Fine
AVENGERS (1963) (#1-402) (MARVEL) #49 Very Good
AVENGERS (1963) (#1-402) (MARVEL) #51 Fine
AVENGERS (1963) (#1-402) (MARVEL) #52 Very Good
AVENGERS (1963) (#1-402) (MARVEL) #55 Very Good
AVENGERS (1963) (#1-402) (MARVEL) #56 Good
AVENGERS (1963) (#1-402) (MARVEL) #57 Fine
AVENGERS (1963) (#1-402) (MARVEL) #59 Very Good
AVENGERS (1963) (#1-402) (MARVEL) #80 Good
AVENGERS (1963) (#1-402) (MARVEL) #89 Very Good
AVENGERS (1963) (#1-402) (MARVEL) #90 Very Good
AVENGERS (1963) (#1-402) (MARVEL) #91 Good
AVENGERS (1963) (#1-402) (MARVEL) #93 Good
AVENGERS (1963) (#1-402) (MARVEL) #94 Good
AVENGERS (1963) (#1-402) (MARVEL) #95 Very Good
AVENGERS (1963) (#1-402) (MARVEL) #96 Very Good
AVENGERS (1963) (#1-402) (MARVEL) #97 Good
AVENGERS (1963) (#1-402) (MARVEL) #98 Very Good
AVENGERS (1963) (#1-402) (MARVEL) #99 Very Good
AVENGERS (1963) (#1-402) (MARVEL) #100 Very Good
AVENGERS (1963) (#1-402) (MARVEL) #101 Very Good
AVENGERS (1963) (#1-402) (MARVEL) #102 Very Good
AVENGERS (1963) (#1-402) (MARVEL) #104 Very Good
AVENGERS (1963) (#1-402) (MARVEL) #106 Very Good
AVENGERS (1963) (#1-402) (MARVEL) #107 Very Good
AVENGERS (1963) (#1-402) (MARVEL) #108 Very Good
AVENGERS (1963) (#1-402) (MARVEL) #110 Good
AVENGERS (1963) (#1-402) (MARVEL) #111 Good
AVENGERS (1963) (#1-402) (MARVEL) #116 Very Good
AVENGERS (1963) (#1-402) (MARVEL) #125 Good
AVENGERS (1963) (#1-402) (MARVEL) #126 Very Good
AVENGERS (1963) (#1-402) (MARVEL) #128 Very Good
AVENGERS (1963) (#1-402) (MARVEL) #129 Very Good
AVENGERS (1963) (#1-402) (MARVEL) #252 NEWSSTAND Very Fine
AVENGERS (1963) (#1-402) (MARVEL) #292 NEWSSTAND Very Fine
AVENGERS (1963) (#1-402) (MARVEL) #348 NEWSSTAND Near Mint/Mint
AVENGERS (2017) (#672-690) (MARVEL LEGACY) #677 Near Mint/Mint

AVENGERS ANNUAL (1967) #1 Good
AVENGERS ANNUAL (1967) #2 Very Good
CABLE (1993) (#1-107) (MARVEL) #102 NEWSSTAND Near Mint/Mint
CABLE (2008) (#1-25) (MARVEL) #1 Near Mint/Mint
CABLE (2008) (#1-25) (MARVEL) #9 Near Mint/Mint
CABLE (2017) (#1-5) (MARVEL) #1 Near Mint/Mint
CAPTAIN AMERICA (1968) (#100-454) (MARVEL) #100 Fine
CAPTAIN AMERICA (1968) (#100-454) (MARVEL) #102 Very Good
CAPTAIN AMERICA (1968) (#100-454) (MARVEL) #105 Fine
CAPTAIN AMERICA (1968) (#100-454) (MARVEL) #107 Very Good
CAPTAIN AMERICA (1968) (#100-454) (MARVEL) #108 Very Fine
CAPTAIN AMERICA (2004) (#1-50, 600-619) (MARVEL) #34 VARIANT Very Good
CONAN (1970) (#1-275) (CONAN THE BARBARIAN) (MARVEL) #33 Fine
CONAN (1970) (#1-275) (CONAN THE BARBARIAN) (MARVEL) #36 Fine
DAREDEVIL (1964) (#1-380) (MAN WITHOUT FEAR) (MARVEL) #25 Good
DAREDEVIL (1964) (#1-380) (MAN WITHOUT FEAR) (MARVEL) #30 Very Good
DAREDEVIL (1964) (#1-380) (MAN WITHOUT FEAR) (MARVEL) #31 Good
DAREDEVIL (1964) (#1-380) (MAN WITHOUT FEAR) (MARVEL) #32 Very Good
DAREDEVIL (1964) (#1-380) (MAN WITHOUT FEAR) (MARVEL) #33 Good
DAREDEVIL (1964) (#1-380) (MAN WITHOUT FEAR) (MARVEL) #34 Very Good
DAREDEVIL (1964) (#1-380) (MAN WITHOUT FEAR) (MARVEL) #35 Good
DAREDEVIL (1964) (#1-380) (MAN WITHOUT FEAR) (MARVEL) #36 Very Fine
DAREDEVIL (1964) (#1-380) (MAN WITHOUT FEAR) (MARVEL) #37 Good
DAREDEVIL (1964) (#1-380) (MAN WITHOUT FEAR) (MARVEL) #38 Very Good
DAREDEVIL (1964) (#1-380) (MAN WITHOUT FEAR) (MARVEL) #39 Very Good
DAREDEVIL (1964) (#1-380) (MAN WITHOUT FEAR) (MARVEL) #40 Very Good
DAREDEVIL (1964) (#1-380) (MAN WITHOUT FEAR) (MARVEL) #41 Very Good
DAREDEVIL (1964) (#1-380) (MAN WITHOUT FEAR) (MARVEL) #43 Very Good
DAREDEVIL (1964) (#1-380) (MAN WITHOUT FEAR) (MARVEL) #44 Very Good
DAREDEVIL (1964) (#1-380) (MAN WITHOUT FEAR) (MARVEL) #45 Very Good
DAREDEVIL (1964) (#1-380) (MAN WITHOUT FEAR) (MARVEL) #46 Fine
DAREDEVIL (1964) (#1-380) (MAN WITHOUT FEAR) (MARVEL) #47 Good
DAREDEVIL (1964) (#1-380) (MAN WITHOUT FEAR) (MARVEL) #124 Very Good
DAREDEVIL (1964) (#1-380) (MAN WITHOUT FEAR) (MARVEL) #125 Fine
DAREDEVIL ANNUAL (1967) #1 Good
DARTH VADER (STAR WARS) (2015) #2 2ND PRINT Near Mint/Mint
DEAD MAN LOGAN (2018) #1 MOORE Near Mint/Mint
DEADPOOL (2013) (#1-45, 250) (MARVEL) #27 Fine
DEADPOOL (2013) (#1-45, 250) (MARVEL) #29 Near Mint/Mint
DEADPOOL ANNUAL (2013) #2 Near Mint/Mint
DEADPOOL KILLUSTRATED (2013) #1 2ND PRINT Near Mint/Mint
DEADPOOL KILLUSTRATED (2013) #2 Near Mint/Mint


DEADPOOL TEAM-UP (2009) (#883-899) #888

DEADPOOL TEAM-UP (2009) (#883-899) #888 Near Mint/Mint
DEADPOOL TEAM-UP (2009) (#883-899) #892 Very Fine
DEADPOOL TEAM-UP (2009) (#883-899) #894 Near Mint/Mint
DEADPOOL VS. PUNISHER (2017) #2 ESPIN Near Mint/Mint
DEADPOOL VS. X-FORCE (2014) #1 Near Mint/Mint
DEFENDERS GIANT-SIZE (1974) #4 Fine
DEFENDERS GIANT-SIZE (1974) #5 Fine
DOC SAVAGE GIANT-SIZE (1975) #1 Very Good
DOCTOR STRANGE (1974) (#1-81) (MARVEL) (DR. STRANGE) #1 Very Good
DOCTOR STRANGE (1974) (#1-81) (MARVEL) (DR. STRANGE) #2 Fine
DOCTOR STRANGE (1974) (#1-81) (MARVEL) (DR. STRANGE) #3 Very Good
DOCTOR STRANGE (1974) (#1-81) (MARVEL) (DR. STRANGE) #4 Very Good
DOCTOR STRANGE (1974) (#1-81) (MARVEL) (DR. STRANGE) #9 Fine
DOCTOR STRANGE (1974) (#1-81) (MARVEL) (DR. STRANGE) #10 Fine
DRACULA GIANT-SIZE (1974) #4 Very Good
DRACULA GIANT-SIZE (1974) #5 Very Good
FANTASTIC FOUR (1961) (#1-416) (MARVEL) #51 Fair
FANTASTIC FOUR (1961) (#1-416) (MARVEL) #57 Very Good
FANTASTIC FOUR (1961) (#1-416) (MARVEL) #63 Good
FANTASTIC FOUR (1961) (#1-416) (MARVEL) #67 Good
FANTASTIC FOUR (1961) (#1-416) (MARVEL) #68 Very Good
FANTASTIC FOUR (1961) (#1-416) (MARVEL) #69 Very Good
FANTASTIC FOUR (1961) (#1-416) (MARVEL) #70 Fine
FANTASTIC FOUR (1961) (#1-416) (MARVEL) #71 Fine
FANTASTIC FOUR (1961) (#1-416) (MARVEL) #72 Good
FANTASTIC FOUR (1961) (#1-416) (MARVEL) #73 Very Good
FANTASTIC FOUR (1961) (#1-416) (MARVEL) #74 Very Good
FANTASTIC FOUR (1961) (#1-416) (MARVEL) #75 Very Good
FANTASTIC FOUR (1961) (#1-416) (MARVEL) #78 Very Fine
FANTASTIC FOUR (1961) (#1-416) (MARVEL) #79 Very Good
FANTASTIC FOUR (1961) (#1-416) (MARVEL) #80 Fine
FANTASTIC FOUR (1961) (#1-416) (MARVEL) #81 Very Good
FANTASTIC FOUR (1961) (#1-416) (MARVEL) #82 Very Fine
FANTASTIC FOUR ANNUAL (1963) #5 Good
FANTASTIC FOUR ANNUAL (1963) #6 Very Fine
FANTASTIC FOUR GIANT-SIZE (GIANT-SIZE SUPER-STARS) (1974) #2 Very Good
FANTASTIC FOUR GIANT-SIZE (GIANT-SIZE SUPER-STARS) (1974) #4 Fine
FANTASTIC FOUR GIANT-SIZE (GIANT-SIZE SUPER-STARS) (1974) #5 Fine
FEAR (ADVENTURE INTO...) (1970) #10 Good
FEAR (ADVENTURE INTO...) (1970) #23 Very Good
GHOST RIDER (1966) (#1-7) (MARVEL) #6 Very Good
GUARDIANS OF THE GALAXY BY GERRY DUGGAN OMNIBUS HC (2018) #1 Near Mint/Mint


HULK (1962) (#1-6, #102-474, #600-635)(INCREDIBLE)(MV) #102

HULK (1962) (#1-6, #102-474, #600-635)(INCREDIBLE)(MV) #102 Fine
HULK (1962) (#1-6, #102-474, #600-635)(INCREDIBLE)(MV) #103 Good
HULK (1962) (#1-6, #102-474, #600-635)(INCREDIBLE)(MV) #104 Good
HULK (1962) (#1-6, #102-474, #600-635)(INCREDIBLE)(MV) #107 Very Good
HULK (1962) (#1-6, #102-474, #600-635)(INCREDIBLE)(MV) #108 Good
HULK (1962) (#1-6, #102-474, #600-635)(INCREDIBLE)(MV) #109 Very Good
HULK (1962) (#1-6, #102-474, #600-635)(INCREDIBLE)(MV) #110 Good
HULK (1962) (#1-6, #102-474, #600-635)(INCREDIBLE)(MV) #111 Fine
HULK (1962) (#1-6, #102-474, #600-635)(INCREDIBLE)(MV) #153 Very Good
HULK (1962) (#1-6, #102-474, #600-635)(INCREDIBLE)(MV) #156 Very Good
HULK (1962) (#1-6, #102-474, #600-635)(INCREDIBLE)(MV) #190 Fine
HULK (1962) (#1-6, #102-474, #600-635)(INCREDIBLE)(MV) #191 Very Good
HULK (1962) (#1-6, #102-474, #600-635)(INCREDIBLE)(MV) #193 Good
HULK ANNUAL (1968) #1 Very Good
HULK GIANT-SIZE (1975) #1 Very Good
HUMAN TORCH (1974) #4 Fine
HUMAN TORCH (1974) #5 Fine
HUMAN TORCH (1974) #7 Fine
IRON FIST (1975) (#1-15) (MARVEL) #1 Fine
IRON MAN (1968) (#1-332) (INVINCIBLE IRON MAN)(MARVEL) #1 Fine
IRON MAN (1968) (#1-332) (INVINCIBLE IRON MAN)(MARVEL) #2 Fine
IRON MAN (1968) (#1-332) (INVINCIBLE IRON MAN)(MARVEL) #7 Very Fine
IRON MAN (1968) (#1-332) (INVINCIBLE IRON MAN)(MARVEL) #8 Good
IRON MAN (1968) (#1-332) (INVINCIBLE IRON MAN)(MARVEL) #76 Fine
IRON MAN (1968) (#1-332) (INVINCIBLE IRON MAN)(MARVEL) #78 Fine
MAN-THING GIANT-SIZE (1974) #1 Very Good
MAN-THING GIANT-SIZE (1974) #4 Very Good
MAN-THING GIANT-SIZE (1974) #5 Fine
MARVEL COLLECTORS ITEM CLASSICS (1965) #14 Fine
MARVEL PREMIERE (1972) #9 Good
MARVEL PREMIERE (1972) #9 Very Good
MARVEL PREMIERE (1972) #14 Very Good
MARVEL PREMIERE (1972) #60 CGC 9.6MH2 Near Mint/Mint
MARVEL SUPER-HEROES (1967) #13 Very Good
MARVEL TRIPLE ACTION GIANT-SIZE (1975) #1 Very Good
MARVEL TRIPLE ACTION GIANT-SIZE (1975) #2 Fine
MARVEL UNIVERSE MASTER EDITION #1 Fine
MASTER OF KUNG FU GIANT-SIZE (1974) #4 Fine
MIGHTY AVENGERS (2007) (#1-36) #28 VAR CGC9.8 Near Mint/Mint
MOON KNIGHT (2017) (#188-UP) (MARVEL LEGACY) #188 Near Mint/Mint
MS. MARVEL (2014) (#1-19) (MARVEL) (KAMALA KHAN) #5 Near Mint/Mint
MS. MARVEL (2014) (#1-19) (MARVEL) (KAMALA KHAN) #8 Near Mint/Mint
MS. MARVEL (2016) (#1-UP) (MARVEL) (KAMALA KHAN) #3 Near Mint/Mint


NEW MUTANTS (1983) (#1-100) (MARVEL) #1

NEW MUTANTS (1983) (#1-100) (MARVEL) #1 Near Mint/Mint
NOT BRAND ECHH! (1967) (#1-13) (MARVEL) #5 Fine
NOT BRAND ECHH! (1967) (#1-13) (MARVEL) #6 Fine
NOT BRAND ECHH! (1967) (#1-13) (MARVEL) #7 Very Fine
NOT BRAND ECHH! (1967) (#1-13) (MARVEL) #8 Fine
NOT BRAND ECHH! (1967) (#1-13) (MARVEL) #9 Very Good
NOVA (1976) (#1-25) (RICHARD RIDER) (MARVEL) #15 Very Fine
SCARLET SPIDER (2012) (#1-25) (MARVEL) #11 Near Mint/Mint
SCARLET SPIDER (2012) (#1-25) (MARVEL) #20 Near Mint/Mint
SCARLET SPIDERS (2014) #2 Near Mint/Mint
SGT. FURY AND HIS HOWLING COMMANDOS (1963) #14 Fair
SHIELD (2015)(#1-12)(MARVEL)(INSPIRED BY THE TV SHOW) #1 MARQUEZ Very Fine
SIEGE: SPIDER-MAN (2010) #1 VARIANT Near Mint/Mint
SILVER SURFER (1968) (#1-18) (MARVEL) #1 STANLEESGN Very Good
SILVER SURFER (1968) (#1-18) (MARVEL) #2 Good
SILVER SURFER '97 #1 Near Mint/Mint
SPIDER-GEDDON (2018) #4 GARRON Near Mint/Mint
SPIDER-MAN (1963) (AMAZING SPIDER-MAN) (#1-441) #35 Fair
SPIDER-MAN (1963) (AMAZING SPIDER-MAN) (#1-441) #52 Fine
SPIDER-MAN (1963) (AMAZING SPIDER-MAN) (#1-441) #53 Good
SPIDER-MAN (1963) (AMAZING SPIDER-MAN) (#1-441) #54 Fair
SPIDER-MAN (1963) (AMAZING SPIDER-MAN) (#1-441) #55 Good
SPIDER-MAN (1963) (AMAZING SPIDER-MAN) (#1-441) #55 Fine
SPIDER-MAN (1963) (AMAZING SPIDER-MAN) (#1-441) #56 Good
SPIDER-MAN (1963) (AMAZING SPIDER-MAN) (#1-441) #57 Very Good
SPIDER-MAN (1963) (AMAZING SPIDER-MAN) (#1-441) #58 Fine
SPIDER-MAN (1963) (AMAZING SPIDER-MAN) (#1-441) #59 Fine
SPIDER-MAN (1963) (AMAZING SPIDER-MAN) (#1-441) #60 Good
SPIDER-MAN (1963) (AMAZING SPIDER-MAN) (#1-441) #61 Very Good
SPIDER-MAN (1963) (AMAZING SPIDER-MAN) (#1-441) #64 Very Good
SPIDER-MAN (1963) (AMAZING SPIDER-MAN) (#1-441) #65 Very Good
SPIDER-MAN (1963) (AMAZING SPIDER-MAN) (#1-441) #66 Very Good
SPIDER-MAN (1963) (AMAZING SPIDER-MAN) (#1-441) #67 Fine
SPIDER-MAN (1963) (AMAZING SPIDER-MAN) (#1-441) #101 Fair
SPIDER-MAN (1963) (AMAZING SPIDER-MAN) (#1-441) #130 Very Good
SPIDER-MAN (1963) (AMAZING SPIDER-MAN) (#1-441) #142 Very Good
SPIDER-MAN (1963) (AMAZING SPIDER-MAN) (#1-441) #148 Very Good
SPIDER-MAN (1963) (AMAZING SPIDER-MAN) (#1-441) #149 Fine
SPIDER-MAN (1963) (AMAZING SPIDER-MAN) (#1-441) #252 CGC 9.4 Near Mint/Mint
SPIDER-MAN (1963) (AMAZING SPIDER-MAN) (#1-441) #258 Very Fine
SPIDER-MAN ANNUAL (1964) #4 Good
SPIDER-MAN GIANT-SIZE (1974) #4 Very Good


STRANGE TALES (1951) (#1-85 ATLAS, #86-188 MARVEL) #143

STRANGE TALES (1951) (#1-85 ATLAS, #86-188 MARVEL) #143 Good
STRANGE TALES (1951) (#1-85 ATLAS, #86-188 MARVEL) #158 Good
STRANGE TALES (1951) (#1-85 ATLAS, #86-188 MARVEL) #159 Good
STRANGE TALES (1951) (#1-85 ATLAS, #86-188 MARVEL) #161 Very Good
STRANGE TALES (1951) (#1-85 ATLAS, #86-188 MARVEL) #162 Good
STRANGE TALES (1951) (#1-85 ATLAS, #86-188 MARVEL) #164 Very Good
STRANGE TALES (1951) (#1-85 ATLAS, #86-188 MARVEL) #166 Good
SUB-MARINER (1968) (#1-72) (PRINCE NAMOR SUB-MARINER) #1 Fine
SUB-MARINER (1968) (#1-72) (PRINCE NAMOR SUB-MARINER) #2 Very Fine
SUB-MARINER (1968) (#1-72) (PRINCE NAMOR SUB-MARINER) #5 Very Fine
SUB-MARINER (1968) (#1-72) (PRINCE NAMOR SUB-MARINER) #6 Fine
SUB-MARINER (1968) (#1-72) (PRINCE NAMOR SUB-MARINER) #7 Very Good
SUB-MARINER (1968) (#1-72) (PRINCE NAMOR SUB-MARINER) #8 Good
TALES OF SUSPENSE (1959) (#1-99) (ATLAS/MARVEL) #69 Fair
TALES OF SUSPENSE (1959) (#1-99) (ATLAS/MARVEL) #93 Good
TALES OF SUSPENSE (1959) (#1-99) (ATLAS/MARVEL) #94 Fine
TALES OF SUSPENSE (1959) (#1-99) (ATLAS/MARVEL) #95 Very Good
TALES OF SUSPENSE (1959) (#1-99) (ATLAS/MARVEL) #96 Good
TALES OF SUSPENSE (1959) (#1-99) (ATLAS/MARVEL) #97 Very Good
TALES OF SUSPENSE (1959) (#1-99) (ATLAS/MARVEL) #98 Very Good
TALES OF SUSPENSE (1959) (#1-99) (ATLAS/MARVEL) #99 Very Good
TALES TO ASTONISH (1959) (#1-21 ATLAS, #22-101 MARVEL) #69 Good
TALES TO ASTONISH (1959) (#1-21 ATLAS, #22-101 MARVEL) #93 Good
TALES TO ASTONISH (1959) (#1-21 ATLAS, #22-101 MARVEL) #94 Good
TALES TO ASTONISH (1959) (#1-21 ATLAS, #22-101 MARVEL) #95 Very Good
TALES TO ASTONISH (1959) (#1-21 ATLAS, #22-101 MARVEL) #96 Good
TALES TO ASTONISH (1959) (#1-21 ATLAS, #22-101 MARVEL) #96 Very Good
TALES TO ASTONISH (1959) (#1-21 ATLAS, #22-101 MARVEL) #97 Very Good
TALES TO ASTONISH (1959) (#1-21 ATLAS, #22-101 MARVEL) #99 Fine
TALES TO ASTONISH (1959) (#1-21 ATLAS, #22-101 MARVEL) #100 Very Fine
TALES TO ASTONISH (1959) (#1-21 ATLAS, #22-101 MARVEL) #101 Very Good
THOR (1962) (#83-125 JOURNEY INTO MYSTERY, 126-502) #143 Fair
THOR (1962) (#83-125 JOURNEY INTO MYSTERY, 126-502) #145 Good
THOR (1962) (#83-125 JOURNEY INTO MYSTERY, 126-502) #145 Very Good
THOR (1962) (#83-125 JOURNEY INTO MYSTERY, 126-502) #146 Fine
THOR (1962) (#83-125 JOURNEY INTO MYSTERY, 126-502) #146 Good
THOR (1962) (#83-125 JOURNEY INTO MYSTERY, 126-502) #147 Very Fine
THOR (1962) (#83-125 JOURNEY INTO MYSTERY, 126-502) #148 Fine
THOR (1962) (#83-125 JOURNEY INTO MYSTERY, 126-502) #149 Very Good
THOR (1962) (#83-125 JOURNEY INTO MYSTERY, 126-502) #150 Fine
THOR (1962) (#83-125 JOURNEY INTO MYSTERY, 126-502) #151 Very Good
THOR (1962) (#83-125 JOURNEY INTO MYSTERY, 126-502) #152 Good


THOR (1962) (#83-125 JOURNEY INTO MYSTERY, 126-502) #155

THOR (1962) (#83-125 JOURNEY INTO MYSTERY, 126-502) #155 Very Good
THOR (1962) (#83-125 JOURNEY INTO MYSTERY, 126-502) #156 Very Fine
THOR (1962) (#83-125 JOURNEY INTO MYSTERY, 126-502) #157 Very Good
THOR (1962) (#83-125 JOURNEY INTO MYSTERY, 126-502) #158 Very Fine
THOR (1962) (#83-125 JOURNEY INTO MYSTERY, 126-502) #159 Good
THOR (1962) (#83-125 JOURNEY INTO MYSTERY, 126-502) #179 Good
THOR (1962) (#83-125 JOURNEY INTO MYSTERY, 126-502) #225 Good
THOR (1962) (#83-125 JOURNEY INTO MYSTERY, 126-502) #244 Fine
THOR (1962) (#83-125 JOURNEY INTO MYSTERY, 126-502) #245 Fine
THOR (2018) (#1-UP) (MARVEL) #3 HARREN Fine
THOR ANNUAL (1965) #5 Fine
THOR ANNUAL (1965) #6 Very Good
TOMB OF DARKNESS (1974) #10 Very Good
TOTALLY AWESOME HULK (2015) #19 Near Mint/Mint
TOTALLY AWESOME HULK (2015) #19 Very Fine
TOTALLY AWESOME HULK (2015) #20 Near Mint/Mint
TWO-GUN KID (1948) #110 Fine
TWO-GUN KID (1948) #132 Fine
TWO-GUN KID (1948) #135 Fine
TWO-GUN KID (1948) #136 Very Fine
ULTIMATE FALLOUT (2011) #4 Fine
VAULT OF EVIL #6 Good
VAULT OF EVIL #10 Good
VAULT OF EVIL #15 Good
VAULT OF EVIL #15 Very Good
VAULT OF EVIL #20 Very Good
VENOM (2018) (#1-UP) (MARVEL) #2 KIETH Near Mint/Mint
WEB OF SPIDER-MAN (1985) (#1-129) (MARVEL) #90 2ND PRT Near Mint/Mint
WEB OF SPIDER-MAN (1985) (#1-129) (MARVEL) #99 Near Mint/Mint
WEB OF SPIDER-MAN (1985) (#1-129) (MARVEL) #99 Fine
WEB OF SPIDER-MAN (1985) (#1-129) (MARVEL) #99 Very Fine
WEB OF SPIDER-MAN (1985) (#1-129) (MARVEL) #102 Near Mint/Mint
WEB OF SPIDER-MAN (1985) (#1-129) (MARVEL) #102 Very Fine
WEREWOLF BY NIGHT (1972) #9 Very Good
WEREWOLF BY NIGHT (1972) #11 Very Good
WEREWOLF BY NIGHT (1972) #14 Very Good
WEREWOLF BY NIGHT (1972) #18 Very Good
WEREWOLF BY NIGHT (1972) #37 Fine
WEREWOLF BY NIGHT GIANT-SIZE (1974) #4 Very Good
WEREWOLF BY NIGHT GIANT-SIZE (1974) #5 Very Good
WEST COAST AVENGERS (1985) (#1-102) (MARVEL) #46 Very Fine


WHAT IF... (1989) (#1-114, & 200) (MARVEL) #20

WHAT IF... (1989) (#1-114, & 200) (MARVEL) #20 Near Mint/Mint
WHAT IF... (1989) (#1-114, & 200) (MARVEL) #20 Very Fine
WHAT IF... (1989) (#1-114, & 200) (MARVEL) #21 Fine
WHAT IF... (1989) (#1-114, & 200) (MARVEL) #21 Very Fine
WHAT IF... (1989) (#1-114, & 200) (MARVEL) #44 Very Fine
WHERE MONSTERS DWELL (1970) #23 Very Good
WHERE MONSTERS DWELL (1970) #27 Very Good
WILLOW (1988) (#1-3) (MARVEL) (MOVIE ADAPTATION) #3 Near Mint/Mint
WOLVERINE (1982) (#1-4) (MARVEL LIMITED SERIES) #1 Fine
WOLVERINE & DEADPOOL: DECOY (2011) #1 Near Mint/Mint
WORLDS UNKNOWN (1973) #1 Very Fine
X 23 (2018) (#1-UP) (MARVEL) #1 BARTEL Fine
X-FORCE (1991) (#1-129) (MARVEL) #1 DEADPOOL Near Mint/Mint
X-FORCE (1991) (#1-129) (MARVEL) #8 Near Mint/Mint
X-MEN (1963) (#1-113, UNCANNY X-MEN #114-544) (MARVEL) #20 Fair
X-MEN (1963) (#1-113, UNCANNY X-MEN #114-544) (MARVEL) #36 Very Good
X-MEN (1963) (#1-113, UNCANNY X-MEN #114-544) (MARVEL) #37 Very Good
X-MEN (1963) (#1-113, UNCANNY X-MEN #114-544) (MARVEL) #38 Good
X-MEN (1963) (#1-113, UNCANNY X-MEN #114-544) (MARVEL) #39 Good
X-MEN (1963) (#1-113, UNCANNY X-MEN #114-544) (MARVEL) #40 Fine
X-MEN (1963) (#1-113, UNCANNY X-MEN #114-544) (MARVEL) #42 Very Good
X-MEN (1963) (#1-113, UNCANNY X-MEN #114-544) (MARVEL) #44 Very Good
X-MEN (1963) (#1-113, UNCANNY X-MEN #114-544) (MARVEL) #47 Good
X-MEN (1963) (#1-113, UNCANNY X-MEN #114-544) (MARVEL) #77 Very Good
X-MEN (1963) (#1-113, UNCANNY X-MEN #114-544) (MARVEL) #78 Good
X-MEN (1963) (#1-113, UNCANNY X-MEN #114-544) (MARVEL) #94 Fine
X-MEN (1963) (#1-113, UNCANNY X-MEN #114-544) (MARVEL) #96 Fine
X-MEN (1963) (#1-113, UNCANNY X-MEN #114-544) (MARVEL) #180 NEWSSTAND Fine
X-MEN (1963) (#1-113, UNCANNY X-MEN #114-544) (MARVEL) #183 Fine
X-MEN (1963) (#1-113, UNCANNY X-MEN #114-544) (MARVEL) #192 NEWSSTAND Near Mint/Mint
X-MEN (1963) (#1-113, UNCANNY X-MEN #114-544) (MARVEL) #192 NEWSSTAND Very Fine
X-MEN (1963) (#1-113, UNCANNY X-MEN #114-544) (MARVEL) #218 NEWSSTAND Fine
X-MEN (1963) (#1-113, UNCANNY X-MEN #114-544) (MARVEL) #219 Very Fine
X-MEN (1963) (#1-113, UNCANNY X-MEN #114-544) (MARVEL) #221 Fine
X-MEN (1963) (#1-113, UNCANNY X-MEN #114-544) (MARVEL) #222 Very Fine
X-MEN (1963) (#1-113, UNCANNY X-MEN #114-544) (MARVEL) #224 Near Mint/Mint
X-MEN (1963) (#1-113, UNCANNY X-MEN #114-544) (MARVEL) #256 Very Fine
X-MEN (1963) (#1-113, UNCANNY X-MEN #114-544) (MARVEL) #257 Fine
X-MEN (1991) (#1-275) (MARVEL) #53 Very Fine
X-MEN (1991) (#1-275) (MARVEL) #90 Very Fine
X-MEN ANNUAL (1970) #2 Good

X-MEN ANNUAL (1970) #15 Very Fine
X-MEN BLUE (2017) #3 Near Mint/Mint
X-MEN GIANT-SIZE (1975) #1 Fine
X-MEN GIANT-SIZE (1975) #2 Fine
X-WOMEN (2010) #1 Near Mint/Mint