Gigantic Spider-Man Figure Arrives!
Howdy!
I will begin today by sincerely thanking everyone who has placed an order with us using the new NANETTE codeword that I put into effect on Wednesday. My beloved wife, Nanette Furman, is still not recovered enough from the stress and anxiety of having her minivan stolen on Saturday to come back to work, but I've been passing on to her all of your kind words of sympathy and encouragement, and also letting her know that our online business has been robust in her absence. That good news has helped to brighten her mood considerably. Thank you...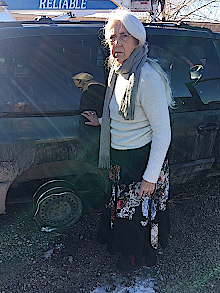 Nanette with her van Wednesday.

Another bit of good news is that Lynne and Pam have continued to improve our order fulfillment and shipping procedures. The net result of their efforts is that we are keeping up with our rapid shipping of all orders received, despite the substantial increase in order volume prompted by the 60% off NANETTE codeword. If you missed my announcement on Wednesday, the new codeword provides you with a 60% off discount on all back issue comics and magazine, excluding only new issues, a few variants, and our professionally-graded comics. That 60% off discount is in addition! to the up to 40% decrease that we posted online for most back issues three weeks ago. Suffice it to say, we are receiving some HUGE online orders right now.
My only other news item for today is a sincere thank you to our wonderful operations manager, Will Moulton, for obtaining an awesome Spider-Man sculpture for Jason St. from the locally-based folks who made the BB8 droid for Star Wars. It is just amazing! Made of sculpted styrofoam with a hard plastic exterior and steel struts for support. Weighs over 400 lbs. Too cool...
Happy collecting!
Chuck Rozanski,
President - Mile High Comics, Inc.
November 16, 2018

We have also been buying collections this week! Here are a few of our new arrivals:
MARVEL

AVENGERS (2017) (#672-690) (MARVEL LEGACY) #677

AVENGERS (2017) (#672-690) (MARVEL LEGACY) #677 Near Mint/Mint

CABLE (1993) (#1-107) (MARVEL) #102 NEWSSTAND Near Mint/Mint

CAPTAIN AMERICA (2004) (#1-50, 600-619) (MARVEL) #34 VARIANT Very Good

ESSENTIAL X-MEN TPB (1996) #1 5TH PRINT Very Good
ESSENTIAL X-MEN TPB (1996) #2 5TH PRINT Very Good
ESSENTIAL X-MEN TPB (1996) #6 Fine
ESSENTIAL X-MEN TPB (1996) #8 Fine
ESSENTIAL X-MEN TPB (1996) #9 Very Fine

ESSENTIAL X-MEN TPB 2ND EDITION (2005) #5 Fine
ESSENTIAL X-MEN TPB 2ND EDITION (2010) #7 Very Fine

GENERATIONS: BANNER HULK & TOTALLY AWESOME HULK (2017) #1 Very Fine

GUARDIANS OF THE GALAXY BY GERRY DUGGAN OMNIBUS HC (2018) #1 Near Mint/Mint

MARVEL UNIVERSE MASTER EDITION #1 Fine

MIGHTY THOR BY FRACTION HC (2011) #3 Near Mint/Mint

NEW MUTANTS (1983) (#1-100) (MARVEL) #1 Near Mint/Mint

NEW MUTANTS CLASSIC TPB (2006) #6 Near Mint/Mint


NOVA (1976) (#1-25) (RICHARD RIDER) (MARVEL) #15

NOVA (1976) (#1-25) (RICHARD RIDER) (MARVEL) #15 Very Fine

SHADOWLAND: DAREDEVIL TPB (2011) #1 Near Mint/Mint

SILVER SURFER '97 #1 Near Mint/Mint

SPIDER-MAN (1963) (AMAZING SPIDER-MAN) (#1-441) #258 Very Fine

THING CLASSIC TPB (2011) #1 Near Mint/Mint

THOR (1962) (#83-125 JOURNEY INTO MYSTERY, 126-502) #179 Good
THOR (1962) (#83-125 JOURNEY INTO MYSTERY, 126-502) #225 Good
THOR (1962) (#83-125 JOURNEY INTO MYSTERY, 126-502) #244 Fine
THOR (1962) (#83-125 JOURNEY INTO MYSTERY, 126-502) #245 Fine

THOR ANNUAL (1965) #5 Fine
THOR ANNUAL (1965) #6 Very Good

THOR: FOR ASGARD HC (2011) #1 Near Mint/Mint

TWO-GUN KID (1948) #110 Fine
TWO-GUN KID (1948) #132 Fine
TWO-GUN KID (1948) #135 Fine
TWO-GUN KID (1948) #136 Very Fine

ULTIMATE COMICS: THOR TPB (2011) #1 Near Mint/Mint

ULTIMATE FALLOUT (2011) #4 Fine

UNCANNY X-FORCE (2010) (#1-35) (MARVEL) #15 Near Mint/Mint
UNCANNY X-FORCE (2010) (#1-35) (MARVEL) #27 Near Mint/Mint

UNCANNY X-MEN BY KIERON GILLEN PREMIERE HC (2012) #1 Near Mint/Mint

UNCANNY X-MEN: LOVELORN TPB (2009) #1 2ND PRINT Near Mint/Mint

VAMPIRE TALES TPB (2010) #1 Near Mint/Mint
VAMPIRE TALES TPB (2010) #3 Near Mint/Mint

VAULT OF EVIL #6 Good
VAULT OF EVIL #10 Good
VAULT OF EVIL #15 Good
VAULT OF EVIL #15 Very Good
VAULT OF EVIL #20 Very Good

VENOM: LETHAL PROTECTOR (1993) #4 Near Mint/Mint

WEREWOLF BY NIGHT (1972) #9 Very Good
WEREWOLF BY NIGHT (1972) #11 Very Good
WEREWOLF BY NIGHT (1972) #14 Very Good
WEREWOLF BY NIGHT (1972) #18 Very Good
WEREWOLF BY NIGHT (1972) #37 Fine


WHAT IF... (1989) (#1-114, & 200) (MARVEL) #20

WHAT IF... (1989) (#1-114, & 200) (MARVEL) #20 Near Mint/Mint
WHAT IF... (1989) (#1-114, & 200) (MARVEL) #20 Very Fine
WHAT IF... (1989) (#1-114, & 200) (MARVEL) #21 Fine
WHAT IF... (1989) (#1-114, & 200) (MARVEL) #21 Very Fine
WHAT IF... (1989) (#1-114, & 200) (MARVEL) #44 Very Fine

WHERE MONSTERS DWELL (1970) #23 Very Good
WHERE MONSTERS DWELL (1970) #27 Very Good

WOLVERINE (1982) (#1-4) (MARVEL LIMITED SERIES) #1 Fine

WORLDS UNKNOWN (1973) #1 Very Fine

X-MEN (1963) (#1-113, UNCANNY X-MEN #114-544) (MARVEL) #78 Good
X-MEN (1963) (#1-113, UNCANNY X-MEN #114-544) (MARVEL) #257 Fine

X-MEN (1991) (#1-275) (MARVEL) #53 Very Fine
X-MEN (1991) (#1-275) (MARVEL) #90 Very Fine

X-MEN ANNUAL (1970) #2 Good
X-MEN ANNUAL (1970) #15 Very Fine

X-MEN ORIGINS II TPB (2011) #1 Near Mint/Mint

X-MEN: FIRST TO LAST PREMIERE HC (2011) #1 Near Mint/Mint

DC
BATMAN COLLECTED HC #1 BOXSETPLAT Fine

BATMAN LOST (2017) #1 Very Fine

BATMAN WHO LAUGHS (2017) #1 Very Fine

BATMAN: DROWNED (2017) #1 Fine
BATMAN: DROWNED (2017) #1 Very Fine

BATMAN: HAUNTED KNIGHT TPB (2018) #1 Fine

BATMAN: RED DEATH (2017) #1 Very Fine

BATMAN: THE DEVASTATOR (2017) #1 Very Fine

BATMAN: WHITE KNIGHT (2017) #1 Fine
BATMAN: WHITE KNIGHT (2017) #1 Very Fine

GREEN LANTERN (1960) (#1-224) (DC) #7 Very Good

GREEN LANTERN CORPS (2006) (#1-63) (DC) #37 VAR CGC9.8 Near Mint/Mint

SHAZAM! (1973) (#1-35) (WITH ONE MAGIC WORD...) #1 Very Fine

SPECTRE (1992) (#1-62) (DC) #3 Very Fine


STAR TREK: THE NEXT GENERATION (1989) (#1-80) (DC) #21

STAR TREK: THE NEXT GENERATION (1989) (#1-80) (DC) #21 Near Mint/Mint

SUPERBOY (1949) (#1-258) (DC) #251 Near Mint/Mint

SUPERMAN (1939) (#1-423) (DC) #220 Very Good
SUPERMAN (1939) (#1-423) (DC) #232 Very Good
SUPERMAN (1939) (#1-423) (DC) #242 Very Good
SUPERMAN (1939) (#1-423) (DC) #247 Very Good
SUPERMAN (1939) (#1-423) (DC) #248 Very Good
SUPERMAN (1939) (#1-423) (DC) #249 Fine
SUPERMAN (1939) (#1-423) (DC) #254 Good
SUPERMAN (1939) (#1-423) (DC) #266 Fine
SUPERMAN (1939) (#1-423) (DC) #272 Very Good
SUPERMAN (1939) (#1-423) (DC) #276 Fine
SUPERMAN (1939) (#1-423) (DC) #282 Fine
SUPERMAN (1939) (#1-423) (DC) #283 Fine

SUPERMAN ANNUAL (1960) #5 Fair

SUPERMAN FAMILY (1974) #182 Fine

SUPERMAN: FOR ALL SEASONS TPB (2018) #1 Near Mint/Mint

SWAMP THING (1972) (#1-24) #4 Good
SWAMP THING (1972) (#1-24) #8 Good
SWAMP THING (1972) (#1-24) #20 Very Good
SWAMP THING (1972) (#1-24) #22 Fine


TEEN TITANS (1966) (#1-53) (DC) #26

TEEN TITANS (1966) (#1-53) (DC) #26 Very Good
TEEN TITANS (1966) (#1-53) (DC) #48 Very Good

UNEXPECTED (1956) (TALES OF THE UNEXPECTED #1-104) #98 Good
UNEXPECTED (1956) (TALES OF THE UNEXPECTED #1-104) #129 Very Good
UNEXPECTED (1956) (TALES OF THE UNEXPECTED #1-104) #170 Fine
UNEXPECTED (1956) (TALES OF THE UNEXPECTED #1-104) #172 Fine

UNKNOWN SOLDIER (1977) (#205-268) (DC) #222 Fine
UNKNOWN SOLDIER (1977) (#205-268) (DC) #226 Fine
UNKNOWN SOLDIER (1977) (#205-268) (DC) #227 Fine

WONDER WOMAN (1942) (#1-329) (DC) #202 Good
WONDER WOMAN (1942) (#1-329) (DC) #202 Fine
WONDER WOMAN (1942) (#1-329) (DC) #214 Fine
WONDER WOMAN (1942) (#1-329) (DC) #221 Fine
WONDER WOMAN (1942) (#1-329) (DC) #222 Fine
WONDER WOMAN (1942) (#1-329) (DC) #223 Very Good
WONDER WOMAN (1942) (#1-329) (DC) #224 Fine
WONDER WOMAN (1942) (#1-329) (DC) #225 Fine
WONDER WOMAN (1942) (#1-329) (DC) #250 WHITMAN Very Good
WONDER WOMAN (1942) (#1-329) (DC) #255 Very Fine
WONDER WOMAN (1942) (#1-329) (DC) #294 Very Fine

DARK HORSE COMICS
LEGEND ASHCAN (HELLBOY/STAR SLAMMERS/MONSTERMEN) (1995) #1 CGC 9.6 Q Near Mint/Mint


PREDATOR VS. MAGNUS ROBOT FIGHTER (1992) #1 PLATINUM

PREDATOR VS. MAGNUS ROBOT FIGHTER (1992) #1 PLATINUM Very Fine

PREDATORS (2010) #2 NEWSSTAND Very Fine

STAR WARS (1998) (#0-83) (DARK HORSE) #28 Near Mint/Mint

IMAGE COMICS
SPAWN (1992) #31 NEWSSTAND Fine

INDEPENDENTS
ALICE IN WONDERLAND HC (ZENESCOPE) (2012) #1 (Zenescope Entertainment Inc) Near Mint/Mint
ALICE IN WONDERLAND HC (ZENESCOPE) (2012) #1 (Zenescope Entertainment Inc) Fine
ALICE IN WONDERLAND HC (ZENESCOPE) (2012) #1 (Zenescope Entertainment Inc) Very Fine

ARTESIA TPB (2ND EDITION) (2003) #1 (Archaia Studios Press) Fine

BATMAN HANDBOOK: ULTIMATE TRAINING MANUAL (2005) #1 (Quirk Books) Very Fine

BROONS: SCOTLAND'S HAPPY FAMILY GN (2016) #1 (D.C. Thomson & Co Ltd) Very Fine

CLIVE BARKER'S DREAD TPB #1 (Eclipse Enterprises) Very Good

COUNTDOWN SEX BOMBS SPECIAL #1 (Eros Comix (Fantagraphics)) Very Fine

CYBERFROG (1995) (#1-7) (HARRIS) #2 (Harris Comics) Fine


CYBERFROG: RESERVOIR FROG (1996) #1

CYBERFROG: RESERVOIR FROG (1996) #1 (Harris Comics) Very Good

DOCTOR WHO: 50TH ANNIVERSARY COLLECTION (2013) #1 (Puffin Graphics) Very Good

FINDING GOSSAMYR HC (2013) #1 (Th3rd World Publishing) Fine
FINDING GOSSAMYR HC (2013) #1 (Th3rd World Publishing) Near Mint/Mint

GI JOE (IDW Publishing) (2008) #1 INCBCGC9.8 (IDW Publishing) Near Mint/Mint

HOW TO BE PLUMP: A VICTORIAN RE-CREATION HC (1) #1 (E.P. Dutton) Near Mint/Mint

LADY DEATH (1994) (#0-3) (CHAOS) #3 PGX 9.4 (Chaos Comics) Near Mint/Mint

QUAKE: CHAMPIONS TPB (2017) #1 (Titan Distributing) Very Fine

QUARRY'S WAR TPB (2018) #1 (Titan Distributing) Near Mint/Mint

SPOOKY (1955) #89 (Harvey Comics) Very Good

STAR TREK TPB (2012) #2 (IDW Publishing) Fine
STAR TREK TPB (2012) #2 (IDW Publishing) Near Mint/Mint
STAR TREK TPB (2012) #2 (IDW Publishing) Very Fine

TOY TIME: A LOOK BACK AT MOST-BELOVED TOYS (2013) #1 (Three Rivers Press) Near Mint/Mint


TUROK, SON OF STONE (1962) (#30-125) (GOLD KEY) #98

TUROK, SON OF STONE (1962) (#30-125) (GOLD KEY) #98 (Gold Key) Fine
TUROK, SON OF STONE (1962) (#30-125) (GOLD KEY) #100 (Gold Key) Fine
TUROK, SON OF STONE (1962) (#30-125) (GOLD KEY) #101 (Gold Key) Fine
TUROK, SON OF STONE (1962) (#30-125) (GOLD KEY) #110 (Gold Key) Very Good
TUROK, SON OF STONE (1962) (#30-125) (GOLD KEY) #117 (Gold Key) Very Good

TWILIGHT ZONE (1962) (#1-91) (GOLD KEY) #65 WHITMAN (Gold Key) Very Good
TWILIGHT ZONE (1962) (#1-91) (GOLD KEY) #70 (Gold Key) Fine

UFO FLYING SAUCERS (GOLD KEY) #9 (Gold Key) Very Fine

UNKNOWN WORLDS (AMERICAN COMIC GROUP) #40 (ACG) Very Good

ZOMBIE TRAMP (2014) #1 MILE HIGH (Danger Zone) Fine