Stan Lee Has Passed Away
Howdy!
Anytime that someone you've known and admired for over fifty years passes away, it comes as a shock. That was certainly was the case this morning, as word reached me that my friend, Stan Lee, had died.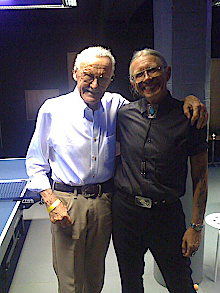 Stan Lee and Chuck at the Toronto International Film Festival.

Since I first received the sad news, I have been interviewed by two local TV stations, which gave me plenty of time to reflect upon just how much Stan meant to me, not just as a comics professional, but also as a scared 10 year-old kid hiding in his room from an abusive father in 1965 who found hope and strength through Stan's awesome early Spider-Man stories. Peter Parker may have been considerably older than me, but I took great solace from his struggles to find his place in a hostile world, while still maintaining his decency and never losing his moral compass. In many regards, Stan Lee became my surrogate father through the power of his remarkable prose, which still resonates with children (and adults) today. He instilled positive values in me that continue to guide my life, and for that I will be eternally grateful to him.
As regards our professional interactions, Stan befriended me on numerous occasions. He knew that I was dirt-poor when we first met, so he personally overrode his agent's demands for his traditional $10,000.00 honorarium during his first signing tour of our 4 Colorado stores in 1981, and instead appeared for nominal travel expenses, only. When we were displaced from our beautiful Mega-Store in Anaheim in 1993, he again appeared for free, just to help me out. Years later, when Morgan Spurlock was seeking casting advice in 2011 for the vintage comics dealer character in his upcoming "Comic-Con Episode IV: A Fan's Hope" documentary Stan (and Harry Knowles of aintitcool.com) insisted that I was the only dealer who could make that critical role come alive. The photo above was taken when we both saw the final cut of the film at it's world premiere at the Toronto International Film a festival, in September of 2012. Stan Lee was a dear friend, and a true American hero. My world feels so very much emptier now that he is gone...
I really don't feel up to writing any more, but I have bills to pay, so I will quickly mention that our new 50% off LOOKAGAIN! codeword is proving very popular, especially when folks realize that we've also slashed our website list prices for most items listed on our website by upwards of 40% off. November is our slowest month of the year, so there are some amazing deals to be had on our website right now during the LOOKAGAIN! sale. Only new issues, a few variants, and our professionally-graded comics are excluded from this huge sale.
Sincerely,
Chuck Rozanski,
President - Mile High Comics, Inc.
November 12, 2018

P.S. Here is a listing of even more nice comics that just were entered into our website inventory at the end of last week. Will Moulton also purchased an amazing estate collection this morning containing over 5,000 back issues (including some Silver and Bronze Age titles) that will be added for you later this week. Great comics just keep coming into Jason St...
MARVEL

AMAZING ADVENTURES (1970) (#1-39) (MARVEL) #11

AMAZING ADVENTURES (1970) (#1-39) (MARVEL) #11 Good
AMAZING ADVENTURES (1970) (#1-39) (MARVEL) #12 Very Good
AMAZING ADVENTURES (1970) (#1-39) (MARVEL) #13 Very Good
AMAZING ADVENTURES (1970) (#1-39) (MARVEL) #15 Good

AVENGERS (1963) (#1-402) (MARVEL) #125 Good

AVENGERS (2013) (#1-44) (MARVEL) #24 MEOW Near Mint/Mint

AVENGERS ANNUAL (1967) #7 Very Fine

AVENGERS PRIME (2010) #1 DJURDJEVIC Near Mint/Mint

AVENGERS VS. X-MEN (AVX) (2012) #0 Near Mint/Mint
AVENGERS VS. X-MEN (AVX) (2012) #1 Near Mint/Mint

CAPTAIN MARVEL (1968) (#1-62) (MARVEL) #25 Fine
CAPTAIN MARVEL (1968) (#1-62) (MARVEL) #26 Very Fine
CAPTAIN MARVEL (1968) (#1-62) (MARVEL) #27 Very Fine
CAPTAIN MARVEL (1968) (#1-62) (MARVEL) #28 Good
CAPTAIN MARVEL (1968) (#1-62) (MARVEL) #29 Very Good
CAPTAIN MARVEL (1968) (#1-62) (MARVEL) #30 Very Good
CAPTAIN MARVEL (1968) (#1-62) (MARVEL) #33 Fine

CIVIL WAR (2006) (#1-7) #3 MCGUINNESS Near Mint/Mint

DAREDEVIL ANNUAL (1967) #4 Very Good

DEFENDERS (1972) (#1-152) (MARVEL) #1 Good
DEFENDERS (1972) (#1-152) (MARVEL) #2 Good
DEFENDERS (1972) (#1-152) (MARVEL) #3 Good
DEFENDERS (1972) (#1-152) (MARVEL) #4 Very Good
DEFENDERS (1972) (#1-152) (MARVEL) #5 Very Good

DEFENDERS GIANT-SIZE (1974) #3 Good
DEFENDERS GIANT-SIZE (1974) #3 Very Good
DEFENDERS GIANT-SIZE (1974) #5 Very Good


DOCTOR STRANGE (1968) (#169-183) (MARVEL)(DR. STRANGE) #179

DOCTOR STRANGE (1968) (#169-183) (MARVEL)(DR. STRANGE) #179 Fair
DOCTOR STRANGE (1968) (#169-183) (MARVEL)(DR. STRANGE) #181 Good

DOCTOR STRANGE (1974) (#1-81) (MARVEL) (DR. STRANGE) #1 Very Good
DOCTOR STRANGE (1974) (#1-81) (MARVEL) (DR. STRANGE) #2 Very Good
DOCTOR STRANGE (1974) (#1-81) (MARVEL) (DR. STRANGE) #13 Fine

DOCTOR STRANGE GIANT-SIZE (1975) #1 Very Good

ETERNALS (1976) (#1-19) (MARVEL) (JACK KIRBY) #1 Good
ETERNALS (1976) (#1-19) (MARVEL) (JACK KIRBY) #10 Fine
ETERNALS (1976) (#1-19) (MARVEL) (JACK KIRBY) #14 Very Good
ETERNALS (1976) (#1-19) (MARVEL) (JACK KIRBY) #14 WHITMAN Very Good

ETERNALS ANNUAL (1977) #1 Very Good

FANTASTIC FOUR (1961) (#1-416) (MARVEL) #70 Good
FANTASTIC FOUR (1961) (#1-416) (MARVEL) #71 Good
FANTASTIC FOUR (1961) (#1-416) (MARVEL) #72 Good
FANTASTIC FOUR (1961) (#1-416) (MARVEL) #73 Good
FANTASTIC FOUR (1961) (#1-416) (MARVEL) #74 Good
FANTASTIC FOUR (1961) (#1-416) (MARVEL) #75 Good
FANTASTIC FOUR (1961) (#1-416) (MARVEL) #76 Good
FANTASTIC FOUR (1961) (#1-416) (MARVEL) #77 Good
FANTASTIC FOUR (1961) (#1-416) (MARVEL) #78 Good
FANTASTIC FOUR (1961) (#1-416) (MARVEL) #79 Very Good
FANTASTIC FOUR (1961) (#1-416) (MARVEL) #80 Good
FANTASTIC FOUR (1961) (#1-416) (MARVEL) #81 Good
FANTASTIC FOUR (1961) (#1-416) (MARVEL) #82 Good

FEAR (ADVENTURE INTO...) (1970) #9 Very Good

HAWKEYE (2012) (#1-22) (MARVEL) (MATT FRACTION) #3 Very Fine
HAWKEYE (2012) (#1-22) (MARVEL) (MATT FRACTION) #4 Very Fine
HAWKEYE (2012) (#1-22) (MARVEL) (MATT FRACTION) #5 Very Fine

HIT-GIRL (2012) (#1-5) (MARVEL ICON) #1 BLANK CVR Near Mint/Mint


HOWARD THE DUCK (1976) (#1-33) #12

HOWARD THE DUCK (1976) (#1-33) #12 Very Good

HULK (1962) (#1-6, #102-474, #600-635)(INCREDIBLE)(MV) #180 Very Good

MAN-THING (1974) (#1-22) (MARVEL) #2 Very Good
MAN-THING (1974) (#1-22) (MARVEL) #3 Very Good
MAN-THING (1974) (#1-22) (MARVEL) #6 Very Good
MAN-THING (1974) (#1-22) (MARVEL) #10 Very Good
MAN-THING (1974) (#1-22) (MARVEL) #22 Very Fine

MAN-THING GIANT-SIZE (1974) #1 Good
MAN-THING GIANT-SIZE (1974) #2 Very Good

MARVEL PREMIERE (1972) #1 Good
MARVEL PREMIERE (1972) #2 Good

MARVEL TEAM-UP (1972) (#1-150) (MARVEL) #2 Good
MARVEL TEAM-UP (1972) (#1-150) (MARVEL) #3 Very Good
MARVEL TEAM-UP (1972) (#1-150) (MARVEL) #4 Good

MARVEL TRIPLE ACTION (1972) #1 Good

MARVEL TWO-IN-ONE ANNUAL (1976) #2 Very Fine

POWER MAN/IRON FIST (LUKE CAGE, POWER MAN #1-49) (1972) #12 Very Good
POWER MAN/IRON FIST (LUKE CAGE, POWER MAN #1-49) (1972) #17 Very Good
POWER MAN/IRON FIST (LUKE CAGE, POWER MAN #1-49) (1972) #19 Very Good
POWER MAN/IRON FIST (LUKE CAGE, POWER MAN #1-49) (1972) #20 Fine
POWER MAN/IRON FIST (LUKE CAGE, POWER MAN #1-49) (1972) #24 Fine
POWER MAN/IRON FIST (LUKE CAGE, POWER MAN #1-49) (1972) #48 Very Good
POWER MAN/IRON FIST (LUKE CAGE, POWER MAN #1-49) (1972) #57 NEWSSTAND Good

POWER MAN/IRON FIST (LUKE CAGE, POWER MAN) ANNUAL (1976) #1 Very Fine

RAWHIDE KID (1955) (#1-151) (MARVEL) #125 Fine
RAWHIDE KID (1955) (#1-151) (MARVEL) #150 Fine
RAWHIDE KID (1955) (#1-151) (MARVEL) #151 Fine

RINGO KID (1970) #11 Very Good
RINGO KID (1970) #30 Fine

SGT. FURY AND HIS HOWLING COMMANDOS (1963) #131 Fine
SGT. FURY AND HIS HOWLING COMMANDOS (1963) #132 Fine
SGT. FURY AND HIS HOWLING COMMANDOS (1963) #152 NEWSSTAND Fine

SON OF SATAN (1975) #1 Very Good

SPIDER-MAN (1963) (AMAZING SPIDER-MAN) (#1-441) #64 Good
SPIDER-MAN (1963) (AMAZING SPIDER-MAN) (#1-441) #65 Very Good
SPIDER-MAN (1963) (AMAZING SPIDER-MAN) (#1-441) #77 Good
SPIDER-MAN (1963) (AMAZING SPIDER-MAN) (#1-441) #80 Good
SPIDER-MAN (1963) (AMAZING SPIDER-MAN) (#1-441) #83 Good
SPIDER-MAN (1963) (AMAZING SPIDER-MAN) (#1-441) #91 Good
SPIDER-MAN (1963) (AMAZING SPIDER-MAN) (#1-441) #93 Good
SPIDER-MAN (1963) (AMAZING SPIDER-MAN) (#1-441) #95 Fair
SPIDER-MAN (1963) (AMAZING SPIDER-MAN) (#1-441) #96 Fair
SPIDER-MAN (1963) (AMAZING SPIDER-MAN) (#1-441) #99 Very Good
SPIDER-MAN (1963) (AMAZING SPIDER-MAN) (#1-441) #100 Very Good
SPIDER-MAN (1963) (AMAZING SPIDER-MAN) (#1-441) #102 Very Good
SPIDER-MAN (1963) (AMAZING SPIDER-MAN) (#1-441) #103 Good
SPIDER-MAN (1963) (AMAZING SPIDER-MAN) (#1-441) #104 Very Good
SPIDER-MAN (1963) (AMAZING SPIDER-MAN) (#1-441) #105 Very Good
SPIDER-MAN (1963) (AMAZING SPIDER-MAN) (#1-441) #106 Very Good
SPIDER-MAN (1963) (AMAZING SPIDER-MAN) (#1-441) #107 Very Good
SPIDER-MAN (1963) (AMAZING SPIDER-MAN) (#1-441) #108 Very Good
SPIDER-MAN (1963) (AMAZING SPIDER-MAN) (#1-441) #109 Very Good
SPIDER-MAN (1963) (AMAZING SPIDER-MAN) (#1-441) #110 Very Good
SPIDER-MAN (1963) (AMAZING SPIDER-MAN) (#1-441) #111 Fine
SPIDER-MAN (1963) (AMAZING SPIDER-MAN) (#1-441) #112 Good
SPIDER-MAN (1963) (AMAZING SPIDER-MAN) (#1-441) #114 Good
SPIDER-MAN (1963) (AMAZING SPIDER-MAN) (#1-441) #115 Good
SPIDER-MAN (1963) (AMAZING SPIDER-MAN) (#1-441) #116 Good
SPIDER-MAN (1963) (AMAZING SPIDER-MAN) (#1-441) #117 Very Good
SPIDER-MAN (1963) (AMAZING SPIDER-MAN) (#1-441) #118 Good
SPIDER-MAN (1963) (AMAZING SPIDER-MAN) (#1-441) #119 Very Good
SPIDER-MAN (1963) (AMAZING SPIDER-MAN) (#1-441) #120 Good
SPIDER-MAN (1963) (AMAZING SPIDER-MAN) (#1-441) #128 Very Good


SPIDER-MAN (1963) (AMAZING SPIDER-MAN) (#1-441) #130

SPIDER-MAN (1963) (AMAZING SPIDER-MAN) (#1-441) #130 Good
SPIDER-MAN (1963) (AMAZING SPIDER-MAN) (#1-441) #134 Very Good
SPIDER-MAN (1963) (AMAZING SPIDER-MAN) (#1-441) #135 Very Good
SPIDER-MAN (1963) (AMAZING SPIDER-MAN) (#1-441) #137 Very Good
SPIDER-MAN (1963) (AMAZING SPIDER-MAN) (#1-441) #138 Very Good
SPIDER-MAN (1963) (AMAZING SPIDER-MAN) (#1-441) #151 Very Good
SPIDER-MAN (1963) (AMAZING SPIDER-MAN) (#1-441) #153 Very Good

SPIDER-WOMAN (1978) (#1-50) (JESSICA DREW) (MARVEL) #1 Very Good

STAR WARS (1977) (#1-107) (MARVEL) #4 WHITMAN Good
STAR WARS (1977) (#1-107) (MARVEL) #7 WHITMAN Very Good
STAR WARS (1977) (#1-107) (MARVEL) #8 WHITMAN Very Good
STAR WARS (1977) (#1-107) (MARVEL) #9 WHITMAN Very Good

STRANGE TALES (1951) (#1-85 ATLAS, #86-188 MARVEL) #184 Fine

SUB-MARINER (1968) (#1-72) (PRINCE NAMOR SUB-MARINER) #5 Good
SUB-MARINER (1968) (#1-72) (PRINCE NAMOR SUB-MARINER) #6 Good
SUB-MARINER (1968) (#1-72) (PRINCE NAMOR SUB-MARINER) #35 Good
SUB-MARINER (1968) (#1-72) (PRINCE NAMOR SUB-MARINER) #38 Very Good

WARLOCK (1972) (#1-15) (MARVEL) #4 Very Good
WARLOCK (1972) (#1-15) (MARVEL) #10 Very Fine

X-FACTOR (1986) (#1-149) (ORIGINAL X-MEN) #51 NEWSSTAND Near Mint/Mint
X-FACTOR (1986) (#1-149) (ORIGINAL X-MEN) #51 NEWSSTAND Very Fine
X-FACTOR (1986) (#1-149) (ORIGINAL X-MEN) #52 Near Mint/Mint
X-FACTOR (1986) (#1-149) (ORIGINAL X-MEN) #52 Very Fine
X-FACTOR (1986) (#1-149) (ORIGINAL X-MEN) #53 Near Mint/Mint
X-FACTOR (1986) (#1-149) (ORIGINAL X-MEN) #57 Near Mint/Mint
X-FACTOR (1986) (#1-149) (ORIGINAL X-MEN) #58 Very Fine
X-FACTOR (1986) (#1-149) (ORIGINAL X-MEN) #59 Near Mint/Mint
X-FACTOR (1986) (#1-149) (ORIGINAL X-MEN) #60 Near Mint/Mint
X-FACTOR (1986) (#1-149) (ORIGINAL X-MEN) #61 Near Mint/Mint
X-FACTOR (1986) (#1-149) (ORIGINAL X-MEN) #62 Near Mint/Mint
X-FACTOR (1986) (#1-149) (ORIGINAL X-MEN) #63 Near Mint/Mint
X-FACTOR (1986) (#1-149) (ORIGINAL X-MEN) #65 Near Mint/Mint


X-FACTOR (1986) (#1-149) (ORIGINAL X-MEN) #65

X-FACTOR (1986) (#1-149) (ORIGINAL X-MEN) #65 Very Fine
X-FACTOR (1986) (#1-149) (ORIGINAL X-MEN) #66 Near Mint/Mint
X-FACTOR (1986) (#1-149) (ORIGINAL X-MEN) #66 NEWSSTAND Very Fine
X-FACTOR (1986) (#1-149) (ORIGINAL X-MEN) #67 Near Mint/Mint
X-FACTOR (1986) (#1-149) (ORIGINAL X-MEN) #67 Fine
X-FACTOR (1986) (#1-149) (ORIGINAL X-MEN) #67 Very Fine
X-FACTOR (1986) (#1-149) (ORIGINAL X-MEN) #68 Fine
X-FACTOR (1986) (#1-149) (ORIGINAL X-MEN) #68 Near Mint/Mint
X-FACTOR (1986) (#1-149) (ORIGINAL X-MEN) #68 Very Good
X-FACTOR (1986) (#1-149) (ORIGINAL X-MEN) #68 Very Fine
X-FACTOR (1986) (#1-149) (ORIGINAL X-MEN) #106 FOIL NEWS Near Mint/Mint
X-FACTOR (1986) (#1-149) (ORIGINAL X-MEN) #106 FOIL NEWS Very Fine
X-FACTOR (1986) (#1-149) (ORIGINAL X-MEN) #108 DELUXENEWS Near Mint/Mint
X-FACTOR (1986) (#1-149) (ORIGINAL X-MEN) #149 Near Mint/Mint

X-MEN (1963) (#1-113, UNCANNY X-MEN #114-544) (MARVEL) #61 Good
X-MEN (1963) (#1-113, UNCANNY X-MEN #114-544) (MARVEL) #62 Good
X-MEN (1963) (#1-113, UNCANNY X-MEN #114-544) (MARVEL) #63 Good
X-MEN (1963) (#1-113, UNCANNY X-MEN #114-544) (MARVEL) #65 Good
X-MEN (1963) (#1-113, UNCANNY X-MEN #114-544) (MARVEL) #70 Very Good
X-MEN (1963) (#1-113, UNCANNY X-MEN #114-544) (MARVEL) #71 Very Good
X-MEN (1963) (#1-113, UNCANNY X-MEN #114-544) (MARVEL) #73 Very Good
X-MEN (1963) (#1-113, UNCANNY X-MEN #114-544) (MARVEL) #74 Very Good
X-MEN (1963) (#1-113, UNCANNY X-MEN #114-544) (MARVEL) #76 Very Good
X-MEN (1963) (#1-113, UNCANNY X-MEN #114-544) (MARVEL) #77 Good
X-MEN (1963) (#1-113, UNCANNY X-MEN #114-544) (MARVEL) #78 Good
X-MEN (1963) (#1-113, UNCANNY X-MEN #114-544) (MARVEL) #79 Good
X-MEN (1963) (#1-113, UNCANNY X-MEN #114-544) (MARVEL) #99 Very Fine
X-MEN (1963) (#1-113, UNCANNY X-MEN #114-544) (MARVEL) #106 Good

DC
AUTHORITY (DC WILDSTORM) (#1-12 ELLIS, #13-29 MILLAR) (1999) #1 (DC/Wildstorm) Very Fine

BATMAN (2011) (#0-52) (DC NEW52) #12 Very Fine

BLACKEST NIGHT (2009) #0 FCBD Near Mint/Mint
BLACKEST NIGHT (2009) #3 VARIANT Near Mint/Mint
BLACKEST NIGHT (2009) #7 VARIANT Near Mint/Mint


BLACKEST NIGHT: BATMAN (2009) #1

BLACKEST NIGHT: BATMAN (2009) #1 Near Mint/Mint
BLACKEST NIGHT: BATMAN (2009) #2 Near Mint/Mint
BLACKEST NIGHT: BATMAN (2009) #3 Near Mint/Mint

DARK KNIGHT III: THE MASTER RACE (2015) #2 Near Mint/Mint
DARK KNIGHT III: THE MASTER RACE (2015) #4 ALBURQUERQ Near Mint/Mint

DARK KNIGHT RETURNS: LAST CRUSADE (2016) #1 BERMEJO Near Mint/Mint

DEMON (1972) #2 Good
DEMON (1972) #12 Very Good

DETECTIVE COMICS (1937) (#0-881) (DC) #402 Good
DETECTIVE COMICS (1937) (#0-881) (DC) #407 Fair
DETECTIVE COMICS (1937) (#0-881) (DC) #431 Very Good
DETECTIVE COMICS (1937) (#0-881) (DC) #459 Very Good
DETECTIVE COMICS (1937) (#0-881) (DC) #466 Good
DETECTIVE COMICS (1937) (#0-881) (DC) #477 Good

DOOM PATROL (1964) (#86-124) (DC) #102 Very Good
DOOM PATROL (1964) (#86-124) (DC) #103 Very Good
DOOM PATROL (1964) (#86-124) (DC) #104 Very Good
DOOM PATROL (1964) (#86-124) (DC) #105 Good
DOOM PATROL (1964) (#86-124) (DC) #108 Fine
DOOM PATROL (1964) (#86-124) (DC) #110 Fine
DOOM PATROL (1964) (#86-124) (DC) #111 Very Good
DOOM PATROL (1964) (#86-124) (DC) #112 Good
DOOM PATROL (1964) (#86-124) (DC) #113 Good
DOOM PATROL (1964) (#86-124) (DC) #114 Fine
DOOM PATROL (1964) (#86-124) (DC) #115 Very Good
DOOM PATROL (1964) (#86-124) (DC) #118 Very Good
DOOM PATROL (1964) (#86-124) (DC) #119 Good

FLASH (1959) (#105-350) (DC) #206 Very Good
FLASH (1959) (#105-350) (DC) #214 Good
FLASH (1959) (#105-350) (DC) #219 Good


FLASH (2010) (#1-12) (DC) #1 VARIANT

FLASH (2010) (#1-12) (DC) #1 VARIANT Near Mint/Mint
FLASH (2010) (#1-12) (DC) #5 VARIANT Near Mint/Mint

FLASHPOINT (2011) (#1-5) (DC) #1 Near Mint/Mint
FLASHPOINT (2011) (#1-5) (DC) #2 Very Fine

FOREVER EVIL AFTERMATH: BATMAN VS. BANE (2014) #1 Near Mint/Mint

GREEN LANTERN (2005) (#1-67) (DC) #25 VARIANT Near Mint/Mint

HARLEY QUINN (2013) (#0-30) (DC NEW52) #0 Near Mint/Mint
HARLEY QUINN (2013) (#0-30) (DC NEW52) #1 Near Mint/Mint
HARLEY QUINN (2013) (#0-30) (DC NEW52) #2 Near Mint/Mint
HARLEY QUINN (2013) (#0-30) (DC NEW52) #3 Very Fine
HARLEY QUINN (2013) (#0-30) (DC NEW52) #4 Near Mint/Mint

PLOP (1973) #20 Fine

PREZ (1973) #4 Very Good

SANDMAN (1974) (#1-6) (DC) #1 Very Good

SECRET ORIGINS (1973) (#1-7) (DC) #3 Very Good
SECRET ORIGINS (1973) (#1-7) (DC) #6 Very Good

SECRETS OF HAUNTED HOUSE (1975) #5 Fine

SGT. ROCK (OUR ARMY AT WAR #1-301) (1977) #324 NEWSSTAND Fine
SGT. ROCK (OUR ARMY AT WAR #1-301) (1977) #325 Fine
SGT. ROCK (OUR ARMY AT WAR #1-301) (1977) #326 Fine
SGT. ROCK (OUR ARMY AT WAR #1-301) (1977) #328 Fine
SGT. ROCK (OUR ARMY AT WAR #1-301) (1977) #329 Fine

SHOWCASE (1956) #49 Very Good
SHOWCASE (1956) #97 Very Good


SINISTER HOUSE OF SECRET LOVE (1971) #4

SINISTER HOUSE OF SECRET LOVE (1971) #4 Good

STAR SPANGLED WAR STORIES (1952) #117 Very Good
STAR SPANGLED WAR STORIES (1952) #152 Fine
STAR SPANGLED WAR STORIES (1952) #160 Fine
STAR SPANGLED WAR STORIES (1952) #169 Very Good
STAR SPANGLED WAR STORIES (1952) #171 Very Good
STAR SPANGLED WAR STORIES (1952) #172 Very Good
STAR SPANGLED WAR STORIES (1952) #195 Fine
STAR SPANGLED WAR STORIES (1952) #197 Fine
STAR SPANGLED WAR STORIES (1952) #201 Fine
STAR SPANGLED WAR STORIES (1952) #202 Fine

STRANGE ADVENTURES (1950) (#1-244) (DC) #161 Good

SUPERGIRL (1972) (#1-10) (DC) #3 Good
SUPERGIRL (1972) (#1-10) (DC) #5 Very Good
SUPERGIRL (1972) (#1-10) (DC) #6 Very Good
SUPERGIRL (1972) (#1-10) (DC) #7 Good
SUPERGIRL (1972) (#1-10) (DC) #9 Very Good

WARLORD (1976) #1 Very Good

IMAGE COMICS
ASTRO CITY (1996) (#1-15) (IMAGE/HOMAGE) #1 1/2 WIZARD (Image Homage) Very Fine

BLACK KISS 2 (2012) #2 Near Mint/Mint

BLACK MONDAY MURDERS (2016) #1 Near Mint/Mint

CHRONONAUTS (2015) #1 E STAPLES Near Mint/Mint

HAPPY (#1-4) (IMAGE) (GRANT MORRISON) (2012) #1 Very Fine

INDEPENDENTS
FIGHTIN' MARINES (1955) (#14-176) (CHARLTON) #121 (Charlton) Fine
FIGHTIN' MARINES (1955) (#14-176) (CHARLTON) #122 (Charlton) Fine

PHANTOM (1969) (#30-74) (CHARLTON) #69 (Charlton) Fine

REPTISAURUS (1961) #4 (Charlton) Good

RIFLEMAN (1959) #6 (Dell Publishing) Good
RIFLEMAN (1959) #11 (Dell Publishing) Very Good

ROY ROGERS (Dell Publishing) (1948) #107 (Dell Publishing) Fair

SCARY TALES (1975) #1 (Charlton) Very Good
SCARY TALES (1975) #3 (Charlton) Fine
SCARY TALES (1975) #4 (Charlton) Fine
SCARY TALES (1975) #11 (Charlton) Very Good

SIX MILLION DOLLAR MAN (1976) #4 (Charlton) Fine

SPACE ADVENTURES (CHARLTON) (VOL 3) (1967) #60 (Charlton) Good

STRANGE SUSPENSE STORIES (1952) #73 (Charlton) Very Good