Ten Million Comic Books 60% Off
Howdy!
After a splendid fall weekend here in Colorado, Will Moulton and I began this new week by posting some dramatically reduced back issue comics bargains for you on our website. There were a few select back issues where our demand is just too great for us to be able to lower them, but in general, we slashed prices on a broad spectrum of extremely desirable comics across-the-board for you, anywhere from 10%-40% off.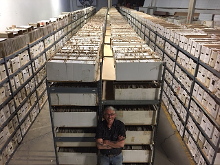 The start of our Back Issue Files

Please be aware that this kind of reduction in our list prices is a temporary decrease that we will need to reverse once we get closer to Black Friday (November 23rd). Simply put, our online business always explodes around the Thanksgiving and Christmas holidays, and we just do not have the manpower to also maintain decreased prices during those boom periods, as we would fall too far behind in shipping. The beginning of November tends to be the calm before our storm, however, so Will and I feel comfortable that providing you with some especially advantageous prices right now will not negatively affect our turnaround in orders, even with our 60% off HALLOWEEN! codeword sale also still in effect. Please do enjoy these truly remarkable wonderful off-season bargains with our sincere thanks for your continuing support of Mile High Comics.
Happy collecting!
Chuck Rozanski,
President - Mile High Comics, Inc.
November 5, 2018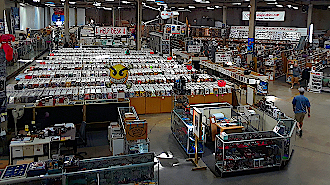 Inside the front of the Jason Street Mega Store

P.S. Here are some more great back issues and books that we just received. These are but a tiny sampling of what we have in stock for you right now. We have well over ten million back issue comics, magazines, trade paperbacks, graphics novels, and comics hardbacks in our immense Jason St. Mega-Store, with well over 400,000 different options from which you can choose. Woo!
MARVEL

ASTONISHING X-MEN VOL. 9: EXALTED TPB (2012) #1

ASTONISHING X-MEN VOL. 9: EXALTED TPB (2012) #1 Near Mint/Mint

AVENGERS: YESTERDAY QUEST TPB (1994) #1 Fine

BEST OF MARVEL COMICS TPB (1994) #1 Good

DAREDEVIL TPB (BY KEVIN SMITH) (1998) #1 Fine

DAREDEVIL VISIONARIES: FRANK MILLER TPB (2000) #1 3RD PRINT Very Fine
DAREDEVIL VISIONARIES: FRANK MILLER TPB (2000) #2 Fine

DEATH OF CAPTAIN MARVEL GN (1982) #1 5TH PRINT Fine

ELEKTRA LIVES AGAIN HC (FRANK MILLER) (1990) #1 Very Good

EXILES ULTIMATE COLLECTION TPB (2009) #3 Very Good
EXILES ULTIMATE COLLECTION TPB (2009) #4 Very Good

FANTASTIC FOUR: 1234 TPB (2002) #1 Near Mint/Mint
FANTASTIC FOUR: 1234 TPB (2002) #1 Good

FANTASTIC FOUR: INHUMANS TPB (2007) #1 Very Good


FEAR ITSELF: DRACULA PREMIERE HC (2012) #1

FEAR ITSELF: DRACULA PREMIERE HC (2012) #1 Near Mint/Mint

FEAR ITSELF: SECRET AVENGERS TPB (2012) #1 Near Mint/Mint

FEAR ITSELF: SPIDER-MAN TPB (2012) #1 Near Mint/Mint

FRANKLIN RICHARDS: NOT SO SECRET INVASION DIGEST (2009) #1 Fine

GREENBERG THE VAMPIRE GN (VOL. 20) (1986) #1 Very Good

HULK (1962) (#1-6, #102-474, #600-635)(INCREDIBLE)(MV) #418 DELUXENEWS Fine

INCREDIBLE HULK EPIC COLLECTION: FUTURE IMPERFECT TPB (2017) #1 Near Mint/Mint

INHUMANS GN (1988) #1 Near Mint/Mint

INVINCIBLE IRON MAN VOL. 9: DEMON PREMIERE HC (2012) #1 Near Mint/Mint

KA-ZAR (1981) (#1-34) (THE SAVAGE) (MARVEL) #11 Near Mint/Mint
KA-ZAR (1981) (#1-34) (THE SAVAGE) (MARVEL) #16 Near Mint/Mint
KA-ZAR (1981) (#1-34) (THE SAVAGE) (MARVEL) #19 Near Mint/Mint
KA-ZAR (1981) (#1-34) (THE SAVAGE) (MARVEL) #32 Near Mint/Mint
KA-ZAR (1981) (#1-34) (THE SAVAGE) (MARVEL) #33 Near Mint/Mint
KA-ZAR (1981) (#1-34) (THE SAVAGE) (MARVEL) #34 Fine


KITTY PRYDE AND WOLVERINE (1984) #5

KITTY PRYDE AND WOLVERINE (1984) #5 Very Fine
KITTY PRYDE AND WOLVERINE (1984) #6 Very Fine

LEGENDARY STAR-LORD (2014) #9 Near Mint/Mint

LOGAN (2008) (#1-3) (MARVEL KNIGHTS) #1 Near Mint/Mint
LOGAN (2008) (#1-3) (MARVEL KNIGHTS) #3 B&W Very Fine

MARVEL ADVENTURES: HULK DIGEST (2007) #1 Very Fine

MARVEL ADVENTURES: IRON MAN DIGEST (2007) #1 Fine

MARVELS: EYE OF THE CAMERA HC (2010) #1 Near Mint/Mint

MOON KNIGHT (2017) (#188-UP) (MARVEL LEGACY) #188 LENTICULAR Near Mint/Mint

NEW AVENGERS (2013) (#1-33) (MARVEL) #8 Near Mint/Mint
NEW AVENGERS (2013) (#1-33) (MARVEL) #9 Very Fine
NEW AVENGERS (2013) (#1-33) (MARVEL) #10 Near Mint/Mint

NEW MUTANTS (2009) (#1-50) (MARVEL) #13 Very Fine

OLD MAN LOGAN (2015) (#1-5) (MARVEL SECRET WARS) #2 GWEN Very Fine

ORIGINAL SIN (2014) (#0-8) (MARVEL) #0 Very Fine
ORIGINAL SIN (2014) (#0-8) (MARVEL) #2 Fine
ORIGINAL SIN (2014) (#0-8) (MARVEL) #3 .3 Near Mint/Mint
ORIGINAL SIN (2014) (#0-8) (MARVEL) #3 Very Fine
ORIGINAL SIN (2014) (#0-8) (MARVEL) #4 Near Mint/Mint
ORIGINAL SIN (2014) (#0-8) (MARVEL) #5 CHECCHETTO Very Fine

ORIGINAL SINS (2014) #5 Very Fine

POWER MAN/IRON FIST (LUKE CAGE, POWER MAN #1-49) (1972) #84 NEWSSTAND Good

POWER PACK & CLOAK & DAGGER: SHELTER FROM THE STORM GN (1989) #1 Very Fine

PUNISHER (2016) (#1-17) (MARVEL) #1 Very Fine
PUNISHER (2016) (#1-17) (MARVEL) #12 Near Mint/Mint

PUNISHER KILLS THE MARVEL UNIVERSE (MARVEL ALTERNIVERS) (1995) #1 2ND PRINT Very Fine

PUNISHER: RETURN TO BIG NOTHING (1989) #1 HB Near Mint/Mint

SABRETOOTH (1993) (#1-4) (MARVEL) (DEATH HUNT) #4 NEWSSTAND Near Mint/Mint

SECRET AVENGERS BY REMENDER PREMIERE HC (2012) #2 Near Mint/Mint

SECRET WARS (2015) #3 HASTINGS Near Mint/Mint

SHE-HULK (1989) (#1-60) (SENSATIONAL SHE-HULK)(MARVEL) #1 NEWSSTAND Very Fine
SHE-HULK (1989) (#1-60) (SENSATIONAL SHE-HULK)(MARVEL) #1 NEWSSTAND Very Good
SHE-HULK (1989) (#1-60) (SENSATIONAL SHE-HULK)(MARVEL) #46 Very Fine
SHE-HULK (1989) (#1-60) (SENSATIONAL SHE-HULK)(MARVEL) #47 Very Fine
SHE-HULK (1989) (#1-60) (SENSATIONAL SHE-HULK)(MARVEL) #49 Very Fine
SHE-HULK (1989) (#1-60) (SENSATIONAL SHE-HULK)(MARVEL) #52 Near Mint/Mint
SHE-HULK (1989) (#1-60) (SENSATIONAL SHE-HULK)(MARVEL) #54 Very Fine
SHE-HULK (1989) (#1-60) (SENSATIONAL SHE-HULK)(MARVEL) #56 Very Fine

SIEGE HC (2011) #1 Very Fine


SILVER SURFER: HOMECOMING (1991) #1

SILVER SURFER: HOMECOMING (1991) #1 Fine

SPIDER-GWEN (2015) (#1-UP) (MARVEL)(RADIOACTIVE) #24 Near Mint/Mint

SPIDER-GWEN HC (2017) #3 Very Fine

SPIDER-MAN (1963) (AMAZING SPIDER-MAN) (#1-441) #258 NEWSSTAND Very Good
SPIDER-MAN (1963) (AMAZING SPIDER-MAN) (#1-441) #307 NEWSSTAND Fine
SPIDER-MAN (1963) (AMAZING SPIDER-MAN) (#1-441) #373 Very Fine
SPIDER-MAN (1963) (AMAZING SPIDER-MAN) (#1-441) #375 Fine
SPIDER-MAN (1963) (AMAZING SPIDER-MAN) (#1-441) #375 NEWSSTAND Very Good

SPIDER-MAN (1990) (#1-74, PETER PARKER SPIDEY #75-98) #50 DELUXE Very Fine

SPIDER-MAN & THE X-MEN (2015) #2 Near Mint/Mint

SPIDER-MAN (MILES MORALES) (#1-21) (MARVEL) (2016) #3 CAMPION Near Mint/Mint

SPIDER-MAN (MILES MORALES) (#1-21) (MARVEL) (2016) #17 Near Mint/Mint

SPIDER-MAN VISIONARIES: JOHN ROMITA, SR. TPB (2001) #1 Fine

SPIDER-MAN: COSMIC ADVENTURES TPB (1993) #1 Fine

SPIDER-MAN: DYING WISH PREMIERE HC (2013) #1 Near Mint/Mint

SPIDER-MAN: FEAR ITSELF GN (1992) #1 Near Mint/Mint


SPIDER-MAN: HOOKY GN (1986) #1

SPIDER-MAN: HOOKY GN (1986) #1 Fine

SPIDER-MAN: SPIDER HUNT TPB (2012) #1 Very Good

STAR TREK/X-MEN (1996) #1 NEWSSTAND Fine

THANOS ANNUAL (2014) #1 Very Fine

THANOS RISING (2013) #2 Near Mint/Mint
THANOS RISING (2013) #3 Near Mint/Mint

THANOS VS. HULK (2014) #2 Near Mint/Mint

THOR: BLOOD & THUNDER TPB (2011) #1 Near Mint/Mint

THOR: SPIRAL TPB (2ND EDITION) (2011) #1 Near Mint/Mint

ULTIMATE COMICS: AVENGERS - BLADE VS. AVENGERS HC (2011) #1 Near Mint/Mint

ULTIMATE COMICS: X (2010) #1 Very Fine
ULTIMATE COMICS: X (2010) #2 Near Mint/Mint
ULTIMATE COMICS: X (2010) #5 Very Fine

ULTIMATE X-MEN (2000) #1 Very Fine
ULTIMATE X-MEN (2000) #1 WIZARD 1/2 Very Fine
ULTIMATE X-MEN (2000) #7 NEWSSTAND Very Fine

UNCANNY AVENGERS (2015) (#1-5) (MARCH) #1 Very Fine

UNCANNY X-FORCE (2010) (#1-35) (MARVEL) #1 BLANK CVR Near Mint/Mint


UNCANNY X-FORCE (2010) (#1-35) (MARVEL) #2

UNCANNY X-FORCE (2010) (#1-35) (MARVEL) #2 Fine
UNCANNY X-FORCE (2010) (#1-35) (MARVEL) #3 Near Mint/Mint
UNCANNY X-FORCE (2010) (#1-35) (MARVEL) #5 Near Mint/Mint
UNCANNY X-FORCE (2010) (#1-35) (MARVEL) #6 Near Mint/Mint
UNCANNY X-FORCE (2010) (#1-35) (MARVEL) #7 Near Mint/Mint
UNCANNY X-FORCE (2010) (#1-35) (MARVEL) #7 THOR Near Mint/Mint
UNCANNY X-FORCE (2010) (#1-35) (MARVEL) #8 Very Fine
UNCANNY X-FORCE (2010) (#1-35) (MARVEL) #9 Fine
UNCANNY X-FORCE (2010) (#1-35) (MARVEL) #10 Near Mint/Mint
UNCANNY X-FORCE (2010) (#1-35) (MARVEL) #11 Near Mint/Mint
UNCANNY X-FORCE (2010) (#1-35) (MARVEL) #12 Near Mint/Mint
UNCANNY X-FORCE (2010) (#1-35) (MARVEL) #12 STEVENS Very Fine
UNCANNY X-FORCE (2010) (#1-35) (MARVEL) #13 2ND PRINT Very Fine
UNCANNY X-FORCE (2010) (#1-35) (MARVEL) #13 Very Fine
UNCANNY X-FORCE (2010) (#1-35) (MARVEL) #14 Near Mint/Mint
UNCANNY X-FORCE (2010) (#1-35) (MARVEL) #15 Near Mint/Mint
UNCANNY X-FORCE (2010) (#1-35) (MARVEL) #16 Fine
UNCANNY X-FORCE (2010) (#1-35) (MARVEL) #17 Near Mint/Mint
UNCANNY X-FORCE (2010) (#1-35) (MARVEL) #18 Near Mint/Mint
UNCANNY X-FORCE (2010) (#1-35) (MARVEL) #19 Near Mint/Mint
UNCANNY X-FORCE (2010) (#1-35) (MARVEL) #19 .1 Near Mint/Mint
UNCANNY X-FORCE (2010) (#1-35) (MARVEL) #20 Very Fine
UNCANNY X-FORCE (2010) (#1-35) (MARVEL) #21 Very Fine
UNCANNY X-FORCE (2010) (#1-35) (MARVEL) #22 Very Fine
UNCANNY X-FORCE (2010) (#1-35) (MARVEL) #23 Near Mint/Mint
UNCANNY X-FORCE (2010) (#1-35) (MARVEL) #24 Very Fine


UNCANNY X-FORCE (2010) (#1-35) (MARVEL) #26

UNCANNY X-FORCE (2010) (#1-35) (MARVEL) #26 Very Fine
UNCANNY X-FORCE (2010) (#1-35) (MARVEL) #27 Very Fine
UNCANNY X-FORCE (2010) (#1-35) (MARVEL) #28 Very Fine
UNCANNY X-FORCE (2010) (#1-35) (MARVEL) #29 Very Fine
UNCANNY X-FORCE (2010) (#1-35) (MARVEL) #31 Very Fine
UNCANNY X-FORCE (2010) (#1-35) (MARVEL) #32 Fine
UNCANNY X-FORCE (2010) (#1-35) (MARVEL) #33 Near Mint/Mint
UNCANNY X-FORCE (2010) (#1-35) (MARVEL) #34 Near Mint/Mint
UNCANNY X-FORCE (2010) (#1-35) (MARVEL) #35 Very Fine

UNCANNY X-FORCE: OTHERWORLD PREMIERE HC (2012) #1 Near Mint/Mint

VENOM (2017) (#1-6, #150-165) (MARVEL) #1 Near Mint/Mint
VENOM (2017) (#1-6, #150-165) (MARVEL) #6 Very Fine

VENOM: ENEMY WITHIN (1994) #1 NEWSSTAND Fine

WEREWOLF BY NIGHT (1972) #1 Very Good

WHAT IF... (1989) (#1-114, & 200) (MARVEL) #4 Very Fine
WHAT IF... (1989) (#1-114, & 200) (MARVEL) #9 NEWSSTAND Fine
WHAT IF... (1989) (#1-114, & 200) (MARVEL) #10 NEWSSTAND Very Fine
WHAT IF... (1989) (#1-114, & 200) (MARVEL) #43 NEWSSTAND Fine
WHAT IF... (1989) (#1-114, & 200) (MARVEL) #50 NEWSSTAND Fine

WOLVERINES (2015) #1 HASTINGS Near Mint/Mint

X-FORCE (1991) (#1-129) (MARVEL) #11 Very Fine


X-MEN (1963) (#1-113, UNCANNY X-MEN #114-544) (MARVEL) #258 NEWSSTAND

X-MEN (1963) (#1-113, UNCANNY X-MEN #114-544) (MARVEL) #258 NEWSSTAND Very Good
X-MEN (1963) (#1-113, UNCANNY X-MEN #114-544) (MARVEL) #267 NEWSSTAND Very Good
X-MEN (1963) (#1-113, UNCANNY X-MEN #114-544) (MARVEL) #354 VARIANT Near Mint/Mint

X-MEN (1991) (#1-275) (MARVEL) #139 Near Mint/Mint
X-MEN (1991) (#1-275) (MARVEL) #140 NEWSSTAND Very Fine
X-MEN (1991) (#1-275) (MARVEL) #141 NEWSSTAND Very Good
X-MEN (1991) (#1-275) (MARVEL) #142 NEWSSTAND Very Good
X-MEN (1991) (#1-275) (MARVEL) #150 Very Fine
X-MEN (1991) (#1-275) (MARVEL) #177 Near Mint/Mint
X-MEN (1991) (#1-275) (MARVEL) #188 SKETCH INC Very Fine
X-MEN (1991) (#1-275) (MARVEL) #196 Near Mint/Mint
X-MEN (1991) (#1-275) (MARVEL) #197 Near Mint/Mint
X-MEN (1991) (#1-275) (MARVEL) #198 Near Mint/Mint
X-MEN (1991) (#1-275) (MARVEL) #199 Near Mint/Mint
X-MEN (1991) (#1-275) (MARVEL) #200 Near Mint/Mint
X-MEN (1991) (#1-275) (MARVEL) #201 Fine
X-MEN (1991) (#1-275) (MARVEL) #201 Very Fine
X-MEN (1991) (#1-275) (MARVEL) #202 Fine
X-MEN (1991) (#1-275) (MARVEL) #205 Very Fine
X-MEN (1991) (#1-275) (MARVEL) #206 Very Fine
X-MEN (1991) (#1-275) (MARVEL) #207 Very Fine
X-MEN (1991) (#1-275) (MARVEL) #214 Fine
X-MEN (1991) (#1-275) (MARVEL) #218 Near Mint/Mint
X-MEN (1991) (#1-275) (MARVEL) #233 DEADPOOL Near Mint/Mint
X-MEN (1991) (#1-275) (MARVEL) #236 Near Mint/Mint


X-MEN (1991) (#1-275) (MARVEL) #237

X-MEN (1991) (#1-275) (MARVEL) #237 Very Fine
X-MEN (1991) (#1-275) (MARVEL) #239 Near Mint/Mint
X-MEN (1991) (#1-275) (MARVEL) #241 Near Mint/Mint
X-MEN (1991) (#1-275) (MARVEL) #244 Very Fine
X-MEN (1991) (#1-275) (MARVEL) #249 Very Fine
X-MEN (1991) (#1-275) (MARVEL) #252 Very Fine
X-MEN (1991) (#1-275) (MARVEL) #253 Very Fine
X-MEN (1991) (#1-275) (MARVEL) #259 Near Mint/Mint
X-MEN (1991) (#1-275) (MARVEL) #259 BRADSHAW Near Mint/Mint
X-MEN (1991) (#1-275) (MARVEL) #261 Near Mint/Mint
X-MEN (1991) (#1-275) (MARVEL) #267 Near Mint/Mint

X-MEN (2013) (#1-26) (ALL FEMALE TEAM) (MARVEL) #5 Near Mint/Mint
X-MEN (2013) (#1-26) (ALL FEMALE TEAM) (MARVEL) #5 Very Fine

X-MEN BLUE (2017) #1 NEAL ADAMS Very Fine

X-MEN PRIME (2017) #1 ANKA Near Mint/Mint

X-MEN: ANIMATION SPECIAL GN (1990) #1 Very Fine

X-MEN: DAYS OF FUTURE PRESENT TPB (1991) #1 3RD PRINT Very Good

X-MEN: UNLIKELY SAGA OF XAVIER, MAGNETO, AND STAN LEE (2006) #1 Fine

X-UNIVERSE (1995) #1 NEWSSTAND Fine

YOUNG X-MEN (2008) #7 ZOMBIE Fine

DC
100 BULLETS: FIRST SHOT, LAST CALL TPB (VOL. 1) #1 2ND PRINT (DC: Vertigo Press) Near Mint/Mint


ARKHAM ASYLUM HC (DC) (1989) #1

ARKHAM ASYLUM HC (DC) (1989) #1 Fine

AUTHORITY: RELENTLESS TPB (DC WILDSTORM) (2000) #1 2ND PRINT Near Mint/Mint

BATMAN VS. PREDATOR II: BLOODMATCH TPB (1995) #1 Fine

BATMAN/SUPERMAN/WONDER WOMAN: TRINITY TPB (2005) #1 3RD PRINT Very Fine

BATMAN: A LONELY PLACE OF DYING TPB (1990) #1 Fine

BATMAN: BRUCE WAYNE - MURDERER TPB (2002) #1 3RD PRINT Near Mint/Mint

BATMAN: JOKER'S LAST LAUGH TPB (2008) #1 Near Mint/Mint

BATMAN: KNIGHTFALL - BROKEN BAT TPB (KNIGHTFALL PART 1) (1993) #1 5TH PRINT Very Fine

BATMAN: KNIGHTS END TPB (KNIGHTFALL PART 3) (1995) #1 5TH PRINT Very Fine

BATMAN: SON OF THE DEMON HC (1987) #1 Near Mint/Mint

BATMAN: SON OF THE DEMON SC (1987) #1 4TH PRT Near Mint/Mint

BATMAN: THE ANKH (CHUCK DIXON) (PRESTIGE) (2001) #1 Fine


BATMAN: THE COLLECTED ADVENTURES TPB (ANIMATED SERIES) (1993) #1

BATMAN: THE COLLECTED ADVENTURES TPB (ANIMATED SERIES) (1993) #1 Fine

BATMAN: THE LONG HALLOWEEN TPB (1999) #1 3RD PRINT Very Fine
BATMAN: THE LONG HALLOWEEN TPB (1999) #1 5TH PRINT Fine

BEWARE THE CREEPER TPB (2013) #1 Fine

CAMELOT 3000 TPB (1988) #1 Fine

CATWOMAN: GUARDIAN OF GOTHAM (1999) #1 Near Mint/Mint

CRISIS ON INFINITE EARTHS TPB (2000) #1 5TH PRINT Fine

DARK KNIGHT STRIKES AGAIN (2001) #3 Very Fine

DC COMICS: ZERO YEAR HC (2014) #1 Fine

FABLES VOL.22: ISSUE #150 TPB (2015) #1 Very Good

FIRST WAVE TPB (2012) #1 Very Good

GOTHAM CENTRAL VOL. 4: CORRIGAN HC (2011) #1 Very Good

GREATEST JOKER STORIES EVER TOLD TRADE PAPERBACK (1988) #1 2ND PRT Good

I, ZOMBIE VOL. 1: DEAD TO THE WORLD TPB (2011) #1 3RD PRINT (DC: Vertigo Press) Near Mint/Mint


IDENTITY CRISIS HC (2005) #1 BOOKMARKET

IDENTITY CRISIS HC (2005) #1 BOOKMARKET Fine

KINGDOM COME TPB (1997) #1 5TH PRINT Fine

LEGENDS OF THE DARK KNIGHT (BATMAN) (1989) #50 Near Mint/Mint
LEGENDS OF THE DARK KNIGHT (BATMAN) (1989) #50 Fine

LEGION (2001) (#1-38) (DC) #4 Near Mint/Mint

MANHUNTER (1988) (#1-24) #14 Very Fine

MARTIAN MANHUNTER (2015) (#1-12) #8 COLORING Very Fine

MULTIVERSITY: PAX AMERICANA (2014) #1 Very Fine

MULTIVERSITY: THUNDERWORLD (2014) #1 Very Fine

NEW GODS (1989) #17 Near Mint/Mint

NEW SUPER MAN (DC REBIRTH) (2016) #17 Near Mint/Mint

NORTHLANDERS (2007) #1 Very Fine

RESIDENT EVIL (#1-6) (DC) (2009) #2 Very Fine


ROBIN (1993) (#1-183) (DC) #27

ROBIN (1993) (#1-183) (DC) #27 Very Fine

SANDMAN MIDNIGHT THEATRE #1 (DC: Vertigo Press) Very Fine

SANDMAN: A GAME OF YOU (VOL. 5) #1 TPB (DC: Vertigo Press) Fine

SPECTRE (1992) (#1-62) (DC) #23 Near Mint/Mint
SPECTRE (1992) (#1-62) (DC) #27 Very Fine
SPECTRE (1992) (#1-62) (DC) #38 Very Fine

SUPERMAN: EMPEROR JOKER TPB (2007) #1 Near Mint/Mint

SWAMP THING (2011) (#1-40) (NEW 52) #1 Very Fine

SWAMP THING, SAGA OF (1982) #53 NEWSSTAND (DC: Vertigo Press) Fine
SWAMP THING, SAGA OF (1982) #60 (DC: Vertigo Press) Fine

TRANSMETROPOLITAN: BACK ON THE STREET TPB (VOL. 1) (1998) #1 3RD PRINT (DC: Vertigo Press) Very Fine

TRANSMETROPOLITAN: FILTH OF THE CITY (2001) #1 (DC: Vertigo Press) Near Mint/Mint

TRANSMETROPOLITAN: GOUGE AWAY TPB (VOL. 6) (2002) #1 (DC: Vertigo Press) Near Mint/Mint

TRANSMETROPOLITAN: I HATE IT HERE (2000) #1 (DC: Vertigo Press) Near Mint/Mint

TRANSMETROPOLITAN: LONELY CITY TPB (VOL. 5) (2001) #1 (DC: Vertigo Press) Near Mint/Mint


TRANSMETROPOLITAN: LUST FOR LIFE TPB (VOL. 2) (1998) #1

TRANSMETROPOLITAN: LUST FOR LIFE TPB (VOL. 2) (1998) #1 (DC: Vertigo Press) Very Fine

TRANSMETROPOLITAN: NEW SCUM TPB (VOL. 4) #1 (DC: Vertigo Press) Near Mint/Mint

TRANSMETROPOLITAN: YEAR OF THE BASTARD TPB (VOL. 3) (1999) #1 (DC: Vertigo Press) Near Mint/Mint

V FOR VENDETTA TPB (1990) #1 14TH PRINT Near Mint/Mint

WAKE (2013) #1 Near Mint/Mint
WAKE (2013) #2 Near Mint/Mint
WAKE (2013) #3 VARIANT Near Mint/Mint
WAKE (2013) #4 VARIANT Very Fine
WAKE (2013) #5 VARIANT Near Mint/Mint

WONDER WOMAN HC (1972) #1 Fine

WONDER WOMAN VOL. 1: THE LIES TPB (DC REBIRTH) (2017) #1 Near Mint/Mint

WONDER WOMAN: CHALLENGE OF ARTEMIS TPB (1996) #1 Fine

WONDER WOMAN: ENDS OF THE EARTH HC (2009) #1 Near Mint/Mint
WONDER WOMAN: ENDS OF THE EARTH HC (2009) #1 Very Good

WORLD WITHOUT A SUPERMAN TPB (1993) #1 Good

DARK HORSE COMICS
ALIEN LEGION OMNIBUS (DARK HORSE) (2009) #1 Near Mint/Mint
ALIEN LEGION OMNIBUS (DARK HORSE) (2009) #2 Near Mint/Mint

REBELS (2015) (#1-10) (DARK HORSE) #2 Near Mint/Mint
REBELS (2015) (#1-10) (DARK HORSE) #3 Near Mint/Mint

ROBOCOP VS. TERMINATOR (1992) #1 Near Mint/Mint

SIN CITY: FAMILY VALUES TPB (1997) #1 Fine

STAR WARS: CLONE WARS VOL. 1: SLAVES OF THE REPUBLIC TP (2009) #1 2ND PRINT Near Mint/Mint

TUROK: SON OF STONE ARCHIVES HC (2009) #5 Near Mint/Mint

WORLD OF TANKS TPB (2017) #1 Near Mint/Mint

IMAGE COMICS
ARIA: MAGIC OF ARIA TPB (IMAGE) (2000) #1 TPB Near Mint/Mint

END TIMES OF BRAM & BEN TPB (2014) #1 Very Fine

GEN-13 TPB (1996) #1 4TH PRINT Near Mint/Mint

MANIFEST DESTINY (2013) #3 Near Mint/Mint

MONSTRESS TPB (2016) #1 Near Mint/Mint

OLD GUARD (2017) #1 25TH Near Mint/Mint

REGRESSION (2017) #1 A LUCKERT Very Fine

SAVAGE DRAGON TPB (1993) #1 Good

SOUTHERN BASTARDS (2014) #1 Near Mint/Mint

SPAWN (1992) #2 W/O NICK Very Good

SPAWN RESURRECTION (2015) #1 MCFARLANE Near Mint/Mint

VELVET (IMAGE) (2013) #1 Very Fine

INDEPENDENTS
AMERIMANGA (IRONCAT) (MANGA) (2002) #4 (Ironcat) Very Fine
AMERIMANGA (IRONCAT) (MANGA) (2002) #5 (Ironcat) Fine

ARMY OF DARKNESS OMNIBUS TPB (DYNAMITE) (2010) #1 (DYNAMITE Entertainment) Good
ARMY OF DARKNESS OMNIBUS TPB (DYNAMITE) (2010) #2 (DYNAMITE Entertainment) Very Good

BALLAD OF HALO JONES BOOK (TITAN) (ALAN MOORE) #1 (Titan Distributing) Very Fine

BART SIMPSON'S HEEBIE-JEEBIE HULLABALOO TPB (HARPER) (1999) #1 (Harper Entertainment) Fine

BATMAN & ME (ECLIPSE) (BOB KANE) #1 (Eclipse Enterprises) Near Mint/Mint

DEVIL'S PANTIES TPB (2007) #7 (Silent Devil Productions) Very Fine

DICKS TPB (2012) #2 (Avatar Comics) Very Fine

EVIL DEAD 2: CRADLE OF THE DAMNED VOL. 2 TPB (2016) #1 (Space Goat Productions) Fine

FANBOYS VS. ZOMBIES TPB (2012) #2 (Boom Studios Publishing) Fine
FANBOYS VS. ZOMBIES TPB (2012) #3 (Boom Studios Publishing) Very Good

GAME OF THRONES HC (2012) #3 (DYNAMITE Entertainment) Fine

GORE SHRIEK DELECTUS GN (1989) #1 (Fantaco Enterprises) Very Fine

GRENDEL: DEVIL BY THE DEED GN (1986) #1 (Comico) Near Mint/Mint

GRIMJACK: DEMON KNIGHT GN (1989) #1 (First Comics) Near Mint/Mint

GRIMM FAIRY TALES: MADNESS OF WONDERLAND TPB (2013) #1 (Zenescope Entertainment Inc) Fine

JEREMY BROOD GN (1989) #1 SC (Fantagor Press) Near Mint/Mint

JON SABLE FREELANCE TPB (1987) #1 (First Comics) Fine

JUDGE DREDD: MECHANISMO GN #1 (Fleetway-Quality Comics) Very Fine


LEATHER AND LACE (AIRCEL) (ADULT) (1989) #6

LEATHER AND LACE (AIRCEL) (ADULT) (1989) #6 (Aircel Publications) Very Fine

LEATHERFACE (TEXAS CHAINSAW MASSACRE) (NORTHSTAR) (1991) #2 (Northstar Publications) Near Mint/Mint

MADE MEN (2017) #2 (Oni Press Inc.) Near Mint/Mint

MAGE VOLUME TPB (GN) (1987) #1 (Donning Company) Near Mint/Mint
MAGE VOLUME TPB (GN) (1987) #2 (Donning Company) Near Mint/Mint
MAGE VOLUME TPB (GN) (1987) #3 (Donning Company) Near Mint/Mint

MAGIC CRYSTAL GN (MOEBIUS) (1989) #1 (Catalan Communications) Near Mint/Mint

MAGIC CRYSTAL: AURELYS'S SECRET GN (VOL. 3)(MOEBIUS) (1990) #1 (Catalan Communications) Very Fine

MAGIC CRYSTAL: ISLAND OF THE UNICORN GN (VOL. 2) #1 (Catalan Communications) Near Mint/Mint

MAZINGER: GO NAGAI GN #1 (First Comics) Fine

MISTRESS OF BONDAGE (EROS COMIX) (1993) #2 (Eros Comix (Fantagraphics)) Very Fine

MUTANT WORLD GN (1982) #1 (Fantagor Press) Very Fine

MY CROWD GN (CHARLES ADDAMS) (1970) #1 2ND PRINT (FIRESIDE PRESS) Fine

NINJAK (2015) (#0-27) #4 2ND PRINT (Valiant Comics) Near Mint/Mint
NINJAK (2015) (#0-27) #12 HENRY (Valiant Comics) Very Fine

NORMALS (2017) #1 (After-Shock Comics) Near Mint/Mint

NORMAN: FIRST SLASH (VOL. 2) (2016) #5 B SMITH (Titan Distributing) Near Mint/Mint
NORMAN: FIRST SLASH (VOL. 2) (2016) #5 C LEONG (Titan Distributing) Near Mint/Mint

PROVIDENCE (2015) #1 WOMEN (Avatar Comics) Near Mint/Mint

PUPPET MASTER: CHILDERN OF THE PUPPET MASTER (1991) #1 (Eternity Comics (World/Imperial)) Fine

PURGATORI (1998) (#0-7) (CHAOS) #0 (Chaos Comics) Very Fine

PURGATORI (2005) (#1-6) (DEVIL'S DUE) #2 (Devil's Due) Near Mint/Mint
PURGATORI (2005) (#1-6) (DEVIL'S DUE) #3 (Devil's Due) Near Mint/Mint
PURGATORI (2005) (#1-6) (DEVIL'S DUE) #4 (Devil's Due) Near Mint/Mint
PURGATORI (2005) (#1-6) (DEVIL'S DUE) #6 (Devil's Due) Near Mint/Mint

PURGATORI: GOD HUNTER (2002) #1 (Chaos Comics) Near Mint/Mint

PURGATORI: HEARTBREAKER (2002) #1 (Chaos Comics) Fine

PURGATORI: LOVE BITES (2001) #1 (Chaos Comics) Very Fine

PURGATORI: THE HUNTED (2001) #1 (Chaos Comics) Fine
PURGATORI: THE HUNTED (2001) #2 (Chaos Comics) Very Fine

RED SONJA/CLAW THE UNCONQUERED: DEVIL'S HANDS (2006) #4 LEE (DC/Wildstorm) Near Mint/Mint

ROBOTECH ART VOLUME (1986) #1 (Whitford Press) Near Mint/Mint
ROBOTECH ART VOLUME (1986) #2 (Whitford Press) Near Mint/Mint
ROBOTECH ART VOLUME (1986) #3 (Whitford Press) Near Mint/Mint

ROBOTECH GN (1986) #1 (Comico) Near Mint/Mint

ROCKETEER GN (DAVE STEVENS) (1985) #1 (Comico) Near Mint/Mint

ROXANNA & THE QUEST FOR THE TIME BIRD GN (1987) #1 (NBM) Fine
ROXANNA & THE QUEST FOR THE TIME BIRD GN (1987) #2 (NBM) Fine

SEVEN SAMUROID GN (FRANK BRUNNER) (1984) #1 (Image International Publishing Co.) Near Mint/Mint

SPORTS PERSONALITIES VOL. 4: MAGIC JOHNSON (1991) #1 (Personality) Fine

STEVE RUDE SKETCHBOOK S&N HC (1989) #1 (Kitchen Sink Publishing) Near Mint/Mint

SUPERMAN: CITY UNDER SIEGE BOOK & RECORD SET (PR-34) (1978) #1 W/O RECORD (PETER PAN INDUSTRIES) Very Good

TALES OF THE TEENAGE MUTANT NINJA TURTLES (1987) #7 (Mirage Studios) Very Good

TEENAGE MUTANT NINJA TURTLES BOOK II GN (1987) #1 9TH PRINT (First Comics) Very Good


TEENAGE MUTANT NINJA TURTLES TPB (2012) #5

TEENAGE MUTANT NINJA TURTLES TPB (2012) #5 (IDW Publishing) Near Mint/Mint

TERMINATOR (Now Comics) #5 NEWSSTAND (Now Comics) Very Good

TWILIGHT RAW #1 (Avatar Comics) Near Mint/Mint

UBER: INVASION (2016) #8 BLITZKRIEG (Avatar Comics) Near Mint/Mint
UBER: INVASION (2016) #8 PROPAGANDA (Avatar Comics) Near Mint/Mint

UNHOLY (2004) (#1-4) (AVATAR) (BRIAN PULIDO'S) #2 WRAPAROUND (Avatar Comics) Fine

VAMPIRELLA PINUP SPECIAL #1 (Harris Comics) Near Mint/Mint

VAULT OF HORROR (1992) #7 (Gemstone) Very Fine
VAULT OF HORROR (1992) #8 (Gemstone) Very Fine
VAULT OF HORROR (1992) #9 (Gemstone) Very Fine
VAULT OF HORROR (1992) #12 (Gemstone) Fine
VAULT OF HORROR (1992) #13 (Gemstone) Very Fine
VAULT OF HORROR (1992) #14 (Gemstone) Very Fine
VAULT OF HORROR (1992) #16 (Gemstone) Fine

VINCENT PRICE PRESENTS: GALLERY OF TERROR ONE-SHOT (2009) #1 (Blue Water Comics) Very Fine

WALKING DEAD NOVEL VOL. 1: RISE OF THE GOVERNOR HC (2011) #1 (St Martin's Press) Very Fine

WHITEOUT #1 (Oni Press Inc.) Very Fine
WHITEOUT #2 (Oni Press Inc.) Near Mint/Mint
WHITEOUT #3 (Oni Press Inc.) Near Mint/Mint

WINTERWORLD (2014) (#0-7) (IDW Publishing) #1 SUBSCRIPT (IDW Publishing) Very Fine


X-FILES SEASON ONE: SQUEEZE (1997) #1

X-FILES SEASON ONE: SQUEEZE (1997) #1 (Topps Publishing) Fine