Local News - Free Halloween ComicFest Comics This Weekend!
Howdy!
This Saturday is when the comics publishers want us to distribute thousands of free comics to kids of all ages. We have all 34 of this year's Halloween ComicFest comics in stock, and will be giving them out under the following criteria:

MS. MARVEL HALLOWEEN COMICFEST (2018) #1
*Anyone that comes in can pick 1 Free Halloween ComicFest comic
*Anyone in costume can pick any 3 Free Halloween ComicFest comics
*For every $10 spent on Saturday you can pick 1 more Free Halloween ComicFest comics (Spend $50 pick 5 more, Spend $100 pick 10 more, ect.)
Complete list of 2018 Halloween ComicFest comics will be at the end of this Newsletter.

GOOSEBUMPS: MONSTERS AT MIDNIGHT HALLOWEEN COMICFEST (2018) #1
We will also be hosting a special holiday sale for you on darn near everything that we offer in our stores. Here are the special deals that we have in effect for you though close of business on Monday:
*60% OFF Back Issue Comics & Magazines (Excludes $1 books, blue stickered comics, & slabbed comics)
*50% OFF Trade Paperbacks
*40% OFF Hardcovers
*40% OFF Statues & Busts
*40% OFF Toys & Apparel
*40% OFF Posters
Please do enjoy these awesome steep discounts, and free comics with our sincere thanks for your continuing support of our family-owned company. My beloved wife, Nanette, and I appreciate your patronage very much,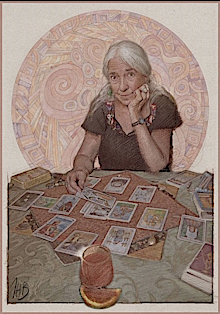 Tom Buchanan painting of Nanette

Happy collecting!
Chuck Rozanski,
President - Mile High Comics, Inc.
October 25, 2018

MINI BOOKS


ARCHIE'S MADHOUSE HALLOWEEN COMICFEST MINI COMIC (2018) #1

GHOST FRIENDS FOREVER HALLOWEEN COMICFEST MINI COMIC (2018) #1

HOLLOW FIELDS HALLOWEEN COMICFEST MINI COMIC (2018) #1

JOHNNY BOO & THE SPOOKY TREE HALLOWEEN MINI COMIC (2018) #1

OVER THE GARDEN WALL & INTO THE UNKNOWN HALLOWEEN MINI COMIC (2018) #1

NANCY DREW HALLOWEEN COMICFEST MINI COMIC (2018) #1

RISE OF THE TEENAGE MUTANT NINJA TURTLES HALLOWEEN MINI COMIC (2018) #1

ROCKY & BULLWINKLE ADVENTURES HALLOWEEN COMICFEST MINI COMIC (2018) #1

SPLATOON HALLOWEEN COMICFEST MINI COMIC (2018) #1

SPOOKHOUSE HALLOWEEN COMICFEST MINI COMIC (2018) #1

VAMPLETS: UNDEAD PET SOCIETY HALLOWEEN COMICFEST MINI COMIC (2018) #1

ZO ZO ZOMBIE HALLOWEEN COMICFEST MINI COMIC(2018) #1
FULLSIZE BOOKS

APOSIMZ HALLOWEEN COMICFEST (2018) #1

ADVENTURES OF ASPEN MASCOTS HALLOWEEN COMICFEST (2018) #1

BATTLE ANGEL ALITA HALLOWEEN COMICFEST (2018) #1

DANGER DOLL: AMALGAMA LIVES HALLOWEEN COMICFEST (2018) #1

FRANKENSTEIN HALLOWEEN (2018) #1

GENESIS HALLOWEEN COMICFEST (2018) #0

GOOSEBUMPS: MONSTERS AT MIDNIGHT HALLOWEEN COMICFEST (2018) #1

HELLBLAZER SPECIAL EDITION HALLOWEEN COMICFEST (2018) #1

HELLBOY & THE BPRD 1953: PHANTOM HALLOWEEN COMICFEST (2018) #1

HILO & HIS FRIENDS: GET GRAPHIC HALLOWEEN COMICFEST (2018) #1

HOWARD LOVECRAFT & THE KINGDOM OF MADNESS HALLOWEEN COMICFEST (2018) #1

JUGHEAD: THE HUNGER HALLOWEEN COMICFEST (2018) #1

LADY MECHANIKA: LA DAMA DE LA MUERTA HALLOWEEN COMICFEST (2018) #1

MONSTROUS: THREE MONSTERS & A BABY HALLOWEEN COMICFEST (2018) #1

MS. MARVEL HALLOWEEN COMICFEST (2018) #1

PRINCELESS RAVEN: PIRATE PRINCESS YEAR TWO HALLOWEEN (2018) #1

SHIBUYA GOLDFISH HALLOWEEN COMICFEST (2018) #1

SUPERIOR SPIDER-MAN HALLOWEEN COMICFEST (2018) #1

THOR: ROAD TO WAR OF THE REALMS HALLOWEEN COMICFEST (2018) #1

WALK THROUGH HELL HALLOWEEN COMICFEST (2018) #1

WINDMAKER: BIRTH OF A KING HALLOWEEN COMICFEST (2018) #1

W.I.T.C.H. HALLOWEEN COMICFEST (2018) #1