60% Off All Silver Age and Bronze Age Comics
Howdy!
I am getting ready to leave on Friday morning for this weekend's Imperial Court Coronation in Portland, Oregon. This year's Coronation is quite a big deal, as the Rose Court in Portland is celebrating it's 60th anniversary, which means that it actually predates by few years the official founding of the actual Imperial Court System by Jose Sarria, which occurred in San Francisco in 1965. That date is quite significant, as during the 1960's it was still a crime almost everywhere in America (and in much of the rest of the world...) for people to appear in public and/or to give public performances in clothing other than their birth gender.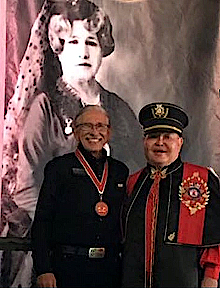 Chuck with Queen Mother I of the Americas Nicole the Great and (in the background) Empress Jose I - The Widow Norton

Eliminating those taboos, and normalizing drag as a performance art, was the primary goal that Empress Jose set forth in 1965. Today's massive popularity of RuPaul's Drag Race (and the proliferation of public drag queen and drag king performances) are a direct result of the courage and determination of Empress Jose and those other early GLBTQ pioneers. Empress Jose is also the one who insisted that our entire Court System be set up from the very beginning to stage events to help the poor and disadvantaged. As a direct result, our 70 ICS chapters have raised tens of millions of dollars in donations over the past 53 years.
In case you are wondering how this drag history relates to comics and comics collecting, it really doesn't. Well, except for the fact that I have been a part time drag performer for the past eight years, am about to take on a much more prominent national role as Bettie Pages. Bettie's new tour will begin on Saturday evening November 17th, when I will be performing a duet with New York Emperor Henry Bastos-Wood at Industry Bar in New York City (355 W. 52nd -between 8th and 9th). This show will feature Broadway tunes, and will be a benefit for our ICS Stonewall Inn 50th anniversary efforts. If you live near NYC, save the date! Bettie would love to meet you...
After returning from Portland on Sunday evening, I will have a small skin cancer operation on my nose on Wednesday, and then fly to Washington, DC that evening on a "red eye" flight that will get me into DC at 6 AM. I will then immediately hustle over to the Smithsonian Institution, where at 10 AM on Thursday Dennis and Judy Shepard will participate in a ceremony donating all of Matthew's papers and personal effects (including his childhood Superman cape) to our national archives. I will then accompany Matthew's parents and our Queen Mother I of the Americas Nicole the Great to the National Cathedral on Friday morning, for the internment of Matthew Shepard's ashes inside that sacred repository. Without a doubt, these next eight days are going to be a very historic and emotional.
All of the above having been said, I want you to know that none of the good work that I do for our Community would be even remotely possible without your continuing support of our family-owned company, and also the remarkable kindness of our amazing Mile High Comics staff. Will Moulton, Pam Brandle, Lynne MacAfee, Lisa Woolley, and all the rest of our wonderful Mile High Comics team truly are totally dedicated to taking incredibly good care of your needs. Because of their diligence, I know that I can have utter confidence that all will be well in my absence, and I am thus granted the ability to work for all manner of charitable efforts, both in Colorado, and around the nation. My sincere thanks are extended to you personally, and to all of my awesome fellow Mile High Comics staffers. Working together, we truly can make the world a better place.
I will close today's newsletter by quickly mentioning that, despite all of the huge orders that we have been receiving as a result of the commencement of our annual 60% off HALLOWEEN! codeword sale, our turnaround time on shipping orders is still only a couple of days. I have a feeling that turnaround time may slip a bit more before the sale ends, but for right now any order that you place with us should definitely ship in under a week.
On a side note, I thought that you might want know that our average HALLOWEEN! order right now is for $240 in comics and magazines, which translates into only $96 in actual cost after the 60% off HALLOWEEN! discount is applied at closeout. The parameters of this awesome sale are also incredibly broad, covering almost all ten million+ of the back issue comics and magazines listed on our website. Only new issues, a few variants, and our professionally-graded comics are excluded. As you may well have already guessed, we are selling the heck out of our Silver Age and Bronze Age comics right now at 60% off. Our inventory selection remains strong, however, as I made certain to buy some great collections for you since our last big sale.
Happy collecting!
Chuck Rozanski,
President - Mile High Comics, Inc.
October 17, 2018

MARVEL

AVENGERS: ENDLESS WARTIME HC (2013) #1

AVENGERS: ENDLESS WARTIME HC (2013) #1 Fine
AVENGERS: ENDLESS WARTIME HC (2013) #1 Very Fine

AVENGERS: TIME RUNS OUT PREMIERE HC (2014) #4 Near Mint/Mint

CAPTAIN AMERICA: OPERATION REBIRTH TPB (1996) #1 Near Mint/Mint

CAPTAIN BRITAIN TPB (1988) #1 2ND PRT Fine

COLOR YOUR OWN DEADPOOL TPB (2016) #1 Near Mint/Mint

DAREDEVIL BY FRANK MILLER & KLAUS JANSON TPB (2008) #1 3RD PRINT Fine

DEADPOOL BY DANIEL WAY COMPLETE COLLECTION TPB (2013) #1 5TH PRINT Fine
DEADPOOL BY DANIEL WAY COMPLETE COLLECTION TPB (2013) #2 2ND PRINT Fine
DEADPOOL BY DANIEL WAY COMPLETE COLLECTION TPB (2013) #3 2ND PRINT Near Mint/Mint
DEADPOOL BY DANIEL WAY COMPLETE COLLECTION TPB (2013) #4 Near Mint/Mint

DEADPOOL KILLS THE MARVEL UNIVERSE TPB (2012) #1 3RD PRINT Fine

DEADPOOL VOL. 1: DEAD PRESIDENTS TPB (2013) #1 4TH PRINT Near Mint/Mint

DR. STRANGE & DR. DOOM: TRIUMPH & TORMENT HC #1 Fine

GUARDIANS OF THE GALAXY (2008) (#1-25) (MARVEL) #7 Very Fine

HAWKEYE VOL. 1: MY LIFE AS A WEAPON TPB (2013) #1 2ND PRINT Near Mint/Mint

HULK (1999) (#1-112) (MARVEL) #1 Near Mint/Mint

INHUMANS (2003) (1-12) (MARVEL) #5 Very Good

IRON MAN (2005) (#1-35) (MARVEL) #12 Very Fine

MARVEL AGE (1983) #52 Very Fine
MARVEL AGE (1983) #119 Near Mint/Mint

MARVEL AGE ANNUAL #4 Fine

MARVEL COMICS PRESENTS (1988) #72 Near Mint/Mint

MARVEL FANFARE (1982) #32 Near Mint/Mint
MARVEL FANFARE (1982) #38 Near Mint/Mint
MARVEL FANFARE (1982) #44 Near Mint/Mint

MARVEL MASTERWORKS: DAREDEVIL TPB (2010) #2 Near Mint/Mint
MARVEL MASTERWORKS: DAREDEVIL TPB (2010) #3 Near Mint/Mint

MARVEL UNIVERSE TPB (1986) #1 Fine
MARVEL UNIVERSE TPB (1986) #3 Fine
MARVEL UNIVERSE TPB (1986) #4 Very Fine
MARVEL UNIVERSE TPB (1986) #5 Very Fine
MARVEL UNIVERSE TPB (1986) #8 Fine

MOON GIRL & DEVIL DINOSAUR (2015) #1 Very Fine

NAM (1986) #68 Near Mint/Mint

NEW MUTANTS (1983) (#1-100) (MARVEL) #26 Fine
NEW MUTANTS (1983) (#1-100) (MARVEL) #37 Near Mint/Mint
NEW MUTANTS (1983) (#1-100) (MARVEL) #44 Near Mint/Mint
NEW MUTANTS (1983) (#1-100) (MARVEL) #89 Very Fine
NEW MUTANTS (1983) (#1-100) (MARVEL) #90 Near Mint/Mint
NEW MUTANTS (1983) (#1-100) (MARVEL) #91 Near Mint/Mint

NEW X-MEN: ACADEMY X (2004) #29 Very Fine

NEXTWAVE: I KICK YOUR FACE TPB (VOL. 2) (2008) #1 Near Mint/Mint

NICK FURY VS. S.H.I.E.L.D. (1988) #2 Near Mint/Mint
NICK FURY VS. S.H.I.E.L.D. (1988) #3 Near Mint/Mint

NIGHTBREED (CLIVE BARKER'S) (1990) #2 Very Fine
NIGHTBREED (CLIVE BARKER'S) (1990) #3 Near Mint/Mint
NIGHTBREED (CLIVE BARKER'S) (1990) #5 Near Mint/Mint
NIGHTBREED (CLIVE BARKER'S) (1990) #9 Near Mint/Mint
NIGHTBREED (CLIVE BARKER'S) (1990) #11 Near Mint/Mint
NIGHTBREED (CLIVE BARKER'S) (1990) #12 Near Mint/Mint
NIGHTBREED (CLIVE BARKER'S) (1990) #15 Near Mint/Mint
NIGHTBREED (CLIVE BARKER'S) (1990) #21 Fine
NIGHTBREED (CLIVE BARKER'S) (1990) #22 Fine


PETER PARKER: SPIDER-MAN (1999) (#1-57, & 156.1) #4

PETER PARKER: SPIDER-MAN (1999) (#1-57, & 156.1) #4 Fine

SPYGAL: THRILS, FRILLS & ESPIONAGE (MARVEL CUSTOM ED) (2012) #1 Very Fine

STAR WARS LEGENDS EPIC COLL: ORIGINAL MARVEL YEARS TPB (2016) #3 Near Mint/Mint

STAR WARS LEGENDS EPIC COLLECTION: EMPIRE TPB (2015) #4 Very Fine

STAR WARS LEGENDS EPIC COLLECTION: MENACE REVEALED TPB (2018) #1 Fine

STAR WARS: POE DAMERON VOL. 4: LEGEND FOUND TPB (2018) #1 Near Mint/Mint

STORM TPB (2008) #1 Very Fine

ULTIMATE SPIDER-MAN TPB #12 4TH PRINT Near Mint/Mint

DC
ASTRO CITY: LIFE IN THE BIG CITY TPB (IMAGE HOMAGE) (1996) #1 (Image Homage) Very Fine

BATMAN & THE SIGNAL TPB (2018) #1 Near Mint/Mint

BATMAN: BLACK & WHITE TPB (2007) #2 4TH PRINT Near Mint/Mint

BATMAN: BRIDE OF THE DEMON HC (1990) #1 Fine

BATMAN: COURT OF OWLS SAGA ESSENTIAL TPB (2018) #1 Fine

BATMAN: DARK JOKER-THE WILD HC (KELLY JONES) (1993) #1 Fine

BATMAN: KNIGHTFALL TPB 25TH ANNIVERSARY EDITION (2018) #1 Very Fine

BATMAN: NIGHT CRIES HC (ARCHIE GOODWIN) (SCOTT HAMPTON) #1 Fine

CRISIS ON INFINITE EARTHS TPB (2000) #1 7TH PRINT Fine

GREEN LANTERN: REBIRTH (2004) #6 Very Fine

GREEN LANTERN: REBIRTH TPB (2005) #1 4TH PRINT Very Good


HELLBLAZER (1988) (#1-300) (DC VERTIGO) #133

HELLBLAZER (1988) (#1-300) (DC VERTIGO) #133 (DC: Vertigo Press) Near Mint/Mint
HELLBLAZER (1988) (#1-300) (DC VERTIGO) #136 (DC: Vertigo Press) Near Mint/Mint
HELLBLAZER (1988) (#1-300) (DC VERTIGO) #224 (DC: Vertigo Press) Very Fine

HOLLOW GROUNDS TPB (2004) #1 (DC/Humanoids) Very Good

IDENTITY CRISIS TPB (2006) #1 4TH PRINT Fine

IMPULSE: BART SAVES THE UNIVERSE (1999) #1 Near Mint/Mint

JOKER HC (2008) #1 14TH PRINT Near Mint/Mint

JONAH HEX (1977) #37 Very Fine

JSA KINGDOM COME SPECIAL: THE KINGDOM (2008) #1 Near Mint/Mint

LEAGUE OF EXTRAORDINARY GENTLEMEN (1999) #1 (DC/America's Best) Near Mint/Mint
LEAGUE OF EXTRAORDINARY GENTLEMEN (1999) #2 (DC/America's Best) Near Mint/Mint

LEGENDS OF THE DC UNIVERSE CRISIS ON INFINITE EARTHS (1999) #1 Fine

LOBO (1993) (#0-64) (DC) #60 Very Fine

LUCIFER: INFERNO TPB (VOL. 5) (2004) #1 (DC: Vertigo Press) Fine

PREACHER (1995) #45 (DC: Vertigo Press) Near Mint/Mint

PROMETHEA (1999) #32 (DC/America's Best) Near Mint/Mint

SECRET ORIGIN OF AQUAMAN MINI BOOK #1 Near Mint/Mint

SECRET ORIGIN OF BATMAN MINI BOOK #1 Near Mint/Mint

SECRET ORIGIN OF FLASH MINI BOOK #1 Near Mint/Mint

SECRET ORIGIN OF GREEN LANTERN MINI BOOK #1 Near Mint/Mint

SECRET ORIGIN OF JUSTICE LEAGUE OF AMERICA MINI BOOK #1 Near Mint/Mint

SECRET ORIGIN OF SUPERMAN MINI BOOK (1980) #1 Near Mint/Mint

SECRET ORIGIN OF THE HAWKMAN MINI BOOK #1 Near Mint/Mint

SECRET ORIGIN OF WONDER WOMAN MINI BOOK (1980) #1 Near Mint/Mint


STAR TREK: ASHES OF EDEN TP (1995) #1

STAR TREK: ASHES OF EDEN TP (1995) #1 Fine

SUICIDE SQUAD (1987) (#1-67) (DC) #22 NEWSSTAND Fine

SUICIDE SQUAD VOL. 1: KICKED IN THE TEETH TPB (2012) #1 7TH PRINT Fine

Y-THE LAST MAN HC (2008) #1 8TH PRINT Near Mint/Mint

DARK HORSE COMICS
GOON (2003) (#1-44) (DARK HORSE) (ERIC POWELL) #4 Very Fine
GOON (2003) (#1-44) (DARK HORSE) (ERIC POWELL) #5 Very Fine
GOON (2003) (#1-44) (DARK HORSE) (ERIC POWELL) #7 Near Mint/Mint

GROO: PLAY OF THE GODS TPB (2018) #1 Near Mint/Mint

HARROW COUNTY (2015) #10 Near Mint/Mint
HARROW COUNTY (2015) #24 Near Mint/Mint

INDIANA JONES & THE FATE OF ATLANTIS TPB #1 S&N LTD ED Near Mint/Mint

JOHN BYRNE'S NEXT MEN TPB (1993) #1 BYRNE SIGN Near Mint/Mint

LONE WOLF 2100: LANGUAGE OF CHAOS TPB (VOL. 2) (2003) #1 Very Good

LONE WOLF 2100: PATTERN STORM TPB (VOL. 3) (2004) #1 Very Good

MASK (1985) (#0-4) (DARK HORSE) #3 Near Mint/Mint

NAIL (#1-4) (DARK HORSE) (ROB ZOMBIE) (STEVE NILES) (2004) #1 Near Mint/Mint

SIN CITY: FAMILY VALUES TPB (1997) #1 Near Mint/Mint

IMAGE COMICS
CHASING DOGMA TPB (2001) #1 Good

INVINCIBLE (2003) #13 Near Mint/Mint
INVINCIBLE (2003) #19 Near Mint/Mint
INVINCIBLE (2003) #21 Very Fine
INVINCIBLE (2003) #34 Near Mint/Mint
INVINCIBLE (2003) #55 Near Mint/Mint

JUPITER'S CIRCLE TPB (2015) #1 Fine
JUPITER'S CIRCLE TPB (2015) #2 Fine

LIBERTY MEADOWS SOURCE BOOK (2004) #1 Very Fine

MIGHTY MAN (2004) #1 Near Mint/Mint

SPAWN: ORIGINS TPB (2009) #1 3RD PRINT Near Mint/Mint

WALKING DEAD (#1-UP) (IMAGE) (2003) #1 15THANNMHC Near Mint/Mint

WALKING DEAD: DAYS GONE BYE TPB (VOL. 1) (2004) #1 3RD PRINT Fine

WETWORKS: REBIRTH TPB #1 SIGNED Near Mint/Mint

INDEPENDENTS
AMAZING HEROES (FANTAGRAPHICS) (1981) #145 (Fantagraphics) Fine

BATMAN: OFFICIAL BOOK OF THE MOVIE HC (TREASURE PRESS) (1989) #1 (Treasure Press) Fine

BUCK ROGERS VOL. 1: FUTURE SHOCK HC (2010) #1 (DYNAMITE Entertainment) Fine

CALVIN & HOBBES 10TH ANNIVERSARY BOOK TPB (1995) #1 (Andrews, McMeel & Parker) Fine

CALVIN & HOBBES: ESSENTIAL CALVIN & HOBBES TREASURY TPB (1988) #1 (Andrews & McMeel) Fine

CALVIN & HOBBES: IT'S A MAGICAL WORLD (1996) #1 SC (Andrews, McMeel & Parker) Fine

CALVIN & HOBBES: WEIRDOS FROM ANOTHER PLANET #1 5TH PRINT (Trade Items) Near Mint/Mint

CARTOON HISTORY OF THE UNIVERSE TPB #3 2ND PRINT (Doubleday) Fine

CASTAWAYS HC (2006) #1 2ND PRINT (NBM) Very Fine

CEREBUS: MELMOTH TPB (VOL. 6) (1991) #1 6TH PRINT (Aardvark-Vanaheim) Fine

COLLECTING COMIC BOOKS (1983) #1 (Little, Brown And Company) Fine

COMIC STRIPS & COMIC BOOKS OF RADIO'S GOLDEN AGE BOOK (2004) #1 (Bearmanor Media) Near Mint/Mint

COMICS ART HC (2013) #1 (Tate Publishing) Very Fine


COUSCOUS EXPRESS TPB (2001) #1

COUSCOUS EXPRESS TPB (2001) #1 (Astronauts In Trouble) Near Mint/Mint

DOONESBURY BOOK: BUCK WILD DOONESBURY GN (1999) #1 (Andrews & McMeel) Fine

DREADSTAR: METAMORPHOSIS ODYSSEY TPB #1 (Amaze Ink) Fine

ENCYCLOPEDIA OF SUPER-HEROES HC (1985) #1 (Trade Items) Fine

FAR SIDE GALLERY TPB (1984) #1 (FARWORKS, INC.) Near Mint/Mint
FAR SIDE GALLERY TPB (1984) #3 (FARWORKS, INC.) Fine

FAR SIDE: PRE-HISTORY OF THE FAR SIDE (1989) #1 (Unknown) Very Fine

GHOST WORLD TPB #1 7TH PRINT (Fantagraphics) Very Fine

GIRL GENIUS: SECRET BLUEPRINTS FOR VOLUME ONE (2001) #1 2ND PRINT (Studio Foglio) Near Mint/Mint

GODFATHER'S CODE (2004) #1 (NBM) Near Mint/Mint

GOON (2002) (#1-4) (ALBATROSS) (ERIC POWELL) #1 (Albatross Exploding Funny Book) Very Fine
GOON (2002) (#1-4) (ALBATROSS) (ERIC POWELL) #4 (Albatross Exploding Funny Book) Very Fine

GOON COLOR SPECIAL (2002) #1 (Albatross Exploding Funny Book) Near Mint/Mint

HISTORY OF UNDERGROUND COMICS GN (1974) #1 (STRAIGHT ARROW BOOKS) Good

HITLER IN CARTOONS HC (2016) #1 (Arcturus Publishing) Near Mint/Mint

HOW TO DRAW AND SELL COMIC STRIPS... (1987) #1 1991 (North Light) Fine

HYPOTHETICAL LIZARD (ALAN MOORE) (2004) #1 WRAPAROUND (Avatar Comics) Near Mint/Mint

INDISPENSABLE CALVIN & HOBBES TP (1992) #1 (Andrews, McMeel & Parker) Fine

INDISPENSABLE CALVIN & HOBBES TP (1992) #1 15TH PRINT (Andrews, McMeel & Parker) Near Mint/Mint

IRREDEEMABLE TPB (2009) #1 (Boom Studios Publishing) Fine

LADY DEATH SWIMSUIT (2005) #1 (Avatar Comics) Near Mint/Mint

LADY DEATH: DRAGON WARS (1998) #1 (Chaos Comics) Very Fine

LADY DEATH: RETRIBUTION (1998) #1 (Chaos Comics) Very Fine

LOCAL (2005) #6 (Oni Press Inc.) Near Mint/Mint

LOVE AND ROCKETS VOL. 2 (2001) #13 (Fantagraphics) Near Mint/Mint
LOVE AND ROCKETS VOL. 2 (2001) #17 (Fantagraphics) Near Mint/Mint

LUBA (1998) #10 (Fantagraphics) Very Fine

M GRAPHIC NOVEL HC (2008) #1 (ABRAMS) Fine

MATRIX COMICS TPB (2003) #1 (Burlyman Entertainment) Very Fine
MATRIX COMICS TPB (2003) #2 (Burlyman Entertainment) Near Mint/Mint

MAUS: A SURVIVOR'S TALE COLLECTION #1 9TH PRINT (PANTHEON BOOKS) Fine

MAZE AGENCY (1989) (#8-23) (INNOVATION) #20 (Innovation Publishing) Near Mint/Mint

ME AND HER (1990) #1 (Eros Comix (Fantagraphics)) Near Mint/Mint

MEDIEVAL LADY DEATH (2005) #1 (Avatar Comics) Near Mint/Mint

MILK (1997) #3 (Radio Comix) Fine

MIRACLEMAN (1985) (#1-24) (ECLIPSE) #7 (Eclipse Enterprises) Near Mint/Mint
MIRACLEMAN (1985) (#1-24) (ECLIPSE) #9 (Eclipse Enterprises) Near Mint/Mint
MIRACLEMAN (1985) (#1-24) (ECLIPSE) #16 (Eclipse Enterprises) Near Mint/Mint
MIRACLEMAN (1985) (#1-24) (ECLIPSE) #20 (Eclipse Enterprises) Near Mint/Mint
MIRACLEMAN (1985) (#1-24) (ECLIPSE) #21 (Eclipse Enterprises) Near Mint/Mint
MIRACLEMAN (1985) (#1-24) (ECLIPSE) #22 (Eclipse Enterprises) Fine
MIRACLEMAN (1985) (#1-24) (ECLIPSE) #23 (Eclipse Enterprises) Very Fine

MIRACLEMAN: APOCRYPHA (1991) #1 (Eclipse Enterprises) Near Mint/Mint
MIRACLEMAN: APOCRYPHA (1991) #2 (Eclipse Enterprises) Near Mint/Mint

NIGHTMARES AND FAIRY TALES (2002) #9 (Amaze Ink) Near Mint/Mint
NIGHTMARES AND FAIRY TALES (2002) #12 (Amaze Ink) Very Fine

NINJA HIGH SCHOOL SWIMSUIT SPECIAL (1992) #2 (Antarctic Press) Fine

PANTHA #0 (Harris Comics) Very Fine


PANTHEON (1995) (#1-13) (LONESTAR) #3

PANTHEON (1995) (#1-13) (LONESTAR) #3 (Lone Star Press) Near Mint/Mint
PANTHEON (1995) (#1-13) (LONESTAR) #13 (Lone Star Press) Near Mint/Mint

PHANTOM JACK ABSOLUTE DIRECTOR'S EDITION TPB (2007) #1 SIGNED (Atomic Pop Art Entertainment) Fine

POGO: WE HAVE MET THE ENEMY AND HE IS US GN (1972) #1 2ND PRINT (Simon & Schuster) Very Fine

QUANTUM & WOODY DIRECTOR'S CUT TPB (1997) #1 (Acclaim/Valiant) Near Mint/Mint

QUANTUM & WOODY: KYAG TPB #1 (Acclaim/Valiant) Near Mint/Mint

REALLY WEIRD TALES OF SCI FI EROTASY 'N' STUFF (1991) #1 (Barker-Saurhead, Inc.) Very Fine

RITCHIE KILL'D MY TOADS GN (1995) #1 (Skidmark Press) Near Mint/Mint

SILVER AGE OF SUPERMAN: ACTION COMICS COVERS HC (1995) #1 (ABBEVILLE PRESS) Fine

STAR TREK: MEMORIES NOVEL HC (WILLIAM SHATNER) (1993) #1 (HARPER COLLINS PUBLISHERS) Fine

STAR WARS EPISODE III: REVENGE OF THE SITH NOVEL HC (2005) #1 (Del Rey Book) Fine

STAR WARS: CHILDREN OF THE JEDI NOVEL HC (1995) #1 (Bantam Books) Fine
STAR WARS: CHILDREN OF THE JEDI NOVEL HC (1995) #1 (Bantam Books) Very Fine

STAR WARS: COURTSHIP OF PRINCESS LEIA NOVEL HC (1994) #1 (Bantam Books) Fine

STAR WARS: FATE OF THE JEDI - CONVICTION NOVEL HC (2011) #1 (Del Rey Book) Fine

STAR WARS: FORCE UNLEASHED NOVEL HC (2008) #1 (Ballantine Books) Fine

STAR WARS: NEW JEDI ORDER - STAR BY STAR NOVEL HC (2001) #1 (Del Rey Book) Fine

STAR WARS: SPLINTER OF THE MIND'S EYE PB (1978) #1 3RD PRINT (Del Rey Book) Fine

TANK GIRL: THE GIFTING TPB (2007) #1 (IDW Publishing) Near Mint/Mint

TRANSFORMERS: AUTOCRACY TPB (2012) #1 2ND PRINT (IDW Publishing) Very Good

TRANSFORMERS: CYBERTRON REDUX GN (2003) #1 DIAMONDVAR (Titan Distributing) Fine

TRANSFORMERS: DARK CYBERTRON TPB (2014) #1 2ND PRINT (IDW Publishing) Fine

TRANSFORMERS: DARK PRELUDE TPB (2013) #1 (IDW Publishing) Fine

TWO-FISTED SCIENCE TPB #1 BORDERED (G.T. Labs) Near Mint/Mint


UNCLE JOE'S COMMIE BOOK FEATURING CUTEY BUNNY (1995) #1

UNCLE JOE'S COMMIE BOOK FEATURING CUTEY BUNNY (1995) #1 (Magnecom) Near Mint/Mint

VAMPIRELLA MASTERS SERIES VOL. 1: MORRISON & MILLAR TPB (2010) #1 (DYNAMITE Entertainment) Fine

WAKE GN (2000) #1 (NBM) Fine