All Prices Slashed - Ten Million Comic Books 60% Off
Howdy!
A very brief newsletter today, as everyone here in our huge Denver Mega-Store is extremely busy filling the first surge of orders from our annual HALLOWEEN! codeword sale. This incredible limited-time event slashes all of the prices on our immense selection of ten million+ back issue comics and magazines by an astounding 60% off! At only 40% of retail, even our hardest-to-find back issue comics and magazines are almost free!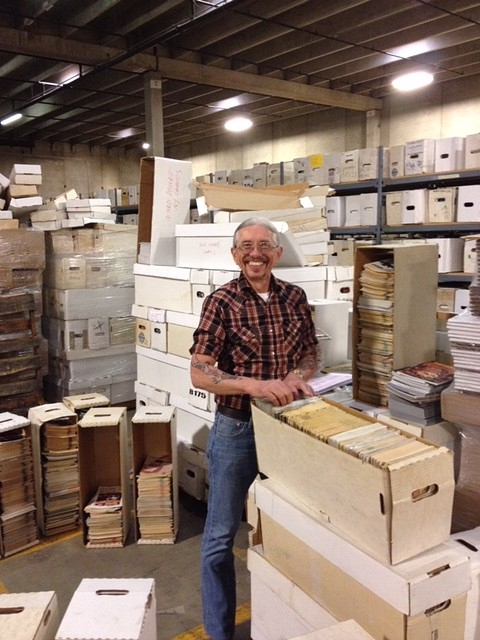 Chuck digging through recent purchases.

So you know, we have added over 100,000 more comics to our selection during just the past 90 days, including a vast array of Silver Age and Bronze Age titles. I am going to defer writing any further, and instead commit the rest of my newsletter to providing you with just a few representative examples of our delightful recent acquisitions. For the full list from the past month, view our Premium New-In-Stock and New-In-Stock links. All of those comics can now be added to your collection at only 40% of list price when you utilize the 60% off HALLOWEEN! codeword. Only new issues, a few variants, and our professionally-graded comics are excluded from this incredibly generous 60% off sale.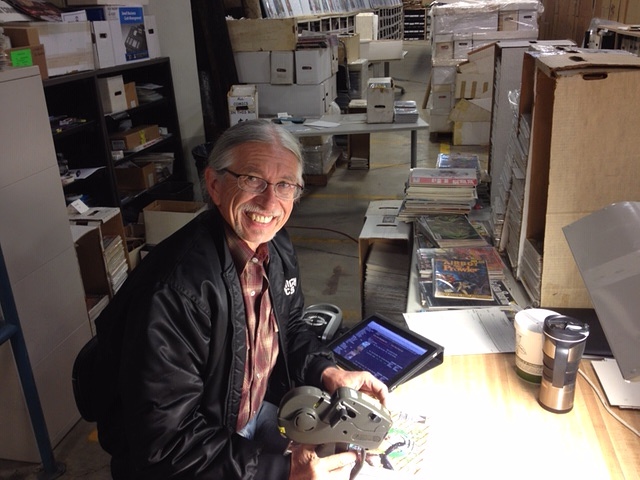 Chuck pulling out needed issues for recent collections.

Happy collecting!
Chuck Rozanski,
President - Mile High Comics, Inc.
October 12, 2018

MARVEL
AKIRA (MARVEL) (1988) #37 NEWSSTAND Near Mint/Mint


ALPHA FLIGHT (1983) (#1-130) #130

ALPHA FLIGHT (1983) (#1-130) #130 Near Mint/Mint

AMAZING ADVENTURES (1970) (#1-39) (MARVEL) #38 Very Good

AMAZING SPIDER-MAN (1999) (#1-700.5) (MARVEL) #503 Near Mint/Mint

AVENGERS (1963) (#1-402) (MARVEL) #239 Very Fine
AVENGERS (1963) (#1-402) (MARVEL) #255 NEWSSTAND Fine
AVENGERS (1963) (#1-402) (MARVEL) #258 NEWSSTAND Very Good
AVENGERS (1963) (#1-402) (MARVEL) #263 Near Mint/Mint

BLACK BOLT: SOMETHING INHUMAN THIS WAY COMES (2013) #1 Near Mint/Mint

BLACK PANTHER (1998) (#1-62) (MARVEL) #14 Fine

BLACK PANTHER (2005) (#1-41) (MARVEL) #7 Very Good

CABLE AND DEADPOOL (2003) #1 Near Mint/Mint
CABLE AND DEADPOOL (2003) #18 Very Fine
CABLE AND DEADPOOL (2003) #19 Fine

CAPTAIN AMERICA (2004) (#1-50, 600-619) (MARVEL) #9 Near Mint/Mint

CARNAGE: MINDBOMB (1996) #1 Very Fine

CHRONICLES (1982) (#1-5) (MARVEL) #1 Near Mint/Mint

DAREDEVIL (1964) (#1-380) (MAN WITHOUT FEAR) (MARVEL) #249 NEWSSTAND Fine
DAREDEVIL (1964) (#1-380) (MAN WITHOUT FEAR) (MARVEL) #288 Very Fine
DAREDEVIL (1964) (#1-380) (MAN WITHOUT FEAR) (MARVEL) #290 Fine
DAREDEVIL (1964) (#1-380) (MAN WITHOUT FEAR) (MARVEL) #323 Very Fine
DAREDEVIL (1964) (#1-380) (MAN WITHOUT FEAR) (MARVEL) #361 Near Mint/Mint


DEFENDERS (1972) (#1-152) (MARVEL) #89 NEWSSTAND

DEFENDERS (1972) (#1-152) (MARVEL) #89 NEWSSTAND Good

FANTASTIC FOUR (1961) (#1-416) (MARVEL) #103 Fine
FANTASTIC FOUR (1961) (#1-416) (MARVEL) #104 Fine
FANTASTIC FOUR (1961) (#1-416) (MARVEL) #105 Good
FANTASTIC FOUR (1961) (#1-416) (MARVEL) #233 TOY BIZ Fine
FANTASTIC FOUR (1961) (#1-416) (MARVEL) #247 TOY INSERT Very Good

FANTASTIC FOUR (1997) (#1-79, 509-611) (MARVEL) #537 Fine

GAMBIT (1993) (#1-4) (MARVEL) #1 Very Fine

GHOST RIDER (1990) (#1-94) (MARVEL) #81 Fine

GI JOE YEARBOOK (1985) #1 NEWSSTAND Fine

GLA (2005) #1 Good

HULK (1962) (#1-6, #102-474, #600-635)(INCREDIBLE)(MV) #449 Fine

IRON MAN (1968) (#1-332) (INVINCIBLE IRON MAN)(MARVEL) #194 NEWSSTAND Fine

LAST AVENGERS STORY (1995) #2 Near Mint/Mint

MARVEL PREMIERE (1972) #35 Near Mint/Mint

MARVEL SUPER-HEROES (1967) #16 Good

MARVEL TALES (1964) #192 NEWSSTAND Very Fine


MARVEL UNIVERSE: THE END (2003) #1

MARVEL UNIVERSE: THE END (2003) #1 Fine
MARVEL UNIVERSE: THE END (2003) #3 Fine

MARVELS (1994) #0 Near Mint/Mint

MASTER OF KUNG FU (1974) (#15-125) (MARVEL) (SHANG-CHI) #125 NEWSSTAND Fine

MS. MARVEL (1977) (#1-23) (MARVEL) (CAROL DANVERS) #1 Very Good
MS. MARVEL (1977) (#1-23) (MARVEL) (CAROL DANVERS) #2 Good
MS. MARVEL (1977) (#1-23) (MARVEL) (CAROL DANVERS) #3 Fine
MS. MARVEL (1977) (#1-23) (MARVEL) (CAROL DANVERS) #4 Very Good
MS. MARVEL (1977) (#1-23) (MARVEL) (CAROL DANVERS) #5 Very Good
MS. MARVEL (1977) (#1-23) (MARVEL) (CAROL DANVERS) #7 Good
MS. MARVEL (1977) (#1-23) (MARVEL) (CAROL DANVERS) #8 Good
MS. MARVEL (1977) (#1-23) (MARVEL) (CAROL DANVERS) #9 Good
MS. MARVEL (1977) (#1-23) (MARVEL) (CAROL DANVERS) #10 Good
MS. MARVEL (1977) (#1-23) (MARVEL) (CAROL DANVERS) #12 Very Good
MS. MARVEL (1977) (#1-23) (MARVEL) (CAROL DANVERS) #13 Very Good
MS. MARVEL (1977) (#1-23) (MARVEL) (CAROL DANVERS) #14 Very Good
MS. MARVEL (1977) (#1-23) (MARVEL) (CAROL DANVERS) #15 Very Good
MS. MARVEL (1977) (#1-23) (MARVEL) (CAROL DANVERS) #16 Good
MS. MARVEL (1977) (#1-23) (MARVEL) (CAROL DANVERS) #19 Very Good
MS. MARVEL (1977) (#1-23) (MARVEL) (CAROL DANVERS) #22 Good
MS. MARVEL (1977) (#1-23) (MARVEL) (CAROL DANVERS) #23 Good

NEW MUTANTS (1983) (#1-100) (MARVEL) #87 Near Mint/Mint

SPIDER-MAN ANNUAL (1964) #28 Near Mint/Mint


WEB OF SPIDER-MAN (1985) (#1-129) (MARVEL) #10

WEB OF SPIDER-MAN (1985) (#1-129) (MARVEL) #10 Near Mint/Mint
WEB OF SPIDER-MAN (1985) (#1-129) (MARVEL) #11 Very Fine
WEB OF SPIDER-MAN (1985) (#1-129) (MARVEL) #14 Near Mint/Mint
WEB OF SPIDER-MAN (1985) (#1-129) (MARVEL) #15 Near Mint/Mint
WEB OF SPIDER-MAN (1985) (#1-129) (MARVEL) #22 Near Mint/Mint
WEB OF SPIDER-MAN (1985) (#1-129) (MARVEL) #23 Near Mint/Mint
WEB OF SPIDER-MAN (1985) (#1-129) (MARVEL) #118 Very Fine

WHAT IF... (1977) (#1-47) (MARVEL) #19 NEWSSTAND Fine
WHAT IF... (1977) (#1-47) (MARVEL) #27 Very Fine
WHAT IF... (1977) (#1-47) (MARVEL) #33 NEWSSTAND Fine
WHAT IF... (1977) (#1-47) (MARVEL) #34 Near Mint/Mint
WHAT IF... (1977) (#1-47) (MARVEL) #41 Near Mint/Mint
WHAT IF... (1977) (#1-47) (MARVEL) #42 Near Mint/Mint
WHAT IF... (1977) (#1-47) (MARVEL) #43 Very Fine
WHAT IF... (1977) (#1-47) (MARVEL) #44 Near Mint/Mint

WHAT IF... (1989) (#1-114, & 200) (MARVEL) #77 Near Mint/Mint

WOLVERINE (1988) (#1/2-189) (MARVEL) #10 Near Mint/Mint
WOLVERINE (1988) (#1/2-189) (MARVEL) #13 Near Mint/Mint
WOLVERINE (1988) (#1/2-189) (MARVEL) #14 Near Mint/Mint

WOLVERINE: INNER FURY (1992) #1 Near Mint/Mint

WOLVERINE: KNIGHT OF TERRA (1995) #1 Near Mint/Mint


X-FACTOR (1986) (#1-149) (ORIGINAL X-MEN) #1

X-FACTOR (1986) (#1-149) (ORIGINAL X-MEN) #1 Near Mint/Mint
X-FACTOR (1986) (#1-149) (ORIGINAL X-MEN) #25 Very Fine
X-FACTOR (1986) (#1-149) (ORIGINAL X-MEN) #26 Near Mint/Mint

X-MEN (1963) (#1-113, UNCANNY X-MEN #114-544) (MARVEL) #345 Very Fine
X-MEN (1963) (#1-113, UNCANNY X-MEN #114-544) (MARVEL) #348 Fine
X-MEN (1963) (#1-113, UNCANNY X-MEN #114-544) (MARVEL) #353 Near Mint/Mint
X-MEN (1963) (#1-113, UNCANNY X-MEN #114-544) (MARVEL) #357 Near Mint/Mint
X-MEN (1963) (#1-113, UNCANNY X-MEN #114-544) (MARVEL) #381 NEWSSTAND Near Mint/Mint
X-MEN (1963) (#1-113, UNCANNY X-MEN #114-544) (MARVEL) #382 NEWSSTAND Very Fine
X-MEN (1963) (#1-113, UNCANNY X-MEN #114-544) (MARVEL) #417 Very Fine
X-MEN (1963) (#1-113, UNCANNY X-MEN #114-544) (MARVEL) #418 Near Mint/Mint
X-MEN (1963) (#1-113, UNCANNY X-MEN #114-544) (MARVEL) #419 Near Mint/Mint
X-MEN (1963) (#1-113, UNCANNY X-MEN #114-544) (MARVEL) #421 Near Mint/Mint
X-MEN (1963) (#1-113, UNCANNY X-MEN #114-544) (MARVEL) #422 Near Mint/Mint

X-MEN (2013) (#1-26) (ALL FEMALE TEAM) (MARVEL) #1 NEWSSTAND Near Mint/Mint
X-MEN (2013) (#1-26) (ALL FEMALE TEAM) (MARVEL) #5 NEWSSTAND Near Mint/Mint
X-MEN (2013) (#1-26) (ALL FEMALE TEAM) (MARVEL) #6 NEWSSTAND Near Mint/Mint
X-MEN (2013) (#1-26) (ALL FEMALE TEAM) (MARVEL) #13 Near Mint/Mint

X-MEN ALPHA (1995) #1 Near Mint/Mint

X-MEN AND ALPHA FLIGHT #1 Near Mint/Mint
X-MEN AND ALPHA FLIGHT #2 Near Mint/Mint

X-MEN AND THE MICRONAUTS (1984) #1 Near Mint/Mint
X-MEN AND THE MICRONAUTS (1984) #2 Near Mint/Mint
X-MEN AND THE MICRONAUTS (1984) #3 Near Mint/Mint
X-MEN AND THE MICRONAUTS (1984) #4 Near Mint/Mint


X-MEN AND THE TEEN TITANS (1982) #1

X-MEN AND THE TEEN TITANS (1982) #1 Near Mint/Mint
X-MEN AND THE TEEN TITANS (1982) #1 NEWSSTAND Very Fine
X-MEN AND THE TEEN TITANS (1982) #1 Very Fine

X-MEN ANNUAL (1970) #9 Near Mint/Mint
X-MEN ANNUAL (1970) #9 Very Fine

X-MEN AT THE STATE FAIR OF TEXAS #1 Very Fine

X-MEN CLASSICS (1983) #1 Near Mint/Mint

X-MEN OMEGA (1995) #1 Near Mint/Mint

X-MEN SPECIAL EDITION (1983) #1 Near Mint/Mint

X-MEN: BATTLE OF THE ATOM (2013) #1 NEWSSTAND Near Mint/Mint
X-MEN: BATTLE OF THE ATOM (2013) #2 NEWSSTAND Near Mint/Mint

DC
100 BULLETS (1999) #89 (DC: Vertigo Press) Near Mint/Mint

ACTION COMICS (1938) (#0-600, 643-904) (DC) #553 NEWSSTAND Very Fine
ACTION COMICS (1938) (#0-600, 643-904) (DC) #582 Near Mint/Mint

ACTION COMICS WEEKLY (1988) (#601-642) (DC) #633 Very Fine
ACTION COMICS WEEKLY (1988) (#601-642) (DC) #634 Fine
ACTION COMICS WEEKLY (1988) (#601-642) (DC) #636 Very Fine
ACTION COMICS WEEKLY (1988) (#601-642) (DC) #641 Very Fine
ACTION COMICS WEEKLY (1988) (#601-642) (DC) #642 Very Fine

ADVENTURE COMICS (1938) #428 Good
ADVENTURE COMICS (1938) #454 Near Mint/Mint
ADVENTURE COMICS (1938) #455 Near Mint/Mint

ADVENTURE COMICS (1938) #456 Near Mint/Mint
ADVENTURE COMICS (1938) #457 Near Mint/Mint
ADVENTURE COMICS (1938) #458 Near Mint/Mint
ADVENTURE COMICS (1938) #465 Very Fine
ADVENTURE COMICS (1938) #470 Near Mint/Mint
ADVENTURE COMICS (1938) #475 Very Fine

ATLANTIS CHRONICLES (DC) (AQUAMAN) (PETER DAVID) (1990) #6 Near Mint/Mint

BATGIRL (2000) (#1-73) (DC) #48 Near Mint/Mint
BATGIRL (2000) (#1-73) (DC) #49 Near Mint/Mint
BATGIRL (2000) (#1-73) (DC) #50 Near Mint/Mint

BATMAN (1940) (#0-713) (DC) #400 Fine
BATMAN (1940) (#0-713) (DC) #699 Fine
BATMAN (1940) (#0-713) (DC) #711 Very Fine

BATMAN (2011) (#0-52) (DC NEW52) #10 COMBO Fine

BATMAN: BEYOND UNIVERSE (2013) #1 Very Fine

BATMAN: JOKER'S DAUGHTER (2014) #1 Fine

BATMAN: THE KILLING JOKE (ALAN MOORE) (1988) #1 6TH PRINT Near Mint/Mint

BEFORE WATCHMEN: RORSCHACH (2012) #3 Very Fine

BIRDS OF PREY: BATGIRL (1998) #1 Fine

BLUE BEETLE (1986) (#1-24) (DC) #5 NEWSSTAND Near Mint/Mint


BRAVE AND THE BOLD (1955) #101

BRAVE AND THE BOLD (1955) #101 Very Good
BRAVE AND THE BOLD (1955) #105 Very Good

CATWOMAN (2002) (#1-83) (DC) #27 Near Mint/Mint
CATWOMAN (2002) (#1-83) (DC) #28 Near Mint/Mint

DC COMICS PRESENTS (1978) #2 Very Good

DC SPECIAL BLUE RIBBON DIGEST (1980) #4 Very Good

DC SPECIAL SERIES (1977) #1 Very Good

DEADMAN (1985) (#1-7) (DC) #2 Very Fine
DEADMAN (1985) (#1-7) (DC) #5 Very Fine

DETECTIVE COMICS (1937) (#0-881) (DC) #481 Good

DETECTIVE COMICS ANNUAL (1988) #12 Near Mint/Mint

EX MACHINA (2004) #1 (DC/Wildstorm) Very Fine

FINAL NIGHT (1996) #2 DCUNIVERSE Very Fine
FINAL NIGHT (1996) #4 DCUNIVERSE Fine

FLASH (1959) (#105-350) (DC) #210 Good
FLASH (1959) (#105-350) (DC) #213 Very Good
FLASH (1959) (#105-350) (DC) #218 Very Good
FLASH (1959) (#105-350) (DC) #246 Fine
FLASH (1959) (#105-350) (DC) #328 Very Good
FLASH (1959) (#105-350) (DC) #332 NEWSSTAND Very Good

FLASH (1987) (#0-247) (DC) #198 Very Fine


GREEN LANTERN (1960) (#1-224) (DC) #112

GREEN LANTERN (1960) (#1-224) (DC) #112 Very Good
GREEN LANTERN (1960) (#1-224) (DC) #114 Fine
GREEN LANTERN (1960) (#1-224) (DC) #192 NEWSSTAND Very Good

GREEN LANTERN CORPS QUARTERLY (1992) #8 Near Mint/Mint

GREEN LANTERN/SINESTRO CORPS SECRET FILES (2007) #1 Near Mint/Mint

HELLBLAZER (1988) (#1-300) (DC VERTIGO) #108 (DC: Vertigo Press) Near Mint/Mint

JUSTICE LEAGUE OF AMERICA (1960) (#1-261) (DC) #91 Very Good
JUSTICE LEAGUE OF AMERICA (1960) (#1-261) (DC) #101 Very Good
JUSTICE LEAGUE OF AMERICA (1960) (#1-261) (DC) #102 Good
JUSTICE LEAGUE OF AMERICA (1960) (#1-261) (DC) #103 Very Good
JUSTICE LEAGUE OF AMERICA (1960) (#1-261) (DC) #109 Very Good
JUSTICE LEAGUE OF AMERICA (1960) (#1-261) (DC) #130 Very Good
JUSTICE LEAGUE OF AMERICA (1960) (#1-261) (DC) #132 Very Good
JUSTICE LEAGUE OF AMERICA (1960) (#1-261) (DC) #137 Very Good

JUSTICE LEAGUE QUARTERLY (1990) #13 Near Mint/Mint
JUSTICE LEAGUE QUARTERLY (1990) #16 Near Mint/Mint

KAMANDI (1972) #2 Very Good
KAMANDI (1972) #3 Very Good

KINGDOM COME (1996) #1 Very Good

LAST DAYS OF THE JUSTICE SOCIETY OF AMERICA SPECIAL (1986) #1 Fine
LAST DAYS OF THE JUSTICE SOCIETY OF AMERICA SPECIAL (1986) #1 Very Fine


LOBO/DEMON: HELLOWEEN (1996) #1

LOBO/DEMON: HELLOWEEN (1996) #1 Fine

MANHUNTER (1984) (#1) #1 Very Fine

UTTERLY MAD PB (REVISED EDITION) (1963) #1 Fine

WELCOME BACK TO THE HOUSE OF MYSTERY (1998) #1 (DC: Vertigo Press) Very Fine

WONDER WOMAN (1942) (#1-329) (DC) #282 Near Mint/Mint
WONDER WOMAN (1942) (#1-329) (DC) #291 Near Mint/Mint
WONDER WOMAN (1942) (#1-329) (DC) #298 Near Mint/Mint
WONDER WOMAN (1942) (#1-329) (DC) #299 Very Fine
WONDER WOMAN (1942) (#1-329) (DC) #301 Near Mint/Mint
WONDER WOMAN (1942) (#1-329) (DC) #302 Near Mint/Mint
WONDER WOMAN (1942) (#1-329) (DC) #322 Near Mint/Mint
WONDER WOMAN (1942) (#1-329) (DC) #323 Near Mint/Mint
WONDER WOMAN (1942) (#1-329) (DC) #324 Near Mint/Mint
WONDER WOMAN (1942) (#1-329) (DC) #325 Near Mint/Mint
WONDER WOMAN (1942) (#1-329) (DC) #328 Very Fine

WONDER WOMAN (1987) (#0-226) (DC) #178 Near Mint/Mint
WONDER WOMAN (1987) (#0-226) (DC) #179 Near Mint/Mint
WONDER WOMAN (1987) (#0-226) (DC) #180 Near Mint/Mint
WONDER WOMAN (1987) (#0-226) (DC) #181 Near Mint/Mint
WONDER WOMAN (1987) (#0-226) (DC) #182 Near Mint/Mint
WONDER WOMAN (1987) (#0-226) (DC) #184 Very Fine
WONDER WOMAN (1987) (#0-226) (DC) #186 Near Mint/Mint
WONDER WOMAN (1987) (#0-226) (DC) #187 Near Mint/Mint
WONDER WOMAN (1987) (#0-226) (DC) #188 Near Mint/Mint
WONDER WOMAN (1987) (#0-226) (DC) #190 Near Mint/Mint

WONDER WOMAN (2006) (#1-44, 600-614) (DC) #600 Near Mint/Mint
WONDER WOMAN (2006) (#1-44, 600-614) (DC) #601 NEWSSTAND Near Mint/Mint


WONDER WOMAN (2016) (#1-UP) (DC REBIRTH) #1 VARIANT

WONDER WOMAN (2016) (#1-UP) (DC REBIRTH) #1 VARIANT Near Mint/Mint

WONDER WOMAN 80 PAGE GIANT (2002) #1 Near Mint/Mint

WONDER WOMAN ANNUAL (1988) #3 Near Mint/Mint
WONDER WOMAN ANNUAL (1988) #4 Fine

WONDER WOMAN GALLERY (1996) #1 Near Mint/Mint

WONDER WOMAN REBIRTH (2016) #1 VARIANT Near Mint/Mint

WONDER WOMAN: ONCE & FUTURE STORY (1998) #1 Very Fine

WORLD OF KRYPTON (1987) #1 Near Mint/Mint
WORLD OF KRYPTON (1987) #3 Very Fine

WORLDS FINEST (1941) (#2-323) (DC) (WORLD'S FINEST) #306 Very Fine

ZATANNA SPECIAL (1987) #1 Near Mint/Mint

ZATANNA: EVERYDAY MAGIC (2003) #1 (DC: Vertigo Press) Near Mint/Mint

DARK HORSE COMICS
ALIENS VS. PREDATOR: DEADLIEST OF THE SPECIES (DKH) AVP (1993) #6 Fine

BODY BAGS (1996) (#1-4) (DARK HORSE) #4 Near Mint/Mint

GUNSMITH CATS: RETURN OF GRAY (1996) #4 Near Mint/Mint

HELLBOY JR. HALLOWEEN SPECIAL (1997) #1 Very Fine

NEXT MEN (1992) #21 Near Mint/Mint

PUMPKINHEAD (1993) #1 Near Mint/Mint

IMAGE COMICS
ANT (2005) (#1-11) (IMAGE) #1 Near Mint/Mint

ASTRO CITY (1995) (#1-6) (IMAGE) (KURT BUSIEK) #5 Fine

BODY BAGS (2005) (#1-2) (IMAGE) #2 Near Mint/Mint

MAXX: FRIENDS OF MAXX SPECIAL #2 Near Mint/Mint

WITCHBLADE (1995) #2 (Image Top Cow) Near Mint/Mint
WITCHBLADE (1995) #3 (Image Top Cow) Near Mint/Mint
WITCHBLADE (1995) #5 (Image Top Cow) Near Mint/Mint
WITCHBLADE (1995) #6 (Image Top Cow) Near Mint/Mint
WITCHBLADE (1995) #17 (Image Top Cow) Very Fine

INDEPENDENTS
303 (AVATAR) (2004) #5 (Avatar Comics) Near Mint/Mint

A 1 TRUE LIFE BIKINI CONFIDENTIAL (A1) (A-1) (1990) #1 (Atomeka Press) Near Mint/Mint

ADVENTURES OF THE BIG BOY (1956) #274 (Timely Comics) Very Good

ALIEN ENCOUNTERS (ECLIPSE) (1985) #11 (Eclipse Enterprises) Fine
ALIEN ENCOUNTERS (ECLIPSE) (1985) #12 (Eclipse Enterprises) Fine

ARCHIE & ME (1964) #61 (Archie Comics) Fine

ARCHIE GIANT SERIES (1954) #175 (Archie Comics) Very Good

ARCHIE'S PALS 'N' GALS (1952) #40 (Archie Comics) Very Good

ATOMIKA (#1-4) (SPEAKEASY COMICS) (2005) #4 (Speakeasy) Near Mint/Mint

AUTUMN (SLAVE LABOR) (2004) #4 (Slave Labor Graphics) Very Fine

AVATAR GRAPHIC NOVEL SAMPLER FCBD EDITION (2003) #1 FCBD (Avatar Comics) Very Fine

BAKERS (KYLE BAKER) (2005) #1 (Kyle Baker Publishing) Near Mint/Mint

BAMBI AND FRIENDS (FRIENDLY COMICS) (ADULT) (1990) #1 (Friendly Comics) Near Mint/Mint

BATMAN ANIMATED SERIES GUIDE BOOK (2003) #1 SC (Trade Items) Fine

BATTLE ANGEL ALITA BOOK 6 (Viz Comics) (MANGA) (1996) #4 (Viz Comics) Good

BATTLE ANGEL ALITA BOOK 7 (Viz Comics) (MANGA) (1996) #1 (Viz Comics) Near Mint/Mint
BATTLE ANGEL ALITA BOOK 7 (Viz Comics) (MANGA) (1996) #4 (Viz Comics) Near Mint/Mint

BETTY AND ME (1965) #6 (Archie Comics) Very Good

BLACK HOLE POP-UP BOOK (1979) #1 (Harmony Books) Very Good

BLACKHAWK (1944) (#9-107) (QUALITY) #75 (Quality Comics) Fair

BLOODSHOT (1993) #44 (Acclaim/Valiant) Fine

BLOOM COUNTY: TALES TOO TICKLISH TO TELL (1988) #1 (Trade Items) Fine

BROTHERS MAD PB (REVISED ED) #5 (1963) #1 (Ballantine Books) Fine


CALVIN & HOBBES: REVENGE OF THE BABY-SAT TPB (1991) #1

CALVIN & HOBBES: REVENGE OF THE BABY-SAT TPB (1991) #1 (Andrews, McMeel & Parker) Fine

CALVIN & HOBBES: SOMETHING UNDER THE BED IS DROOLING GN (1988) #1 (Andrews, McMeel & Parker) Very Fine

CAPTAIN NICE PB (1967) #1 (Tempo Books) Fine

CAVEWOMAN RELOADED (2005) #1 (BASEMENT COMICS) Near Mint/Mint

CHRISTOPHER LEE'S TREASURY OF TERROR PB (1966) #1 (PYR BOOKS) Fine

CRY FOR DAWN (1989) #1 (Cry For Dawn Productions) Near Mint/Mint

DARK SHADOWS (1969) (GOLD KEY) (#1-35) #33 (Gold Key) Fine

DENNIS THE MENACE: ALL AMERICAN KID (GOLD MEDAL) (1968) #1 (FAWCETT PUBLICATION) Very Fine

DENNIS THE MENACE: HAPPY HALF-PINT PB (CREST BOOK S561) (1962) #1 (FAWCETT PUBLICATION) Very Fine

DENNIS THE MENACE: HOUSEHOLD HURRICANE PB (FAW/CREST) (1970) #1 (FAWCETT PUBLICATION) Very Good

DENNIS THE MENACE: RIDDLES, RIDDLES, RIDDLES PB (1967) #1 (FAWCETT PUBLICATION) Fine

DONATELLO (TEENAGE MUTANT NINJA TURTLES) #1 (Mirage Studios) Fine

DR. SEUSS GOES TO WAR HC (1999) #1 (New Press) Fine

DRACULA COMIC PAPERBACK (1966) #1 (Ballantine Books) Very Fine

DRAWN & QUARTERLY VOLUME #3 (Drawn & Quarterly) Fine
DRAWN & QUARTERLY VOLUME #4 (Drawn & Quarterly) Fine

FAMILY CIRCUS: DADDY'S LITTLE HELPERS PB (1980) #1 (FAWCETT PUBLICATION) Fine

FAMILY CIRCUS: DOLLY HIT ME BACK PB (1979) #1 (FAWCETT PUBLICATION) Very Fine

FAMILY CIRCUS: WHERE'S PJ? PB (1975) #1 4TH PRINT (FAWCETT PUBLICATION) Fine

FAR SIDE: PRE-HISTORY OF THE FAR SIDE (1989) #1 3RD PRINT (Unknown) Fine

FIGHTING MAD PAPERBACK (1961) #1 (Signet) Fine

FLINTSTONES (1970) (#1-50) (CHARLTON) (HANNA BARBERA) #28 (Charlton) Fine
FLINTSTONES (1970) (#1-50) (CHARLTON) (HANNA BARBERA) #39 (Charlton) Very Good
FLINTSTONES (1970) (#1-50) (CHARLTON) (HANNA BARBERA) #40 (Charlton) Very Good
FLINTSTONES (1970) (#1-50) (CHARLTON) (HANNA BARBERA) #41 (Charlton) Fine
FLINTSTONES (1970) (#1-50) (CHARLTON) (HANNA BARBERA) #41 (Charlton) Very Fine

FRAZETTA ILLUSTRATIONS ARCANUM #1 (Trade Items) Fine

FROM CLOUD 99 HC (1999) #1 (Humanoids Publishing) Fine

FUN WITH PEANUTS PB (1966) #1 8TH PRINT (FAWCETT PUBLICATION) Fine

FUN-IN (1970) #1 (Gold Key) Good

GHOSTLY HAUNTS #20 (Charlton) Fine

GREASY MAD STUFF PB (1963) #1 (Signet) Very Good


HERCULES (#1-13) (CHARLTON) (1967) #8

HERCULES (#1-13) (CHARLTON) (1967) #8 (Charlton) Good

HOUSE OF FAMOUS MONSTERS PB (2006) #1 (Famous Monsters Of Filmland) Near Mint/Mint

IDES OF MAD PB (SIGNET) (1961) #1 (Signet) Fine

JOSIE & THE PUSSYCATS (JOSIE #1-106) (1963) #83 (Archie Comics) Very Good

JOSIE AND THE PUSSYCATS (1993) #1 (Archie Comics) Near Mint/Mint

KRAZY & IGNATZ VOL. 1: DAILIES 1918-1919 SC (2001) #1 (STINGING MONKEY PUBLICATIONS) Fine

LIFE WITH ARCHIE (1958) #116 (Archie Comics) Very Good

LIKE, MAD PB (1960) #1 6TH PRINT (Signet) Very Good

LITTLE ARCHIE (1956) #62 (Archie Comics) Good

LOVE & ROCKETS: DEATH OF SPEEDY GN (VOL. 7) (1989) #1 SC (Fantagraphics) Fine

MAD FRONTIER PB (1962) #1 1ST PRINT (Signet) Fine
MAD FRONTIER PB (1962) #1 3RD PRINT (Signet) Fine

MAD IN ORBIT PB (1962) #1 (Signet) Very Good

MAD STRIKES BACK PB (1955) #1 14TH PRINT (Ballantine Books) Fine

MAD: DON MARTIN STEPS OUT PB (1962) #1 5TH PRINT (Signet) Very Good

MAN FROM U.N.C.L.E. NOVEL PB SERIES (1965) #1 (Ace Books) Fine

METAL BIKINI (1990) #5 (Eternity Comics (World/Imperial)) Very Fine
METAL BIKINI (1990) #6 (Eternity Comics (World/Imperial)) Very Fine

MIGHTY TINY (1989) #4 (Antarctic Press) Very Fine

MIGHTY TINY: THE MOUSE MARINES #1 (Antarctic Press) Fine

MISS CAROLINE PB (1963) #1 (FAWCETT PUBLICATION) Fine

MOBILE SUIT GUNDAM 0083 #2 (Viz Comics) Very Fine

ORGANIZATION MAD PB (SIGNET) (1960) #1 7TH PRINT (Signet) Fine

PEANUTS CLASSIC COMICS 1964-1967 HC (2015) #1 (Trade Items) Very Fine

PEANUTS FOR EVERYBODY (CREST BOOK) (1971) #1 1ST 1970 (FAWCETT PUBLICATION) Fine

PEANUTS: ALL THIS AND SNOOPY TOO PB (1962) #1 7TH PRINT (FAWCETT PUBLICATION) Very Good

PEANUTS: GOOD GRIEF, CHARLIE BROWN! PB (1963) #1 8TH PRINT (FAWCETT PUBLICATION) Fine

PEANUTS: HE'S YOUR DOG, CHARLIE BROWN PB (1969) #1 4TH PRINT (Scholastic Inc) Very Good

PEANUTS: HERE COMES CHARLIE BROWN! PB (FAWCETT) (1957) #1 9TH PRINT (FAWCETT PUBLICATION) Fine

PEANUTS: IT'S THE GREAT PUMPKIN CHARLIE BROWN PB (1968) #1 9TH PRINT (Signet) Very Good

POPEYE AND THE ROYAL RAT PB (1967) #1 (Pinnacle Comics) Very Fine

POPEYE THE SAILOR PB (1967) #1 (Pinnacle Comics) Near Mint/Mint

PTERANO-MAN (1990) #1 SIGNED (Kitchen Sink Publishing) Near Mint/Mint

ROBOTECH: CYBER WORLD - SECRETS OF HAYDON IV (1995) #1 (Academy Comics) Very Fine

ROBOTECH: SPECIAL MACROSS MISSIONS: DESTROID #1 (Academy Comics) Very Fine

SLIDE, CHARLIE BROWN! SLIDE! PB (PEANUTS)(FAWCETT) (1968) #1 (FAWCETT PUBLICATION) Fine

SON OF MAD PB (1959) #1 7TH PRINT (Signet) Fine

STARLOG PHOTO GUIDEBOOK: SCIENCE FICTION ALIENS GN (1977) #1 3RD PRINT (Starlog) Fine

STARLOG PHOTO GUIDEBOOK: SPECIAL EFFECTS GN (1981) #1 (Starlog) Very Fine

THREE RING MAD PB (1964) #1 (Signet) Fine

TIME2: THE EPIPHANY GN (1986) #1 (First Comics) Near Mint/Mint

TIME2: THE SATISFACTION OF BLACK MARIAH #1 (First Comics) Near Mint/Mint

VOODOO MAD PB (SIGNET) (1963) #1 (Signet) Fine

WANTED: DENNIS THE MENACE PAPERBACK (FAWCETT/CREST) (1963) #1 2ND PRINT (FAWCETT PUBLICATION) Fine

WE'RE ON YOUR SIDE, CHARLIE BROWN PB (FAWCETT/CREST) (1964) #1 5TH PRINT (FAWCETT PUBLICATION) Fine

WIND IN THE WILLOWS GN (1997) #3 HC (NBM) Very Fine

X-FILES (1995) #1 NEWSSTAND (Topps Publishing) Very Fine

XXXENOPHILE #2 (Palliard Press) Very Fine
XXXENOPHILE #4 (Palliard Press) Very Fine
XXXENOPHILE #8 (Palliard Press) Near Mint/Mint

YOU ARE TOO MUCH, CHARLIE BROWN PB (PEANUTS) (1959) #1 9TH PRINT (FAWCETT PUBLICATION) Fine