40% Off Comics Sale - SUICIDE SQUAD, GI JOE, X-MEN, more
Howdy!
Here at Mile High Comics we are starting to go into high gear in anticipation of our annual Halloween festivities! Case in point, I spent an hour yesterday hanging six giant spiders over our front counter area, and our huge Jack-O-Lantern figure was erected this afternoon. Lisa is going shopping for spider webbing material tomorrow (which we will utilize to create a very scary holistic effect...), as well as a figure wrapped in spider silk that we are going to hang from the ceiling. Fun!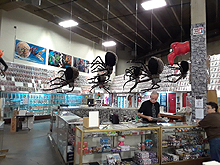 Giant Spiders at front counter

For those of you who live in Colorado, we are also going to be hosting a huge no-minimum-bid auction. over this upcoming weekend. Our auction. begins this Saturday morning at 11:30 AM at the Jason St. Mega-Store. We will be selling half of the items in the auction to benefit the expansion of the store, while the second half will go to benefit C.A.S.A. (Court Appointed Special Advocate), This great local organization works cooperatively with the Department of Human Services, County Courts, Child-Serving Agencies, and other partners to improve the lives of abused and neglected children in Colorado This benefit portion of this auction is being conducted by me not as the owner of Mile High Comics, but rather in my ongoing role as Prince Royale XLII of the Imperial Court of the Rocky Mountain Empire. Our current Empress, Rosa Marie Sugarbaker, has designated C.A.S.A. as the charity of choice for our annual Empress's Snow Ball, so all of us in the Court are encouraged to raise at least a little bit in the way of donations for this very worthy cause.
Speaking of worthy causes, we are now asking everyone to contribute to our Rainbow Alley fundraiser. As you may have read previously, we are holding a chance drawing this month in which you can win either a life-size HARLEY QUINN statue (MSRP $1,995.00!), or a $1,000.00 Mile High Comics shopping spree. Our drawing will be held on Saturday afternoon October 28th at 1 PM in our Jason St. Mega-Store. You do not need to be present to win, as we will be putting all entries forms into our jar from fans who contribute locally, as well as from around the world. The cost to enter our HARLEY QUINN drawing is only $20, for which you receive five! chances to win. We do have a mint condition statue still in its original shipping box from the manufacturer, so this will be relatively easy to ship. It only weighs about 40 lbs...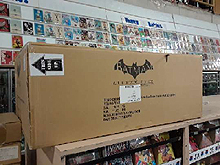 Life-size HARLEY QUINN still in box

In case you are wondering, 100% of the proceeds from our chance drawing will be contributed to the awesome staff of Rainbow Alley. They, in turn, will use the money to try to buy small Christmas gifts for the 250+ kids that we are expecting will show up at this year's holiday potluck dinner. Many of these LGBTQ kids have been abandoned by their families because if their orientation, so this potluck dinner and small gift may well be all that they will receive for Christmas. The need is great, and the resources available to the Rainbow Alley staff to help these kids to have a decent holiday are quite limited. If you can, please contribute $20 to this very worth effort. This is my 4th year with helping out at the potluck, and I can personally assure you that all of the young people served by Rainbow Alley are extremely grateful for our assistance. Thank you.
I will stop writing now, and let Will Moulton finish out today's newsletter by providing you with yet another listing of great comics that we have just entered into our website inventory. I am proud to note that I have spent many hours this week searching through unsorted long boxes for comics that we need, and as a direct result sent Pam a box today filled with over 300 out-of-stocks! All can be purchased at a full 40% off of list when you utilize our ongoing SEPTOBER! codeword sale. Only new issues, a few variants, and our professionally graded comics are excluded.
Happy collecting!
Chuck Rozanski,
President - Mile High Comics, Inc.
October 11, 2017

MARVEL
AMAZING SPIDER-MAN (1999) (#1-700.5) (MARVEL) #533 NEWSSTAND Very Good
AMAZING SPIDER-MAN (1999) (#1-700.5) (MARVEL) #536 NEWSSTAND Good

AMAZING SPIDER-MAN (2017) (#789-UP) (MARVEL LEGACY) (2017) #789 DITKO Near Mint/Mint

CLIVE BARKER'S BOOK OF THE DAMNED (1994) #4 Near Mint/Mint

CONAN ANNUAL (1973) #11 Near Mint/Mint

DAREDEVIL (1964) (#1-380) (MAN WITHOUT FEAR) (MARVEL) #238 Near Mint/Mint

DESPICABLE DEADPOOL (2017) (#287-UP) (MARVEL LEGACY) (2017) #287 CRAIN Near Mint/Mint

EXTRAORDINARY X-MEN (2015) #1 Near Mint/Mint
EXTRAORDINARY X-MEN (2015) #2 Near Mint/Mint

FALCON (2017) (#1-UP) (MARVEL LEGACY) #1 CASSARA Near Mint/Mint
FALCON (2017) (#1-UP) (MARVEL LEGACY) #1 ROSS Near Mint/Mint

GI JOE #1 NEWSSTAND Very Fine
GI JOE #1 NEWSSTAND Very Good
GI JOE #2 Fine
GI JOE #2 NEWSSTAND Good
GI JOE #4 Very Good
GI JOE #9 NEWSSTAND Fine

GI JOE #33 NEWSSTAND Fine
GI JOE #38 NEWSSTAND Fine
GI JOE #40 NEWSSTAND Very Good

HULK (1962) (#1-6, #102-635) (INCREDIBLE) (MARVEL) #331 Near Mint/Mint
HULK (1962) (#1-6, #102-635) (INCREDIBLE) (MARVEL) #335 NEWSSTAND Good
HULK (1962) (#1-6, #102-635) (INCREDIBLE) (MARVEL) #339 NEWSSTAND Good

INFINITY WAR (1992) #6 NEWSSTAND Good

KITTY PRYDE AND WOLVERINE (1984) #5 Near Mint/Mint

LONGSHOT (1985) #2 Very Fine
LONGSHOT (1985) #3 Very Fine
LONGSHOT (1985) #4 Near Mint/Mint
LONGSHOT (1985) #6 Near Mint/Mint

NEW MUTANTS (1983) #95 Fine
NEW MUTANTS (1983) #96 Near Mint/Mint
NEW MUTANTS (1983) #97 TIGER INC Near Mint/Mint

PUNISHER WAR JOURNAL (1988) #6 Near Mint/Mint

SPIDER-MAN (1963) (AMAZING SPIDER-MAN) (#1-441) #293 Fine
SPIDER-MAN (1963) (AMAZING SPIDER-MAN) (#1-441) #294 Fine

STAR WARS (1977) #12 WHITMAN Very Good
STAR WARS (1977) #80 NEWSSTAND Good

STAR WARS: SCREAMING CITADEL TPB (2017) #1 Near Mint/Mint

VAULT OF EVIL #12 Very Good

WEB OF SPIDER-MAN (1985) #31 NEWSSTAND Fine

WEB OF SPIDER-MAN (1985) #32 Very Fine

WHAT IF... (1977) #1 Very Good

X-MEN (1963) (#1-113, UNCANNY X-MEN #114-544) (MARVEL) #52 Very Good
X-MEN (1963) (#1-113, UNCANNY X-MEN #114-544) (MARVEL) #85 Good
X-MEN (1963) (#1-113, UNCANNY X-MEN #114-544) (MARVEL) #117 Very Good
X-MEN (1963) (#1-113, UNCANNY X-MEN #114-544) (MARVEL) #119 Good
X-MEN (1963) (#1-113, UNCANNY X-MEN #114-544) (MARVEL) #123 NEWSSTAND Good
X-MEN (1963) (#1-113, UNCANNY X-MEN #114-544) (MARVEL) #123 Very Good
X-MEN (1963) (#1-113, UNCANNY X-MEN #114-544) (MARVEL) #139 NEWSSTAND Good
X-MEN (1963) (#1-113, UNCANNY X-MEN #114-544) (MARVEL) #140 NEWSSTAND Good

X-MEN ANNUAL (1970) #10 NEWSSTAND Very Good

X-MEN BLUE (2017) #13 ADAMS B&W Near Mint/Mint
X-MEN BLUE (2017) #13 KIRBY Near Mint/Mint

X-MEN SPECIAL EDITION (1983) #1 NEWSSTAND Near Mint/Mint

DC
BATGIRL SPECIAL (1998) #1 Very Fine


BATMAN (1940) (#0-713) (DC) #347 NEWSSTAND

BATMAN (1940) (#0-713) (DC) #347 NEWSSTAND Very Good

BATMAN (2016) (#1-UP) (DC REBIRTH) #24 VARIANT Near Mint/Mint

BATMAN/FLASH: THE BUTTON HC (2017) #1 Near Mint/Mint
BATMAN/FLASH: THE BUTTON HC (2017) #1 INTERNATIO Near Mint/Mint

BATMAN/JOKER: SWITCH (JOHN BOLTON) (PRESTIGE) (2003) #1 Very Fine

BATMAN: CATWOMAN DEFIANT (1992) #1 Near Mint/Mint

BATMAN: THE DARK KNIGHT (2011) (#0-29) (DC NEW52) #23 .3 DLX 2ND Fine

BEFORE WATCHMEN: DR. MANHATTAN (2012) #1 Near Mint/Mint

CATWOMAN (1989) #1 Fine

DC COMICS BOMBSHELLS VOL. 5: DEATH OF ILLUSION TPB (2017) #1 Near Mint/Mint

DC COMICS PRESENTS: HARLEY QUINN (2014) #1 Fine
DC COMICS PRESENTS: HARLEY QUINN (2014) #1 Near Mint/Mint
DC COMICS PRESENTS: HARLEY QUINN (2014) #1 2ND PRINT Near Mint/Mint

INJUSTICE: YEAR FIVE TPB (2017) #3 Near Mint/Mint

JONAH HEX (1977) #6 Very Good
JONAH HEX (1977) #8 Very Good

JUSTICE LEAGUE ADULT COLORING BOOK TPB (2017) #1 Near Mint/Mint


MISTER MIRACLE (1971) (#1-25) (DC) #9

MISTER MIRACLE (1971) (#1-25) (DC) #9 Very Good

MISTER MIRACLE BY JACK KIRBY TPB (2017) #1 Near Mint/Mint

MULTIVERSITY (2014) #1 REIS Very Fine

MULTIVERSITY: JUST (2014) #1 RISSO Very Fine

MULTIVERSITY: MASTERMEN (2015) #1 KUDER Near Mint/Mint
MULTIVERSITY: MASTERMEN (2015) #1 SKETCH CV Near Mint/Mint

MULTIVERSITY: SOCIETY OF SUPER-HEROES (2014) #1 IRVING Very Fine

NEW SUICIDE SQUAD (2014) #1 VARIANT Near Mint/Mint
NEW SUICIDE SQUAD (2014) #1 Very Fine
NEW SUICIDE SQUAD (2014) #2 Near Mint/Mint
NEW SUICIDE SQUAD (2014) #3 Near Mint/Mint
NEW SUICIDE SQUAD (2014) #4 Very Fine
NEW SUICIDE SQUAD (2014) #5 Very Fine

NIGHTWING VOL. 3: NIGHTWING MUST DIE TPB (DC REBIRTH) (2017) #1 Near Mint/Mint

ROOTS OF THE SWAMP THING (1986) #1 Very Fine
ROOTS OF THE SWAMP THING (1986) #2 Near Mint/Mint
ROOTS OF THE SWAMP THING (1986) #4 Near Mint/Mint

SUICIDE SQUAD (1987) (#1-67) (DC) #48 Fine

SUICIDE SQUAD (2011) (#0-30) (DC NEW52) #1 2ND PRINT Near Mint/Mint
SUICIDE SQUAD (2011) (#0-30) (DC NEW52) #1 2ND PRINT Very Fine
SUICIDE SQUAD (2011) (#0-30) (DC NEW52) #1 Very Fine


SUICIDE SQUAD (2011) (#0-30) (DC NEW52) #2

SUICIDE SQUAD (2011) (#0-30) (DC NEW52) #2 Very Fine
SUICIDE SQUAD (2011) (#0-30) (DC NEW52) #3 Near Mint/Mint
SUICIDE SQUAD (2011) (#0-30) (DC NEW52) #4 Fine
SUICIDE SQUAD (2011) (#0-30) (DC NEW52) #5 Very Fine
SUICIDE SQUAD (2011) (#0-30) (DC NEW52) #6 Fine
SUICIDE SQUAD (2011) (#0-30) (DC NEW52) #6 2ND PRINT Fine
SUICIDE SQUAD (2011) (#0-30) (DC NEW52) #7 2ND PRINT Very Fine
SUICIDE SQUAD (2011) (#0-30) (DC NEW52) #8 Very Fine
SUICIDE SQUAD (2011) (#0-30) (DC NEW52) #9 Very Fine
SUICIDE SQUAD (2011) (#0-30) (DC NEW52) #10 Very Fine
SUICIDE SQUAD (2011) (#0-30) (DC NEW52) #11 Near Mint/Mint
SUICIDE SQUAD (2011) (#0-30) (DC NEW52) #16 Near Mint/Mint

SUICIDE SQUAD (2016) (#1-UP) (DC REBIRTH) #16 VARIANT Near Mint/Mint

SUICIDE SQUAD: AMANDA WALLER (2014) #1 Near Mint/Mint

SUPER SONS VOL. 1: WHEN I GROW UP TPB (2017) #1 Near Mint/Mint

SUPERMAN (1939) (#1-423) (DC) #327 WHITMAN Very Good
SUPERMAN (1939) (#1-423) (DC) #390 Near Mint/Mint

SUPERMAN & THE MISERABLE, ROTTEN, NO FUN DAY HC (2017) #1 Near Mint/Mint

SUPERMAN: EMPEROR JOKER (2000) #1 Near Mint/Mint

TEEN TITANS (2016) (#1-UP) (DC REBIRTH) #12 VARIANT Fine

WORLD OF KRYPTON (1987) #2 NEWSSTAND Fine
WORLD OF KRYPTON (1987) #4 NEWSSTAND Very Good

WORLDS FINEST (1941) #211 Very Good

DARK HORSE COMICS
BETTIE PAGE COMICS (1996) #1 Near Mint/Mint

GHOST IN THE SHELL (1995) #1 ASHCAN Very Fine

IMAGE COMICS
JUPITER'S LEGACY (2013) #1 A Near Mint/Mint

PARADISO ASHCAN (2017) #1 Near Mint/Mint

SACRED CREATURES (2017) #4 C SOOK Near Mint/Mint

SEVEN TO ETERNITY TPB (2017) #2 Near Mint/Mint

WALKING DEAD HC (2006) #14 Near Mint/Mint

INDEPENDENTS
ASH VS. ARMY OF DARKNESS (2017) #3 E SCHOOVIR (DYNAMITE Entertainment) Fine

ASPEN UNIVERSE: DECIMATION (2017) #1 D ARCHER (Aspen) Near Mint/Mint

BRAVEST WARRIORS (2012) #23 C (Boom Studios Publishing) Very Fine

GAME OF THRONES: CLASH OF KINGS (2017) #4 E MILLEVIR (DYNAMITE Entertainment) Near Mint/Mint
GAME OF THRONES: CLASH OF KINGS (2017) #4 D RUBI B&W (DYNAMITE Entertainment) Very Fine
GAME OF THRONES: CLASH OF KINGS (2017) #4 E MILLEVIR (DYNAMITE Entertainment) Very Fine

HERO HAPPY HOUR (2004) #5 (Geek Punk) Near Mint/Mint

LADYCASTLE TPB (2017) #1 (Boom Studios Publishing) Near Mint/Mint

LITTLE NIGHTMARES HC (2017) #1 (Titan Distributing) Near Mint/Mint

LUMBERJANES ILLUSTRATED HC (2017) #1 (Amulet Books) Near Mint/Mint

RICHIE RICH DOLLARS AND CENTS (1963) #91 (Harvey Comics) Near Mint/Mint
RICHIE RICH DOLLARS AND CENTS (1963) #92 (Harvey Comics) Near Mint/Mint
RICHIE RICH DOLLARS AND CENTS (1963) #93 (Harvey Comics) Near Mint/Mint
RICHIE RICH DOLLARS AND CENTS (1963) #94 (Harvey Comics) Near Mint/Mint
RICHIE RICH DOLLARS AND CENTS (1963) #100 (Harvey Comics) Near Mint/Mint
RICHIE RICH DOLLARS AND CENTS (1963) #100 (Harvey Comics) Very Fine

RICHIE RICH FORTUNE$ (1971) #24 (Harvey Comics) Very Fine

RICHIE RICH GEMS (1974) #8 (Harvey Comics) Very Fine
RICHIE RICH GEMS (1974) #13 (Harvey Comics) Near Mint/Mint
RICHIE RICH GEMS (1974) #15 (Harvey Comics) Very Fine
RICHIE RICH GEMS (1974) #16 (Harvey Comics) Very Fine
RICHIE RICH GEMS (1974) #18 (Harvey Comics) Near Mint/Mint
RICHIE RICH GEMS (1974) #18 (Harvey Comics) Very Fine
RICHIE RICH GEMS (1974) #19 (Harvey Comics) Near Mint/Mint

RICHIE RICH GOLD & SILVER (1975) #4 (Harvey Comics) Near Mint/Mint


RICHIE RICH GOLD & SILVER (1975) #4

RICHIE RICH GOLD & SILVER (1975) #4 (Harvey Comics) Fine
RICHIE RICH GOLD & SILVER (1975) #5 (Harvey Comics) Very Fine
RICHIE RICH GOLD & SILVER (1975) #7 (Harvey Comics) Very Fine
RICHIE RICH GOLD & SILVER (1975) #10 (Harvey Comics) Near Mint/Mint
RICHIE RICH GOLD & SILVER (1975) #10 (Harvey Comics) Very Fine
RICHIE RICH GOLD & SILVER (1975) #11 (Harvey Comics) Near Mint/Mint

STAR WARS: A NEW HOPE CELEBRATION SPECIAL HC (2017) #1 (Titan Distributing) Near Mint/Mint

STAR WARS: JOIN THE RESISTANCE ESCAPE FROM VODRAN HC (2017) #1 (Disney Press) Near Mint/Mint

WYATT EARP (1955) #30 (Marvel Atlas Titles) Very Good

X-FILES (1995) #1 B & W (Topps Publishing) Near Mint/Mint

XXX WOMEN (Eros Comix (Fantagraphics)) #1 (Eros Comix (Fantagraphics)) Very Fine

Z-NATION (2017) #4 E PARRIVIR (DYNAMITE Entertainment) Fine