Awesome Old Comic Books at Half Price
Howdy!
I am back in Denver after a wonderful weekend spent attending this year's Coronation in Cincinnati. While the Imperial Court System is primarily a GLBTQ organization focused on drag performances, we do have many members of the straight community who also participate. My good friend, Norrie Reynolds, was a straight girl Empress in Denver two years ago, and Cincinnati elected a straight girl as Empress this year. In all honesty, a person's gender or orientation matters not at all in the ICS. We are all just people working together as a Community to help those in need.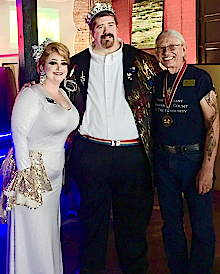 Chuck Congratulates Cincinnati Empress XXVII Alynn Rousselle and Regent Emperor XXVII Mike Burke

Speaking of helping those in need, I am going to offer you a chance to help some of the folks who are forced to live out in the streets. Winter is coming, so there is a desperate need for thermal socks among Denver and Albuquerque 's homeless. Speaking as someone who himself once slept under a highway bridge (in the rain...), and in public parks several times, I can personally assure you that having a spare set of socks is critical to simply feeling human. For many homeless people, however, who can barely afford food, warm clothing for winter is simply unattainable.
With that thought in mind, I am again offering you a chance to donate $25 toward the purchase of warm winter clothing (socks, hats, scarves, and gloves) for the homeless of Denver and Albuquerque. In reality, this donation will cost you absolutely nothing, as we will immediately send you a Mile High Comics gift certificate for the total amount of your donation. In the meantime, I will preorder another 1,000 pairs of gloves (the cost us only 89 cents a pair!) and begin traveling all around town buying out the Dollar Tree stores of their thermal socks, insulated caps, and scarves. I can't afford to do this all on my own, however, so I ask that you please purchase at least one gift certificate. It snowed and rained in Denver last evening, so the need is already upon us...

WALKING DEAD #1 15th Anniversary Edition Mile High Exclusive

In other news, the 100 copies of the very limited edition Mile High Comics WALKING DEAD #1 variant that releases on Saturday that I donated to the Matthew Shepard Foundation are almost all committed. We have only 20 copies left that you can preorder at $19.95 each, and will also have copies for sale at that same price on Saturday (WALKING DEAD DAY...) in our three retail stores. We only printed 750 copies of our customized variant of this iconic issue, so as of next Monday they will be priced on our website at $29.95. Just saying...
My only other bit of news for today is a reminder that my beloved wife, Nanette, is still looking to wipe out some of our company bills, so she wants me to keep her namesake 50% off NANETTE! codeword sale in effect for you on all ten million of our back issues for another week. This huge half price sale applies to all of the back issue comics and magazines shown on our website (and in our stores), excepting only new issues, a few variants, and our professionally-graded issues. As the Premium New-In-Stock list below indicates, Will and Pam are continuing to add great comics into our website inventory every day!
Happy collecting!
Chuck Rozanski,
President - Mile High Comics, Inc.
October 8, 2018

MARVEL

ALPHA FLIGHT (1983) (#1-130) #9

ALPHA FLIGHT (1983) (#1-130) #9 Near Mint/Mint
ALPHA FLIGHT (1983) (#1-130) #10 Near Mint/Mint

AVENGERS (1963) (#1-402) (MARVEL) #61 Good
AVENGERS (1963) (#1-402) (MARVEL) #215 Near Mint/Mint
AVENGERS (1963) (#1-402) (MARVEL) #221 NEWSSTAND Fine
AVENGERS (1963) (#1-402) (MARVEL) #222 NEWSSTAND Fine
AVENGERS (1963) (#1-402) (MARVEL) #225 NEWSSTAND Near Mint/Mint
AVENGERS (1963) (#1-402) (MARVEL) #226 NEWSSTAND Fine
AVENGERS (1963) (#1-402) (MARVEL) #227 NEWSSTAND Very Fine
AVENGERS (1963) (#1-402) (MARVEL) #228 NEWSSTAND Fine
AVENGERS (1963) (#1-402) (MARVEL) #229 NEWS W/O Very Fine
AVENGERS (1963) (#1-402) (MARVEL) #230 NEWSSTAND Fine
AVENGERS (1963) (#1-402) (MARVEL) #236 NEWSSTAND Very Good
AVENGERS (1963) (#1-402) (MARVEL) #239 Near Mint/Mint
AVENGERS (1963) (#1-402) (MARVEL) #241 Near Mint/Mint
AVENGERS (1963) (#1-402) (MARVEL) #242 Near Mint/Mint
AVENGERS (1963) (#1-402) (MARVEL) #257 Near Mint/Mint
AVENGERS (1963) (#1-402) (MARVEL) #258 Near Mint/Mint
AVENGERS (1963) (#1-402) (MARVEL) #259 Near Mint/Mint
AVENGERS (1963) (#1-402) (MARVEL) #261 Near Mint/Mint
AVENGERS (1963) (#1-402) (MARVEL) #263 Near Mint/Mint
AVENGERS (1963) (#1-402) (MARVEL) #263 Very Fine
AVENGERS (1963) (#1-402) (MARVEL) #274 Near Mint/Mint
AVENGERS (1963) (#1-402) (MARVEL) #277 Near Mint/Mint
AVENGERS (1963) (#1-402) (MARVEL) #280 Near Mint/Mint
AVENGERS (1963) (#1-402) (MARVEL) #282 Near Mint/Mint

AVENGERS ANNUAL (1967) #6 Very Good
AVENGERS ANNUAL (1967) #16 Very Fine

BATTLESTAR GALACTICA (1979) #18 NEWSSTAND Fine
BATTLESTAR GALACTICA (1979) #20 NEWSSTAND Fine
BATTLESTAR GALACTICA (1979) #21 NEWSSTAND Fine
BATTLESTAR GALACTICA (1979) #23 NEWSSTAND Very Fine

BEWARE (1973) #6 Very Good

CAPTAIN AMERICA (1968) (#100-454) (MARVEL) #305 Near Mint/Mint
CAPTAIN AMERICA (1968) (#100-454) (MARVEL) #306 Near Mint/Mint
CAPTAIN AMERICA (1968) (#100-454) (MARVEL) #307 Near Mint/Mint
CAPTAIN AMERICA (1968) (#100-454) (MARVEL) #309 Near Mint/Mint
CAPTAIN AMERICA (1968) (#100-454) (MARVEL) #310 Near Mint/Mint
CAPTAIN AMERICA (1968) (#100-454) (MARVEL) #319 Near Mint/Mint


CAPTAIN AMERICA (1968) (#100-454) (MARVEL) #321

CAPTAIN AMERICA (1968) (#100-454) (MARVEL) #321 Near Mint/Mint
CAPTAIN AMERICA (1968) (#100-454) (MARVEL) #323 Near Mint/Mint

CAPTAIN AMERICA ANNUAL (1971) #8 Very Fine

CAPTAIN AMERICA SPECIAL EDITION (1984) #1 Near Mint/Mint
CAPTAIN AMERICA SPECIAL EDITION (1984) #2 Near Mint/Mint

CHAMPIONS (1975) (#1-17) (MARVEL) #16 Fine
CHAMPIONS (1975) (#1-17) (MARVEL) #17 Fine

CRYPT OF SHADOWS (1973) #4 Very Good
CRYPT OF SHADOWS (1973) #8 Very Good

DAKEN: DARK WOLVERINE (2010) #3 Near Mint/Mint

DAREDEVIL (1964) (#1-380) (MAN WITHOUT FEAR) (MARVEL) #200 Very Fine
DAREDEVIL (1964) (#1-380) (MAN WITHOUT FEAR) (MARVEL) #201 Near Mint/Mint
DAREDEVIL (1964) (#1-380) (MAN WITHOUT FEAR) (MARVEL) #202 Near Mint/Mint
DAREDEVIL (1964) (#1-380) (MAN WITHOUT FEAR) (MARVEL) #203 Near Mint/Mint
DAREDEVIL (1964) (#1-380) (MAN WITHOUT FEAR) (MARVEL) #205 NEWSSTAND Near Mint/Mint
DAREDEVIL (1964) (#1-380) (MAN WITHOUT FEAR) (MARVEL) #206 Near Mint/Mint
DAREDEVIL (1964) (#1-380) (MAN WITHOUT FEAR) (MARVEL) #220 Near Mint/Mint
DAREDEVIL (1964) (#1-380) (MAN WITHOUT FEAR) (MARVEL) #221 Near Mint/Mint
DAREDEVIL (1964) (#1-380) (MAN WITHOUT FEAR) (MARVEL) #222 Near Mint/Mint
DAREDEVIL (1964) (#1-380) (MAN WITHOUT FEAR) (MARVEL) #223 Near Mint/Mint
DAREDEVIL (1964) (#1-380) (MAN WITHOUT FEAR) (MARVEL) #224 Near Mint/Mint
DAREDEVIL (1964) (#1-380) (MAN WITHOUT FEAR) (MARVEL) #232 Near Mint/Mint
DAREDEVIL (1964) (#1-380) (MAN WITHOUT FEAR) (MARVEL) #233 Very Fine
DAREDEVIL (1964) (#1-380) (MAN WITHOUT FEAR) (MARVEL) #235 Near Mint/Mint
DAREDEVIL (1964) (#1-380) (MAN WITHOUT FEAR) (MARVEL) #241 Near Mint/Mint

DAZZLER (1981) #1 Near Mint/Mint
DAZZLER (1981) #39 Very Fine

DEADPOOL VS. CARNAGE (2014) #1 VARIANT Near Mint/Mint
DEADPOOL VS. CARNAGE (2014) #2 Near Mint/Mint
DEADPOOL VS. CARNAGE (2014) #3 Near Mint/Mint
DEADPOOL VS. CARNAGE (2014) #4 Near Mint/Mint

DEATH OF WOLVERINE (2014) #1 Near Mint/Mint
DEATH OF WOLVERINE (2014) #2 Near Mint/Mint


DEFENDERS (1972) (#1-152) (MARVEL) #124

DEFENDERS (1972) (#1-152) (MARVEL) #124 Near Mint/Mint
DEFENDERS (1972) (#1-152) (MARVEL) #127 Very Fine

DOCTOR STRANGE CLASSICS (1984) #1 Near Mint/Mint
DOCTOR STRANGE CLASSICS (1984) #2 Near Mint/Mint
DOCTOR STRANGE CLASSICS (1984) #3 Near Mint/Mint

DOCTOR WHO (1984) (#1-23) (MARVEL) #23 Near Mint/Mint

GHOST RIDER & BLAZE: SPIRITS OF VENGEANCE (1992) #5 Near Mint/Mint

KNIGHTS OF PENDRAGON (1990) (#1-18) (MARVEL UK) #14 NEWSSTAND (Marvel United Kingdom Publishings) Very Fine

KREE-SKRULL WAR (1983) #1 Near Mint/Mint

MARVEL TEAM-UP (1972) (#1-150) (MARVEL) #61 Near Mint/Mint
MARVEL TEAM-UP (1972) (#1-150) (MARVEL) #67 Very Fine
MARVEL TEAM-UP (1972) (#1-150) (MARVEL) #81 NEWSSTAND Very Fine
MARVEL TEAM-UP (1972) (#1-150) (MARVEL) #81 NEWSSTAND Fine
MARVEL TEAM-UP (1972) (#1-150) (MARVEL) #82 Very Fine
MARVEL TEAM-UP (1972) (#1-150) (MARVEL) #83 Very Fine
MARVEL TEAM-UP (1972) (#1-150) (MARVEL) #84 NEWSSTAND Very Fine
MARVEL TEAM-UP (1972) (#1-150) (MARVEL) #88 Very Fine
MARVEL TEAM-UP (1972) (#1-150) (MARVEL) #89 NEWSSTAND Very Fine
MARVEL TEAM-UP (1972) (#1-150) (MARVEL) #89 Very Fine
MARVEL TEAM-UP (1972) (#1-150) (MARVEL) #90 Near Mint/Mint
MARVEL TEAM-UP (1972) (#1-150) (MARVEL) #91 NEWSSTAND Very Fine
MARVEL TEAM-UP (1972) (#1-150) (MARVEL) #92 Very Fine
MARVEL TEAM-UP (1972) (#1-150) (MARVEL) #93 Very Fine
MARVEL TEAM-UP (1972) (#1-150) (MARVEL) #94 NEWSSTAND Near Mint/Mint
MARVEL TEAM-UP (1972) (#1-150) (MARVEL) #94 NEWSSTAND Very Fine
MARVEL TEAM-UP (1972) (#1-150) (MARVEL) #98 Near Mint/Mint
MARVEL TEAM-UP (1972) (#1-150) (MARVEL) #101 Near Mint/Mint
MARVEL TEAM-UP (1972) (#1-150) (MARVEL) #101 Very Fine
MARVEL TEAM-UP (1972) (#1-150) (MARVEL) #102 Near Mint/Mint
MARVEL TEAM-UP (1972) (#1-150) (MARVEL) #103 Fine
MARVEL TEAM-UP (1972) (#1-150) (MARVEL) #103 NEWSSTAND Fine
MARVEL TEAM-UP (1972) (#1-150) (MARVEL) #107 Near Mint/Mint
MARVEL TEAM-UP (1972) (#1-150) (MARVEL) #107 NEWSSTAND Fine
MARVEL TEAM-UP (1972) (#1-150) (MARVEL) #111 NEWSSTAND Near Mint/Mint
MARVEL TEAM-UP (1972) (#1-150) (MARVEL) #112 NEWSSTAND Near Mint/Mint


MARVEL TEAM-UP (1972) (#1-150) (MARVEL) #113

MARVEL TEAM-UP (1972) (#1-150) (MARVEL) #113 Near Mint/Mint
MARVEL TEAM-UP (1972) (#1-150) (MARVEL) #113 NEWSSTAND Very Fine
MARVEL TEAM-UP (1972) (#1-150) (MARVEL) #114 Near Mint/Mint
MARVEL TEAM-UP (1972) (#1-150) (MARVEL) #115 Near Mint/Mint
MARVEL TEAM-UP (1972) (#1-150) (MARVEL) #115 NEWSSTAND Very Fine
MARVEL TEAM-UP (1972) (#1-150) (MARVEL) #116 Near Mint/Mint
MARVEL TEAM-UP (1972) (#1-150) (MARVEL) #116 NEWSSTAND Near Mint/Mint
MARVEL TEAM-UP (1972) (#1-150) (MARVEL) #116 NEWSSTAND Fine
MARVEL TEAM-UP (1972) (#1-150) (MARVEL) #116 Very Fine
MARVEL TEAM-UP (1972) (#1-150) (MARVEL) #118 Near Mint/Mint
MARVEL TEAM-UP (1972) (#1-150) (MARVEL) #119 Near Mint/Mint
MARVEL TEAM-UP (1972) (#1-150) (MARVEL) #120 Near Mint/Mint
MARVEL TEAM-UP (1972) (#1-150) (MARVEL) #120 NEWSSTAND Very Fine
MARVEL TEAM-UP (1972) (#1-150) (MARVEL) #121 Near Mint/Mint
MARVEL TEAM-UP (1972) (#1-150) (MARVEL) #122 Near Mint/Mint
MARVEL TEAM-UP (1972) (#1-150) (MARVEL) #122 Very Fine
MARVEL TEAM-UP (1972) (#1-150) (MARVEL) #125 Near Mint/Mint
MARVEL TEAM-UP (1972) (#1-150) (MARVEL) #125 NEWSSTAND Near Mint/Mint
MARVEL TEAM-UP (1972) (#1-150) (MARVEL) #126 Near Mint/Mint
MARVEL TEAM-UP (1972) (#1-150) (MARVEL) #128 Near Mint/Mint
MARVEL TEAM-UP (1972) (#1-150) (MARVEL) #128 NEWSSTAND Fine
MARVEL TEAM-UP (1972) (#1-150) (MARVEL) #129 Near Mint/Mint
MARVEL TEAM-UP (1972) (#1-150) (MARVEL) #130 Near Mint/Mint
MARVEL TEAM-UP (1972) (#1-150) (MARVEL) #131 Near Mint/Mint
MARVEL TEAM-UP (1972) (#1-150) (MARVEL) #132 Near Mint/Mint
MARVEL TEAM-UP (1972) (#1-150) (MARVEL) #134 Near Mint/Mint
MARVEL TEAM-UP (1972) (#1-150) (MARVEL) #136 Near Mint/Mint
MARVEL TEAM-UP (1972) (#1-150) (MARVEL) #140 Near Mint/Mint
MARVEL TEAM-UP (1972) (#1-150) (MARVEL) #140 Very Fine
MARVEL TEAM-UP (1972) (#1-150) (MARVEL) #142 Near Mint/Mint
MARVEL TEAM-UP (1972) (#1-150) (MARVEL) #144 Near Mint/Mint
MARVEL TEAM-UP (1972) (#1-150) (MARVEL) #145 Near Mint/Mint
MARVEL TEAM-UP (1972) (#1-150) (MARVEL) #145 Very Fine
MARVEL TEAM-UP (1972) (#1-150) (MARVEL) #147 Near Mint/Mint
MARVEL TEAM-UP (1972) (#1-150) (MARVEL) #150 Near Mint/Mint

MARVEL TEAM-UP ANNUAL (1976) #3 Near Mint/Mint
MARVEL TEAM-UP ANNUAL (1976) #4 NEWSSTAND Fine
MARVEL TEAM-UP ANNUAL (1976) #5 NEWSSTAND Fine

MARVEL TEAM-UP INDEX #6 Near Mint/Mint

SECRET WARS (1984) #1 Near Mint/Mint

SECRET WARS (1984) #2 Near Mint/Mint
SECRET WARS (1984) #3 Near Mint/Mint
SECRET WARS (1984) #4 Very Fine
SECRET WARS (1984) #5 Fine
SECRET WARS (1984) #5 Very Good
SECRET WARS (1984) #6 Near Mint/Mint
SECRET WARS (1984) #7 Near Mint/Mint
SECRET WARS (1984) #9 Near Mint/Mint
SECRET WARS (1984) #10 Near Mint/Mint
SECRET WARS (1984) #11 Near Mint/Mint

SHADOWLAND (2010) #1 Near Mint/Mint
SHADOWLAND (2010) #2 Near Mint/Mint
SHADOWLAND (2010) #5 TAN Near Mint/Mint

SHADOWLAND: GHOST RIDER (2010) #1 Near Mint/Mint

SHE-HULK (1980) (#1-25) (SAVAGE SHE-HULK) (MARVEL) #3 NEWSSTAND Fine
SHE-HULK (1980) (#1-25) (SAVAGE SHE-HULK) (MARVEL) #4 NEWSSTAND Very Good
SHE-HULK (1980) (#1-25) (SAVAGE SHE-HULK) (MARVEL) #6 NEWSSTAND Fine
SHE-HULK (1980) (#1-25) (SAVAGE SHE-HULK) (MARVEL) #7 NEWSSTAND Fine
SHE-HULK (1980) (#1-25) (SAVAGE SHE-HULK) (MARVEL) #8 NEWSSTAND Fine
SHE-HULK (1980) (#1-25) (SAVAGE SHE-HULK) (MARVEL) #9 NEWSSTAND Fine
SHE-HULK (1980) (#1-25) (SAVAGE SHE-HULK) (MARVEL) #10 NEWSSTAND Fine
SHE-HULK (1980) (#1-25) (SAVAGE SHE-HULK) (MARVEL) #11 NEWSSTAND Very Fine
SHE-HULK (1980) (#1-25) (SAVAGE SHE-HULK) (MARVEL) #12 NEWSSTAND Very Fine
SHE-HULK (1980) (#1-25) (SAVAGE SHE-HULK) (MARVEL) #13 NEWSSTAND Fine
SHE-HULK (1980) (#1-25) (SAVAGE SHE-HULK) (MARVEL) #14 NEWSSTAND Very Fine
SHE-HULK (1980) (#1-25) (SAVAGE SHE-HULK) (MARVEL) #15 NEWSSTAND Fine
SHE-HULK (1980) (#1-25) (SAVAGE SHE-HULK) (MARVEL) #16 NEWSSTAND Fine
SHE-HULK (1980) (#1-25) (SAVAGE SHE-HULK) (MARVEL) #18 NEWSSTAND Fine
SHE-HULK (1980) (#1-25) (SAVAGE SHE-HULK) (MARVEL) #19 NEWSSTAND Fine
SHE-HULK (1980) (#1-25) (SAVAGE SHE-HULK) (MARVEL) #20 NEWSSTAND Very Fine
SHE-HULK (1980) (#1-25) (SAVAGE SHE-HULK) (MARVEL) #21 NEWSSTAND Very Fine
SHE-HULK (1980) (#1-25) (SAVAGE SHE-HULK) (MARVEL) #22 NEWSSTAND Fine
SHE-HULK (1980) (#1-25) (SAVAGE SHE-HULK) (MARVEL) #23 Near Mint/Mint
SHE-HULK (1980) (#1-25) (SAVAGE SHE-HULK) (MARVEL) #25 Near Mint/Mint
SHE-HULK (1980) (#1-25) (SAVAGE SHE-HULK) (MARVEL) #25 Very Fine

SILVER SABLE & THE WILD PACK (1992) (#1-35) (MARVEL) #23 Near Mint/Mint

SILVER SURFER (1987) (#1-146) (MARVEL) #34 Near Mint/Mint


SILVER SURFER (1987) (#1-146) (MARVEL) #44

SILVER SURFER (1987) (#1-146) (MARVEL) #44 Fine
SILVER SURFER (1987) (#1-146) (MARVEL) #44 Very Fine

SPIDER-MAN (1963) (AMAZING SPIDER-MAN) (#1-441) #258 Very Fine
SPIDER-MAN (1963) (AMAZING SPIDER-MAN) (#1-441) #259 Near Mint/Mint
SPIDER-MAN (1963) (AMAZING SPIDER-MAN) (#1-441) #260 Near Mint/Mint
SPIDER-MAN (1963) (AMAZING SPIDER-MAN) (#1-441) #271 Near Mint/Mint
SPIDER-MAN (1963) (AMAZING SPIDER-MAN) (#1-441) #273 Near Mint/Mint
SPIDER-MAN (1963) (AMAZING SPIDER-MAN) (#1-441) #274 Near Mint/Mint
SPIDER-MAN (1963) (AMAZING SPIDER-MAN) (#1-441) #275 Fine
SPIDER-MAN (1963) (AMAZING SPIDER-MAN) (#1-441) #277 Near Mint/Mint
SPIDER-MAN (1963) (AMAZING SPIDER-MAN) (#1-441) #284 Very Fine
SPIDER-MAN (1963) (AMAZING SPIDER-MAN) (#1-441) #285 Very Fine
SPIDER-MAN (1963) (AMAZING SPIDER-MAN) (#1-441) #308 Very Good
SPIDER-MAN (1963) (AMAZING SPIDER-MAN) (#1-441) #318 Fine
SPIDER-MAN (1963) (AMAZING SPIDER-MAN) (#1-441) #321 Near Mint/Mint
SPIDER-MAN (1963) (AMAZING SPIDER-MAN) (#1-441) #322 Very Fine
SPIDER-MAN (1963) (AMAZING SPIDER-MAN) (#1-441) #326 Near Mint/Mint
SPIDER-MAN (1963) (AMAZING SPIDER-MAN) (#1-441) #328 Near Mint/Mint
SPIDER-MAN (1963) (AMAZING SPIDER-MAN) (#1-441) #328 Very Fine
SPIDER-MAN (1963) (AMAZING SPIDER-MAN) (#1-441) #343 INSERT Fine
SPIDER-MAN (1963) (AMAZING SPIDER-MAN) (#1-441) #345 Very Good
SPIDER-MAN (1963) (AMAZING SPIDER-MAN) (#1-441) #434 Near Mint/Mint
SPIDER-MAN (1963) (AMAZING SPIDER-MAN) (#1-441) #436 Near Mint/Mint

SPIDER-MAN AND DAREDEVIL (1984) #1 Fine

SPIDER-MAN, CAPTAIN AMERICA, HULK, & SPIDER-WOMAN 7-11 (1981) #1 Fine

SPIDER-MAN: CLONE SAGA (2009) #4 Near Mint/Mint
SPIDER-MAN: CLONE SAGA (2009) #5 Near Mint/Mint
SPIDER-MAN: CLONE SAGA (2009) #6 Near Mint/Mint

THOR (1962) (#83-125 JOURNEY INTO MYSTERY, 126-502) #361 Near Mint/Mint
THOR (1962) (#83-125 JOURNEY INTO MYSTERY, 126-502) #366 Near Mint/Mint
THOR (1962) (#83-125 JOURNEY INTO MYSTERY, 126-502) #367 Near Mint/Mint
THOR (1962) (#83-125 JOURNEY INTO MYSTERY, 126-502) #374 Very Fine
THOR (1962) (#83-125 JOURNEY INTO MYSTERY, 126-502) #379 Near Mint/Mint

THOR (2007) (#1-12, 600-621) (MARVEL) #2 Near Mint/Mint
THOR (2007) (#1-12, 600-621) (MARVEL) #2 DELL OTTO Near Mint/Mint
THOR (2007) (#1-12, 600-621) (MARVEL) #4 Near Mint/Mint


THOR (2014) (#1-8) (MARVEL) (FEMALE THOR) #1

THOR (2014) (#1-8) (MARVEL) (FEMALE THOR) #1 Near Mint/Mint
THOR (2014) (#1-8) (MARVEL) (FEMALE THOR) #1 BLANK CVR Near Mint/Mint
THOR (2014) (#1-8) (MARVEL) (FEMALE THOR) #2 Near Mint/Mint
THOR (2014) (#1-8) (MARVEL) (FEMALE THOR) #3 Near Mint/Mint
THOR (2014) (#1-8) (MARVEL) (FEMALE THOR) #4 Near Mint/Mint
THOR (2014) (#1-8) (MARVEL) (FEMALE THOR) #5 Very Fine
THOR (2014) (#1-8) (MARVEL) (FEMALE THOR) #6 Near Mint/Mint

THOR ANNUAL (1965) #13 Near Mint/Mint

THOR ANNUAL (2015) #1 SAUVAGE Near Mint/Mint

THOR: BLOOD OATH (2005) #5 Very Fine

THOR: GOD OF THUNDER (2012) #25 Very Fine

THUNDERBOLTS (2012) (#1-32) (MARVEL) #31 Near Mint/Mint
THUNDERBOLTS (2012) (#1-32) (MARVEL) #32 Near Mint/Mint

THUNDERBOLTS ANNUAL (2014) #1 Near Mint/Mint

THUNDERCATS (1986) (#1-24) (MARVEL/STAR) #4 Near Mint/Mint

TRANSFORMERS (1984) (#1-80) (MARVEL) #1 Near Mint/Mint
TRANSFORMERS (1984) (#1-80) (MARVEL) #2 Near Mint/Mint
TRANSFORMERS (1984) (#1-80) (MARVEL) #3 Near Mint/Mint
TRANSFORMERS (1984) (#1-80) (MARVEL) #4 Near Mint/Mint
TRANSFORMERS (1984) (#1-80) (MARVEL) #5 Near Mint/Mint

TRANSFORMERS UNIVERSE (1986) #2 Near Mint/Mint
TRANSFORMERS UNIVERSE (1986) #3 Near Mint/Mint

ULTIMATE WOLVERINE VS. HULK (2005) #1 Near Mint/Mint

ULTIMATES 3 (2007) #1 HEROES Near Mint/Mint

UNCANNY X-MEN (2013) (#1-35, 600) (MARVEL) #3 NEWSSTAND Near Mint/Mint
UNCANNY X-MEN (2013) (#1-35, 600) (MARVEL) #4 NEWSSTAND Near Mint/Mint
UNCANNY X-MEN (2013) (#1-35, 600) (MARVEL) #600 HUGHES Near Mint/Mint

WEB OF SPIDER-MAN (1985) (#1-129) (MARVEL) #4 Near Mint/Mint
WEB OF SPIDER-MAN (1985) (#1-129) (MARVEL) #96 Near Mint/Mint


WHAT IF... (1989) (#1-114, & 200) (MARVEL) #37

WHAT IF... (1989) (#1-114, & 200) (MARVEL) #37 Near Mint/Mint
WHAT IF... (1989) (#1-114, & 200) (MARVEL) #42 Near Mint/Mint
WHAT IF... (1989) (#1-114, & 200) (MARVEL) #44 Very Fine
WHAT IF... (1989) (#1-114, & 200) (MARVEL) #49 Near Mint/Mint
WHAT IF... (1989) (#1-114, & 200) (MARVEL) #50 Near Mint/Mint
WHAT IF... (1989) (#1-114, & 200) (MARVEL) #51 Near Mint/Mint
WHAT IF... (1989) (#1-114, & 200) (MARVEL) #58 Near Mint/Mint

WHAT IF: ANNIHILATION (2007) #1 Near Mint/Mint

WHAT IF: CIVIL WAR (2007) #1 Near Mint/Mint

WOLVERINE (1988) (#1/2-189) (MARVEL) #147 Near Mint/Mint

WOLVERINE: ORIGINS (2006) #16 Near Mint/Mint

WONDERFUL WIZARD OF OZ (2008) #1 Very Fine
WONDERFUL WIZARD OF OZ (2008) #4 Near Mint/Mint
WONDERFUL WIZARD OF OZ (2008) #5 Near Mint/Mint
WONDERFUL WIZARD OF OZ (2008) #6 Near Mint/Mint

WOODSTOCK #1 NEWSSTAND Very Fine

WORLD CHAMPIONSHIP WRESTLING (WCW) (1992) #3 Near Mint/Mint
WORLD CHAMPIONSHIP WRESTLING (WCW) (1992) #3 Very Fine
WORLD CHAMPIONSHIP WRESTLING (WCW) (1992) #4 NEWSSTAND Fine
WORLD CHAMPIONSHIP WRESTLING (WCW) (1992) #5 Very Fine
WORLD CHAMPIONSHIP WRESTLING (WCW) (1992) #8 Near Mint/Mint
WORLD CHAMPIONSHIP WRESTLING (WCW) (1992) #9 Fine

WORLD WAR HULK (2007) #2 Near Mint/Mint
WORLD WAR HULK (2007) #4 Very Fine
WORLD WAR HULK (2007) #5 Near Mint/Mint

WORLD WAR HULK: X-MEN (2007) #2 Near Mint/Mint

X 23 (2005) (#1-6) (MARVEL NEXT) #5 Near Mint/Mint

X-FACTOR (2005) (#1-50, 200-262) (MADROX) #1 Near Mint/Mint
X-FACTOR (2005) (#1-50, 200-262) (MADROX) #25 Very Fine

X-MEN (1963) (#1-113, UNCANNY X-MEN #114-544) (MARVEL) #86 Very Good


X-MEN (1963) (#1-113, UNCANNY X-MEN #114-544) (MARVEL) #87

X-MEN (1963) (#1-113, UNCANNY X-MEN #114-544) (MARVEL) #87 Very Good
X-MEN (1963) (#1-113, UNCANNY X-MEN #114-544) (MARVEL) #377 VARIANT Near Mint/Mint
X-MEN (1963) (#1-113, UNCANNY X-MEN #114-544) (MARVEL) #489 Very Fine
X-MEN (1963) (#1-113, UNCANNY X-MEN #114-544) (MARVEL) #493 Near Mint/Mint
X-MEN (1991) (#1-275) (MARVEL) #97 VARIANT Near Mint/Mint
X-MEN (1991) (#1-275) (MARVEL) #201 Near Mint/Mint
X-MEN (1991) (#1-275) (MARVEL) #202 Near Mint/Mint
X-MEN (1991) (#1-275) (MARVEL) #205 Near Mint/Mint

X-MEN: EMPEROR VULCAN (2007) #3 Near Mint/Mint

DC
ACTION COMICS (1938) (#0-600, 643-904) (DC) #583 Near Mint/Mint
ACTION COMICS (1938) (#0-600, 643-904) (DC) #588 Near Mint/Mint

ADVENTURE COMICS (1938) #473 Very Fine
ADVENTURE COMICS (1938) #485 Near Mint/Mint
ADVENTURE COMICS (1938) #486 Near Mint/Mint
ADVENTURE COMICS (1938) #487 Near Mint/Mint
ADVENTURE COMICS (1938) #488 Near Mint/Mint
ADVENTURE COMICS (1938) #489 Near Mint/Mint

ADVENTURES IN THE DC UNIVERSE (1997) #12 Near Mint/Mint

ALL-STAR SQUADRON (1981) #12 Near Mint/Mint
ALL-STAR SQUADRON (1981) #13 Near Mint/Mint
ALL-STAR SQUADRON (1981) #19 Near Mint/Mint
ALL-STAR SQUADRON (1981) #24 Near Mint/Mint
ALL-STAR SQUADRON (1981) #31 Near Mint/Mint
ALL-STAR SQUADRON (1981) #32 NEWSSTAND Fine
ALL-STAR SQUADRON (1981) #33 NEWSSTAND Very Fine
ALL-STAR SQUADRON (1981) #35 Near Mint/Mint
ALL-STAR SQUADRON (1981) #36 NEWSSTAND Fine
ALL-STAR SQUADRON (1981) #37 Near Mint/Mint
ALL-STAR SQUADRON (1981) #47 Very Fine
ALL-STAR SQUADRON (1981) #49 Near Mint/Mint
ALL-STAR SQUADRON (1981) #50 Near Mint/Mint
ALL-STAR SQUADRON (1981) #59 Near Mint/Mint
ALL-STAR SQUADRON (1981) #61 Near Mint/Mint
ALL-STAR SQUADRON (1981) #63 Near Mint/Mint

ALL-STAR SQUADRON ANNUAL (1982) #3 Near Mint/Mint


AMBER: GUNS OF AVALON (DC) (ROGER ZELAZNY) #2

AMBER: GUNS OF AVALON (DC) (ROGER ZELAZNY) #2 Near Mint/Mint

BATMAN (1940) (#0-713) (DC) #261 Very Good
BATMAN (1940) (#0-713) (DC) #337 Very Good
BATMAN (1940) (#0-713) (DC) #338 Fine
BATMAN (1940) (#0-713) (DC) #339 Fine
BATMAN (1940) (#0-713) (DC) #341 Fine
BATMAN (1940) (#0-713) (DC) #343 ATARI Fine
BATMAN (1940) (#0-713) (DC) #344 Fine
BATMAN (1940) (#0-713) (DC) #346 ATARI Fine
BATMAN (1940) (#0-713) (DC) #347 Fine
BATMAN (1940) (#0-713) (DC) #349 NEWSSTAND Fine
BATMAN (1940) (#0-713) (DC) #350 NEWSSTAND Fine
BATMAN (1940) (#0-713) (DC) #363 Fine
BATMAN (1940) (#0-713) (DC) #364 Fine
BATMAN (1940) (#0-713) (DC) #368 Fine
BATMAN (1940) (#0-713) (DC) #375 Very Fine
BATMAN (1940) (#0-713) (DC) #376 Very Fine
BATMAN (1940) (#0-713) (DC) #377 Very Fine
BATMAN (1940) (#0-713) (DC) #378 NEWSSTAND Very Good
BATMAN (1940) (#0-713) (DC) #380 NEWSSTAND Very Fine
BATMAN (1940) (#0-713) (DC) #381 NEWSSTAND Very Fine
BATMAN (1940) (#0-713) (DC) #382 Very Fine
BATMAN (1940) (#0-713) (DC) #383 Fine
BATMAN (1940) (#0-713) (DC) #385 Very Fine
BATMAN (1940) (#0-713) (DC) #386 Very Fine
BATMAN (1940) (#0-713) (DC) #397 Near Mint/Mint
BATMAN (1940) (#0-713) (DC) #399 Very Fine
BATMAN (1940) (#0-713) (DC) #410 Near Mint/Mint
BATMAN (1940) (#0-713) (DC) #411 Near Mint/Mint
BATMAN (1940) (#0-713) (DC) #419 Very Fine
BATMAN (1940) (#0-713) (DC) #420 Near Mint/Mint

BATMAN & ROBIN ADVENTURES (1995) #3 Near Mint/Mint

BATMAN ANNUAL (1961) (#1-28) (DC) #9 Near Mint/Mint
BATMAN ANNUAL (1961) (#1-28) (DC) #11 Very Fine

BATMAN SPECIAL (MICHAEL GOLDEN) (1984) #1 Very Fine

BATMAN: THE CULT (JIM STARLIN) (BERNI WRIGHTSON) (1988) #1 Fine
BATMAN: THE CULT (JIM STARLIN) (BERNI WRIGHTSON) (1988) #2 Very Fine


BATMAN: THE LONG HALLOWEEN (JEPH LOEB) (TIM SALE) (1996) #6

BATMAN: THE LONG HALLOWEEN (JEPH LOEB) (TIM SALE) (1996) #6 Very Fine

BIRDS OF PREY: BATGIRL (1998) #1 Fine

BLACK CANARY/ORACLE: BIRDS OF PREY (1996) #1 Fine

BRAVE AND THE BOLD (1955) #172 NEWSSTAND Fine
BRAVE AND THE BOLD (1955) #181 Very Fine
BRAVE AND THE BOLD (1955) #183 NEWSSTAND Fine
BRAVE AND THE BOLD (1955) #184 Very Fine
BRAVE AND THE BOLD (1955) #187 Very Fine
BRAVE AND THE BOLD (1955) #188 NEWSSTAND Very Fine
BRAVE AND THE BOLD (1955) #189 NEWSSTAND Fine
BRAVE AND THE BOLD (1955) #190 NEWSSTAND Very Fine
BRAVE AND THE BOLD (1955) #198 NEWSSTAND Very Good

DC COMICS PRESENTS (1978) #84 Fine
DC COMICS PRESENTS (1978) #85 Very Fine
DC COMICS PRESENTS (1978) #87 Near Mint/Mint
DC COMICS PRESENTS (1978) #93 Very Fine
DC COMICS PRESENTS (1978) #95 Very Fine

DC COMICS PRESENTS ANNUAL (1982) #1 Near Mint/Mint
DC COMICS PRESENTS ANNUAL (1982) #4 Near Mint/Mint

DETECTIVE COMICS (1937) (#0-881) (DC) #539 Very Fine
DETECTIVE COMICS (1937) (#0-881) (DC) #540 Near Mint/Mint
DETECTIVE COMICS (1937) (#0-881) (DC) #541 Near Mint/Mint
DETECTIVE COMICS (1937) (#0-881) (DC) #542 Very Fine
DETECTIVE COMICS (1937) (#0-881) (DC) #543 Fine
DETECTIVE COMICS (1937) (#0-881) (DC) #544 Very Fine
DETECTIVE COMICS (1937) (#0-881) (DC) #545 Very Fine
DETECTIVE COMICS (1937) (#0-881) (DC) #546 Very Fine
DETECTIVE COMICS (1937) (#0-881) (DC) #547 NEWSSTAND Very Fine
DETECTIVE COMICS (1937) (#0-881) (DC) #549 Near Mint/Mint
DETECTIVE COMICS (1937) (#0-881) (DC) #553 Fine
DETECTIVE COMICS (1937) (#0-881) (DC) #554 Very Fine
DETECTIVE COMICS (1937) (#0-881) (DC) #566 Near Mint/Mint
DETECTIVE COMICS (1937) (#0-881) (DC) #567 Near Mint/Mint
DETECTIVE COMICS (1937) (#0-881) (DC) #569 Fine
DETECTIVE COMICS (1937) (#0-881) (DC) #569 Near Mint/Mint
DETECTIVE COMICS (1937) (#0-881) (DC) #569 Very Fine
DETECTIVE COMICS (1937) (#0-881) (DC) #570 Near Mint/Mint


DETECTIVE COMICS (1937) (#0-881) (DC) #572

DETECTIVE COMICS (1937) (#0-881) (DC) #572 Near Mint/Mint
DETECTIVE COMICS (1937) (#0-881) (DC) #572 Very Fine
DETECTIVE COMICS (1937) (#0-881) (DC) #576 Very Fine
DETECTIVE COMICS (1937) (#0-881) (DC) #578 Fine

GHOSTS (1971) #18 Very Good

LEGION '89 (1990) #31 Near Mint/Mint

SECRET ORIGINS (1986) (#1-50) (DC) #31 Near Mint/Mint

SECRET SOCIETY OF SUPER-VILLAINS (1976) #1 Very Good

SHADOW OF THE BATMAN (1985) #1 Near Mint/Mint
SHADOW OF THE BATMAN (1985) #3 Fine
SHADOW OF THE BATMAN (1985) #4 Near Mint/Mint

TEEN TITANS (1980) (#1-91) (DC) #29 Near Mint/Mint
TEEN TITANS (1980) (#1-91) (DC) #55 Near Mint/Mint
TEEN TITANS (1980) (#1-91) (DC) #79 Very Fine

TEEN TITANS, BAXTER (NEW TEEN TITANS) (1984) #99 Very Fine

THRILLKILLERS '62 (BATGIRL)(BATMAN) (ELSEWORLDS) (1998) #1 Near Mint/Mint

TITANS: SCISSORS, PAPER, STONE (ADAM WARREN) (1997) #1 Near Mint/Mint

TRANSMETROPOLITAN (1997) #1 (DC: Vertigo Press) Fine
TRANSMETROPOLITAN (1997) #2 (DC: Vertigo Press) Very Fine

VALOR (1992) (#1-23) (DC) #12 Near Mint/Mint
VALOR (1992) (#1-23) (DC) #15 Near Mint/Mint

WONDER WOMAN (1987) (#0-226) (DC) #80 Near Mint/Mint
WONDER WOMAN (1987) (#0-226) (DC) #110 Near Mint/Mint
WONDER WOMAN (1987) (#0-226) (DC) #111 Very Fine
WONDER WOMAN (1987) (#0-226) (DC) #112 Near Mint/Mint
WONDER WOMAN (1987) (#0-226) (DC) #112 Very Fine
WONDER WOMAN (1987) (#0-226) (DC) #118 Near Mint/Mint
WONDER WOMAN (1987) (#0-226) (DC) #119 Very Fine
WONDER WOMAN (1987) (#0-226) (DC) #121 Near Mint/Mint
WONDER WOMAN (1987) (#0-226) (DC) #127 Near Mint/Mint
WONDER WOMAN (1987) (#0-226) (DC) #129 Near Mint/Mint


WONDER WOMAN (1987) (#0-226) (DC) #130

WONDER WOMAN (1987) (#0-226) (DC) #130 Near Mint/Mint
WONDER WOMAN (1987) (#0-226) (DC) #133 Near Mint/Mint
WONDER WOMAN (1987) (#0-226) (DC) #134 Near Mint/Mint
WONDER WOMAN (1987) (#0-226) (DC) #135 Near Mint/Mint
WONDER WOMAN (1987) (#0-226) (DC) #136 Near Mint/Mint
WONDER WOMAN (1987) (#0-226) (DC) #137 Near Mint/Mint
WONDER WOMAN (1987) (#0-226) (DC) #138 Near Mint/Mint
WONDER WOMAN (1987) (#0-226) (DC) #139 Very Fine
WONDER WOMAN (1987) (#0-226) (DC) #144 Near Mint/Mint
WONDER WOMAN (1987) (#0-226) (DC) #148 Near Mint/Mint
WONDER WOMAN (1987) (#0-226) (DC) #149 Near Mint/Mint
WONDER WOMAN (1987) (#0-226) (DC) #153 Near Mint/Mint
WONDER WOMAN (1987) (#0-226) (DC) #154 Very Fine
WONDER WOMAN (1987) (#0-226) (DC) #155 Near Mint/Mint
WONDER WOMAN (1987) (#0-226) (DC) #160 Near Mint/Mint
WONDER WOMAN (1987) (#0-226) (DC) #161 Near Mint/Mint
WONDER WOMAN (1987) (#0-226) (DC) #162 Near Mint/Mint
WONDER WOMAN (1987) (#0-226) (DC) #163 Near Mint/Mint
WONDER WOMAN (1987) (#0-226) (DC) #164 Near Mint/Mint
WONDER WOMAN (1987) (#0-226) (DC) #168 Near Mint/Mint
WONDER WOMAN (1987) (#0-226) (DC) #171 Near Mint/Mint
WONDER WOMAN (1987) (#0-226) (DC) #176 Near Mint/Mint
WONDER WOMAN (1987) (#0-226) (DC) #177 Near Mint/Mint
WONDER WOMAN (1987) (#0-226) (DC) #179 Near Mint/Mint
WONDER WOMAN (1987) (#0-226) (DC) #181 Near Mint/Mint
WONDER WOMAN (1987) (#0-226) (DC) #182 Near Mint/Mint
WONDER WOMAN (1987) (#0-226) (DC) #187 Near Mint/Mint
WONDER WOMAN (1987) (#0-226) (DC) #187 Very Fine
WONDER WOMAN (1987) (#0-226) (DC) #188 Near Mint/Mint
WONDER WOMAN (1987) (#0-226) (DC) #190 Near Mint/Mint
WONDER WOMAN (1987) (#0-226) (DC) #191 Near Mint/Mint
WONDER WOMAN (1987) (#0-226) (DC) #192 Near Mint/Mint
WONDER WOMAN (1987) (#0-226) (DC) #196 Near Mint/Mint
WONDER WOMAN (1987) (#0-226) (DC) #198 Near Mint/Mint
WONDER WOMAN (1987) (#0-226) (DC) #200 Near Mint/Mint
WONDER WOMAN (1987) (#0-226) (DC) #214 Very Fine

WONDER WOMAN (2006) (#1-44, 600-614) (DC) #28 Fine
WONDER WOMAN (2006) (#1-44, 600-614) (DC) #28 Very Fine
WONDER WOMAN (2006) (#1-44, 600-614) (DC) #38 Near Mint/Mint
WONDER WOMAN (2006) (#1-44, 600-614) (DC) #38 Very Fine
WONDER WOMAN (2006) (#1-44, 600-614) (DC) #39 Very Fine
WONDER WOMAN (2006) (#1-44, 600-614) (DC) #40 Near Mint/Mint


WONDER WOMAN (2006) (#1-44, 600-614) (DC) #40

WONDER WOMAN (2006) (#1-44, 600-614) (DC) #40 Very Fine
WONDER WOMAN (2006) (#1-44, 600-614) (DC) #42 Very Fine
WONDER WOMAN (2006) (#1-44, 600-614) (DC) #44 Fine
WONDER WOMAN (2006) (#1-44, 600-614) (DC) #600 Very Fine
WONDER WOMAN (2006) (#1-44, 600-614) (DC) #606 Near Mint/Mint

WONDER WOMAN (2011) (#0-52) (DC NEW52) #0 Near Mint/Mint
WONDER WOMAN (2011) (#0-52) (DC NEW52) #7 Near Mint/Mint
WONDER WOMAN (2011) (#0-52) (DC NEW52) #8 Near Mint/Mint
WONDER WOMAN (2011) (#0-52) (DC NEW52) #9 Near Mint/Mint

WONDER WOMAN '77 SPECIAL (2015) #3 Very Fine

WONDER WOMAN 1,000,000 (1998) #1 Near Mint/Mint

WONDER WOMAN ANNUAL (1988) #2 Very Fine
WONDER WOMAN ANNUAL (1988) #4 Near Mint/Mint
WONDER WOMAN ANNUAL (1988) #4 Very Fine

WONDER WOMAN PLUS (1997) #1 Near Mint/Mint

WONDER WOMAN SECRET FILES (1998) #1 Near Mint/Mint

WONDER WOMAN: BLUE AMAZON (2003) #1 Near Mint/Mint
WONDER WOMAN: BLUE AMAZON (2003) #1 Very Fine

WONDER WOMAN: ONCE & FUTURE STORY (1998) #1 Fine

WORLD OF KRYPTON (1987) #1 Near Mint/Mint
WORLD OF KRYPTON (1987) #1 Very Fine
WORLD OF KRYPTON (1987) #3 Very Fine
WORLD OF KRYPTON (1987) #4 Near Mint/Mint
WORLD OF KRYPTON (1987) #4 Fine
WORLD OF KRYPTON (1987) #4 Very Fine

WORLD OF SMALLVILLE (1988) #2 Near Mint/Mint
WORLD OF SMALLVILLE (1988) #3 Near Mint/Mint

Y-THE LAST MAN (2002) #40 (DC: Vertigo Press) Near Mint/Mint

DARK HORSE COMICS
ALIENS: ALCHEMY (DARK HORSE) (CORBEN) (1997) #1 Near Mint/Mint


ALIENS: ALCHEMY (DARK HORSE) (CORBEN) (1997) #2

ALIENS: ALCHEMY (DARK HORSE) (CORBEN) (1997) #2 Near Mint/Mint
ALIENS: ALCHEMY (DARK HORSE) (CORBEN) (1997) #3 Very Fine

ALIENS: BERSERKER (DARK HORSE) (1995) #1 Near Mint/Mint

ALIENS: RESURRECTION (DARK HORSE) (1997) #2 Near Mint/Mint

ALIENS: SALVATION (DARK HORSE) (MIGNOLA) (1993) #1 Very Fine

ALIENS: SURVIVAL (DARK HORSE) (1998) #1 Near Mint/Mint

DARK HORSE PRESENTS (1986) #1 1ST PRT Very Fine

NEXT MEN (1992) #22 Very Fine

THING (THING FROM ANOTHER WORLD) (DARK HORSE) (TFAW) (1991) #2 Near Mint/Mint

THING FROM ANOTHER WORLD: ETERNAL VOWS (1993) #1 Near Mint/Mint
THING FROM ANOTHER WORLD: ETERNAL VOWS (1993) #2 Near Mint/Mint
THING FROM ANOTHER WORLD: ETERNAL VOWS (1993) #3 Near Mint/Mint
THING FROM ANOTHER WORLD: ETERNAL VOWS (1993) #4 Near Mint/Mint

THING: CLIMATE OF FEAR (1992) #2 Near Mint/Mint

IMAGE COMICS
BIG MAN PLANS (2015) #2 Near Mint/Mint

BIRTHRIGHT (2014) (#1-UP) (IMAGE) #1 A Near Mint/Mint
BIRTHRIGHT (2014) (#1-UP) (IMAGE) #2 Near Mint/Mint
BIRTHRIGHT (2014) (#1-UP) (IMAGE) #3 Near Mint/Mint
BIRTHRIGHT (2014) (#1-UP) (IMAGE) #4 Near Mint/Mint
BIRTHRIGHT (2014) (#1-UP) (IMAGE) #5 Near Mint/Mint
BIRTHRIGHT (2014) (#1-UP) (IMAGE) #6 A Near Mint/Mint

DARKNESS/PITT (2009) #1 A (Image Top Cow) Near Mint/Mint
DARKNESS/PITT (2009) #2 A (Image Top Cow) Near Mint/Mint
DARKNESS/PITT (2009) #3 A (Image Top Cow) Near Mint/Mint

DRIFTER (IMAGE) (2014) #1 A KLEIN Near Mint/Mint
DRIFTER (IMAGE) (2014) #2 B Near Mint/Mint
DRIFTER (IMAGE) (2014) #3 A Near Mint/Mint
DRIFTER (IMAGE) (2014) #4 A Near Mint/Mint

DRIFTER (IMAGE) (2014) #5 A Near Mint/Mint
DRIFTER (IMAGE) (2014) #6 A Near Mint/Mint

GEN-13 (1994) (#0-5) (IMAGE) #1 Near Mint/Mint
GEN-13 (1994) (#0-5) (IMAGE) #2 Near Mint/Mint

GONERS (2014) #1 Near Mint/Mint
GONERS (2014) #2 Near Mint/Mint
GONERS (2014) #3 Near Mint/Mint
GONERS (2014) #4 Near Mint/Mint
GONERS (2014) #5 Near Mint/Mint
GONERS (2014) #6 Near Mint/Mint

IMPERIAL (2014) #1 Near Mint/Mint
IMPERIAL (2014) #2 Near Mint/Mint

NAMELESS (2015) #2 Near Mint/Mint

OUTCAST (ROBERT KIRKMAN & PAUL AZACETA) (2014) #2 2ND PRINT Near Mint/Mint
OUTCAST (ROBERT KIRKMAN & PAUL AZACETA) (2014) #3 Near Mint/Mint
OUTCAST (ROBERT KIRKMAN & PAUL AZACETA) (2014) #4 Near Mint/Mint
OUTCAST (ROBERT KIRKMAN & PAUL AZACETA) (2014) #4 2ND PRINT Near Mint/Mint
OUTCAST (ROBERT KIRKMAN & PAUL AZACETA) (2014) #5 Near Mint/Mint
OUTCAST (ROBERT KIRKMAN & PAUL AZACETA) (2014) #5 2ND PRINT Near Mint/Mint
OUTCAST (ROBERT KIRKMAN & PAUL AZACETA) (2014) #6 Near Mint/Mint

RISE OF THE MAGI (2014) #1 A Near Mint/Mint
RISE OF THE MAGI (2014) #2 A Near Mint/Mint
RISE OF THE MAGI (2014) #3 B Near Mint/Mint
RISE OF THE MAGI (2014) #4 B Near Mint/Mint

SIDEKICK (2013) (#1-12) (IMAGE/JOE'S COMICS) #6 B Near Mint/Mint
SIDEKICK (2013) (#1-12) (IMAGE/JOE'S COMICS) #7 A Near Mint/Mint
SIDEKICK (2013) (#1-12) (IMAGE/JOE'S COMICS) #8 Near Mint/Mint

WALKING DEAD (#1-UP) (IMAGE) (2003) #1 15THANNMHC Near Mint/Mint

WALKING DEAD SCRIPT BOOK (2005) #1 Near Mint/Mint

WITCHBLADE (1995) #108 (Image Top Cow) Fine
WITCHBLADE (1995) #111 (Image Top Cow) Very Fine

WYTCHES (2014) #2 Near Mint/Mint

INDEPENDENTS
3 X 3 EYES (1991) (INNOVATION) #1 (Innovation Publishing) Near Mint/Mint
3 X 3 EYES (1991) (INNOVATION) #2 (Innovation Publishing) Very Fine

3-D ZONE #6 (3-D Zone) Very Fine

ALBEDO (1985) #3 (Thoughts and Images) Near Mint/Mint
ALBEDO (1985) #4 (Thoughts and Images) Near Mint/Mint
ALBEDO (1985) #5 (Thoughts and Images) Near Mint/Mint

ALIEN ENCOUNTERS (ECLIPSE) (1985) #8 (Eclipse Enterprises) Near Mint/Mint
ALIEN ENCOUNTERS (ECLIPSE) (1985) #10 (Eclipse Enterprises) Fine
ALIEN ENCOUNTERS (ECLIPSE) (1985) #11 (Eclipse Enterprises) Fine

BATTLE ANGEL ALITA BOOK 3 (Viz Comics) (MANGA) (1993) #3 (Viz Comics) Fine
BATTLE ANGEL ALITA BOOK 3 (Viz Comics) (MANGA) (1993) #3 (Viz Comics) Very Good

BATTLE ANGEL ALITA BOOK 8 (Viz Comics) (MANGA) (1997) #1 (Viz Comics) Near Mint/Mint

BETTY PAGES #6 (Pure Imagination) Very Fine

CAPTAIN VICTORY (1981) (#1-13) (KIRBY) (PACFIC COMICS) #1 (Pacific Comics) Near Mint/Mint
CAPTAIN VICTORY (1981) (#1-13) (KIRBY) (PACFIC COMICS) #2 (Pacific Comics) Near Mint/Mint
CAPTAIN VICTORY (1981) (#1-13) (KIRBY) (PACFIC COMICS) #3 (Pacific Comics) Near Mint/Mint
CAPTAIN VICTORY (1981) (#1-13) (KIRBY) (PACFIC COMICS) #4 (Pacific Comics) Near Mint/Mint
CAPTAIN VICTORY (1981) (#1-13) (KIRBY) (PACFIC COMICS) #9 (Pacific Comics) Very Fine
CAPTAIN VICTORY (1981) (#1-13) (KIRBY) (PACFIC COMICS) #10 (Pacific Comics) Near Mint/Mint
CAPTAIN VICTORY (1981) (#1-13) (KIRBY) (PACFIC COMICS) #11 (Pacific Comics) Near Mint/Mint

CHAMPION OF KATARA (1992) (#1-3) (MU PRESS) #1 (CRACK O DAWN COMICS) Near Mint/Mint

CRITTERS (1986) #1 (Fantagraphics) Fine
CRITTERS (1986) #3 (Fantagraphics) Fine
CRITTERS (1986) #3 (Fantagraphics) Very Fine

CROSSFIRE (1984) #12 (Eclipse Enterprises) Near Mint/Mint

DAWN (1995) (#1-6) (SIRIUS) (1995) #1 (Sirius) Near Mint/Mint
DAWN (1995) (#1-6) (SIRIUS) (1995) #1 B LIGHT (Sirius) Near Mint/Mint

FEM FANTASTIQUE #1 (Americomics) Fine

JEM & THE HOLOGRAMS (2015) #1 PLUGGED3RD (IDW Publishing) Near Mint/Mint
JEM & THE HOLOGRAMS (2015) #10 ARCHIE (IDW Publishing) Near Mint/Mint
JEM & THE HOLOGRAMS (2015) #11 C (IDW Publishing) Near Mint/Mint

JEM & THE HOLOGRAMS OUTRAGEOUS ANNUAL (2015) #1 SUBSCRIPT (IDW Publishing) Near Mint/Mint

JEM & THE HOLOGRAMS VALENTINE'S DAY SPECIAL (2016) #1 VALENTINE (IDW Publishing) Near Mint/Mint

JEM: MISFITS (2016) #1 BLANK CVR (IDW Publishing) Near Mint/Mint

JUGHEAD'S JOKES (1967) #65 (Archie Comics) Very Fine

KAIJUMAX (2015) #1 CANNON (Oni Press Inc.) Near Mint/Mint
KAIJUMAX (2015) #3 (Oni Press Inc.) Near Mint/Mint
KAIJUMAX (2015) #3 BROWNE (Oni Press Inc.) Near Mint/Mint

LAUGH (1946) #344 (Archie Comics) Near Mint/Mint

NEW CRUSADERS: RISE OF THE HEROES (2012) #1 CONVENTION (Archie Comics) Near Mint/Mint

PITT (1996) (FULLBLEED) #18 (Full Bleed Studios) Near Mint/Mint

SAPPHIRE (AIRCEL) (ADULT) (1990) #8 (Aircel Publications) Very Fine
SAPPHIRE (AIRCEL) (ADULT) (1990) #9 (Aircel Publications) Fine

SCORPION (1975) #3 (Atlas/Seaboard) Very Good

SEDUCTION OF THE INNOCENT 3-D (1985) #1 (Eclipse Enterprises) Near Mint/Mint

SEXECUTIONER (1991) #1 (Eros Comix (Fantagraphics)) Fine
SEXECUTIONER (1991) #3 (Eros Comix (Fantagraphics)) Very Fine

SHEENA 3-D #1 (Blackthorne Publishing) Fine

SIMPSONS COMICS (BONGO) (1993) #3 (Bongo Comics) Very Fine
SIMPSONS COMICS (BONGO) (1993) #4 (Bongo Comics) Very Fine

SPACE USAGI (1992) (#1-3) (MIRAGE) #2 (Mirage Studios) Very Fine

SPACE: 1999 (1975) (#1-7) (CHARLTON) #1 (Charlton) Very Good


SPACE: 1999 (1975) (#1-7) (CHARLTON) #3

SPACE: 1999 (1975) (#1-7) (CHARLTON) #3 (Charlton) Very Good
SPACE: 1999 (1975) (#1-7) (CHARLTON) #6 (Charlton) Very Good

TEMPLE SNARE (MU PRESS) (1990) #1 (Mu Press) Near Mint/Mint

TIME WANKERS #1 (Eros Comix (Fantagraphics)) Near Mint/Mint

TRANSFORMERS (2009) (#1-57) (IDW Publishing) #50 GRIFFITH (IDW Publishing) Very Fine

TWILIGHT ZONE (1961) (Dell Publishing) #1 FC #1288 (Dell Publishing) Good

USAGI YOJIMBO VOL. 2 (1993) #1 (Mirage Studios) Very Fine
USAGI YOJIMBO VOL. 2 (1993) #3 (Mirage Studios) Near Mint/Mint
USAGI YOJIMBO VOL. 2 (1993) #14 (Mirage Studios) Near Mint/Mint

VAMPIRELLA (1997) (#0-26) (HARRIS) #5 (Harris Comics) Near Mint/Mint

VANGUARD ILLUSTRATED (1983) #2 (Pacific Comics) Near Mint/Mint

VEROTIKA #3 (Verotik) Fine
VEROTIKA #4 (Verotik) Very Fine

WALKING DEAD (#1-4) (AIRCEL) (1989) #3 (Aircel Publications) Near Mint/Mint

WARHAMMER 40K (DAMNATION CRUSADE) (2006) #0 PX EDITION (Boom Studios Publishing) Very Fine

WOOFERS AND HOOTERS #1 (Eros Comix (Fantagraphics)) Fine

WORDSMITH (RENEGADE) (#1-12) (1985) #3 (Renegade Press) Near Mint/Mint
WORDSMITH (RENEGADE) (#1-12) (1985) #5 (Renegade Press) Near Mint/Mint
WORDSMITH (RENEGADE) (#1-12) (1985) #6 (Renegade Press) Near Mint/Mint
WORDSMITH (RENEGADE) (#1-12) (1985) #8 (Renegade Press) Near Mint/Mint
WORDSMITH (RENEGADE) (#1-12) (1985) #9 (Renegade Press) Near Mint/Mint

WORGARD: VIKING BERSERKIR #1 (Strongbow) Very Fine
WORGARD: VIKING BERSERKIR #2 (Strongbow) Near Mint/Mint
WORGARD: VIKING BERSERKIR #2 (Strongbow) Very Fine

WORLD AROUND US, THE (1958) #36 (Gilberton Publications) Very Good

WORLD OF ARCHIE (1992) #13 NEWSSTAND (Archie Comics) Near Mint/Mint
WORLD OF ARCHIE (1992) #16 NEWSSTAND (Archie Comics) Fine

WORLD OF WOOD #1 (Eclipse Enterprises) Good
WORLD OF WOOD #1 (Eclipse Enterprises) Fine
WORLD OF WOOD #1 (Eclipse Enterprises) Very Fine
WORLD OF WOOD #2 (Eclipse Enterprises) Fine
WORLD OF WOOD #2 (Eclipse Enterprises) Near Mint/Mint
WORLD OF WOOD #2 (Eclipse Enterprises) Very Good
WORLD OF WOOD #2 (Eclipse Enterprises) Very Fine
WORLD OF WOOD #4 (Eclipse Enterprises) Fine
WORLD OF WOOD #4 (Eclipse Enterprises) Very Good
WORLD OF WOOD #5 (Eclipse Enterprises) Fine
WORLD OF WOOD #5 (Eclipse Enterprises) Near Mint/Mint
WORLD OF WOOD #5 (Eclipse Enterprises) Very Fine
WORLD OF WOOD #5 (Eclipse Enterprises) Very Good

ZOMBIE TALES: DEATH VALLEY (2005) #1 (Boom Productions) Near Mint/Mint