Sale - 300,000+ Graphic Novels & Comics Trade Paperbacks!
Howdy!
I spent this morning up at our farm in Boulder, rescuing fruit from our orchards in advance of a freeze that is predicted for this Friday evening. I had to take a little bit of extra caution, as we have apparently had a bear visiting our orchards in the evenings to feast on all of the fruit the wind has knocked off. My wife, Nanette, and our daughter, Tanith, both came across fresh scat that sure looks like it was left by a bear. We currently run our farm as a wildlife refuge (despite our being completely surrounded by the city limits on all sides...), so I actually do not mind at all having bears around, and they are most certainly welcome to our fallen fruit. That having been said, bears can be quite unpredictable, so caution is always advised.
Speaking of Nanette, she took notice of the fact that I had encouraged Will Moulton to purchase a huge number of Marvel Comics trade paperbacks and hardbacks for us during a recent liquidation sale. Nanette is totally on board with our efforts toward continually expanding our website inventory for you, but given that she is tasked with paying our bills, she gently inquired of me this morning how I intended to pay that big invoice. I already have a 50% off NANETTE! codeword sale in effect for you on all ten million of our back issue comics and magazines, so my only remaining option was to immediately begin an across-the-board sale on all of our trade paperbacks, graphic novels, and comics hardbacks.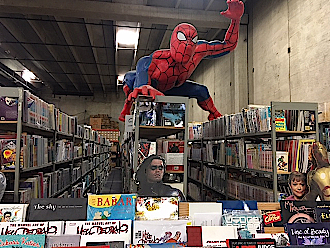 Some of our Graphic Novel & Trade Paperbacks

Therefore, effective immediately, we have slashed the prices on all of our trade paperbacks, graphic novels, and comics hardback books for you by 30% off, right on our website. This means that no codeword is needed to receive the 30% off on our books, as those discounts are already shown on our website. Only our oversize and new books are excluded from this huge 30% off books sale.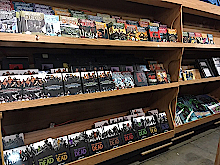 Some of our Walking Dead Trades

As regards our 50% off NANETTE! codeword sale, that applies to all ten million+ of our back issue comics and magazines, excluding only our newer issues, a few variants, and our professionally-graded comics. Simply type the codeword into the line provided to you at checkout, and your cost on all eligible items will be instantly slashed in half by our computer. Please do enjoy this extremely generous comics and books sale with our sincere thanks for supporting our company.
Happy collecting!
Chuck Rozanski,
President - Mile High Comics, Inc.
October 3, 2018

P.S. Below are just a few of the comics that have already been added into our New-In-Stock and Premium New-In-Stock links for you this week. Most are available to you at half price right now via the NANETTE! codeword.
MARVEL
A DATE WITH MILLIE (1959) #1 (Marvel Atlas Titles) Good

AVENGERS BY JASON AARON VOL. 1: FINAL HOST TPB (2018) #1 Near Mint/Mint

CABLE AND DEADPOOL (2003) #14 Fine

COSMIC GHOST RIDER (2018) #4 SUPERLOG Near Mint/Mint

DEADPOOL (2013) (#1-45, 250) (MARVEL) #1 Good
DEADPOOL (2013) (#1-45, 250) (MARVEL) #4 NEWS 3.99 Very Good
DEADPOOL (2013) (#1-45, 250) (MARVEL) #4 Very Good
DEADPOOL (2013) (#1-45, 250) (MARVEL) #7 NEWS 3.99 Good
DEADPOOL (2013) (#1-45, 250) (MARVEL) #12 Fine
DEADPOOL (2013) (#1-45, 250) (MARVEL) #14 Fine
DEADPOOL (2013) (#1-45, 250) (MARVEL) #19 Fine
DEADPOOL (2013) (#1-45, 250) (MARVEL) #24 Fine
DEADPOOL (2013) (#1-45, 250) (MARVEL) #26 Fine

DEADPOOL KILLS DEADPOOL (2013) #2 Very Good
DEADPOOL KILLS DEADPOOL (2013) #4 Fine

DEADPOOL KILLS THE MARVEL UNIVERSE (2012) #3 Good

EPIC ILLUSTRATED (1980) #4 Fine
EPIC ILLUSTRATED (1980) #6 Near Mint/Mint
EPIC ILLUSTRATED (1980) #11 Fine
EPIC ILLUSTRATED (1980) #11 Very Fine
EPIC ILLUSTRATED (1980) #14 Near Mint/Mint

GHOST RIDER (1990) (#1-94) (MARVEL) #1 Fine
GHOST RIDER (1990) (#1-94) (MARVEL) #2 NEWSSTAND Fine
GHOST RIDER (1990) (#1-94) (MARVEL) #53 Very Fine
GHOST RIDER (1990) (#1-94) (MARVEL) #55 Near Mint/Mint
GHOST RIDER (1990) (#1-94) (MARVEL) #56 Near Mint/Mint
GHOST RIDER (1990) (#1-94) (MARVEL) #60 Near Mint/Mint
GHOST RIDER (1990) (#1-94) (MARVEL) #61 Near Mint/Mint
GHOST RIDER (1990) (#1-94) (MARVEL) #62 Near Mint/Mint
GHOST RIDER (1990) (#1-94) (MARVEL) #63 Very Fine
GHOST RIDER (1990) (#1-94) (MARVEL) #64 Fine
GHOST RIDER (1990) (#1-94) (MARVEL) #66 Fine
GHOST RIDER (1990) (#1-94) (MARVEL) #70 Fine

GUARDIANS OF THE GALAXY (2008) (#1-25) (MARVEL) #2 Near Mint/Mint

HOWARD THE DUCK (1979) (#1-9) (MAGAZINE) #9 Fine

INVINCIBLE IRON MAN (2008) (#1-33 & 500-527) (MARVEL) #2 Near Mint/Mint

MARVEL PREVIEW (1975) #16 Fine
MARVEL PREVIEW (1975) #23 Fine

MARVEL SUPER SPECIAL (1977) #10 Very Fine
MARVEL SUPER SPECIAL (1977) #12 Good
MARVEL SUPER SPECIAL (1977) #17 Very Good

MONSTERS UNLEASHED (1973) (#1-11) (MARVEL MAGAZINE) #8 Very Good

NYX (2003) #1 Near Mint/Mint

PUNISHER MAX (2004) #1 Near Mint/Mint

SPECTACULAR SPIDER-MAN MAGAZINE (1968) #2 Good

SPIDER-GWEN HC (2017) #3 Very Fine

SPIDER-MAN (1963) (AMAZING SPIDER-MAN) (#1-441) #427 Near Mint/Mint
SPIDER-MAN (1963) (AMAZING SPIDER-MAN) (#1-441) #435 Near Mint/Mint

SUB-MARINER: DEPTHS (2008) #5 Near Mint/Mint

TALES OF THE ZOMBIE (1973) #5 Very Good

THOR (1962) (#83-125 JOURNEY INTO MYSTERY, 126-502) #280 Very Fine
THOR (1962) (#83-125 JOURNEY INTO MYSTERY, 126-502) #382 Near Mint/Mint

ULTIMATE WOLVERINE VS. HULK (2005) #1 Near Mint/Mint

VENOM: ALONG CAME A SPIDER (1996) #1 Very Fine
VENOM: ALONG CAME A SPIDER (1996) #4 Very Fine

VENOM: FUNERAL PYRE (1993) #3 Very Good

WOLVERINE (2003) (#1-90 & 900) (MARVEL) #69 Near Mint/Mint
WOLVERINE (2003) (#1-90 & 900) (MARVEL) #71 Very Fine

WOLVERINE: WEAPON X (2009) #16 Near Mint/Mint

X-FACTOR (1986) (#1-149) (ORIGINAL X-MEN) #26 Near Mint/Mint
X-FACTOR (1986) (#1-149) (ORIGINAL X-MEN) #61 NEWSSTAND Fine


X-FORCE (1991) (#1-129) (MARVEL) #2

X-FORCE (1991) (#1-129) (MARVEL) #2 Near Mint/Mint
X-FORCE (1991) (#1-129) (MARVEL) #2 Very Fine

X-INFERNUS (2008) #3 Very Fine

X-MEN (1963) (#1-113, UNCANNY X-MEN #114-544) (MARVEL) #116 Very Good
X-MEN (1963) (#1-113, UNCANNY X-MEN #114-544) (MARVEL) #168 Fine
X-MEN (1963) (#1-113, UNCANNY X-MEN #114-544) (MARVEL) #183 Near Mint/Mint
X-MEN (1963) (#1-113, UNCANNY X-MEN #114-544) (MARVEL) #184 Near Mint/Mint
X-MEN (1963) (#1-113, UNCANNY X-MEN #114-544) (MARVEL) #185 Near Mint/Mint
X-MEN (1963) (#1-113, UNCANNY X-MEN #114-544) (MARVEL) #186 Near Mint/Mint
X-MEN (1963) (#1-113, UNCANNY X-MEN #114-544) (MARVEL) #186 Very Fine
X-MEN (1963) (#1-113, UNCANNY X-MEN #114-544) (MARVEL) #187 Near Mint/Mint
X-MEN (1963) (#1-113, UNCANNY X-MEN #114-544) (MARVEL) #187 Very Fine
X-MEN (1963) (#1-113, UNCANNY X-MEN #114-544) (MARVEL) #188 Near Mint/Mint
X-MEN (1963) (#1-113, UNCANNY X-MEN #114-544) (MARVEL) #188 Very Fine
X-MEN (1963) (#1-113, UNCANNY X-MEN #114-544) (MARVEL) #189 Near Mint/Mint
X-MEN (1963) (#1-113, UNCANNY X-MEN #114-544) (MARVEL) #190 Near Mint/Mint
X-MEN (1963) (#1-113, UNCANNY X-MEN #114-544) (MARVEL) #191 Near Mint/Mint
X-MEN (1963) (#1-113, UNCANNY X-MEN #114-544) (MARVEL) #191 Very Fine
X-MEN (1963) (#1-113, UNCANNY X-MEN #114-544) (MARVEL) #192 Near Mint/Mint
X-MEN (1963) (#1-113, UNCANNY X-MEN #114-544) (MARVEL) #192 Very Fine
X-MEN (1963) (#1-113, UNCANNY X-MEN #114-544) (MARVEL) #193 Near Mint/Mint
X-MEN (1963) (#1-113, UNCANNY X-MEN #114-544) (MARVEL) #193 Very Fine
X-MEN (1963) (#1-113, UNCANNY X-MEN #114-544) (MARVEL) #194 Near Mint/Mint
X-MEN (1963) (#1-113, UNCANNY X-MEN #114-544) (MARVEL) #195 Near Mint/Mint
X-MEN (1963) (#1-113, UNCANNY X-MEN #114-544) (MARVEL) #196 Near Mint/Mint
X-MEN (1963) (#1-113, UNCANNY X-MEN #114-544) (MARVEL) #197 Near Mint/Mint
X-MEN (1963) (#1-113, UNCANNY X-MEN #114-544) (MARVEL) #198 Near Mint/Mint
X-MEN (1963) (#1-113, UNCANNY X-MEN #114-544) (MARVEL) #198 Very Fine
X-MEN (1963) (#1-113, UNCANNY X-MEN #114-544) (MARVEL) #199 Very Fine
X-MEN (1963) (#1-113, UNCANNY X-MEN #114-544) (MARVEL) #200 Near Mint/Mint
X-MEN (1963) (#1-113, UNCANNY X-MEN #114-544) (MARVEL) #201 Near Mint/Mint
X-MEN (1963) (#1-113, UNCANNY X-MEN #114-544) (MARVEL) #202 Near Mint/Mint
X-MEN (1963) (#1-113, UNCANNY X-MEN #114-544) (MARVEL) #203 Near Mint/Mint
X-MEN (1963) (#1-113, UNCANNY X-MEN #114-544) (MARVEL) #204 Near Mint/Mint
X-MEN (1963) (#1-113, UNCANNY X-MEN #114-544) (MARVEL) #205 Near Mint/Mint
X-MEN (1963) (#1-113, UNCANNY X-MEN #114-544) (MARVEL) #206 Near Mint/Mint
X-MEN (1963) (#1-113, UNCANNY X-MEN #114-544) (MARVEL) #207 Near Mint/Mint
X-MEN (1963) (#1-113, UNCANNY X-MEN #114-544) (MARVEL) #207 Fine
X-MEN (1963) (#1-113, UNCANNY X-MEN #114-544) (MARVEL) #208 Near Mint/Mint
X-MEN (1963) (#1-113, UNCANNY X-MEN #114-544) (MARVEL) #208 Very Fine
X-MEN (1963) (#1-113, UNCANNY X-MEN #114-544) (MARVEL) #209 Near Mint/Mint


X-MEN (1963) (#1-113, UNCANNY X-MEN #114-544) (MARVEL) #210

X-MEN (1963) (#1-113, UNCANNY X-MEN #114-544) (MARVEL) #210 Near Mint/Mint
X-MEN (1963) (#1-113, UNCANNY X-MEN #114-544) (MARVEL) #211 Near Mint/Mint
X-MEN (1963) (#1-113, UNCANNY X-MEN #114-544) (MARVEL) #212 Near Mint/Mint
X-MEN (1963) (#1-113, UNCANNY X-MEN #114-544) (MARVEL) #212 Very Fine
X-MEN (1963) (#1-113, UNCANNY X-MEN #114-544) (MARVEL) #213 Near Mint/Mint
X-MEN (1963) (#1-113, UNCANNY X-MEN #114-544) (MARVEL) #214 Near Mint/Mint
X-MEN (1963) (#1-113, UNCANNY X-MEN #114-544) (MARVEL) #215 Near Mint/Mint
X-MEN (1963) (#1-113, UNCANNY X-MEN #114-544) (MARVEL) #216 Near Mint/Mint
X-MEN (1963) (#1-113, UNCANNY X-MEN #114-544) (MARVEL) #217 Near Mint/Mint
X-MEN (1963) (#1-113, UNCANNY X-MEN #114-544) (MARVEL) #218 Near Mint/Mint
X-MEN (1963) (#1-113, UNCANNY X-MEN #114-544) (MARVEL) #218 NEWSSTAND Very Good
X-MEN (1963) (#1-113, UNCANNY X-MEN #114-544) (MARVEL) #219 Near Mint/Mint
X-MEN (1963) (#1-113, UNCANNY X-MEN #114-544) (MARVEL) #220 Near Mint/Mint
X-MEN (1963) (#1-113, UNCANNY X-MEN #114-544) (MARVEL) #221 Near Mint/Mint
X-MEN (1963) (#1-113, UNCANNY X-MEN #114-544) (MARVEL) #221 Fine
X-MEN (1963) (#1-113, UNCANNY X-MEN #114-544) (MARVEL) #222 Near Mint/Mint
X-MEN (1963) (#1-113, UNCANNY X-MEN #114-544) (MARVEL) #223 Near Mint/Mint
X-MEN (1963) (#1-113, UNCANNY X-MEN #114-544) (MARVEL) #225 Near Mint/Mint
X-MEN (1963) (#1-113, UNCANNY X-MEN #114-544) (MARVEL) #226 Near Mint/Mint
X-MEN (1963) (#1-113, UNCANNY X-MEN #114-544) (MARVEL) #226 NEWSSTAND Near Mint/Mint
X-MEN (1963) (#1-113, UNCANNY X-MEN #114-544) (MARVEL) #227 Near Mint/Mint
X-MEN (1963) (#1-113, UNCANNY X-MEN #114-544) (MARVEL) #228 Near Mint/Mint
X-MEN (1963) (#1-113, UNCANNY X-MEN #114-544) (MARVEL) #229 Near Mint/Mint
X-MEN (1963) (#1-113, UNCANNY X-MEN #114-544) (MARVEL) #230 Near Mint/Mint
X-MEN (1963) (#1-113, UNCANNY X-MEN #114-544) (MARVEL) #231 Near Mint/Mint
X-MEN (1963) (#1-113, UNCANNY X-MEN #114-544) (MARVEL) #233 Near Mint/Mint
X-MEN (1963) (#1-113, UNCANNY X-MEN #114-544) (MARVEL) #234 Near Mint/Mint
X-MEN (1963) (#1-113, UNCANNY X-MEN #114-544) (MARVEL) #234 NEWSSTAND Very Fine
X-MEN (1963) (#1-113, UNCANNY X-MEN #114-544) (MARVEL) #235 Near Mint/Mint
X-MEN (1963) (#1-113, UNCANNY X-MEN #114-544) (MARVEL) #236 Near Mint/Mint
X-MEN (1963) (#1-113, UNCANNY X-MEN #114-544) (MARVEL) #237 Very Fine
X-MEN (1963) (#1-113, UNCANNY X-MEN #114-544) (MARVEL) #240 Very Fine
X-MEN (1963) (#1-113, UNCANNY X-MEN #114-544) (MARVEL) #252 Near Mint/Mint
X-MEN (1963) (#1-113, UNCANNY X-MEN #114-544) (MARVEL) #275 Near Mint/Mint
X-MEN (1963) (#1-113, UNCANNY X-MEN #114-544) (MARVEL) #282 Very Fine
X-MEN (1963) (#1-113, UNCANNY X-MEN #114-544) (MARVEL) #506 Near Mint/Mint
X-MEN (1963) (#1-113, UNCANNY X-MEN #114-544) (MARVEL) #507 Near Mint/Mint

X-MEN (1991) (#1-275) (MARVEL) #14 Very Fine
X-MEN (1991) (#1-275) (MARVEL) #36 Near Mint/Mint
X-MEN (1991) (#1-275) (MARVEL) #71 Very Fine
X-MEN (1991) (#1-275) (MARVEL) #77 Near Mint/Mint


X-MEN ANNUAL (1970) #3 NEWSSTAND

X-MEN ANNUAL (1970) #3 NEWSSTAND Very Good
X-MEN ANNUAL (1970) #4 NEWSSTAND Good
X-MEN ANNUAL (1970) #5 Near Mint/Mint
X-MEN ANNUAL (1970) #6 Near Mint/Mint
X-MEN ANNUAL (1970) #7 Near Mint/Mint
X-MEN ANNUAL (1970) #9 Fine

X-MEN ORIGINS: SABRETOOTH (2009) #1 Near Mint/Mint

X-MEN VS. THE AVENGERS (1987) #3 Near Mint/Mint
X-MEN VS. THE AVENGERS (1987) #4 Near Mint/Mint

X-MEN/DR. DOOM 1998 MARVEL ANNUAL (1998) #1 Near Mint/Mint

X-MEN/HEROES FOR HOPE (1985) #1 Near Mint/Mint

X-MEN: AGE OF APOCALYPSE (2005) (#1-6) (10TH ANNIVER) #6 Near Mint/Mint

X-MEN: KINGBREAKER (2008) #2 Near Mint/Mint
X-MEN: KINGBREAKER (2008) #3 Near Mint/Mint

X-MEN: PHOENIX ENDSONG (2005) #4 LTDVARIANT Near Mint/Mint

X-MEN: WORLD'S APART (2008) #4 Very Fine

YOUNG X-MEN (2008) #10 Near Mint/Mint
YOUNG X-MEN (2008) #11 Very Good
YOUNG X-MEN (2008) #12 Very Fine

DC
ADVENTURES OF BOB HOPE (1950) #104 Good

ADVENTURES OF JERRY LEWIS (1957) #96 Fair
ADVENTURES OF JERRY LEWIS (1957) #108 Very Good

BATMAN (1940) (#0-713) (DC) #657 Very Good

BATMAN: WHITE KNIGHT TPB (2018) #1 Near Mint/Mint

DC SPECIAL: RAVEN (2008) #5 Near Mint/Mint

DETECTIVE COMICS (1937) (#0-881) (DC) #647 Very Fine

FLEX MENTALLO (1996) #1 (DC: Vertigo Press) Very Good

HELLBLAZER (1988) (#1-300) (DC VERTIGO) #186 (DC: Vertigo Press) Near Mint/Mint
HELLBLAZER (1988) (#1-300) (DC VERTIGO) #187 (DC: Vertigo Press) Near Mint/Mint
HELLBLAZER (1988) (#1-300) (DC VERTIGO) #188 (DC: Vertigo Press) Very Fine
HELLBLAZER (1988) (#1-300) (DC VERTIGO) #189 (DC: Vertigo Press) Near Mint/Mint

JOKER'S ASYLUM: POISON IVY (2008) #1 Near Mint/Mint

MAD (MAGAZINE) #36 Good
MAD (MAGAZINE) #164 Very Good

MAD: MORE TRASH FROM MAD (1958) #9 W/O INSERT Good

MAD: WORST FROM MAD (1958) #7 W/O INSERT Good

MISTER MIRACLE (1971) (#1-25) (DC) #3 Very Good
MISTER MIRACLE (1971) (#1-25) (DC) #7 Very Good
MISTER MIRACLE (1971) (#1-25) (DC) #8 Fine

PREACHER (1995) #14 (DC: Vertigo Press) Fine

SUICIDE SQUAD (1987) (#1-67) (DC) #62 Fine

SUPERGIRL (2005) (#0-67) (DC) #37 Near Mint/Mint
SUPERGIRL (2005) (#0-67) (DC) #38 Near Mint/Mint

WONDER WOMAN (1987) (#0-226) (DC) #117 Near Mint/Mint

WONDER WOMAN (2006) (#1-44, 600-614) (DC) #28 Very Fine

WONDER WOMAN: EARTH ONE HC (2016) #2 Near Mint/Mint

WORLD'S FINEST: SUPERBOY/ROBIN (WORLD'S FINEST 3) (WF3) (1996) #2 Near Mint/Mint

YEAR ONE: BATMAN/SCARECROW (2005) #1 Near Mint/Mint

DARK HORSE COMICS
GOON (2003) (#1-44) (DARK HORSE) (ERIC POWELL) #25 Near Mint/Mint


HELLBOY: CROOKED MAN (2008) #1

HELLBOY: CROOKED MAN (2008) #1 Near Mint/Mint

IMAGE COMICS
INVINCIBLE (2003) #36 Near Mint/Mint
INVINCIBLE (2003) #42 Fine
INVINCIBLE (2003) #43 Very Fine
INVINCIBLE (2003) #50 Near Mint/Mint

JUPITER'S LEGACY (2013) #2 A Very Fine

JUPITER'S LEGACY (VOL. 2) (2016) #5 A QUITELY Near Mint/Mint

MADAME MIRAGE (2007) #2 Near Mint/Mint

SAVAGE DRAGON-THE SERIES (1993) (#1-UP) #132 Near Mint/Mint

SPAWN (1992) #110 Very Fine
SPAWN (1992) #111 Very Fine
SPAWN (1992) #117 Fine
SPAWN (1992) #118 Fine
SPAWN (1992) #121 Very Fine
SPAWN (1992) #122 Very Fine
SPAWN (1992) #126 Very Fine
SPAWN (1992) #127 Very Fine
SPAWN (1992) #128 Fine
SPAWN (1992) #129 Very Fine
SPAWN (1992) #130 Fine
SPAWN (1992) #131 Fine
SPAWN (1992) #132 Fine
SPAWN (1992) #133 Fine
SPAWN (1992) #168 Near Mint/Mint
SPAWN (1992) #169 Fine
SPAWN (1992) #171 Near Mint/Mint
SPAWN (1992) #172 Fine

TOP COW CLASSICS: FATHOM #1 (Image Top Cow) Fine

WITCHBLADE (1995) #125 A (Image Top Cow) Near Mint/Mint

INDEPENDENTS
AFTER IMAGE: ART OF FRANK BRUNNER MAGAZINE (1978) #1 (Bob Hakins) Fine

ANGEL (1954) #4 (Dell Publishing) Good

ARCHIE GIANT SERIES (1954) #199 (Archie Comics) Very Good

ASIMOV'S SCIENCE FICTION ADVENTURE MAGAZINE (1978) #2 (Magazine) Very Fine
ASIMOV'S SCIENCE FICTION ADVENTURE MAGAZINE (1978) #3 (Magazine) Very Fine
ASIMOV'S SCIENCE FICTION ADVENTURE MAGAZINE (1978) #4 (Magazine) Very Good

BACK ISSUE (TWOMORROWS) (2003) #6 (Twomorrows Publishing) Near Mint/Mint
BACK ISSUE (TWOMORROWS) (2003) #9 (Twomorrows Publishing) Very Good
BACK ISSUE (TWOMORROWS) (2003) #34 (Twomorrows Publishing) Fine
BACK ISSUE (TWOMORROWS) (2003) #86 (Twomorrows Publishing) Very Fine

BUFFY THE VAMPIRE SLAYER: NEW SCHOOL NIGHTMARE NOVEL (2018) #1 (Little Brown Book) Near Mint/Mint

CINEFANTASTIQUE (VOL.15) #4 (Cinefantastique) Fine
CINEFANTASTIQUE (VOL.15) #5 (Cinefantastique) Good

CINEFANTASTIQUE (VOL.17) #5 (Cinefantastique) Very Good

CINEFANTASTIQUE (VOL.18) #2 /3 (Cinefantastique) Near Mint/Mint

CINEFANTASTIQUE (VOL.20) (1989) #4 (Cinefantastique) Fine

CINEMAGIC MAGAZINE (STARLOG PRESENTS) (1979) #1 (Starlog) Very Fine
CINEMAGIC MAGAZINE (STARLOG PRESENTS) (1979) #3 (Starlog) Very Fine
CINEMAGIC MAGAZINE (STARLOG PRESENTS) (1979) #4 (Starlog) Very Fine
CINEMAGIC MAGAZINE (STARLOG PRESENTS) (1979) #6 (Starlog) Near Mint/Mint
CINEMAGIC MAGAZINE (STARLOG PRESENTS) (1979) #7 (Starlog) Near Mint/Mint

CLOSE ENCOUNTERS OF THE THIRD KIND: OFFICIAL COLL. ED (1978) #1 (Magazine) Very Fine

CLOSE ENCOUNTERS OF THE THIRD KIND: POSTER MONTHLY (1977) #2 (Starlog) Fine

COMIC BOOK ARTIST (1998) #13 (Twomorrows Publishing) Fine

COMICS JOURNAL (MAG) #83 (Fantagraphics) Very Fine

COMICS REVUE (COMICS REVIEW #1-10) (1984) #4 (Magazine) Very Fine

DRACULINA (MAG) #25 (Draculina Publishing) Fine

ECLIPSE MAGAZINE (1981) #3 (Eclipse Enterprises) Very Good
ECLIPSE MAGAZINE (1981) #8 (Eclipse Enterprises) Very Good

EERIE MAGAZINE (1965) #56 (Warren Publishing Company) Very Good
EERIE MAGAZINE (1965) #99 (Warren Publishing Company) Very Good

FAMOUS FILMS (MAG) #2 (Miscellaneous (Unlisted) Publishers) Very Fine

FAMOUS MONSTERS (MAG) #34 (Warren Publishing Company) Good

FAMOUS MONSTERS YEARBOOK (MAG) #1966 (Warren Publishing Company) Fine

FANGORIA (MAGAZINE) (1979) #36 (Starlog) Near Mint/Mint
FANGORIA (MAGAZINE) (1979) #89 (Starlog) Fair
FANGORIA (MAGAZINE) (1979) #90 (Starlog) Fair
FANGORIA (MAGAZINE) (1979) #94 (Starlog) Good

FANTASTIC FILMS MAGAZINE (VOL. 1) (1978) #1 (FANTASTIC FILMS) Fine
FANTASTIC FILMS MAGAZINE (VOL. 1) (1978) #3 (FANTASTIC FILMS) Fine
FANTASTIC FILMS MAGAZINE (VOL. 1) (1978) #5 (FANTASTIC FILMS) Very Fine
FANTASTIC FILMS MAGAZINE (VOL. 1) (1978) #6 (FANTASTIC FILMS) Very Fine
FANTASTIC FILMS MAGAZINE (VOL. 1) (1978) #8 (FANTASTIC FILMS) Fine
FANTASTIC FILMS MAGAZINE (VOL. 1) (1978) #9 (FANTASTIC FILMS) Fine
FANTASTIC FILMS MAGAZINE (VOL. 1) (1978) #11 (FANTASTIC FILMS) Very Fine
FANTASTIC FILMS MAGAZINE (VOL. 1) (1978) #12 (FANTASTIC FILMS) Fine
FANTASTIC FILMS MAGAZINE (VOL. 1) (1978) #13 (FANTASTIC FILMS) Fine
FANTASTIC FILMS MAGAZINE (VOL. 1) (1978) #14 (FANTASTIC FILMS) Fine
FANTASTIC FILMS MAGAZINE (VOL. 1) (1978) #15 (FANTASTIC FILMS) Very Fine
FANTASTIC FILMS MAGAZINE (VOL. 1) (1978) #16 (FANTASTIC FILMS) Very Fine
FANTASTIC FILMS MAGAZINE (VOL. 1) (1978) #17 (FANTASTIC FILMS) Very Fine
FANTASTIC FILMS MAGAZINE (VOL. 1) (1978) #21 (FANTASTIC FILMS) Near Mint/Mint
FANTASTIC FILMS MAGAZINE (VOL. 1) (1978) #23 (FANTASTIC FILMS) Near Mint/Mint
FANTASTIC FILMS MAGAZINE (VOL. 1) (1978) #40 (FANTASTIC FILMS) Very Fine
FANTASTIC FILMS MAGAZINE (VOL. 1) (1978) #41 (FANTASTIC FILMS) Very Fine
FANTASTIC FILMS MAGAZINE (VOL. 1) (1978) #42 (FANTASTIC FILMS) Near Mint/Mint
FANTASTIC FILMS MAGAZINE (VOL. 1) (1978) #46 (FANTASTIC FILMS) Fine

FANTASY BOOK (MAG) #13 (Miscellaneous (Unlisted) Publishers) Near Mint/Mint
FANTASY BOOK (MAG) #14 (Miscellaneous (Unlisted) Publishers) Near Mint/Mint
FANTASY BOOK (MAG) #18 (Miscellaneous (Unlisted) Publishers) Near Mint/Mint

FANTASY REVIEW (MAG) #71 (Miscellaneous (Unlisted) Publishers) Very Fine

FEAR (MAG) #12 (Newsfield Publications) Fine

FEMME FATALES (VOL. 5) #9 (Cinefantastique) Fine

FUTURE (FUTURE LIFE #9-UP) MAGAZINE (1978) #3 (Starlog) Very Fine
FUTURE (FUTURE LIFE #9-UP) MAGAZINE (1978) #6 (Starlog) Fine
FUTURE (FUTURE LIFE #9-UP) MAGAZINE (1978) #13 (Starlog) Near Mint/Mint
FUTURE (FUTURE LIFE #9-UP) MAGAZINE (1978) #14 (Starlog) Very Fine
FUTURE (FUTURE LIFE #9-UP) MAGAZINE (1978) #16 (Starlog) Very Fine
FUTURE (FUTURE LIFE #9-UP) MAGAZINE (1978) #17 (Starlog) Fine
FUTURE (FUTURE LIFE #9-UP) MAGAZINE (1978) #18 (Starlog) Fine
FUTURE (FUTURE LIFE #9-UP) MAGAZINE (1978) #18 (Starlog) Very Fine
FUTURE (FUTURE LIFE #9-UP) MAGAZINE (1978) #19 (Starlog) Very Fine
FUTURE (FUTURE LIFE #9-UP) MAGAZINE (1978) #21 (Starlog) Very Fine
FUTURE (FUTURE LIFE #9-UP) MAGAZINE (1978) #25 (Starlog) Near Mint/Mint

GALILEO (MAG) #9 (Miscellaneous (Unlisted) Publishers) Fine
GALILEO (MAG) #9 (Miscellaneous (Unlisted) Publishers) Very Fine
GALILEO (MAG) #16 (Miscellaneous (Unlisted) Publishers) Very Fine

HEAVY METAL (MAG) #7805 (Heavy Metal) Good
HEAVY METAL (MAG) #7806 (Heavy Metal) Fine
HEAVY METAL (MAG) #7809 (Heavy Metal) Fine
HEAVY METAL (MAG) #7810 (Heavy Metal) Good
HEAVY METAL (MAG) #7908 (Heavy Metal) Very Fine
HEAVY METAL (MAG) #7909 (Heavy Metal) Very Fine
HEAVY METAL (MAG) #8001 (Heavy Metal) Fine
HEAVY METAL (MAG) #8003 (Heavy Metal) Fine
HEAVY METAL (MAG) #8007 (Heavy Metal) Fine
HEAVY METAL (MAG) #8012 (Heavy Metal) Very Good
HEAVY METAL (MAG) #8104 (Heavy Metal) Fine
HEAVY METAL (MAG) #8310 (Heavy Metal) Good

HEAVY METAL PRESENTS MOEBIUS #1 (Heavy Metal) Fine

KILLING JOKE NOVEL HC (2018) #1 (Titan Distributing) Near Mint/Mint

LADY DEATH VS. PANDORA (2007) #1 BONDAGE (Avatar Comics) Very Fine

LADY DEATH/SHI (2007) #2 (Avatar Comics) Near Mint/Mint

LADY DEATH: ART OF JUAN JOSE RYP (2007) #1 WRAPAROUND (Avatar Comics) Fine


LADY DEATH: QUEEN OF THE DEAD (2007) #1 BATTLE

LADY DEATH: QUEEN OF THE DEAD (2007) #1 BATTLE (Avatar Comics) Very Fine

LADY DEATH: SACRILEGE (2006) #1 WRAPAROUND (Avatar Comics) Near Mint/Mint
LADY DEATH: SACRILEGE (2006) #2 WRAPAROUND (Avatar Comics) Near Mint/Mint

LOVE AND ROCKETS (MAG) #4 (Fantagraphics) Near Mint/Mint
LOVE AND ROCKETS (MAG) #5 (Fantagraphics) Near Mint/Mint
LOVE AND ROCKETS (MAG) #6 (Fantagraphics) Near Mint/Mint
LOVE AND ROCKETS (MAG) #7 (Fantagraphics) Near Mint/Mint

MARILYN'S MONSTERS TPB (2018) #1 (Humanoids Publishing) Near Mint/Mint

MIGHTY MARVEL COMIC CONVENTION (MAG) #1 (Miscellaneous (Unlisted) Publishers) Very Good

MOUSE GUARD (2006) #5 (Archaia Studios Press) Fine

NIGHTMARE WINTER SPECIAL MAGAZINE (1973) #1 (Skywald Publications) Fine
NIGHTMARE WINTER SPECIAL MAGAZINE (1973) #1 (Skywald Publications) Very Fine

PENNY DREADFUL (2017) (#1-UP) (TITAN COMICS) #3 A IANNICEL (Titan Distributing) Near Mint/Mint
PENNY DREADFUL (2017) (#1-UP) (TITAN COMICS) #5 A DAVIS (Titan Distributing) Near Mint/Mint

REALMS OF FANTASY (VOL.6) (1999) #5 (Magazine) Very Fine

ROB ZOMBIE SPOOKSHOW INTERNATIONAL (2003) #1 (Crossgen Comics) Fine

ROG 2000 MAGAZINE (1982) #1 (Pacific Comics) Near Mint/Mint

SHAYOL SCIENCE FICTION & FANTASY MAGAZINE (1978) #2 (FLIGHT UNLIMITED, INC.) Near Mint/Mint

SHI/10TH MUSE (2007) #1 VARIANT (Blue Press) Near Mint/Mint

SNAKE PLISSKEN CHRONICLES (2003) #3 COVER B (Crossgen Comics) Near Mint/Mint
SNAKE PLISSKEN CHRONICLES (2003) #4 COVER B (Crossgen Comics) Near Mint/Mint

STAR WARS GALAXY COLLECTOR MAGAZINE (TOPPS PUBLISHING) (1998) #1 (Topps Publishing) Very Good
STAR WARS GALAXY COLLECTOR MAGAZINE (TOPPS PUBLISHING) (1998) #3 (Topps Publishing) Near Mint/Mint
STAR WARS GALAXY COLLECTOR MAGAZINE (TOPPS PUBLISHING) (1998) #4 (Topps Publishing) Near Mint/Mint
STAR WARS GALAXY COLLECTOR MAGAZINE (TOPPS PUBLISHING) (1998) #10 UNBAGGED (Topps Publishing) Near Mint/Mint
STAR WARS GALAXY COLLECTOR MAGAZINE (TOPPS PUBLISHING) (1998) #11 UNBAGGED (Topps Publishing) Near Mint/Mint

STAR WARS: TALES FROM VADER'S CASTLE (2018) #1 INC B (IDW Publishing) Near Mint/Mint

STARDATE (MAG) #8 (Associates International, Inc.) Very Fine

TALES OF VOODOO (VOL. 5) MAGAZINE (1972) #3 (Eerie Publishing) Fair

TALES OF VOODOO (VOL. 7) MAGAZINE (1974) #1 (Eerie Publishing) Good
TALES OF VOODOO (VOL. 7) MAGAZINE (1974) #2 (Eerie Publishing) Fine
TALES OF VOODOO (VOL. 7) MAGAZINE (1974) #4 (Eerie Publishing) Fine

TANK GIRL COLORING BOOK (2018) #1 (Titan Distributing) Near Mint/Mint

TEENAGE MUTANT NINJA TURTLES (2001) (#1-28) (MIRAGE) #1 (Mirage Studios) Near Mint/Mint
TEENAGE MUTANT NINJA TURTLES (2001) (#1-28) (MIRAGE) #2 (Mirage Studios) Fine
TEENAGE MUTANT NINJA TURTLES (2001) (#1-28) (MIRAGE) #4 (Mirage Studios) Near Mint/Mint
TEENAGE MUTANT NINJA TURTLES (2001) (#1-28) (MIRAGE) #12 (Mirage Studios) Near Mint/Mint
TEENAGE MUTANT NINJA TURTLES (2001) (#1-28) (MIRAGE) #13 (Mirage Studios) Very Fine
TEENAGE MUTANT NINJA TURTLES (2001) (#1-28) (MIRAGE) #14 (Mirage Studios) Near Mint/Mint

TEENAGE MUTANT NINJA TURTLES ANIMATED (DREAMWAVE) (2003) #6 (Dreamwave) Near Mint/Mint

TERROR TALES (VOL. 4) MAGAZINE (1972) #3 (Eerie Publishing) Good

THIS IS A TACO HC (2018) #1 (Lion Forge) Near Mint/Mint

TRAILER PARK OF TERROR (BLACK & WHITE) (2003) #7 (Imperial Comics) Near Mint/Mint

UNTOLD TALES OF EVIL ERNIE: RELENTLESS (2002) #1 PREMIUM (Chaos Comics) Very Fine

VAMPI VICIOUS: RAMPAGE (2004) #2 (Harris Comics) Near Mint/Mint

VAMPIRELLA ANNUAL (MAG) #1 (Warren Publishing Company) Very Good

WEB OF HORROR MAGAZINE (1969) #2 (Major Magazines) Good

WEIRD (VOL. 7) MAGAZINE (1973) #3 (Eerie Publishing) Very Good

WEIRD (VOL. 8) MAGAZINE (1974) #4 8/74 (Eerie Publishing) Very Good

WIZARD: GUIDE TO COMICS MAGAZINE (1991) #3 (Wizard Press) Very Fine
WIZARD: GUIDE TO COMICS MAGAZINE (1991) #164 (Wizard Press) Fine


WIZARD: GUIDE TO COMICS MAGAZINE (1991) #182

WIZARD: GUIDE TO COMICS MAGAZINE (1991) #182 (Wizard Press) Very Fine