50% Off New Collections - X-MEN, DOCTOR WHO! WONDER WOMAN, More!
Howdy!
After an incredibly productive weekend in San Francisco, I have returned to our Mile High Comics Jason Street Mega-Store. It is a good thing that I made it back today, as both Will and Pam have been blazing through the long boxes filled with especially desirable comics from our recent collections that I left for them to grade. In total, I think that they graded over 4,000 back issues last week! They do still have a couple of my long boxes left to complete, but starting tomorrow morning, I will definitely need to sort out more great comics for them to grade.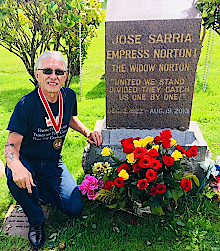 Chuck visiting Mama Jose's grave

As regards the second half of my trip, I spent almost all of my time working for our International Court System Queen Mother I of the Americas Nicole the Great, in my role as her Deputy High Chancellor. We first made an appearance at the Ducal Court of San Francisco Coronation early Saturday evening, and then quickly drove over to the historic Castro Theater for a well-attended celebrity roast of noted San Francisco columnist (and drag queen) Donna Sachet. That roast was a really fun event, where Queen Mother was very warmly received.
Aside from Queen Mother Nicole, Harvey Milk's friend and protege, Cleve Jones, was also among those roasting Donna. In case you didn't know, Cleve Jones is also known for having been the person who conceptualized what became the worldwide practice of creating quilts for those who passed away from AIDS, and then led the effort to spur additional AIDS funding by creating an immense display of those quilts on the grounds of the National Mall in Washington, D.C. I was blessed to be able to meet Cleve in February, and was able to talk him into helping me with my background research on my three upcoming Harvey Milk graphic novels. Cleve is an exceptionally nice person.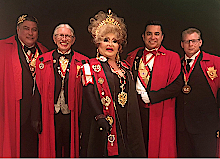 From L-R Emperor John Carrillo, Prince Royal Charles Rozanski, Queen Mother I of the Americas Nicole the Great, Emperor Russell Roybal, Baron Nathan Graham

On Sunday, Queen Mother and I attended the San Francisco Ducal Court Victory Brunch, and then took a trip to the Woodlawn Memorial Park Cemetery, just south of San Francisco. That is where the founder of our entire International Court System, Jose Sarria, is buried. To give you some background, with her tongue planted firmly in her cheek, Jose announced herself "The Widow Norton" in 1965, declaring that she had been married to the flamboyant (and very eccentric) Joshua Norton, who declared himself to be "Norton I, Emperor of the United States" in San Francisco in 1859. As Norton's widow, Jose was (obviously) an Empress, and thus had the complete right to form an Imperial Court to serve her. The stated purpose of her Court would be to raise money for charity, and through those acts of altruism seek to validate the civil rights of all gender-nonconforming performers.
As crazy as this all sounds, the LGBTQ world (and most especially all of the drag performers) embraced Mama Jose's wacky declaration, and that is what ultimately led to 70 other Imperial Courts springing up around the United States, Canada, and Mexico. Before her passing in 2013, Jose became a huge icon in the LGBTQ world for her courage in setting up the International Court System, and in a very odd twist, ended up being buried right next to her husband (that she never met!) in Woodlawn Cemetery. It was in a sunlit moment at Mama Jose's grave on Sunday that Queen Mother Nicole had me kneel and repeat the original vows that I took when becoming an Heir Apparent that committed me to serving all the members of the International Court System, while steadfastly upholding Mama Jose's ideals of Love, Charity, Camp, and Community. It was a truly beautiful day, and a very moving experience.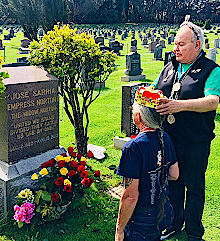 Chuck knelling repeating the original vows.

I will stop writing about drag queen history now, and refocus for a moment on comics. In case you were wondering, my beloved wife, Nanette, wants me to still keep her 50% off NANETTE! codeword sale in effect for you. This huge half price sale applies to all ten million of our back issue comics and magazines, excepting only new issues, a few variants, and our professionally-graded issues. That means that almost all of the issues that I am having Will Moulton list for you at the end of this newsletter are available to you right now at half price.
Happy collecting!
Chuck Rozanski,
President - Mile High Comics, Inc.
October 1, 2018

MARVEL
CONAN SAGA (1987) #29 Near Mint/Mint

DAREDEVIL (1964) (#1-380) (MAN WITHOUT FEAR) (MARVEL) #31 Fair
DAREDEVIL (1964) (#1-380) (MAN WITHOUT FEAR) (MARVEL) #173 Near Mint/Mint
DAREDEVIL (1964) (#1-380) (MAN WITHOUT FEAR) (MARVEL) #210 Near Mint/Mint
DAREDEVIL (1964) (#1-380) (MAN WITHOUT FEAR) (MARVEL) #214 Near Mint/Mint
DAREDEVIL (1964) (#1-380) (MAN WITHOUT FEAR) (MARVEL) #215 Near Mint/Mint
DAREDEVIL (1964) (#1-380) (MAN WITHOUT FEAR) (MARVEL) #216 Near Mint/Mint
DAREDEVIL (1964) (#1-380) (MAN WITHOUT FEAR) (MARVEL) #217 Near Mint/Mint
DAREDEVIL (1964) (#1-380) (MAN WITHOUT FEAR) (MARVEL) #227 Near Mint/Mint
DAREDEVIL (1964) (#1-380) (MAN WITHOUT FEAR) (MARVEL) #230 Near Mint/Mint
DAREDEVIL (1964) (#1-380) (MAN WITHOUT FEAR) (MARVEL) #231 Near Mint/Mint
DAREDEVIL (1964) (#1-380) (MAN WITHOUT FEAR) (MARVEL) #257 Near Mint/Mint

DEFENDERS (1972) (#1-152) (MARVEL) #12 Fine
DEFENDERS (1972) (#1-152) (MARVEL) #22 Near Mint/Mint
DEFENDERS (1972) (#1-152) (MARVEL) #23 Near Mint/Mint
DEFENDERS (1972) (#1-152) (MARVEL) #24 Fine
DEFENDERS (1972) (#1-152) (MARVEL) #25 Fine
DEFENDERS (1972) (#1-152) (MARVEL) #26 Good
DEFENDERS (1972) (#1-152) (MARVEL) #27 Very Good
DEFENDERS (1972) (#1-152) (MARVEL) #28 Very Fine
DEFENDERS (1972) (#1-152) (MARVEL) #29 Very Good
DEFENDERS (1972) (#1-152) (MARVEL) #39 BRITISH Fine
DEFENDERS (1972) (#1-152) (MARVEL) #40 BRITISH Very Fine
DEFENDERS (1972) (#1-152) (MARVEL) #42 Very Fine
DEFENDERS (1972) (#1-152) (MARVEL) #46 Very Fine
DEFENDERS (1972) (#1-152) (MARVEL) #57 Near Mint/Mint
DEFENDERS (1972) (#1-152) (MARVEL) #60 Very Fine
DEFENDERS (1972) (#1-152) (MARVEL) #64 Near Mint/Mint
DEFENDERS (1972) (#1-152) (MARVEL) #90 NEWSSTAND Very Fine
DEFENDERS (1972) (#1-152) (MARVEL) #91 NEWSSTAND Fine
DEFENDERS (1972) (#1-152) (MARVEL) #92 NEWSSTAND Very Fine
DEFENDERS (1972) (#1-152) (MARVEL) #93 NEWSSTAND Very Fine
DEFENDERS (1972) (#1-152) (MARVEL) #96 NEWSSTAND Fine
DEFENDERS (1972) (#1-152) (MARVEL) #97 Very Fine
DEFENDERS (1972) (#1-152) (MARVEL) #98 NEWSSTAND Near Mint/Mint
DEFENDERS (1972) (#1-152) (MARVEL) #99 NEWSSTAND Very Fine
DEFENDERS (1972) (#1-152) (MARVEL) #100 Near Mint/Mint
DEFENDERS (1972) (#1-152) (MARVEL) #102 Very Fine
DEFENDERS (1972) (#1-152) (MARVEL) #104 Near Mint/Mint
DEFENDERS (1972) (#1-152) (MARVEL) #107 Near Mint/Mint
DEFENDERS (1972) (#1-152) (MARVEL) #108 Near Mint/Mint


DEFENDERS (1972) (#1-152) (MARVEL) #109

DEFENDERS (1972) (#1-152) (MARVEL) #109 Near Mint/Mint
DEFENDERS (1972) (#1-152) (MARVEL) #111 Near Mint/Mint
DEFENDERS (1972) (#1-152) (MARVEL) #112 Near Mint/Mint
DEFENDERS (1972) (#1-152) (MARVEL) #113 Near Mint/Mint
DEFENDERS (1972) (#1-152) (MARVEL) #114 Near Mint/Mint
DEFENDERS (1972) (#1-152) (MARVEL) #116 Near Mint/Mint
DEFENDERS (1972) (#1-152) (MARVEL) #119 Near Mint/Mint
DEFENDERS (1972) (#1-152) (MARVEL) #146 Near Mint/Mint

DEFENDERS GIANT-SIZE (1974) #4 Fine

DOCTOR STRANGE (1974) (#1-81) (MARVEL) (DR. STRANGE) #43 Very Fine
DOCTOR STRANGE (1974) (#1-81) (MARVEL) (DR. STRANGE) #44 NEWSSTAND Fine
DOCTOR STRANGE (1974) (#1-81) (MARVEL) (DR. STRANGE) #48 Near Mint/Mint
DOCTOR STRANGE (1974) (#1-81) (MARVEL) (DR. STRANGE) #49 Very Fine
DOCTOR STRANGE (1974) (#1-81) (MARVEL) (DR. STRANGE) #51 NEWSSTAND Fine
DOCTOR STRANGE (1974) (#1-81) (MARVEL) (DR. STRANGE) #52 NEWSSTAND Fine
DOCTOR STRANGE (1974) (#1-81) (MARVEL) (DR. STRANGE) #53 Near Mint/Mint
DOCTOR STRANGE (1974) (#1-81) (MARVEL) (DR. STRANGE) #54 Near Mint/Mint
DOCTOR STRANGE (1974) (#1-81) (MARVEL) (DR. STRANGE) #55 Near Mint/Mint
DOCTOR STRANGE (1974) (#1-81) (MARVEL) (DR. STRANGE) #57 Very Fine
DOCTOR STRANGE (1974) (#1-81) (MARVEL) (DR. STRANGE) #58 Near Mint/Mint
DOCTOR STRANGE (1974) (#1-81) (MARVEL) (DR. STRANGE) #59 Near Mint/Mint
DOCTOR STRANGE (1974) (#1-81) (MARVEL) (DR. STRANGE) #60 Fine
DOCTOR STRANGE (1974) (#1-81) (MARVEL) (DR. STRANGE) #61 Fine
DOCTOR STRANGE (1974) (#1-81) (MARVEL) (DR. STRANGE) #61 Near Mint/Mint
DOCTOR STRANGE (1974) (#1-81) (MARVEL) (DR. STRANGE) #62 Near Mint/Mint
DOCTOR STRANGE (1974) (#1-81) (MARVEL) (DR. STRANGE) #63 Near Mint/Mint
DOCTOR STRANGE (1974) (#1-81) (MARVEL) (DR. STRANGE) #64 Near Mint/Mint
DOCTOR STRANGE (1974) (#1-81) (MARVEL) (DR. STRANGE) #65 Near Mint/Mint
DOCTOR STRANGE (1974) (#1-81) (MARVEL) (DR. STRANGE) #66 Near Mint/Mint
DOCTOR STRANGE (1974) (#1-81) (MARVEL) (DR. STRANGE) #67 Near Mint/Mint
DOCTOR STRANGE (1974) (#1-81) (MARVEL) (DR. STRANGE) #68 Near Mint/Mint
DOCTOR STRANGE (1974) (#1-81) (MARVEL) (DR. STRANGE) #69 Near Mint/Mint
DOCTOR STRANGE (1974) (#1-81) (MARVEL) (DR. STRANGE) #70 Near Mint/Mint
DOCTOR STRANGE (1974) (#1-81) (MARVEL) (DR. STRANGE) #81 Near Mint/Mint

DOCTOR STRANGE SPECIAL EDITION (1983) #1 Near Mint/Mint

DOCTOR WHO (1984) (#1-23) (MARVEL) #1 Near Mint/Mint
DOCTOR WHO (1984) (#1-23) (MARVEL) #2 Near Mint/Mint
DOCTOR WHO (1984) (#1-23) (MARVEL) #3 Near Mint/Mint
DOCTOR WHO (1984) (#1-23) (MARVEL) #5 Near Mint/Mint


DOCTOR WHO (1984) (#1-23) (MARVEL) #6

DOCTOR WHO (1984) (#1-23) (MARVEL) #6 Near Mint/Mint
DOCTOR WHO (1984) (#1-23) (MARVEL) #7 Near Mint/Mint
DOCTOR WHO (1984) (#1-23) (MARVEL) #9 Near Mint/Mint
DOCTOR WHO (1984) (#1-23) (MARVEL) #10 Near Mint/Mint
DOCTOR WHO (1984) (#1-23) (MARVEL) #11 Near Mint/Mint
DOCTOR WHO (1984) (#1-23) (MARVEL) #12 Near Mint/Mint
DOCTOR WHO (1984) (#1-23) (MARVEL) #13 Near Mint/Mint
DOCTOR WHO (1984) (#1-23) (MARVEL) #14 Near Mint/Mint

ELEKTRA SAGA (1984) #1 Fine
ELEKTRA SAGA (1984) #3 Fine

GI JOE #30 NEWSSTAND Near Mint/Mint

GI JOE AND THE TRANSFORMERS (1987) #2 Near Mint/Mint

GI JOE YEARBOOK (1985) #1 Near Mint/Mint

GUARDIANS OF THE GALAXY & X-MEN: BLACK VORTEX ALPHA (2015) #1 Near Mint/Mint

MARVEL SUPER SPECIAL (1977) #30 Very Fine

SPIDER-MAN MAGAZINE (1994) #10 Near Mint/Mint

STAR WARS: DARTH VADER (2017) #8 Near Mint/Mint

THOR (1962) (#83-125 JOURNEY INTO MYSTERY, 126-502) #358 Near Mint/Mint
THOR (1962) (#83-125 JOURNEY INTO MYSTERY, 126-502) #359 Near Mint/Mint
THOR (1962) (#83-125 JOURNEY INTO MYSTERY, 126-502) #360 Near Mint/Mint
THOR (1962) (#83-125 JOURNEY INTO MYSTERY, 126-502) #372 Near Mint/Mint
THOR (1962) (#83-125 JOURNEY INTO MYSTERY, 126-502) #373 Very Fine
THOR (1962) (#83-125 JOURNEY INTO MYSTERY, 126-502) #376 Near Mint/Mint
THOR (1962) (#83-125 JOURNEY INTO MYSTERY, 126-502) #383 Very Fine

TRANSFORMERS (1984) (#1-80) (MARVEL) #9 Very Fine
TRANSFORMERS (1984) (#1-80) (MARVEL) #20 Near Mint/Mint

TRANSFORMERS UNIVERSE (1986) #1 Near Mint/Mint

WEB OF SPIDER-MAN (1985) (#1-129) (MARVEL) #5 Near Mint/Mint
WEB OF SPIDER-MAN (1985) (#1-129) (MARVEL) #6 Near Mint/Mint
WEB OF SPIDER-MAN (1985) (#1-129) (MARVEL) #7 Near Mint/Mint
WEB OF SPIDER-MAN (1985) (#1-129) (MARVEL) #8 Near Mint/Mint


WEB OF SPIDER-MAN (1985) (#1-129) (MARVEL) #16

WEB OF SPIDER-MAN (1985) (#1-129) (MARVEL) #16 Near Mint/Mint
WEB OF SPIDER-MAN (1985) (#1-129) (MARVEL) #17 Near Mint/Mint
WEB OF SPIDER-MAN (1985) (#1-129) (MARVEL) #19 Very Fine
WEB OF SPIDER-MAN (1985) (#1-129) (MARVEL) #25 Near Mint/Mint
WEB OF SPIDER-MAN (1985) (#1-129) (MARVEL) #28 Near Mint/Mint
WEB OF SPIDER-MAN (1985) (#1-129) (MARVEL) #29 Near Mint/Mint

WEB OF SPIDER-MAN ANNUAL (1985) #2 Near Mint/Mint

WHAT IF... (1977) (#1-47) (MARVEL) #3 Near Mint/Mint
WHAT IF... (1977) (#1-47) (MARVEL) #22 NEWSSTAND Fine
WHAT IF... (1977) (#1-47) (MARVEL) #23 NEWSSTAND Very Fine
WHAT IF... (1977) (#1-47) (MARVEL) #24 NEWSSTAND Very Fine
WHAT IF... (1977) (#1-47) (MARVEL) #25 Near Mint/Mint
WHAT IF... (1977) (#1-47) (MARVEL) #26 Near Mint/Mint
WHAT IF... (1977) (#1-47) (MARVEL) #27 Near Mint/Mint
WHAT IF... (1977) (#1-47) (MARVEL) #28 Very Fine
WHAT IF... (1977) (#1-47) (MARVEL) #29 Near Mint/Mint
WHAT IF... (1977) (#1-47) (MARVEL) #30 Near Mint/Mint
WHAT IF... (1977) (#1-47) (MARVEL) #31 Near Mint/Mint
WHAT IF... (1977) (#1-47) (MARVEL) #32 Near Mint/Mint
WHAT IF... (1977) (#1-47) (MARVEL) #33 Near Mint/Mint
WHAT IF... (1977) (#1-47) (MARVEL) #34 Near Mint/Mint
WHAT IF... (1977) (#1-47) (MARVEL) #35 Near Mint/Mint
WHAT IF... (1977) (#1-47) (MARVEL) #36 Near Mint/Mint
WHAT IF... (1977) (#1-47) (MARVEL) #37 Near Mint/Mint
WHAT IF... (1977) (#1-47) (MARVEL) #39 Near Mint/Mint
WHAT IF... (1977) (#1-47) (MARVEL) #40 Near Mint/Mint
WHAT IF... (1977) (#1-47) (MARVEL) #42 Near Mint/Mint
WHAT IF... (1977) (#1-47) (MARVEL) #43 Near Mint/Mint
WHAT IF... (1977) (#1-47) (MARVEL) #44 Near Mint/Mint
WHAT IF... (1977) (#1-47) (MARVEL) #45 Near Mint/Mint
WHAT IF... (1977) (#1-47) (MARVEL) #46 Near Mint/Mint
WHAT IF... (1977) (#1-47) (MARVEL) #47 Near Mint/Mint

WONDER MAN (1986) #1 Near Mint/Mint
WONDER MAN (1986) #1 NEWSSTAND Fine

WONDER MAN (1991) #1 NEWSSTAND Very Fine
WONDER MAN (1991) #1 NEWSSTAND Fine

X 23 (2005) (#1-6) (MARVEL NEXT) #6 Fine


X-FACTOR (1986) (#1-149) (ORIGINAL X-MEN) #1

X-FACTOR (1986) (#1-149) (ORIGINAL X-MEN) #1 Near Mint/Mint
X-FACTOR (1986) (#1-149) (ORIGINAL X-MEN) #9 Near Mint/Mint
X-FACTOR (1986) (#1-149) (ORIGINAL X-MEN) #10 Near Mint/Mint

X-FORCE (1991) (#1-129) (MARVEL) #73 Near Mint/Mint

X-MEN (1963) (#1-113, UNCANNY X-MEN #114-544) (MARVEL) #146 Fine
X-MEN (1963) (#1-113, UNCANNY X-MEN #114-544) (MARVEL) #146 NEWSSTAND Very Fine
X-MEN (1963) (#1-113, UNCANNY X-MEN #114-544) (MARVEL) #147 Near Mint/Mint
X-MEN (1963) (#1-113, UNCANNY X-MEN #114-544) (MARVEL) #147 NEWSSTAND Very Fine
X-MEN (1963) (#1-113, UNCANNY X-MEN #114-544) (MARVEL) #148 Near Mint/Mint
X-MEN (1963) (#1-113, UNCANNY X-MEN #114-544) (MARVEL) #148 Very Fine
X-MEN (1963) (#1-113, UNCANNY X-MEN #114-544) (MARVEL) #149 NEWSSTAND Fine
X-MEN (1963) (#1-113, UNCANNY X-MEN #114-544) (MARVEL) #149 Very Fine
X-MEN (1963) (#1-113, UNCANNY X-MEN #114-544) (MARVEL) #150 NEWSSTAND Near Mint/Mint
X-MEN (1963) (#1-113, UNCANNY X-MEN #114-544) (MARVEL) #150 Very Fine
X-MEN (1963) (#1-113, UNCANNY X-MEN #114-544) (MARVEL) #152 Near Mint/Mint
X-MEN (1963) (#1-113, UNCANNY X-MEN #114-544) (MARVEL) #153 Near Mint/Mint
X-MEN (1963) (#1-113, UNCANNY X-MEN #114-544) (MARVEL) #154 Near Mint/Mint
X-MEN (1963) (#1-113, UNCANNY X-MEN #114-544) (MARVEL) #155 Near Mint/Mint
X-MEN (1963) (#1-113, UNCANNY X-MEN #114-544) (MARVEL) #155 Very Fine
X-MEN (1963) (#1-113, UNCANNY X-MEN #114-544) (MARVEL) #156 Near Mint/Mint
X-MEN (1963) (#1-113, UNCANNY X-MEN #114-544) (MARVEL) #157 Near Mint/Mint
X-MEN (1963) (#1-113, UNCANNY X-MEN #114-544) (MARVEL) #159 Near Mint/Mint
X-MEN (1963) (#1-113, UNCANNY X-MEN #114-544) (MARVEL) #159 NEWSSTAND Near Mint/Mint
X-MEN (1963) (#1-113, UNCANNY X-MEN #114-544) (MARVEL) #160 Near Mint/Mint
X-MEN (1963) (#1-113, UNCANNY X-MEN #114-544) (MARVEL) #160 NEWSSTAND Very Fine
X-MEN (1963) (#1-113, UNCANNY X-MEN #114-544) (MARVEL) #160 Very Fine
X-MEN (1963) (#1-113, UNCANNY X-MEN #114-544) (MARVEL) #163 Near Mint/Mint
X-MEN (1963) (#1-113, UNCANNY X-MEN #114-544) (MARVEL) #164 Near Mint/Mint
X-MEN (1963) (#1-113, UNCANNY X-MEN #114-544) (MARVEL) #165 Near Mint/Mint
X-MEN (1963) (#1-113, UNCANNY X-MEN #114-544) (MARVEL) #165 NEWSSTAND Fine
X-MEN (1963) (#1-113, UNCANNY X-MEN #114-544) (MARVEL) #166 Near Mint/Mint
X-MEN (1963) (#1-113, UNCANNY X-MEN #114-544) (MARVEL) #166 Very Fine
X-MEN (1963) (#1-113, UNCANNY X-MEN #114-544) (MARVEL) #170 Near Mint/Mint

X-TREME X-MEN (2001) #5 Good
X-TREME X-MEN (2001) #5 Fine
X-TREME X-MEN (2001) #5 Near Mint/Mint
X-TREME X-MEN (2001) #5 Very Fine
X-TREME X-MEN (2001) #5 Very Good

DC

CRISIS ON INFINITE EARTHS (1985) #1

CRISIS ON INFINITE EARTHS (1985) #1 Near Mint/Mint
CRISIS ON INFINITE EARTHS (1985) #2 Near Mint/Mint
CRISIS ON INFINITE EARTHS (1985) #3 Near Mint/Mint
CRISIS ON INFINITE EARTHS (1985) #4 Near Mint/Mint
CRISIS ON INFINITE EARTHS (1985) #5 Near Mint/Mint
CRISIS ON INFINITE EARTHS (1985) #6 Near Mint/Mint
CRISIS ON INFINITE EARTHS (1985) #7 Near Mint/Mint
CRISIS ON INFINITE EARTHS (1985) #8 Near Mint/Mint
CRISIS ON INFINITE EARTHS (1985) #9 Near Mint/Mint
CRISIS ON INFINITE EARTHS (1985) #10 Near Mint/Mint
CRISIS ON INFINITE EARTHS (1985) #11 Near Mint/Mint

DANGER GIRL: HAWAIIAN PUNCH (2003) #1 (DC/Wildstorm) Near Mint/Mint

DARK KNIGHT STRIKES AGAIN (2001) #1 Near Mint/Mint
DARK KNIGHT STRIKES AGAIN (2001) #2 Near Mint/Mint
DARK KNIGHT STRIKES AGAIN (2001) #3 Near Mint/Mint

DC COMICS BOMBSHELLS (2015) #1 Very Fine
DC COMICS BOMBSHELLS (2015) #2 Near Mint/Mint
DC COMICS BOMBSHELLS (2015) #3 Very Fine
DC COMICS BOMBSHELLS (2015) #4 Near Mint/Mint
DC COMICS BOMBSHELLS (2015) #5 Very Fine

DC COMICS PRESENTS (1978) #80 Near Mint/Mint
DC COMICS PRESENTS (1978) #88 Near Mint/Mint
DC COMICS PRESENTS (1978) #91 Near Mint/Mint

DC FIRST: BATGIRL/JOKER (2002) #1 Near Mint/Mint

DC SUPER-STARS (1976) #17 Fine

DESTINY: A CHRONICLE OF DEATHS FORETOLD (1997) #2 (DC: Vertigo Press) Near Mint/Mint

DETECTIVE COMICS (1937) (#0-881) (DC) #556 Near Mint/Mint
DETECTIVE COMICS (1937) (#0-881) (DC) #557 Near Mint/Mint
DETECTIVE COMICS (1937) (#0-881) (DC) #558 Near Mint/Mint
DETECTIVE COMICS (1937) (#0-881) (DC) #562 Near Mint/Mint
DETECTIVE COMICS (1937) (#0-881) (DC) #568 Near Mint/Mint

DOOM PATROL (1987) (#1-87) (DC) (DC VERTIGO) #24 (DC: Vertigo Press) Near Mint/Mint


DOOM PATROL (1987) (#1-87) (DC) (DC VERTIGO) #29

DOOM PATROL (1987) (#1-87) (DC) (DC VERTIGO) #29 (DC: Vertigo Press) Near Mint/Mint
DOOM PATROL (1987) (#1-87) (DC) (DC VERTIGO) #38 (DC: Vertigo Press) Near Mint/Mint

ELVIRA'S HOUSE OF MYSTERY (1986) #3 Near Mint/Mint
ELVIRA'S HOUSE OF MYSTERY (1986) #11 Near Mint/Mint

FLASH (1987) (#0-247) (DC) #29 Near Mint/Mint
FLASH (1987) (#0-247) (DC) #80 FOIL Near Mint/Mint
FLASH (1987) (#0-247) (DC) #91 Fine
FLASH (1987) (#0-247) (DC) #92 Very Fine

FLASH 80-PAGE GIANT (1998) #1 Fine

GREEN LANTERN (2005) (#1-67) (DC) #1 Near Mint/Mint

HELLBLAZER (1988) (#1-300) (DC VERTIGO) #208 (DC: Vertigo Press) Fine

MAD (MAGAZINE) #286 Near Mint/Mint
MAD (MAGAZINE) #286 Very Fine

SUPERMAN (1939) (#1-423) (DC) #422 Near Mint/Mint
SUPERMAN (1939) (#1-423) (DC) #423 Near Mint/Mint

SUPERMAN (1986) (#0-226, #650-714) (DC) #8 Very Fine
SUPERMAN (1986) (#0-226, #650-714) (DC) #17 Near Mint/Mint
SUPERMAN (1986) (#0-226, #650-714) (DC) #18 Near Mint/Mint

SUPERMAN ADVENTURES (1996) #4 Very Fine

SUPERMAN ANNUAL (1960) #11 Very Fine

SWAMP THING, SAGA OF (1982) #53 (DC: Vertigo Press) Near Mint/Mint
SWAMP THING, SAGA OF (1982) #55 (DC: Vertigo Press) Near Mint/Mint
SWAMP THING, SAGA OF (1982) #57 (DC: Vertigo Press) Near Mint/Mint
SWAMP THING, SAGA OF (1982) #58 (DC: Vertigo Press) Near Mint/Mint
SWAMP THING, SAGA OF (1982) #59 (DC: Vertigo Press) Near Mint/Mint
SWAMP THING, SAGA OF (1982) #171 (DC: Vertigo Press) Near Mint/Mint

TALES OF THE GREEN LANTERN CORPS ANNUAL (1985) #2 Very Fine

TEEN TITANS (1980) (#1-91) (DC) #3 NEWSSTAND Fine
TEEN TITANS (1980) (#1-91) (DC) #7 NEWSSTAND Very Fine
TEEN TITANS (1980) (#1-91) (DC) #10 NEWSSTAND Very Fine


TEEN TITANS (1980) (#1-91) (DC) #39

TEEN TITANS (1980) (#1-91) (DC) #39 Near Mint/Mint
TEEN TITANS (1980) (#1-91) (DC) #42 NEWSSTAND Near Mint/Mint
TEEN TITANS (1980) (#1-91) (DC) #43 Near Mint/Mint
TEEN TITANS (1980) (#1-91) (DC) #44 Near Mint/Mint

TIME WARP (1979) #1 NEWSSTAND Very Fine
TIME WARP (1979) #2 NEWSSTAND Very Fine

WATCHMEN (1986) #1 Near Mint/Mint
WATCHMEN (1986) #2 Near Mint/Mint
WATCHMEN (1986) #3 Near Mint/Mint

WONDER WOMAN (1942) (#1-329) (DC) #287 Very Fine
WONDER WOMAN (1942) (#1-329) (DC) #327 Very Fine

WONDER WOMAN (1987) (#0-226) (DC) #2 Near Mint/Mint
WONDER WOMAN (1987) (#0-226) (DC) #3 Near Mint/Mint
WONDER WOMAN (1987) (#0-226) (DC) #3 Very Fine
WONDER WOMAN (1987) (#0-226) (DC) #6 Near Mint/Mint
WONDER WOMAN (1987) (#0-226) (DC) #6 Very Fine
WONDER WOMAN (1987) (#0-226) (DC) #7 Fine
WONDER WOMAN (1987) (#0-226) (DC) #7 Near Mint/Mint
WONDER WOMAN (1987) (#0-226) (DC) #7 Very Fine
WONDER WOMAN (1987) (#0-226) (DC) #9 Fine
WONDER WOMAN (1987) (#0-226) (DC) #9 Very Fine
WONDER WOMAN (1987) (#0-226) (DC) #10 FOLD-OUT Near Mint/Mint
WONDER WOMAN (1987) (#0-226) (DC) #10 FOLD-OUT Very Fine
WONDER WOMAN (1987) (#0-226) (DC) #11 Near Mint/Mint
WONDER WOMAN (1987) (#0-226) (DC) #11 Very Fine
WONDER WOMAN (1987) (#0-226) (DC) #12 Near Mint/Mint
WONDER WOMAN (1987) (#0-226) (DC) #12 Very Fine
WONDER WOMAN (1987) (#0-226) (DC) #14 Near Mint/Mint
WONDER WOMAN (1987) (#0-226) (DC) #14 Very Fine
WONDER WOMAN (1987) (#0-226) (DC) #16 Near Mint/Mint
WONDER WOMAN (1987) (#0-226) (DC) #16 Very Fine
WONDER WOMAN (1987) (#0-226) (DC) #17 Very Fine
WONDER WOMAN (1987) (#0-226) (DC) #18 Near Mint/Mint
WONDER WOMAN (1987) (#0-226) (DC) #18 Very Fine
WONDER WOMAN (1987) (#0-226) (DC) #19 Very Fine
WONDER WOMAN (1987) (#0-226) (DC) #20 Near Mint/Mint
WONDER WOMAN (1987) (#0-226) (DC) #20 Fine
WONDER WOMAN (1987) (#0-226) (DC) #20 Very Fine
WONDER WOMAN (1987) (#0-226) (DC) #21 Very Fine


WONDER WOMAN (1987) (#0-226) (DC) #22

WONDER WOMAN (1987) (#0-226) (DC) #22 Very Fine
WONDER WOMAN (1987) (#0-226) (DC) #24 Near Mint/Mint
WONDER WOMAN (1987) (#0-226) (DC) #25 Near Mint/Mint
WONDER WOMAN (1987) (#0-226) (DC) #25 Fine
WONDER WOMAN (1987) (#0-226) (DC) #25 Very Fine
WONDER WOMAN (1987) (#0-226) (DC) #26 Near Mint/Mint
WONDER WOMAN (1987) (#0-226) (DC) #26 Very Fine
WONDER WOMAN (1987) (#0-226) (DC) #27 Very Fine
WONDER WOMAN (1987) (#0-226) (DC) #32 Near Mint/Mint
WONDER WOMAN (1987) (#0-226) (DC) #33 Fine
WONDER WOMAN (1987) (#0-226) (DC) #33 Very Fine
WONDER WOMAN (1987) (#0-226) (DC) #34 Very Fine
WONDER WOMAN (1987) (#0-226) (DC) #35 Near Mint/Mint
WONDER WOMAN (1987) (#0-226) (DC) #35 Very Fine
WONDER WOMAN (1987) (#0-226) (DC) #37 Near Mint/Mint
WONDER WOMAN (1987) (#0-226) (DC) #37 Very Fine
WONDER WOMAN (1987) (#0-226) (DC) #40 Very Fine
WONDER WOMAN (1987) (#0-226) (DC) #41 Near Mint/Mint
WONDER WOMAN (1987) (#0-226) (DC) #41 Very Fine
WONDER WOMAN (1987) (#0-226) (DC) #42 Fine
WONDER WOMAN (1987) (#0-226) (DC) #42 Near Mint/Mint
WONDER WOMAN (1987) (#0-226) (DC) #44 Very Fine
WONDER WOMAN (1987) (#0-226) (DC) #46 Fine
WONDER WOMAN (1987) (#0-226) (DC) #46 Near Mint/Mint
WONDER WOMAN (1987) (#0-226) (DC) #53 Near Mint/Mint
WONDER WOMAN (1987) (#0-226) (DC) #56 Near Mint/Mint
WONDER WOMAN (1987) (#0-226) (DC) #56 Very Fine
WONDER WOMAN (1987) (#0-226) (DC) #71 Near Mint/Mint
WONDER WOMAN (1987) (#0-226) (DC) #75 Near Mint/Mint
WONDER WOMAN (1987) (#0-226) (DC) #81 Fine
WONDER WOMAN (1987) (#0-226) (DC) #81 Near Mint/Mint
WONDER WOMAN (1987) (#0-226) (DC) #82 Near Mint/Mint
WONDER WOMAN (1987) (#0-226) (DC) #82 Very Fine
WONDER WOMAN (1987) (#0-226) (DC) #88 Near Mint/Mint
WONDER WOMAN (1987) (#0-226) (DC) #88 Very Fine
WONDER WOMAN (1987) (#0-226) (DC) #89 Near Mint/Mint
WONDER WOMAN (1987) (#0-226) (DC) #91 Near Mint/Mint
WONDER WOMAN (1987) (#0-226) (DC) #91 Very Fine
WONDER WOMAN (1987) (#0-226) (DC) #92 Very Fine
WONDER WOMAN (1987) (#0-226) (DC) #96 Near Mint/Mint
WONDER WOMAN (1987) (#0-226) (DC) #98 Near Mint/Mint

Y-THE LAST MAN (2002) #1 (DC: Vertigo Press) Fine

Y-THE LAST MAN (2002) #2 (DC: Vertigo Press) Very Fine
Y-THE LAST MAN (2002) #3 (DC: Vertigo Press) Very Fine
Y-THE LAST MAN (2002) #4 (DC: Vertigo Press) Fine
Y-THE LAST MAN (2002) #5 (DC: Vertigo Press) Fine
Y-THE LAST MAN (2002) #6 (DC: Vertigo Press) Fine
Y-THE LAST MAN (2002) #7 (DC: Vertigo Press) Fine
Y-THE LAST MAN (2002) #8 (DC: Vertigo Press) Very Fine
Y-THE LAST MAN (2002) #9 (DC: Vertigo Press) Fine
Y-THE LAST MAN (2002) #11 (DC: Vertigo Press) Near Mint/Mint

DARK HORSE COMICS
DARK HORSE PRESENTS (1986) #100 COVER #2 Near Mint/Mint

DIRTY PAIR: RUN FROM THE FUTURE (2000) #3 WARREN CVR Near Mint/Mint

DIRTY PAIR: START THE VIOLENCE (1999) #1 VARIANT Fine
DIRTY PAIR: START THE VIOLENCE (1999) #1 Very Fine

GARY GIANNIS' MONSTERMEN (1999) #1 Very Fine

GHOST IN THE SHELL 2: MAN/MACHINE INTERFACE (2002) #1 Near Mint/Mint
GHOST IN THE SHELL 2: MAN/MACHINE INTERFACE (2002) #2 Near Mint/Mint
GHOST IN THE SHELL 2: MAN/MACHINE INTERFACE (2002) #3 Near Mint/Mint

GROO: FRAY OF THE GODS (2016) #1 Near Mint/Mint
GROO: FRAY OF THE GODS (2016) #2 Very Fine
GROO: FRAY OF THE GODS (2016) #3 Near Mint/Mint

GROO: FRIENDS & FOES (2014) #12 Very Fine

HARD BOILED (MAGAZINE) (1990) #1 Near Mint/Mint

IMAGE COMICS
GIRLS (#1-24) (IMAGE) (LUNA BROTHERS) (2005) #1 Very Fine

MAGDALENA VOL. 2 (2003) #1 (Image Top Cow) Near Mint/Mint
MAGDALENA VOL. 2 (2003) #2 (Image Top Cow) Near Mint/Mint

MAGDALENA VOL. 2 (2003) #4 (Image Top Cow) Near Mint/Mint

MAGDALENA/ANGELUS (2000) #1 1/2 (Image Top Cow) Near Mint/Mint

INDEPENDENTS
3 LITTLE KITTENS (2002) #1 VARIANT (Broadsword Comics) Near Mint/Mint
3 LITTLE KITTENS (2002) #3 VARIANT (Broadsword Comics) Near Mint/Mint

CAGES (1990) #7 (Kitchen Sink Publishing) Near Mint/Mint

COMICS FEATURE (MAGAZINE) (1980) #37 (New Media Publishing, Inc.) Near Mint/Mint

CREEPY (MAGAZINE) (1964) #18 (Warren Publishing Company) Good

CUTEY BUNNY (ARMY SURPLUS KOMIKZ) (1982) #2 (Army Surplus Comics) Near Mint/Mint
CUTEY BUNNY (ARMY SURPLUS KOMIKZ) (1982) #3 (Army Surplus Comics) Near Mint/Mint
CUTEY BUNNY (ARMY SURPLUS KOMIKZ) (1982) #4 (Army Surplus Comics) Near Mint/Mint
CUTEY BUNNY (ARMY SURPLUS KOMIKZ) (1982) #5 (Army Surplus Comics) Near Mint/Mint

CYBERLUST #2 (Aircel Publications) Very Fine

EAGLE WEEKLY #156 (Eagle (British)) Near Mint/Mint

ECLIPSE EXTRA (1985) #16 (Eclipse Enterprises) Near Mint/Mint

ELEMENTALS (1984) #1 (Comico) Near Mint/Mint
ELEMENTALS (1984) #1 (Comico) Fine

FAMOUS MONSTERS (MAG) #36 (Warren Publishing Company) Very Fine
FAMOUS MONSTERS (MAG) #56 (Warren Publishing Company) Very Good

FURRLOUGH (1992) #7 (Radio Comix) Fine

GAMEBOY (1990) #4 (Acclaim/Valiant) Near Mint/Mint

IN-VISION (DOCTOR WHO) (MAG) #19 (Miscellaneous (Unlisted) Publishers) Near Mint/Mint

INQUEST: ULTIMATE GUIDE TO COLLECTIBLE CARD GAMES #35 (Wizard Press) Near Mint/Mint

KARNEY (2005) #2 (IDW Publishing) Near Mint/Mint


MARQUIS DANSE MACABRE (1999) #2

MARQUIS DANSE MACABRE (1999) #2 (Oni Press Inc.) Near Mint/Mint
MARQUIS DANSE MACABRE (1999) #4 (Oni Press Inc.) Near Mint/Mint
MARQUIS DANSE MACABRE (1999) #5 (Oni Press Inc.) Near Mint/Mint

MAXIMUM FORCE SPECIAL (2002) #1 COVER A (Atomeka Press) Very Fine

TALES OF THE BEANWORLD (1985) #4 (Eclipse Enterprises) Very Fine

TAROT: WITCH OF THE BLACK ROSE (2000) #32 VARIANT (Broadsword Comics) Near Mint/Mint

TEENAGE MUTANT NINJA TURTLES (1984) (#1-62) (MIRAGE) #2 3RD PRT (Mirage Studios) Near Mint/Mint

USAGI YOJIMBO SUMMER SPECIAL #1 (Fantagraphics) Very Good

VAMPIRELLA COMICS MAGAZINE (2003) #2 VIRGIN VAR (Harris Comics) Near Mint/Mint

WOMEN WITH WOMEN #1 (Naked City Comics) Near Mint/Mint
WOMEN WITH WOMEN #1 NUDE B (Naked City Comics) Near Mint/Mint
WOMEN WITH WOMEN #1 NUDE A (Naked City Comics) Near Mint/Mint
WOMEN WITH WOMEN #1 NUDE B (Naked City Comics) Very Fine

WONDER WART-HOG AND THE BATTLE OF THE TITANS (1985) #1 (Rip Off Press) Fine
WONDER WART-HOG AND THE BATTLE OF THE TITANS (1985) #1 1989 2.50 (Rip Off Press) Very Fine
WONDER WART-HOG AND THE BATTLE OF THE TITANS (1985) #1 1989 2.50 (Rip Off Press) Fine

WONDER WART-HOG HOG OF STEEL #2 (Rip Off Press) Near Mint/Mint
WONDER WART-HOG HOG OF STEEL #2 (Rip Off Press) Very Fine

WORLD OF WOOD #1 (Eclipse Enterprises) Near Mint/Mint
WORLD OF WOOD #2 (Eclipse Enterprises) Near Mint/Mint
WORLD OF WOOD #3 (Eclipse Enterprises) Near Mint/Mint

ZACHERLEY'S MIDNITE TERRORS (2004) #1 (Chanting Monk Studios) Near Mint/Mint

ZAP COMIX (1970) #15 (Last Gasp) Near Mint/Mint