Thousands More Great Comics Arrive - All Half Price
Howdy!
I am in San Francisco today, attending the annual Coronation ceremonies for the new Grand Duke and Grand Duchess of the Grand Ducal Council of San Francisco. San Francisco is unusual in the fact that it has two Courts, with the original Imperial Court of San Francisco celebrating its Coronation during the last week of February of each year. San Francisco Imperial is also the "Founding Mother Court" of all of the other 70 Courts in our entire International Court System, as it was the first official Court, being founded by Mama Jose, herself, in 1965.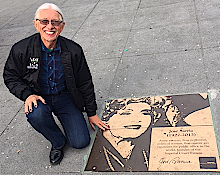 Chuck in San Francisco's Castro District visiting the bronze plaque of Jose' Sarria, the Founder of the International Court System.

For reasons that I do not yet completely understand, San Francisco Ducal split off from San Francisco Imperial 45 years ago. Learning more of that history is one of the reasons that I came here. Another is that our Queen Mother I of the Americas - Nicole the Great will be in attendance. I was recently elevated by her to be her Deputy High Chancellor (under Emperor Bobby Childers of Salt Lake City), which means that I am one of the people that she trusts to be responsible for her well-being when she travels.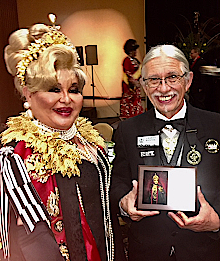 Chuck with Queen Mother I of the Americas, Nicole the Great

So you know, while she is truly a civil rights icon of the American LGBTQ movement, Queen Mother Nicole is now well into her seventies, diabetic, and suffers from a chronic heart condition. I care for her deeply, so I try to always be around her just as back-up, primarily for those moments for when a local organization is unable to provide her with necessities that she needs for her health. My being at a Coronation with her is not a big deal, but I do know that it helps with her peace of mind to know that she can always call, or text me, when she experiences a minor difficulty at one of our Courts. Protecting our Queen Mother's health is also my primary reason for why I will be visiting Cincinnati, Ohio next weekend, and Portland, OR during the weekend of October 20th.
As regards comic books, my sorting comics from collections that we have recently purchased for over 60 hours during the five days prior to leaving on this trip is now paying off for everyone, as Will and Pam have been grading and entering an extraordinary number of those great comics for you into our Premium New-In-Stock and (the much larger) overall New-In-Stock links. Pam has been especially nailing it, personally adding upwards of 1,000 choice back issues each day. It truly takes a lot to impress me, but our Premium New-In-Stock for this past week is really rather remarkable!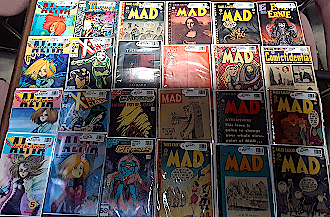 Some more of the comics just added

Rather than wax poetic any further, I am going to simply ask Will Moulton to provide an immense listing of recently-arrived treasures for you at the end of this newsletter. Do bear in mind that all of the back issues presented in this list are available to you at half of the prices shown on our website if you remember to utilize my beloved wife's 50% off NANETTE! codeword when checking out. Only new issues, a few variants, and our professionally-graded comics are excluded for this wonderful half price back issues sale.
Happy collecting!
Chuck Rozanski,
President - Mile High Comics, Inc.
September 28, 2018

MARVEL

2099: MANIFEST DESTINY (1998) #1

2099: MANIFEST DESTINY (1998) #1 Near Mint/Mint

A-TEAM (1984) #1 Near Mint/Mint
A-TEAM (1984) #1 Very Fine
A-TEAM (1984) #2 Near Mint/Mint

AKIRA (MARVEL) (1988) #13 NEWSSTAND Near Mint/Mint
AKIRA (MARVEL) (1988) #14 NEWSSTAND Very Fine
AKIRA (MARVEL) (1988) #25 NEWSSTAND Near Mint/Mint
AKIRA (MARVEL) (1988) #33 NEWSSTAND Very Fine

ALADDIN (MARVEL) (1994) #11 Fine

ALPHA FLIGHT (1983) (#1-130) #33 Near Mint/Mint
ALPHA FLIGHT (1983) (#1-130) #33 Very Fine
ALPHA FLIGHT (1983) (#1-130) #106 Near Mint/Mint

AVENGERS (1963) (#1-402) (MARVEL) #127 Very Good
AVENGERS (1963) (#1-402) (MARVEL) #130 Very Good
AVENGERS (1963) (#1-402) (MARVEL) #131 Very Good
AVENGERS (1963) (#1-402) (MARVEL) #250 NEWSSTAND Fine
AVENGERS (1963) (#1-402) (MARVEL) #252 Near Mint/Mint
AVENGERS (1963) (#1-402) (MARVEL) #253 Near Mint/Mint
AVENGERS (1963) (#1-402) (MARVEL) #256 Near Mint/Mint
AVENGERS (1963) (#1-402) (MARVEL) #262 Near Mint/Mint
AVENGERS (1963) (#1-402) (MARVEL) #266 Near Mint/Mint
AVENGERS (1963) (#1-402) (MARVEL) #275 Near Mint/Mint
AVENGERS (1963) (#1-402) (MARVEL) #366 Near Mint/Mint
AVENGERS (1963) (#1-402) (MARVEL) #375 DELUXE Near Mint/Mint
AVENGERS (1963) (#1-402) (MARVEL) #389 Near Mint/Mint

AVENGERS (2013) (#1-44) (MARVEL) #5 Near Mint/Mint

AVENGERS ANNUAL (1967) #10 NEWSSTAND Good

AVENGERS GIANT-SIZE (GIANT SIZE) (1974) #1 Fair

BLACK PANTHER: PANTHER'S PREY (1991) #2 NEWSSTAND Near Mint/Mint

CAPTAIN AMERICA ANNUAL (1971) #8 Near Mint/Mint

CHILLERS GIANT-SIZE (1974) #1 Good

CLASSIC X-MEN (1986) #82 Very Fine
CLASSIC X-MEN (1986) #83 Fine
CLASSIC X-MEN (1986) #84 Near Mint/Mint
CLASSIC X-MEN (1986) #85 Near Mint/Mint
CLASSIC X-MEN (1986) #87 Near Mint/Mint
CLASSIC X-MEN (1986) #88 Near Mint/Mint
CLASSIC X-MEN (1986) #89 Near Mint/Mint
CLASSIC X-MEN (1986) #90 Very Fine
CLASSIC X-MEN (1986) #91 Fine
CLASSIC X-MEN (1986) #92 Near Mint/Mint
CLASSIC X-MEN (1986) #93 Near Mint/Mint
CLASSIC X-MEN (1986) #94 Near Mint/Mint
CLASSIC X-MEN (1986) #95 Near Mint/Mint
CLASSIC X-MEN (1986) #96 Near Mint/Mint
CLASSIC X-MEN (1986) #97 Near Mint/Mint
CLASSIC X-MEN (1986) #98 Near Mint/Mint
CLASSIC X-MEN (1986) #99 Near Mint/Mint
CLASSIC X-MEN (1986) #100 Near Mint/Mint
CLASSIC X-MEN (1986) #101 Near Mint/Mint
CLASSIC X-MEN (1986) #102 Fine
CLASSIC X-MEN (1986) #103 Fine

CLOAK AND DAGGER (1983) #1 Near Mint/Mint
CLOAK AND DAGGER (1983) #2 Near Mint/Mint
CLOAK AND DAGGER (1983) #4 NEWSSTAND Very Good

COSMIC POWERS (1994) #5 Near Mint/Mint

CREATURES GIANT-SIZE (1974) #1 Fine

DAREDEVIL (1964) (#1-380) (MAN WITHOUT FEAR) (MARVEL) #44 Very Good
DAREDEVIL (1964) (#1-380) (MAN WITHOUT FEAR) (MARVEL) #167 NEWSSTAND Good
DAREDEVIL (1964) (#1-380) (MAN WITHOUT FEAR) (MARVEL) #181 Very Fine
DAREDEVIL (1964) (#1-380) (MAN WITHOUT FEAR) (MARVEL) #182 Near Mint/Mint
DAREDEVIL (1964) (#1-380) (MAN WITHOUT FEAR) (MARVEL) #183 Near Mint/Mint

DAREDEVIL/DEADPOOL '97 #1 Very Fine

DEADPOOL (1993) (#1-4) (CIRCLE CHASE) (MARVEL) #1 Near Mint/Mint
DEADPOOL (1993) (#1-4) (CIRCLE CHASE) (MARVEL) #2 Near Mint/Mint
DEADPOOL (1993) (#1-4) (CIRCLE CHASE) (MARVEL) #2 Very Fine
DEADPOOL (1993) (#1-4) (CIRCLE CHASE) (MARVEL) #3 Near Mint/Mint
DEADPOOL (1993) (#1-4) (CIRCLE CHASE) (MARVEL) #4 Very Fine


DEADPOOL (1994) (#1-4) (MARVEL) #1

DEADPOOL (1994) (#1-4) (MARVEL) #1 Near Mint/Mint
DEADPOOL (1994) (#1-4) (MARVEL) #1 Very Fine
DEADPOOL (1994) (#1-4) (MARVEL) #2 Near Mint/Mint
DEADPOOL (1994) (#1-4) (MARVEL) #3 Near Mint/Mint
DEADPOOL (1994) (#1-4) (MARVEL) #3 Fine
DEADPOOL (1994) (#1-4) (MARVEL) #4 Near Mint/Mint

DEADPOOL (1997) (#0-69) (MARVEL) #1 Near Mint/Mint
DEADPOOL (1997) (#0-69) (MARVEL) #2 Very Fine
DEADPOOL (1997) (#0-69) (MARVEL) #3 Near Mint/Mint
DEADPOOL (1997) (#0-69) (MARVEL) #4 Near Mint/Mint
DEADPOOL (1997) (#0-69) (MARVEL) #4 Very Fine
DEADPOOL (1997) (#0-69) (MARVEL) #5 Fine
DEADPOOL (1997) (#0-69) (MARVEL) #6 Near Mint/Mint
DEADPOOL (1997) (#0-69) (MARVEL) #7 Near Mint/Mint
DEADPOOL (1997) (#0-69) (MARVEL) #8 Near Mint/Mint
DEADPOOL (1997) (#0-69) (MARVEL) #9 Near Mint/Mint
DEADPOOL (1997) (#0-69) (MARVEL) #10 Near Mint/Mint
DEADPOOL (1997) (#0-69) (MARVEL) #11 Fine
DEADPOOL (1997) (#0-69) (MARVEL) #12 VARIANT Very Fine
DEADPOOL (1997) (#0-69) (MARVEL) #13 Fine
DEADPOOL (1997) (#0-69) (MARVEL) #14 Near Mint/Mint
DEADPOOL (1997) (#0-69) (MARVEL) #15 Near Mint/Mint
DEADPOOL (1997) (#0-69) (MARVEL) #16 Near Mint/Mint
DEADPOOL (1997) (#0-69) (MARVEL) #17 Very Fine
DEADPOOL (1997) (#0-69) (MARVEL) #18 Near Mint/Mint
DEADPOOL (1997) (#0-69) (MARVEL) #19 Fine
DEADPOOL (1997) (#0-69) (MARVEL) #20 Near Mint/Mint

DEADPOOL MINUS (1997) #1 Very Fine

DEADPOOL/DEATH 1998 MARVEL ANNUAL (1998) #1 Fine

ELEKTRA SAGA (1984) #1 Near Mint/Mint
ELEKTRA SAGA (1984) #2 Near Mint/Mint
ELEKTRA SAGA (1984) #3 Near Mint/Mint

ETERNALS (1976) (#1-19) (MARVEL) (JACK KIRBY) #3 Very Good
ETERNALS (1976) (#1-19) (MARVEL) (JACK KIRBY) #4 Very Good
ETERNALS (1976) (#1-19) (MARVEL) (JACK KIRBY) #5 Very Fine
ETERNALS (1976) (#1-19) (MARVEL) (JACK KIRBY) #6 Very Good
ETERNALS (1976) (#1-19) (MARVEL) (JACK KIRBY) #7 Very Fine
ETERNALS (1976) (#1-19) (MARVEL) (JACK KIRBY) #10 WHITMAN Very Good
ETERNALS (1976) (#1-19) (MARVEL) (JACK KIRBY) #12 WHITMAN Near Mint/Mint


ETERNALS (1976) (#1-19) (MARVEL) (JACK KIRBY) #13

ETERNALS (1976) (#1-19) (MARVEL) (JACK KIRBY) #13 Very Fine
ETERNALS (1976) (#1-19) (MARVEL) (JACK KIRBY) #14 Very Fine
ETERNALS (1976) (#1-19) (MARVEL) (JACK KIRBY) #15 Very Fine
ETERNALS (1976) (#1-19) (MARVEL) (JACK KIRBY) #16 Very Fine
ETERNALS (1976) (#1-19) (MARVEL) (JACK KIRBY) #17 Very Fine
ETERNALS (1976) (#1-19) (MARVEL) (JACK KIRBY) #18 Very Good
ETERNALS (1976) (#1-19) (MARVEL) (JACK KIRBY) #19 Fine

GHOST RIDER (1973) (#1-81) (MARVEL) #1 Good
GHOST RIDER (1973) (#1-81) (MARVEL) #2 Good

GI JOE #1 NEWSSTAND Fine

GUARDIANS OF THE GALAXY (1990) (#1-62) (MARVEL) #1 Very Fine

HULK (1962) (#1-6, #102-474, #600-635)(INCREDIBLE)(MV) #330 NEWSSTAND Near Mint/Mint
HULK (1962) (#1-6, #102-474, #600-635)(INCREDIBLE)(MV) #340 NEWSSTAND Very Fine

IRON MAN (1968) (#1-332) (INVINCIBLE IRON MAN)(MARVEL) #32 Very Good
IRON MAN (1968) (#1-332) (INVINCIBLE IRON MAN)(MARVEL) #35 Very Good
IRON MAN (1968) (#1-332) (INVINCIBLE IRON MAN)(MARVEL) #37 Very Good
IRON MAN (1968) (#1-332) (INVINCIBLE IRON MAN)(MARVEL) #46 Good
IRON MAN (1968) (#1-332) (INVINCIBLE IRON MAN)(MARVEL) #49 Very Good
IRON MAN (1968) (#1-332) (INVINCIBLE IRON MAN)(MARVEL) #50 Good
IRON MAN (1968) (#1-332) (INVINCIBLE IRON MAN)(MARVEL) #58 Very Fine
IRON MAN (1968) (#1-332) (INVINCIBLE IRON MAN)(MARVEL) #60 Very Good
IRON MAN (1968) (#1-332) (INVINCIBLE IRON MAN)(MARVEL) #62 Very Good
IRON MAN (1968) (#1-332) (INVINCIBLE IRON MAN)(MARVEL) #67 Very Good
IRON MAN (1968) (#1-332) (INVINCIBLE IRON MAN)(MARVEL) #131 NEWSSTAND Good
IRON MAN (1968) (#1-332) (INVINCIBLE IRON MAN)(MARVEL) #132 NEWSSTAND Very Good

MARVEL SPECTACULAR (1973) #6 Fine

MS. MARVEL (1977) (#1-23) (MARVEL) (CAROL DANVERS) #2 Good
MS. MARVEL (1977) (#1-23) (MARVEL) (CAROL DANVERS) #18 Very Good
NEW MUTANTS (1983) (#1-100) (MARVEL) #98 Very Fine

PUNISHER (1985) (#1-5) (MARVEL) #1 NEWSSTAND Very Fine
PUNISHER (1985) (#1-5) (MARVEL) #2 NEWSSTAND Very Fine
PUNISHER (1985) (#1-5) (MARVEL) #2 Very Fine
PUNISHER (1985) (#1-5) (MARVEL) #3 NEWSSTAND Very Fine
PUNISHER (1985) (#1-5) (MARVEL) #4 NEWSSTAND Very Fine
PUNISHER (1985) (#1-5) (MARVEL) #5 NEWSSTAND Good


SECRET WARS (1984) #1 NEWSSTAND

SECRET WARS (1984) #1 NEWSSTAND Good
SECRET WARS (1984) #7 Near Mint/Mint
SECRET WARS (1984) #8 Near Mint/Mint
SECRET WARS (1984) #8 NEWSSTAND Fine
SECRET WARS (1984) #9 Near Mint/Mint
SECRET WARS (1984) #10 Near Mint/Mint
SECRET WARS (1984) #11 Near Mint/Mint
SECRET WARS (1984) #12 Near Mint/Mint

SHE-HULK (1980) (#1-25) (SAVAGE SHE-HULK) (MARVEL) #1 Fine

SILVER SURFER (1987) (#1-146) (MARVEL) #34 Very Fine
SILVER SURFER (1987) (#1-146) (MARVEL) #35 Very Fine
SILVER SURFER (1987) (#1-146) (MARVEL) #36 Very Fine
SILVER SURFER (1987) (#1-146) (MARVEL) #37 Very Fine
SILVER SURFER (1987) (#1-146) (MARVEL) #44 Very Fine
SILVER SURFER (1987) (#1-146) (MARVEL) #45 Near Mint/Mint
SILVER SURFER (1987) (#1-146) (MARVEL) #46 Near Mint/Mint
SILVER SURFER (1987) (#1-146) (MARVEL) #46 Very Fine
SILVER SURFER (1987) (#1-146) (MARVEL) #47 Fine

SPIDER-MAN (1963) (AMAZING SPIDER-MAN) (#1-441) #256 Very Fine
SPIDER-MAN (1963) (AMAZING SPIDER-MAN) (#1-441) #265 NEWSSTAND Fine
SPIDER-MAN (1963) (AMAZING SPIDER-MAN) (#1-441) #275 NEWSSTAND Near Mint/Mint
SPIDER-MAN (1963) (AMAZING SPIDER-MAN) (#1-441) #298 NEWSSTAND Very Fine
SPIDER-MAN (1963) (AMAZING SPIDER-MAN) (#1-441) #299 NEWSSTAND Fine
SPIDER-MAN (1963) (AMAZING SPIDER-MAN) (#1-441) #300 NEWSSTAND Very Fine
SPIDER-MAN (1963) (AMAZING SPIDER-MAN) (#1-441) #301 NEWSSTAND Very Fine
SPIDER-MAN (1963) (AMAZING SPIDER-MAN) (#1-441) #306 NEWSSTAND Very Fine
SPIDER-MAN (1963) (AMAZING SPIDER-MAN) (#1-441) #315 Very Fine
SPIDER-MAN (1963) (AMAZING SPIDER-MAN) (#1-441) #316 NEWSSTAND Very Fine
SPIDER-MAN (1963) (AMAZING SPIDER-MAN) (#1-441) #362 Fine
SPIDER-MAN (1963) (AMAZING SPIDER-MAN) (#1-441) #362 Near Mint/Mint

SPIDER-MAN ANNUAL (1964) #21 NEWS Very Fine

STAR WARS (1977) (#1-107) (MARVEL) #42 NEWSSTAND Good

THANOS QUEST (1990) (#1-2) (PRESTIGE) #2 NEWSSTAND Near Mint/Mint

THOR (1962) (#83-125 JOURNEY INTO MYSTERY, 126-502) #337 NEWSSTAND Very Fine

WEB OF SPIDER-MAN (1985) (#1-129) (MARVEL) #1 NEWSSTAND Fine

WEREWOLF BY NIGHT (1972) #42 Fine

WHAT IF... (1989) (#1-114, & 200) (MARVEL) #96 Near Mint/Mint
WHAT IF... (1989) (#1-114, & 200) (MARVEL) #105 Fine
WHAT IF... (1989) (#1-114, & 200) (MARVEL) #106 Near Mint/Mint
WHAT IF... (1989) (#1-114, & 200) (MARVEL) #107 Near Mint/Mint
WHAT IF... (1989) (#1-114, & 200) (MARVEL) #108 Fine
WHAT IF... (1989) (#1-114, & 200) (MARVEL) #110 Near Mint/Mint
WHAT IF... (1989) (#1-114, & 200) (MARVEL) #111 Near Mint/Mint

WOLVERINE (1982) (#1-4) (MARVEL LIMITED SERIES) #1 Fine
WOLVERINE (1982) (#1-4) (MARVEL LIMITED SERIES) #1 Near Mint/Mint

WOLVERINE: THE END (2003) #1 WW TEXAS Fine

WOLVERINE: THE JUNGLE ADVENTURE (1990) #1 NEWSSTAND Near Mint/Mint
WOLVERINE: THE JUNGLE ADVENTURE (1990) #1 NEWSSTAND Very Fine
WOLVERINE: THE JUNGLE ADVENTURE (1990) #1 NEWSSTAND Fine
WOLVERINE: THE JUNGLE ADVENTURE (1990) #1 NEWSSTAND Very Good

WOLVERINE: WEAPON X (2009) #5 Near Mint/Mint
WOLVERINE: WEAPON X (2009) #11 Near Mint/Mint
WOLVERINE: WEAPON X (2009) #12 Near Mint/Mint
WOLVERINE: WEAPON X (2009) #13 Near Mint/Mint
WOLVERINE: WEAPON X (2009) #14 Near Mint/Mint
WOLVERINE: WEAPON X (2009) #16 Near Mint/Mint

WOLVERINE: WENDIGO (2010) #1 Near Mint/Mint
WOLVERINE: WENDIGO (2010) #1 Very Fine

WOLVERINES (2015) #20 Near Mint/Mint

X-FACTOR (1986) (#1-149) (ORIGINAL X-MEN) #6 NEWSSTAND Very Fine

DC
ACTION COMICS (1938) (#0-600, 643-904) (DC) #560 Near Mint/Mint
ACTION COMICS (1938) (#0-600, 643-904) (DC) #563 Near Mint/Mint
ACTION COMICS (1938) (#0-600, 643-904) (DC) #565 Near Mint/Mint
ACTION COMICS (1938) (#0-600, 643-904) (DC) #584 INSERT Near Mint/Mint

ADVENTURE COMICS (1938) #464 Fine


ADVENTURES IN THE DC UNIVERSE (1997) #14

ADVENTURES IN THE DC UNIVERSE (1997) #14 Near Mint/Mint
ADVENTURES IN THE DC UNIVERSE (1997) #15 Near Mint/Mint
ADVENTURES IN THE DC UNIVERSE (1997) #17 Near Mint/Mint

ADVENTURES OF SUPERMAN (#0,#424-649) (1987) #424 W/INSERT Near Mint/Mint

ALL-STAR (1976) #58 Fine
ALL-STAR (1976) #66 Fine
ALL-STAR (1976) #69 Very Good
ALL-STAR (1976) #72 Very Good
ALL-STAR (1976) #73 Near Mint/Mint
ALL-STAR (1976) #74 Very Good

ALL-STAR BATMAN (DC REBIRTH) (2016) #1 BLANK CVR Very Fine

ALL-STAR SQUADRON (1981) #45 Near Mint/Mint
ALL-STAR SQUADRON (1981) #54 Near Mint/Mint
ALL-STAR SQUADRON (1981) #56 Very Fine

ANIMANIACS (DC) (1995) #9 Near Mint/Mint

BABYLON 5: IN VALENS NAME (DC) (1998) #3 Near Mint/Mint

BATGIRL (2011) (#0-52) (DC NEW52) #35 Near Mint/Mint
BATGIRL (2011) (#0-52) (DC NEW52) #37 Near Mint/Mint
BATGIRL (2011) (#0-52) (DC NEW52) #38 Near Mint/Mint

BATGIRL ADVENTURES (1998) #1 Fine

BATGIRL SPECIAL (1998) #1 Fine

BATMAN (1940) (#0-713) (DC) #242 Very Good
BATMAN (1940) (#0-713) (DC) #253 Very Good
BATMAN (1940) (#0-713) (DC) #269 Very Good
BATMAN (1940) (#0-713) (DC) #270 Good
BATMAN (1940) (#0-713) (DC) #273 Fine
BATMAN (1940) (#0-713) (DC) #275 Good
BATMAN (1940) (#0-713) (DC) #278 Fine
BATMAN (1940) (#0-713) (DC) #279 Very Good
BATMAN (1940) (#0-713) (DC) #281 Good
BATMAN (1940) (#0-713) (DC) #282 Fine


BATMAN (1940) (#0-713) (DC) #285

BATMAN (1940) (#0-713) (DC) #285 Very Good
BATMAN (1940) (#0-713) (DC) #286 Fine
BATMAN (1940) (#0-713) (DC) #289 Very Good
BATMAN (1940) (#0-713) (DC) #290 Very Good
BATMAN (1940) (#0-713) (DC) #295 Very Good
BATMAN (1940) (#0-713) (DC) #303 Very Good
BATMAN (1940) (#0-713) (DC) #313 Very Good
BATMAN (1940) (#0-713) (DC) #315 Very Good
BATMAN (1940) (#0-713) (DC) #323 Very Good
BATMAN (1940) (#0-713) (DC) #324 Fine
BATMAN (1940) (#0-713) (DC) #327 NEWSSTAND Very Good
BATMAN (1940) (#0-713) (DC) #389 Near Mint/Mint
BATMAN (1940) (#0-713) (DC) #390 Near Mint/Mint
BATMAN (1940) (#0-713) (DC) #394 Near Mint/Mint
BATMAN (1940) (#0-713) (DC) #395 Near Mint/Mint
BATMAN (1940) (#0-713) (DC) #400 Fine
BATMAN (1940) (#0-713) (DC) #404 Near Mint/Mint
BATMAN (1940) (#0-713) (DC) #405 Near Mint/Mint
BATMAN (1940) (#0-713) (DC) #406 Near Mint/Mint
BATMAN (1940) (#0-713) (DC) #407 Fine
BATMAN (1940) (#0-713) (DC) #407 Near Mint/Mint
BATMAN (1940) (#0-713) (DC) #611 Near Mint/Mint
BATMAN (1940) (#0-713) (DC) #612 Very Fine
BATMAN (1940) (#0-713) (DC) #613 Near Mint/Mint

BATMAN & ROBIN ADVENTURES (1995) #1 Very Fine
BATMAN & ROBIN ADVENTURES (1995) #2 Near Mint/Mint
BATMAN & ROBIN ADVENTURES (1995) #5 Near Mint/Mint
BATMAN & ROBIN ADVENTURES (1995) #6 Near Mint/Mint
BATMAN & ROBIN ADVENTURES (1995) #11 UNBAGGED Near Mint/Mint
BATMAN & ROBIN ADVENTURES (1995) #16 Very Fine
BATMAN & ROBIN ADVENTURES (1995) #17 Very Fine
BATMAN & ROBIN ADVENTURES (1995) #18 Fine
BATMAN & ROBIN ADVENTURES (1995) #19 Near Mint/Mint
BATMAN & ROBIN ADVENTURES (1995) #21 Near Mint/Mint
BATMAN & ROBIN ADVENTURES (1995) #25 Very Fine

BATMAN & ROBIN ADVENTURES: SUB-ZERO (1998) #1 Very Fine

BATMAN & SUPERMAN: ADVENTURES OF THE WORLD'S FINEST (1997) #1 Very Fine

BATMAN 80-PAGE GIANT (1998) #1 Near Mint/Mint

BATMAN ADVENTURES (1992) #20 Very Fine
BATMAN ADVENTURES (1992) #21 Near Mint/Mint
BATMAN ADVENTURES (1992) #22 Near Mint/Mint
BATMAN ADVENTURES (1992) #35 Fine
BATMAN ADVENTURES (1992) #36 Very Fine

BATMAN ADVENTURES: LOST YEARS (1998) #4 Near Mint/Mint
BATMAN ADVENTURES: LOST YEARS (1998) #5 Near Mint/Mint

BATMAN ADVENTURES: MAD LOVE (1994) #1 Fine
BATMAN ADVENTURES: MAD LOVE (1994) #1 Very Good

BATMAN AND THE OUTSIDERS (1983) #32 Near Mint/Mint

BATMAN FAMILY (1975) #15 Very Fine
BATMAN FAMILY (1975) #16 Fine
BATMAN FAMILY (1975) #17 Very Good
BATMAN FAMILY (1975) #18 Fine
BATMAN FAMILY (1975) #19 Very Good
BATMAN FAMILY (1975) #20 Fine

BATMAN/DEATHBLOW: AFTER THE FIRE (BATMAN AND DEATHBLOW) (2002) #1 Fine
BATMAN/DEATHBLOW: AFTER THE FIRE (BATMAN AND DEATHBLOW) (2002) #2 Near Mint/Mint
BATMAN/DEATHBLOW: AFTER THE FIRE (BATMAN AND DEATHBLOW) (2002) #3 Near Mint/Mint

BATMAN: DARK ALLEGIANCES (HOWARD CHAYKIN) (PRESTIGE) (1995) #1 Very Fine

BATMAN: GOLDEN STREETS OF GOTHAM (ELSEWORLDS)(PRESTIGE) (2003) #1 Near Mint/Mint

BATMAN: GOTHAM ADVENTURES (1998) #1 Very Fine

BATMAN: STACKED CARDS BOOK AND RECORD SET (PR-27) (1975) #1 Very Good

BATMAN: THE ANKH (CHUCK DIXON) (PRESTIGE) (2001) #1 Near Mint/Mint
BATMAN: THE ANKH (CHUCK DIXON) (PRESTIGE) (2001) #2 Fine

BATMAN: THE LONG HALLOWEEN (JEPH LOEB) (TIM SALE) (1996) #7 Very Fine
BATMAN: THE LONG HALLOWEEN (JEPH LOEB) (TIM SALE) (1996) #9 Fine
BATMAN: THE LONG HALLOWEEN (JEPH LOEB) (TIM SALE) (1996) #12 Very Fine
BATMAN: THE LONG HALLOWEEN (JEPH LOEB) (TIM SALE) (1996) #13 Fine

BEAUTIFUL STORIES FOR UGLY CHILDREN (1989) #4 (DC: Piranha Press) Near Mint/Mint


BIRDS OF PREY: MANHUNT (1996) #2

BIRDS OF PREY: MANHUNT (1996) #2 Near Mint/Mint

BRAVE AND THE BOLD (1955) #197 Fine
BRAVE AND THE BOLD (1955) #200 Near Mint/Mint

CONVERGENCE: CRIME SYNDICATE (2015) #1 Near Mint/Mint
CONVERGENCE: CRIME SYNDICATE (2015) #2 Near Mint/Mint

CONVERGENCE: INFINITY INC. (2015) #2 KIDD Near Mint/Mint

CONVERGENCE: JUSTICE SOCIETY OF AMERICA (2015) #1 Near Mint/Mint
CONVERGENCE: JUSTICE SOCIETY OF AMERICA (2015) #2 Near Mint/Mint

CONVERGENCE: SUPERBOY & THE LEGION OF SUPER-HEROES (2015) #1 KIDD Near Mint/Mint
CONVERGENCE: SUPERBOY & THE LEGION OF SUPER-HEROES (2015) #2 KIDD Near Mint/Mint

DC COMICS BOMBSHELLS (2015) #1 Near Mint/Mint
DC COMICS BOMBSHELLS (2015) #2 Near Mint/Mint
DC COMICS BOMBSHELLS (2015) #3 Very Fine
DC COMICS BOMBSHELLS (2015) #4 Near Mint/Mint
DC COMICS BOMBSHELLS (2015) #5 Near Mint/Mint
DC COMICS BOMBSHELLS (2015) #6 Very Fine

DC SPECIAL SERIES (1977) #15 Fine

DETECTIVE COMICS (1937) (#0-881) (DC) #411 Very Good
DETECTIVE COMICS (1937) (#0-881) (DC) #438 Very Good
DETECTIVE COMICS (1937) (#0-881) (DC) #439 Fine
DETECTIVE COMICS (1937) (#0-881) (DC) #440 Very Fine
DETECTIVE COMICS (1937) (#0-881) (DC) #442 Very Good
DETECTIVE COMICS (1937) (#0-881) (DC) #443 Good
DETECTIVE COMICS (1937) (#0-881) (DC) #482 Very Fine
DETECTIVE COMICS (1937) (#0-881) (DC) #483 Very Good
DETECTIVE COMICS (1937) (#0-881) (DC) #484 Very Good
DETECTIVE COMICS (1937) (#0-881) (DC) #490 Fine
DETECTIVE COMICS (1937) (#0-881) (DC) #526 Fine
DETECTIVE COMICS (1937) (#0-881) (DC) #535 Very Fine
DETECTIVE COMICS (1937) (#0-881) (DC) #536 Near Mint/Mint
DETECTIVE COMICS (1937) (#0-881) (DC) #537 Very Fine
DETECTIVE COMICS (1937) (#0-881) (DC) #538 Very Fine

FABLES (2002) #1 (DC: Vertigo Press) Near Mint/Mint

FABLES (2002) #2 (DC: Vertigo Press) Near Mint/Mint
FABLES (2002) #3 (DC: Vertigo Press) Near Mint/Mint

HARLEY QUINN (2000) (#1-38) (DC) #13 Near Mint/Mint
HARLEY QUINN (2000) (#1-38) (DC) #14 Near Mint/Mint
HARLEY QUINN (2000) (#1-38) (DC) #15 Near Mint/Mint
HARLEY QUINN (2000) (#1-38) (DC) #16 Fine
HARLEY QUINN (2000) (#1-38) (DC) #17 Fine
HARLEY QUINN (2000) (#1-38) (DC) #18 Near Mint/Mint
HARLEY QUINN (2000) (#1-38) (DC) #19 Near Mint/Mint
HARLEY QUINN (2000) (#1-38) (DC) #20 Near Mint/Mint
HARLEY QUINN (2000) (#1-38) (DC) #21 Near Mint/Mint
HARLEY QUINN (2000) (#1-38) (DC) #22 Very Fine
HARLEY QUINN (2000) (#1-38) (DC) #23 Near Mint/Mint
HARLEY QUINN (2000) (#1-38) (DC) #24 Near Mint/Mint
HARLEY QUINN (2000) (#1-38) (DC) #25 Near Mint/Mint
HARLEY QUINN (2000) (#1-38) (DC) #26 Near Mint/Mint
HARLEY QUINN (2000) (#1-38) (DC) #27 Fine
HARLEY QUINN (2000) (#1-38) (DC) #28 Near Mint/Mint
HARLEY QUINN (2000) (#1-38) (DC) #29 Very Fine
HARLEY QUINN (2000) (#1-38) (DC) #30 Fine
HARLEY QUINN (2000) (#1-38) (DC) #31 Very Fine
HARLEY QUINN (2000) (#1-38) (DC) #32 Fine

JUSTICE LEAGUE OF AMERICA (1960) (#1-261) (DC) #91 Very Good
JUSTICE LEAGUE OF AMERICA (1960) (#1-261) (DC) #94 Very Good

LEGION OF SUPER-HEROES ANNUAL (1985) #2 Near Mint/Mint

MISTER MIRACLE (1971) (#1-25) (DC) #1 Good

OMEGA MEN (1982) (#1-38) (DC) #3 Near Mint/Mint

SHOWCASE (1956) #63 Fine

SUPERMAN ADVENTURES SPECIAL: SUPERMAN VS. LOBO (1998) #1 Near Mint/Mint

WONDER WOMAN (1942) (#1-329) (DC) #215 Fine
WONDER WOMAN (1942) (#1-329) (DC) #222 Fine
WONDER WOMAN (1942) (#1-329) (DC) #228 Very Good
WONDER WOMAN (1942) (#1-329) (DC) #235 Very Fine
WONDER WOMAN (1942) (#1-329) (DC) #260 WHITMAN Fine
WONDER WOMAN (1942) (#1-329) (DC) #274 Fine


WONDER WOMAN (1942) (#1-329) (DC) #275

WONDER WOMAN (1942) (#1-329) (DC) #275 Fine
WONDER WOMAN (1942) (#1-329) (DC) #276 Very Fine
WONDER WOMAN (1942) (#1-329) (DC) #281 Very Fine
WONDER WOMAN (1942) (#1-329) (DC) #283 Fine
WONDER WOMAN (1942) (#1-329) (DC) #285 NEWSSTAND Very Fine
WONDER WOMAN (1942) (#1-329) (DC) #286 Near Mint/Mint
WONDER WOMAN (1942) (#1-329) (DC) #287 Very Fine
WONDER WOMAN (1942) (#1-329) (DC) #288 Near Mint/Mint
WONDER WOMAN (1942) (#1-329) (DC) #288 NEWSSTAND Very Fine
WONDER WOMAN (1942) (#1-329) (DC) #289 Very Fine
WONDER WOMAN (1942) (#1-329) (DC) #290 Near Mint/Mint
WONDER WOMAN (1942) (#1-329) (DC) #294 Near Mint/Mint
WONDER WOMAN (1942) (#1-329) (DC) #295 Near Mint/Mint
WONDER WOMAN (1942) (#1-329) (DC) #296 Near Mint/Mint
WONDER WOMAN (1942) (#1-329) (DC) #297 Near Mint/Mint
WONDER WOMAN (1942) (#1-329) (DC) #303 Near Mint/Mint
WONDER WOMAN (1942) (#1-329) (DC) #304 Near Mint/Mint
WONDER WOMAN (1942) (#1-329) (DC) #306 Near Mint/Mint
WONDER WOMAN (1942) (#1-329) (DC) #308 Very Fine
WONDER WOMAN (1942) (#1-329) (DC) #309 Very Fine
WONDER WOMAN (1942) (#1-329) (DC) #310 Near Mint/Mint
WONDER WOMAN (1942) (#1-329) (DC) #311 Near Mint/Mint
WONDER WOMAN (1942) (#1-329) (DC) #312 Near Mint/Mint
WONDER WOMAN (1942) (#1-329) (DC) #327 Very Fine

WONDER WOMAN (1987) (#0-226) (DC) #1 Near Mint/Mint
WONDER WOMAN (1987) (#0-226) (DC) #4 Near Mint/Mint
WONDER WOMAN (1987) (#0-226) (DC) #8 NEWSSTAND Fine
WONDER WOMAN (1987) (#0-226) (DC) #18 Near Mint/Mint
WONDER WOMAN (1987) (#0-226) (DC) #20 Fine
WONDER WOMAN (1987) (#0-226) (DC) #31 Fine
WONDER WOMAN (1987) (#0-226) (DC) #33 Very Fine
WONDER WOMAN (1987) (#0-226) (DC) #36 Near Mint/Mint
WONDER WOMAN (1987) (#0-226) (DC) #38 Near Mint/Mint
WONDER WOMAN (1987) (#0-226) (DC) #48 Very Fine
WONDER WOMAN (1987) (#0-226) (DC) #50 Fine
WONDER WOMAN (1987) (#0-226) (DC) #50 Near Mint/Mint
WONDER WOMAN (1987) (#0-226) (DC) #51 Very Fine
WONDER WOMAN (1987) (#0-226) (DC) #52 Near Mint/Mint
WONDER WOMAN (1987) (#0-226) (DC) #54 Very Fine
WONDER WOMAN (1987) (#0-226) (DC) #55 Very Fine
WONDER WOMAN (1987) (#0-226) (DC) #56 Near Mint/Mint
WONDER WOMAN (1987) (#0-226) (DC) #72 Very Fine


WONDER WOMAN (1987) (#0-226) (DC) #75

WONDER WOMAN (1987) (#0-226) (DC) #75 Near Mint/Mint
WONDER WOMAN (1987) (#0-226) (DC) #82 Near Mint/Mint
WONDER WOMAN (1987) (#0-226) (DC) #83 Fine
WONDER WOMAN (1987) (#0-226) (DC) #87 Fine
WONDER WOMAN (1987) (#0-226) (DC) #88 Fine
WONDER WOMAN (1987) (#0-226) (DC) #89 Very Fine
WONDER WOMAN (1987) (#0-226) (DC) #91 Near Mint/Mint
WONDER WOMAN (1987) (#0-226) (DC) #95 Near Mint/Mint
WONDER WOMAN (1987) (#0-226) (DC) #110 Near Mint/Mint
WONDER WOMAN (1987) (#0-226) (DC) #111 Near Mint/Mint
WONDER WOMAN (1987) (#0-226) (DC) #112 Fine
WONDER WOMAN (1987) (#0-226) (DC) #131 Near Mint/Mint
WONDER WOMAN (1987) (#0-226) (DC) #133 Near Mint/Mint
WONDER WOMAN (1987) (#0-226) (DC) #134 Near Mint/Mint

DARK HORSE COMICS
ALIENS VS. PREDATOR: THREE WORLD WAR (DARK HORSE) (AVP) (2010) #1 Fine

ALIENS: SACRIFICE (DARK HORSE) (1993) #1 Near Mint/Mint

ALIENS: SURVIVAL (DARK HORSE) (1998) #2 Near Mint/Mint
ALIENS: SURVIVAL (DARK HORSE) (1998) #3 Near Mint/Mint

CLASSIC STAR WARS: HAN SOLO AT STAR'S END #3 Near Mint/Mint

IMAGE COMICS
ASTRO CITY (1995) (#1-6) (IMAGE) (KURT BUSIEK) #1 Very Fine

BODY BAGS ONE-SHOT (2008) #1 C Fine

INDEPENDENTS
AIRBOY (ECLIPSE) (1986) #5 (Eclipse Enterprises) Near Mint/Mint

ALBEDO VOL. 2 (ANTARCTIC) (1991) #2 (Antarctic Press) Near Mint/Mint

ALIEN ENCOUNTERS (ECLIPSE) (1985) #3 (Eclipse Enterprises) Near Mint/Mint
ALIEN ENCOUNTERS (ECLIPSE) (1985) #4 (Eclipse Enterprises) Near Mint/Mint
ALIEN ENCOUNTERS (ECLIPSE) (1985) #5 (Eclipse Enterprises) Near Mint/Mint


ALIEN ENCOUNTERS (ECLIPSE) (1985) #6

ALIEN ENCOUNTERS (ECLIPSE) (1985) #6 (Eclipse Enterprises) Near Mint/Mint
ALIEN ENCOUNTERS (ECLIPSE) (1985) #9 (Eclipse Enterprises) Fine

ALIEN WORLDS (PACIFIC) (1982) #8 (Pacific Comics) Near Mint/Mint

AMAZING HEROES (FANTAGRAPHICS) (1981) #99 (Fantagraphics) Very Fine
AMAZING HEROES (FANTAGRAPHICS) (1981) #100 (Fantagraphics) Fine
AMAZING HEROES (FANTAGRAPHICS) (1981) #102 (Fantagraphics) Near Mint/Mint
AMAZING HEROES (FANTAGRAPHICS) (1981) #131 (Fantagraphics) Near Mint/Mint
AMAZING HEROES (FANTAGRAPHICS) (1981) #162 (Fantagraphics) Very Fine
AMAZING HEROES (FANTAGRAPHICS) (1981) #168 (Fantagraphics) Very Fine
AMAZING HEROES (FANTAGRAPHICS) (1981) #170 (Fantagraphics) Fine
AMAZING HEROES (FANTAGRAPHICS) (1981) #171 (Fantagraphics) Very Fine
AMAZING HEROES (FANTAGRAPHICS) (1981) #172 (Fantagraphics) Very Fine
AMAZING HEROES (FANTAGRAPHICS) (1981) #174 (Fantagraphics) Very Fine
AMAZING HEROES (FANTAGRAPHICS) (1981) #190 (Fantagraphics) Fine
AMAZING HEROES (FANTAGRAPHICS) (1981) #197 (Fantagraphics) Fine

AMAZING HEROES PREVIEW SPECIAL (FANTAGRAPHICS) #5 (Fantagraphics) Very Fine

ANIME SHOWER SPECIAL (FANTAGRAPHICS) (ADULT) #1 (Ianus Publications) Near Mint/Mint

APPLESEED (ECLIPSE STUDIO PROTEUS) (MASUMUNE SHIROW) (1988) #2 (Eclipse Enterprises) Near Mint/Mint

BABYLON CRUSH (BONEYARD PRESS) (ADULT) (1995) #1 (Boneyard Press) Fine

BATTLE BINDER PLUS (ANTARCTIC) (VENUS) (ADULT) (1994) #1 (Antarctic Press) Near Mint/Mint
BATTLE BINDER PLUS (ANTARCTIC) (VENUS) (ADULT) (1994) #2 (Antarctic Press) Very Fine
BATTLE BINDER PLUS (ANTARCTIC) (VENUS) (ADULT) (1994) #5 (Antarctic Press) Near Mint/Mint

CASEY JONES SPECIAL: NORTH BY DOWNEAST (1994) #2 (Mirage Studios) Near Mint/Mint

CRY FOR DAWN (1989) #3 (Cry For Dawn Productions) Near Mint/Mint

DAREDEVIL COMICS (1941) #61 (LEV GLEASON PUBLISHING) Very Good

MIRACLEMAN (1985) (#1-24) (ECLIPSE) #12 (Eclipse Enterprises) Near Mint/Mint
MIRACLEMAN (1985) (#1-24) (ECLIPSE) #19 (Eclipse Enterprises) Very Fine
MIRACLEMAN (1985) (#1-24) (ECLIPSE) #24 (Eclipse Enterprises) Fine

TEENAGE MUTANT NINJA TURTLES (1984) (#1-62) (MIRAGE) #6 (Mirage Studios) Fine
TEENAGE MUTANT NINJA TURTLES (1984) (#1-62) (MIRAGE) #9 (Mirage Studios) Fine


TEENAGE MUTANT NINJA TURTLES (1984) (#1-62) (MIRAGE) #45

TEENAGE MUTANT NINJA TURTLES (1984) (#1-62) (MIRAGE) #45 (Mirage Studios) Fine
TEENAGE MUTANT NINJA TURTLES (1984) (#1-62) (MIRAGE) #49 (Mirage Studios) Near Mint/Mint

TEENAGE MUTANT NINJA TURTLES (1993) (#1-14) (VOL. 2) #6 (Mirage Studios) Fine

WILDMAN #1 (Megaton Comics) Fine
WILDMAN #1 (Megaton Comics) Near Mint/Mint

WOMEN BEHIND BARS #1 (Adult (Div. Of Friendly)) Very Fine
WOMEN BEHIND BARS #3 (Adult (Div. Of Friendly)) Fine
WOMEN BEHIND BARS #3 (Adult (Div. Of Friendly)) Very Fine