50% Off Comics Sale This Weekend
Howdy!
It is a glorious day today here in Denver, and I am taking full advantage of our 80+ degree weather by enjoying my lunchtime sandwich at a relaxing outdoor cafe. Tomorrow is officially the first day of autumn, and if the weather reports are true, we're in for significantly cooler weather toward the end of next week. That is just fine by me, however, as I am eager to get back to working in my comics vault on integrating all of my new acquisitions into my already vast personal collection of 1960's/1970's Underground Comix, giveaway/promotional comics, International comics, comics with religious themes, and early comics fanzines.
I mention my personal collecting tastes because one question that I am frequently asked is "Do you still read any comics?" Of course I do! I have loved reading comics for over 50 years, and I have absolutely no intention of ever stopping. The difference for me today is that many of the titles that I read today were published long ago, and now act as wonderful memory triggers for me. I am especially fond of rereading comics by people who I personally knew and truly admired, such as Will Eisner, Jack Kirby, and Carl Barks. They were great people, and also unbelievably talented artists and storytellers. It was an amazing honor to know them.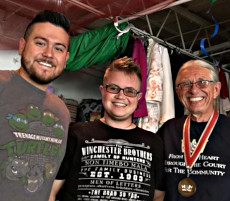 United Court of the Sandias Emperor XXV Leonidas Rico-Deleon, NMPower Teen Director Jax Sugars, and Chuck Rozanski

In other news, I drove to Albuquerque and back yesterday, which is a journey of 931 miles. I went down there to drop off a donation of over 300 used ball gowns, dresses, high heels, etc. to help the teens served by N'MPower Albuquerque, which runs an after school program for LGBTQ children and teens, very much like Denver's Rainbow Alley.
Over a dozen of the teens in ABQ have been performing in youth shows sponsored by the United Court of the Sandias (the New Mexico chapter of the International Court System), but very few of them could afford to purchase even second-hand gowns, so I donated to them a huge selection of leftover gear from eight of Denver's most popular drag Divas. It took me 17 hours (which included unloading) to make that long drive, but to my surprise I was not all that tired when I finally made it back to my home in Boulder at 11 PM. Along the way, I was blessed to see this absolutely awesome sunset near Raton, NM...
While I spent all of yesterday driving, Will, Pam, and Lisa continued adding great comics and magazines into our website for you from the amazingly diverse collections that we have been buying. I will let the list at the end of this newsletter speak for itself, as I think that it gives you a great sense of just how successful our buying program has been.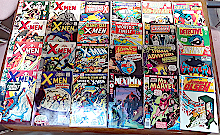 Some of the comics instock now!

Almost of these comics are still available to you this weekend at half price, as my beloved wife, Nanette, has been delighted at being able to get ahead on some of our weekly bills during the time period that is usually the slowest of the year. The 50% off NANETTE! codeword applies to all ten million of our in-stock back issue comics and magazines, excluding only new issues, a few variants, and our professionally-graded issues. Enjoy!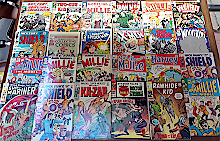 Some of the comics instock now!

Happy collecting!
Chuck Rozanski,
President - Mile High Comics, Inc.
September 21, 2018

MARVEL

CONAN SAGA (1987) #23 NEWSSTAND

CONAN SAGA (1987) #23 NEWSSTAND Fine
CONAN SAGA (1987) #34 NEWSSTAND Very Good
CONAN SAGA (1987) #35 NEWSSTAND Fine
CONAN SAGA (1987) #44 NEWSSTAND Very Good
CONAN SAGA (1987) #45 NEWSSTAND Very Good
CONAN SAGA (1987) #46 NEWSSTAND Fine
CONAN SAGA (1987) #48 NEWSSTAND Very Good
CONAN SAGA (1987) #49 NEWSSTAND Very Good
CONAN SAGA (1987) #50 NEWSSTAND Fine
CONAN SAGA (1987) #50 NEWSSTAND Very Good
CONAN SAGA (1987) #51 NEWSSTAND Very Good
CONAN SAGA (1987) #56 NEWSSTAND Fine

EARTH X (1999) #11 Near Mint/Mint
EARTH X (1999) #12 Very Fine

ETERNALS (1976) (#1-19) (MARVEL) (JACK KIRBY) #16 Very Fine

ETERNALS (2008) (#1-9) (MARVEL) #1 Near Mint/Mint

FANTASTIC FOUR (1961) (#1-416) (MARVEL) #288 NEWSSTAND Fine

HOWARD THE DUCK (2015) (NOVEMBER) (#1-11) #1 QUINONE2ND Near Mint/Mint

IRON MAN (1968) (#1-332) (INVINCIBLE IRON MAN)(MARVEL) #259 Near Mint/Mint
IRON MAN (1968) (#1-332) (INVINCIBLE IRON MAN)(MARVEL) #259 NEWSSTAND Near Mint/Mint

MARVEL 75TH ANNIVERSARY MAGAZINE (2014) #1 LAND Fine

MARVEL FEATURE (1971) (#1-12) #10 Fine

MONSTER MADNESS #2 Fair

NIGHTMARE ON ELM STREET MAGAZINE (1989) #1 SIGNED Fine
NIGHTMARE ON ELM STREET MAGAZINE (1989) #2 Fine

PUNISHER (1985) (#1-5) (MARVEL) #1 Very Fine

SAVAGE SWORD OF CONAN (MAGAZINE) (1974) #159 NEWSSTAND Fine
SAVAGE SWORD OF CONAN (MAGAZINE) (1974) #164 NEWSSTAND Very Good
SAVAGE SWORD OF CONAN (MAGAZINE) (1974) #170 NEWSSTAND Fine
SAVAGE SWORD OF CONAN (MAGAZINE) (1974) #171 NEWSSTAND Fine
SAVAGE SWORD OF CONAN (MAGAZINE) (1974) #175 Fine
SAVAGE SWORD OF CONAN (MAGAZINE) (1974) #181 NEWSSTAND Very Good
SAVAGE SWORD OF CONAN (MAGAZINE) (1974) #185 NEWSSTAND Very Good


SAVAGE SWORD OF CONAN (MAGAZINE) (1974) #186 NEWSSTAND

SAVAGE SWORD OF CONAN (MAGAZINE) (1974) #186 NEWSSTAND Very Good
SAVAGE SWORD OF CONAN (MAGAZINE) (1974) #187 NEWSSTAND Fine
SAVAGE SWORD OF CONAN (MAGAZINE) (1974) #188 NEWSSTAND Fine
SAVAGE SWORD OF CONAN (MAGAZINE) (1974) #189 NEWSSTAND Fine
SAVAGE SWORD OF CONAN (MAGAZINE) (1974) #191 NEWSSTAND Fine

SILVER SURFER/SUPERMAN #1 Near Mint/Mint

SPIDER-MAN (1963) (AMAZING SPIDER-MAN) (#1-441) #346 NEWSSTAND Fine
SPIDER-MAN (1963) (AMAZING SPIDER-MAN) (#1-441) #373 Fine
SPIDER-MAN (1963) (AMAZING SPIDER-MAN) (#1-441) #380 Very Fine

SPIDER-MAN 2099 (1992) (#1-46) (MARVEL) #44 Fine
SPIDER-MAN 2099 (1992) (#1-46) (MARVEL) #45 Very Fine

SPIDER-MAN: TRIAL OF VENOM (1992) #1 Near Mint/Mint

STAR TREK/X-MEN (1996) #1 Very Fine

UNKNOWN WORLDS OF SCIENCE FICTION (1975) #1 Very Fine
UNKNOWN WORLDS OF SCIENCE FICTION (1975) #2 Near Mint/Mint
UNKNOWN WORLDS OF SCIENCE FICTION (1975) #3 Fine
UNKNOWN WORLDS OF SCIENCE FICTION (1975) #4 Very Fine
UNKNOWN WORLDS OF SCIENCE FICTION (1975) #5 Very Fine
UNKNOWN WORLDS OF SCIENCE FICTION (1975) #6 Fine

X-FORCE (1991) (#1-129) (MARVEL) #1 XFORCENEWS Near Mint/Mint
X-FORCE (1991) (#1-129) (MARVEL) #11 Very Good
X-FORCE (1991) (#1-129) (MARVEL) #15 Fine
X-FORCE (1991) (#1-129) (MARVEL) #23 Very Fine

X-MEN (1991) (#1-275) (MARVEL) #4 Near Mint/Mint
X-MEN (1991) (#1-275) (MARVEL) #4 Very Fine
X-MEN (1991) (#1-275) (MARVEL) #5 Near Mint/Mint
X-MEN (1991) (#1-275) (MARVEL) #6 Near Mint/Mint
X-MEN (1991) (#1-275) (MARVEL) #6 Very Fine
X-MEN (1991) (#1-275) (MARVEL) #7 Near Mint/Mint
X-MEN (1991) (#1-275) (MARVEL) #8 Near Mint/Mint
X-MEN (1991) (#1-275) (MARVEL) #10 Near Mint/Mint
X-MEN (1991) (#1-275) (MARVEL) #10 Very Fine
X-MEN (1991) (#1-275) (MARVEL) #11 Near Mint/Mint
X-MEN (1991) (#1-275) (MARVEL) #11 Very Fine
X-MEN (1991) (#1-275) (MARVEL) #14 Near Mint/Mint


X-MEN (1991) (#1-275) (MARVEL) #14

X-MEN (1991) (#1-275) (MARVEL) #14 Very Fine
X-MEN (1991) (#1-275) (MARVEL) #18 Near Mint/Mint
X-MEN (1991) (#1-275) (MARVEL) #20 Near Mint/Mint
X-MEN (1991) (#1-275) (MARVEL) #21 Near Mint/Mint
X-MEN (1991) (#1-275) (MARVEL) #22 Near Mint/Mint
X-MEN (1991) (#1-275) (MARVEL) #24 Very Fine
X-MEN (1991) (#1-275) (MARVEL) #25 Near Mint/Mint
X-MEN (1991) (#1-275) (MARVEL) #25 Fine
X-MEN (1991) (#1-275) (MARVEL) #25 Very Good
X-MEN (1991) (#1-275) (MARVEL) #25 Very Fine

DC
DANGER GIRL (1999) (#5-7) (DC/Wildstorm) #6 DFE GOLD (DC/Wildstorm) Near Mint/Mint

DETECTIVE COMICS MILLENNIUM EDITION (2000) #38 Near Mint/Mint

GREEN LANTERN (1960) (#1-224) (DC) #123 Near Mint/Mint
GREEN LANTERN (1960) (#1-224) (DC) #124 Near Mint/Mint

HELLBLAZER (1988) (#1-300) (DC VERTIGO) #146 (DC: Vertigo Press) Fine
HELLBLAZER (1988) (#1-300) (DC VERTIGO) #147 (DC: Vertigo Press) Near Mint/Mint

HOUSE OF SECRETS MILLENNIUM EDITION (1998) #92 Near Mint/Mint

MAD (MAGAZINE) #114 Very Good
MAD (MAGAZINE) #131 Very Good

DARK HORSE COMICS
DIRTY PAIR: RUN FROM THE FUTURE (2000) #1 WARREN CVR Near Mint/Mint

PREDATOR VS. JUDGE DREDD (1997) #1 Very Fine

SIN CITY: SEX & VIOLENCE #1 Near Mint/Mint

STAR WARS: SHADOWS OF THE EMPIRE KENNER TOY COMIC #1 DARTHVADER Near Mint/Mint

IMAGE COMICS
EXPOSURE (1999) #4 PHOTO Near Mint/Mint

SPAWN (1992) #58 Near Mint/Mint

SPAWN (1992) #59 Near Mint/Mint

INDEPENDENTS
ALTER EGO MAGAZINE (TWOMORROWS) (1999) #59 (Twomorrows Publishing) Fine

DONALD DUCK (1980) (WHITMAN) (#217-245) #244 (Whitman Publishing) Near Mint/Mint

DONALD DUCK ADVENTURES (1990) #3 (Walt Disney Company) Near Mint/Mint
DONALD DUCK ADVENTURES (1990) #7 (Walt Disney Company) Near Mint/Mint
DONALD DUCK ADVENTURES (1990) #8 (Walt Disney Company) Near Mint/Mint
DONALD DUCK ADVENTURES (1990) #9 (Walt Disney Company) Near Mint/Mint
DONALD DUCK ADVENTURES (1990) #10 (Walt Disney Company) Near Mint/Mint
DONALD DUCK ADVENTURES (1990) #11 (Walt Disney Company) Near Mint/Mint
DONALD DUCK ADVENTURES (1990) #12 (Walt Disney Company) Near Mint/Mint
DONALD DUCK ADVENTURES (1990) #13 (Walt Disney Company) Near Mint/Mint
DONALD DUCK ADVENTURES (1990) #14 (Walt Disney Company) Near Mint/Mint

DUCK TALES (1988) (#1-13) (GLADSTONE) #1 (Gladstone) Near Mint/Mint

DUCK TALES (1990) (#1-18) (WALT DISNEY) #1 NEWSSTAND (Walt Disney Company) Near Mint/Mint
DUCK TALES (1990) (#1-18) (WALT DISNEY) #2 (Walt Disney Company) Near Mint/Mint
DUCK TALES (1990) (#1-18) (WALT DISNEY) #8 (Walt Disney Company) Near Mint/Mint
DUCK TALES (1990) (#1-18) (WALT DISNEY) #10 (Walt Disney Company) Near Mint/Mint
DUCK TALES (1990) (#1-18) (WALT DISNEY) #11 (Walt Disney Company) Near Mint/Mint
DUCK TALES (1990) (#1-18) (WALT DISNEY) #12 (Walt Disney Company) Near Mint/Mint
DUCK TALES (1990) (#1-18) (WALT DISNEY) #13 (Walt Disney Company) Near Mint/Mint

EERIE MAGAZINE (1965) #13 (Warren Publishing Company) Very Good

FAMOUS MONSTERS (MAG) #104 (Warren Publishing Company) Very Good

FANGORIA (MAGAZINE) (1979) #10 (Starlog) Fine

FATHOM (1992) (#1-3) (COMICO) #3 (Comico) Near Mint/Mint

HEAVY METAL (MAG) #9203 (Heavy Metal) Very Good

JACK KIRBY COLLECTOR #72 (Jack Kirby Collector) Fine

LIBERTY MEADOWS (#1-26) (INSIGHT STUDIOS) (1999) #8 (Insight Studios Group) Near Mint/Mint

LITTLE MERMAID MOVIE ADAPTATION #1 PREST (Walt Disney Company) Near Mint/Mint

LOVE AND ROCKETS (MAG) #46 (Fantagraphics) Good

MICKEY MOUSE ADVENTURES (DISNEY) #2 (Walt Disney Company) Very Fine

OZ/WONDERLAND CHRONICLES: PRELUDE TO EVIL (2010) #1 B (Buymetoys.Com) Near Mint/Mint

PITT (1996) (FULLBLEED) #15 (Full Bleed Studios) Very Fine

ROBOTECH (1997) (#1-11) (ANTARCTIC PRESS) #2 (Antarctic Press) Very Fine
ROBOTECH (1997) (#1-11) (ANTARCTIC PRESS) #4 (Antarctic Press) Very Fine

ROGER RABBIT (1990) #1 NEWSSTAND (Walt Disney Company) Near Mint/Mint

SCREEN THRILLS ILLUSTRATED (MAG) #7 (Central Publications) Fair
SCREEN THRILLS ILLUSTRATED (MAG) #9 (Central Publications) Fair

STAR TREK GIANT POSTER BOOK #3 (Paramount Pictures Corp.) Fine
STAR TREK GIANT POSTER BOOK #4 (Paramount Pictures Corp.) Fine
STAR TREK GIANT POSTER BOOK #5 (Paramount Pictures Corp.) Fine

STAR WARS COMPENDIUM (MAG) #3 (PARADISE PRESS) Very Good

STAR WARS INSIDER MAGAZINE (#23-UP) (TITAN) (1994) #54 UNBAGGED (Titan Distributing) Fine

STRANGE KILLINGS (2002) #1 WRAPAROUND (Avatar Comics) Near Mint/Mint
STRANGE KILLINGS (2002) #2 WRAPAROUND (Avatar Comics) Near Mint/Mint

STRANGE KILLINGS: BODY ORCHARD (2002) #2 WRAPAROUND (Avatar Comics) Near Mint/Mint

STRANGE KILLINGS: STRONG MEDICINE (2003) #3 WRAPAROUND (Avatar Comics) Near Mint/Mint

STREET ANGEL (2004) #1 (Amaze Ink) Near Mint/Mint

TALESPIN (TAKE OFF) (1991) #2 (Walt Disney Company) Near Mint/Mint
TALESPIN (TAKE OFF) (1991) #3 (Walt Disney Company) Near Mint/Mint
TALESPIN (TAKE OFF) (1991) #4 (Walt Disney Company) Near Mint/Mint

TALESPIN VOL. 2 (1991) #2 (Walt Disney Company) Near Mint/Mint

UNCLE SCROOGE (1986) (GLADSTONE) (#210-242) #242 (Gladstone) Near Mint/Mint

UNCLE SCROOGE (1990) (DISNEY) (#243-280) #243 (Walt Disney Company) Very Fine


UNCLE SCROOGE (1990) (DISNEY) (#243-280) #244

UNCLE SCROOGE (1990) (DISNEY) (#243-280) #244 (Walt Disney Company) Near Mint/Mint
UNCLE SCROOGE (1990) (DISNEY) (#243-280) #247 (Walt Disney Company) Near Mint/Mint

UNCLE SCROOGE ADVENTURES (1987) #20 (Gladstone) Near Mint/Mint

VAMPIRELLA (1992) (#0-5) (HARRIS) #1 2ND PRT (Harris Comics) Very Fine
VAMPIRELLA (1992) (#0-5) (HARRIS) #2 (Harris Comics) Fine

VAMPIRELLA (MAGAZINE) (1969) #11 (Warren Publishing Company) Good
VAMPIRELLA (MAGAZINE) (1969) #19 (Warren Publishing Company) Very Good
VAMPIRELLA (MAGAZINE) (1969) #65 (Warren Publishing Company) Good

WALT DISNEY'S CLASSIC PETER PAN #1 (Walt Disney Company) Near Mint/Mint

WALT DISNEY'S COMICS AND STORIES (1990) (#548-585) (DISNEY) #548 NEWSSTAND (Walt Disney Company) Very Fine

ZIPPY QUARTERLY MAGAZINE (1993) #1 (Fantagraphics) Fine
ZIPPY QUARTERLY MAGAZINE (1993) #1 (Fantagraphics) Very Good
ZIPPY QUARTERLY MAGAZINE (1993) #2 (Fantagraphics) Very Good