25,000+ More Great Comic Books Arrive - All Half Price
Howdy!
A very short newsletter today, as I am off on a 1,000 mile round trip journey at 6 AM in the morning to deliver hundreds of donated gowns, shoes, purses, and jewelry to the kids served by N'MPower Albuquerque. Some of the young people that they serve at this very cool LGBT teen center are budding drag performers, but they have almost no gowns or other gear, as they have extremely limited budgets. With the needs of those kids in mind, eight of the most incredibly talented Drag Divas who have been performing in Denver for decades sold me all of their extras from drag garage sale that they held on Sunday, specifically so that I could help the kids at N'MPower. Tomorrow will be a very long day of traveling, but I am delighted that I can help the young performers of Albuquerque. Love is love...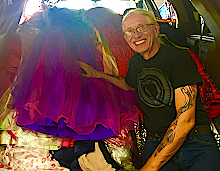 Chuck loading up his mini van.

While I am off tomorrow, Will, Pam and Lisa will continue to sort through the multitude of great comics, toys, and graphic novels that we have been purchasing here at Jason St., and keep adding them into our inventory for you. They have already added thousands of new additions into our New-In-Stock and Premium New-In-Stock links this week, and will be steadily adding more each day. The truck containing the huge single-owner collection of 25,000+ comics that I personally picked up in Maryland ten days ago also finally arrived, so we are just swimming in great comics right now!
I will close today's newsletter with a quick reminder that almost all of the new additions in our New-In-Stock and Premium New-In-Stock links are eligible for the extremely generous 50% off NANETTE! codeword sale that I put into effect for you on Tuesday. Only new issues, a few variants, and our professionally-graded comics are excluded from our wonderful half price sale. Please enjoy these delightful savings with our sincere thanks for your continuing support of Mile High Comics.
Happy collecting!
Chuck Rozanski,
President - Mile High Comics, Inc.
September 19, 2018
Here are some more awesome newly-arrived issues:
MARVEL

ADVENTURES OF SNAKE PLISSKEN (MARVEL) (1997) #1 Very Fine

ALIAS (2001) (#1-28) (MARVEL) (BRIAN MICHAEL BENDIS) #21 Very Fine
ALIAS (2001) (#1-28) (MARVEL) (BRIAN MICHAEL BENDIS) #24 Fine
ALIAS (2001) (#1-28) (MARVEL) (BRIAN MICHAEL BENDIS) #25 Near Mint/Mint

ALL-NEW HAWKEYE (2015) (#1-5) (MAY) #2 FRANCAVILL Near Mint/Mint

AMAZING SPIDER-MAN (2017) (#789-801) (MARVEL LEGACY) #800 CHO Near Mint/Mint
AMAZING SPIDER-MAN (2017) (#789-801) (MARVEL LEGACY) #800 BAGLEY Near Mint/Mint
AMAZING SPIDER-MAN (2017) (#789-801) (MARVEL LEGACY) #800 DODSON Near Mint/Mint
AMAZING SPIDER-MAN (2017) (#789-801) (MARVEL LEGACY) #800 FRENZ Near Mint/Mint
AMAZING SPIDER-MAN (2017) (#789-801) (MARVEL LEGACY) #800 RIVERA Near Mint/Mint
AMAZING SPIDER-MAN (2017) (#789-801) (MARVEL LEGACY) #800 BRADSHAW Near Mint/Mint
AMAZING SPIDER-MAN (2017) (#789-801) (MARVEL LEGACY) #800 LAND Near Mint/Mint

AVENGERS (1963) (#1-402) (MARVEL) #181 Good

AVENGERS (2013) (#1-44) (MARVEL) #1 BLANK CVR Near Mint/Mint

AVENGERS (2018) (#1-UP) (MARVEL) #8 TAN Near Mint/Mint

AVENGERS: X-SANCTION (2011) #1 MCGUINNESS Fine

BLACK GOLIATH (1976) #2 Fine
BLACK GOLIATH (1976) #2 Very Fine
BLACK GOLIATH (1976) #3 Fine

BLADE RUNNER (1982) #1 NEWSSTAND Very Good
BLADE RUNNER (1982) #2 NEWSSTAND Very Good

DAREDEVIL (1964) (#1-380) (MAN WITHOUT FEAR) (MARVEL) #354 Fine
DAREDEVIL (1964) (#1-380) (MAN WITHOUT FEAR) (MARVEL) #356 Very Fine
DAREDEVIL (1964) (#1-380) (MAN WITHOUT FEAR) (MARVEL) #366 Near Mint/Mint
DAREDEVIL (1964) (#1-380) (MAN WITHOUT FEAR) (MARVEL) #367 Near Mint/Mint
DAREDEVIL (1964) (#1-380) (MAN WITHOUT FEAR) (MARVEL) #370 Very Fine

DAREDEVIL/DEADPOOL '97 #1 Fine

DEADPOOL MINUS (1997) #1 Near Mint/Mint

DEFENDERS (2012) (#1-12) (MARVEL) #1 BLANK CVR Near Mint/Mint

GAMBIT (1997) (#1-4) (MARVEL) #1 Near Mint/Mint


GHOST RIDER (1990) (#1-94) (MARVEL) #74 Very Fine
GHOST RIDER (1990) (#1-94) (MARVEL) #75 Near Mint/Mint
GHOST RIDER (1990) (#1-94) (MARVEL) #87 Very Fine
GHOST RIDER (1990) (#1-94) (MARVEL) #88 Very Fine
GHOST RIDER (1990) (#1-94) (MARVEL) #89 Near Mint/Mint
GHOST RIDER (1990) (#1-94) (MARVEL) #90 Near Mint/Mint

GUARDIANS 3000 (2014) #1 BLANK CVR Near Mint/Mint

GUARDIANS OF THE GALAXY (2013) (#0.1-27) (MARVEL) #11 BLANK CVR Near Mint/Mint

HULK (1962) (#1-6, #102-474, #600-635)(INCREDIBLE)(MV) #418 Fine
HULK (1962) (#1-6, #102-474, #600-635)(INCREDIBLE)(MV) #418 SPECIAL Near Mint/Mint

HULK (2008) (#1-57) (RED HULK) (MARVEL) #5 2ND PRINT Very Fine

HUNT FOR WOLVERINE (2018) #1 DEODATO Near Mint/Mint

IRON MAN (1968) (#1-332) (INVINCIBLE IRON MAN)(MARVEL) #150 NEWSSTAND Good
IRON MAN (1968) (#1-332) (INVINCIBLE IRON MAN)(MARVEL) #327 Near Mint/Mint

IRREDEEMABLE ANT-MAN (2006) #8 Very Fine

MARVEL TWO-IN-ONE (1974) (#1-100) (MARVEL) #57 Very Fine
MARVEL TWO-IN-ONE (1974) (#1-100) (MARVEL) #62 NEWSSTAND Very Fine

MASTER OF KUNG FU (1974) (#15-125) (MARVEL) (SHANG-CHI) #103 NEWSSTAND Fine
MASTER OF KUNG FU (1974) (#15-125) (MARVEL) (SHANG-CHI) #105 NEWSSTAND Fine
MASTER OF KUNG FU (1974) (#15-125) (MARVEL) (SHANG-CHI) #112 NEWSSTAND Fine
MASTER OF KUNG FU (1974) (#15-125) (MARVEL) (SHANG-CHI) #121 NEWS JEWEL Very Good

MOON KNIGHT (1989) (#1-60) (MARVEL) (MARC SPECTOR) #60 Near Mint/Mint

NEW MUTANTS (1983) (#1-100) (MARVEL) #27 NEWSSTAND Very Good

ORIGIN 2 (WOLVERINE) (2013) #1 BLANK CVR Near Mint/Mint

ORIGIN OF GALACTUS (1996) #1 Near Mint/Mint

POWER MAN/IRON FIST (LUKE CAGE, POWER MAN #1-49) (1972) #84 NEWSSTAND Very Good

PUNISHER (2000) (#1-12) (MARVEL KNIGHTS) #3 Near Mint/Mint

PUNISHER WAR JOURNAL (1988) #2 Fine

RETURN OF WOLVERINE (2018) #1 CHRISTOPHE Near Mint/Mint
RETURN OF WOLVERINE (2018) #1 YU Near Mint/Mint

SAVAGE WOLVERINE (2013) #14 BLANK CVR Near Mint/Mint

SPIDER-MAN (1963) (AMAZING SPIDER-MAN) (#1-441) #175 Fine


SPIDER-MAN AIM TOOTHPASTE GIVEAWAY (DR. OCTOPUS) #1 Very Good

SPIDER-MAN VS. THE PUNISHER (2000) #1 Near Mint/Mint

STAR WARS (2015) (#1-UP) (MARVEL) #50 DODSON Fine
STAR WARS (2015) (#1-UP) (MARVEL) #50 DODSON VIR Very Fine

STAR WARS: LANDO - DOUBLE OR NOTHING (2018) #2 STEWART Near Mint/Mint
STAR WARS: LANDO - DOUBLE OR NOTHING (2018) #2 STEWART Very Fine

STAR WARS: THRAWN (2018) #5 ALBUQUERQU Near Mint/Mint
STAR WARS: THRAWN (2018) #6 ROSS Near Mint/Mint

SUPERIOR IRON MAN (2014) #1 BLANK CVR Near Mint/Mint

THOR (1998) (#1-85) (MARVEL) #25 Near Mint/Mint

THOR (2018) (#1-UP) (MARVEL) #1 DAUTERMAN Near Mint/Mint
THOR (2018) (#1-UP) (MARVEL) #1 HARREN Near Mint/Mint
THOR (2018) (#1-UP) (MARVEL) #1 RIBIC Very Fine
THOR (2018) (#1-UP) (MARVEL) #1 WARD Near Mint/Mint
THOR (2018) (#1-UP) (MARVEL) #2 HARREN Near Mint/Mint

TRANSFORMERS (1984) (#1-80) (MARVEL) #1 NEWSSTAND Very Good
TRANSFORMERS (1984) (#1-80) (MARVEL) #26 Very Fine
TRANSFORMERS (1984) (#1-80) (MARVEL) #27 Near Mint/Mint
TRANSFORMERS (1984) (#1-80) (MARVEL) #28 Very Fine
TRANSFORMERS (1984) (#1-80) (MARVEL) #38 Near Mint/Mint
TRANSFORMERS (1984) (#1-80) (MARVEL) #43 Very Fine
TRANSFORMERS (1984) (#1-80) (MARVEL) #44 Very Fine
TRANSFORMERS (1984) (#1-80) (MARVEL) #45 NEWSSTAND Very Good
TRANSFORMERS (1984) (#1-80) (MARVEL) #46 NEWSSTAND Very Good
TRANSFORMERS (1984) (#1-80) (MARVEL) #47 NEWSSTAND Very Good
TRANSFORMERS (1984) (#1-80) (MARVEL) #48 NEWSSTAND Fine
TRANSFORMERS (1984) (#1-80) (MARVEL) #49 NEWSSTAND Fine
TRANSFORMERS (1984) (#1-80) (MARVEL) #50 NEWSSTAND Fine
TRANSFORMERS (1984) (#1-80) (MARVEL) #51 NEWSSTAND Fine

TRANSFORMERS THE MOVIE (1986) #1 NEWSSTAND Very Good

ULTIMATE COMICS: MYSTERY (ULTIMATE MYSTERY) (2010) #4 Near Mint/Mint
ULTIMATE COMICS: MYSTERY (ULTIMATE MYSTERY) (2010) #4 Very Fine


ULTIMATE COMICS: NEW ULTIMATES (2010) #5 Near Mint/Mint

VENOM ON TRIAL (1997) #1 Near Mint/Mint

VENOM: FINALE (1997) #1 Near Mint/Mint
VENOM: FINALE (1997) #2 Near Mint/Mint

VENOM: LICENSE TO KILL (1997) #1 Near Mint/Mint
VENOM: LICENSE TO KILL (1997) #2 Fine

WOLVERINE: BEST THERE IS (2010) #1 BLANK CVR Near Mint/Mint

X 23 (2018) (#1-UP) (MARVEL) #1 BARTEL Very Fine

X-MEN (1963) (#1-113, UNCANNY X-MEN #114-544) (MARVEL) #207 NEWSSTAND Very Good
X-MEN (1963) (#1-113, UNCANNY X-MEN #114-544) (MARVEL) #210 NEWSSTAND Good
X-MEN (1963) (#1-113, UNCANNY X-MEN #114-544) (MARVEL) #211 Very Good
X-MEN (1963) (#1-113, UNCANNY X-MEN #114-544) (MARVEL) #212 NEWSSTAND Very Good
X-MEN (1963) (#1-113, UNCANNY X-MEN #114-544) (MARVEL) #213 NEWSSTAND Fine
X-MEN (1963) (#1-113, UNCANNY X-MEN #114-544) (MARVEL) #217 Near Mint/Mint
X-MEN (1963) (#1-113, UNCANNY X-MEN #114-544) (MARVEL) #218 Very Fine
X-MEN (1963) (#1-113, UNCANNY X-MEN #114-544) (MARVEL) #220 Near Mint/Mint
X-MEN (1963) (#1-113, UNCANNY X-MEN #114-544) (MARVEL) #221 Near Mint/Mint
X-MEN (1963) (#1-113, UNCANNY X-MEN #114-544) (MARVEL) #222 Fine
X-MEN (1963) (#1-113, UNCANNY X-MEN #114-544) (MARVEL) #236 Very Fine
X-MEN (1963) (#1-113, UNCANNY X-MEN #114-544) (MARVEL) #294 NEWSSTAND Near Mint/Mint

X-MEN GOLD (2017) #30 KIRK COLOS Near Mint/Mint
X-MEN GOLD (2017) #30 KIRK KITTY Near Mint/Mint

DC
AZRAEL (1995) (#1-100) (DC) #36 Near Mint/Mint

BATMAN (1940) (#0-713) (DC) #546 Very Fine
BATMAN (1940) (#0-713) (DC) #549 Near Mint/Mint

BATMAN VS. PREDATOR III: BLOOD TIES (1997) #1 Near Mint/Mint

DC INFINITE HALLOWEEN SPECIAL (2007) #1 Near Mint/Mint

GHOSTS (1971) #35 Very Fine

HITMAN (1996) #1 Near Mint/Mint

IMPULSE (1995) #11 Near Mint/Mint

LEGION OF SUPER-HEROES ANNUAL (1990) #1 Very Fine

NEW GODS MILLENNIUM EDITION (2000) #1 Near Mint/Mint

POWERPUFF GIRLS (2000) #2 Near Mint/Mint

PREACHER SPECIAL: GOOD OLD BOYS (1997) #1 Near Mint/Mint

SCALPED (2006) #5 Fine
SCALPED (2006) #6 Very Good

SGT. ROCK'S PRIZE BATTLE TALES 80-PAGE GIANT REPLICA ED (2000) #1 Very Fine

STAR TREK: THE NEXT GENERATION (1989) #79 Near Mint/Mint

SUPER POWERS (1984) (#1-5) (DC) #2 Near Mint/Mint
SUPER POWERS (1984) (#1-5) (DC) #3 Very Fine
SUPER POWERS (1984) (#1-5) (DC) #4 Near Mint/Mint
SUPER POWERS (1984) (#1-5) (DC) #5 NEWSSTAND Fine

SUPER POWERS (1985) (#1-6) (DC) #1 NEWSSTAND Very Fine

SUPERMAN: MAN OF STEEL TARGET SUPERMAN (KENNER) (1995) #1 Very Fine

SWING WITH SCOOTER (1966) #32 Very Fine

WATCHMEN (1986) #1 2ND PRINT Very Fine

WONDER WOMAN (1987) (#0-226) (DC) #110 Near Mint/Mint
WONDER WOMAN (1987) (#0-226) (DC) #119 Near Mint/Mint
WONDER WOMAN (1987) (#0-226) (DC) #124 Near Mint/Mint

WONDER WOMAN ANNUAL (1988) #6 Very Fine

DARK HORSE COMICS
ALIENS: ALCHEMY (DARK HORSE) (CORBEN) (1997) #1 Very Fine

SIN CITY: THAT YELLOW BASTARD (1995) #2 Very Fine

SUPERMAN VS. TERMINATOR: DEATH TO THE FUTURE (2000) #4 Near Mint/Mint

IMAGE COMICS
INVINCIBLE (2003) #41 Very Fine

KISS: PSYCHO CIRCUS #28 Near Mint/Mint

OUTER DARKNESS ASHCAN (2018) #1 Near Mint/Mint

POWERS (2000) (#1-37) (IMAGE) #1 Near Mint/Mint


SAGA (2012) #28 Fine

SPAWN (1992) #41 Very Fine
SPAWN (1992) #45 Near Mint/Mint
SPAWN (1992) #46 Fine
SPAWN (1992) #48 Very Fine
SPAWN (1992) #50 Fine
SPAWN (1992) #51 Fine
SPAWN (1992) #56 Fine
SPAWN (1992) #57 Very Fine
SPAWN (1992) #60 Near Mint/Mint
SPAWN (1992) #61 Fine
SPAWN (1992) #64 Near Mint/Mint
SPAWN (1992) #167 Very Fine

WALKING DEAD (#1-UP) (IMAGE) (2003) #50 Very Fine

INDEPENDENTS
ALAN MOORE'S AWESOME ADVENTURES (AWESOME ENTERTAINMENT) #1 DFE ALT CV (Awesome Entertainment) Fine

ANGEL: AFTER THE FALL (IDW Publishing) (2007) #9 LTD FOIL (IDW Publishing) Near Mint/Mint
ANGEL: AFTER THE FALL (IDW Publishing) (2007) #40 A (IDW Publishing) Near Mint/Mint
ANGEL: AFTER THE FALL (IDW Publishing) (2007) #43 B (IDW Publishing) Near Mint/Mint

BATTLE ANGEL ALITA BOOK 6 (Viz Comics) (MANGA) (1996) #5 (Viz Comics) Fine

BATTLE ANGEL ALITA BOOK 7 (Viz Comics) (MANGA) (1996) #7 (Viz Comics) Very Good
BATTLE ANGEL ALITA BOOK 7 (Viz Comics) (MANGA) (1996) #8 (Viz Comics) Very Good

BATTLE ANGEL ALITA BOOK 8 (Viz Comics) (MANGA) (1997) #1 (Viz Comics) Fine
BATTLE ANGEL ALITA BOOK 8 (Viz Comics) (MANGA) (1997) #3 (Viz Comics) Very Fine
BATTLE ANGEL ALITA BOOK 8 (Viz Comics) (MANGA) (1997) #4 (Viz Comics) Fine
BATTLE ANGEL ALITA BOOK 8 (Viz Comics) (MANGA) (1997) #5 (Viz Comics) Near Mint/Mint

BEYOND THE GRAVE (1975) #1 (Charlton) Fine

BLOODSHOT (1993) #51 (Acclaim/Valiant) Fine

CREEPY THINGS (1975) #1 (Charlton) Fine
CREEPY THINGS (1975) #1 (Charlton) Very Good
CREEPY THINGS (1975) #5 (Charlton) Fine

FLEX MENTALLO (1996) #1 (DC: Vertigo Press) Fine
FLEX MENTALLO (1996) #2 (DC: Vertigo Press) Very Good

FOR LOVERS ONLY (1971) #77 (Charlton) Fine
FOR LOVERS ONLY (1971) #77 (Charlton) Very Fine

GHOST MANOR (1971) #23 (Charlton) Fine


GHOSTLY HAUNTS #42 (Charlton) Fine

GI JOE: STORM SHADOW (2007) #1 PREV EXCL (Devil's Due) Fine

HAUNTED (HAUNTED LIBRARY #21 ON) (1971) #1 (Charlton) Fine

HELLBLAZER (1988) (#1-300) (DC VERTIGO) #102 (DC: Vertigo Press) Fine
HELLBLAZER (1988) (#1-300) (DC VERTIGO) #106 (DC: Vertigo Press) Very Fine
HELLBLAZER (1988) (#1-300) (DC VERTIGO) #112 (DC: Vertigo Press) Very Fine
HELLBLAZER (1988) (#1-300) (DC VERTIGO) #115 (DC: Vertigo Press) Near Mint/Mint
HELLBLAZER (1988) (#1-300) (DC VERTIGO) #116 (DC: Vertigo Press) Near Mint/Mint
HELLBLAZER (1988) (#1-300) (DC VERTIGO) #118 (DC: Vertigo Press) Very Fine
HELLBLAZER (1988) (#1-300) (DC VERTIGO) #119 (DC: Vertigo Press) Fine
HELLBLAZER (1988) (#1-300) (DC VERTIGO) #120 (DC: Vertigo Press) Near Mint/Mint

HYBRIDS DEATHWATCH 2000 (1993) #0 SILV/SIGN (Continuity Publishing) Near Mint/Mint

JOSIE & THE PUSSYCATS (JOSIE #1-106) (1963) #106 (Archie Comics) Very Good

KOLCHAK: THE NIGHT STALKER FILES (2010) #3 B (Moonstone) Near Mint/Mint

LADY DEATH/SHI (2007) #1 WRAPAROUND (Avatar Comics) Near Mint/Mint

LIBERTY MEADOWS (#1-26) (INSIGHT STUDIOS) (1999) #9 (Insight Studios Group) Near Mint/Mint

LITTLE LULU (1972) (#207-257) (GOLD KEY) #239 (Gold Key) Near Mint/Mint
LITTLE LULU (1972) (#207-257) (GOLD KEY) #239 (Gold Key) Very Fine

LUCIFER (2000) (#1-75) (DC/VERTIGO) #2 (DC: Vertigo Press) Fine

MARGE'S LITTLE LULU (1945) (#1-164) (Dell Publishing) #160 (Dell Publishing) Good

MASTERS OF THE UNIVERSE MINI TOY COMIC (1982) #7 4340 (Mattel Toys) Very Good

MIDNIGHT TALES (1972) #13 (Charlton) Fine
MIDNIGHT TALES (1972) #14 (Charlton) Fine

MOEBIUS COMICS (1996) #1 (Caliber Press) Fine

NEW FUNNIES (1942) #181 (Dell Publishing) Fine

NEW LOVE #1 (Fantagraphics) Fine

OUTER LIMITS (1964) #13 (Dell Publishing) Fine

PEP COMICS (1946) (#56-411) (ARCHIE) #226 (Archie Comics) Fine

POKEMON ADVENTURES PART 2 #4 (Viz Comics) Near Mint/Mint

POPEYE (1978) (#139-155) (Gold Key) #143 WHITMAN (Gold Key) Fine
POPEYE (1980) (#156-171) (Whitman Publishing) #156 (Whitman Publishing) Fine


PREACHER (1995) #15 (DC: Vertigo Press) Near Mint/Mint
PREACHER (1995) #17 (DC: Vertigo Press) Very Fine
PREACHER (1995) #24 (DC: Vertigo Press) Near Mint/Mint
PREACHER (1995) #27 (DC: Vertigo Press) Near Mint/Mint
PREACHER (1995) #29 (DC: Vertigo Press) Near Mint/Mint
PREACHER (1995) #32 (DC: Vertigo Press) Near Mint/Mint
PREACHER (1995) #62 (DC: Vertigo Press) Near Mint/Mint

RANMA 1/2 #2 (Viz Comics) Near Mint/Mint

ROBOTECH MASTERS (1985) #23 (Comico) Very Fine

SCARY TALES (1975) #2 (Charlton) Fine

SOLAR, MAN OF THE ATOM (1991) #21 2X SIGNED (Acclaim/Valiant) Near Mint/Mint

SOULSEARCHERS AND COMPANY #41 (Claypool) Near Mint/Mint

SPARKLER COMICS (1941) #84 (UNITED FEATURE COMICS) Good

TANK GIRL: APOCALYPSE (1995) #3 (DC: Vertigo Press) Fine
TANK GIRL: APOCALYPSE (1995) #4 (DC: Vertigo Press) Fine

TANK GIRL: ODYSSEY (1995) #1 (DC: Vertigo Press) Fine
TANK GIRL: ODYSSEY (1995) #3 (DC: Vertigo Press) Fine
TANK GIRL: ODYSSEY (1995) #4 (DC: Vertigo Press) Fine

TAROT: WITCH OF THE BLACK ROSE (2000) #104 STUDIO DLX (Broadsword Comics) Near Mint/Mint

X-O MANOWAR (1992) (#0-68) (VALIANT) #68 (Acclaim/Valiant) Fine