Half Price Comics Sale Begins on Ten Million+ Back Issues
Howdy!
This past weekend was a remarkable success here at Mile High Comics, with our benefit poker tournament for the Matthew Shepard Foundation attracting 82 players. Between entry fees and donations given at the refreshments booth, we generated $2,377.27 that we can now donate to the Matthew Shepard Foundation. Our sincere thanks go out to all of our volunteer dealers, our 82 players, and most especially to the wonderful Rion Ringer, who organized the tournament for us.
The other event that we held this weekend was a benefit auction for the family of Josh Brown, our beloved Mile High Comics staff member who unexpectedly passed away in July. Thanks to generous personal donations of comics and toys by our Jason St. customers and other members of the Mile High Comics team (including Will, Pam, and Lisa), we were able to raise an astonishing $3,037.00 to help Josh's parents to cover his funeral expenses. Helping to pay for burial expenses was a sad reason for us to hold an auction, but we were all very happy that the benefit auction turned out to be such a success. Our sincere thanks go out to everyone who contributed items, and/or bid at the event. Once again, you have proven that we are a loving Community that works together to take care of our own in times of need. Thank you.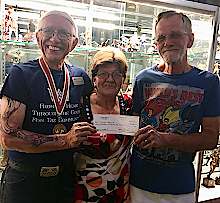 Josh's parents Judy and Clifford.

In other news, I am beginning a new 50% off NANETTE! codeword sale today on all ten million+ of our back issue comics and magazines. Nanette is my beloved wife of 40+ years, and she also still works part time for Mile High Comics. Her main task is paying our weekly bills, and she has brought it to my attention that I have made her job just a little bit more difficult with my unending patronage of so many charitable causes. I love Nanette very much, so the last thing that I want to do is to make her life any more difficult. I am thus going to initiate a five-day NANETTE! half price sale on our back issues just raise a little extra revenue, and just to make her feel better. This sale applies to all of our back issue comics and magazines excepting only new issues, a few variants, and our professionally-graded comics. If you could take the time to order a few items utilizing NANETTE! codeword, your support would be most sincerely appreciated by us both.
Happy collecting!
Chuck Rozanski,
President - Mile High Comics, Inc.
September 17, 2018

Here are some more awesome newly-arrived issues:
MARVEL
AMAZING SPIDER-MAN (1999) (#1-700.5) (MARVEL) #2 Near Mint/Mint
AMAZING SPIDER-MAN (1999) (#1-700.5) (MARVEL) #3 Fine
AMAZING SPIDER-MAN (1999) (#1-700.5) (MARVEL) #5 Very Fine
AMAZING SPIDER-MAN (1999) (#1-700.5) (MARVEL) #13 Near Mint/Mint


AMAZING SPIDER-MAN (1999) (#1-700.5) (MARVEL) #14 Very Fine
AMAZING SPIDER-MAN (1999) (#1-700.5) (MARVEL) #36 Near Mint/Mint
AMAZING SPIDER-MAN (1999) (#1-700.5) (MARVEL) #506 Near Mint/Mint

AVENGERS (1963) (#1-402) (MARVEL) #184 NEWSSTAND Near Mint/Mint
AVENGERS (1963) (#1-402) (MARVEL) #346 Near Mint/Mint
AVENGERS (1963) (#1-402) (MARVEL) #346 Fine
AVENGERS (1963) (#1-402) (MARVEL) #346 Very Fine
AVENGERS (1963) (#1-402) (MARVEL) #359 Very Fine
AVENGERS (1963) (#1-402) (MARVEL) #366 Near Mint/Mint
AVENGERS (1963) (#1-402) (MARVEL) #367 NEWSSTAND Fine

AVENGERS ASSEMBLE (#1-25) (2012) #2 Very Fine
AVENGERS ASSEMBLE (#1-25) (2012) #3 Near Mint/Mint
AVENGERS ASSEMBLE (#1-25) (2012) #4 Fine
AVENGERS ASSEMBLE (#1-25) (2012) #5 Very Fine
AVENGERS ASSEMBLE (#1-25) (2012) #6 Very Fine
AVENGERS ASSEMBLE (#1-25) (2012) #8 Near Mint/Mint
AVENGERS ASSEMBLE (#1-25) (2012) #14 Very Fine

BLACK PANTHER (1998) (#1-62) (MARVEL) #7 Fine
BLACK PANTHER (1998) (#1-62) (MARVEL) #8 Fine
BLACK PANTHER (1998) (#1-62) (MARVEL) #9 Very Fine
BLACK PANTHER (1998) (#1-62) (MARVEL) #12 Fine
BLACK PANTHER (1998) (#1-62) (MARVEL) #14 Fine
BLACK PANTHER (1998) (#1-62) (MARVEL) #14 Very Fine

BLACK WIDOW (2014) (#1-20) (MARVEL) #1 Near Mint/Mint
BLACK WIDOW (2014) (#1-20) (MARVEL) #2 Very Fine
BLACK WIDOW (2014) (#1-20) (MARVEL) #3 Very Fine
BLACK WIDOW (2014) (#1-20) (MARVEL) #4 Near Mint/Mint
BLACK WIDOW (2014) (#1-20) (MARVEL) #5 Near Mint/Mint
BLACK WIDOW (2014) (#1-20) (MARVEL) #7 Near Mint/Mint
BLACK WIDOW (2014) (#1-20) (MARVEL) #9 Near Mint/Mint
BLACK WIDOW (2014) (#1-20) (MARVEL) #10 Near Mint/Mint

BUCKY BARNES: WINTER SOLDIER (2014) #3 Near Mint/Mint
BUCKY BARNES: WINTER SOLDIER (2014) #4 Near Mint/Mint
BUCKY BARNES: WINTER SOLDIER (2014) #6 Near Mint/Mint
BUCKY BARNES: WINTER SOLDIER (2014) #9 Near Mint/Mint

CABLE AND DEADPOOL (2003) #11 Very Fine
CABLE AND DEADPOOL (2003) #12 Very Fine
CABLE AND DEADPOOL (2003) #13 Near Mint/Mint
CABLE AND DEADPOOL (2003) #28 Near Mint/Mint
CABLE AND DEADPOOL (2003) #36 Near Mint/Mint

CAPTAIN AMERICA (1968) (#100-454) (MARVEL) #186 Fine
CAPTAIN AMERICA (1968) (#100-454) (MARVEL) #218 Fine
CAPTAIN AMERICA (1968) (#100-454) (MARVEL) #412 NEWSSTAND Fine


CAPTAIN AMERICA (1968) (#100-454) (MARVEL) #438 Very Fine
CAPTAIN AMERICA (1968) (#100-454) (MARVEL) #444 NEWSSTAND Near Mint/Mint
CAPTAIN AMERICA (1968) (#100-454) (MARVEL) #454 Very Fine
CAPTAIN AMERICA (1998) (#1-50) (MARVEL) #50 Very Fine

CAPTAIN AMERICA (2004) (#1-50, 600-619) (MARVEL) #1 Very Fine
CAPTAIN AMERICA (2004) (#1-50, 600-619) (MARVEL) #2 Very Fine
CAPTAIN AMERICA (2004) (#1-50, 600-619) (MARVEL) #3 Near Mint/Mint
CAPTAIN AMERICA (2004) (#1-50, 600-619) (MARVEL) #3 Very Fine
CAPTAIN AMERICA (2004) (#1-50, 600-619) (MARVEL) #4 Near Mint/Mint
CAPTAIN AMERICA (2004) (#1-50, 600-619) (MARVEL) #5 Near Mint/Mint
CAPTAIN AMERICA (2004) (#1-50, 600-619) (MARVEL) #6 Very Fine

CIVIL WAR (2006) (#1-7) #1 Near Mint/Mint
CIVIL WAR (2006) (#1-7) #2 Near Mint/Mint
CIVIL WAR (2006) (#1-7) #5 Fine
CIVIL WAR (2006) (#1-7) #6 Near Mint/Mint
CIVIL WAR (2006) (#1-7) #7 Very Good

DAREDEVIL (1964) (#1-380) (MAN WITHOUT FEAR) (MARVEL) #74 Very Good
DAREDEVIL (1964) (#1-380) (MAN WITHOUT FEAR) (MARVEL) #104 Very Good
DAREDEVIL (1964) (#1-380) (MAN WITHOUT FEAR) (MARVEL) #179 Very Good
DAREDEVIL (1964) (#1-380) (MAN WITHOUT FEAR) (MARVEL) #181 Near Mint/Mint
DAREDEVIL (1964) (#1-380) (MAN WITHOUT FEAR) (MARVEL) #191 NEWSSTAND Very Good
DAREDEVIL (1964) (#1-380) (MAN WITHOUT FEAR) (MARVEL) #227 Very Fine
DAREDEVIL (1964) (#1-380) (MAN WITHOUT FEAR) (MARVEL) #228 Very Good
DAREDEVIL (1964) (#1-380) (MAN WITHOUT FEAR) (MARVEL) #229 Very Fine
DAREDEVIL (1964) (#1-380) (MAN WITHOUT FEAR) (MARVEL) #230 Very Fine

DEADPOOL (1997) (#0-69) (MARVEL) #1 Very Fine
DEADPOOL (1997) (#0-69) (MARVEL) #2 Very Good
DEADPOOL (1997) (#0-69) (MARVEL) #3 Fine
DEADPOOL (1997) (#0-69) (MARVEL) #4 Near Mint/Mint
DEADPOOL (1997) (#0-69) (MARVEL) #5 Near Mint/Mint
DEADPOOL (1997) (#0-69) (MARVEL) #7 Very Fine

DEADPOOL (2008) (#1-63, 900) (MARVEL) #2 Fine
DEADPOOL (2008) (#1-63, 900) (MARVEL) #3 Near Mint/Mint
DEADPOOL (2008) (#1-63, 900) (MARVEL) #4 Very Fine
DEADPOOL (2008) (#1-63, 900) (MARVEL) #5 Very Fine
DEADPOOL (2008) (#1-63, 900) (MARVEL) #6 Very Fine

DEADPOOL KILLS DEADPOOL (2013) #1 Fine
DEADPOOL KILLS DEADPOOL (2013) #2 Near Mint/Mint
DEADPOOL KILLS DEADPOOL (2013) #3 Very Fine
DEADPOOL KILLS DEADPOOL (2013) #4 Near Mint/Mint

DEADPOOL KILLS THE MARVEL UNIVERSE (2012) #1 Very Fine
DEADPOOL KILLS THE MARVEL UNIVERSE (2012) #2 Near Mint/Mint
DEADPOOL KILLS THE MARVEL UNIVERSE (2012) #3 Very Fine
DEADPOOL KILLS THE MARVEL UNIVERSE (2012) #4 Near Mint/Mint

DEADPOOL: MERC WITH A MOUTH (2009) #1 Very Fine
DEADPOOL: MERC WITH A MOUTH (2009) #2 Near Mint/Mint


DEADPOOL: MERC WITH A MOUTH (2009) #3 Very Fine
DEADPOOL: MERC WITH A MOUTH (2009) #4 Near Mint/Mint
DEADPOOL: MERC WITH A MOUTH (2009) #5 Near Mint/Mint
DEADPOOL: MERC WITH A MOUTH (2009) #6 Near Mint/Mint

DEATH OF WOLVERINE (2014) #1 Fine
DEATH OF WOLVERINE (2014) #2 Near Mint/Mint
DEATH OF WOLVERINE (2014) #3 Very Fine

DOCTOR STRANGE (1988) (#1-90) (MARVEL) (DR. STRANGE) #60 Very Fine
DOCTOR STRANGE (2015) (#1-26) (MARVEL) (DR. STRANGE) #3 Near Mint/Mint
DOCTOR STRANGE (2015) (#1-26) (MARVEL) (DR. STRANGE) #4 Near Mint/Mint
DOCTOR STRANGE (2015) (#1-26) (MARVEL) (DR. STRANGE) #5 Very Fine
DOCTOR STRANGE (2015) (#1-26) (MARVEL) (DR. STRANGE) #6 Near Mint/Mint

ELEKTRA (2001) (#1-35) (MARVEL) #3 Near Mint/Mint
ELEKTRA (2001) (#1-35) (MARVEL) #30 Near Mint/Mint
ELEKTRA (2001) (#1-35) (MARVEL) #35 Very Fine
ELEKTRA (2014) (#1-11) (MARVEL) (BLACKMAN) (DEL MUNDO) #10 Near Mint/Mint
ELEKTRA (2014) (#1-11) (MARVEL) (BLACKMAN) (DEL MUNDO) #11 Near Mint/Mint

EXCALIBUR (1988) (#1-125) (MARVEL) #71 Fine
EXCALIBUR (1988) (#1-125) (MARVEL) #121 Very Fine
EXCALIBUR (1988) (#1-125) (MARVEL) #123 Very Fine
EXCALIBUR (1988) (#1-125) (MARVEL) #124 Near Mint/Mint
EXCALIBUR (1988) (#1-125) (MARVEL) #125 Near Mint/Mint

EXTRAORDINARY X-MEN (2015) #1 Near Mint/Mint
EXTRAORDINARY X-MEN (2015) #2 Near Mint/Mint
EXTRAORDINARY X-MEN (2015) #3 Very Fine
EXTRAORDINARY X-MEN (2015) #4 Near Mint/Mint
EXTRAORDINARY X-MEN (2015) #8 Near Mint/Mint

FANTASTIC FOUR (1961) (#1-416) (MARVEL) #51 Good
FANTASTIC FOUR (1961) (#1-416) (MARVEL) #60 Fair
FANTASTIC FOUR (1961) (#1-416) (MARVEL) #69 Good
FANTASTIC FOUR (1961) (#1-416) (MARVEL) #81 Good
FANTASTIC FOUR (1961) (#1-416) (MARVEL) #90 Very Good
FANTASTIC FOUR (1961) (#1-416) (MARVEL) #91 Good

FEAR ITSELF (2011) #1 Near Mint/Mint
FEAR ITSELF (2011) #2 Near Mint/Mint
FEAR ITSELF (2011) #3 Near Mint/Mint

GUARDIANS OF THE GALAXY (2013) (#0.1-27) (MARVEL) #3 Fine
GUARDIANS OF THE GALAXY (2013) (#0.1-27) (MARVEL) #4 Very Fine
GUARDIANS OF THE GALAXY (2013) (#0.1-27) (MARVEL) #8 Near Mint/Mint
GUARDIANS OF THE GALAXY (2013) (#0.1-27) (MARVEL) #9 Near Mint/Mint
GUARDIANS OF THE GALAXY (2013) (#0.1-27) (MARVEL) #10 Near Mint/Mint
GUARDIANS OF THE GALAXY (2013) (#0.1-27) (MARVEL) #11 Very Fine
GUARDIANS OF THE GALAXY (2013) (#0.1-27) (MARVEL) #13 Very Fine

HAWKEYE (2012) (#1-22) (MARVEL) (MATT FRACTION) #1 Very Fine
HAWKEYE (2012) (#1-22) (MARVEL) (MATT FRACTION) #2 Near Mint/Mint
HAWKEYE (2012) (#1-22) (MARVEL) (MATT FRACTION) #3 Near Mint/Mint
HAWKEYE (2012) (#1-22) (MARVEL) (MATT FRACTION) #4 Near Mint/Mint
HAWKEYE (2012) (#1-22) (MARVEL) (MATT FRACTION) #5 Near Mint/Mint
HAWKEYE (2012) (#1-22) (MARVEL) (MATT FRACTION) #6 Near Mint/Mint
HAWKEYE (2012) (#1-22) (MARVEL) (MATT FRACTION) #12 Near Mint/Mint

HULK (1962) (#1-6, #102-474, #600-635)(INCREDIBLE)(MV) #130 Very Good
HULK (1962) (#1-6, #102-474, #600-635)(INCREDIBLE)(MV) #156 Very Good
HULK (1962) (#1-6, #102-474, #600-635)(INCREDIBLE)(MV) #272 NEWSSTAND Fine
HULK (1962) (#1-6, #102-474, #600-635)(INCREDIBLE)(MV) #300 Very Fine
HULK (1962) (#1-6, #102-474, #600-635)(INCREDIBLE)(MV) #314 Near Mint/Mint
HULK (1962) (#1-6, #102-474, #600-635)(INCREDIBLE)(MV) #368 NEWSSTAND Very Fine

HULK (2008) (#1-57) (RED HULK) (MARVEL) #1 Very Fine
HULK (2008) (#1-57) (RED HULK) (MARVEL) #2 Near Mint/Mint
HULK (2008) (#1-57) (RED HULK) (MARVEL) #4 Fine


HULK (2008) (#1-57) (RED HULK) (MARVEL) #5 Very Fine
HULK (2008) (#1-57) (RED HULK) (MARVEL) #21 Near Mint/Mint
HULK (2008) (#1-57) (RED HULK) (MARVEL) #30 Near Mint/Mint
HULK (2008) (#1-57) (RED HULK) (MARVEL) #54 Near Mint/Mint

INHUMAN (2014) (#1-14) (MARVEL) (INHUMANS) #1 Fine
INHUMAN (2014) (#1-14) (MARVEL) (INHUMANS) #2 Fine
INHUMAN (2014) (#1-14) (MARVEL) (INHUMANS) #3 Very Fine
INHUMAN (2014) (#1-14) (MARVEL) (INHUMANS) #4 Very Fine
INHUMAN (2014) (#1-14) (MARVEL) (INHUMANS) #13 Near Mint/Mint

INHUMANS (1998) (#1-12) (MARVEL KNIGHTS) #6 Very Fine
INHUMANS (1998) (#1-12) (MARVEL KNIGHTS) #7 Near Mint/Mint
INHUMANS (1998) (#1-12) (MARVEL KNIGHTS) #9 Fine
INHUMANS (1998) (#1-12) (MARVEL KNIGHTS) #10 Fine
INHUMANS (1998) (#1-12) (MARVEL KNIGHTS) #11 Very Fine
INHUMANS (1998) (#1-12) (MARVEL KNIGHTS) #12 Fine

INVINCIBLE IRON MAN (2015) (#1-14) (MARVEL) #4 Near Mint/Mint
INVINCIBLE IRON MAN (2015) (#1-14) (MARVEL) #5 Very Fine
INVINCIBLE IRON MAN (2015) (#1-14) (MARVEL) #6 Near Mint/Mint
INVINCIBLE IRON MAN (2015) (#1-14) (MARVEL) #7 Near Mint/Mint
INVINCIBLE IRON MAN (2015) (#1-14) (MARVEL) #8 Near Mint/Mint
INVINCIBLE IRON MAN (2015) (#1-14) (MARVEL) #9 Very Good
INVINCIBLE IRON MAN (2015) (#1-14) (MARVEL) #10 Very Fine
INVINCIBLE IRON MAN (2015) (#1-14) (MARVEL) #14 Near Mint/Mint

IRON MAN (1968) (#1-332) (INVINCIBLE IRON MAN)(MARVEL) #24 Very Good
IRON MAN (1968) (#1-332) (INVINCIBLE IRON MAN)(MARVEL) #169 Very Fine
IRON MAN (1968) (#1-332) (INVINCIBLE IRON MAN)(MARVEL) #219 Fine
IRON MAN (1968) (#1-332) (INVINCIBLE IRON MAN)(MARVEL) #258 .1 Very Fine
IRON MAN (1968) (#1-332) (INVINCIBLE IRON MAN)(MARVEL) #258 .2 Very Fine
IRON MAN (1968) (#1-332) (INVINCIBLE IRON MAN)(MARVEL) #258 .3 Very Fine
IRON MAN (1968) (#1-332) (INVINCIBLE IRON MAN)(MARVEL) #258 .4 Near Mint/Mint

MARVEL UNIVERSE: THE END (2003) #1 Very Fine
MARVEL UNIVERSE: THE END (2003) #3 Near Mint/Mint
MARVEL UNIVERSE: THE END (2003) #6 Near Mint/Mint
MARVEL UNIVERSE: THE END (2003) #6 Very Fine

MARVEL ZOMBIES (2005) #1 4TH PRINT Near Mint/Mint
MARVEL ZOMBIES (2005) #5 Near Mint/Mint

MIGHTY THOR (2011) (#1-23) (MARVEL) #1 Near Mint/Mint
MIGHTY THOR (2011) (#1-23) (MARVEL) #2 Near Mint/Mint
MIGHTY THOR (2011) (#1-23) (MARVEL) #3 Near Mint/Mint
MIGHTY THOR (2011) (#1-23) (MARVEL) #4 Fine
MIGHTY THOR (2011) (#1-23) (MARVEL) #4 Very Fine

MOON KNIGHT (1980) (#1-38) (MARVEL) #6 NEWSSTAND Very Good
MOON KNIGHT (1980) (#1-38) (MARVEL) #7 Fine
MOON KNIGHT (1980) (#1-38) (MARVEL) #8 NEWSSTAND Fine
MOON KNIGHT (1980) (#1-38) (MARVEL) #9 Fine
MOON KNIGHT (1980) (#1-38) (MARVEL) #10 Fine
MOON KNIGHT (1980) (#1-38) (MARVEL) #12 NEWSSTAND Very Good
MOON KNIGHT (1980) (#1-38) (MARVEL) #13 NEWSSTAND Very Good

NEW AVENGERS (2004) (#1-64) (MARVEL) #4 Fine
NEW AVENGERS (2004) (#1-64) (MARVEL) #11 Fine
NEW AVENGERS (2004) (#1-64) (MARVEL) #35 Near Mint/Mint


NEW AVENGERS (2004) (#1-64) (MARVEL) #63 Near Mint/Mint
NEW AVENGERS (2010) (#1-34) (MARVEL) #15 Near Mint/Mint
NEW AVENGERS (2013) (#1-33) (MARVEL) #8 Near Mint/Mint
NEW AVENGERS (2013) (#1-33) (MARVEL) #9 Near Mint/Mint

NEW X-MEN: ACADEMY X (2004) #27 Very Fine
NEW X-MEN: ACADEMY X (2004) #31 Very Fine
NEW X-MEN: ACADEMY X (2004) #34 Near Mint/Mint

NYX (2003) #5 Near Mint/Mint
NYX (2003) #5 Very Fine

OLD MAN LOGAN (2015) (#1-5) (MARVEL SECRET WARS) #2 Near Mint/Mint
OLD MAN LOGAN (2015) (#1-5) (MARVEL SECRET WARS) #3 Near Mint/Mint
OLD MAN LOGAN (2015) (#1-5) (MARVEL SECRET WARS) #4 Near Mint/Mint
OLD MAN LOGAN (2015) (#1-5) (MARVEL SECRET WARS) #5 Near Mint/Mint
OLD MAN LOGAN (2016) (#1-UP) (MARVEL) #1 Near Mint/Mint
OLD MAN LOGAN (2016) (#1-UP) (MARVEL) #2 Near Mint/Mint

PETER PARKER (1976) (#1-263) (SPECTACULAR SPIDER-MAN) #20 Fine
PETER PARKER (1976) (#1-263) (SPECTACULAR SPIDER-MAN) #22 Fine
PETER PARKER (1976) (#1-263) (SPECTACULAR SPIDER-MAN) #26 Fine
PETER PARKER (1976) (#1-263) (SPECTACULAR SPIDER-MAN) #87 NEWSSTAND Fine
PETER PARKER (1976) (#1-263) (SPECTACULAR SPIDER-MAN) #203 Very Fine
PETER PARKER (1976) (#1-263) (SPECTACULAR SPIDER-MAN) #259 Near Mint/Mint

PUNISHER (1987) (#1-104) (MARVEL) #31 NEWSSTAND Fine
PUNISHER (1987) (#1-104) (MARVEL) #34 NEWSSTAND Fine
PUNISHER (1987) (#1-104) (MARVEL) #85 NEWSSTAND Very Fine
PUNISHER (1987) (#1-104) (MARVEL) #86 Very Fine
PUNISHER (1987) (#1-104) (MARVEL) #87 Near Mint/Mint
PUNISHER (1987) (#1-104) (MARVEL) #88 Very Fine

PUNISHER (2014) (#1-20) (ALL-NEW MARVEL NOW) #1 Near Mint/Mint
PUNISHER (2014) (#1-20) (ALL-NEW MARVEL NOW) #2 Near Mint/Mint
PUNISHER (2014) (#1-20) (ALL-NEW MARVEL NOW) #8 Near Mint/Mint
PUNISHER (2014) (#1-20) (ALL-NEW MARVEL NOW) #9 Near Mint/Mint
PUNISHER (2014) (#1-20) (ALL-NEW MARVEL NOW) #11 Near Mint/Mint

PUNISHER WAR JOURNAL (1988) #2 Fine
PUNISHER WAR JOURNAL (1988) #3 Very Fine
PUNISHER WAR JOURNAL (1988) #4 Near Mint/Mint
PUNISHER WAR JOURNAL (1988) #5 Very Fine
PUNISHER WAR JOURNAL (1988) #6 Fine
PUNISHER WAR JOURNAL (1988) #6 Very Fine

SECRET WARS (2015) #1 Near Mint/Mint
SECRET WARS (2015) #2 Near Mint/Mint
SECRET WARS (2015) #8 Near Mint/Mint
SECRET WARS (2015) #9 Near Mint/Mint

SPIDER-MAN (1963) (AMAZING SPIDER-MAN) (#1-441) #137 Very Good
SPIDER-MAN (1963) (AMAZING SPIDER-MAN) (#1-441) #143 Very Good
SPIDER-MAN (1963) (AMAZING SPIDER-MAN) (#1-441) #153 Very Good
SPIDER-MAN (1963) (AMAZING SPIDER-MAN) (#1-441) #162 Fine
SPIDER-MAN (1963) (AMAZING SPIDER-MAN) (#1-441) #163 Very Good
SPIDER-MAN (1963) (AMAZING SPIDER-MAN) (#1-441) #169 Fine

THOR (1962) (#83-125 JOURNEY INTO MYSTERY, 126-502) #337 NEWSSTAND Fine
THOR (1962) (#83-125 JOURNEY INTO MYSTERY, 126-502) #338 NEWSSTAND Fine


THOR (1962) (#83-125 JOURNEY INTO MYSTERY, 126-502) #344 Very Good
THOR (1962) (#83-125 JOURNEY INTO MYSTERY, 126-502) #345 Fine
THOR (1962) (#83-125 JOURNEY INTO MYSTERY, 126-502) #347 Very Fine

THOR (2007) (#1-12, 600-621) (MARVEL) #617 Near Mint/Mint
THOR (2007) (#1-12, 600-621) (MARVEL) #618 Near Mint/Mint
THOR (2007) (#1-12, 600-621) (MARVEL) #619 Near Mint/Mint

THOR (2014) (#1-8) (MARVEL) (FEMALE THOR) #1 Fine
THOR (2014) (#1-8) (MARVEL) (FEMALE THOR) #2 Very Good
THOR (2014) (#1-8) (MARVEL) (FEMALE THOR) #4 Near Mint/Mint
THOR (2014) (#1-8) (MARVEL) (FEMALE THOR) #5 Near Mint/Mint
THOR (2014) (#1-8) (MARVEL) (FEMALE THOR) #6 Near Mint/Mint

THOR: GOD OF THUNDER (2012) #2 Very Fine
THOR: GOD OF THUNDER (2012) #4 Near Mint/Mint
THOR: GOD OF THUNDER (2012) #6 Near Mint/Mint
THOR: GOD OF THUNDER (2012) #8 Near Mint/Mint
THOR: GOD OF THUNDER (2012) #9 Near Mint/Mint
THOR: GOD OF THUNDER (2012) #11 Very Fine

THUNDERBOLTS (1997) (#0-174) (MARVEL) #1 Fine
THUNDERBOLTS (1997) (#0-174) (MARVEL) #45 Near Mint/Mint
THUNDERBOLTS (1997) (#0-174) (MARVEL) #103 Fine
THUNDERBOLTS (1997) (#0-174) (MARVEL) #103 Near Mint/Mint
THUNDERBOLTS (1997) (#0-174) (MARVEL) #104 Near Mint/Mint
THUNDERBOLTS (1997) (#0-174) (MARVEL) #130 Near Mint/Mint

UNCANNY X-FORCE (2010) (#1-35) (MARVEL) #1 Very Fine
UNCANNY X-FORCE (2010) (#1-35) (MARVEL) #2 Very Fine
UNCANNY X-FORCE (2010) (#1-35) (MARVEL) #3 Very Fine
UNCANNY X-FORCE (2010) (#1-35) (MARVEL) #4 Very Fine
UNCANNY X-FORCE (2010) (#1-35) (MARVEL) #5 Near Mint/Mint

UNCANNY X-MEN (2013) (#1-35, 600) (MARVEL) #9 Near Mint/Mint
UNCANNY X-MEN (2013) (#1-35, 600) (MARVEL) #12 Near Mint/Mint
UNCANNY X-MEN (2013) (#1-35, 600) (MARVEL) #16 Near Mint/Mint
UNCANNY X-MEN (2013) (#1-35, 600) (MARVEL) #19 Near Mint/Mint
UNCANNY X-MEN (2013) (#1-35, 600) (MARVEL) #23 Near Mint/Mint
UNCANNY X-MEN (2013) (#1-35, 600) (MARVEL) #29 Near Mint/Mint

UNCANNY X-MEN (2016) (#1-19) (MARVEL) #1 Near Mint/Mint
UNCANNY X-MEN (2016) (#1-19) (MARVEL) #2 Near Mint/Mint
UNCANNY X-MEN (2016) (#1-19) (MARVEL) #3 Near Mint/Mint
UNCANNY X-MEN (2016) (#1-19) (MARVEL) #4 Near Mint/Mint
UNCANNY X-MEN (2016) (#1-19) (MARVEL) #4 Very Fine

VENOM: LETHAL PROTECTOR (1993) #1 Near Mint/Mint
VENOM: LETHAL PROTECTOR (1993) #2 Fine
VENOM: LETHAL PROTECTOR (1993) #3 Very Fine
VENOM: LETHAL PROTECTOR (1993) #4 Near Mint/Mint
VENOM: LETHAL PROTECTOR (1993) #5 Near Mint/Mint

WOLVERINE (1982) (#1-4) (MARVEL LIMITED SERIES) #1 NEWSSTAND Good
WOLVERINE (1982) (#1-4) (MARVEL LIMITED SERIES) #1 NEWSSTAND Very Good


WOLVERINE (1982) (#1-4) (MARVEL LIMITED SERIES) #2 Near Mint/Mint
WOLVERINE (1982) (#1-4) (MARVEL LIMITED SERIES) #3 Very Good
WOLVERINE (1982) (#1-4) (MARVEL LIMITED SERIES) #4 Very Good

WOLVERINE (1988) (#1/2-189) (MARVEL) #1 Fine
WOLVERINE (1988) (#1/2-189) (MARVEL) #1 NEWSSTAND Very Fine
WOLVERINE (1988) (#1/2-189) (MARVEL) #1 Very Fine
WOLVERINE (1988) (#1/2-189) (MARVEL) #2 NEWSSTAND Fine
WOLVERINE (1988) (#1/2-189) (MARVEL) #3 Near Mint/Mint
WOLVERINE (1988) (#1/2-189) (MARVEL) #4 Near Mint/Mint

WOLVERINE & THE X-MEN (2011) (#1-42) (MARVEL) #3 Near Mint/Mint
WOLVERINE & THE X-MEN (2011) (#1-42) (MARVEL) #10 Near Mint/Mint
WOLVERINE & THE X-MEN (2011) (#1-42) (MARVEL) #11 Near Mint/Mint
WOLVERINE & THE X-MEN (2011) (#1-42) (MARVEL) #31 Near Mint/Mint
WOLVERINE & THE X-MEN (2011) (#1-42) (MARVEL) #32 Near Mint/Mint

X 23 (2005) (#1-6) (MARVEL NEXT) #1 Near Mint/Mint
X 23 (2005) (#1-6) (MARVEL NEXT) #1 VARIANT Very Fine
X 23 (2005) (#1-6) (MARVEL NEXT) #1 Very Fine
X 23 (2005) (#1-6) (MARVEL NEXT) #2 Near Mint/Mint
X 23 (2005) (#1-6) (MARVEL NEXT) #5 Near Mint/Mint
X 23 (2005) (#1-6) (MARVEL NEXT) #6 Near Mint/Mint

X 23: TARGET X (2006) #1 Very Fine
X 23: TARGET X (2006) #2 Near Mint/Mint
X 23: TARGET X (2006) #2 Very Fine
X 23: TARGET X (2006) #3 Fine
X 23: TARGET X (2006) #3 Near Mint/Mint
X 23: TARGET X (2006) #6 Fine

X-FORCE (1991) (#1-129) (MARVEL) #11 Very Good
X-FORCE (1991) (#1-129) (MARVEL) #56 Fine
X-FORCE (1991) (#1-129) (MARVEL) #71 Very Fine
X-FORCE (1991) (#1-129) (MARVEL) #74 Very Fine
X-FORCE (1991) (#1-129) (MARVEL) #76 Near Mint/Mint
X-FORCE (1991) (#1-129) (MARVEL) #80 Near Mint/Mint

X-FORCE (2008) (#1-28) (MARVEL) #1 Near Mint/Mint
X-FORCE (2008) (#1-28) (MARVEL) #4 Near Mint/Mint
X-FORCE (2008) (#1-28) (MARVEL) #6 Near Mint/Mint
X-FORCE (2008) (#1-28) (MARVEL) #9 Very Fine
X-FORCE (2008) (#1-28) (MARVEL) #10 Near Mint/Mint
X-FORCE (2008) (#1-28) (MARVEL) #11 Near Mint/Mint
X-FORCE (2008) (#1-28) (MARVEL) #12 Very Fine

X-MAN (1995) #1 Very Fine
X-MAN (1995) #2 Near Mint/Mint
X-MAN (1995) #15 Fine
X-MAN (1995) #59 Very Fine
X-MAN (1995) #60 Very Fine

X-MEN (1963) (#1-113, UNCANNY X-MEN #114-544) (MARVEL) #17 Very Good
X-MEN (1963) (#1-113, UNCANNY X-MEN #114-544) (MARVEL) #21 Fine


X-MEN (1963) (#1-113, UNCANNY X-MEN #114-544) (MARVEL) #57 Fine
X-MEN (1963) (#1-113, UNCANNY X-MEN #114-544) (MARVEL) #137 NEWSSTAND Good
X-MEN (1963) (#1-113, UNCANNY X-MEN #114-544) (MARVEL) #162 NEWSSTAND Very Good
X-MEN (1963) (#1-113, UNCANNY X-MEN #114-544) (MARVEL) #166 Very Fine

X-MEN (1991) (#1-275) (MARVEL) #8 NEWSSTAND Very Fine
X-MEN (1991) (#1-275) (MARVEL) #24 Near Mint/Mint
X-MEN (1991) (#1-275) (MARVEL) #25 Fine
X-MEN (1991) (#1-275) (MARVEL) #26 NEWSSTAND Very Fine
X-MEN (1991) (#1-275) (MARVEL) #40 DELUXE Near Mint/Mint
X-MEN (1991) (#1-275) (MARVEL) #41 DELUXE Near Mint/Mint

DC
ABSOLUTE BATMAN THE KILLING JOKE HC (2018) #1 Near Mint/Mint

ACTION COMICS (1938) (#0-600, 643-904) (DC) #249 Good
ACTION COMICS (1938) (#0-600, 643-904) (DC) #254 Good
ACTION COMICS (1938) (#0-600, 643-904) (DC) #395 Very Good
ACTION COMICS (1938) (#0-600, 643-904) (DC) #537 NEWSSTAND Fine

BATMAN (1940) (#0-713) (DC) #248 Fine
BATMAN (1940) (#0-713) (DC) #258 Very Good
BATMAN (1940) (#0-713) (DC) #293 Very Good
BATMAN (1940) (#0-713) (DC) #306 Fine
BATMAN (1940) (#0-713) (DC) #354 NEWSSTAND Fine

BATMAN: SWORD OF AZRAEL (DENNY O'NEIL) (JOE QUESADA) (1992) #1 Fine
BATMAN: SWORD OF AZRAEL (DENNY O'NEIL) (JOE QUESADA) (1992) #2 Near Mint/Mint
BATMAN: SWORD OF AZRAEL (DENNY O'NEIL) (JOE QUESADA) (1992) #3 Near Mint/Mint
BATMAN: SWORD OF AZRAEL (DENNY O'NEIL) (JOE QUESADA) (1992) #4 Very Fine

BIRDS OF PREY (1998) (#1-127) (DC) #13 Near Mint/Mint
BIRDS OF PREY (1998) (#1-127) (DC) #14 Near Mint/Mint
BIRDS OF PREY (1998) (#1-127) (DC) #56 Near Mint/Mint
BIRDS OF PREY (1998) (#1-127) (DC) #79 Fine

BLACKHAWK (1957) (#108-273) (DC) #197 Fine
BLACKHAWK (1957) (#108-273) (DC) #203 Fine
BLACKHAWK (1957) (#108-273) (DC) #204 Fine
BLACKHAWK (1957) (#108-273) (DC) #205 Fine

DC COMICS BOMBSHELLS (2015) #1 Near Mint/Mint
DC COMICS BOMBSHELLS (2015) #2 Near Mint/Mint
DC COMICS BOMBSHELLS (2015) #3 Near Mint/Mint
DC COMICS BOMBSHELLS (2015) #4 Near Mint/Mint
DC COMICS BOMBSHELLS (2015) #5 Near Mint/Mint

DETECTIVE COMICS (1937) (#0-881) (DC) #520 NEWSSTAND Very Good
DETECTIVE COMICS (1937) (#0-881) (DC) #529 Fine
DETECTIVE COMICS (1937) (#0-881) (DC) #536 Very Fine
DETECTIVE COMICS (1937) (#0-881) (DC) #544 Fine
DETECTIVE COMICS (1937) (#0-881) (DC) #555 Very Fine

ELVIRA'S HOUSE OF MYSTERY (1986) #5 Very Fine
ELVIRA'S HOUSE OF MYSTERY (1986) #6 Near Mint/Mint
ELVIRA'S HOUSE OF MYSTERY (1986) #7 Near Mint/Mint
ELVIRA'S HOUSE OF MYSTERY SPECIAL: HAUNTED HOLIDAYS (1987) #1 Near Mint/Mint

FOREVER PEOPLE (1971) #1 Good
FOREVER PEOPLE (1971) #5 Good


FOREVER PEOPLE (1971) #8 Very Good
FOREVER PEOPLE (1971) #9 Good
FOREVER PEOPLE (1971) #10 Very Good

GREEN LANTERN (1960) (#1-224) (DC) #58 Fair
GREEN LANTERN (1960) (#1-224) (DC) #135 NEWSSTAND Fine
GREEN LANTERN (1960) (#1-224) (DC) #175 NO NUMBER Near Mint/Mint
GREEN LANTERN (1960) (#1-224) (DC) #210 Very Fine
GREEN LANTERN (1960) (#1-224) (DC) #214 Fine

HARLEY QUINN (2000) (#1-38) (DC) #33 Near Mint/Mint
HARLEY QUINN (2000) (#1-38) (DC) #34 Near Mint/Mint

JIMMY OLSEN (1954) #33 Good
JIMMY OLSEN (1954) #34 Very Good
JIMMY OLSEN (1954) #35 Good
JIMMY OLSEN (1954) #44 Good

JONAH HEX (1977) #15 Near Mint/Mint
JONAH HEX (1977) #21 Very Good
JONAH HEX (1977) #31 Very Good

NIGHTWING (1995) (#1-4) (DC) #1 Near Mint/Mint
NIGHTWING (1995) (#1-4) (DC) #3 Near Mint/Mint
NIGHTWING (1996) (#1-153) (DC) #1 Near Mint/Mint
NIGHTWING (1996) (#1-153) (DC) #2 Very Fine
NIGHTWING (1996) (#1-153) (DC) #3 Near Mint/Mint

SUPER FRIENDS (1976) #2 Fine
SUPER FRIENDS (1976) #3 Fine

SUPERBOY (1949) (#1-258) (DC) #199 Fine
SUPERBOY (2010) (#1-11) (DC) #1 VARIANT Near Mint/Mint

SUPERBOY ANNUAL (1994) #1 Near Mint/Mint

SUPERMAN (1939) (#1-423) (DC) #124 Fair
SUPERMAN (1939) (#1-423) (DC) #400 NEWSSTAND Very Good

SUPERMAN ANNUAL (1960) #2 Very Good
SUPERMAN ANNUAL (1960) #3 Good

TEEN TITANS (1966) (#1-53) (DC) #41 Fine
TEEN TITANS (2003) (#1-100) (DC) #1 Near Mint/Mint
TEEN TITANS (2003) (#1-100) (DC) #1 TURNER Near Mint/Mint

WONDER WOMAN (1942) (#1-329) (DC) #271 NEWSSTAND Fine
WONDER WOMAN (1942) (#1-329) (DC) #314 Very Fine

WONDER WOMAN (1987) (#0-226) (DC) #28 Fine
WONDER WOMAN (1987) (#0-226) (DC) #63 Very Fine


WONDER WOMAN (1987) (#0-226) (DC) #138 Near Mint/Mint
WONDER WOMAN (1987) (#0-226) (DC) #214 Very Fine

WORLDS FINEST (1941) (#2-323) (DC) (WORLD'S FINEST) #98 Good
WORLDS FINEST (1941) (#2-323) (DC) (WORLD'S FINEST) #99 Good
WORLDS FINEST (1941) (#2-323) (DC) (WORLD'S FINEST) #228 Fine

DARK HORSE COMICS
GOON (2003) (#1-44) (DARK HORSE) (ERIC POWELL) #14 Near Mint/Mint
GOON (2003) (#1-44) (DARK HORSE) (ERIC POWELL) #18 Near Mint/Mint

GROO: PLAY OF THE GODS (2017) #1 Near Mint/Mint
GROO: PLAY OF THE GODS (2017) #3 Near Mint/Mint

HELLBOY, JR. #1 Very Fine
HELLBOY, JR. #2 Very Fine

SIN CITY: A DAME TO KILL FOR (1993) #2 Fine

SIN CITY: A DAME TO KILL FOR COLLECTED TPB #1 2ND PRINT Near Mint/Mint

STAR WARS (2013) (#1-20) (DARK HORSE) #1 DFE S&N Near Mint/Mint

IMAGE COMICS
ANT (2005) (#1-11) (IMAGE) #1 Near Mint/Mint
ANT (2005) (#1-11) (IMAGE) #2 Near Mint/Mint
ANT (2005) (#1-11) (IMAGE) #3 Near Mint/Mint

BACKLASH (IMAGE) (1994) #18 Near Mint/Mint
BACKLASH (IMAGE) (1994) #29 Near Mint/Mint
BACKLASH (IMAGE) (1994) #30 Near Mint/Mint
BACKLASH (IMAGE) (1994) #31 Very Fine
BACKLASH (IMAGE) (1994) #32 NEWSSTAND Near Mint/Mint

BOMB QUEEN (2006) #4 Near Mint/Mint
BOMB QUEEN (VOL.2) (QUEEN OF HEARTS) (2006) #1 Good
BOMB QUEEN (VOL.5) (THE DIVINE COMEDY) (2008) #4 Fine

EAST OF WEST (2013) #1 Very Fine
EAST OF WEST (2013) #2 Near Mint/Mint
EAST OF WEST (2013) #4 Near Mint/Mint
EAST OF WEST (2013) #6 Near Mint/Mint
EAST OF WEST (2013) #7 Near Mint/Mint

FEAR AGENT (2005) (#1-11) (IMAGE) #1 Near Mint/Mint
FEAR AGENT (2005) (#1-11) (IMAGE) #5 Very Fine
FEAR AGENT (2005) (#1-11) (IMAGE) #10 Very Fine

HACK SLASH: MY FIRST MANIAC (2010) #2 A Very Fine
HACK SLASH: MY FIRST MANIAC (2010) #3 A Very Fine
HACK SLASH: MY FIRST MANIAC (2010) #4 A Fine

INVINCIBLE (2003) #22 Very Fine
INVINCIBLE (2003) #24 Near Mint/Mint


INVINCIBLE (2003) #26 Fine
INVINCIBLE (2003) #27 Near Mint/Mint
INVINCIBLE (2003) #30 Fine

LIBERTY MEADOWS (#27-37) (IMAGE) (2002) #33 Very Good
LIBERTY MEADOWS (#27-37) (IMAGE) (2002) #34 Fine
LIBERTY MEADOWS (#27-37) (IMAGE) (2002) #35 Fine

MANHATTAN PROJECTS (2012) #1 Fine
MANHATTAN PROJECTS (2012) #2 Very Fine
MANHATTAN PROJECTS (2012) #3 Very Fine
MANHATTAN PROJECTS (2012) #4 Near Mint/Mint
MANHATTAN PROJECTS (2012) #5 Near Mint/Mint

SAGA (2012) #1 Very Good
SAGA (2012) #2 Near Mint/Mint
SAGA (2012) #3 Near Mint/Mint
SAGA (2012) #4 Near Mint/Mint
SAGA (2012) #5 Fine

SPAWN (1992) #1 Fine
SPAWN (1992) #1 Near Mint/Mint
SPAWN (1992) #2 Near Mint/Mint
SPAWN (1992) #2 NEWSSTAND Fine
SPAWN (1992) #2 NEWSSTAND Very Good

WALKING DEAD COMPENDIUM TPB (2009) #1 7TH PRINT Very Fine
WALKING DEAD COMPENDIUM TPB (2009) #2 2ND PRINT Fine

WALKING DEAD HC (2006) #1 9TH PRINT Fine

WALKING DEAD VOL.30: NEW WORLD ORDER TPB (2018) #1 Near Mint/Mint

INDEPENDENTS
100 BULLETS BOOK TPB (2014) #1 (DC: Vertigo Press) Very Fine

ASTRO CITY (1996) (#1-15) (IMAGE/HOMAGE) #3 (Image Homage) Very Fine

ASTRO CITY: ASTRA SPECIAL (2009) #1 (DC/Wildstorm) Very Fine
ASTRO CITY: ASTRA SPECIAL (2009) #2 (DC/Wildstorm) Very Fine

ASTRO CITY: DARK AGE BOOK II (DC WILDSTORM) (2006) #2 (DC/Wildstorm) Near Mint/Mint
ASTRO CITY: DARK AGE BOOK III (DC WILDSTORM) (2009) #4 (DC/Wildstorm) Very Fine

COMPLETE DICK TRACY HC (2006) #12 (IDW Publishing) Near Mint/Mint
COMPLETE DICK TRACY HC (2006) #20 (IDW Publishing) Near Mint/Mint

FAR SIDE GALLERY TPB (1984) #1 (FARWORKS, INC.) Fine
FAR SIDE GALLERY TPB (1984) #4 (FARWORKS, INC.) Fine
FAR SIDE GALLERY TPB (1984) #5 (FARWORKS, INC.) Fine

FATHOM (2005) (#0-11) (ASPEN) #4 COVER C (Aspen) Near Mint/Mint
FATHOM (2005) (#0-11) (ASPEN) #4 COVER D (Aspen) Very Fine

FATHOM PRELUDE (2005) #1 COVER D (DYNAMITE Entertainment) Near Mint/Mint

GOLD DIGGER (1993) #10 (Antarctic Press) Fine
GOLD DIGGER (1993) #12 (Antarctic Press) Very Fine
GOLD DIGGER (1993) #15 (Antarctic Press) Near Mint/Mint
GOLD DIGGER (1993) #38 (Antarctic Press) Near Mint/Mint

GOLD DIGGER ANNUAL (1995) #2 (Antarctic Press) Near Mint/Mint
GOLD DIGGER ANNUAL (1995) #3 (Antarctic Press) Very Fine

HELLBLAZER (1988) (#1-300) (DC VERTIGO) #109 (DC: Vertigo Press) Fine
HELLBLAZER (1988) (#1-300) (DC VERTIGO) #126 (DC: Vertigo Press) Very Fine


HELLBLAZER (1988) (#1-300) (DC VERTIGO) #144 (DC: Vertigo Press) Near Mint/Mint
HELLBLAZER (1988) (#1-300) (DC VERTIGO) #172 (DC: Vertigo Press) Fine
HELLBLAZER (1988) (#1-300) (DC VERTIGO) #173 (DC: Vertigo Press) Near Mint/Mint

LONE WOLF AND CUB (1987) #33 (First Comics) Very Fine
LOVE AND ROCKETS VOL. 2 (2001) #14 (Fantagraphics) Near Mint/Mint
LOVE AND ROCKETS VOL. 2 (2001) #16 (Fantagraphics) Near Mint/Mint

LUCIFER (2000) (#1-75) (DC/VERTIGO) #23 (DC: Vertigo Press) Very Fine
LUCIFER (2000) (#1-75) (DC/VERTIGO) #24 (DC: Vertigo Press) Very Fine
LUCIFER (2000) (#1-75) (DC/VERTIGO) #25 (DC: Vertigo Press) Near Mint/Mint

METAL HURLANT (2002) #5 (Humanoids Publishing) Very Fine
METAL HURLANT (2002) #7 (Humanoids Publishing) Very Fine
METAL HURLANT (2002) #8 (Humanoids Publishing) Very Fine
METAL HURLANT (2002) #9 (Humanoids Publishing) Very Fine
METAL HURLANT (2002) #10 (Humanoids Publishing) Near Mint/Mint

NIGHT MARY (2005) #1 (IDW Publishing) Near Mint/Mint
NIGHT MARY (2005) #2 (IDW Publishing) Near Mint/Mint
NIGHT MARY (2005) #3 (IDW Publishing) Very Fine

POPEYE (1969) (#94-138) (CHAR) #126 (Charlton) Very Good
POPEYE (1969) (#94-138) (CHAR) #130 (Charlton) Very Good

PREACHER (1995) #1 (DC: Vertigo Press) Near Mint/Mint
PREACHER (1995) #2 (DC: Vertigo Press) Near Mint/Mint
PREACHER (1995) #5 (DC: Vertigo Press) Near Mint/Mint
PREACHER (1995) #7 (DC: Vertigo Press) Very Fine

SANDMAN (1988) (#1-75) (DC/VERTIGO) #1 (DC: Vertigo Press) Near Mint/Mint
SANDMAN (1988) (#1-75) (DC/VERTIGO) #2 (DC: Vertigo Press) Near Mint/Mint
SANDMAN (1988) (#1-75) (DC/VERTIGO) #3 (DC: Vertigo Press) Near Mint/Mint
SANDMAN (1988) (#1-75) (DC/VERTIGO) #4 (DC: Vertigo Press) Near Mint/Mint

SIMPSONS COMICS (BONGO) (1993) #1 NO BAG (Bongo Comics) Very Fine
SIMPSONS COMICS (BONGO) (1993) #2 (Bongo Comics) Very Fine
SIMPSONS COMICS (BONGO) (1993) #4 (Bongo Comics) Near Mint/Mint
SIMPSONS COMICS (BONGO) (1993) #5 (Bongo Comics) Near Mint/Mint
SIMPSONS COMICS (BONGO) (1993) #6 (Bongo Comics) Very Fine

SONIC THE HEDGEHOG ARCHIVES TPB (2006) #2 (Archie Comics) Very Fine
SONIC THE HEDGEHOG ARCHIVES TPB (2006) #3 (Archie Comics) Near Mint/Mint

SWAMP THING, SAGA OF (1982) #10 (DC: Vertigo Press) Near Mint/Mint


SWAMP THING, SAGA OF (1982) #11 (DC: Vertigo Press) Very Fine
SWAMP THING, SAGA OF (1982) #24 NEWSSTAND (DC: Vertigo Press) Very Good
SWAMP THING, SAGA OF (1982) #29 (DC: Vertigo Press) Very Fine

TALES OF TEENAGE MUTANT NINJA TURTLES (#1-70) (MIRAGE) (2004) #5 (Mirage Studios) Near Mint/Mint
TALES OF TEENAGE MUTANT NINJA TURTLES (#1-70) (MIRAGE) (2004) #12 (Mirage Studios) Fine
TALES OF TEENAGE MUTANT NINJA TURTLES (#1-70) (MIRAGE) (2004) #15 (Mirage Studios) Very Fine

TOMB RAIDER (1999) (#0-50) (IMAGE TOP COW) #46 VARIANT (Image Top Cow) Near Mint/Mint
TOMB RAIDER (1999) (#0-50) (IMAGE TOP COW) #47 COVER B (Image Top Cow) Near Mint/Mint

UNCLE SCROOGE (1962) (GOLD KEY) (#40-173) #54 (Gold Key) Fine
UNCLE SCROOGE (1962) (GOLD KEY) (#40-173) #55 (Gold Key) Fine

VAMPIRELLA (1997) (#0-26) (HARRIS) #7 SHI (Harris Comics) Very Fine
VAMPIRELLA (1997) (#0-26) (HARRIS) #13 (Harris Comics) Near Mint/Mint
VAMPIRELLA (1997) (#0-26) (HARRIS) #20 (Harris Comics) Near Mint/Mint

WITCHBLADE (1995) #6 NEWSSTAND (Image Top Cow) Very Fine
WITCHBLADE (1995) #80 COVER A (Image Top Cow) Very Fine
WITCHBLADE (1995) #80 COVER B (Image Top Cow) Near Mint/Mint
WITCHBLADE (1995) #80 COVER C (Image Top Cow) Very Fine
WITCHBLADE (1995) #87 (Image Top Cow) Fine