40% Off Comics - BATMAN, X-MEN, DEADPOOL, More!
Howdy!
I want to begin today by sending my best wishes to our friends who are being affected by the horrific flooding and rains of hurricane Florence. Yesterday was the five-year anniversary of when our house and farm flooded following a 22-inch rainfall in Boulder, so I am well aware of the pernicious nature of excessive water. Please accept my very best wishes that you have been able to stay safe, and also to keep your comics dry.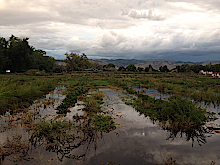 Chuck's flooded farm, five years ago.

Speaking of keeping comics dry, I am awaiting the arrival this afternoon of the 25,000+ comics and toys that I purchased from a private collector in Maryland last week. I loaded that collection in a pouring rainstorm, so while the plastic-wrapped comics should be just fine, I am keeping my fingers crossed that none of the boxes that got splashed ended up falling apart during their journey here to Colorado. I sure as heck was soaked by the end of that evening, as it took me until almost midnight to finish packing, outdoors in the FedEx parking lot...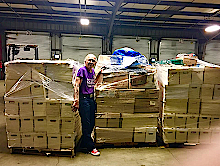 Chuck soaked after packing the Maryland collection.

The good news for today is that Will and Pam worked their way through several amazing comics collections that were sold to us here at the Jason St. Mega-Store this week. I cannot begin to name all of the hundreds of titles where we managed to obtain restock this week, but SPIDER-MAN, DEADPOOL, WOLVERINE, and BATMAN titles could certainly lead the list. Visit our Premium New-In-Stock link for a partial list, and our overall New-In-Stock link for a full listing. Almost all of these newly-arrived issues are available to you right now at 40% off when you utilize our current SEPTEMBER! codeword. Only new issues, a few variants, and our professionally-graded comics are exempt from the 40% off SEPTEMBER! savings. Please enjoy browsing through these great comics with our sincere thanks for your continuing support of Mile High Comics.
Happy collecting!
Chuck Rozanski,
President - Mile High Comics, Inc.
September 14, 2018

P.S. Below are some of our wonderful recent acquisitions!
MARVEL

AMAZING SPIDER-MAN (1999) (#1-700.5) (MARVEL) #36 Near Mint/Mint
AMAZING SPIDER-MAN (1999) (#1-700.5) (MARVEL) #569 2ND PRINT Fine
AMAZING SPIDER-MAN (1999) (#1-700.5) (MARVEL) #600 ROSS Fine

AMAZING SPIDER-MAN COLLECTOR'S ALBUM LANCER PAPERBACK (1966) #1 Good

AVENGERS (1963) (#1-402) (MARVEL) #184 NEWSSTAND Near Mint/Mint

AVENGERS (2018) (#1-UP) (MARVEL) #3 Near Mint/Mint

CAPTAIN AMERICA (1968) (#100-454) (MARVEL) #186 Fine
CAPTAIN AMERICA (1968) (#100-454) (MARVEL) #218 Fine

CONAN GIANT-SIZE (1974) #1 Very Fine

DAREDEVIL (1964) (#1-380) (MAN WITHOUT FEAR) (MARVEL) #191 NEWSSTAND Very Good

DAREDEVIL COLLECTOR'S ALBUM LANCER PB (1967) #1 Very Good

DEFENDERS (1972) (#1-152) (MARVEL) #93 NEWSSTAND Fine

EXTRAORDINARY X-MEN (2015) #8 Near Mint/Mint

FANTASTIC FOUR (2018) (#1-UP) (MARVEL) #1 ROSS VIRGN Very Fine

HULK (1999) (#1-112) (MARVEL) #103 Very Good

IRON MAN (2005) (#1-35) (MARVEL) #3 Near Mint/Mint
IRON MAN (2005) (#1-35) (MARVEL) #6 Near Mint/Mint

MARVEL ZOMBIES (2005) #1 4TH PRINT Near Mint/Mint
MARVEL ZOMBIES (2005) #5 Near Mint/Mint

MIRACLEMAN BY GAIMAN & BUCKINGHAM (#1-6) (MARVEL) #5 Near Mint/Mint
MIRACLEMAN BY GAIMAN & BUCKINGHAM (#1-6) (MARVEL) #6 Near Mint/Mint

MYTHOS: GHOST RIDER (2006) #1 Near Mint/Mint

NEW X-MEN: ACADEMY X (2004) #34 Near Mint/Mint

NYX: NO WAY HOME (2008) #6 Very Fine

OFFICIAL HANDBOOK MARVEL UNIVERSE: MARVEL KNIGHTS (2005) #1 Near Mint/Mint

OFFICIAL HANDBOOK MARVEL UNIVERSE: WOMEN OF MARVEL (2005) #1 Near Mint/Mint


ONSLAUGHT REBORN (2006) #1 LIEFELD Near Mint/Mint
ONSLAUGHT REBORN (2006) #1 TURNER Fine

PETER PARKER (1976) (#1-263) (SPECTACULAR SPIDER-MAN) #87 NEWSSTAND Fine

PUNISHER (1987) (#1-104) (MARVEL) #31 NEWSSTAND Fine
PUNISHER (1987) (#1-104) (MARVEL) #34 NEWSSTAND Fine
PUNISHER (1987) (#1-104) (MARVEL) #104 Fine

PUNISHER WAR JOURNAL (1988) #2 Fine
PUNISHER WAR JOURNAL (1988) #3 Very Fine
PUNISHER WAR JOURNAL (1988) #6 Very Fine

PUNISHER WAR JOURNAL (2006) #2 Very Fine

SHIELD (2015)(#1-12)(MARVEL)(INSPIRED BY THE TV SHOW) #6 Near Mint/Mint

SPIDER-MAN (1963) (AMAZING SPIDER-MAN) (#1-441) #137 Very Good
SPIDER-MAN (1963) (AMAZING SPIDER-MAN) (#1-441) #143 Very Good
SPIDER-MAN (1963) (AMAZING SPIDER-MAN) (#1-441) #153 Very Good
SPIDER-MAN (1963) (AMAZING SPIDER-MAN) (#1-441) #162 Fine
SPIDER-MAN (1963) (AMAZING SPIDER-MAN) (#1-441) #163 Very Good
SPIDER-MAN (1963) (AMAZING SPIDER-MAN) (#1-441) #169 Fine
SPIDER-MAN (1963) (AMAZING SPIDER-MAN) (#1-441) #169 Very Good
SPIDER-MAN (1963) (AMAZING SPIDER-MAN) (#1-441) #175 Very Good
SPIDER-MAN (1963) (AMAZING SPIDER-MAN) (#1-441) #176 Very Good
SPIDER-MAN (1963) (AMAZING SPIDER-MAN) (#1-441) #177 Very Good
SPIDER-MAN (1963) (AMAZING SPIDER-MAN) (#1-441) #178 Very Good
SPIDER-MAN (1963) (AMAZING SPIDER-MAN) (#1-441) #179 WHITMAN Very Good
SPIDER-MAN (1963) (AMAZING SPIDER-MAN) (#1-441) #180 Very Good
SPIDER-MAN (1963) (AMAZING SPIDER-MAN) (#1-441) #181 Very Good
SPIDER-MAN (1963) (AMAZING SPIDER-MAN) (#1-441) #187 Fine
SPIDER-MAN (1963) (AMAZING SPIDER-MAN) (#1-441) #201 NEWSSTAND Good
SPIDER-MAN (1963) (AMAZING SPIDER-MAN) (#1-441) #202 NEWSSTAND Very Good
SPIDER-MAN (1963) (AMAZING SPIDER-MAN) (#1-441) #252 NEWSSTAND Good
SPIDER-MAN (1963) (AMAZING SPIDER-MAN) (#1-441) #264 Near Mint/Mint
SPIDER-MAN (1963) (AMAZING SPIDER-MAN) (#1-441) #268 Near Mint/Mint
SPIDER-MAN (1963) (AMAZING SPIDER-MAN) (#1-441) #284 Fine
SPIDER-MAN (1963) (AMAZING SPIDER-MAN) (#1-441) #285 Fine
SPIDER-MAN (1963) (AMAZING SPIDER-MAN) (#1-441) #289 NEWSSTAND Good
SPIDER-MAN (1963) (AMAZING SPIDER-MAN) (#1-441) #295 Very Fine
SPIDER-MAN (1963) (AMAZING SPIDER-MAN) (#1-441) #307 NEWSSTAND Fine
SPIDER-MAN (1963) (AMAZING SPIDER-MAN) (#1-441) #312 Fine
SPIDER-MAN (1963) (AMAZING SPIDER-MAN) (#1-441) #312 Very Good


STAR WARS (1977) (#1-107) (MARVEL) #2 Fine

STAR WARS: EMPIRE STRIKES BACK PAPERBACK (1980) #1 Very Fine

STRANGE TALES (1987)(#1-19)(DR. STRANGE/CLOAK & DAGGER) #19 Very Fine

SUB-MARINER (1968) (#1-72) (PRINCE NAMOR SUB-MARINER) #14 Very Good

SUB-MARINER ANNUAL (1971) #1 Fine

THING (1983) (#1-36) (MARVEL) (FANTASTIC FOUR) #35 Fine

THOR (1962) (#83-125 JOURNEY INTO MYSTERY, 126-502) #337 NEWSSTAND Fine
THOR (1962) (#83-125 JOURNEY INTO MYSTERY, 126-502) #338 NEWSSTAND Fine
THOR (1962) (#83-125 JOURNEY INTO MYSTERY, 126-502) #344 Very Good
THOR (1962) (#83-125 JOURNEY INTO MYSTERY, 126-502) #345 Fine
THOR (1962) (#83-125 JOURNEY INTO MYSTERY, 126-502) #347 Very Fine
THOR (1962) (#83-125 JOURNEY INTO MYSTERY, 126-502) #350 Near Mint/Mint
THOR (1962) (#83-125 JOURNEY INTO MYSTERY, 126-502) #352 Very Fine
THOR (1962) (#83-125 JOURNEY INTO MYSTERY, 126-502) #382 NEWSSTAND Very Good

THOR COLLECTOR'S ALBUM LANCER BOOK (1966) #1 Very Good

THOR: RAGNAROK PRELUDE (2017) #2 Near Mint/Mint

THUNDERBOLTS (1997) (#0-174) (MARVEL) #103 Fine

TOXIN (2005) #4 Very Fine

TRANSFORMERS (1984) (#1-80) (MARVEL) #10 NEWSSTAND Fine

TV STARS (1978) #3 Very Good

UNCANNY X-FORCE (2010) (#1-35) (MARVEL) #2 Very Fine
UNCANNY X-FORCE (2010) (#1-35) (MARVEL) #11 Fine
UNCANNY X-FORCE (2010) (#1-35) (MARVEL) #17 Fine
UNCANNY X-FORCE (2010) (#1-35) (MARVEL) #35 Very Fine

UNCANNY X-MEN (2016) (#1-19) (MARVEL) #3 Near Mint/Mint
UNCANNY X-MEN (2016) (#1-19) (MARVEL) #4 Very Fine

VENOM SUPER SIZE SPECIAL (1995) #1 Very Fine

VENOM: CARNAGE UNLEASHED (1995) #3 Very Fine

VENOM: FUNERAL PYRE (1993) #3 Fine


VENOM: LETHAL PROTECTOR (1993) #1 Near Mint/Mint
VENOM: LETHAL PROTECTOR (1993) #2 Fine
VENOM: LETHAL PROTECTOR (1993) #3 Very Fine
VENOM: LETHAL PROTECTOR (1993) #4 Near Mint/Mint
VENOM: LETHAL PROTECTOR (1993) #5 Near Mint/Mint
VENOM: LETHAL PROTECTOR (1993) #6 Very Fine

VENOM: THE MACE (1994) #1 Near Mint/Mint
VENOM: THE MACE (1994) #2 Near Mint/Mint
VENOM: THE MACE (1994) #3 Very Fine

WEB OF SPIDER-MAN (1985) (#1-129) (MARVEL) #2 Near Mint/Mint

WHAT IF... (1977) (#1-47) (MARVEL) #35 NEWSSTAND Near Mint/Mint

WOLVERINE (1982) (#1-4) (MARVEL LIMITED SERIES) #1 NEWSSTAND Very Good
WOLVERINE (1982) (#1-4) (MARVEL LIMITED SERIES) #2 Near Mint/Mint
WOLVERINE (1982) (#1-4) (MARVEL LIMITED SERIES) #3 Very Good
WOLVERINE (1982) (#1-4) (MARVEL LIMITED SERIES) #4 Very Good

WOLVERINE (1988) (#1/2-189) (MARVEL) #1 Fine
WOLVERINE (1988) (#1/2-189) (MARVEL) #1 Very Fine
WOLVERINE (1988) (#1/2-189) (MARVEL) #2 NEWSSTAND Fine
WOLVERINE (1988) (#1/2-189) (MARVEL) #3 Near Mint/Mint
WOLVERINE (1988) (#1/2-189) (MARVEL) #4 Near Mint/Mint
WOLVERINE (1988) (#1/2-189) (MARVEL) #5 Very Fine
WOLVERINE (1988) (#1/2-189) (MARVEL) #6 Very Fine
WOLVERINE (1988) (#1/2-189) (MARVEL) #7 Near Mint/Mint
WOLVERINE (1988) (#1/2-189) (MARVEL) #8 Very Fine
WOLVERINE (1988) (#1/2-189) (MARVEL) #9 NEWSSTAND Fine
WOLVERINE (1988) (#1/2-189) (MARVEL) #10 Near Mint/Mint
WOLVERINE (1988) (#1/2-189) (MARVEL) #36 NEWSSTAND Very Good
WOLVERINE (1988) (#1/2-189) (MARVEL) #100 DELUXE Very Fine
WOLVERINE (1988) (#1/2-189) (MARVEL) #145 DELUXE Near Mint/Mint
WOLVERINE (1988) (#1/2-189) (MARVEL) #154 Fine
WOLVERINE (1988) (#1/2-189) (MARVEL) #154 Very Fine
WOLVERINE (1988) (#1/2-189) (MARVEL) #155 Near Mint/Mint

WOLVERINE 1999 ANNUAL #1 Near Mint/Mint

WOLVERINE: BLACK RIO (1998) #1 Very Fine

WOLVERINE: THE JUNGLE ADVENTURE (1990) #1 NEWSSTAND Very Good


X-MEN (1963) (#1-113, UNCANNY X-MEN #114-544) (MARVEL) #17 Very Good
X-MEN (1963) (#1-113, UNCANNY X-MEN #114-544) (MARVEL) #21 Fine
X-MEN (1963) (#1-113, UNCANNY X-MEN #114-544) (MARVEL) #57 Fine
X-MEN (1963) (#1-113, UNCANNY X-MEN #114-544) (MARVEL) #162 NEWSSTAND Very Good
X-MEN (1963) (#1-113, UNCANNY X-MEN #114-544) (MARVEL) #175 Fine
X-MEN (1963) (#1-113, UNCANNY X-MEN #114-544) (MARVEL) #205 NEWSSTAND Good
X-MEN (1963) (#1-113, UNCANNY X-MEN #114-544) (MARVEL) #207 Fine
X-MEN (1963) (#1-113, UNCANNY X-MEN #114-544) (MARVEL) #251 Fine
X-MEN (1963) (#1-113, UNCANNY X-MEN #114-544) (MARVEL) #256 Near Mint/Mint
X-MEN (1963) (#1-113, UNCANNY X-MEN #114-544) (MARVEL) #503 Near Mint/Mint

X-MEN AND THE TEEN TITANS (1982) #1 Near Mint/Mint

X-MEN ANNUAL (1970) #3 NEWSSTAND Fine

X-MEN AT THE STATE FAIR OF TEXAS #1 Fine

X-MEN: MUTANT EMPIRE NOVEL PB SERIES (1996) #1 8TH PRINT Very Fine

X-MEN: WORLD'S APART (2008) #1 Fine

DC
ACTION COMICS (1938) (#0-600, 643-904) (DC) #537 NEWSSTAND Fine

ADVENTURE COMICS (1938) #467 Very Fine

ALL-STAR (1976) #60 Very Good

BATMAN (1940) (#0-713) (DC) #248 Fine
BATMAN (1940) (#0-713) (DC) #258 Very Good
BATMAN (1940) (#0-713) (DC) #293 Very Good
BATMAN (1940) (#0-713) (DC) #306 Fine
BATMAN (1940) (#0-713) (DC) #354 NEWSSTAND Fine
BATMAN (1940) (#0-713) (DC) #365 Fine
BATMAN (1940) (#0-713) (DC) #369 NEWSSTAND Fine
BATMAN (1940) (#0-713) (DC) #377 Fine
BATMAN (1940) (#0-713) (DC) #400 Very Good
BATMAN (1940) (#0-713) (DC) #409 Fine
BATMAN (1940) (#0-713) (DC) #410 Very Fine
BATMAN (1940) (#0-713) (DC) #411 Very Fine
BATMAN (1940) (#0-713) (DC) #412 Near Mint/Mint

BATMAN '66 (2013) #29 Near Mint/Mint


BATMAN AND THE OUTSIDERS (1983) #1 Very Fine

BATMAN: STREETS OF GOTHAM (PAUL DINI) (2009) #21 Near Mint/Mint

BINKY #81 Very Good

BOMBA, THE JUNGLE BOY (1967) #3 Fine

CRISIS ON INFINITE EARTHS (1985) #4 Near Mint/Mint
CRISIS ON INFINITE EARTHS (1985) #7 Fine
CRISIS ON INFINITE EARTHS (1985) #7 Very Good
CRISIS ON INFINITE EARTHS (1985) #8 Fine

DC SPECIAL (1968) #1 Good
DC SPECIAL (1968) #5 Very Good
DC SPECIAL (1968) #6 Very Good

DC SPECIAL SERIES (1977) #10 Very Good

DETECTIVE COMICS (1937) (#0-881) (DC) #520 NEWSSTAND Very Good
DETECTIVE COMICS (1937) (#0-881) (DC) #529 Fine
DETECTIVE COMICS (1937) (#0-881) (DC) #536 Very Fine
DETECTIVE COMICS (1937) (#0-881) (DC) #544 Fine
DETECTIVE COMICS (1937) (#0-881) (DC) #555 Very Fine
DETECTIVE COMICS (1937) (#0-881) (DC) #560 Fine

GREEN LANTERN (1960) (#1-224) (DC) #175 NO NUMBER Near Mint/Mint

IDENTITY CRISIS (2004) #1 FINAL PRNT Near Mint/Mint
IDENTITY CRISIS (2004) #4 FINAL PRNT Near Mint/Mint

JLA (1996) #1 Very Fine
JLA (1996) #110 Near Mint/Mint

JONAH HEX (1977) #15 Near Mint/Mint

PHANTOM ZONE (1982) #2 NEWSSTAND Very Fine

SUPER DC GIANT (1970) #13 Fine

SUPER FRIENDS (1976) #2 Fine
SUPER FRIENDS (1976) #3 Fine

SUPERBOY ANNUAL (1994) #1 Near Mint/Mint

SUPERMAN (1939) (#1-423) (DC) #400 NEWSSTAND Very Good


SWING WITH SCOOTER (1966) #30 Very Good
SWING WITH SCOOTER (1966) #35 Fine

TALES OF THE NEW TEEN TITANS (1982) #1 Very Good

TEEN TITANS (1966) (#1-53) (DC) #41 Fine

TEEN TITANS ANNUAL (1982) #2 Fine

UNKNOWN SOLDIER (1977) (#205-268) (DC) #205 Fine

WARLORD (1976) #1 Fine
WARLORD (1976) #1 Very Good

WONDER WOMAN (1942) (#1-329) (DC) #271 NEWSSTAND Fine

WORLDS FINEST (1941) (#2-323) (DC) (WORLD'S FINEST) #228 Fine

DARK HORSE COMICS
DR. HORRIBLE ONE-SHOT (2009) #1 B Near Mint/Mint

GROO: PLAY OF THE GODS (2017) #1 Near Mint/Mint
GROO: PLAY OF THE GODS (2017) #3 Near Mint/Mint

IMAGE COMICS
INVINCIBLE (2003) #22 Very Fine
INVINCIBLE (2003) #30 Fine
INVINCIBLE (2003) #31 Fine
INVINCIBLE (2003) #32 Near Mint/Mint
INVINCIBLE (2003) #38 Near Mint/Mint

LIBERTY MEADOWS (#27-37) (IMAGE) (2002) #33 Very Good
LIBERTY MEADOWS (#27-37) (IMAGE) (2002) #34 Fine
LIBERTY MEADOWS (#27-37) (IMAGE) (2002) #35 Fine

MAXX (1993) #27 Very Fine

PHONOGRAM (2006) #4 Near Mint/Mint

SPAWN (1992) #1 Fine
SPAWN (1992) #2 NEWSSTAND Very Good
SPAWN (1992) #4 Very Fine

STRANGE GIRL (2005) #5 Near Mint/Mint

INDEPENDENTS

3-D THREE STOOGES (1986) #1 (Eclipse Enterprises) Very Fine

BARNEY BEAR: OUT OF THE WOODS (ARCHIE CHRISTIAN SPIRE) (1980) #1 (Archie: Spire Christian Comics) Fine

CONAN NOVEL VOL. 1: CONAN THE SWORDSMAN PB (BANTAM) (1978) #1 (Bantam Books) Very Good

CONAN OF AQUILONIA NOVEL PB (VOL.11) (1977) #1 (Ace Books) Good

CONAN OF CIMMERIA NOVEL PB (LANCER SERIES VOL. 2) (1969) #1 75-072 (Lancer Books) Fair

CONAN OF THE ISLES NOVEL PB (ROBERT E. HOWARD)(LANCER) (1968) #1 75-136 (Lancer Books) Good

CONAN THE ADVENTURER VOL. 2 PB (LANCER) (1966) #1 (Lancer Books) Very Good

CONAN THE AVENGER VOL. 0 (LANCER) (1969) #1 (Lancer Books) Fine

CONAN THE BUCCANEER NOVEL PB (ROBERT E. HOWARD)(LANCER) (1971) #1 75-181 (Lancer Books) Good

CONAN THE FREEBOOTER PAPERBACK (VOL. 3) (LANCER) (1968) #1 (Lancer Books) Good

CONAN THE WANDERER NOVEL PB (ROBERT E. HOWARD)(LANCER) (1968) #1 74-976 VAR (Lancer Books) Very Good

CONAN THE WARRIOR NOVEL PB (LANCER) (1969) #1 (Lancer Books) Good

CONAN VOL. 1 NOVEL PB (ROBERT E. HOWARD)(ACE BOOKS) (1967) #1 (Ace Books) Very Fine

CONAN VOL. 8: CONAN THE USURPER PB (ACE BOOKS) (1967) #1 (Ace Books) Very Fine

CONAN VOL.10: CONAN THE AVENGER PB (ACE BOOKS) (1968) #1 5TH PRINT (Ace Books) Near Mint/Mint

CONAN: HOUR OF THE DRAGON NOVEL HC (1977) #1 (Berkley Publishing Company) Fine

CONAN: NEW ADVENTURES OF CONAN 4 PB SLIPCASE (1984) #1 (Tor Books) Fine

CONAN: PEOPLE OF THE BLACK CIRCLE NOVEL HC (1977) #1 (Berkley Publishing Company) Fine

CONAN: RED NAILS NOVEL HC (1977) #1 (Berkley Publishing Company) Fine

CONAN: RED NAILS PB (BERKLEY) (1977) #1 (Berkley Publishing Company) Very Fine

FLASH GORDON: ICE MONSTER PAPERBACK (1968) #1 (King Features) Fine

FLASH GORDON: ON THE LOST CONTINENT OF MONGO PAPERBACK (1967) #1 (King Features) Fine

GOLD DIGGER (1993) #10 (Antarctic Press) Fine
GOLD DIGGER (1993) #12 (Antarctic Press) Very Fine
GOLD DIGGER (1993) #15 (Antarctic Press) Near Mint/Mint
GOLD DIGGER (1993) #38 (Antarctic Press) Near Mint/Mint
GOLD DIGGER (1993) #40 (Antarctic Press) Near Mint/Mint
GOLD DIGGER (1993) #41 (Antarctic Press) Near Mint/Mint


GOLD DIGGER ANNUAL (1995) #2 (Antarctic Press) Near Mint/Mint
GOLD DIGGER ANNUAL (1995) #3 (Antarctic Press) Very Fine

GOLD DIGGER CHRISTMAS SPECIAL (2007) #2 (Antarctic Press) Near Mint/Mint

GOLD DIGGER VOL. 2 (1999) #8 (Antarctic Press) Near Mint/Mint
GOLD DIGGER VOL. 2 (1999) #23 (Antarctic Press) Near Mint/Mint
GOLD DIGGER VOL. 2 (1999) #33 (Antarctic Press) Near Mint/Mint
GOLD DIGGER VOL. 2 (1999) #37 (Antarctic Press) Near Mint/Mint
GOLD DIGGER VOL. 2 (1999) #55 (Antarctic Press) Very Fine
GOLD DIGGER VOL. 2 (1999) #57 (Antarctic Press) Near Mint/Mint
GOLD DIGGER VOL. 2 (1999) #74 (Antarctic Press) Near Mint/Mint
GOLD DIGGER VOL. 2 (1999) #75 HEROES (Antarctic Press) Near Mint/Mint
GOLD DIGGER VOL. 2 (1999) #75 VILLAINS (Antarctic Press) Near Mint/Mint
GOLD DIGGER VOL. 2 (1999) #76 (Antarctic Press) Near Mint/Mint
GOLD DIGGER VOL. 2 (1999) #81 (Antarctic Press) Near Mint/Mint
GOLD DIGGER VOL. 2 (1999) #102 (Antarctic Press) Very Fine
GOLD DIGGER VOL. 2 (1999) #104 (Antarctic Press) Near Mint/Mint
GOLD DIGGER VOL. 2 (1999) #105 (Antarctic Press) Very Fine
GOLD DIGGER VOL. 2 (1999) #106 (Antarctic Press) Near Mint/Mint
GOLD DIGGER VOL. 2 (1999) #111 (Antarctic Press) Near Mint/Mint
GOLD DIGGER VOL. 2 (1999) #112 (Antarctic Press) Very Fine
GOLD DIGGER VOL. 2 (1999) #113 (Antarctic Press) Very Fine
GOLD DIGGER VOL. 2 (1999) #114 (Antarctic Press) Near Mint/Mint
GOLD DIGGER VOL. 2 (1999) #115 (Antarctic Press) Near Mint/Mint
GOLD DIGGER VOL. 2 (1999) #116 (Antarctic Press) Near Mint/Mint
GOLD DIGGER VOL. 2 (1999) #117 (Antarctic Press) Very Fine
GOLD DIGGER VOL. 2 (1999) #118 (Antarctic Press) Near Mint/Mint
GOLD DIGGER VOL. 2 (1999) #120 (Antarctic Press) Near Mint/Mint
GOLD DIGGER VOL. 2 (1999) #124 (Antarctic Press) Near Mint/Mint
GOLD DIGGER VOL. 2 (1999) #125 (Antarctic Press) Near Mint/Mint
GOLD DIGGER VOL. 2 (1999) #127 (Antarctic Press) Near Mint/Mint
GOLD DIGGER VOL. 2 (1999) #129 (Antarctic Press) Near Mint/Mint

HELLBLAZER (1988) (#1-300) (DC VERTIGO) #205 (DC: Vertigo Press) Near Mint/Mint
HELLBLAZER (1988) (#1-300) (DC VERTIGO) #214 (DC: Vertigo Press) Near Mint/Mint
HELLBLAZER (1988) (#1-300) (DC VERTIGO) #218 (DC: Vertigo Press) Near Mint/Mint
HELLBLAZER (1988) (#1-300) (DC VERTIGO) #223 (DC: Vertigo Press) Near Mint/Mint
HELLBLAZER (1988) (#1-300) (DC VERTIGO) #228 (DC: Vertigo Press) Very Fine

HIGH CAMP SUPER-HEROES (FLYMAN,SHIELD,WEB,STEELS) PB (1966) #1 (Belmont Publishing) Good

HOPPING MAD PB (1969) #1 (Signet) Fine

LADY DEATH: LOST SOULS (2005) #1 (Avatar Comics) Near Mint/Mint
LADY DEATH: LOST SOULS (2005) #2 DEFIANT (Avatar Comics) Near Mint/Mint


LADY DEATH: WARRIOR TEMPTRESS (2006) #1 JUNGLE (Avatar Comics) Near Mint/Mint

LOVE AND ROCKETS VOL. 2 (2001) #16 (Fantagraphics) Near Mint/Mint

MAD PAPERBACK LIBRARY #17 (Warner Books) Fine
MAD PAPERBACK LIBRARY #31 (Warner Books) Fine

MADMAN KING-SIZE GROOVY SPECIAL (ONI PRESS) (2003) #1 (Oni Press Inc.) Very Fine

MARSHAL (2006) #1 (Dabel Brothers Productions) Fine

METAL HURLANT (2002) #5 (Humanoids Publishing) Very Fine
METAL HURLANT (2002) #7 (Humanoids Publishing) Very Fine
METAL HURLANT (2002) #8 (Humanoids Publishing) Very Fine
METAL HURLANT (2002) #9 (Humanoids Publishing) Very Fine
METAL HURLANT (2002) #10 (Humanoids Publishing) Near Mint/Mint

NIGHTMARE ON ELM STREET (2006) #5 (DC/Wildstorm) Very Fine

OH MY GOTH PRESENTS GIRLZ OF GOTH (2003) #1 (Sirius) Near Mint/Mint

OPTIC NERVE (1995) #9 (Drawn & Quarterly) Near Mint/Mint

PANTHEON (1995) (#-13) (LONESTAR) #10 (Lone Star Press) Near Mint/Mint

PITT CREW #3 (Full Bleed Studios) Very Fine

PREACHER (1995) #57 (DC: Vertigo Press) Near Mint/Mint
PREACHER (1995) #58 (DC: Vertigo Press) Near Mint/Mint

REGULAR SHOW SPECIAL (2017) #1 A FRIDOLFS (Boom Studios Publishing) Near Mint/Mint

STAR WARS: FROM THE ADVENTURES OF LUKE SKYWALKER HC (1976) #1 8TH PRINT (Del Rey Book) Very Good

STATIC (1993) #1 (DC: Milestone Press) Near Mint/Mint

SUPER GOOF (1980) (#58-74) (WHITMAN) #63 (Whitman Publishing) Fine

SWAMP THING PAPERBACK (1982) #1 MOVIE VAR (Tom Doherty Associates Inc.) Fine


SWAMP THING, SAGA OF (1982) #10 (DC: Vertigo Press) Near Mint/Mint
SWAMP THING, SAGA OF (1982) #11 (DC: Vertigo Press) Very Fine
SWAMP THING, SAGA OF (1982) #24 NEWSSTAND (DC: Vertigo Press) Very Good
SWAMP THING, SAGA OF (1982) #29 (DC: Vertigo Press) Very Fine
SWAMP THING, SAGA OF ANNUAL (1982) #2 (DC: Vertigo Press) Near Mint/Mint

TALES OF EVIL (1975) #1 (Atlas/Seaboard) Fine

TIME TRAVELER AI #1 (CPM Comics) Near Mint/Mint

TUROK, SON OF STONE (1981) (#126-130) (WHITMAN) #129 (Whitman Publishing) Very Good

VAMPIRELLA (1997) (#0-26) (HARRIS) #13 (Harris Comics) Near Mint/Mint
VAMPIRELLA (1997) (#0-26) (HARRIS) #20 (Harris Comics) Near Mint/Mint

VERTIGO: WINTER'S EDGE (1998) #2 (DC: Vertigo Press) Near Mint/Mint
VERTIGO: WINTER'S EDGE (1998) #3 (DC: Vertigo Press) Near Mint/Mint

VOYAGE TO THE BOTTOM OF THE SEA (1964) #3 (Gold Key) Good

WITCHBLADE (1995) #92 (Image Top Cow) Very Fine

XOMBI (1994) #1 PLATINUM (DC: Milestone Press) Very Fine
XOMBI (1994) #1 PLATINUM (DC: Milestone Press) Fine

Y-THE LAST MAN (2002) #6 (DC: Vertigo Press) Fine

YUGGOTH CREATURES (2004) #2 WRAPAROUND (Avatar Comics) Near Mint/Mint