Huge 60% Off Comics and Magazines Sale Ending 9/10
Howdy!
I am making a very brief cameo appearances at the Mile High Comics offices today. I arrived home from the Imperial Court of All Alaska Coronation at 10 PM last evening, and will turn right around and fly to the Coronation in Washington, D.C. at the crack of dawn tomorrow morning. After that journey I get to stay home for a couple of weeks, to celebrate my beloved wife, Nanette's, birthday on 9/14. I will also be hosting a big charity poker tournament at Jason St. on the morning of the 15th, as well as conducting one of our awesome benefit auctions of comics, toys, statues, and other collectibles that same morning. If you will be anywhere near Denver on the 15th, I urge you to stop by and join us. Our events are truly a lot of fun!
I have not yet purchased my ticket, but I am considering traveling to San Francisco from 9/28-9/30 for the Coronation ceremony of their Ducal Court. If you live in the Bay area, and have a collection that you are considering selling, please contact Pam Brandle via pamb@milehighcomics.com to set up a possible visit by me to your home. I will also be in Portland 10/18-10/20, and Colorado Springs 11/1-11/4.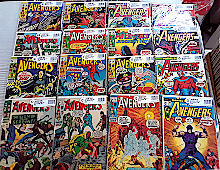 Some of the recently purchase comics

In case you are wondering, I am asking about purchasing collections because worldwide demand for older American comic books, magazines, and graphic novels is exceptionally robust right now. I have seen other periods of time when comics demand was slow, but this definitely not one of them. Our annual 60% off LABORDAY! back issues sale (which remains in effect for you through Monday, September 10th) has been a huge success, so we are definitely seeking to invest even further in building our website inventory of old comics. Life is good!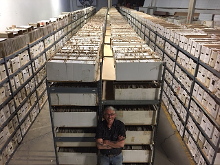 Chuck infront of our Back Issue Files

I will close by quickly mentioning that our online orders fulfillment team has been performing magnificently during the LABORDAY! sale, shipping orders almost as quickly as they arrive. As of this morning, they were already shipping orders received on Saturday, with hopes of hitting some of Monday's orders by this afternoon. Given the huge increase in orders that we received because of the 60% LABORDAY! savings, I think that is really rather remarkable.
Happy collecting!
Chuck Rozanski,
President - Mile High Comics, Inc.
September 5, 2018

P.S. The 60% off LABORDAY! codeword discount applies to all ten million+ of our back issue comics and magazines, excepting only new issues, a few variants, and our professionally-graded comics. Our newly-arrived comics ARE eligible for the 60% sale, including all of the back issues listed below:
MARVEL
BLACK WIDOW: ITSY-BITSY SPIDER HC (MV CLASSIC #78) (2011) #1 BORDERED Near Mint/Mint


BLADE (1998) (#1-3) (MARVEL STRANGE TALES) #1 PHOTO

BLADE (1998) (#1-3) (MARVEL STRANGE TALES) #1 PHOTO Near Mint/Mint

CAPTAIN AMERICA VS. RED SKULL TPB (2011) #1 Fine

COSMIC GHOST RIDER (2018) #3 SHALVEY Near Mint/Mint

DEADPOOL VS. CARNAGE (2014) #4 Near Mint/Mint

DEATHLOK: LIVING NIGHTMARES OF MICHA HC(MV CLASSIC #94) (2012) #1 BORDERED Near Mint/Mint

DOCTOR STRANGE: INTO DARK DIMENSION HC (2011) #1 BORDERED Very Fine

ESSENTIAL SILVER SURFER TPB (1997) #1 Good

ESSENTIAL SPIDER-MAN TPB (1996) #1 Fine

ESSENTIAL WOLVERINE TPB #1 Very Good
ESSENTIAL WOLVERINE TPB #2 Fine
ESSENTIAL WOLVERINE TPB #3 Very Good

FANTASTIC FOUR (1997) (#1-79, 509-611) (MARVEL) #537 Very Fine
FANTASTIC FOUR (1997) (#1-79, 509-611) (MARVEL) #575 Near Mint/Mint
FANTASTIC FOUR (1997) (#1-79, 509-611) (MARVEL) #584 Very Fine
FANTASTIC FOUR (1997) (#1-79, 509-611) (MARVEL) #585 Very Fine
FANTASTIC FOUR (1997) (#1-79, 509-611) (MARVEL) #586 Very Fine
FANTASTIC FOUR (1997) (#1-79, 509-611) (MARVEL) #600 Fine
FANTASTIC FOUR (1997) (#1-79, 509-611) (MARVEL) #603 Near Mint/Mint
FANTASTIC FOUR (1997) (#1-79, 509-611) (MARVEL) #605 Near Mint/Mint

FANTASTIC FOUR (2013) (#1-16) (MARVEL) #16 Near Mint/Mint

FANTASTIC FOUR (2014) (#1-14, #642-645) (MARVEL) #3 Near Mint/Mint
FANTASTIC FOUR (2014) (#1-14, #642-645) (MARVEL) #4 Near Mint/Mint
FANTASTIC FOUR (2014) (#1-14, #642-645) (MARVEL) #7 Near Mint/Mint
FANTASTIC FOUR (2014) (#1-14, #642-645) (MARVEL) #12 Near Mint/Mint
FANTASTIC FOUR (2014) (#1-14, #642-645) (MARVEL) #642 CONNECTING Very Fine
FANTASTIC FOUR (2014) (#1-14, #642-645) (MARVEL) #642 Very Fine
FANTASTIC FOUR (2014) (#1-14, #642-645) (MARVEL) #643 Near Mint/Mint
FANTASTIC FOUR (2014) (#1-14, #642-645) (MARVEL) #645 GOLDEN Near Mint/Mint

FEAR ITSELF (2011) #1 Near Mint/Mint
FEAR ITSELF (2011) #2 Near Mint/Mint
FEAR ITSELF (2011) #3 Near Mint/Mint

FEARLESS DEFENDERS (2013) #12 Near Mint/Mint

FF (2013) #13 Near Mint/Mint
FF (2013) #15 Near Mint/Mint

GALACTUS THE DEVOURER (1999) #1 Fine
GALACTUS THE DEVOURER (1999) #3 Near Mint/Mint
GALACTUS THE DEVOURER (1999) #5 Very Fine
GALACTUS THE DEVOURER (1999) #6 Fine

GAMBIT (1997) (#1-4) (MARVEL) #1 Very Fine

GAMBIT (1999) (#1-25) (MARVEL) #1 QUEEN Near Mint/Mint

MARVEL MASTERWORKS NEW EDITION: RAWHIDE KID HC (2006) #1 DELUXE Near Mint/Mint

MARVEL MASTERWORKS: ATLAS ERA - STRANGE TALES HC (2007) #3 DELUXE Very Fine

MARVEL MASTERWORKS: SAVAGE SHE-HULK HC (2017) #1 DELUXE Near Mint/Mint

MYSTIQUE BY MCKEEVER ULTIMATE COLLECTION TPB (2011) #1 Fine

NAMOR: FIRST MUTANT VOL. 2: NAMOR GOES TO HELL TPB (2011) #1 Near Mint/Mint

NEW MUTANTS CLASSIC TPB (2006) #6 Very Fine

OLD MAN LOGAN VOL. 8: TO KILL FOR TPB (2018) #1 Near Mint/Mint

OSBORN: EVIL INCARCERATED TPB (2011) #1 Very Fine

PUNISHER IN THE NAM: FINAL INVASION (1994) #1 Near Mint/Mint

ROGUE (2004) (#1-12) (MARVEL) #3 NEWSSTAND Very Fine

SECRET INVASION: INHUMANS (2008) #2 Near Mint/Mint
SECRET INVASION: INHUMANS (2008) #3 Fine
SECRET INVASION: INHUMANS (2008) #4 Fine

SECRET WARRIORS (2009) (#1-28) (MARVEL) #28 Near Mint/Mint

SECRET WARS (2015) #1 Near Mint/Mint
SECRET WARS (2015) #2 Near Mint/Mint

SECRET WARS (2015) #8 Near Mint/Mint
SECRET WARS (2015) #9 Near Mint/Mint

SECRET WARS: BATTLEWORLD (2015) #1 Near Mint/Mint

SIEGE (MARVEL) (2010) #2 Near Mint/Mint
SIEGE (MARVEL) (2010) #3 Very Fine

SILVER SURFER (1968) (#1-18) (MARVEL) #5 Fine

SILVER SURFER (1982) (#1) (MARVEL) #1 Very Fine

SILVER SURFER (1987) (#1-146) (MARVEL) #100 DELUXE Near Mint/Mint

SILVER SURFER (2011) (#1-5) (MARVEL) #1 Near Mint/Mint

SILVER SURFER: DANGEROUS ARTIFACTS (1996) #1 Fine

SON OF M (2005) #5 Near Mint/Mint

SPIDER-MAN (1963) (AMAZING SPIDER-MAN) (#1-441) #394 Very Fine
SPIDER-MAN (1963) (AMAZING SPIDER-MAN) (#1-441) #440 Near Mint/Mint
SPIDER-MAN (1963) (AMAZING SPIDER-MAN) (#1-441) #441 Near Mint/Mint

SPIDER-MAN UNLIMITED (1993) #22 Very Fine

SPIDER-MAN VS. VENOM OMNIBUS HC (2018) #1 Near Mint/Mint

STAR BRAND (1986) #19 Near Mint/Mint
STAR BRAND (1986) #19 Very Fine

STRANGE (2004) (#1-6) (DOCTOR STRANGE) (STRACZYNSKI) #6 Near Mint/Mint

SUNFIRE & BIG HERO 6 (1998) #2 Near Mint/Mint

SUPERIOR TPB (2013) #1 Very Fine

SUPREME POWER: GODS & SOLDIERS TPB (2011) #1 Near Mint/Mint

THANOS: LEGACY (2018) #1 STONEHOUSE Near Mint/Mint

THOR: TRIALS OF LOKI TPB (2011) #1 Very Fine

TOXIN (2005) #3 Near Mint/Mint

UNTOLD TALES OF SPIDER-MAN: STRANGE ENCOUNTER (1998) #1 Fine

WOLVERINE: ORIGINS (2006) #24 Near Mint/Mint
WOLVERINE: ORIGINS (2006) #25 Near Mint/Mint

X-FACTOR (2005) (#1-50, 200-262) (MADROX) #8 Near Mint/Mint

X-FORCE (2008) (#1-28) (MARVEL) #4 Near Mint/Mint

X-MEN (1963) (#1-113, UNCANNY X-MEN #114-544) (MARVEL) #450 Near Mint/Mint
X-MEN (1963) (#1-113, UNCANNY X-MEN #114-544) (MARVEL) #450 NEWSSTAND Very Fine
X-MEN (1963) (#1-113, UNCANNY X-MEN #114-544) (MARVEL) #451 Very Fine
X-MEN (1963) (#1-113, UNCANNY X-MEN #114-544) (MARVEL) #474 Near Mint/Mint

X-MEN (1991) (#1-275) (MARVEL) #71 Very Fine
X-MEN (1991) (#1-275) (MARVEL) #72 Very Fine
X-MEN (1991) (#1-275) (MARVEL) #77 Very Fine
X-MEN (1991) (#1-275) (MARVEL) #78 Very Fine
X-MEN (1991) (#1-275) (MARVEL) #81 Very Fine
X-MEN (1991) (#1-275) (MARVEL) #83 Very Fine
X-MEN (1991) (#1-275) (MARVEL) #84 Very Fine
X-MEN (1991) (#1-275) (MARVEL) #85 Very Fine
X-MEN (1991) (#1-275) (MARVEL) #87 Fine
X-MEN (1991) (#1-275) (MARVEL) #88 Very Fine
X-MEN (1991) (#1-275) (MARVEL) #93 Near Mint/Mint
X-MEN (1991) (#1-275) (MARVEL) #95 Very Fine
X-MEN (1991) (#1-275) (MARVEL) #96 Fine
X-MEN (1991) (#1-275) (MARVEL) #97 Very Fine
X-MEN (1991) (#1-275) (MARVEL) #98 Near Mint/Mint
X-MEN (1991) (#1-275) (MARVEL) #100 SMITH Fine
X-MEN (1991) (#1-275) (MARVEL) #109 Very Good
X-MEN (1991) (#1-275) (MARVEL) #111 Very Fine
X-MEN (1991) (#1-275) (MARVEL) #115 Near Mint/Mint
X-MEN (1991) (#1-275) (MARVEL) #116 Near Mint/Mint
X-MEN (1991) (#1-275) (MARVEL) #128 Fine
X-MEN (1991) (#1-275) (MARVEL) #129 Very Fine
X-MEN (1991) (#1-275) (MARVEL) #134 Very Fine
X-MEN (1991) (#1-275) (MARVEL) #135 Very Fine
X-MEN (1991) (#1-275) (MARVEL) #143 Very Fine
X-MEN (1991) (#1-275) (MARVEL) #150 Very Fine
X-MEN (1991) (#1-275) (MARVEL) #184 Near Mint/Mint


X-MEN (1991) (#1-275) (MARVEL) #197

X-MEN (1991) (#1-275) (MARVEL) #197 Near Mint/Mint
X-MEN (1991) (#1-275) (MARVEL) #198 Very Fine
X-MEN (1991) (#1-275) (MARVEL) #199 Very Fine
X-MEN (1991) (#1-275) (MARVEL) #201 Very Fine
X-MEN (1991) (#1-275) (MARVEL) #202 Very Fine
X-MEN (1991) (#1-275) (MARVEL) #205 Very Fine
X-MEN (1991) (#1-275) (MARVEL) #206 Fine
X-MEN (1991) (#1-275) (MARVEL) #207 Very Fine
X-MEN (1991) (#1-275) (MARVEL) #214 Very Good
X-MEN (1991) (#1-275) (MARVEL) #215 Near Mint/Mint
X-MEN (1991) (#1-275) (MARVEL) #218 Very Fine
X-MEN (1991) (#1-275) (MARVEL) #237 Very Fine

X-MEN (2010) (#1-41) (MARVEL) #16 Near Mint/Mint
X-MEN (2010) (#1-41) (MARVEL) #23 Near Mint/Mint
X-MEN (2010) (#1-41) (MARVEL) #26 Near Mint/Mint

X-MEN (2013) (#1-26) (ALL FEMALE TEAM) (MARVEL) #4 Near Mint/Mint
X-MEN (2013) (#1-26) (ALL FEMALE TEAM) (MARVEL) #5 Near Mint/Mint
X-MEN (2013) (#1-26) (ALL FEMALE TEAM) (MARVEL) #25 CHEUNG Very Fine

X-MEN ANNUAL (1970) #9 Very Fine

X-MEN ORIGINS: COLOSSUS (2008) #1 Near Mint/Mint

X-MEN RED VOL. 1: HATE MACHINE TPB (2018) #1 Near Mint/Mint

YOUNG AVENGERS (2005) (#1-12) #6 Good

DC
BATMAN/CATWOMAN: WEDDING ALBUM HC (2018) #1 Near Mint/Mint

BATMAN: PRELUDES TO THE WEDDING TPB (2018) #1 Near Mint/Mint

DARK KNIGHT III: THE MASTER RACE TPB (2018) #1 Near Mint/Mint

DETECTIVE COMICS VOL. 7: BATMAN ETERNAL TPB (2018) #1 Near Mint/Mint

DOOM PATROL ARCHIVES HC (2002) #1 2ND PRINT Near Mint/Mint

ENEMY ACE ARCHIVES HC (2002) #1 Very Fine

HAWK & DOVE TPB (1993) #1 Near Mint/Mint

HELLBLAZER VOL. 8: RAKE AT THE GATES OF HELL TPB (2014) #1 2ND PRINT (DC: Vertigo Press) Fine

KINGDOM COME TPB (2008) #1 6TH PRINT Fine

METAL MEN ARCHIVES HC (2006) #2 Near Mint/Mint

PREACHER: ALAMO TPB (VOL. 9) (2001) #1 5TH PRINT (DC: Vertigo Press) Fine

PREACHER: ALL HELL'S A COMING TPB (VOL. 8) #1 4TH PRINT (DC: Vertigo Press) Fine

PREACHER: ANCIENT HISTORY TPB (VOL. 4) #1 6TH PRINT (DC: Vertigo Press) Fine

PREACHER: DIXIE FRIED TPB (VOL. 5) (1998) #1 (DC: Vertigo Press) Fine

PREACHER: PROUD AMERICANS TPB (VOL. 3) (1997) #1 (DC: Vertigo Press) Near Mint/Mint

PREACHER: SALVATION TPB (VOL. 7) (1999) #1 5TH PRINT (DC: Vertigo Press) Very Fine

PREACHER: UNTIL THE END OF THE WORLD TPB (VOL. 2) (1996) #1 2ND PRINT (DC: Vertigo Press) Fine

PREACHER: WAR IN THE SUN TPB (VOL. 6) (1999) #1 5TH PRINT (DC: Vertigo Press) Very Fine

SCALPED (2006) #17 Fine

SGT. ROCK: BETWEEN HELL AND A HARD PLACE TPB (2004) #1 (DC: Vertigo Press) Near Mint/Mint

SPECTRE: CRIMES & PUNISHMENT TPB #1 Fine

SUICIDE SQUAD (2016) (#1-UP) (DC REBIRTH) #1 ASPEN Very Fine

SUPERBOY (2010) (#1-11) (DC) #1 VARIANT Near Mint/Mint

SUPERMAN: THE DARK SIDE (1998) #1 Fine
SUPERMAN: THE DARK SIDE (1998) #2 Very Fine

TEEN TITANS (2003) (#1-100) (DC) #37 Near Mint/Mint


WONDER WOMAN (1987) (#0-226) (DC) #138

WONDER WOMAN (1987) (#0-226) (DC) #138 Near Mint/Mint

DARK HORSE COMICS
SIN CITY TPB (1992) #1 5TH PRINT Near Mint/Mint

SIN CITY: A DAME TO KILL FOR COLLECTED TPB #1 2ND PRINT Near Mint/Mint

TRUTH TPB #1 Near Mint/Mint

IMAGE COMICS
EAST OF WEST (2013) #1 Very Fine
EAST OF WEST (2013) #2 Near Mint/Mint
EAST OF WEST (2013) #4 Near Mint/Mint
EAST OF WEST (2013) #6 Near Mint/Mint
EAST OF WEST (2013) #7 Near Mint/Mint
EAST OF WEST (2013) #9 Near Mint/Mint
EAST OF WEST (2013) #10 Near Mint/Mint
EAST OF WEST (2013) #11 Near Mint/Mint
EAST OF WEST (2013) #12 Near Mint/Mint
EAST OF WEST (2013) #13 Near Mint/Mint
EAST OF WEST (2013) #14 Near Mint/Mint
EAST OF WEST (2013) #16 A Near Mint/Mint
EAST OF WEST (2013) #17 Near Mint/Mint
EAST OF WEST (2013) #18 Near Mint/Mint
EAST OF WEST (2013) #19 Near Mint/Mint
EAST OF WEST (2013) #32 A DRAGOTTA Near Mint/Mint
EAST OF WEST (2013) #33 Near Mint/Mint
EAST OF WEST (2013) #34 Near Mint/Mint

MANHATTAN PROJECTS (2012) #1 Fine
MANHATTAN PROJECTS (2012) #2 Very Fine
MANHATTAN PROJECTS (2012) #3 Very Fine
MANHATTAN PROJECTS (2012) #4 Near Mint/Mint
MANHATTAN PROJECTS (2012) #5 Near Mint/Mint
MANHATTAN PROJECTS (2012) #7 Near Mint/Mint
MANHATTAN PROJECTS (2012) #8 Near Mint/Mint
MANHATTAN PROJECTS (2012) #9 Near Mint/Mint
MANHATTAN PROJECTS (2012) #10 Near Mint/Mint
MANHATTAN PROJECTS (2012) #21 Near Mint/Mint
MANHATTAN PROJECTS (2012) #23 Near Mint/Mint

MANHATTAN PROJECTS (2012) #24 Near Mint/Mint
MANHATTAN PROJECTS (2012) #25 Near Mint/Mint

MONSTRESS TPB (2016) #3 Near Mint/Mint

SAGA (2012) #1 Very Good
SAGA (2012) #2 Near Mint/Mint
SAGA (2012) #3 Near Mint/Mint
SAGA (2012) #4 Near Mint/Mint
SAGA (2012) #5 Fine
SAGA (2012) #6 Near Mint/Mint
SAGA (2012) #7 Near Mint/Mint
SAGA (2012) #8 Near Mint/Mint
SAGA (2012) #9 Very Fine
SAGA (2012) #13 Near Mint/Mint
SAGA (2012) #14 Near Mint/Mint
SAGA (2012) #15 Very Fine
SAGA (2012) #16 Very Fine
SAGA (2012) #17 Very Fine
SAGA (2012) #18 Near Mint/Mint
SAGA (2012) #20 Near Mint/Mint
SAGA (2012) #21 Near Mint/Mint
SAGA (2012) #25 Near Mint/Mint
SAGA (2012) #26 Very Fine
SAGA (2012) #32 Near Mint/Mint
SAGA (2012) #33 Near Mint/Mint
SAGA (2012) #34 Near Mint/Mint
SAGA (2012) #35 Near Mint/Mint
SAGA (2012) #37 Very Fine
SAGA (2012) #38 Very Fine
SAGA (2012) #39 Near Mint/Mint

SPAWN (1992) #2 Near Mint/Mint
SPAWN (1992) #2 NEWSSTAND Fine
SPAWN (1992) #3 Fine
SPAWN (1992) #4 Near Mint/Mint
SPAWN (1992) #5 Near Mint/Mint
SPAWN (1992) #6 Near Mint/Mint
SPAWN (1992) #7 Near Mint/Mint
SPAWN (1992) #13 NEWSSTAND Very Good
SPAWN (1992) #14 Near Mint/Mint
SPAWN (1992) #17 Near Mint/Mint
SPAWN (1992) #18 Near Mint/Mint

SPAWN (1992) #18 Very Fine
SPAWN (1992) #19 Near Mint/Mint
SPAWN (1992) #20 Near Mint/Mint
SPAWN (1992) #22 Near Mint/Mint
SPAWN (1992) #23 Near Mint/Mint
SPAWN (1992) #28 Near Mint/Mint
SPAWN (1992) #29 Fine
SPAWN (1992) #30 Very Fine
SPAWN (1992) #31 Near Mint/Mint
SPAWN (1992) #33 Near Mint/Mint
SPAWN (1992) #34 Fine
SPAWN (1992) #35 Near Mint/Mint
SPAWN (1992) #60 Near Mint/Mint
SPAWN (1992) #61 Very Fine
SPAWN (1992) #74 Near Mint/Mint
SPAWN (1992) #75 Very Fine
SPAWN (1992) #76 Near Mint/Mint
SPAWN (1992) #85 Fine
SPAWN (1992) #86 Near Mint/Mint
SPAWN (1992) #87 Near Mint/Mint
SPAWN (1992) #88 Near Mint/Mint
SPAWN (1992) #89 Near Mint/Mint
SPAWN (1992) #90 Near Mint/Mint
SPAWN (1992) #91 Near Mint/Mint
SPAWN (1992) #92 Fine
SPAWN (1992) #93 Near Mint/Mint
SPAWN (1992) #94 Near Mint/Mint
SPAWN (1992) #95 Near Mint/Mint
SPAWN (1992) #96 Very Fine
SPAWN (1992) #97 Near Mint/Mint
SPAWN (1992) #98 Near Mint/Mint
SPAWN (1992) #99 Near Mint/Mint
SPAWN (1992) #100 ROSS Very Fine
SPAWN (1992) #101 Near Mint/Mint
SPAWN (1992) #102 Near Mint/Mint
SPAWN (1992) #103 Very Fine
SPAWN (1992) #104 Near Mint/Mint
SPAWN (1992) #105 Very Fine
SPAWN (1992) #106 Fine
SPAWN (1992) #107 Very Fine
SPAWN (1992) #108 Near Mint/Mint
SPAWN (1992) #109 Near Mint/Mint
SPAWN (1992) #110 Near Mint/Mint

SPAWN (1992) #111 Fine
SPAWN (1992) #112 Near Mint/Mint
SPAWN (1992) #113 Fine
SPAWN (1992) #114 Fine
SPAWN (1992) #115 Very Fine
SPAWN (1992) #116 Very Fine
SPAWN (1992) #117 Near Mint/Mint
SPAWN (1992) #118 Fine
SPAWN (1992) #119 Very Fine
SPAWN (1992) #120 Near Mint/Mint
SPAWN (1992) #121 Near Mint/Mint
SPAWN (1992) #122 Very Fine
SPAWN (1992) #123 Very Fine
SPAWN (1992) #124 Very Fine
SPAWN (1992) #125 Near Mint/Mint
SPAWN (1992) #126 Near Mint/Mint
SPAWN (1992) #127 Fine
SPAWN (1992) #128 Very Fine
SPAWN (1992) #129 Very Fine
SPAWN (1992) #130 Near Mint/Mint
SPAWN (1992) #131 Near Mint/Mint
SPAWN (1992) #132 Very Fine
SPAWN (1992) #133 Very Fine
SPAWN (1992) #134 Very Fine
SPAWN (1992) #135 Very Fine
SPAWN (1992) #136 Very Fine
SPAWN (1992) #137 Fine
SPAWN (1992) #138 Near Mint/Mint
SPAWN (1992) #139 Near Mint/Mint
SPAWN (1992) #139 Very Fine
SPAWN (1992) #140 Near Mint/Mint
SPAWN (1992) #141 Near Mint/Mint
SPAWN (1992) #142 Very Fine
SPAWN (1992) #143 Near Mint/Mint
SPAWN (1992) #144 Near Mint/Mint
SPAWN (1992) #145 Very Fine
SPAWN (1992) #146 Near Mint/Mint
SPAWN (1992) #146 Very Good
SPAWN (1992) #147 Fine
SPAWN (1992) #148 Fine
SPAWN (1992) #149 Near Mint/Mint
SPAWN (1992) #150 JIM LEE Near Mint/Mint
SPAWN (1992) #151 VARIANT Near Mint/Mint

SPAWN (1992) #152 Near Mint/Mint
SPAWN (1992) #153 Near Mint/Mint
SPAWN (1992) #154 Near Mint/Mint
SPAWN (1992) #155 Near Mint/Mint
SPAWN (1992) #156 Very Fine
SPAWN (1992) #157 Fine
SPAWN (1992) #157 Near Mint/Mint
SPAWN (1992) #158 Near Mint/Mint
SPAWN (1992) #159 Very Fine
SPAWN (1992) #160 Near Mint/Mint
SPAWN (1992) #161 Very Fine
SPAWN (1992) #162 Near Mint/Mint
SPAWN (1992) #163 Near Mint/Mint
SPAWN (1992) #164 Near Mint/Mint
SPAWN (1992) #165 Near Mint/Mint
SPAWN (1992) #166 Very Fine
SPAWN (1992) #167 Near Mint/Mint
SPAWN (1992) #168 Very Fine
SPAWN (1992) #169 Near Mint/Mint
SPAWN (1992) #170 Near Mint/Mint
SPAWN (1992) #171 Very Fine
SPAWN (1992) #172 Fine
SPAWN (1992) #177 Very Fine
SPAWN (1992) #178 Near Mint/Mint

SPAWN TPB (1995) #3 Near Mint/Mint

SPAWN/BATMAN (1994) #1 Near Mint/Mint

TEENAGE MUTANT NINJA TURTLES (1996) (#1-23) (IMAGE) #16 Very Fine

TOMB RAIDER (1999) (#0-50) (IMAGE TOP COW) #46 VARIANT (Image Top Cow) Near Mint/Mint
TOMB RAIDER (1999) (#0-50) (IMAGE TOP COW) #47 COVER B (Image Top Cow) Near Mint/Mint

WALKING DEAD VOL.30: NEW WORLD ORDER TPB (2018) #1 Near Mint/Mint

WITCHBLADE (1995) #80 COVER A (Image Top Cow) Very Fine
WITCHBLADE (1995) #80 COVER B (Image Top Cow) Near Mint/Mint
WITCHBLADE (1995) #80 COVER C (Image Top Cow) Very Fine
WITCHBLADE (1995) #99 (Image Top Cow) Very Fine

INDEPENDENTS

DICTATORS: SADDAM HUSSEIN (2004) #2

DICTATORS: SADDAM HUSSEIN (2004) #2 (Antarctic Press) Near Mint/Mint

INVADER ZIM TPB (2015) #6 (Oni Press Inc.) Near Mint/Mint

JOE PALOOKA TPB (2013) #1 (IDW Publishing) Near Mint/Mint

STRANGE KILLINGS: NECROMANCER (2004) #5 WRAPAROUND (Avatar Comics) Near Mint/Mint

STRANGERS IN PARADISE (1998) (#9-90) (ABSTRACT) #16 (Abstract Studio) Very Fine

SUPERGOD TPB (2011) #1 (Avatar Comics) Near Mint/Mint

TALES OF TEENAGE MUTANT NINJA TURTLES (#1-70) (MIRAGE) (2004) #5 (Mirage Studios) Near Mint/Mint

THRESHOLD (1998) (#1-54) (AVATAR) #7 FAUST (Avatar Comics) Near Mint/Mint

TICK: DAYS OF DRAMA (2005) #6 NAUGHTY (New England Comics) Fine

UNHOLY PREVIEW (2004) #1 (Avatar Comics) Near Mint/Mint
UNHOLY PREVIEW (2004) #1 ANGEL (Avatar Comics) Near Mint/Mint
UNHOLY PREVIEW (2004) #1 WRAPAROUND (Avatar Comics) Near Mint/Mint

VAMPIRELLA: REVELATIONS BOOK II (2006) #1 PROTOTYPE (Harris Comics) Near Mint/Mint

VENGEANCE OF VAMPIRELLA #1 (Harris Comics) Fine

ZORRO (1993) (#0-11) (TOPPS) #3 (Topps Publishing) Very Fine