Free Comic-Con Variant Editions
Howdy!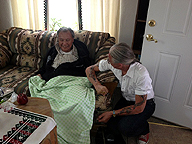 Chuck with Eloy

We are presently driving northward on I-25, in Northern New Mexico. My wife, Nanette, and I left Santa Fe at mid-morning, after a wonderful weekend spent attending the annual Feast Day dances at Santa Clara Pueblo. This year's festivities at the Pueblo were particularly fun, as Feast Day fell on a Sunday. Weekend Feast Days tend to draw triple the number of visitors as those that fall on weekdays, so yesterday the Pueblo was filled with amazing positive energy, as quite a crowd of tourists (mixed with hundreds of visitors from other Pueblos... ) filled the viewing areas of all four dance plazas.


Making us both even happier yesterday was the fact that our good friend from Santa Clara, Eloy Naranjo, is in much better health. Eloy had a stroke a few years back, and also suffers from diabetes, so when we heard in April that he had a heart attack, we feared the worst. Blessedly, our concerns were unwarranted, as the physical therapy that Eloy has received since being discharged from the hospital has actually helped him to achieve a much better state of health. He's still quite frail, but now he has his wry sense of humor back, and can walk again. It was wonderful to be able to sit and talk with him yesterday, and to see him feeling so much better...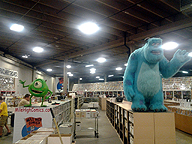 Jason Street Mega-Store

Moving on to news from Mile High Comics, this past weekend was our busiest ever at our Jason St. Mega-Store, at least on a weekend without some sort of major event transpiring. We had well over 100 visitors just on Saturday, with most of them leaving with copious stacks of back issue comics! I realize that we probably should have figured this out sooner, but all of us who work at Jason St. are quickly coming to the realization that Jason St.'s greatest appeal for our visitors lies in it's unbelievably large back issue comics selection. We do, indeed, also sell considerable numbers of trade paperbacks, toys, statues, and t-shirts, but at the end of the day back issue comics and magazines comprise the vast majority of our sales.


The fact that back issues are such an important part of our revenues at Jason is quite significant for those of you who shop with us online, because that trend helps us to cost-justify an even greater emphasis on older comics throughout Mile High Comics. All I could think about during breakfast this morning was how anxious I was to get back to Denver, so that I could begin the process organizing the one million+ unsorted back issue comics and magazines that we presently have stored in the warehouse portion of Jason St. All other considerations aside, I would really like to keep expanding our back issue comics offerings for those of you who shop with us online while our current 50% off SANTAFE! steep discount codeword is still in effect. While this half price codeword does not apply toward books, new comics, CGC issues, and the non-comics items listed on our website, it is specifically designed to help slash your cost of shopping with us for back issues.


On a closely related topic, while it is normally unheard-of for us to expand our staff going into our typically very slow back-to-school season, our sudden surge in back issue comics demand at Jason St. has prompted me to re-think our seasonal hiring prohibition. Simply put, if I can find three candidates this month with enough comics knowledge to be able to step right in and help us sort and grade our one million+ overstock back issues, I have decided to take the leap of faith required to add staff in the fall. If you know of anyone looking for work in the Denver area who happens to also be very knowledgeable about comics, please have them stop by our 2151 W. 56th Ave. headquarters building and fill out an application. If they have the right skills, we will hire them on the spot...


I will close this discussion of our future plans by mentioning that while most of the energy of this new back issue team would be directed toward helping to enhance our Jason St. comics and magazine selection, we will also be diligently harvesting selected back issues from Jason St. for our online clients. As much as we want Jason St. to be a fantastic comics shopping experience for our Mega-Store visitors, our foremost dedication is always directed toward those of you who support us online. That harvesting of out-of-stock issues from Jason St. is precisely why we have had so many great hard-to-find back issues flowing into our online New-In-Stock and Premium New-In-Stock listings over the past few weeks. Thanks to Jason St., our online selection of back issues has never been better!


My final topic for today's newsletter is a quick offer of your choice of any one of the following three 2012 San Diego Comic-Con variant editions completely for free, simply for placing any minimum $30 order through our website by Wednesday morning, AMAZING SPIDER-MAN #688 SAN DIEGO, BATTLE BEASTS #1 SAN DIEGO and MARS ATTACKS #1 SAN DIEGO. Or, if you wish, you can request all three variants for free if you place a minimum $75 order. Our available supplies on all three of the scarce variants are quite limited, however, so please do try to get your qualifying order in to us as soon as you can. Please do also remember to ask for your free variant edition in the "notes" section of our online order form when placing your order. We want to be sure that we can send your free San Diego variant comics!

| | | |
| --- | --- | --- |
| Amazing Spidy #688 | Battle Beasts #1 | Mars Attacks |
Happy Collecting!

Chuck Rozanski,
President - Mile High Comics, Inc.
August 13, 2012
Advance Previews
of next weeks comics from
Archie Comics

P.S. We have also been receiving restock on quite a few books from the publishers lately, including a large number of hard-to-find trade paperbacks and hardbacks. Below is a partial list. So you know, while our 50% off SANTAFE! back issues codeword does not apply to books, all of our backlist books are discounted for you (right now on our website) at a minimum 30% off. Enjoy!

07 GHOST GN (2009) #1
3 X 3 EYES: CURSE OF THE GESU TPB (VOL. 2) #1
32 STORIES #1 TPB
4 GIRLFRIENDS GN (2008) #1
4 GIRLFRIENDS GN (2008) #2
4 GIRLFRIENDS GN (2008) #3

ABSLOM DAAK: DALEK KILLER GN (DOCTOR WHO) (1990) #1
ADA LEE GN (2001) #1
ADRENALYNN: WEAPON OF WAR TPB (2001) #1
ADVENTURES OF A LESBIAN COLLEGE SCHOOL GIRL TPB #1
ALDANA GN (2009) #1
ALIEN LEGION OMNIBUS (2009) #1
ALIENS BOOK I TPB (1990) #1 REMASTERED
ALIENS OMNIBUS TPB (2007) #1 2ND PRINT
ALIENS OMNIBUS TPB (2007) #2
ALIENS: EARTH WAR TPB (1991) #1
ALIENS: HIVE COLLECTION (1993) #1 SC
ALIENS: NIGHTMARE ASYLUM TPB (VOL. 2) (1996) #1
AMERICAN SPLENDOR: ANOTHER DAY TPB (2007) #1
AMERICAN SPLENDOR: ANOTHER DOLLAR TPB (2008) #1
ANCIENT JOE TPB (2002) #1
ANGEL: AUTUMNAL TPB (2001) #1
ANGEL: HUNTING GROUND TPB (2001) #1
ANGEL: STRANGE BEDFELLOWS & OTHER STORIES TPB (2002) #1
ANITA LIVE & INPUT ANITA VOL. 2 GN (1992) #1
ANOTHER CHANCE TO GET IT RIGHT COLLECTION (1993) #1 TPB 2NDPRT
APPLESEED TRADE PAPERBACK (DARK HORSE) (1995) #2 3RD PRINT
APPLESEED TRADE PAPERBACK (DARK HORSE) (1995) #2 5TH PRINT
APPLESEED TRADE PAPERBACK (DARK HORSE) (1995) #4 2ND PRINT
APPLESEED TRADE PAPERBACK (DARK HORSE) (1995) #4 5TH PRINT
ATHENA INC: AGENTS ROSTER (2002) #1

BANANA GAMES (2004) #1
BANANA GAMES (2004) #2
BANANA GAMES (2004) #3
BANANA GAMES (2004) #4
BARBARIAN CHICKS & DEMONS TPB (2008) #1
BARBARIAN CHICKS & DEMONS TPB (2008) #2
BARBARIAN CHICKS & DEMONS TPB (2008) #3
BATMAN VS. PREDATOR TRADE PAPERBACK #1 3RD PRINT
BATMAN: HARVEST BREED HC #1
BATTLE GODS: WARRIORS OF THE CHAAK TPB (2001) #1
BAYBA THE 110 BJS GN (2005) #1
BAZONGAS GN (2002) #1
BAZONGAS GN (2002) #2
BAZONGAS GN (2002) #3
BIG APPLE SHORTS TPB (2006) #1
BILLI 99 TPB (2002) #1
BLEACH GN (2004) #42
BLEACH GN (2004) #43
BORN TO BE WILD TPB (1991) #1
BUFFY THE VAMPIRE SLAYER OMNIBUS TPB (2007) #5
BUFFY THE VAMPIRE SLAYER: ANGEL PAST LIVES TPB (2001) #1
BUFFY THE VAMPIRE SLAYER: OZ TPB (2002) #1
BUFFY THE VAMPIRE SLAYER: VIVA LAS BUFFY TPB (2003) #1
BUTTERSCOTCH GN #2
BUTTERSCOTCH GN (1987) #1 4TH PRINT

CAIRO SC (2008) #1
CAN'T GET NO SC (2006) #1
CATHEXIS GN (1997) #1
CBLDF SPX 2004 ANTHOLOGY (2004) #1
CHRONICLES OF CONAN VOL.18: ISLE OF THE DEAD TPB (2009) #1
CHRONICLES OF CONAN VOL.19: DEATHMARK TPB (2010) #1
CHRONICLES OF CONAN: CORRIDOR OF MULLAH TPB (VOL. 15) #1
CHRONICLES OF CONAN: DWELLER IN THE POOL TPB (VOL. 7) #1 2ND PRINT
CHRONICLES OF CONAN: RED SONJA TPB (VOL. 4) #1 2ND PRINT
CHRONICLES OF CONAN: WHEN GIANTS WALK TPB (VOL. 10) #1
CLASSIC STAR WARS: A LONG TIME AGO #5
CLEANERS VOL. 1: ABSENT BODIES TPB (2010) #1
CLICK! TPB #1 3RD PRINT
CLICK! TPB #2 3RD PRINT
CLICK! TPB #3
CLICK! TPB #4
COMPLETE BOJEFFRIES SAGA (1992) #1
CONAN THE REAVER GN (1987) #1
CONAN: HAND OF NERGAL TPB (VOL. 6) (2008) #1 2ND PRINT
CONAN: ROGUES IN THE HOUSE TPB (VOL. 5) (2007) #1
CONCRETE: DEPTHS TPB (VOL. 1) (2005) #1
CONCRETE: FRAGILE CREATURE TPB #1
CONCRETE: FRAGILE CREATURE TPB (VOL. 3) (2005) #1
CONCRETE: HUMAN DILEMMA TPB (VOL. 7) (2006) #1
CONCRETE: KILLER SMILE TPB (VOL. 4) (2006) #1
CONCRETE: STRANGE ARMOR TPB (VOL. 6) (2006) #1
CONCRETE: THINK LIKE A MOUNTAIN TPB (VOL. 5) (2006) #1
CONFESSIONS OF SISTER JAQUELINE GN (2009) #1
CONVENT OF HELL GN #1 2ND PRINT
CRAVAN HC (2005) #1
CRIMINAL MACABRE: MY DEMON BABY TPB (2008) #1
CURSE OF DRACULA TPB (2005) #1

DAMNED HIGHWAY: FEAR & LOATHING IN ARKHAM NOVEL (2011) #1
DARK HORSE HEROES OMNIBUS TPB (2007) #1
DARK HORSE MAVERICK HAPPY ENDINGS TPB (2002) #1
DAWN'S DIRTY LITTLE BLACK BOOK #1
DEADMAN: DEADMAN WALKING TPB (2006) #1
DEATH OF CAPTAIN MARVEL GN (1982) #1 2ND PRINT
DEATH OF GROO GN (1987) #1
DEATH OF SUPERMAN TPB #1
DIARY OF MOLLY FREDRICKSON: PEANUT BUTTER GN (2003) #1 2ND PRINT
DIARY OF MOLLY FREDRICKSON: PEANUT BUTTER GN (2003) #2
DIARY OF MOLLY FREDRICKSON: PEANUT BUTTER GN (2003) #3
DIARY OF MOLLY FREDRICKSON: PEANUT BUTTER GN (2003) #4
DIARY OF MOLLY FREDRICKSON: PEANUT BUTTER GN (2003) #5
DIARY OF MOLLY FREDRICKSON: PEANUT BUTTER GN (2003) #6
DOCTOR I'M TOO BIG #1
DOMINION COLLECTION TPB #1 3RD PRINT
DR. STRANGE & DR. DOOM: TRIUMPH & TORMENT GN #1
DRACULA: SYMPHONY IN MOONLIGHT & NIGHTMARES GN (1986) #1
DREADSTAR GN (1982) #1
DWIGHT T ALBATROSS'S THE GOON NOIR TPB (2007) #1
DYLAN DOG #1
DYLAN DOG #4

EC ARCHIVES: TALES FROM THE CRYPT HC (2006) #3
EDDIE CAMPBELL'S BACCHUS: IMMORTALITY ISN'T FOREVER TPB (1995) #1
ELRIC: DREAMING CITY GN (1982) #1
EMILY'S SECRET TPB #1
EPICURUS THE SAGE GRAPHIC NOVEL (1991) #1
EPICURUS THE SAGE GRAPHIC NOVEL (1991) #2
ERMA JAGUAR #1
ERMA JAGUAR #2
EX-LIBRIS EROTICIS: MONKIA GN (2000) #1
EXPO 2001 ANTHOLOGY GN #1

FATAL RENDEZVOUS HC (MILO MANARA) #1
FELINES TPB (2005) #1
FLESH AND METAL GN (2004) #1
FLESH AND METAL GN (2004) #2
FLOCK OF ANGELS GN (2007) #1
FLOCK OF ANGELS GN (2007) #2
FLOCK OF ANGELS GN (2007) #3
FORT: PROPHET OF THE UNEXPLAINED TPB (2003) #1

GENETIC GRUNGE HC (2002) #1
GETTING CLOSE TPB (2010) #1
GHOST OMNIBUS TPB (2008) #1
GHOST: BLACK OCTOBER TPB #1
GHOST: NOCTURNES TPB #1
GIVE ME LIBERTY TRADE PAPERBACK #1
GODS OF ASGUARD GN (2007) #1
GREAT MOVES GN (2010) #1
GRENDEL TALES: DEVIL IN OUR MIDST TPB #1
GRENDEL TALES: HOMECOMING TPB #1
GRENDEL TALES: THE DEVIL MAY CARE TPB (2003) #1
GRENDEL: DEVIL CHILD HC (2008) #1

HARD BOILED COLLECTION TPB #1
HARD LOOKS TPB #1
HARLEQUIN VALENTINE HC (2001) #1
HEAD OF THE CLASS GN (2001) #1
HELLBOY: BONES OF GIANTS ILLUSTRATED NOVEL (2001) #1
HELLBOY: DARKNESS CALLS TPB (VOL. 8) (2008) #1
HELM TPB (2009) #1
HIDING PLACE TPB #1
HONEY LICKERS SORORITY (2007) #1
HONEY LICKERS SORORITY (2007) #2
HORNY TAILS GN (2001) #1
HOUSEWIVES AT PLAY GN (1998) #1
HOUSEWIVES AT PLAY ORIGINAL RECIPE GN (2004) #1
HOUSEWIVES AT PLAY WEDDING ALBUM GN (2003) #1
HOUSEWIVES AT PLAY: ALONE WITH ME (2008) #1
HOUSEWIVES AT PLAY: TIES THAT BIND GN (2005) #1
HOUSEWIVES AT PLAY: WORKING MOMS GN (2009) #1
HOUSEWIVES STILL AT PLAY GN (2001) #1
HULK & THING: BIG CHANGE GN (1987) #1
HYDROPHIDIAN GN #1
HYPOCRITES GN (1998) #1

I CAN SEE YOU COMIN' GN (1999) #1
ILLUSTRATED KAMA SUTRA #2
IN A METAL WEB GN (2003) #1
IN A METAL WEB GN (2003) #2
IRONWOOD VOL. 1 GN (EROS GN #5) (1992) #1 2ND PRINT
IT COULD HAPPEN TO YOU TPB (2011) #1
IT RHYMES WITH LUST TPB (2006) #1



Click here to view all of the Premium New-In-Stock


Click here to view all of the New In Stock


Click here to view all of the recently added Trade Paperbacks and HardCovers