Neal Adams BATMAN and ROBIN Benefit Auction
Howdy!

Today's newsletter is being written on a late night homebound flight to Denver from California, where I just finished an exhausting day-long series of meetings. I cannot yet provide you with any specific details of the topic of my meetings, but I can let you know that I have some very exciting proposals that have been presented to me, all of which could dramatically enhance our ability to provide you with even greater selections of older comics. More details very soon!

While I have not been in Denver today, I kept touch with our staff by phone about both preparations for this weekend's massive renumbering of our inventory records. The renumbering program (which will create much-needed room in our online database for additional titles...) seems ready to run, so we will be pulling the trigger on that extremely complex software program late Friday afternoon. If all goes well, you will not see any effect at all. If all does not go well, our website, or perhaps just the cover scans on our website, may not be available for part of this weekend. If we do run into difficulties, all I can ask of you is that you please bear with us while we undergo this critical expansion of our online capabilities.

The other major effort that I had to coordinate by phone with our Denver team was our special Saturday post-San Diego back issue comics and trade paperback sale at our Jason St. Mega-Store. Our Mega-Store crew has been working non-stop to combine the 45,000 high grade comics that we brought back from San Diego in with the 60,000+ back issues that already formed the core of our Jason St. backstock. Combined, these two huge inventories of back issue comics and magazines create the largest comics store inventory in the world! Our reported progress through yesterday afternoon was that our two Jason St. inventories of Marvel comics had been combined through THANOS, DC was merged through SUPERMAN, Dark Horse was completely merged, Image was also completely merged, but our Independent/Small Press and Silver Age were still waiting to be done.




Neal Adams
Robin Sketch

While I highly doubt that we will finish this entire back issue comics merging task by the time that the Jason St. sale begins at 10 AM tomorrow, what we have already accomplished moves Jason St. far ahead of where it has even been in the past as regards overall diversity. Not only are our back issue comics files now greatly enhanced, but Will Moulton spent the past two days reorganizing all 10,000+ comics trade paperbacks and hardbacks that came back with us from San Diego. Our sale at Jason St. tomorrow will have all of our in-store back issues and books on sale at steep discounts, so if you can at all come by to visit us between 10 AM - 3 PM, please do so. Early arrivals get first shot at the free donuts and coffee...


While most of our effort tomorrow will be focused on selling some of our books and comics to generate funds to keep enhancing Jason St., we are also going to be having a silent auction/live auction for an incredible Neal Adams original sketch. We received this sketch, and the second one that I will mention in a minute, as a part of our having Neal visit the Jason St. Mega-Store in June. The deal on the Jason St. sketch is that we will have a bidding sheet at the Jason St. Mega-Store, with a starting bid of $200. The highest written and/or online bid received by 2 PM will then form the base for a two minute live auction, in which anyone in attendance at the Jason St. Store can top the final written bid. We will also be accepting online bids on this sketch at rich@milehighcomics.com, but only through 1:50 PM Colorado time tomorrow (Saturday). Knowing the excitement that this sketch will probably generate, you will need to place a vigorous bid if you want any realistic chance of winning...





Neal Adams
Batman Sketch

While our having an original Neal Adams sketch up for auction is cool on many levels, our real intent is actually far more serious. Simply put, the entire amount of the winning bid from tomorrow's Jason St. sketch auction will be donated to GivingFirst.org. This is the same charity to which we have been donating 10% of the net proceeds from all of the HELPHEAL codeword sale orders that we have received over this past week. Initially endowed with one million dollars by Warner Bros./DC Comics, this charity was specifically created to help the victims of last week's shooting at the Dark Knight Rising premiere, here in Colorado. We will also be donating 100% of the proceeds from the the Neal Adams BATMAN sketch pictured to the right, which we are putting up in an eBay auction that will begin this afternoon. The link to this eBay auction will appear on our Mile High Comics Facebook page this afternoon. If you could place a bid on either of these two cool pieces of Neal Adams art, we would appreciated your support very much.


I will close today's newsletter with a couple of quick reminders. First, our 60% off HELPHEAL codeword sale is still in effect for you on all of our back issue comics and magazines. New comics, CGC-graded comics, books, and non-comics items listed on our website are excluded from this 60% off codeword sale, but if you purchase non-qualifying items as a part of any HELPHEAL codeword order, we do include the cost of those purchases when calculating the contribution that we make in your behalf to the victims fund. Second, while you cannot receive the 60% off codeword discount on books, all of our trade paperbacks, hardbacks, and graphic novels are already discounted for you by 30%-50% off, right on our website. Enjoy!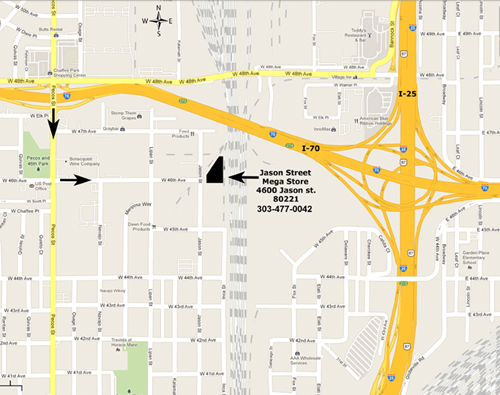 4600 Jason Street, Denver CO 80211 - 303-477-0042
Happy Collecting!

Chuck Rozanski,
President - Mile High Comics, Inc.
July 27, 2012
Advance Previews
of next weeks comics from
Archie Comics

Click here to view all of the Premium New-In-Stock


Click here to view all of the New In Stock


Click here to view all of the recently added Trade Paperbacks and HardCovers