60% Off Comics Sale
Benefiting Colorado Shooting Victims Continues
Howdy!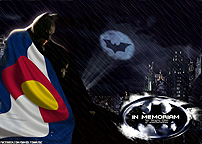 Image created by David Lyon

I want to start off today by thanking all of you who read this newsletter who have already contributed to our fund for the victims of last Thursday night's shooting at the Dark Knight Rising screening in Aurora. Thanks to your combined contributions, we have already accumulated nearly $2,000 to contribute to helping cover medical expenses of the survivors, and funeral expenses for the dead. We all thank you for your kindness and consideration...


If you missed my announcement in Friday's newsletter about how to contribute to help the victims of the Dark Knight shooting, you can do so by simply placing any order with us this week utilizing the new HELPHEAL codeword. This new codeword will provide you with a 60% off discount on all of our back issue comics and magazines, while simultaneously triggering a 10% contribution on our part to help the Dark Knight Rising shooting victims, and their families. This 10% of the net of your order contribution costs you nothing, as we pay 100% of that amount.


Please do note, however, that the 60% off HELPHEAL codeword applies only to back issue comics, and cannot be applied to new comics, books, non-comic items, or any of our CGC-graded comics. We will, however, include even the net amount of all non-qualifying items when calculating our contribution amount on any orders that utilize the HELPHEAL codeword in any way. Simply put, our goal is to contribute as much as we we can to help the 71 victims of this insane act.


I will close today's newsletter with a quick mention that we have to this point heard of absolutely no links between the alleged murderer, and the world of comics. He never ordered from us, and apparently was never seen in any Denver-area comics shops. All we know to this point is that he is a madman who wanted to kill and hurt innocent people. Tragically, he choose innocent Batman fans as his victims. As crazy as it sounds, it could easily have been any one of us, and our families, in that theater...


Sincerely,

Chuck Rozanski,
President - Mile High Comics, Inc.
July 23, 2012
Advance Previews
of next weeks comics from
Archie Comics

P.S. While we are all still in a state of shock here in Denver, we have done our best to keep working. Will Moulton and Pam, in particular, worked very hard on Friday adding a nice Silver Age comics collection into our Premium New-In-Stock area on our website. I am having Lynne post a listing of those very nice older comics for you below. All are available to you at 60% off when you utilize the HELPHEAL codeword, and any purchases that you make will also automatically trigger the 10% contribution on our part...

MARVEL

4 UNIVERSE X SPECIAL #1 DFE SKETCH

ADVENTURES ON THE PLANET OF THE APES (1975) #1

AMAZING ADVENTURES (1970) #2
AMAZING ADVENTURES (1970) #3
AMAZING ADVENTURES (1970) #11
AMAZING ADVENTURES (1970) #18

AMAZING SPIDER-MAN (1999) #36
AMAZING SPIDER-MAN (1999) #500 NEWSSTAND
AMAZING SPIDER-MAN (1999) #667 FANTASTIC4

ASTONISHING TALES (1970) #1
ASTONISHING TALES (1970) #2
ASTONISHING TALES (1970) #3
ASTONISHING TALES (1970) #4
ASTONISHING TALES (1970) #5
ASTONISHING TALES (1970) #26

ASTONISHING X-MEN (1999) #1 MV AUTHEN

AVENGERS (1963) #48
AVENGERS (1963) #63
AVENGERS (1963) #80
AVENGERS (1963) #135

CAPTAIN AMERICA (1968) #104
CAPTAIN AMERICA (1968) #107
CAPTAIN AMERICA (1968) #137

CAPTAIN AMERICA ANNUAL (1971) #8

CONAN (1970) #5
CONAN (1970) #24
CONAN (1970) #275

CREATURES GIANT-SIZE (1974) #1

DAREDEVIL (1964) #24
DAREDEVIL (1964) #25
DAREDEVIL (1964) #26
DAREDEVIL (1964) #31
DAREDEVIL (1964) #34
DAREDEVIL (1964) #77
DAREDEVIL (1964) #169 NEWSSTAND
DAREDEVIL (1964) #180 NEWSSTAND
DAREDEVIL (1964) #354 NEWSSTAND

DAREDEVIL GIANT-SIZE (1975) #1

DAREDEVIL: FATHER (2004) #1 WIZ WORLD

DOCTOR STRANGE GIANT-SIZE (1975) #1

FANTASTIC FOUR (1961) #5
FANTASTIC FOUR (1961) #35
FANTASTIC FOUR (1961) #48 WIZARD ACE
FANTASTIC FOUR (1961) #68
FANTASTIC FOUR (1961) #78
FANTASTIC FOUR (1961) #79
FANTASTIC FOUR (1961) #81
FANTASTIC FOUR (1961) #88
FANTASTIC FOUR (1961) #103
FANTASTIC FOUR (1961) #108
FANTASTIC FOUR (1961) #112

FANTASTIC FOUR ANNUAL (1963) #5

FANTASTIC FOUR GIANT-SIZE (GIANT-SIZE SUPER-STARS) (1974) #1
FANTASTIC FOUR GIANT-SIZE (GIANT-SIZE SUPER-STARS) (1974) #3

FANTASY MASTERPIECES (1966) #1
FANTASY MASTERPIECES (1966) #2
FANTASY MASTERPIECES (1966) #4
FANTASY MASTERPIECES (1966) #11

FANTASY MASTERPIECES (1979) #14 NEWSSTAND

FEAR (ADVENTURE INTO...) (1970) #9
FEAR (ADVENTURE INTO...) (1970) #10
FEAR (ADVENTURE INTO...) (1970) #24

FRIENDLY NEIGHBORHOOD SPIDER-MAN (2005) #3 VARIANT

GHOST RIDER (1973) #2
GHOST RIDER (1973) #7

GHOST RIDER (1990) #71 NEWSSTAND

HOMER, THE HAPPY GHOST (1969) #4
HOWARD THE DUCK (1976) #1

HULK (1962) #102
HULK (1962) #104
HULK (1962) #120
HULK (1962) #131
HULK (1962) #200 30 CENT CV
HULK (1962) #250 NEWSSTAND

INVADERS (1975) #2
INVADERS (1975) #5

IRON FIST (1975) #13
IRON FIST (1975) #15

IRON MAN (1968) #7
IRON MAN (1968) #10
IRON MAN (1968) #25
IRON MAN (1968) #55
IRON MAN (1968) #118
IRON MAN (1968) #127
IRON MAN (1968) #128 NEWSSTAND
IRON MAN (1968) #139 NEWSSTAND
IRON MAN (1968) #225 NEWSSTAND
IRON MAN (1968) #282

JOURNEY INTO UNKNOWN WORLDS (1950) #54 (Marvel Atlas Titles)

KID COLT (1962) (#103-229) (MARVEL) #151

MACHINE MAN (1978) #18 NEWSSTAND

MAN-THING (1974) #3
MAN-THING (1974) #20

MAN-THING GIANT-SIZE (1974) #4

MARVEL COLLECTORS ITEM CLASSICS (1965) #2
MARVEL COLLECTORS ITEM CLASSICS (1965) #6
MARVEL COLLECTORS ITEM CLASSICS (1965) #10
MARVEL COLLECTORS ITEM CLASSICS (1965) #10

MARVEL COMICS PRESENTS (1988) #175

MARVEL FEATURE (1971) #1
MARVEL FEATURE (1971) #3
MARVEL FEATURE (1971) #11

MARVEL PREMIERE (1972) #1
MARVEL PREMIERE (1972) #3
MARVEL PREMIERE (1972) #4
MARVEL PREMIERE (1972) #6
MARVEL PREMIERE (1972) #10
MARVEL PREMIERE (1972) #16
MARVEL PREMIERE (1972) #22

MARVEL SPOTLIGHT (1971) #1
MARVEL SPOTLIGHT (1971) #6
MARVEL SPOTLIGHT (1971) #13
MARVEL SPOTLIGHT (1971) #29

MARVEL SUPER SPECIAL (1977) #22 NEWSSTAND

MARVEL SUPER-HEROES (1967) #12
MARVEL SUPER-HEROES (1967) #14
MARVEL SUPER-HEROES (1967) #15
MARVEL SUPER-HEROES (1967) #16
MARVEL SUPER-HEROES (1967) #17
MARVEL SUPER-HEROES (1967) #19

MARVEL SUPER-HEROES ANNUAL (1966) #1
MARVEL SUPER-HEROES ANNUAL (1966) #1

MARVEL TALES (1949) #101 (Marvel Atlas Titles)

MARVEL TALES (1964) #3
MARVEL TALES (1964) #11

MARVEL TEAM-UP (1972) #1
MARVEL TEAM-UP (1972) #3
MARVEL TEAM-UP (1972) #5
MARVEL TEAM-UP (1972) #7
MARVEL TEAM-UP (1972) #53

MARVEL TEAM-UP ANNUAL (1976) #1

MARVEL TRIPLE ACTION (1972) #2

MARVEL TWO-IN-ONE ANNUAL (1976) #2

MARVEL UNIVERSE: THE END (2003) #1

MASTER OF KUNG FU (1974) #15
MASTER OF KUNG FU (1974) #17
MASTER OF KUNG FU (1974) #17
MASTER OF KUNG FU (1974) #19

MICRONAUTS (1979) #9 NEWSSTAND

MIGHTY MARVEL WESTERN (1968) #9

PETER PARKER (1976) #1
PETER PARKER (1976) #226 NEWSSTAND
PETER PARKER (1976) #233 NEWSSTAND

PETER PORKER, THE SPECTACULAR SPIDER-HAM #17

POWER MAN/IRON FIST (LUKE CAGE, POWER MAN #1-49) (1972) #2
POWER MAN/IRON FIST (LUKE CAGE, POWER MAN #1-49) (1972) #9
POWER MAN/IRON FIST (LUKE CAGE, POWER MAN) GIANT-SIZE (1975) #1

RAWHIDE KID (1955) #51
RAWHIDE KID (1955) #54
RAWHIDE KID (1955) #56
RAWHIDE KID (1955) #57
RAWHIDE KID (1955) #76

SGT. FURY AND HIS HOWLING COMMANDOS (1963) #6
SGT. FURY AND HIS HOWLING COMMANDOS (1963) #7
SGT. FURY AND HIS HOWLING COMMANDOS (1963) #8
SGT. FURY AND HIS HOWLING COMMANDOS (1963) #9
SGT. FURY AND HIS HOWLING COMMANDOS (1963) #10
SGT. FURY AND HIS HOWLING COMMANDOS (1963) #11
SGT. FURY AND HIS HOWLING COMMANDOS (1963) #12
SGT. FURY AND HIS HOWLING COMMANDOS (1963) #15
SGT. FURY AND HIS HOWLING COMMANDOS (1963) #17
SGT. FURY AND HIS HOWLING COMMANDOS (1963) #18
SGT. FURY AND HIS HOWLING COMMANDOS (1963) #19
SGT. FURY AND HIS HOWLING COMMANDOS (1963) #22
SGT. FURY AND HIS HOWLING COMMANDOS (1963) #22
SGT. FURY AND HIS HOWLING COMMANDOS (1963) #23
SGT. FURY AND HIS HOWLING COMMANDOS (1963) #24
SGT. FURY AND HIS HOWLING COMMANDOS (1963) #25
SGT. FURY AND HIS HOWLING COMMANDOS (1963) #26
SGT. FURY AND HIS HOWLING COMMANDOS (1963) #26
SGT. FURY AND HIS HOWLING COMMANDOS (1963) #28
SGT. FURY AND HIS HOWLING COMMANDOS (1963) #29
SGT. FURY AND HIS HOWLING COMMANDOS (1963) #39
SGT. FURY AND HIS HOWLING COMMANDOS (1963) #40
SGT. FURY AND HIS HOWLING COMMANDOS (1963) #48
SGT. FURY AND HIS HOWLING COMMANDOS (1963) #58
SGT. FURY AND HIS HOWLING COMMANDOS (1963) #63

SILVER SURFER (1968) #2
SILVER SURFER (1968) #5
SILVER SURFER (1968) #6

SILVER SURFER (1987) #1 1/2 DELUXE
SILVER SURFER (1987) #45 NEWSSTAND

SPIDER-MAN (1963) #35
SPIDER-MAN (1963) #36
SPIDER-MAN (1963) #38
SPIDER-MAN (1963) #42
SPIDER-MAN (1963) #45
SPIDER-MAN (1963) #46
SPIDER-MAN (1963) #47
SPIDER-MAN (1963) #51
SPIDER-MAN (1963) #52
SPIDER-MAN (1963) #56
SPIDER-MAN (1963) #57
SPIDER-MAN (1963) #58
SPIDER-MAN (1963) #58
SPIDER-MAN (1963) #59
SPIDER-MAN (1963) #62
SPIDER-MAN (1963) #65
SPIDER-MAN (1963) #66
SPIDER-MAN (1963) #67
SPIDER-MAN (1963) #80
SPIDER-MAN (1963) #90
SPIDER-MAN (1963) #92
SPIDER-MAN (1963) #93
SPIDER-MAN (1963) #101
SPIDER-MAN (1963) #102
SPIDER-MAN (1963) #103
SPIDER-MAN (1963) #121
SPIDER-MAN (1963) #125
SPIDER-MAN (1963) #126
SPIDER-MAN (1963) #128
SPIDER-MAN (1963) #304 NEWSSTAND
SPIDER-MAN (1963) #309 NEWSSTAND

SPIDER-MAN (1990) #13 NEWSSTAND

SPIDER-MAN (MARVEL KNIGHTS) (2004) #21 VARIANT

SPIDER-MAN ANNUAL (1964) #1
SPIDER-MAN ANNUAL (1964) #2
SPIDER-MAN ANNUAL (1964) #3
SPIDER-MAN ANNUAL (1964) #4

SPIDER-MAN GIANT-SIZE (1974) #1

SPIDER-MAN UNLIMITED (1993) #9 NEWSSTAND

SPIDER-MAN: LOST YEARS #1 NEWSSTAND

SPIDER-MAN VS. WOLVERINE (1987) #1

SPIDEY: A UNIVERSE X SPECIAL #1 DFE SKETCH

STAR TREK TNG/X-MEN SECOND CONTACT #1 VARIANT

STAR WARS (1977) #68
STAR WARS (1977) #97
STAR WARS (1977) #101 NEWSSTAND
STAR WARS (1977) #106
STAR WARS (1977) #107

STRANGE TALES (1951) #33
STRANGE TALES (1951) #103
STRANGE TALES (1951) #115
STRANGE TALES (1951) #121
STRANGE TALES (1951) #127
STRANGE TALES (1951) #132
STRANGE TALES (1951) #133
STRANGE TALES (1951) #134
STRANGE TALES (1951) #139
STRANGE TALES (1951) #140
STRANGE TALES (1951) #143
STRANGE TALES (1951) #144
STRANGE TALES (1951) #145
STRANGE TALES (1951) #146
STRANGE TALES (1951) #147
STRANGE TALES (1951) #148
STRANGE TALES (1951) #150
STRANGE TALES (1951) #151
STRANGE TALES (1951) #155
STRANGE TALES (1951) #156
STRANGE TALES (1951) #162
STRANGE TALES (1951) #164
STRANGE TALES (1951) #168

STRANGE TALES ANNUAL (1962) #1
STRANGE TALES ANNUAL (1962) #2

SUB-MARINER (1968) #2
SUB-MARINER (1968) #6
SUB-MARINER (1968) #8
SUB-MARINER (1968) #9
SUB-MARINER (1968) #26
SUB-MARINER (1968) #36
SUB-MARINER (1968) #40
SUB-MARINER (1968) #67 TOY INSERT

SUPERNATURAL THRILLERS (1972) #14

THOR (1962) #208
THOR (1962) #217
THOR (1962) #224

WHAT IF... (1989) #72 NEWSSTAND

WOLVERINE (1988) #1
WOLVERINE (1988) #100 NEWSSTAND

WOLVERINE: THE ORIGIN (2001) #1

WORLDS UNKNOWN (1973) #1
WORLDS UNKNOWN (1973) #8

X-MEN (1963) #56
X-MEN (1963) #96
X-MEN (1963) #98
X-MEN (1963) #99
X-MEN (1963) #102
X-MEN (1963) #105

DC

ADVENTURE COMICS (1938) #372
ADVENTURE COMICS (1938) #375
ADVENTURE COMICS (1938) #380
ADVENTURE COMICS (1938) #385
ADVENTURE COMICS (1938) #391
ADVENTURE COMICS (1938) #395
ADVENTURE COMICS (1938) #399
ADVENTURE COMICS (1938) #431
ADVENTURE COMICS (1938) #432
ADVENTURE COMICS (1938) #435
ADVENTURE COMICS (1938) #439
ADVENTURE COMICS (1938) #440

ALL-AMERICAN MEN OF WAR (1952) #48
ALL-AMERICAN MEN OF WAR (1952) #78
ALL-AMERICAN MEN OF WAR (1952) #95
ALL-AMERICAN MEN OF WAR (1952) #97
ALL-AMERICAN MEN OF WAR (1952) #98
ALL-AMERICAN MEN OF WAR (1952) #99
ALL-AMERICAN MEN OF WAR (1952) #100
ALL-AMERICAN MEN OF WAR (1952) #101
ALL-AMERICAN MEN OF WAR (1952) #103
ALL-AMERICAN MEN OF WAR (1952) #106
ALL-AMERICAN MEN OF WAR (1952) #107
ALL-AMERICAN MEN OF WAR (1952) #110
ALL-AMERICAN MEN OF WAR (1952) #114

AQUAMAN (1962) #19
AQUAMAN (1962) #20
AQUAMAN (1962) #26
AQUAMAN (1962) #31
AQUAMAN (1962) #39

ATOM (1962) #22
ATOM (1962) #40

BATMAN (1940) #177
BATMAN (1940) #183
BATMAN (1940) #188
BATMAN (1940) #608

BEST OF DC COMICS DIGEST #1
BEST OF DC COMICS DIGEST #16

BEWARE THE CREEPER (1968) #1
BEWARE THE CREEPER (1968) #3
BEWARE THE CREEPER (1968) #5

BRAVE AND THE BOLD (1955) #28
BRAVE AND THE BOLD (1955) #29
BRAVE AND THE BOLD (1955) #34
BRAVE AND THE BOLD (1955) #35
BRAVE AND THE BOLD (1955) #37
BRAVE AND THE BOLD (1955) #51
BRAVE AND THE BOLD (1955) #53
BRAVE AND THE BOLD (1955) #56
BRAVE AND THE BOLD (1955) #57
BRAVE AND THE BOLD (1955) #58
BRAVE AND THE BOLD (1955) #59
BRAVE AND THE BOLD (1955) #61
BRAVE AND THE BOLD (1955) #64
BRAVE AND THE BOLD (1955) #67
BRAVE AND THE BOLD (1955) #69
BRAVE AND THE BOLD (1955) #77
BRAVE AND THE BOLD (1955) #79
BRAVE AND THE BOLD (1955) #80
BRAVE AND THE BOLD (1955) #96

CAPTAIN ACTION (1968) #2
CAPTAIN ACTION (1968) #3

CHALLENGERS OF THE UNKNOWN (1958) #37
CHALLENGERS OF THE UNKNOWN (1958) #45
CHALLENGERS OF THE UNKNOWN (1958) #60

DC COMICS PRESENTS (1978) #26 NEWSSTAND

DC SPECIAL (1968) #2
DC SPECIAL (1968) #7
DC SPECIAL (1968) #15
DC SPECIAL (1968) #18
DC SPECIAL (1968) #24

DC SPECIAL BLUE RIBBON DIGEST (1980) #15

DETECTIVE COMICS (1937) #368
DETECTIVE COMICS (1937) #372

DOOM PATROL (1964) #95
DOOM PATROL (1964) #97
DOOM PATROL (1964) #98
DOOM PATROL (1964) #102
DOOM PATROL (1964) #109
DOOM PATROL (1964) #116

EIGHTY-PAGE GIANT (1964) #2
EIGHTY-PAGE GIANT (1964) #5
EIGHTY-PAGE GIANT (1964) #6
EIGHTY-PAGE GIANT (1964) #8
EIGHTY-PAGE GIANT (1964) #9
EIGHTY-PAGE GIANT (1964) #10
EIGHTY-PAGE GIANT (1964) #11

FLASH (1959) #137
FLASH (1959) #156
FLASH (1959) #165
FLASH (1959) #167
FLASH (1959) #171
FLASH (1959) #176
FLASH (1959) #177
FLASH (1959) #180
FLASH (1959) #181
FLASH (1959) #183
FLASH (1959) #184
FLASH (1959) #185
FLASH (1959) #187
FLASH (1959) #188
FLASH (1959) #191
FLASH (1959) #192
FLASH (1959) #194
FLASH (1959) #196
FLASH (1959) #197
FLASH (1959) #199

FOREVER PEOPLE (1971) #1
FOREVER PEOPLE (1971) #2
FOREVER PEOPLE (1971) #5
FOREVER PEOPLE (1971) #9

FROM BEYOND THE UNKNOWN (1969) #16

GREEN LANTERN (1960) #9
GREEN LANTERN (1960) #71

HAWKMAN (1964) #5
HAWKMAN (1964) #8
HAWKMAN (1964) #15
HAWKMAN (1964) #16
HAWKMAN (1964) #18
HAWKMAN (1964) #19
HAWKMAN (1964) #20
HAWKMAN (1964) #21
HAWKMAN (1964) #22
HAWKMAN (1964) #24
HAWKMAN (1964) #25

HOUSE OF MYSTERY (1951) #111
HOUSE OF MYSTERY (1951) #112
HOUSE OF MYSTERY (1951) #119
HOUSE OF MYSTERY (1951) #141
HOUSE OF MYSTERY (1951) #142
HOUSE OF MYSTERY (1951) #144
HOUSE OF MYSTERY (1951) #150
HOUSE OF MYSTERY (1951) #176
HOUSE OF MYSTERY (1951) #204
HOUSE OF MYSTERY (1951) #207

HOUSE OF SECRETS (1956) #17
HOUSE OF SECRETS (1956) #19
HOUSE OF SECRETS (1956) #35
HOUSE OF SECRETS (1956) #38
HOUSE OF SECRETS (1956) #48
HOUSE OF SECRETS (1956) #52
HOUSE OF SECRETS (1956) #58
HOUSE OF SECRETS (1956) #65
HOUSE OF SECRETS (1956) #69
HOUSE OF SECRETS (1956) #75
HOUSE OF SECRETS (1956) #76
HOUSE OF SECRETS (1956) #77
HOUSE OF SECRETS (1956) #79
HOUSE OF SECRETS (1956) #92
HOUSE OF SECRETS (1956) #98

JIMMY OLSEN (1954) #48
JIMMY OLSEN (1954) #59
JIMMY OLSEN (1954) #68
JIMMY OLSEN (1954) #108
JIMMY OLSEN (1954) #110
JIMMY OLSEN (1954) #122

JUSTICE LEAGUE OF AMERICA (1960) #20
JUSTICE LEAGUE OF AMERICA (1960) #31
JUSTICE LEAGUE OF AMERICA (1960) #32
JUSTICE LEAGUE OF AMERICA (1960) #34
JUSTICE LEAGUE OF AMERICA (1960) #36
JUSTICE LEAGUE OF AMERICA (1960) #38
JUSTICE LEAGUE OF AMERICA (1960) #39
JUSTICE LEAGUE OF AMERICA (1960) #42
JUSTICE LEAGUE OF AMERICA (1960) #44
JUSTICE LEAGUE OF AMERICA (1960) #45
JUSTICE LEAGUE OF AMERICA (1960) #62
JUSTICE LEAGUE OF AMERICA (1960) #66
JUSTICE LEAGUE OF AMERICA (1960) #67
JUSTICE LEAGUE OF AMERICA (1960) #76
JUSTICE LEAGUE OF AMERICA (1960) #85

LEGION OF SUPER-HEROES (1974) #3

METAL MEN (1963) #16
METAL MEN (1963) #19
METAL MEN (1963) #25
METAL MEN (1963) #31

METAMORPHO (1965) #4
METAMORPHO (1965) #8

MY GREATEST ADVENTURE (1955) #26
MY GREATEST ADVENTURE (1955) #81
MY GREATEST ADVENTURE (1955) #83
MY GREATEST ADVENTURE (1955) #83
MY GREATEST ADVENTURE (1955) #85

MYSTERY IN SPACE (1951) #49
MYSTERY IN SPACE (1951) #56
MYSTERY IN SPACE (1951) #57
MYSTERY IN SPACE (1951) #59
MYSTERY IN SPACE (1951) #60
MYSTERY IN SPACE (1951) #61
MYSTERY IN SPACE (1951) #62
MYSTERY IN SPACE (1951) #63
MYSTERY IN SPACE (1951) #64
MYSTERY IN SPACE (1951) #66
MYSTERY IN SPACE (1951) #67
MYSTERY IN SPACE (1951) #68
MYSTERY IN SPACE (1951) #70
MYSTERY IN SPACE (1951) #71
MYSTERY IN SPACE (1951) #72
MYSTERY IN SPACE (1951) #76
MYSTERY IN SPACE (1951) #78
MYSTERY IN SPACE (1951) #81
MYSTERY IN SPACE (1951) #83
MYSTERY IN SPACE (1951) #85
MYSTERY IN SPACE (1951) #85
MYSTERY IN SPACE (1951) #86
MYSTERY IN SPACE (1951) #95
MYSTERY IN SPACE (1951) #99

NEW ADVENTURES OF CHARLIE CHAN (1958) #4
NEW ADVENTURES OF CHARLIE CHAN (1958) #5

NEW GODS (1971) #1
NEW GODS (1971) #2
NEW GODS (1971) #3
NEW GODS (1971) #6
NEW GODS (1971) #7

OUR ARMY AT WAR (1952) #53
OUR ARMY AT WAR (1952) #191

OUR FIGHTING FORCES (1954) #2
OUR FIGHTING FORCES (1954) #14
OUR FIGHTING FORCES (1954) #64
OUR FIGHTING FORCES (1954) #81
OUR FIGHTING FORCES (1954) #88

PLOP (1973) #4
PLOP (1973) #6
PLOP (1973) #7
PLOP (1973) #10

RIP HUNTER TIME MASTER (1961) #28

SEA DEVILS (1961) #1
SEA DEVILS (1961) #15
SEA DEVILS (1961) #19
SEA DEVILS (1961) #20
SEA DEVILS (1961) #21

SHOWCASE (1956) #1
SHOWCASE (1956) #2
SHOWCASE (1956) #5
SHOWCASE (1956) #7
SHOWCASE (1956) #8
SHOWCASE (1956) #9
SHOWCASE (1956) #10
SHOWCASE (1956) #11
SHOWCASE (1956) #12
SHOWCASE (1956) #15
SHOWCASE (1956) #16
SHOWCASE (1956) #17
SHOWCASE (1956) #19
SHOWCASE (1956) #20
SHOWCASE (1956) #21
SHOWCASE (1956) #23
SHOWCASE (1956) #29
SHOWCASE (1956) #31
SHOWCASE (1956) #32
SHOWCASE (1956) #33
SHOWCASE (1956) #34
SHOWCASE (1956) #35
SHOWCASE (1956) #36
SHOWCASE (1956) #37
SHOWCASE (1956) #39
SHOWCASE (1956) #40
SHOWCASE (1956) #45
SHOWCASE (1956) #46
SHOWCASE (1956) #47
SHOWCASE (1956) #54
SHOWCASE (1956) #55
SHOWCASE (1956) #56
SHOWCASE (1956) #57
SHOWCASE (1956) #59
SHOWCASE (1956) #60
SHOWCASE (1956) #61
SHOWCASE (1956) #61
SHOWCASE (1956) #62
SHOWCASE (1956) #63
SHOWCASE (1956) #64
SHOWCASE (1956) #65
SHOWCASE (1956) #66
SHOWCASE (1956) #69
SHOWCASE (1956) #71
SHOWCASE (1956) #72
SHOWCASE (1956) #73
SHOWCASE (1956) #74
SHOWCASE (1956) #75
SHOWCASE (1956) #77
SHOWCASE (1956) #80
SHOWCASE (1956) #82
SHOWCASE (1956) #83
SHOWCASE (1956) #84
SHOWCASE (1956) #87
SHOWCASE (1956) #88
SHOWCASE (1956) #89
SHOWCASE (1956) #90
SHOWCASE (1956) #91
SHOWCASE (1956) #92
SHOWCASE (1956) #93
SHOWCASE (1956) #100 NEWSSTAND

SPECTRE (1967) #2
SPECTRE (1967) #5
SPECTRE (1967) #6
SPECTRE (1967) #7
SPECTRE (1967) #8
SPECTRE (1967) #9

STRANGE ADVENTURES (1950) #11
STRANGE ADVENTURES (1950) #12
STRANGE ADVENTURES (1950) #13
STRANGE ADVENTURES (1950) #22
STRANGE ADVENTURES (1950) #25
STRANGE ADVENTURES (1950) #85
STRANGE ADVENTURES (1950) #99
STRANGE ADVENTURES (1950) #157
STRANGE ADVENTURES (1950) #159
STRANGE ADVENTURES (1950) #169
STRANGE ADVENTURES (1950) #207
STRANGE ADVENTURES (1950) #209
STRANGE ADVENTURES (1950) #210
STRANGE ADVENTURES (1950) #212
STRANGE ADVENTURES (1950) #213
STRANGE ADVENTURES (1950) #214
STRANGE ADVENTURES (1950) #215
STRANGE ADVENTURES (1950) #216
STRANGE ADVENTURES (1950) #228
STRANGE ADVENTURES (1950) #234

SUPERBOY (1949) #82
SUPERBOY (1949) #109
SUPERBOY (1949) #114
SUPERBOY (1949) #129
SUPERBOY (1949) #130
SUPERBOY (1949) #132
SUPERBOY (1949) #133
SUPERBOY (1949) #143
SUPERBOY (1949) #148

SUPERMAN (1939) #149
SUPERMAN (1939) #158
SUPERMAN (1939) #160
SUPERMAN (1939) #161
SUPERMAN (1939) #172
SUPERMAN (1939) #173
SUPERMAN (1939) #174
SUPERMAN (1939) #175
SUPERMAN (1939) #177
SUPERMAN (1939) #178
SUPERMAN (1939) #179
SUPERMAN (1939) #182
SUPERMAN (1939) #184
SUPERMAN (1939) #186
SUPERMAN (1939) #186
SUPERMAN (1939) #187
SUPERMAN (1939) #190
SUPERMAN (1939) #191
SUPERMAN (1939) #252

SUPERMAN ANNUAL (1960) #3
SUPERMAN ANNUAL (1960) #5

DARK HORSE COMICS

STAR WARS: KNIGHT ERRANT - ESCAPE (2012) #1 SANDIEGOSN

IMAGE COMICS

INDEPENDENTS

ADVENTURES IN PARADISE (1962) #1 FC #1301 (Dell Publishing)

ADVENTURES OF ROBIN HOOD (1957) #8 (MAGAZINE ENTERPRISES)

AFRICAN LION (1955) #1 FC #665 (Dell Publishing)

ALIENS (GOLD KEY) (1967) #1 (Gold Key)

ALL PICTURE COMEDY CARNIVAL (1952) #1 (St. John Publ. Co.)

AMAZING ADVENTURES (1950) #4 (Ziff-Davis Publishing Co.)

ANGEL (1954) #11 (Dell Publishing)

AVATAR ILLUSTRATED SUMMER #1 (Avatar Comics)

BATTLE BEASTS (2012) #1 SAN DIEGO (IDW Publishing)

BEAR COUNTRY (1956) #1 FC #758 (Dell Publishing)
BEAR COUNTRY (1956) #1 FC #758 (Dell Publishing)

BEN BOWIE AND HIS MOUNTAIN MEN (1952) #6 FC #657 (Dell Publishing)

BEST OF DENNIS THE MENACE (1959) #5 (FAWCETT PUBLICATION)

BIG CIRCUS (1959) #1 FC #1036 (Dell Publishing)

BLUE BOLT (VOL. 7) (1946) #6 (NOVEITY PRESS)

BONANZA (1960) #1 FC #1283 (Dell Publishing)

BONANZA (1962) #24 (Gold Key)
BONANZA (1962) #29 (Gold Key)
BONANZA (1962) #31 (Gold Key)
BONANZA (1962) #32 (Gold Key)
BONANZA (1962) #33 (Gold Key)

BORIS KARLOFF TALES OF MYSTERY (GOLD KEY) (1963) #4 (Gold Key)

BRAVE EAGLE (1956) #1 FC #705 (Dell Publishing)

BRAVE ONE (1957) #1 FC #773 (Dell Publishing)

BUGS BUNNY (1942) (#1-85) (Dell Publishing) #1 FC #33 (Dell Publishing)
BUGS BUNNY (1942) (#1-85) (Dell Publishing) #1 FC #142 (Dell Publishing)
BUGS BUNNY (1942) (#1-85) (Dell Publishing) #1 FC #274 (Dell Publishing)
BUGS BUNNY (1942) (#1-85) (Dell Publishing) #1 FC #407 (Dell Publishing)
BUGS BUNNY (1942) (#1-85) (Dell Publishing) #1 FC #585 (Dell Publishing)

BUGS BUNNY (1962) (#86-218) (GOLD KEY) #115 (Gold Key)
BUGS BUNNY (1962) (#86-218) (GOLD KEY) #116 (Gold Key)
BUGS BUNNY (1962) (#86-218) (GOLD KEY) #117 (Gold Key)
BUGS BUNNY (1962) (#86-218) (GOLD KEY) #118 (Gold Key)

BUGS BUNNY'S VACATION FUNNIES (DELL GIANT) (1951) #5 (Dell Publishing)
BUGS BUNNY'S VACATION FUNNIES (DELL GIANT) (1951) #6 (Dell Publishing)

BULLWINKLE (1962) (GOLD KEY) (#1-25) #3 (Gold Key)

CAPTAIN ATOM (1965) #81 (Charlton)
CAPTAIN ATOM (1965) #86 (Charlton)

CASPER THE GHOST (1958) #14 (Harvey Comics)

CHEYENNE (1956) #2 FC #772 (Dell Publishing)

CLASSICS ILLUSTRATED SPECIAL ISSUE (1955) #138 (Gilberton Publications)

CLOWN COMICS (1945) #1 (Harvey Comics)

COMANCHEROS (1962) #1 FC #1300 (Dell Publishing)

COMBAT (1961) #21 (Dell Publishing)

COMIC ALBUM (1958) #13 (Dell Publishing)

CONQUEROR, THE (1956) #1 FC #690 (Dell Publishing)

COTTON WOODS (1957) #1 FC #837 (Dell Publishing)

CRUSADER RABBIT (1956) #1 FC #735 (Dell Publishing)

CRY FOR DAWN CALENDAR (1993) #1 WARRIORS (Cry For Dawn Productions)

DAFFY DUCK (1962) (#31-127) (GOLD KEY) #73 (Gold Key)

DARBY O'GILL AND THE LITTLE PEOPLE (MOVIE COMICS) (1970) #1 (Gold Key)

DARK SHADOWS (1969) (GOLD KEY) (#1-35) #13 (Gold Key)
DARK SHADOWS (1969) (GOLD KEY) (#1-35) #15 (Gold Key)
DARK SHADOWS (1969) (GOLD KEY) (#1-35) #17 (Gold Key)
DARK SHADOWS (1969) (GOLD KEY) (#1-35) #31 (Gold Key)

DAVY CROCKETT (1955) (DELL FOUR COLORS) #1 FC #631 (Dell Publishing)
DAVY CROCKETT (1955) (DELL FOUR COLORS) #1 FC #664 (Dell Publishing)

DELL GIANTS (1959) #49 (Dell Publishing)

DENNIS THE MENACE GIANTS (1955) #8 2ND PRINT (FAWCETT PUBLICATION)
DENNIS THE MENACE GIANTS (1955) #10 (FAWCETT PUBLICATION)

DOG OF FLANDERS (1960) #1 FC #1088 (Dell Publishing)

DONALD DUCK (1940) (Dell Publishing) (#1-84) #31 (Dell Publishing)
DONALD DUCK (1940) (Dell Publishing) (#1-84) #39 (Dell Publishing)
DONALD DUCK (1940) (Dell Publishing) (#1-84) #73 (Dell Publishing)
DONALD DUCK (1940) (Dell Publishing) (#1-84) #77 (Dell Publishing)
DONALD DUCK (1940) (Dell Publishing) (#1-84) #1 FC #108 (Dell Publishing)
DONALD DUCK (1940) (Dell Publishing) (#1-84) #1 FC #199 (Dell Publishing)
DONALD DUCK (1940) (Dell Publishing) (#1-84) #1 FC #203 (Dell Publishing)
DONALD DUCK (1940) (Dell Publishing) (#1-84) #1 FC #256 (Dell Publishing)
DONALD DUCK (1940) (Dell Publishing) (#1-84) #1 FC #282 (Dell Publishing)
DONALD DUCK (1940) (Dell Publishing) (#1-84) #1 FC #291 (Dell Publishing)
DONALD DUCK (1940) (Dell Publishing) (#1-84) #1 FC #328 (Dell Publishing)
DONALD DUCK (1940) (Dell Publishing) (#1-84) #1 FC #348 (Dell Publishing)
DONALD DUCK (1940) (Dell Publishing) (#1-84) #1 FC #394 (Dell Publishing)
DONALD DUCK (1940) (Dell Publishing) (#1-84) #1 FC #408 (Dell Publishing)

DOUBLE-DARE ADVENTURES (1966) #1 (Harvey Comics)

DRUM BEAT (1955) #1 FC #610 (Dell Publishing)

DUCK ALBUM (1951) #1 FC #611 (Dell Publishing)
DUCK ALBUM (1951) #1 FC #782 (Dell Publishing)

DUMBO (1941) #1 FC #668 (Dell Publishing)

EL CID (1961) #1 FC #1259 (Dell Publishing)

ELMER FUDD (1953) #1 FC #1032 (Dell Publishing)

FAMILY AFFAIR (1970) #1 (Gold Key)
FAMILY AFFAIR (1970) #2 (Gold Key)
FAMILY AFFAIR (1970) #4 (Gold Key)

FANTASTIC VOYAGES OF SINDBAD (1965) #1 (Gold Key)

FATALE (1996) #1 (Broadway Comics)

FIRST AMERICANS (1957) #1 FC #843 (Dell Publishing)

FLAMING CARROT (1985) (#6-17) (RENEGADE) #12 (Renegade Press)

FLASH GORDON (1966) (#1-11) (KING) #4 (King Comics)

FLY MAN (1965) #38 (Archie Comics)

FRANCIS THE FAMOUS TALKING MULE (1951) #1 FC #465 (Dell Publishing)

FRITZI RITZ (1954) (#37-55) (ST. JOHN) #50 (St. John Publ. Co.)
FRITZI RITZ (1954) (#37-55) (ST. JOHN) #51 (St. John Publ. Co.)
FRITZI RITZ (1954) (#37-55) (ST. JOHN) #52 (St. John Publ. Co.)

FUNKY PHANTOM (1972) #2 (Gold Key)
FUNKY PHANTOM (1972) #3 (Gold Key)
FUNKY PHANTOM (1972) #4 (Gold Key)
FUNKY PHANTOM (1972) #5 (Gold Key)
FUNKY PHANTOM (1972) #9 (Gold Key)

GET SMART (1966) #2 (Dell Publishing)

GNOME-MOBILE (1967) #1 (Gold Key)

GO-GO (1966) #4 (Charlton)

GOOFY (1953) #1 FC #658 (Dell Publishing)
GOOFY (1953) #1 FC #1201 (Dell Publishing)

GORGO (1961) #21 (Charlton)

GREAT CAT FAMILY (1956) #1 FC #750 (Dell Publishing)

GREAT LOCOMOTIVE CHASE #1 FC #712 (Dell Publishing)

GRIMM FAIRY TALES: WONDERLAND ANNUAL (2010) #2012 D MILEHIGH (Zenescope Entertainment Inc)

GROO (1982) #1 (Pacific Comics)

GUN GLORY (1957) #1 FC #846 (Dell Publishing)

GUNSMOKE (1956) #3 FC #769 (Dell Publishing)

GYRO GEARLOOSE (1959) #1 FC #1095 (Dell Publishing)

H.R. PUFNSTUF (1970) #4 (Gold Key)
H.R. PUFNSTUF (1970) #7 (Gold Key)
H.R. PUFNSTUF (1970) #8 (Gold Key)

HAIR BEAR BUNCH (1972) #9 (Gold Key)

HANSEL & GRETEL (1954) #1 FC #590 (Dell Publishing)

HARLEM GLOBETROTTERS (1972) #2 (Gold Key)
HARLEM GLOBETROTTERS (1972) #3 (Gold Key)
HARLEM GLOBETROTTERS (1972) #6 (Gold Key)

HAUNT OF FEAR (1951) #15 (EC Comics)
HAUNT OF FEAR (1951) #18 (EC Comics)
HAUNT OF FEAR (1951) #19 (EC Comics)
HAUNT OF FEAR (1951) #26 (EC Comics)

HAUNTED (HAUNTED LIBRARY #21 ON) (1971) #1 (Charlton)

HAUNTED LOVE (1973) #4 (Charlton)

HENRY (1946) #22 (Dell Publishing)

HENRY ALDRICH (1950) #17 (Dell Publishing)
HENRY ALDRICH (1950) #22 (Dell Publishing)

HORSE SOLDIERS (1959) #1 FC #1048 (Dell Publishing)

HUCKLEBERRY HOUND (1959) (#1-17) (Dell Publishing) #16 (Dell Publishing)
HUCKLEBERRY HOUND (1959) (#1-17) (Dell Publishing) #1 FC #1050 (Dell Publishing)

HUEY, DEWEY, AND LOUIE (1966) (#1-61) (GOLD KEY) #16 (Gold Key)

I LOVE LUCY COMICS (1954) #24 (Dell Publishing)

I SPY (1966) #1 (Gold Key)

INSPECTOR (1974) #1 (Gold Key)

JIMINY CRICKET (1956) #1 FC #795 (Dell Publishing)

JOHN PAUL JONES (1959) #1 FC #1007 (Dell Publishing)

JOHNNY MACK BROWN (1950) #1 FC #618 (Dell Publishing)
JOHNNY MACK BROWN (1950) #1 FC #645 (Dell Publishing)
JOHNNY MACK BROWN (1950) #1 FC #685 (Dell Publishing)

JUMBO COMICS (1938) #116 (Fiction House Magazines)

KING LEONARDO (DELL FOUR COLORS) (1961) #1 FC #1242 (Dell Publishing)

KONA (1962) #5 (Dell Publishing)
KONA (1962) #10 (Dell Publishing)
KONA (1962) #11 (Dell Publishing)
KONA (1962) #16 (Dell Publishing)

LANCELOT LINK, SECRET CHIMP (1971) #1 (Gold Key)
LANCELOT LINK, SECRET CHIMP (1971) #4 (Gold Key)
LANCELOT LINK, SECRET CHIMP (1971) #5 (Gold Key)
LANCELOT LINK, SECRET CHIMP (1971) #6 (Gold Key)
LANCELOT LINK, SECRET CHIMP (1971) #7 (Gold Key)

LASSIE (1950) (#1-58) (Dell Publishing) #20 (Dell Publishing)
LASSIE (1950) (#1-58) (Dell Publishing) #32 (Dell Publishing)

LAST HUNT, THE (1956) #1 FC #678 (Dell Publishing)

LAUREL AND HARDY (1962) #4 (Dell Publishing)

LAWRENCE (1963) #1 (Dell Publishing)

LEAVE IT TO BEAVER (1959) #1 FC #1285 (Dell Publishing)

LIGHT IN THE FOREST (1958) #1 FC #891 (Dell Publishing)

LITTLE BEAVER (1949) #1 FC #744 (Dell Publishing)
LITTLE BEAVER (1949) #1 FC #817 (Dell Publishing)

LITTLE HIAWATHA #1 FC #439 (Dell Publishing)

LITTLE IODINE (1949) #19 (Dell Publishing)

LITTLE PEOPLE (1953) #1 FC #485 (Dell Publishing)

LITTLE RASCALS #1 FC #1030 (Dell Publishing)

LITTLE SCOUTS (1951) #5 (Dell Publishing)
LITTLE SCOUTS (1951) #1 FC #462 (Dell Publishing)

LONE RANGER (1964) (#1-28) (GOLD KEY) #1 (Gold Key)

M.A.R.S. PATROL (GOLD KEY) (1966) #4 (Gold Key)

MAN FROM U.N.C.L.E. (1965) #3 (Gold Key)
MAN FROM U.N.C.L.E. (1965) #5 (Gold Key)
MAN FROM U.N.C.L.E. (1965) #6 (Gold Key)
MAN FROM U.N.C.L.E. (1965) #7 (Gold Key)
MAN FROM U.N.C.L.E. (1965) #8 (Gold Key)
MAN FROM U.N.C.L.E. (1965) #9 (Gold Key)
MAN FROM U.N.C.L.E. (1965) #10 (Gold Key)
MAN FROM U.N.C.L.E. (1965) #12 (Gold Key)
MAN FROM U.N.C.L.E. (1965) #13 (Gold Key)
MAN FROM U.N.C.L.E. (1965) #16 (Gold Key)
MAN FROM U.N.C.L.E. (1965) #17 (Gold Key)
MAN FROM U.N.C.L.E. (1965) #18 (Gold Key)
MAN FROM U.N.C.L.E. (1965) #19 (Gold Key)
MAN FROM U.N.C.L.E. (1965) #20 (Gold Key)

MARS ATTACKS (2012) #1 SAN DIEGO (IDW Publishing)

MASTER OF THE WORLD (1961) #1 FC #1157 (Dell Publishing)

MAVERICK (Dell Publishing) #1 FC #962 (Dell Publishing)

MERRILL'S MARAUDERS (1963) #1 (Dell Publishing)

MICKEY MOUSE (1941) (#1-84) (Dell Publishing) #34 (Dell Publishing)
MICKEY MOUSE (1941) (#1-84) (Dell Publishing) #60 (Dell Publishing)
MICKEY MOUSE (1941) (#1-84) (Dell Publishing) #71 (Dell Publishing)
MICKEY MOUSE (1941) (#1-84) (Dell Publishing) #72 (Dell Publishing)
MICKEY MOUSE (1941) (#1-84) (Dell Publishing) #1 FC #194 (Dell Publishing)
MICKEY MOUSE (1941) (#1-84) (Dell Publishing) #1 FC #214 (Dell Publishing)
MICKEY MOUSE (1941) (#1-84) (Dell Publishing) #1 FC #231 (Dell Publishing)
MICKEY MOUSE (1941) (#1-84) (Dell Publishing) #1 FC #268 (Dell Publishing)
MICKEY MOUSE (1941) (#1-84) (Dell Publishing) #1 FC #279 (Dell Publishing)
MICKEY MOUSE (1941) (#1-84) (Dell Publishing) #1 FC #304 (Dell Publishing)
MICKEY MOUSE (1941) (#1-84) (Dell Publishing) #1 FC #334 (Dell Publishing)

MICKEY MOUSE (1962) (#85-204) (GOLD KEY) #102 (Gold Key)

MIGHTY SAMSON (1964) #2 (Gold Key)

MIRACLEMAN #13 (Eclipse Enterprises)

MISSION: IMPOSSIBLE (1967) #1 (Dell Publishing)

MOBY DICK (1956) #1 FC #717 (Dell Publishing)

MONOCYTE (2011) #1 A (IDW Publishing)

MOSES AND THE TEN COMMANDMENTS (1957) #1 STORY BACK (Dell Publishing)

MOWGLI JUNGLE BOOK (1953) #1 FC #487 (Dell Publishing)

MY FAVORITE MARTIAN (1964) #2 (Gold Key)

MYSTERIES OF SCOTLAND YARD (1954) #1 (MAGAZINE ENTERPRISES)

NANCY & SLUGGO (1955) (#121-145) (ST. JOHN) #141 (St. John Publ. Co.)
NANCY & SLUGGO (1962) (#188-192) (GOLD KEY) #188 (Gold Key)
NANCY & SLUGGO (1962) (#188-192) (GOLD KEY) #189 (Gold Key)
NANCY & SLUGGO (1962) (#188-192) (GOLD KEY) #190 (Gold Key)

NATIONAL COMICS (1940) #61 (Quality Comics)

NATURE OF THINGS (1956) #1 FC #727 (Dell Publishing)

NEW TERRYTOONS (1960) #6 (Dell Publishing)

NO SLEEP TIL DAWN (1957) #1 FC #831 (Dell Publishing)

NORTH TO ALASKA (1960) #1 FC #1155 (Dell Publishing)

NUKLA (1965) #1 (Dell Publishing)
NUKLA (1965) #4 (Dell Publishing)

OUR GANG (1942) #46 (Dell Publishing)

OUT OF THIS WORLD (1956) #7 (Charlton)

OUTER SPACE (CHARLTON) (VOL 2) #1 (Charlton)

PANIC (1954) #10 (EC Comics)

PARTRIDGE FAMILY (1971) #13 (Charlton)
PARTRIDGE FAMILY (1971) #16 (Charlton)

PAUL REVERE'S RIDE (1957) #1 FC #822 (Dell Publishing)

PERRI (1958) #1 FC #847 (Dell Publishing)

PETER COTTONTAIL (1954) #1 (KEY PUBLICATIONS)

PIRACY (1954) #2 (EC Comics)

PLUTO (1942) #1 FC #429 (Dell Publishing)

POPULAR COMICS (1936) #141 (Dell Publishing)

PORKY PIG (1942) (#1-81) (Dell Publishing) #50 (Dell Publishing)
PORKY PIG (1942) (#1-81) (Dell Publishing) #1 FC #48 (Dell Publishing)
PORKY PIG (1942) (#1-81) (Dell Publishing) #1 FC #226 (Dell Publishing)
PORKY PIG (1942) (#1-81) (Dell Publishing) #1 FC #260 (Dell Publishing)
PORKY PIG (1942) (#1-81) (Dell Publishing) #1 FC #271 (Dell Publishing)
PORKY PIG (1942) (#1-81) (Dell Publishing) #1 FC #277 (Dell Publishing)
PORKY PIG (1942) (#1-81) (Dell Publishing) #1 FC #360 (Dell Publishing)

QUICK DRAW MCGRAW (Dell Publishing) (1960) #4 (Dell Publishing)

REBEL (1960) #1 FC #1207 (Dell Publishing)

RED RYDER COMICS (1941) (#3-151) (Dell Publishing) #119 (Dell Publishing)

REPTISAURUS (1961) #3 (Charlton)

RHUBARB THE MILLIONAIRE CAT (1952) #1 FC #423 (Dell Publishing)

RIN TIN TIN (1952) #37 (Dell Publishing)

ROBIN HOOD TALES (1956) #1 (Quality Comics)

ROCKY & HIS FRIENDS (1960) #1 FC #1152 (Dell Publishing)
ROCKY & HIS FRIENDS (1960) #1 FC #1166 (Dell Publishing)

ROMAN HOLIDAYS (1973) #1 (Gold Key)
ROMAN HOLIDAYS (1973) #3 (Gold Key)
ROMAN HOLIDAYS (1973) #4 (Gold Key)

ROY ROGERS (1948) (Dell Publishing) #2 (Dell Publishing)
ROY ROGERS (1948) (Dell Publishing) #3 (Dell Publishing)
ROY ROGERS (1948) (Dell Publishing) #4 (Dell Publishing)
ROY ROGERS (1948) (Dell Publishing) #5 (Dell Publishing)
ROY ROGERS (1948) (Dell Publishing) #6 (Dell Publishing)
ROY ROGERS (1948) (Dell Publishing) #7 (Dell Publishing)
ROY ROGERS (1948) (Dell Publishing) #8 (Dell Publishing)
ROY ROGERS (1948) (Dell Publishing) #9 (Dell Publishing)
ROY ROGERS (1948) (Dell Publishing) #10 (Dell Publishing)
ROY ROGERS (1948) (Dell Publishing) #11 (Dell Publishing)
ROY ROGERS (1948) (Dell Publishing) #13 (Dell Publishing)
ROY ROGERS (1948) (Dell Publishing) #14 (Dell Publishing)
ROY ROGERS (1948) (Dell Publishing) #15 (Dell Publishing)
ROY ROGERS (1948) (Dell Publishing) #16 (Dell Publishing)
ROY ROGERS (1948) (Dell Publishing) #17 (Dell Publishing)
ROY ROGERS (1948) (Dell Publishing) #18 (Dell Publishing)
ROY ROGERS (1948) (Dell Publishing) #19 (Dell Publishing)
ROY ROGERS (1948) (Dell Publishing) #20 (Dell Publishing)
ROY ROGERS (1948) (Dell Publishing) #21 (Dell Publishing)
ROY ROGERS (1948) (Dell Publishing) #22 (Dell Publishing)
ROY ROGERS (1948) (Dell Publishing) #25 (Dell Publishing)
ROY ROGERS (1948) (Dell Publishing) #26 (Dell Publishing)
ROY ROGERS (1948) (Dell Publishing) #28 (Dell Publishing)
ROY ROGERS (1948) (Dell Publishing) #29 (Dell Publishing)
ROY ROGERS (1948) (Dell Publishing) #30 (Dell Publishing)
ROY ROGERS (1948) (Dell Publishing) #31 (Dell Publishing)
ROY ROGERS (1948) (Dell Publishing) #33 (Dell Publishing)
ROY ROGERS (1948) (Dell Publishing) #33 (Dell Publishing)
ROY ROGERS (1948) (Dell Publishing) #41 (Dell Publishing)
ROY ROGERS (1948) (Dell Publishing) #46 (Dell Publishing)
ROY ROGERS (1948) (Dell Publishing) #50 (Dell Publishing)
ROY ROGERS (1948) (Dell Publishing) #53 (Dell Publishing)
ROY ROGERS (1948) (Dell Publishing) #58 (Dell Publishing)
ROY ROGERS (1948) (Dell Publishing) #62 (Dell Publishing)
ROY ROGERS (1948) (Dell Publishing) #63 (Dell Publishing)
ROY ROGERS (1948) (Dell Publishing) #64 (Dell Publishing)
ROY ROGERS (1948) (Dell Publishing) #65 (Dell Publishing)
ROY ROGERS (1948) (Dell Publishing) #67 (Dell Publishing)
ROY ROGERS (1948) (Dell Publishing) #70 (Dell Publishing)
ROY ROGERS (1948) (Dell Publishing) #72 (Dell Publishing)
ROY ROGERS (1948) (Dell Publishing) #73 (Dell Publishing)
ROY ROGERS (1948) (Dell Publishing) #75 (Dell Publishing)
ROY ROGERS (1948) (Dell Publishing) #76 (Dell Publishing)
ROY ROGERS (1948) (Dell Publishing) #77 (Dell Publishing)
ROY ROGERS (1948) (Dell Publishing) #79 (Dell Publishing)
ROY ROGERS (1948) (Dell Publishing) #80 (Dell Publishing)
ROY ROGERS (1948) (Dell Publishing) #81 (Dell Publishing)
ROY ROGERS (1948) (Dell Publishing) #85 (Dell Publishing)
ROY ROGERS (1948) (Dell Publishing) #87 (Dell Publishing)
ROY ROGERS (1948) (Dell Publishing) #88 (Dell Publishing)
ROY ROGERS (1948) (Dell Publishing) #90 (Dell Publishing)
ROY ROGERS (1948) (Dell Publishing) #91 (Dell Publishing)
ROY ROGERS (1948) (Dell Publishing) #92 (Dell Publishing)
ROY ROGERS (1948) (Dell Publishing) #95 (Dell Publishing)
ROY ROGERS (1948) (Dell Publishing) #98 (Dell Publishing)
ROY ROGERS (1948) (Dell Publishing) #101 (Dell Publishing)
ROY ROGERS (1948) (Dell Publishing) #102 (Dell Publishing)
ROY ROGERS (1948) (Dell Publishing) #103 (Dell Publishing)
ROY ROGERS (1948) (Dell Publishing) #104 (Dell Publishing)
ROY ROGERS (1948) (Dell Publishing) #106 (Dell Publishing)
ROY ROGERS (1948) (Dell Publishing) #108 (Dell Publishing)
ROY ROGERS (1948) (Dell Publishing) #109 (Dell Publishing)
ROY ROGERS (1948) (Dell Publishing) #111 (Dell Publishing)
ROY ROGERS (1948) (Dell Publishing) #115 (Dell Publishing)
ROY ROGERS (1948) (Dell Publishing) #117 (Dell Publishing)
ROY ROGERS (1948) (Dell Publishing) #119 (Dell Publishing)
ROY ROGERS (1948) (Dell Publishing) #120 (Dell Publishing)
ROY ROGERS (1948) (Dell Publishing) #122 (Dell Publishing)
ROY ROGERS (1948) (Dell Publishing) #123 (Dell Publishing)
ROY ROGERS (1948) (Dell Publishing) #124 (Dell Publishing)
ROY ROGERS (1948) (Dell Publishing) #125 (Dell Publishing)
ROY ROGERS (1948) (Dell Publishing) #126 (Dell Publishing)
ROY ROGERS (1948) (Dell Publishing) #133 (Dell Publishing)
ROY ROGERS (1948) (Dell Publishing) #135 (Dell Publishing)
ROY ROGERS (1948) (Dell Publishing) #136 (Dell Publishing)
ROY ROGERS (1948) (Dell Publishing) #138 (Dell Publishing)
ROY ROGERS (1948) (Dell Publishing) #145 (Dell Publishing)

RUSTY RILEY (1952) #1 FC #418 (Dell Publishing)

SANTIAGO (1956) #1 FC #723 (Dell Publishing)

SCAMP (1956) #4 FC #833 (Dell Publishing)

SCOOBY DOO (GOLD KEY) #5 (Gold Key)
SCOOBY DOO (GOLD KEY) #7 (Gold Key)
SCOOBY DOO (GOLD KEY) #11 (Gold Key)
SCOOBY DOO (GOLD KEY) #12 (Gold Key)
SCOOBY DOO (GOLD KEY) #14 (Gold Key)
SCOOBY DOO (GOLD KEY) #18 (Gold Key)
SCOOBY DOO (GOLD KEY) #19 (Gold Key)

SECRETS OF LIFE (1956) #1 FC #749 (Dell Publishing)

SHADOW (ARCHIE) (1964) #2 (Archie Comics)
SHADOW (ARCHIE) (1964) #4 (Archie Comics)

SHOCK SUSPENSTORIES (1952) #1 (EC Comics)

SNOOPER AND BLABBER DETECTIVES (1962) #1 (Gold Key)

SNOW WHITE & THE SEVEN DWARFS (1944) #1 FC #382 (Dell Publishing)

SPARKLER COMICS (1941) #34 (UNITED FEATURE COMICS)
SPARKLER COMICS (1941) #50 (UNITED FEATURE COMICS)

SPYMAN (1966) #1 (Harvey Comics)
SPYMAN (1966) #3 (Harvey Comics)

STAR TREK (GOLD KEY) (1967) #14 (Gold Key)
STAR TREK (GOLD KEY) (1967) #15 (Gold Key)
STAR TREK (GOLD KEY) (1967) #27 WHITMAN (Gold Key)
STAR TREK (GOLD KEY) (1967) #31 (Gold Key)
STAR TREK (GOLD KEY) (1967) #36 WHITMAN (Gold Key)
STAR TREK (GOLD KEY) (1967) #40 WHITMAN (Gold Key)
STAR TREK (GOLD KEY) (1967) #44 (Gold Key)
STAR TREK (GOLD KEY) (1967) #45 (Gold Key)
STAR TREK (GOLD KEY) (1967) #46 (Gold Key)
STAR TREK (GOLD KEY) (1967) #51 WHITMAN (Gold Key)

STAR TREK: NEXT GENERATION/DOCTOR WHO: ASSIMILATION (2012) #2 INC B (IDW Publishing)

STEVE CANYON (1953) #1 FC #641 (Dell Publishing)

STEVE CANYON COMICS (1948) #1 (Harvey Comics)
STEVE CANYON COMICS (1948) #3 (Harvey Comics)

STORY OF MANKIND (1958) #1 FC #851 (Dell Publishing)

STRAIGHT ARROW (1950) #45 (MAGAZINE ENTERPRISES)

STRANGE SUSPENSE STORIES (1952) #77 (Charlton)

SUPER CIRCUS (1954) #1 FC #694 (Dell Publishing)

YUMMY FUR #5 (Vortex Comics, Inc.)





Click here to view all of the Premium New-In-Stock


Click here to view all of the New In Stock


Click here to view all of the recently added Trade Paperbacks and HardCovers