Free WALKING DEAD #100
Comic-Con Variant
Howdy!

An extremely short newsletter today, as we just spent eight hours unloading our freight at the San Diego Convention Center, and we now have to go to drive to a San Diego suburb in order to check out a collection of 20,000+ back issues and trade paperbacks. The highlight of this collection is supposedly a complete set of WALKING DEAD comics, which would be a perfect addition to our convention stock, as this year's San Diego COMIC-CON International features a special WALKING DEAD EXPERIENCE at nearby PetCo Field.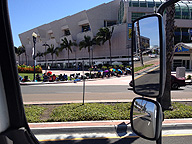 TWILIGHT fans in line
While WALKING DEAD fans are being told to not yet line up, TWILIGHT fans have already begun lining up outside the convention center for Thursday's (!) panel. Every year I think that I have finally seen the most extreme possible manifestation of crazy fan behavior, only to have something new arise that just blows my mind. Waiting outside in line for three days just to see a one-hour panel? That's really just over the top...

In other news, I want you to know that our current 50% off blowout sale on all of our trade paperbacks and hardback books (with all of our book prices lowered for you right on our website...) will end at noon, on Wednesday. In a nutshell, you have only 36 hours left in which to purchase any of our 250,000 backlist books at half price. Please do note, however, that there is no need for a codeword during our books sale, as the prices on all qualifying books have already been slashed in half for you, right on our website. Only new books, oversize and extra heavy books are excluded from this week's half price books sale. Enjoy!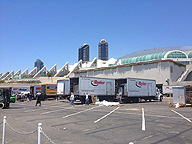 Mile High Comics rental
trucks waiting to unload
in San Diego
My final bit of news for today is that our 50% off JULY4TH codeword sale on all of our back issue comics and magazines (including all of our rare Marvel and DC back issues, as well as all of our Golden Age, Silver Age, and Bronze Age comics...) is also ending on Wednesday, but will then be immediately replaced by our annual SANDIEGO codeword sale. I have not yet decided on the discount for the SANDIEGO sale, but I can assure that 50% off discounts on all of our books will NOT be a part of the upcoming SANDIEGO codeword sale. If you wish to purchase trade paperbacks and hardbacks books from us at half price, you will need to really hurry, and get your order in to us before Wednesday's deadline. 'Nuff said.

My final item for today is a potentially incredible offer for you. Months ago, we ordered a huge number of the special WALKING DEAD #100 SAN DIEGO COMIC-CON EDITION. At first, we were told that we would receive our entire order, but then we were recently told that our allocation was being drastically slashed. That having been said, we still feel highly confident that we will receive at least 100 copies of this highly desirable Comic-Con variant, so we are still going to offer them to you for free, if you place a minimum $30 order with us between now, and Wednesday.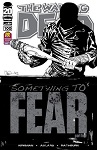 Walking Dead
#100 Variant

All you need to do is to place minimum $30 order with us, and then ask for your free copy of the variant in the "notes" section of our online order form. We will then include your free WALKING DEAD #100 COMIC-CON EDITION with your order, completely for free. Please do note, however, that all orders including this WALKING DEAD #100 variant will need to ship on Wednesday, July 18th, as that is when we are returning from the convention.


Happy Collecting!

Chuck Rozanski,
President - Mile High Comics, Inc.
July 9, 2012
Advance Previews
of next weeks comics from
Archie Comics

Click here to view all of the Premium New-In-Stock


Click here to view all of the New In Stock


Click here to view all of the recently added Trade Paperbacks and HardCovers