60% Off Comics Codeword Ending
Howdy!

I want to start off today by thanking all of you who have supported us with your online orders this week. Thanks in great measure to our ongoing 60% off NEALADAMS! codeword sale, we have been able to completely offset a decline in comics sales this week at our retail stores caused by the overwhelming success of last weekend's Denver Comic-Con. The good news is that this week's new comics shipment is huge, with a great many excellent titles having been released. Even if folks maybe overspent their budgets a little at the convention, I am certain that titles like WALKING DEAD #99 and AVENGERS VS. X-MEN #6 will encourage many avid fans to head for our retail stores.




Astonishing
X-Men #50

While having several very popular titles all release in the same week is great, a special event is what is making the news this week. Just in case you missed my earlier announcement, Marvel's Northstar (who came out in ALPHA FLIGHT #106 as Marvel's first openly Gay superhero) wed his longtime partner, Kyle Jinadu, in this week's ASTONISHING X-MEN #51. I had presumed that this issue would be greatly oversold because there was quite a bit of advance publicity about this event, especially after the engagement was announced in ASTONISHING X-MEN #50. Most comics retailers greatly underestimated the demand from the GLBT community for copies of these historically significant issues, however, which resulted in both comics instantly selling out.


While a second printing is already being solicited for ASTONISHING X-MEN #51, we did order an extra 100 copies specifically to offer to those of you who might wish to own a copy. You can either purchase this book from our website for $5, or you can have a copy as a free bonus for placing any order with us for $50, or more. We do also have copies of #50 available on our website at $7.50 each. If you would like first printings of both #50 and #51 as a set, you can have them for free if you place a minimum $100 order with us by this Saturday morning at noon. Just place your qualifying order, and then ask for your free copies in the "notes" portion of our online order form.




Astonishing
X-Men #51

I will close today's newsletter by mentioning that the 60% off NEALADAMS! codeword will end on Saturday, at noon. While the codeword does not apply to new comics, books, non-comics items, and CGC-graded comics, it does apply to all of the rest of our back issue comics and magazines, including the 2,000 Silver Age and Bronze Age comics that Will Moulton and Pam have been adding into our New-In-Stock and Premium New-In-Stock links for you this week. We just purchased an excellent collection of older Marvel and DC comics, and it contains all kinds of different titles and grades of pre-1982 issues. All are priced for you at only 40% of our regular prices when you utilize the NEALADAMS! codeword. Enjoy!


Happy Collecting!

Chuck Rozanski,
President - Mile High Comics, Inc.
June 20, 2012
Advance Previews
of next weeks comics from
Archie Comics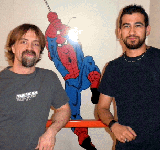 Greg and Mario

P.S. I did want to remember to mention that we do also offer new comics via our N.I.C.E. new comics club. Membership is free, and being a part of N.I.C.E. offers you great deals on subscriptions to new issues from Marvel, DC, Dark Horse, Image, as well as all small press and Independent publishers. For more information you can write to Greg and Mario at nice@milehighcomics.com, or call them weekdays at 303-455-2659.





Click here to view all of the Premium New-In-Stock



Click here to view all of the New In Stock



Click here to view all of the recently added Trade Paperbacks and HardCovers