60% Off NEALADAMS!
Codeword Sale Begins Today
Howdy!

I have no choice today but to be completely focused on preparing for our Thursday evening Jason St. Mega-Store party. Our estimate of attendance has now grown to over 2,000 fans (spread out over the six hours of the party...), so I am having to devise strategies today to shift our entire team of 40 staff members into helping prepare for, and run, our Jason St. party.

What this means for those of you who shop with us online is that I am immediately initiating a 60% off NEALADAMS! discount codeword. This staggeringly beneficial new codeword will allow you to purchase any of our back issue comics and/or magazines at only 40% (!) of the prices listed on our website. The only exclusions from this new codeword are new comics (published during the last 12 months), books, non-comics items, and our CGC-graded comics. All eight million of our standard back issues, including those most of those just listed in our New-In-Stock and Premium New-In-Stock links, are now available to you at a full 60% off when you type NEALADAMS! into the "Codeword Discount" line on our online order form. Please be aware, however, that no codewords can be used at the actual Jason St. party, as our costs for hosting that event are simply too high...

In case you are wondering, this new 60% off codeword sale will only be in effect for you only through Tuesday, June 19th, at noon. The main reason that we are putting this massive discount into effect for you is that we simply cannot ship any more back issue orders this week, as almost all of our staff members are being immediately reassigned to Jason St. We are pretty much current with shipping orders right now, however, so that is not that big of a deal. All the 60% Off NEALADAMS! codeword orders that we receive today will begin shipping on Monday, and we should be able to make excellent progress at catching up by the end end of next week. Also, don't forget that, in addition to your 60% off discount, we offer you free shipping on your domestic back issue order over $30, or your International back issue order over $60. Free shipping, and a stunning 60% off discount. That's simply an amazing offer for you!

Moving on to news from the convention, I have already mentioned this huge party that we are hosting for this weekend's Denver Comic-Con in several of my other newsletters, so I will not bore those of you who shop with us online with a complete rehash. Suffice it to say that our headline guest, Neal Adams, changed his plane reservations so as to arrive by our 5 PM opening time, which leaves him an additional two hours to sign autographs. This change has allowed us to increase the autograph limit for Neal Adams to 3 items per person. Please do bear in mind, however, that Neal does request a $5 honorarium for each item that he signs...

So those of you attending our party know this fact well in advance, my biggest concern for tomorrow evening is that we will not have enough parking. Our party is the only place where fans attending the convention can pick up their badges in advance of the actual show, and I have heard that at least 11,000 memberships have been sold. With the big publicity push for the convention now in full swing, that number could grow considerably. That scares me to death, as we only have about 250 parking spaces available (50 in our private lot, plus 200 on the local streets) in close proximity to our warehouse/Mega-Store. If you are planning to arrive at our party later in the evening, anticipate having to park at least a couple of blocks away.

On another topic, we are going to be spending about $2,000 on refreshments for the party, all of which will be free except for canned pop/sodas, for which will be charging $1. In all honesty, however, I think at we will run out of most food by 7 PM. If you are coming later in the evening, please feel free to bring along your own lunch/dinner. We will have 15 banquet tables set up right in the center of the Mega-Store with seating for 150, so there will be plenty of room to relax and eat...

My final news bit about our party is that that we will be alternating our huge Silver Age Comics auction with professional wresting demonstrations by Denver-based New Era Wrestling. Our schedule is as follows:

5:00 - 6:00 Wrestling
6:00 - 7:00 Auction of Silver Age Lots #1 - #25
7:00 - 8:00 Wrestling
8:00 - 9:00 Auction of Silver Age Lots #26 - #50
9:00 - 11:00 Wrestling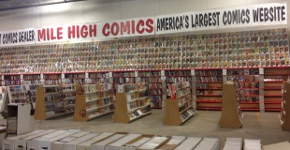 Jason St Mega Store

Somewhere in between all this other activity James O'Barr (creator of THE CROW) will be giving a free demonstration on art/drawing, and Michael Uslan, author of THE BOY WHO LOVED BATMAN, will be giving a talk about his lifelong love of the caped crusader, and the upcoming DARK KNIGHT sequel. All of these events will be taking place in our 10,000 square foot events area, the centerpiece of which will be a full-size elevated wrestling ring! We will be recording at least some of these events, so expect some YouTube videos online this weekend...


Well, that's it for today. I am now going to Jason St. to help put the finishing touches on our completely remodeled and expanded Mega-Store. I am reasonably certain that even those of you who attended our Memorial Day sale 16 days ago, are going to be blown away at what we've accomplished in such a short period of time!


Happy Collecting!

Chuck Rozanski,
President - Mile High Comics, Inc.
June 13, 2012
Advance Previews
of next weeks comics from
Archie Comics

Click here to view all of the Premium New-In-Stock


Click here to view all of the New In Stock


Click here to view all of the recently added Trade Paperbacks and HardCovers