60% Off All Comics and Magazines
Howdy!

Big news! For the first time in over four months, you can purchase any back issue comic book or back issue magazine listed on our website for a full 60% (!) off. All you need to do to achieve these extraordinary savings on even our very best back issue comics is to type our temporary GREATDEAL! codeword into the line provided for you on our online order form. This temporary codeword applies to all of our back issues, except for new comics and magazines published during the past year, and our CGC-graded issues.

Please note that all of our trade paperback and hardback books are also excluded from the 60% GREATDEAL! codeword sale, but I did have Lynne change all of our prices for you on all 250,000+ backlist trades and hardbacks to a full 40% off, right on our website. So you know, I raised our discounts on books specifically so that it would be much easier for you to reach our free shipping minimum ($30 for domestic orders, and $60 for International orders). Please do note, however, that our small per book individual item shipping charges do still apply even of free shipping orders, but only to extremely large comics orders, and/or book orders.

I will close today's newsletter by sincerely thanking everyone who has ordered from us during the past five months. Thanks to your kind support of our efforts here at Mile High Comics, we have managed to add over 200,000 more great comics into our online inventory than we have sold. It is only because of this extraordinary growth in our comics selections that I had the confidence to put into effect this weekend's sale. Please do note, however, that this 60% off GREATDEAL! sale is for this holiday weekend ONLY (!), and will end promptly at noon on Tuesday. As much as I wanted to provide this exceptional savings opportunity for all of you who read this newsletter, I also want to keep the depletion of our website inventory to a minimum.

Happy Collecting!

Chuck Rozanski,
President - Mile High Comics, Inc.
May 23, 2012
Advance Previews
of next weeks comics from
Archie Comics

P.S.

Here is an cool photo montage of our new Jason St. Mega-Store that Byron created yesterday. We're working really hard these days getting ready for the big opening night party for the Denver Comic-Con on June 14th. We hope that you can be there!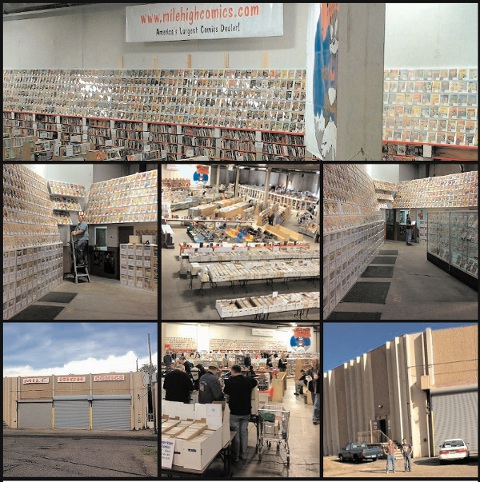 Jason Street Mega Store
Click here to view all of the Premium New-In-Stock


Click here to view all of the New In Stock


Click here to view all of the recently added Trade Paperbacks and HardCovers