Newsstand Variants News - Awesome Lindsner DAWN Collection Part Two
Howdy!
Three years ago I was in a very testy mood, as I had just finished giving San Diego Comic-Con a $16,800 check to renew our booth for the following year. I won't today delve into why I was especially annoyed that day, but suffice it to say that I was not in the mood to take **** from anyone. It was at this magic moment that a gentleman who makes his living by selling highly suspect comics pricing information to gullible fans accosted me in the convention foyer, to loudly voice his opinion that he was still not convinced that newsstand editions of comics were worth any more than the standard Direct Market versions.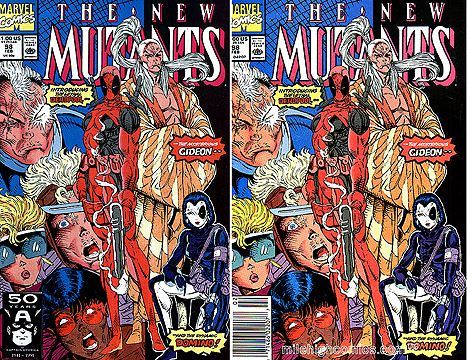 NEW MUTANTS #98 Direct and Newsstand editions

That challenge to my veracity was a big mistake, as for once in my life I let my veneer of congeniality slip away, and lit into him for being such an unapologetic dumb***. First, I brought to his attention that he had not the slightest clue as to what he was talking about, as all he did for a living was to harvest sales data from public sources, and then resell it as "fact." Second, I reminded him that never in his life had he actually sold any comics to anyone, so he was utterly clueless about what attributes fans truly value. And, finally, I pointed out that only an idiot would deny the fundamental reality that comics that have print runs that are but a tiny fraction of the Direct Market issues would not command some sort of premium. Then, before I got any madder, I walked away.
Fast-forward 3 years, and this press release was issued yesterday by Steve Borock, President of the highly-respected CBCS grading service:
"CBCS is proud to announce that we will now identify the difference between Newsstand and Direct Edition variants on our label, for comics published from 1977 through 2000. This was a change made in response to the increasing number of requests that we've received over the past few years from customers and dealers alike. CBCS recognizes this trend as one of those collecting niches that has been overlooked for a long time, and we agree that the change is due. Given the growing number of passionate collectors who are starting to acknowledge and accept Newsstand and Direct Market variants as different copies of the same comic, we will now start identifying them on the CBCS labels.
We are always looking for ways to improve our product and our hobby, as well as give people what they want," said Steve Borock, President of CBCS. "This is just one more way for CBCS to help lead comic collectors into the future of this great hobby."
Suffice it to say, complete and total vindication after years of suffering the slings and arrows of the ignorant, is so sweet. That having been said, I am completely aware that newsstands are an area of collecting that does not appeal to everyone, and that for many fans obtaining only Direct Market editions is just fine. About eight years ago, however, we finally started listening to some of our more dedicated collectors, who were offering to pay us a premium if we would provide them with the option of ordering newsstand editions from our website. This led to us begin what turned into an incredibly expensive venture to create item codes in our database for all existing newsstand editions, and to then scan them all individually as proof of their existence.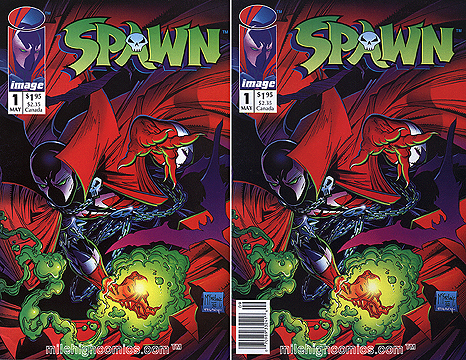 SPAWN #1 Direct and Newsstand editions

Documenting all of the newsstand editions turned out to be a Herculean undertaking, as we were the pioneers of this effort, and thus had no other database to draw upon. Publishers were no help, as they were (mostly) clueless about what had transpired in years past. That left us no option but to sort out newsstands whenever we could find them, and to then add them into our database one at a time. After eight years, I estimate that we have expended well over one million dollars in time and product cost on this effort. Blessedly, we have also been able to cover 100% of those costs by garnering new sales from our newsstand listings, enough so that our entire newsstand documentation effort actually became cash flow positive in the third year. In this instance, the marketplace spoke rather eloquently.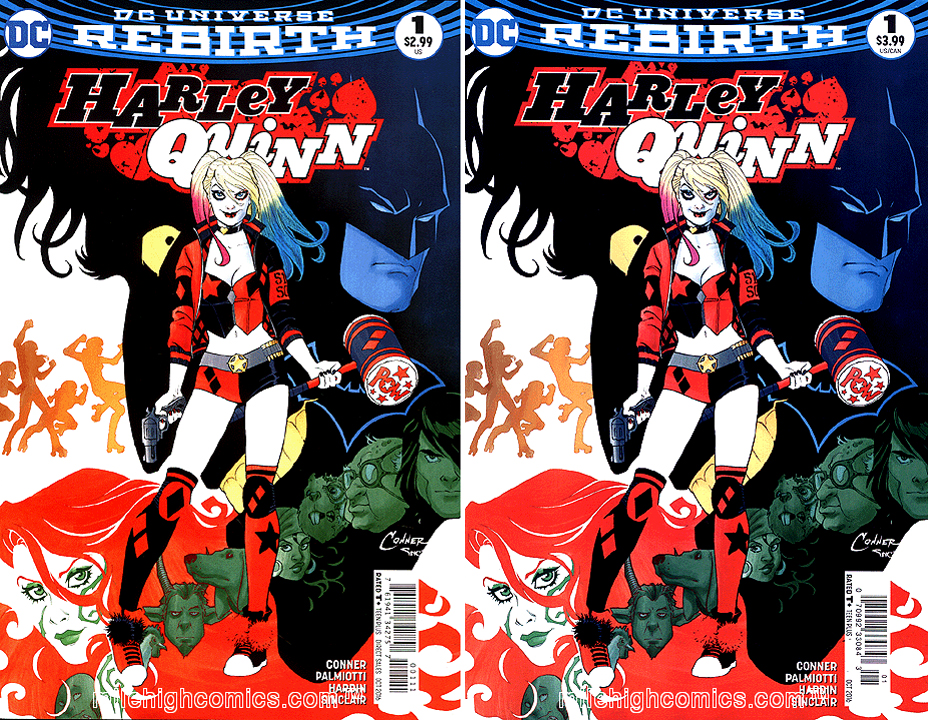 HARLEY QUINN #1 (DC Rebirth) Direct and Newsstand editions

So you know, our success as regards newsstand variant editions has been so great that I estimate that our once-scorned newsstand editions now generate 30% of our total gross revenues. That's a very good thing, as we are still locating even more newsstands every day, which means that our costs also continue to accrue. In point of fact, our lead graphics expert, Chris Boyd, struggles to keep up with scanning the covers of our newest listings, as we are at least 500 issues ahead of him right now. That having been said, we now have the covers of the vast majority of the more common issues from Marvel and DC available for you on our website. It took us a while, but our enormous effort has finally borne fruit. Yay!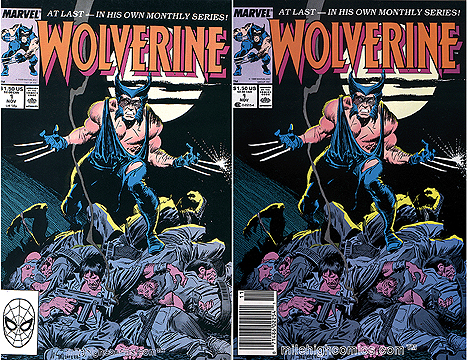 WOLVERINE (1988) #1 Direct and Newsstand editions

I will try to cover a few more details about what we've learned about the actual scarcity of newsstands in Monday's newsletter, but for today I want to quickly move on to some different topics. First, all of this year's Free Comic Book Day sets that we had reserved for our online clients are now ALL committed. If we have any sets remaining after FCBD, I will offer them to you at that time. Second, both Will and Pam purchased major collections yesterday, and I am working on an exceptionally large deal this afternoon. All of these thousands of comics still need to be graded, however, so we will not have scans (or photo arrays) for you until Monday. Finally, what we do have for you today are many, many scans if the incredible Michael Linsner collection that Will Moulton purchased on Monday. All of these Linsner items shown are one-of-a-kind, and most have never before been in our stock. If you see something you would like to own please order immediately, or it may be gone.
Happy collecting!
Chuck Rozanski,
President - Mile High Comics, Inc.
April 7, 2017

P.S. I was blessed yesterday by a visit from legendary Underground Comix publisher (and creator...) Denis Kitchen! I have known Denis for over 30 years, and hold him in the highest esteem. He is now one of the foremost talent representatives in the entire world of comics.
Some of Linsner Portfolios and Prints

CHURCH OF DAWN PORTFOLIO JOSEPH MICHAEL LINSNER S&N (1992) #79


CRY FOR DAWN 1990 PRINT DOUBLE SIGNED


CRY FOR DAWN PORTFOLIO SIGNED & NUMBERED (1991) #389


CRY FOR DAWN PORTFOLIO SIGNED & NUMBERED (1991) #827


CRY FOR DAWN SIGNED PRINT (1993


DAME LUCIFER BY JOSEPH MICHAEL LINSNER S&N PORTFOLIO (1994) #1182


DAME LUCIFER BY JOSEPH MICHAEL LINSNER S&N PORTFOLIO (1994) #2299


DARK IVORY SIGNED & NUMBERED PRINT (2000)


DAWN 1989-1999 SIGNED PRINT (1999)


DAWN BLACKLIGHT SIGNED & NUMBERED PRINT (1995)


DAWN DESK STANDEE (JOSEPH MICHAEL LINSNER) (1995)


DAWN IMAGES OF HEAVEN PORTFOLIO (1995)


DAWN JOSEPH MICHAEL LINSNER PORTFOLIO (1992)


DAWN: BACK IN BLACK PRINT ARTIST PROOF S&N FRAMED (2001)


DAWN: SEVEN DEADLY SINS PORTFOLIO S&N (2009) #769


JOSEPH MICHAEL LINSNER 3 STORE TOUR FLYER S&N (1999)


JOSEPH MICHAEL LINSNER DAWN PRINT SIGNED (2001)


JOSEPH MICHAEL LINSNER VALENTINE'S DAY BIG APPLE PRINT (1998)


JOSEPH MICHAEL LINSNER VAMPIRELLA PRINT S&N (1997) #1004


LILITH PRINT S&N JOSEPH MICHAEL LINSNER FRAMED (1996) #75


LINSNER GIRLS PORTFOLIO SIGNED & NUMBERED (2002) #2 437


LINSNER GIRLS PORTFOLIO SIGNED & NUMBERED (2002) #2 1317


LINSNER GIRLS PORTFOLIO SIGNED & NUMBERED (2002) #3 376


LINSNER GIRLS PORTFOLIO SIGNED & NUMBERED (2002) #4 459


METAL ART: DAWN JOSEPH MICHAEL LINSNER (2001)


SIRIUS 1994 PRINT DOUBLE SIGNED (1994)


SIRIUS PREVIEWS FROM SIRIUS PORTFOLIO (1994)


VAMPIRELLA: DANGEROUS GAMES METAL-TEK #1 COVER