250,000 Comics-Related Books on Sale 30%-40% Off
Howdy!
I've been helping an Independent filmmaker today with his documentary project about the history of comics retailing. It is actually quite enjoyable to chat about the 49 years that I have been selling comics, but also a bit daunting. That's because when I began selling scarce issues to my friends Ford Curry and Ron Baker in 1968, the cover price of new comics was only 12 cents! Suffice it to say, there has been an amazing degree of change that has transpired during the five decades that I have been blessed to be able to serve comics fans all around the world.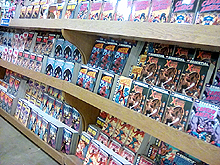 Some of our Essentials now on sale!

While I have been working on the documentary, Will Moulton took it upon himself to put into place for you an incredibly generous sale on all of our trade paperbacks, graphic novels, and comics hardbacks. Effective immediately, all of our trade paperbacks and graphic novels are on sale for you at 40% off, while our comics hardcover collections are priced for you at 30% off. None of these price reductions require any codeword, as the discounted prices are listed for you right on our website. All 250,000+ books that we stock are available to you at these 30%-40% off discounts, excepting only new releases.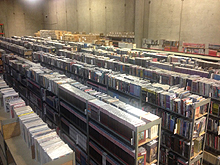 A look at the beginning of our trade shelves!

Where you will need our new 30% off SPRINGBREAK! codeword is when you place any order with us for back issue comics and/or magazines. All ten million of our back issues are available at a nice discount to you via the 30% off SPRINGBREAK! codeword, excepting only new issues a few variants, and our CGC's. Also available at 30% off are all of the great back issues that we just listed in New-In-Stock and Premium New-In-Stock. Enjoy!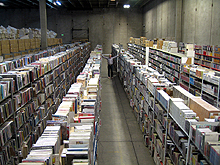 Chuck in the middle of one of the trade aisles!

In other news, our no-minimum-bid comics and toys auction this past Saturday was an amazing success, with excellent revenues from the company portion of the auction, and also $1,315.00 in donations being raised for the White Rose Scholarship Fund. I sincerely thank everyone who participated, and especially those who donated items for White Rose. Our next Jason St. auction will be held in about a month...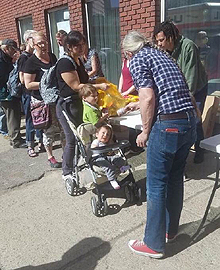 Passing out chocolate milk near the Colorado Coalition for the Homeless

I will close with a quick photo from last Thursday's "Feeding Denver's Hungry" food distribution at The Colorado Coalition For The Homeless, Urban Peak, and The St. Francis Center. We had 800-850 elderly, disabled, and homeless people come by our sidewalk stand for free groceries, including this mom with her two kids. The great folks over at the Food Bank of the Rockies had given us over five tons of food and drinks to distribute so we (blessedly) had plenty for everyone. It was a great day!
Happy collecting!
Chuck Rozanski,
President - Mile High Comics, Inc.
March 27, 2017

P.S. A quick reminder that you can mix comics and books together in a single order to reach our free shipping minimums of $50 domestic and $125 International. Comics will then ship completely for free, while books only incur the small per item surcharges that help us to defray our actual shipping charges.