New SPRINGBREAK Codeword Sale - Discount on All Back Issues
Howdy!
Life is continuing in a very positive vein here at Mile High Comics, with our ongoing project of inventory enhancement making excellent progress. As I have mentioned several times in the past, our only real goal these days is to make steady progress each day on adding even more titles and issue numbers of comics, magazines, and books into our online inventory for you. Our last peak eBay count was at 422,000 different items, but I am certain that is higher by now, as Will, Pam, and Josh have added many thousands more items during the past 30 days.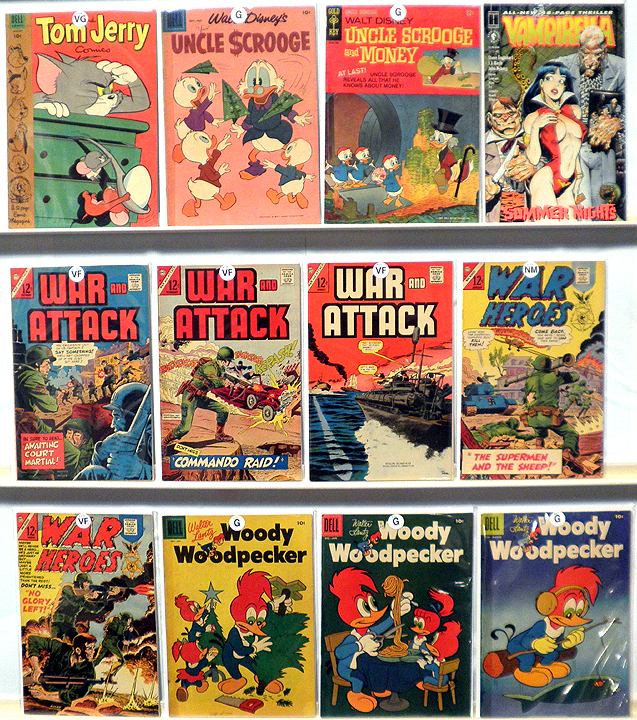 Array #1 of some of the comics on sale now!

At the end of this newsletter is a listing of some of the better issues that we have added for you this week. All are available to you at a full 30% discount when you utilize our new SPRINGBREAK! codeword. The new codeword applies to all ten million of our back issue comics and magazines, excluding only new issues, a few variants, and CGC's. Please enjoy the great savings with our sincere thanks for your continuing support of our efforts here at Mile High Comics.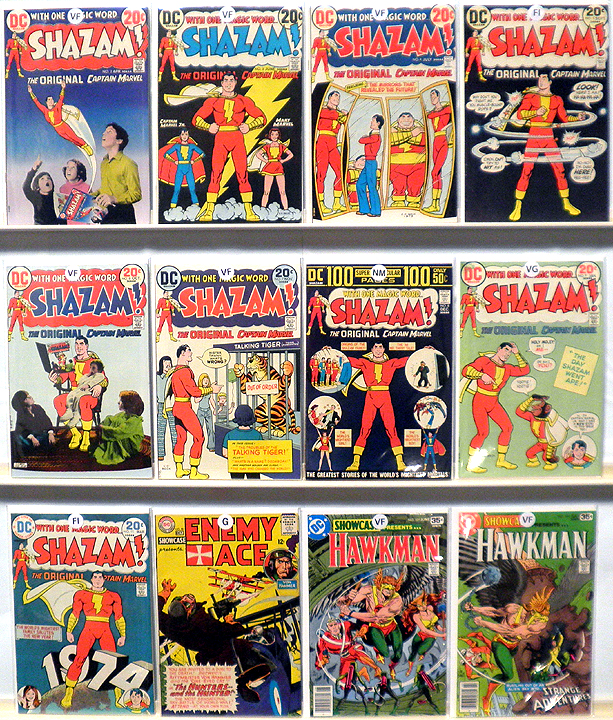 Array #2 of some of the comics on sale now!

Aside from working on enhancing our inventory for you, our big effort for this week is preparing for this Saturday's benefit auction of comics, toys, and collectibles at our Jason St. Mega-Store. We already have 500+ items ready for our company portion of the auction, and over 100 donated items for the White Rose Scholarship Fund benefit. Below is a photo of seven of the 12 young people who shared a total of $17,000 in tuition grants from White Rose last June, along with Imperial Court of the Rocky Mountain Empire Empress 43 Norrie Reynolds, and Emperor 43 Manny Sexton. It was wonderful to be able to help these deserving low income kids to stay in school.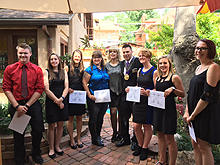 Some of the White Rose Scholarship recipients with Empress 43 Norrie Reynolds and Emperor 43 Manny Sexton

My only other news item for today is a quick mention that we are still accepting $40 donations for "Feeding Denver's Hungry." If you make such a gift, we will send you a complete set of all 51 of this year's 2017 Free Comic Book Day variant editions on the Monday following FCBD (May 6th). We have fewer than 100 of our complete FCBD sets remaining, so please sign up as soon as you can.
That's it for today. I am now off to the awesome Food Bank of the Rockies to help Feeding Denver's Hungry founder Jim Scharper to pick up our weekly allocation. We will be distributing this food to elderly, disabled, and homeless people tomorrow morning at the St. Francis Center, and near Urban Peak. If you live in Denver and would like to join us, we could really use your help. We meet at 9:30 AM at Li'l Devils bar, just one block north of Broadway and Alameda. We start off by making 400 sandwiches, and then stuff 400 gallon ziplocks full with granola bars, crackers, peanut butter, etc. We then head for Urban Peak around 10:30. Join us if you can!
Happy collecting!
Chuck Rozanski,
President - Mile High Comics, Inc.
March 22, 2017

Some of the Marvel and DC Comics just entered.
MARVEL
ALL-NEW X-MEN (2012) #29 VARIANT Near Mint/Mint


ALL-NEW X-MEN (2012) #29 VARIANT

ALL-NEW X-MEN (2012) #29 VARIANT Very Fine
ALPHA FLIGHT (1983) #106 2ND PRINT Near Mint/Mint
AMAZING ADVENTURES (MARVEL) (1970) #4 Very Good
AMAZING SPIDER-MAN (1999) (#1-700.5) (MARVEL) #2 Near Mint/Mint
AMAZING SPIDER-MAN (1999) (#1-700.5) (MARVEL) #3 Near Mint/Mint
AMAZING SPIDER-MAN (1999) (#1-700.5) (MARVEL) #4 Near Mint/Mint
AMAZING SPIDER-MAN (1999) (#1-700.5) (MARVEL) #16 Near Mint/Mint
AMAZING SPIDER-MAN (1999) (#1-700.5) (MARVEL) #583 OBAMA 2ND Near Mint/Mint
AMAZING SPIDER-MAN (1999) (#1-700.5) (MARVEL) #614 Near Mint/Mint
AMAZING SPIDER-MAN (1999) (#1-700.5) (MARVEL) #666 Near Mint/Mint
AMAZING SPIDER-MAN (1999) (#1-700.5) (MARVEL) #685 DELL OTTO Near Mint/Mint
AMAZING SPIDER-MAN (1999) (#1-700.5) (MARVEL) #686 VARIANT Near Mint/Mint
AMAZING SPIDER-MAN (2014) (#1-20.1) (MARVEL) #1 MILE HIGH Near Mint/Mint
AMAZING SPIDER-MAN (2014) (#1-20.1) (MARVEL) #1 MILE HIGH Very Fine
AMAZING SPIDER-MAN (2014) (#1-20.1) (MARVEL) #1 MILE HIGH Fine
AMAZING SPIDER-MAN (2014) (#1-20.1) (MARVEL) #1 MILE HIGH Very Good
AMAZING SPIDER-MAN (2014) (#1-20.1) (MARVEL) #2 Near Mint/Mint
AMAZING SPIDER-MAN (2014) (#1-20.1) (MARVEL) #3 MILE HIGH Near Mint/Mint
AMAZING SPIDER-MAN (2014) (#1-20.1) (MARVEL) #3 MILE HIGH Very Fine
AMAZING SPIDER-MAN (2015) (#1-UP) (MARVEL) #1 .3 YU Near Mint/Mint
AMAZING SPIDER-MAN (2015) (#1-UP) (MARVEL) #1 .3 YU Very Fine
AMAZING X-MEN (2013) #9 VARIANT Very Fine
AVENGERS (1963) (#1-402) (MARVEL) #223 TOY INSERT Fine
AVENGERS (1963) (#1-402) (MARVEL) #253 Near Mint/Mint
AVENGERS (1997) (#0-84, 500-503) (MARVEL) #21 Fine
AVENGERS (2013) (#1-44) (MARVEL) #32 VARIANT Very Fine
AVENGERS (2016) (#1-UP) (MARVEL NOW) #1 .1 FIGURE Near Mint/Mint
AVENGERS ASSEMBLE (2012) #1 SILVESTRI Near Mint/Mint
AVENGERS: CHILDREN'S CRUSADE (2010) #1 WOMEN Near Mint/Mint
BLACK PANTHER (1976) (#1-15) (MARVEL) #1 Fine
CABLE (2008) #25 Near Mint/Mint
CABLE AND DEADPOOL (2003) #1 Near Mint/Mint
CABLE AND DEADPOOL (2003) #2 Near Mint/Mint
CABLE AND DEADPOOL (2003) #3 Near Mint/Mint
CABLE AND DEADPOOL (2003) #7 Near Mint/Mint
CABLE AND DEADPOOL (2003) #8 Near Mint/Mint
CABLE AND DEADPOOL (2003) #9 Near Mint/Mint
CABLE AND DEADPOOL (2003) #10 Near Mint/Mint

CABLE AND DEADPOOL (2003) #11 Near Mint/Mint
CABLE AND DEADPOOL (2003) #12 Near Mint/Mint
CABLE AND DEADPOOL (2003) #14 Fine
CABLE AND DEADPOOL (2003) #15 Fine
CABLE AND DEADPOOL (2003) #16 Very Fine
CABLE AND DEADPOOL (2003) #21 Near Mint/Mint
CABLE AND DEADPOOL (2003) #22 Fine
CABLE AND DEADPOOL (2003) #23 Near Mint/Mint
CABLE AND DEADPOOL (2003) #24 Near Mint/Mint
CABLE AND DEADPOOL (2003) #25 Very Fine
CABLE AND DEADPOOL (2003) #26 Near Mint/Mint
CABLE AND DEADPOOL (2003) #27 Very Fine
CABLE AND DEADPOOL (2003) #28 Near Mint/Mint
CABLE AND DEADPOOL (2003) #29 Near Mint/Mint
CABLE AND DEADPOOL (2003) #38 Fine
CABLE AND DEADPOOL (2003) #39 Fine
CABLE AND DEADPOOL (2003) #40 Very Fine
CABLE AND DEADPOOL (2003) #42 Very Fine
CABLE AND DEADPOOL (2003) #44 Near Mint/Mint
CABLE AND DEADPOOL (2003) #48 Near Mint/Mint
CABLE AND DEADPOOL (2003) #50 Near Mint/Mint
CAPTAIN AMERICA (2004) #9 Near Mint/Mint
CAPTAIN AMERICA (2004) #14 Fine
CAPTAIN AMERICA ANNUAL (1971) #3 Very Fine
CAPTAIN AMERICA ANNUAL (1971) #4 Near Mint/Mint
CAPTAIN MARVEL (1968) (#1-62) (MARVEL) #49 Near Mint/Mint
CAPTAIN MARVEL (1968) (#1-62) (MARVEL) #51 Near Mint/Mint
CAPTAIN MARVEL (1968) (#1-62) (MARVEL) #52 Near Mint/Mint
CAPTAIN MARVEL (1968) (#1-62) (MARVEL) #53 Near Mint/Mint
CAPTAIN MARVEL (1968) (#1-62) (MARVEL) #54 Near Mint/Mint
CAPTAIN MARVEL (1968) (#1-62) (MARVEL) #55 Near Mint/Mint
CAPTAIN MARVEL (1968) (#1-62) (MARVEL) #56 Near Mint/Mint
CAPTAIN MARVEL (1968) (#1-62) (MARVEL) #57 Very Fine
CAPTAIN MARVEL (1968) (#1-62) (MARVEL) #58 Near Mint/Mint
CAPTAIN MARVEL (1968) (#1-62) (MARVEL) #59 Very Fine
CAPTAIN MARVEL (1968) (#1-62) (MARVEL) #60 Near Mint/Mint
CAPTAIN MARVEL (1968) (#1-62) (MARVEL) #61 Near Mint/Mint

CAPTAIN MARVEL (1968) (#1-62) (MARVEL) #62 Very Fine
CIVIL WAR (2006) #1 UNLEASHED Near Mint/Mint
CIVIL WAR (2006) #2 UNMASKED Very Fine
CIVIL WAR: INITIATIVE (2007) #1 CGC 9.6 SS Near Mint/Mint
CLONE CONSPIRACY (SPIDER-MAN) (2016) #1 CHEUNG Near Mint/Mint
CRAZY MAGAZINE (1973) #32 Very Good
DAREDEVIL (1998) (#1-119, 500-512) (MARVEL) #1 Near Mint/Mint
DAREDEVIL (1998) (#1-119, 500-512) (MARVEL) #112 ZOMBIE Near Mint/Mint
DAREDEVIL (2015) (#1-UP) (MARVEL) #15 ADAMS Near Mint/Mint
DAREDEVIL (2015) (#1-UP) (MARVEL) #15 BERMEJO Near Mint/Mint
DARTH VADER (STAR WARS) (2015) #1 YOUNG BABY Near Mint/Mint
DEADPOOL (1993) (#1-4) (CIRCLE CHASE) (MARVEL) #1 Very Fine
DEADPOOL (1994) (#1-4) (MARVEL) #1 Fine
DEADPOOL (1994) (#1-4) (MARVEL) #1 NEWSSTAND Fine
DEADPOOL (1994) (#1-4) (MARVEL) #1 NEWSSTAND Very Good
DEADPOOL (1994) (#1-4) (MARVEL) #2 Near Mint/Mint
DEADPOOL (1994) (#1-4) (MARVEL) #3 Near Mint/Mint
DEADPOOL (1994) (#1-4) (MARVEL) #3 NEWSSTAND Fine
DEADPOOL (1994) (#1-4) (MARVEL) #3 NEWSSTAND Very Good
DEADPOOL (1997) (#0-69) (MARVEL) #3 NEWSSTAND Fine
DEADPOOL (1997) (#0-69) (MARVEL) #3 NEWSSTAND Very Good
DEADPOOL (1997) (#0-69) (MARVEL) #8 NEWSSTAND Near Mint/Mint
DEADPOOL (1997) (#0-69) (MARVEL) #8 NEWSSTAND Very Fine
DEADPOOL (1997) (#0-69) (MARVEL) #15 NEWSSTAND Near Mint/Mint
DEADPOOL (1997) (#0-69) (MARVEL) #16 NEWSSTAND Near Mint/Mint
DEADPOOL (1997) (#0-69) (MARVEL) #17 NEWSSTAND Near Mint/Mint
DEADPOOL (1997) (#0-69) (MARVEL) #18 NEWSSTAND Near Mint/Mint
DEADPOOL (1997) (#0-69) (MARVEL) #19 NEWSSTAND Near Mint/Mint
DEADPOOL (1997) (#0-69) (MARVEL) #20 NEWSSTAND Near Mint/Mint
DEADPOOL (1997) (#0-69) (MARVEL) #20 NEWSSTAND Very Fine
DEADPOOL (1997) (#0-69) (MARVEL) #20 NEWSSTAND Fine
DEADPOOL & CABLE (2011) #26 Near Mint/Mint
DEADPOOL CLASSIC TPB (2008) #17 Near Mint/Mint
DEADPOOL VS. GAMBIT (2016) #1 GAMESTOP Near Mint/Mint
DEATH OF WOLVERINE (2014) #1 Near Mint/Mint
DEATH OF WOLVERINE (2014) #1 MILE HIGH Fine
DROIDS (STAR WARS) (1986) #6 Fine
EMPIRE OF THE DEAD: ACT ONE (GEORGE A. ROMERO) (2013) #3 Near Mint/Mint
EMPIRE OF THE DEAD: ACT ONE (GEORGE A. ROMERO) (2013) #4 Near Mint/Mint


EMPIRE OF THE DEAD: ACT ONE (GEORGE A. ROMERO) (2013) #5

EMPIRE OF THE DEAD: ACT ONE (GEORGE A. ROMERO) (2013) #5 Near Mint/Mint
EXILES (2009) #5 VARIANT Near Mint/Mint
FANTASTIC FOUR (1961) (#1-416) (MARVEL) #1 TOY BIZ Very Fine
FANTASTIC FOUR (1961) (#1-416) (MARVEL) #29 Good
FANTASTIC FOUR (1961) (#1-416) (MARVEL) #83 Good
FANTASTIC FOUR (1961) (#1-416) (MARVEL) #90 Good
FANTASTIC FOUR (1961) (#1-416) (MARVEL) #91 Good
FANTASTIC FOUR (1961) (#1-416) (MARVEL) #105 Good
FANTASTIC FOUR (1961) (#1-416) (MARVEL) #116 Fine
FANTASTIC FOUR (1961) (#1-416) (MARVEL) #117 Very Good
FANTASTIC FOUR (1961) (#1-416) (MARVEL) #134 Very Good
FANTASTIC FOUR (1961) (#1-416) (MARVEL) #135 Very Good
FANTASTIC FOUR (1961) (#1-416) (MARVEL) #136 Very Good
FANTASTIC FOUR (1961) (#1-416) (MARVEL) #138 Very Good
FANTASTIC FOUR (1961) (#1-416) (MARVEL) #140 Fine
FANTASTIC FOUR (1961) (#1-416) (MARVEL) #141 Very Fine
FANTASTIC FOUR (1961) (#1-416) (MARVEL) #142 Very Fine
FANTASTIC FOUR (1961) (#1-416) (MARVEL) #143 Very Fine
FANTASTIC FOUR (1961) (#1-416) (MARVEL) #144 Fine
FANTASTIC FOUR (1961) (#1-416) (MARVEL) #145 Very Good
FANTASTIC FOUR (1961) (#1-416) (MARVEL) #146 Very Fine
FANTASTIC FOUR (1961) (#1-416) (MARVEL) #147 Fine
FANTASTIC FOUR (1961) (#1-416) (MARVEL) #148 Fine
FANTASTIC FOUR (1961) (#1-416) (MARVEL) #149 Very Fine
FANTASTIC FOUR (1961) (#1-416) (MARVEL) #151 Very Fine
FANTASTIC FOUR (1961) (#1-416) (MARVEL) #152 Fine
GHOST RIDER (2005) (#1-6) (MARVEL) #1 DIRCGC 9.8 Near Mint/Mint
GHOST RIDER (2005) (#1-6) (MARVEL) #1 VARCGC 9.6 Near Mint/Mint
GI JOE #2 Very Fine
GUARDIANS OF THE GALAXY (2015) (#1-UP) (MARVEL) #12 COSPLAY Near Mint/Mint
GUARDIANS OF THE GALAXY (2015) (#1-UP) (MARVEL) #15 ASRAR Near Mint/Mint
GUARDIANS OF THE GALAXY (2015) (#1-UP) (MARVEL) #17 HANS Near Mint/Mint
HULK (2017) (#1-UP) (MARVEL NOW) (JENNIFER WALTERS) #3 MORA Near Mint/Mint
INCREDIBLE HULK (2011) #1 ADAMS Near Mint/Mint
INCREDIBLE HULK (2011) #1 KEOWN Near Mint/Mint
INFAMOUS IRON MAN (MARVEL NOW) (2016) #2 ALBUQUERQU Near Mint/Mint
INFINITY WAR (1992) #1 NEWSSTAND Near Mint/Mint
INHUMANS: ATTILAN RISING (#1-5) (MARVEL) #4 JOHNSON Near Mint/Mint
INVINCIBLE IRON MAN (2015) (#1-14) (MARVEL) #4 PUTRI Near Mint/Mint
INVINCIBLE IRON MAN (2015) (#1-14) (MARVEL) #7 Near Mint/Mint

INVINCIBLE IRON MAN (2015) (#1-14) (MARVEL) #7 Fine
INVINCIBLE IRON MAN (2015) (#1-14) (MARVEL) #9 Near Mint/Mint
INVINCIBLE IRON MAN (2015) (#1-14) (MARVEL) #9 Fine
INVINCIBLE IRON MAN (2015) (#1-14) (MARVEL) #9 Very Fine
IRON MAN (1968) (#1-332) (INVINCIBLE IRON MAN)(MARVEL) #121 Very Fine
IRON MAN (1968) (#1-332) (INVINCIBLE IRON MAN)(MARVEL) #130 Near Mint/Mint
IRON MAN (1968) (#1-332) (INVINCIBLE IRON MAN)(MARVEL) #131 Near Mint/Mint
IRON MAN (1968) (#1-332) (INVINCIBLE IRON MAN)(MARVEL) #132 Near Mint/Mint
IRON MAN (1968) (#1-332) (INVINCIBLE IRON MAN)(MARVEL) #133 Near Mint/Mint
IRON MAN (1968) (#1-332) (INVINCIBLE IRON MAN)(MARVEL) #134 Near Mint/Mint
IRON MAN (1968) (#1-332) (INVINCIBLE IRON MAN)(MARVEL) #151 Near Mint/Mint
IRON MAN (1968) (#1-332) (INVINCIBLE IRON MAN)(MARVEL) #169 Near Mint/Mint
IRON MAN (1968) (#1-332) (INVINCIBLE IRON MAN)(MARVEL) #200 Very Fine
JLA/AVENGERS (AVENGERS/JLA) (2003) #2 Near Mint/Mint
JOHN CARTER (1977) #1 Near Mint/Mint
JOHN CARTER (1977) #18 Very Fine
MAN-THING (1974) (#1-22) (MARVEL) #17 Near Mint/Mint
MARVEL FUMETTI BOOK (1984) #1 Near Mint/Mint
MARVEL TALES (1964) #231 Near Mint/Mint
MARVEL TEAM-UP (1972) #5 Very Good
MARVEL TEAM-UP (1972) #25 Very Fine
MARVEL TEAM-UP (1972) #28 Very Fine
MARVEL TEAM-UP (1972) #29 Fine
MARVEL TEAM-UP (1972) #31 Near Mint/Mint
MARVEL TEAM-UP (1972) #43 Near Mint/Mint
MARVEL TEAM-UP (1972) #54 Near Mint/Mint
MARVEL TEAM-UP (1972) #86 Near Mint/Mint
MARVEL TWO-IN-ONE (1974) #2 Fine
MARVEL TWO-IN-ONE (1974) #2 Very Fine
MARVEL TWO-IN-ONE (1974) #4 Fine
MARVEL TWO-IN-ONE (1974) #30 Near Mint/Mint
MARVEL ZOMBIES/ARMY OF DARKNESS (2007) #1 Near Mint/Mint
MARVEL ZOMBIES/ARMY OF DARKNESS (2007) #2 Very Fine
MS. MARVEL (1977) (#1-23) (MARVEL) (CAROL DANVERS) #2 Very Good
MS. MARVEL (1977) (#1-23) (MARVEL) (CAROL DANVERS) #4 Very Good
MS. MARVEL (1977) (#1-23) (MARVEL) (CAROL DANVERS) #5 Very Good
MS. MARVEL (1977) (#1-23) (MARVEL) (CAROL DANVERS) #6 Fine
MS. MARVEL (1977) (#1-23) (MARVEL) (CAROL DANVERS) #6 Very Good

MS. MARVEL (1977) (#1-23) (MARVEL) (CAROL DANVERS) #17 Very Good
MS. MARVEL (2015) (#1-UP) (MARVEL) (KAMALA KHAN) #1 PHANTOMB&W Near Mint/Mint
NEW MUTANTS (1983) #23 Near Mint/Mint
NEW MUTANTS (1983) #26 Very Fine
NEW MUTANTS (1983) #33 NEWSSTAND Very Fine
NEW MUTANTS (1983) #73 Very Fine
NEW MUTANTS (1983) #93 Fine
NEW MUTANTS (1983) #93 Very Fine
NEW MUTANTS (1983) #94 NEWSSTAND Good
NEW MUTANTS (1983) #96 NEWSSTAND Near Mint/Mint
NEW MUTANTS (2009) #12 Near Mint/Mint
PETER PARKER (SPECTACULAR SPIDER-MAN) (1976) #1 Good
PETER PARKER (SPECTACULAR SPIDER-MAN) (1976) #71 NEWSSTAND Very Fine
POWER MAN/IRON FIST (LUKE CAGE, POWER MAN #1-49) (1972) #1 TOY BIZ Fine
POWER MAN/IRON FIST (LUKE CAGE, POWER MAN #1-49) (1972) #18 Near Mint/Mint
POWER MAN/IRON FIST (LUKE CAGE, POWER MAN #1-49) (1972) #23 Very Fine
POWER MAN/IRON FIST (LUKE CAGE, POWER MAN #1-49) (1972) #48 Very Good
POWER MAN/IRON FIST (LUKE CAGE, POWER MAN #1-49) (1972) #50 Near Mint/Mint
PULSE (MARVEL) (2004) #13 Near Mint/Mint
ROM (1979) #59 NEWSSTAND Fine
SCARLET SPIDERS (2014) #1 BAGLEY Near Mint/Mint
SECRET WARS (1984) #3 Near Mint/Mint
SECRET WARS (1984) #4 Near Mint/Mint
SECRET WARS (1984) #5 Near Mint/Mint
SECRET WARS (1984) #6 Near Mint/Mint
SECRET WARS (1984) #7 Near Mint/Mint
SECRET WARS (1984) #9 Near Mint/Mint
SECRET WARS (1984) #11 Near Mint/Mint
SECRET WARS (1984) #12 Near Mint/Mint
SHIELD: ORIGINS (2013) #1 Near Mint/Mint
SILK (NOVEMBER) (2015) #14 NAUCK Near Mint/Mint
SLEEPWALKER (1991) #32 Very Fine
SLEEPWALKER (1991) #33 Near Mint/Mint
SPIDER-MAN DIGEST (1987) #9 Fine
SPIDER-MAN DIGEST (1987) #13 Very Fine
SPIDER-MAN/DEADPOOL (2015) #1 Near Mint/Mint
SPIDER-MAN/DEADPOOL (2015) #1 Very Fine
STALKERS (1990) #6 NEWSSTAND Near Mint/Mint
STAR WARS (1977) #1 Fair
STAR WARS (1977) #2 WHITMAN Very Fine
STAR WARS (1977) #3 Very Good
STAR WARS (1977) #17 Fine
STAR WARS (1977) #42 Near Mint/Mint
STAR WARS (1977) #43 Very Fine
STAR WARS (1977) #44 Very Fine
STAR WARS (1977) #80 Very Good
STRANGE TALES (1951) #141 Fine
STRANGE TALES (1951) #150 Good
STRANGE TALES (1951) #169 Good
SUB-MARINER (1968) #8 Good
SUB-MARINER (1968) #8 Very Good
SUB-MARINER (1968) #15 Fine
SUB-MARINER (1968) #22 Fine
SUPERIOR SPIDER-MAN (2013) #17 HASTINGS Near Mint/Mint
THOR (1962) #137 Fair
THOR (1962) #142 Fair
THOR (1962) #143 Fair
THOR (1962) #152 Fair
THOR (1962) #163 Good
THUNDERBOLTS (2012) (#1-32) (MARVEL) #2 VARIANT Near Mint/Mint
TRANSFORMERS: HEADMASTERS (1987) #4 Near Mint/Mint
TWO-GUN KID (1948) #74 Good
TWO-GUN KID (1948) #86 Very Good
ULTIMATE FALLOUT (2011) #4 2ND PICHEL Near Mint/Mint
UNCANNY X-FORCE (2010) #4 Near Mint/Mint
UNCANNY X-FORCE (2010) #5 Near Mint/Mint
UNCANNY X-FORCE (2010) #16 VARIANT Near Mint/Mint
UNCANNY X-MEN (2013) #1 DELL OTTO Very Fine
UNLIMITED ACCESS (1997) #2 Near Mint/Mint
WARLOCK (1972) #9 Very Good
WARLOCK (1972) #10 Fine
WARLOCK (1972) #10 Very Good

WARLOCK (1972) #15 Very Good
WARLOCK CHRONICLES (1993) #7 Fine
WEB OF SPIDER-MAN (1985) #1 NEWSSTAND Very Fine
WEST COAST AVENGERS (1985) #46 Near Mint/Mint
WEST COAST AVENGERS (1985) #46 NEWSSTAND Fine
WHAT IF... (1989) #20 Near Mint/Mint
WHAT IF... (1989) #49 Near Mint/Mint
WHERE MONSTERS DWELL (1970) #4 Fine
WHERE MONSTERS DWELL (1970) #8 Fine
WHERE MONSTERS DWELL (1970) #8 Very Good
WHERE MONSTERS DWELL (1970) #10 Very Good
WHERE MONSTERS DWELL (1970) #23 Fine
WOLVERINE (1988) #1 NEWSSTAND Very Good
WOLVERINE (1988) #2 NEWSSTAND Fine
WOLVERINE (1988) #2 NEWSSTAND Very Good
WOLVERINE (1988) #2 Very Good
WOLVERINE (1988) #3 NEWSSTAND Fine
WOLVERINE (1988) #3 NEWSSTAND Fine
WOLVERINE (1988) #5 NEWSSTAND Fine
WOLVERINE (1988) #6 NEWSSTAND Fine
WOLVERINE (1988) #9 NEWSSTAND Very Fine
WOLVERINE (1988) #17 NEWSSTAND Fine
WOLVERINE (1988) #25 NEWSSTAND Very Fine
WOLVERINE (1988) #32 NEWSSTAND Very Fine
WOLVERINE (1988) #34 NEWSSTAND Near Mint/Mint
WOLVERINE (1988) #34 NEWSSTAND Fine
WOLVERINE (1988) #35 Near Mint/Mint
WOLVERINE (1988) #37 NEWSSTAND Fine
WOLVERINE (1988) #38 Near Mint/Mint
WOLVERINE (1988) #41 Near Mint/Mint
WOLVERINE (2010) #311 VARIANT Near Mint/Mint
WOLVERINE ANNUAL (2012) #1 VARIANT Near Mint/Mint
X 23 (2010) #1 WOMEN Near Mint/Mint
X-FACTOR (1986) #6 Very Good
X-FACTOR (1986) #19 Fine
X-FORCE (1991) #1 DEADPOOL Near Mint/Mint
X-FORCE (1991) #9 NEWSSTAND Near Mint/Mint
X-FORCE (1991) #11 Very Good
X-FORCE (2008) #26 Near Mint/Mint
X-MEN (1963) (#1-113, UNCANNY X-MEN #114-544) (MARVEL) #47 Good
X-MEN (1991) (#1-275) (MARVEL) #1 B CGC 9.8 Near Mint/Mint
X-MEN (1991) (#1-275) (MARVEL) #100 ADAMS Near Mint/Mint
X-MEN (1991) (#1-275) (MARVEL) #100 BYRNE Near Mint/Mint
X-MEN (1991) (#1-275) (MARVEL) #100 COCKRUM Near Mint/Mint
X-MEN (1991) (#1-275) (MARVEL) #100 ROMITA JR. Near Mint/Mint
X-MEN (1991) (#1-275) (MARVEL) #100 SMITH Near Mint/Mint
X-MEN (1991) (#1-275) (MARVEL) #100 YU Near Mint/Mint
X-MEN ALPHA (1995) #1 Near Mint/Mint

DC
ACTION COMICS (1938) (#0-904) (DC) #583 Near Mint/Mint
ACTION COMICS (1938) (#0-904) (DC) #888 NEWSSTAND Near Mint/Mint
ACTION COMICS (2011) (#0-52) (DC NEW52) #51 ROMITA Near Mint/Mint
ADVENTURE COMICS (1938) #366 Good
ADVENTURE COMICS (1938) #392 Very Good
AQUAMAN (1962) (#1-63) (DC) #27 Good
AQUAMAN (1962) (#1-63) (DC) #36 Very Good
BATMAN (1940) (#0-713) (DC) #203 Good
BATMAN (1940) (#0-713) (DC) #436 Near Mint/Mint
BATMAN (1940) (#0-713) (DC) #497 Near Mint/Mint
BATMAN: THE LONG HALLOWEEN (JEPH LOEB) (TIM SALE) (1996) #2 Near Mint/Mint
BATMAN: THE LONG HALLOWEEN (JEPH LOEB) (TIM SALE) (1996) #8 Near Mint/Mint
BATMAN: THE LONG HALLOWEEN (JEPH LOEB) (TIM SALE) (1996) #9 Near Mint/Mint
BATMAN: THE LONG HALLOWEEN (JEPH LOEB) (TIM SALE) (1996) #10 Near Mint/Mint
BATMAN: THE LONG HALLOWEEN (JEPH LOEB) (TIM SALE) (1996) #11 Near Mint/Mint
BATMAN: THE LONG HALLOWEEN (JEPH LOEB) (TIM SALE) (1996) #12 Near Mint/Mint
BATMAN: THE LONG HALLOWEEN (JEPH LOEB) (TIM SALE) (1996) #13 Near Mint/Mint
BLACKEST NIGHT: WONDER WOMAN (2009) #3 Near Mint/Mint
BRAVE AND THE BOLD (1955) #84 Very Good


BROTHER POWER, THE GEEK (1968) #2

BROTHER POWER, THE GEEK (1968) #2 Fine
DC SILVER AGE CLASSICS: ACTION COMICS (1992) #252 NEWSSTAND Near Mint/Mint
DC SPECIAL (1968) #26 Fine
DC SPECIAL SERIES (1977) #5 Very Fine
DOOM PATROL (1964) (#86-124) (DC) #92 Very Good
DR. FATE (2015) #3 VARIANT Near Mint/Mint
FIRESTORM (1982) #7 Near Mint/Mint
FIRESTORM (1982) #23 Near Mint/Mint
FIRESTORM (1982) #24 Near Mint/Mint
FIRESTORM (1982) #28 Very Fine
GREEN LANTERN (1960) (#1-224) (DC) #84 Fair
GREEN LANTERN (1960) (#1-224) (DC) #186 Near Mint/Mint
GREEN LANTERN (1960) (#1-224) (DC) #188 Near Mint/Mint
GREEN LANTERN: LARFLEEZE CHRISTMAS SPECIAL (2010) #1 Near Mint/Mint
HARLEY QUINN (2013) (#0-30) (DC NEW52) #4 Fine
JIMMY OLSEN (1954) #15 Fair
JIMMY OLSEN (1954) #98 Fine
JUSTICE LEAGUE (DC NEW52) (2011) #41 Near Mint/Mint
JUSTICE LEAGUE EUROPE (INTERNATIONAL #51-UP) (1989) #33 Very Fine
JUSTICE LEAGUE OF AMERICA (1960) (#1-261) (DC) #219 Near Mint/Mint
LEGION OF SUPER-HEROES (1980) #293 NEWSSTAND Near Mint/Mint
LEGION OF SUPER-HEROES (1980) #298 NEWSSTAND Near Mint/Mint
LEGION OF SUPER-HEROES (1980) #301 NEWSSTAND Near Mint/Mint
MAD (MAGAZINE) #23 Fair
MAD (MAGAZINE) #47 Good
MAD (MAGAZINE) #58 Fine
MAD (MAGAZINE) #62 Good
MAD (MAGAZINE) #62 Very Good
MAD (MAGAZINE) #66 Very Good
MAD (MAGAZINE) #75 Very Good
MAD (MAGAZINE) #77 Fine
MAD (MAGAZINE) #79 Fine
MAD (MAGAZINE) #80 Very Good
MAD (MAGAZINE) #81 Very Good
MAD (MAGAZINE) #82 Good
MAD (MAGAZINE) #84 Very Fine
MAD (MAGAZINE) #86 Fine
MAD (MAGAZINE) #87 Good
MAD (MAGAZINE) #88 Very Fine
MAD (MAGAZINE) #89 Very Good
MAD (MAGAZINE) #90 Fine
MAD (MAGAZINE) #92 Fine
MAD (MAGAZINE) #93 Good
MAD (MAGAZINE) #94 Very Good
MAD (MAGAZINE) #95 Good
MAD (MAGAZINE) #96 Very Good
MAD (MAGAZINE) #98 Fine
MAD (MAGAZINE) #99 Fine
MAD (MAGAZINE) #102 Fine
MAD (MAGAZINE) #104 Very Good
MAD (MAGAZINE) #108 Very Fine
MAD (MAGAZINE) #109 Very Good
MAD (MAGAZINE) #110 Fine
MAD (MAGAZINE) #111 Very Good
MAD (MAGAZINE) #112 Very Good
MAD (MAGAZINE) #120 Fine
MAD (MAGAZINE) #125 Fine
MAD (MAGAZINE) #139 Very Fine
MAD (MAGAZINE) #140 Fine
MAD (MAGAZINE) #148 Fine
MAD (MAGAZINE) #152 Very Fine
MAD (MAGAZINE) #156 Fine
MAD (MAGAZINE) #162 Fine
MAD (MAGAZINE) #163 Fine
MAD (MAGAZINE) #166 Very Fine
MAD (MAGAZINE) #170 Fine
MAD SPECIAL (MAG) #1 Good
MAD: WORST FROM MAD (1958) #12 Fair
METAMORPHO (1965) #1 Good
NEW GODS (1984) #6 Near Mint/Mint
NIGHTWING (1996) (#1-153) (DC) #2 Very Fine
NIGHTWING (1996) (#1-153) (DC) #3 Near Mint/Mint
NIGHTWING (1996) (#1-153) (DC) #4 Very Fine

NIGHTWING (1996) (#1-153) (DC) #6 Near Mint/Mint
PLOP (1973) #1 Very Good
PLOP (1973) #2 Very Fine
PLOP (1973) #4 Near Mint/Mint
PLOP (1973) #11 Fine
PLOP (1973) #14 Fine
PLOP (1973) #15 Very Fine
PLOP (1973) #16 Fine
PLOP (1973) #18 Very Fine
PLOP (1973) #19 Very Fine
PLOP (1973) #23 Fine
SECRET ORIGINS (1973) #5 Fine
SECRET SOCIETY OF SUPER-VILLAINS (1976) #1 Fine
SECRETS OF SINISTER HOUSE (1972) #12 Good
SGT. ROCK (OUR ARMY AT WAR #1-301) (1977) #302 Very Good
SHAZAM! (1973) #2 Very Fine
SHAZAM! (1973) #3 Very Fine
SHAZAM! (1973) #4 Very Fine
SHAZAM! (1973) #5 Fine
SHAZAM! (1973) #6 Very Fine
SHAZAM! (1973) #7 Very Fine
SHAZAM! (1973) #8 Near Mint/Mint
SHAZAM! (1973) #11 Fine
SHOWCASE (1956) #9 Good
SHOWCASE (1956) #58 Good
SHOWCASE (1956) #67 Fine
SHOWCASE (1956) #69 Fine
SHOWCASE (1956) #71 Very Good
SPECTRE (1967) #2 Fine
SPECTRE (1967) #5 Very Fine
SPECTRE (1967) #6 Very Fine
SUPER FRIENDS (1976) #1 Very Fine
SUPER FRIENDS (1976) #7 Very Fine
SUPERGIRL (1972) (#1-10) (DC) #8 Good
SUPERMAN (1939) (#1-423) (DC) #156 Good
SUPERMAN (1939) (#1-423) (DC) #178 Fair
SUPERMAN (1939) (#1-423) (DC) #179 Fair
SUPERMAN (1939) (#1-423) (DC) #184 Fair
SUPERMAN (1939) (#1-423) (DC) #233 Fair
SUPERMAN (1939) (#1-423) (DC) #254 Fine
SUPERMAN: DOOMED (2014) #2 VARIANT Very Fine
SUPERMAN: LOIS & CLARK (2015) #1 VARIANT Near Mint/Mint
SWAMP THING (1972) #11 Fine
SWAMP THING (1972) #15 Fine
SWEET TOOTH (2009) #40 VARIANT Near Mint/Mint
TARZAN (1972) (#207-258) (DC) #207 Very Good
TARZAN (1972) (#207-258) (DC) #207 Very Fine
TARZAN (1972) (#207-258) (DC) #208 Very Fine
TARZAN (1972) (#207-258) (DC) #210 Fine
TARZAN (1972) (#207-258) (DC) #211 Fine
TARZAN (1972) (#207-258) (DC) #222 Fair
TARZAN (1972) (#207-258) (DC) #222 Good
TARZAN (1972) (#207-258) (DC) #231 Near Mint/Mint
TARZAN (1972) (#207-258) (DC) #233 Near Mint/Mint
TEEN TITANS (1966) (#1-53) (DC) #20 Good
TEEN TITANS (1966) (#1-53) (DC) #46 Very Fine
TEEN TITANS (1980) (#1-91) (DC) #2 Very Fine
TEEN TITANS (1980) (#1-91) (DC) #16 Near Mint/Mint
UNEXPECTED (TALES OF THE UNEXPECTED #1-104) (1956) #104 Fine
UNEXPECTED (TALES OF THE UNEXPECTED #1-104) (1956) #106 Very Good
WANTED (1972) #7 Fine
WARLORD (1976) #42 NEWSSTAND Near Mint/Mint
WATCHMEN (1986) #1 Very Good
WATCHMEN (1986) #2 Fine
WATCHMEN (1986) #4 Fine
WEIRD MYSTERY TALES (1972) #9 Fine
WEIRD WAR TALES (1971) #44 Very Fine
WEIRD WAR TALES (1971) #68 Very Good
WEIRD WESTERN TALES (1972) #13 Fair
WEIRD WESTERN TALES (1972) #27 Very Fine
WEIRD WESTERN TALES (1972) #54 BRITISH Fine
WEIRD WESTERN TALES (1972) #59 BRITISH Fine


WEIRD WESTERN TALES (1972) #62 BRITISH

WEIRD WESTERN TALES (1972) #62 BRITISH Fine
WEIRD WESTERN TALES (1972) #63 BRITISH Fine
WEIRD WESTERN TALES (1972) #64 BRITISH Fine
WEIRD WESTERN TALES (1972) #65 BRITISH Fine
WEIRD WORLDS (1972) #1 Fine
WEIRD WORLDS (1972) #2 Fine
WELCOME BACK, KOTTER (1976) #1 Fine
WELCOME BACK, KOTTER (1976) #1 Very Fine
WELCOME BACK, KOTTER (1976) #2 Very Fine
WELCOME BACK, KOTTER (1976) #3 Very Fine
WELCOME BACK, KOTTER (1976) #5 Near Mint/Mint
WELCOME BACK, KOTTER (1976) #6 Very Fine
WELCOME BACK, KOTTER (1976) #7 Very Fine
WELCOME BACK, KOTTER (1976) #9 Very Fine
WONDER WOMAN (1942) (#1-329) (DC) #220 Fine
WONDER WOMAN (1942) (#1-329) (DC) #222 Fine
WONDER WOMAN (1942) (#1-329) (DC) #229 Fine
WONDER WOMAN (1942) (#1-329) (DC) #231 Fine
WONDER WOMAN (1942) (#1-329) (DC) #235 Fine
WONDER WOMAN (1942) (#1-329) (DC) #235 Very Fine
WONDER WOMAN (1942) (#1-329) (DC) #241 Fine
WONDER WOMAN (1942) (#1-329) (DC) #241 Very Fine
WONDER WOMAN (1942) (#1-329) (DC) #251 Fine
WONDER WOMAN (1942) (#1-329) (DC) #327 Near Mint/Mint
WONDER WOMAN (1987) (#0-226) (DC) #3 NO MONTH Near Mint/Mint
WONDER WOMAN (2006) (#1-44, 600-614) (DC) #1 VARIANT Near Mint/Mint
WORLDS FINEST (1941) #162 Good
WORLDS FINEST (1941) #163 Very Good
WORLDS FINEST (1941) #191 Fine
WORLDS FINEST (1941) #221 Very Fine
WORLDS FINEST (1941) #228 Very Good
WORLDS FINEST (1941) #230 Fine
WORLDS FINEST (1941) #230 Very Good
YOUNG LOVE (1963) #116 Very Fine

YOUNG LOVE (1963) #117 Very Fine